This age belongs to apps that can save the customer's time. Users do not want to wait for query or dispute resolution; they want to focus on more important things. Businesses that want to grow and be successful need to prioritize the customer's wishes.
One of the outcomes of this phenomenon is the use of chatbots by businesses and individuals. Chatbots invariably save time and money for all the stakeholders.
As of today, 1.4 billion individuals use chatbots to interact with businesses as well as other individuals. Companies create and use the most advanced AI chatbots to save customers' time and provide round-the-clock service.
Uses vary from one-to-one discussions with customers and staff to automating various functions such as sales, marketing, customer service, administrative and operational chores.
AI chatbots and rules-based chatbots are the significant classifications of chatbots. Many companies adopted first-generation bots, which were strictly rule-based and provided poor user experiences. Rules-based chatbots can only handle relatively simple cases, whereas AI-based chatbots are far more complex.
Top 10 AI Chatbot apps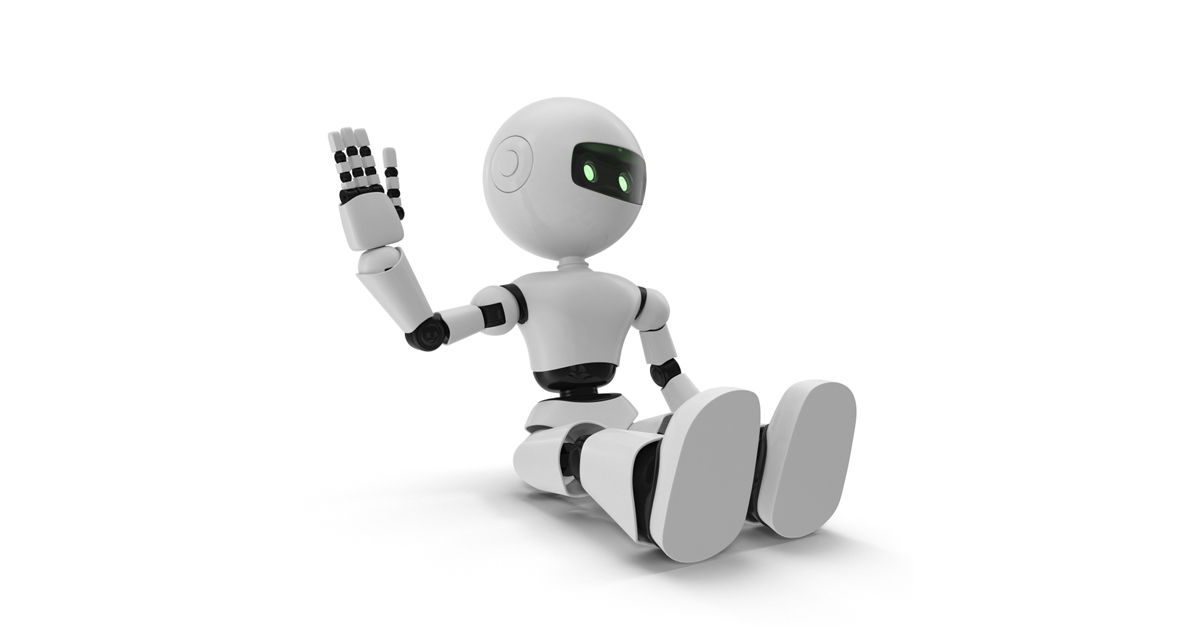 Chatbots have become a necessity to attain growth, whether you own a small business or an enterprise. However, picking the best chatbot app can be difficult, especially when the landscape constantly evolves with so many options on the market. Here are the 10 best AI chatbot apps:
1. BotPenguin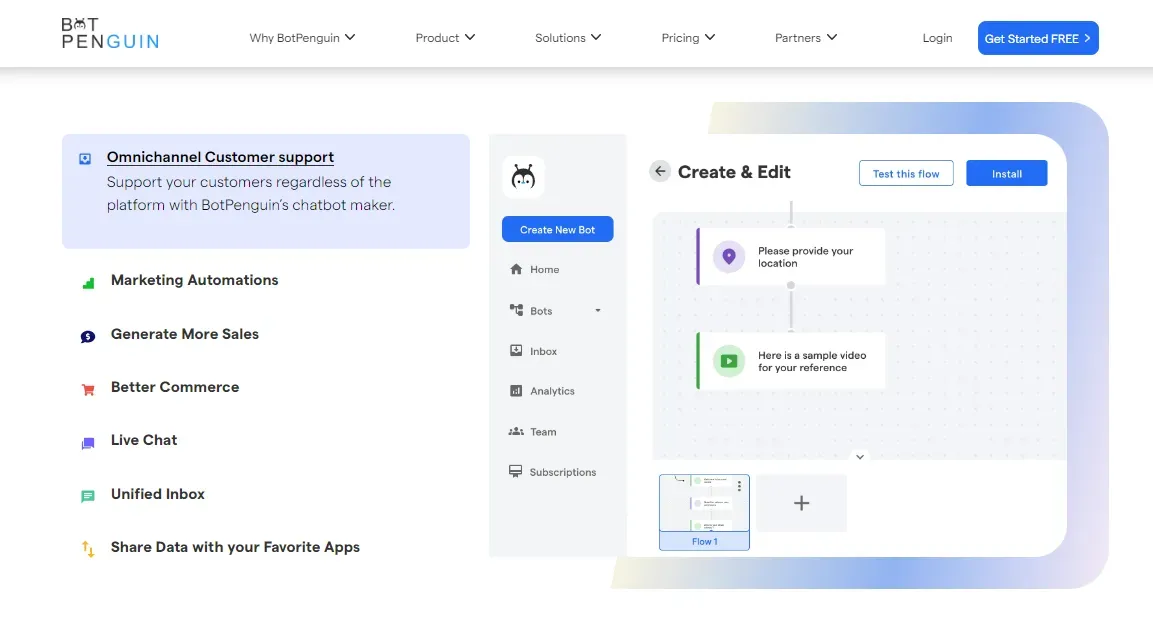 BotPenguin is an AI-powered chatbot platform that enables you to build chatbots without any coding. It is one of the best alternatives for small businesses due to the features provided in the free plan and low pricing. You can build chatbots for many businesses like education, healthcare, insurance, e-commerce, real estate, travel agencies, and more.
It lets users create chatbots that can start interacting with users and transfer the chat to live agents if they become stuck. The chatbot builder design is very appealing, and it is effortless to create a bot using the builder.
The chatbots can be integrated with Facebook, Telegram, Skype, Zapier, Shopify, Website, and more than 40 other third-party platforms. You can choose from a free version and two premium plans with unlimited features.
2. PandoraBots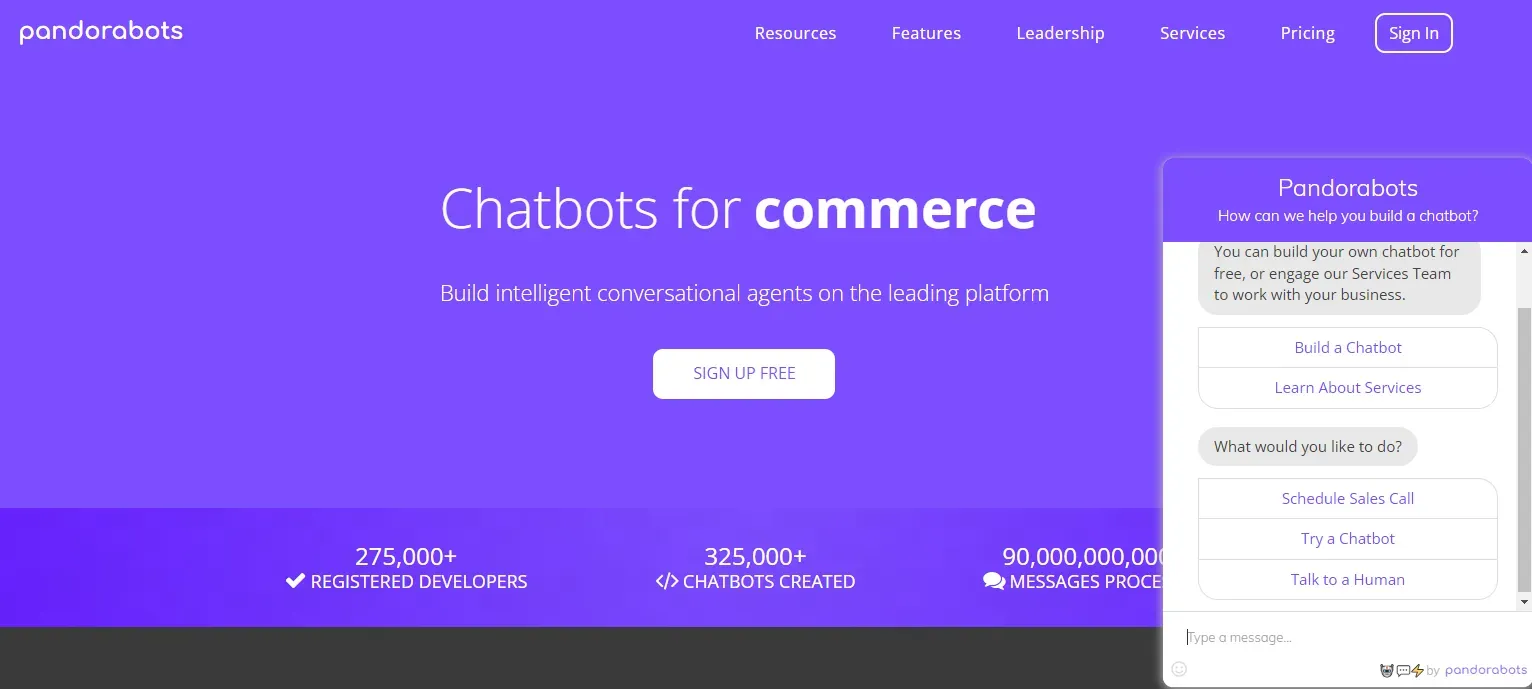 You may use PandoraBots to extend your experience across practically all social media platforms.
It provides an application programming interface (API) that enables you and your programmers to connect your bot to almost any platform. Due to the nature of the application programming interface and integrations, PandoraBots is best suited for experienced computer operators and developers.
It has user-friendly features, but converting it to a do-it-yourself solution is complex. PandoraBots has more capabilities than other AI chatbot software.
3. Botup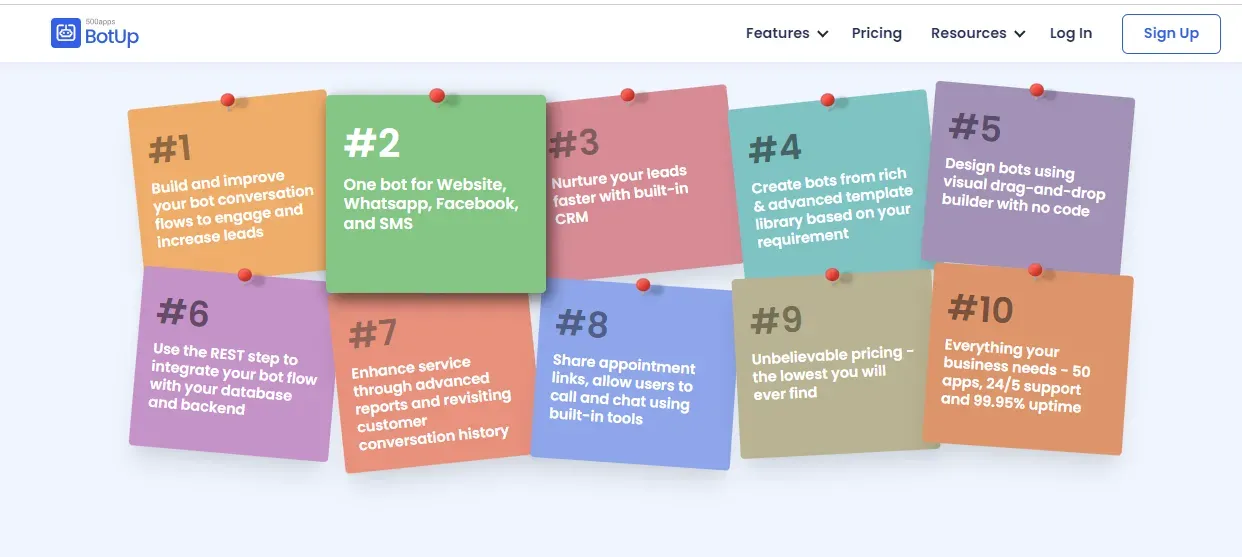 Botup is a robust chatbot builder that helps to construct, design, and automate bots for Facebook Messenger, WhatsApp, and Slack, among other platforms. Botup should be chosen if you need a bot for automatic lead creation, smooth engagement, and easy conversions.
It offers a 30-day free trial. There's also a $14.99 per user unlimited suite subscription that gives you access to over 30 apps.
4. Chatfuel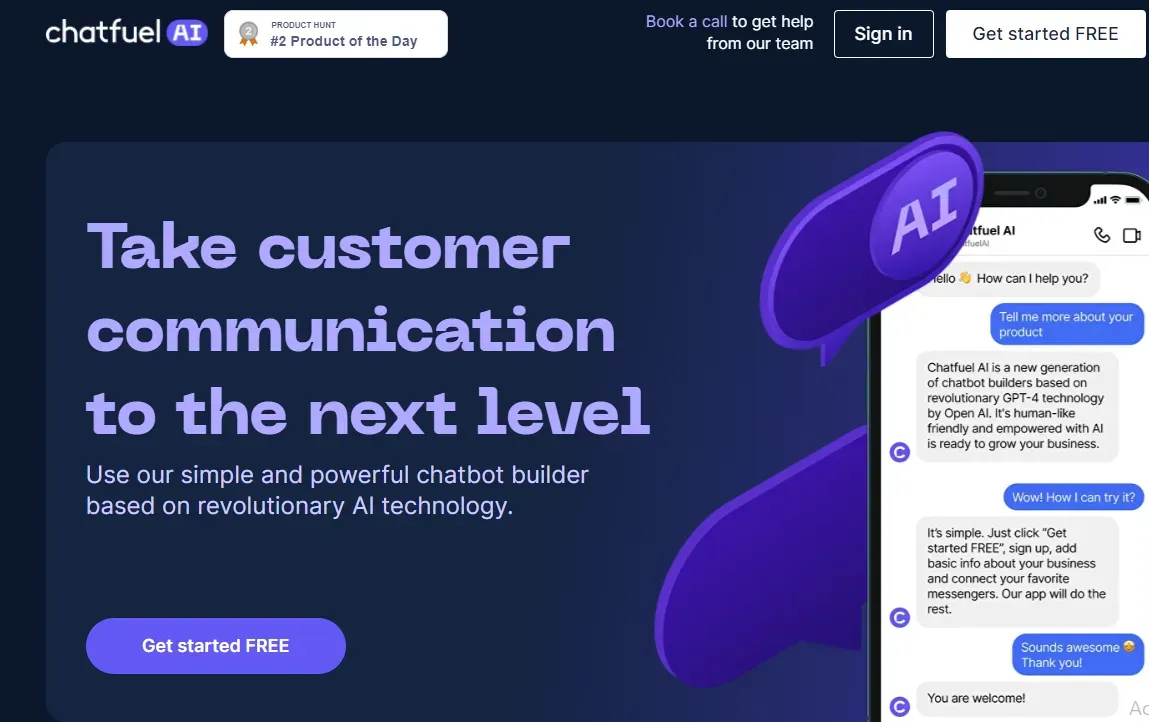 It works with both Facebook and Telegram. However, Facebook Messenger is more effective because of its 1 billion users than Telegram's 200 million. Chatfuel creates your bot using a template. It's easy to get started and install on the Messenger.
Free plans have basic functionality and up to 1000 members. The pro plan costs $15 per month for paid customers. In contrast, the premium plan costs $300 per month and includes more users, more significant support, and white-labeled branding.
5. ManyChat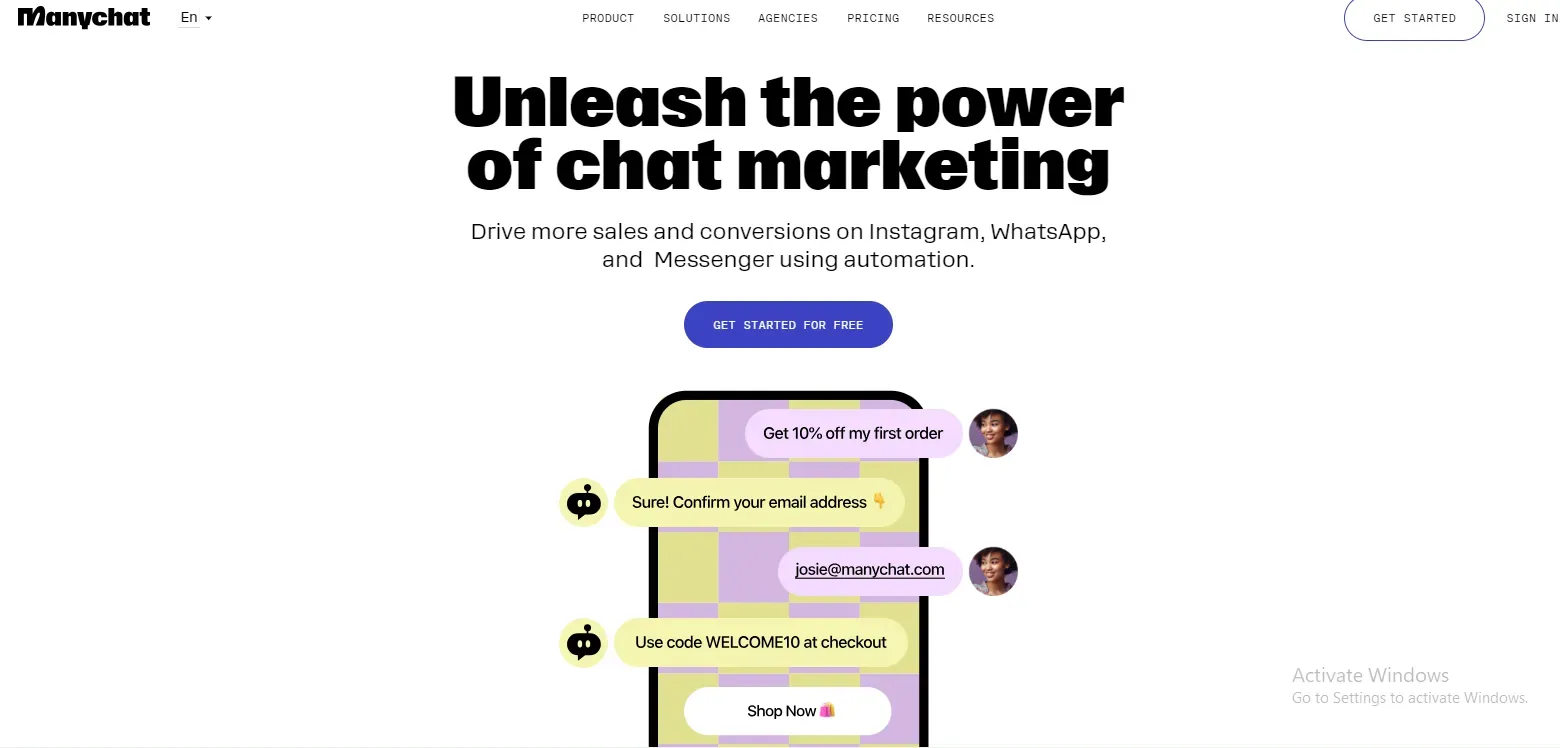 ManyChat is a good alternative for businesses having a small audience but looking to scale because it offers a feature-packed free account. The paid plans start at $10 per month for 500 members and $145 per month for 25,000 users.
Building a bot with ManyChat is straightforward and quick. It doesn't require any code. Instead, it uses a drag-and-drop builder to establish chats, answers, and other vital settings in minutes.
You can then link to Facebook and have an automated list builder and a sales funnel. The main disadvantage is that it is limited to the Facebook platform.
6. HubSpot Chatbot Builder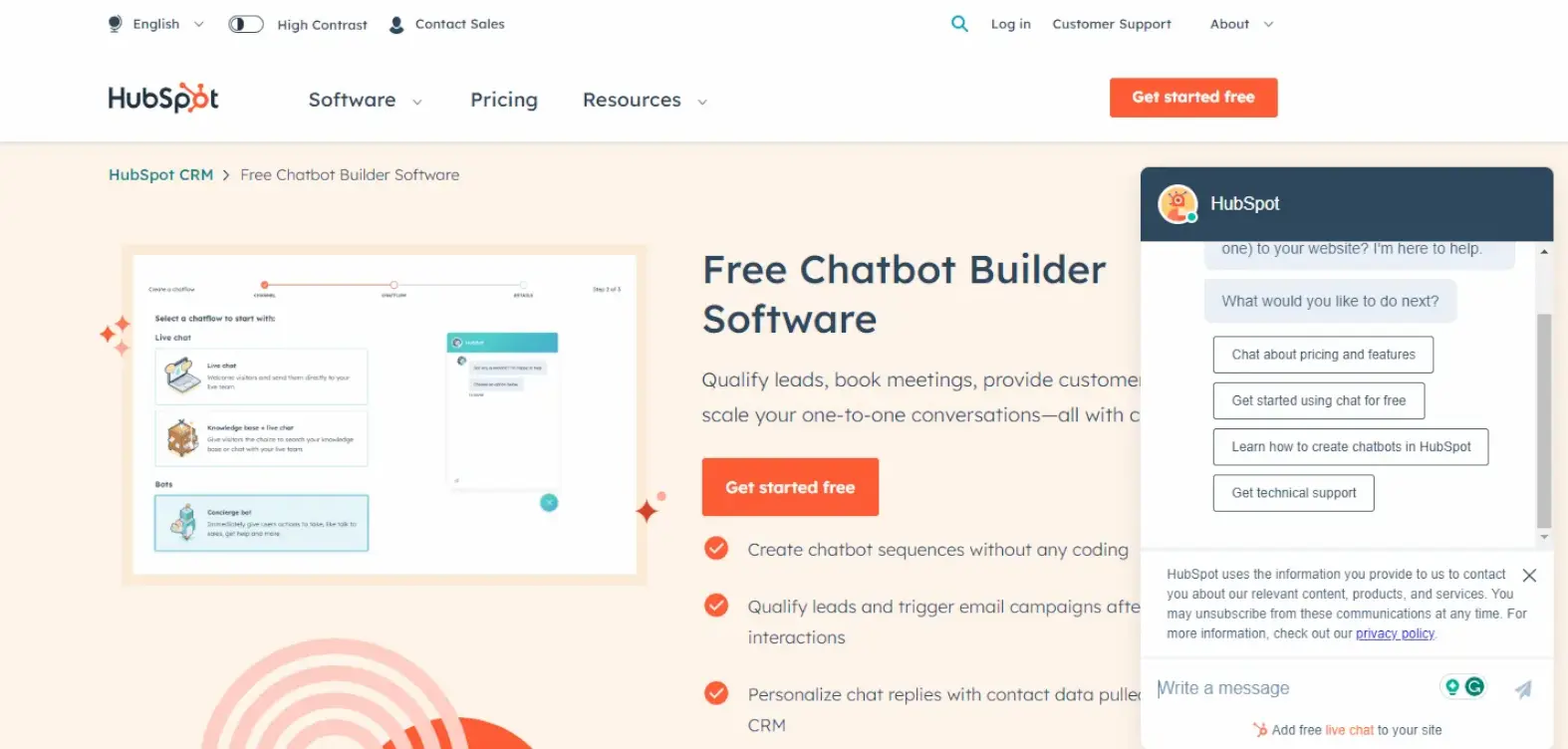 HubSpot is a powerful and adaptable platform that works with SMS, email, Facebook Messenger, the web, and Slack. Because its flowchart setup style is well-suited for visual employees, project managers will find it undemanding and user-friendly right away.
HubSpot enables you to respond to customer inquiries, qualify leads quickly, and schedule appointments with clients without hiring extra customer service personnel.
Paid accounts start at $50 per month, $80 per month, and $3200 per month for the enterprise package. Hubspot helps you to combine all of your marketing efforts, including chatbots, into one platform.
7. Chatbot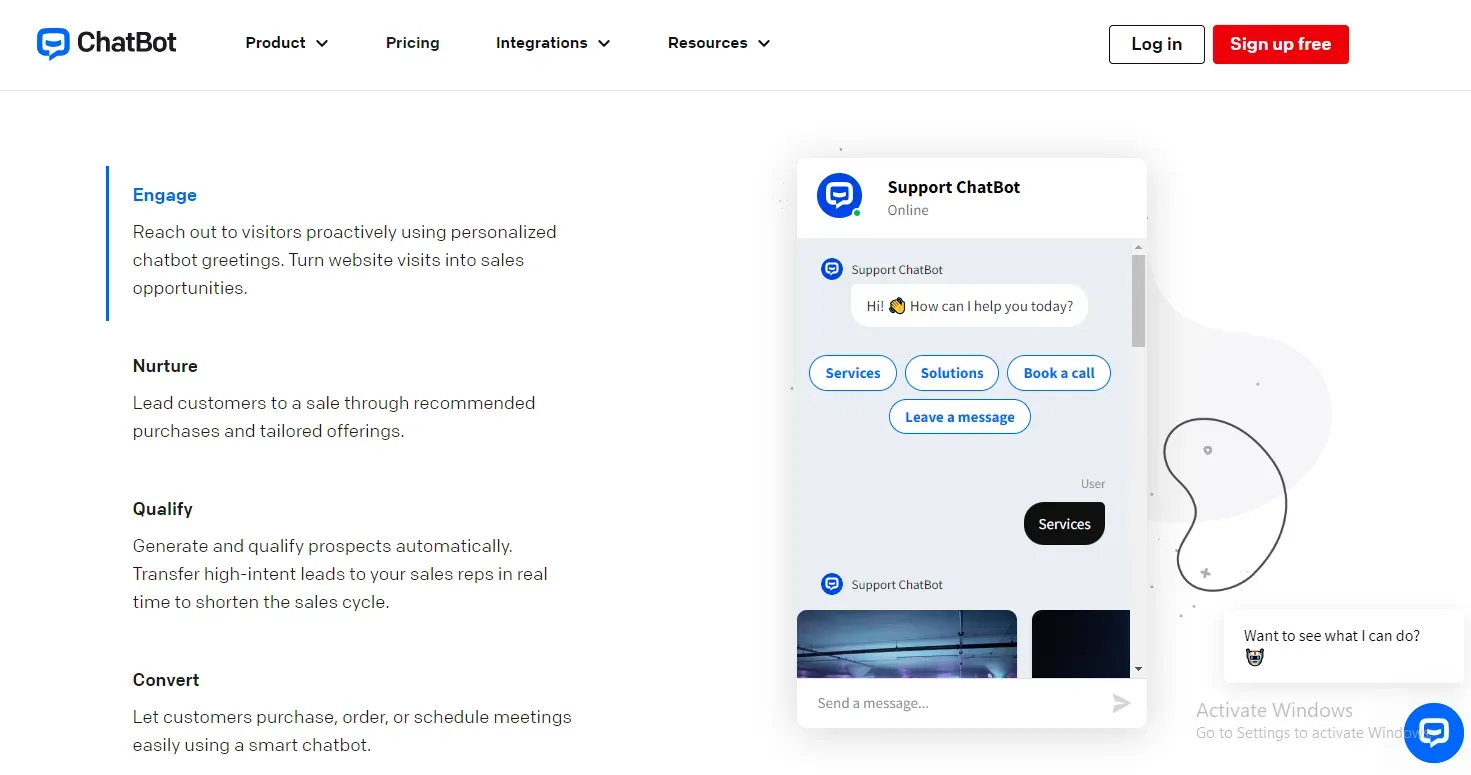 It works with Skype, Facebook, Twitter, Slack, Kik, LiveChat, and YouTube, allowing you to create bots that aid your clients with their service needs. It works with Chaat.io to give your bot superpowers like spam filters, automatic responses, and 24/7 customer service.
Transferring a stuck client to a human agent is simple, but it requires an external account. It provides them with a link to an expert who can assist them if they get stuck. Reports include a 14-day trial and a $50 monthly subscription with 1000 chats, which will cost 1 cent for each discussion if it expires.
8. ChatterBot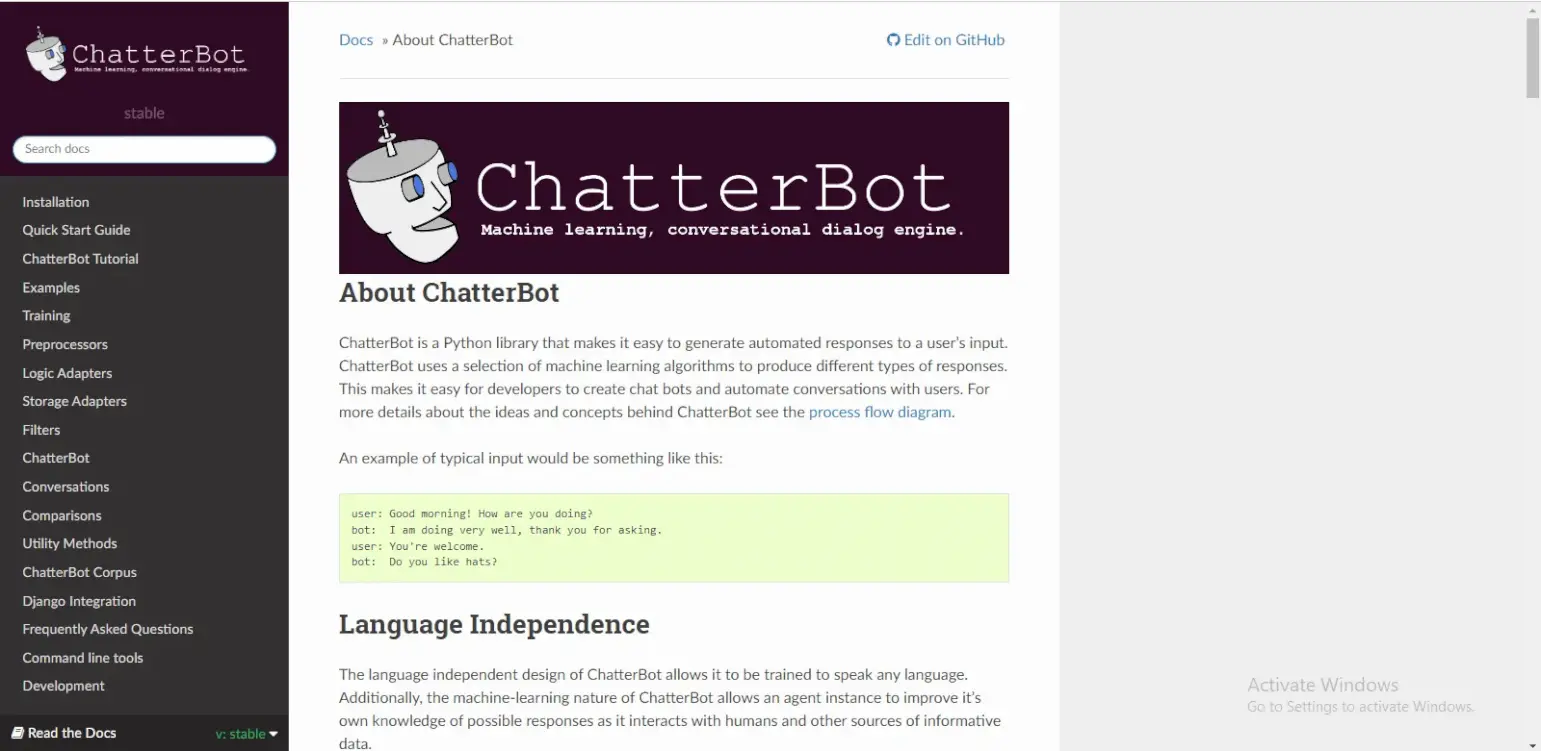 It includes the Python library, which enables users to create bots quickly. It's used to develop client-facing automated answers. Unlike other programs, it allows bots to communicate in any language.
Its key advantage is the ease with which new developers may learn how to construct chatbots that have more human-like dialogues using their online tutorial.
At the same time, this is more suited to people with technical know-how and not business owners.
9. SAP Conversational AI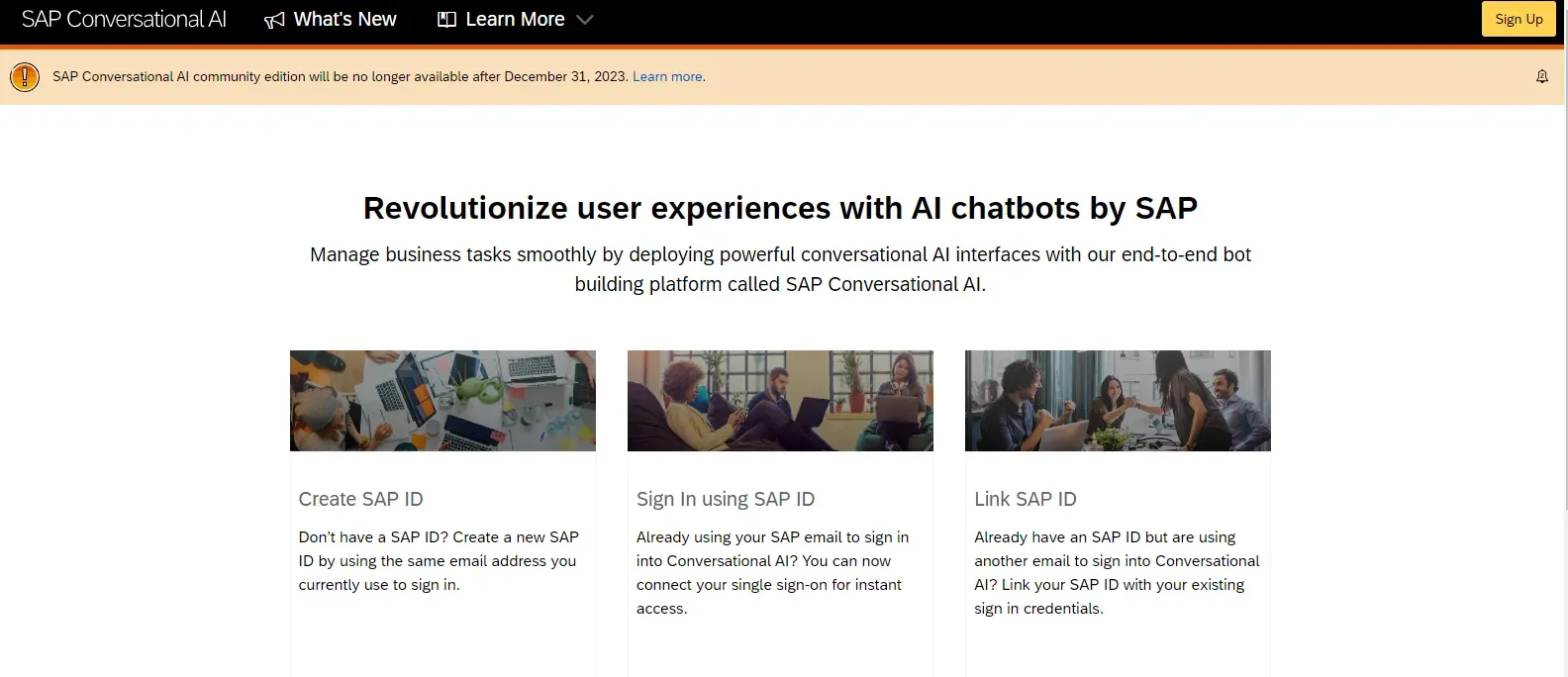 Designed for reporting and analytics at the enterprise level, it integrates with Facebook, Telegram, Skype, Kik, WhatsApp, and almost all messaging platforms.
Has a lot of flexibility and resources when it comes to improving customer service. Allows you to create an infinite number of requests for free at a rate of up to three per second.
10. Sequel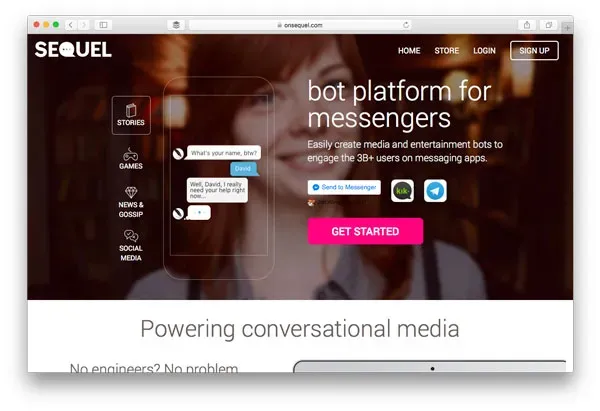 Facebook, WhatsApp, Kik, LINE, Telegram, Slack, SMS, and Viber are among the platforms it supports. It emphasizes storytelling and editorial qualities, which are popular among online advertisers.
It allows users to start utilizing bot templates that have previously been created. A sequel can help you publish, influence, and expand your quiz or game.
The platform is free to use, but you must pay to access value-added services and features via the Sequel shop. It is what you need if you want to start on a low-risk basis because it is free. The main disadvantage is that their extra features are exorbitantly expensive.
Conclusion
Chatbots can help you achieve excellent productivity. The best AI chatbots for businesses are laser-focused on a single-use case, such as customer support, surveys, administrative duties, or sales. So, choose one from the above list and have your business grow 2x within no time.
Frequently Asked Questions (FAQs)
What are the top 10 AI chatbot apps to help grow my business?
BotPenguin, PandoraBots, Botup, Chatfuel, ManyChat, HubSpot Chatbot Builder, Chatbot, ChatterBot, SAP Conversational AI and Sequel are some popular AI chatbot apps you can use.
How can AI chatbot apps help grow my business?
AI chatbot apps can automate customer support, engage website visitors, generate leads, provide 24/7 assistance, and personalize user experiences, ultimately helping you grow your business.
Are AI chatbot apps easy to integrate with my business website?
Yes, most AI chatbot apps provide integration options with popular website platforms like WordPress, Shopify, and Wix, making it easy to add the chatbot to your website.
Can AI chatbot apps replace human support agents completely?
While AI chatbots can handle many customer inquiries, it's best to have a combination of bots and human support agents to provide the best customer experience.
Do I need coding skills to use AI chatbot apps for my business?
No, many AI chatbot apps offer a no-code or drag-and-drop interface, allowing you to build and customize chatbots without any coding knowledge.