Are you getting new customers on Facebook but not able to answer them instantly? Are you facing any issues to answer customer queries on Facebook? Are you concerned about providing excellent customer service?
If yes, Here's something you need to know!!
Facebook messenger chatbot is the solution to all your problems. They can help your business to grow, increase, and improve your marketing activities and boost your sales.
Chatbots make Facebook messenger marketing different from Traditional marketing. These are automated messaging platforms that engage users in conversations, ask them questions, answers their queries, generate leads, ask them feedback, and works for all spheres of the business. Here is why Facebook messenger chatbot is a great choice to move ahead in your business:
Let's explore the different ways in which the Facebook messenger bot help your business to grow:
• Customer Support Service:
A Facebook messenger chatbot can seamlessly provide customer support service to your customers. There is no time barrier; it can provide 24/7 customer service.
It can handle multiple client requests at the same time and remain efficient in its working. It also treats your customers right and never turns the user away. It is proficient to gain insights from customers.
Good customer support helps the business to provide a better user experience. Companies can save money on all such activities which would have been performed by a human otherwise.
• Brand Awareness:
The Facebook messenger is the third-most used app in the world; It is used by 68% of app users. Even, first thing in the morning people do is to check their messenger notifications. If a business engages Facebook messenger chatbot, then they can quickly spread awareness for their brand/ business.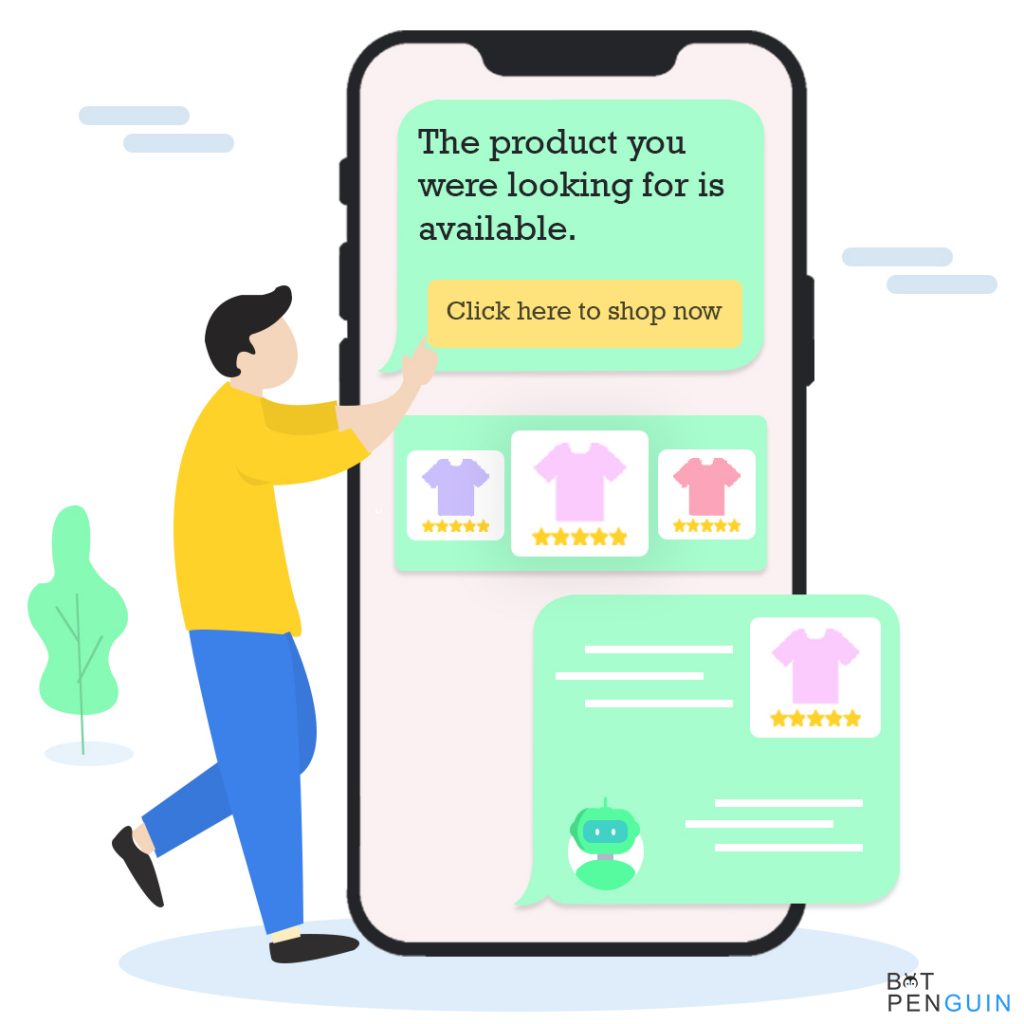 For example- A person who frequently uses Facebook opens a messenger and is provided with useful information about a product that the user might need, he may straightaway go to your website, and the user may seem to like the product. This way, your bot can spread awareness about your product, service, or brand.
• Encourages user to visit the website:
In a recent study, it was discovered that people think to message as the best medium to communicate with businesses, and around 2 billion messages are exchanged between users and businesses over Facebook messenger in a month.
Facebook messenger bots provide quite useful information to users who may indulge users in showing a keen interest in the product or service. Bots interact with customers to collect contact details, and moreover encourages the user to visit the website so that users get to know more about the product and may increase conversions for the business.
You'll understand better if you get to know how other businesses are using messenger bot for their business. Here are some examples:
• If a customer comes looking for a t-shirt and your bot suggests a matching pair of Jeans. It can quickly increase your business sales.:
• If a user searched for a particular product 3-4 times, then your chatbot can notify or remind them about that specific product.
• Bots can track your order for a customer and collect feedback.
• Bots can track your order for a customer and collect feedback.
•Bots can even notify some new offers to users that they would like, which may interest the customer and can increase sales.
This way, Facebook messenger bots can increase traffic to your website, which may lead to an increase in conversion rate.
Facebook messenger bot : Final Thoughts
Due to the vast use of Facebook messenger, nobody can deny the fact that it is a great way to use Facebook messenger bots to give a boost to your business operations. Facebook messenger bots not only helps your business to grow but also provides excellent user-experience, which helps in re-marketing the product by positive feedback from customers. It can be clearly said that Facebook messenger bots can help your business to move ahead.