Without any doubt, there is a rapid rise in chatbot uses in several businesses sectors. The development is not only for chatbots but also for Artificial Intelligence and other technologies. A Chatbot is an open-source program powered by Artificial Intelligence. It stimulates fundamental interactions with users via a chat interface. AI chatbots are one of the most fruitful results of AI innovations. It is a perfect blend of human intelligence with advanced digital capabilities to engage and communicate with customers in the online world. However, this article is not about the fantastic features of chatbots and how they change lives daily. Instead, we will deep dive into one popular chatbot named, ManyChat. Now speaking of ManyChat, it has a reputation within the bot enthusiastic for its fast and straightforward Facebook Messenger bots.
You can create chatbots using ManyChat with its predefined templates and drag-and-drop interface.
With this brief intro, let's know about ManyChat's – reviews, features, pricing, comparison, and more in this post.
What is ManyChat
ManyChat is a cloud-based chatbot service designed to help organizations create social media and text messaging conversation marketing campaigns. Employees can utilize the solution to connect with prospects and collect contact information, such as names, email addresses, and phone numbers, and tag audience groups based on activities taken. It has a pause automation function. It allows agents to turn off incoming bot messages while conversing with a single subscriber for a specific time.
ManyChat is a perfect solution for small businesses that enables them to run conversation marketing campaigns using social media platforms and text messaging. Message broadcasting, drip marketing, A/B testing, audience segmentation, and lead conversion are essential elements.
ManyChat Features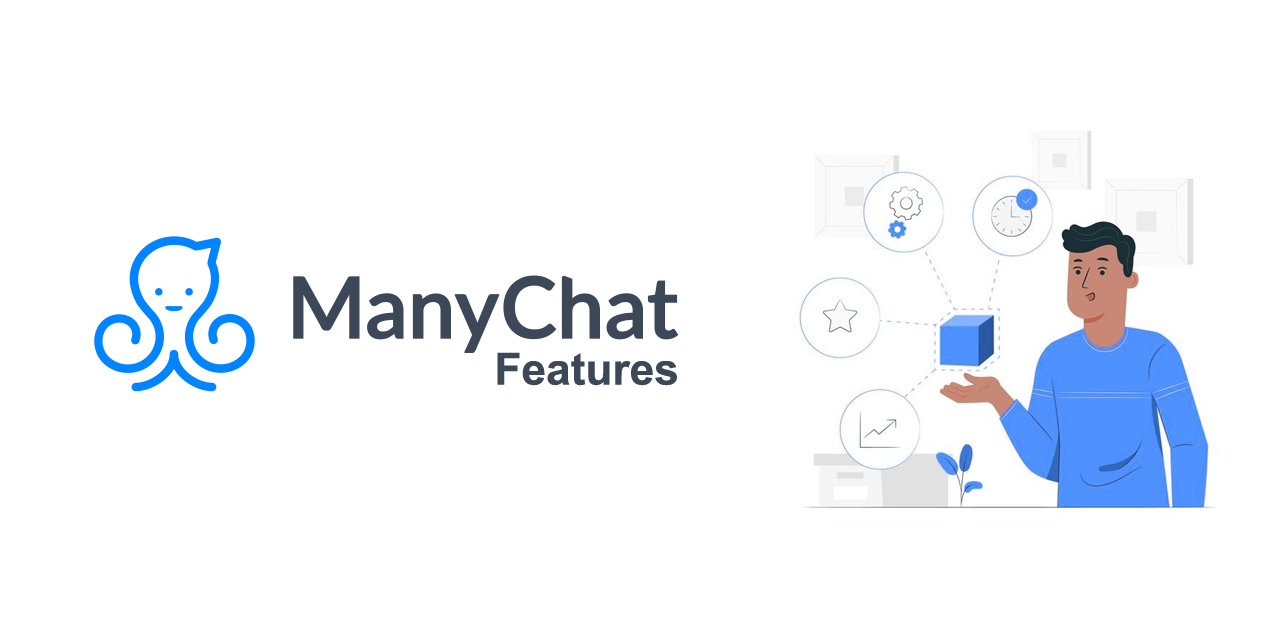 Live Chat
Artificial intelligence, despite its progress, still has limits. ManyChat provides a solution for this problem. It has a live chat feature that allows a team member to take over when the bot can no longer assist.
Friendly user interface
ManyChat has received a lot of praise for its user interface simplicity. ManyChat's dashboard helps to track any activities made on the screen instantly.
You will find a menu bar with many options on the left side. The matching material for each selection will be on the right side. Other clickable buttons are available for the most pleasant setting operations in prominent areas.
ManyChat is a simple and easy-to-understand user interface. ManyChat's icon-heavy interface does an excellent job of explaining each of its functions as you use it.
Basic Builder
The Basic Builder allows you to examine the chatbot content and all messages from specified Flows more structured manner. However, as the name implies, Basic Builder's workspace only has essential editing tools. It is only ideal for small messages owing to its linear arrangement.
Flow Builder
The Flow builder is a visual drag-and-drop interface that allows you to link messages and actions. This Builder provides a more organized view of your chatbot's material.
When you have a lot of material in your chatbot, a downside of this type of interface is that it might grow pretty cluttered. However, with ManyChat, you can switch to the Basic Builder at any point to keep things in order.
Diverse Growth Tools
It offers a variety of simple to complex growth tools to attract interactions with configured bots in the program. It extends the business's client base and various flow builder tools.
It allows retailers to send leads to their bot through various methods, including Facebook comments, website widgets, QR codes, and landing pages. There are a total of 8 ways to start a discussion between potential clients and your bots.
Users
It's simple to add custom fields and tags to particular users on the platform. Ask questions and save the user's response to a custom domain or a specific tag. You may send broadcasts to specified user segments using those custom fields and tags.
Users may also share their location with a chatbot on the platform. It might provide you with extra information about your target audience's location. The "Audience" option in ManyChat allows you to see all your chatbot's users. It provides you with a fair overview of everyone who has interacted with your chatbot:
Pre-made templates
ManyChat provides merchants with a variety of template possibilities. There will, however, be a distinction between Pro and Free templates. Only a ManyChat Pro account is required to install the Pro templates. ManyChat templates are user-friendly in both their creation and installation processes. All you have to do is follow the directions on the Template feature's workspace.
Multiple Chatbot elements support
The number of block kinds available while creating your bot's messages indicates ManyChat's simplicity and user-friendliness. The messages can be composed of various other components rather than just text and a picture. Because of this flexibility, you can add a lot of diversity to any marketing campaign you develop using ManyChat. It also increases the versatility of an automated customer service system. Automation Agency can assist you in creating broadcasts that take advantage of each sort of communication.
Useful built-in Analytics Tools
ManyChat Analytics Tools will keep track of conversion events and analytics so that users may monitor the success of each messenger campaign. Like:
Active Contacts: It displays the number of contacts you have in the specified time
Net Contacts: Display the number of active contacts for each day
Active & Inactive Contacts: Display contact statistics daily (both subscribed and unsubscribed from your bot). As a result, it provides some consumer insights to obtain additional contacts.
Contact Information: Show the percentage of contacts who speak a specific language and are male or female.
Channels
It is possible to create a chatbot on your website, Facebook Messenger, Instagram, SMS, and Email with ManyChat. It enables you to provide your users with an omnichannel chatbot experience. So, if someone responds a specific way on Facebook Messenger, you may send an email based on their reaction.
You could send text messages to people in the United States and Canada via SMS. You must utilize the Twilio connection available in the ManyChat App Store to send text messages to other countries (additional costs apply).
ManyChat Reviews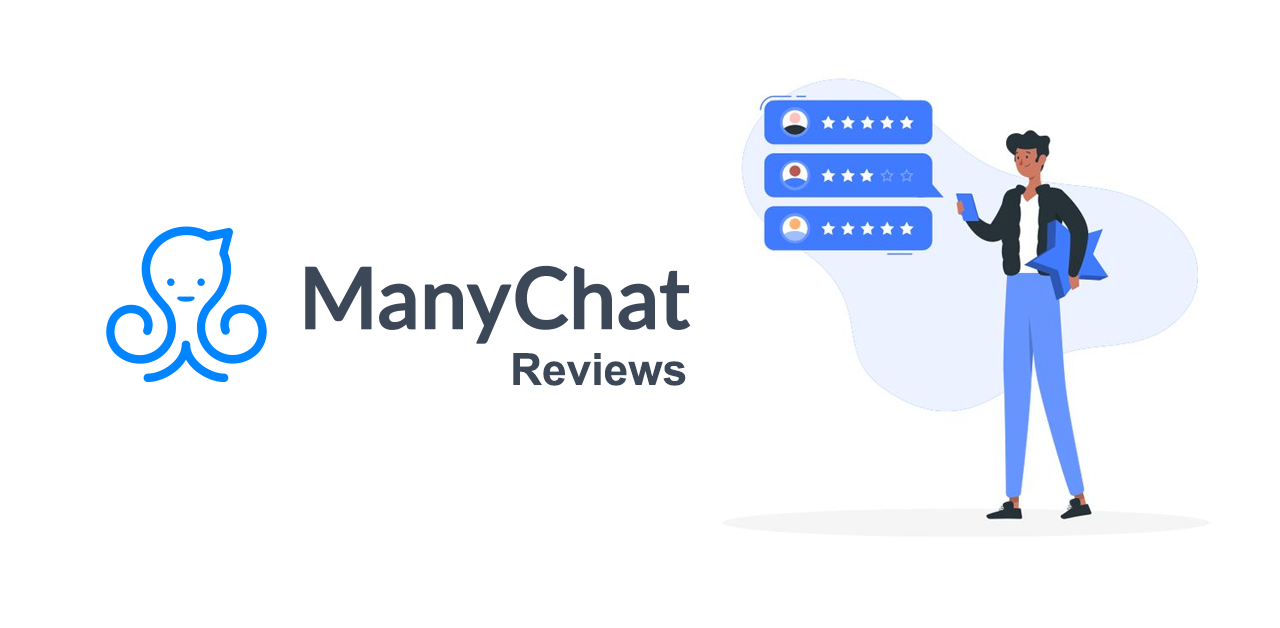 ManyChat Review - Customer Support
Even though ManyChat is very self-explanatory, you may want assistance from the company's experts. Email is the only way to contact the customer service team. You can locate an email ticket on the company's website accessible to all registered users.
ManyChat support professionals are accessible 24 hours a day, seven days a week, and you may anticipate a prompt answer. Furthermore, help is available to both paid and free customers. While the email ticket is the sole option to contact customer service directly, the ManyChat website provides information.
Then there's the ManyChat Facebook group, which has over 100,000 members. It's an excellent resource for learning about the ManyChat bot without contacting the support staff. The community is highly active, with over 15 new subjects added every day, and you should anticipate a rapid response.
ManyChat Review - eCommerce
ManyChat integrates directly with Shopify, allowing you to:
Recover abandoned carts
Notify customers about orders and shipment updates
Collect reviews and comments after a transaction
Generate repeat purchases.
However, integrating Stripe or Paypal into your chatbot may accept payments and allow customers to pay straight within the chatbot.
There is only one drawback: ManyChat does not integrate with WooCommerce. However, you can still connect with WooCommerce, but you'll need to use a Zapier or Integromat interface.
ManyChat - Ease of Use
The simplicity of usage is where ManyChat excels. Setting up a chatbot for your company might be difficult, mainly if it entails coding. The ManyChat dashboard, on the other hand, offers an icon-heavy design that requires no coding knowledge.
In other words, the tool does everything through app activities. All you have to do is choose your preferences, and the app will take care of the rest. There are also ManyChat Basic and Flow Builder functionalities available. They assist your bot in following a straightforward conversation flow while interacting with a consumer.
The Basic Builder helps you get started and keeps things simple, whereas the Flow Builder gives you more possibilities. It's straightforward to use both tools. Even if you're unfamiliar with the AI technology that powers chatbots, there shouldn't be any issues. ManyChat does an excellent job explaining each option and how to utilize it.
The Flow Builder is the feature that most company owners pick, according to the countless user-written ManyChat evaluations. It gives you a whole perspective of all user interactions, allowing you to predict how your chatbot will behave to a client.
ManyChat Review - Integration
ManyChat offers outstanding integration so that you may link ManyChat to other preferred tools, such as:
Paypal
ActiveCampagin
CovertKit
Hubspot
MailChimp
Google Sheets
Janis
2.000+ additional apps through Zapier and Integromat
ManyChat Pricing
For companies, ManyChat offers three price options:
No-cost plan: Limited to 1000 contacts
Pro plan: Prices range from $15 to $435 per month. The cost of the Pro plan depends on the size of your contact list.
Business plan: Contact the ManyChat sales team.
ManyChat Competitors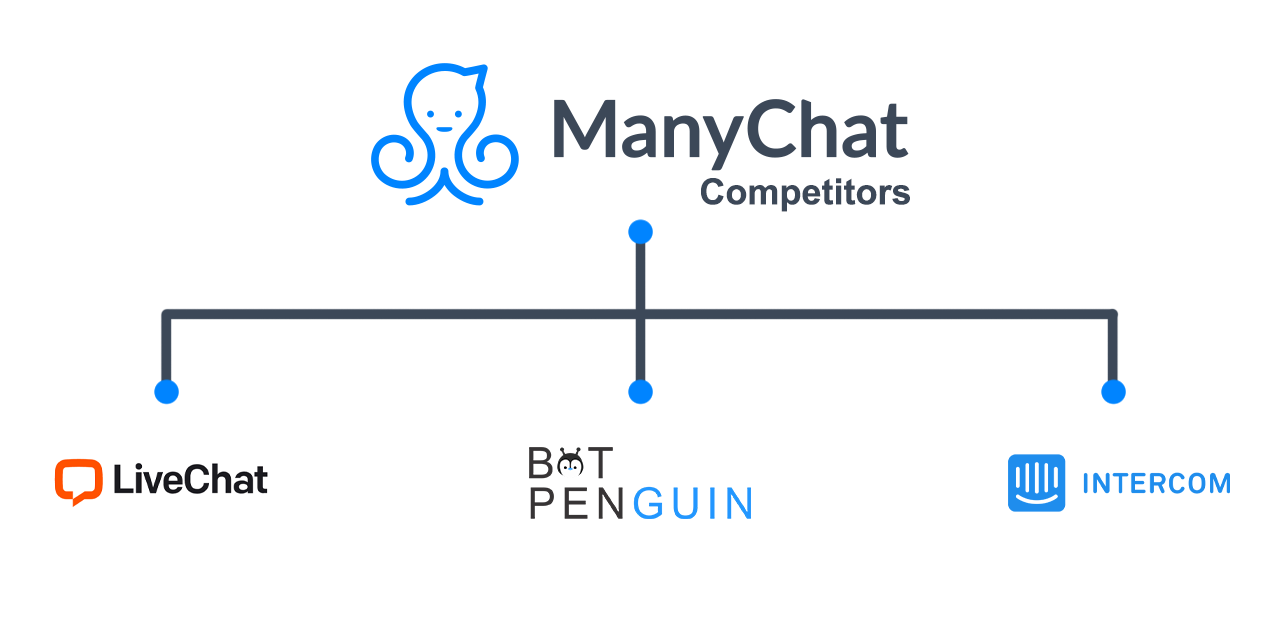 Livechat
The Livechat software comes with a simple admin dashboard that is considerably easier to use than the previous version. It has a responsive default theme, so visitors don't have to wait for the entire page to load to see the whole content length.
BotPenguin
BotPenguin is an excellent alternative to ManyChat and one of the most popular chatbot systems these days. Better custom fields and conditional logic are available with BotPenguin's Interface. It allows you to construct a more personalized flow-based chatbot.
With the open and flexible BotPenguin Platform, you can meet your growing customer demands with a robust API for custom integration, automated processes, intelligent analytics, ecosystem partner solutions, and hundreds of Marketplace Apps.
Intercom
Intercom is a Conversational Relationship Platform that enables customers to communicate with you in real-time via text, chat, and email. It also has integrated solutions in various disciplines, including sales, marketing, and support.
Merchants can empower their consumer interactions with Intercom by providing personalized, messenger-based experiences. Create simple to complicated bots based on the demands of your company.
Conclusion
Undoubtedly, a world full of AI-powered chatbots can be complex and challenging to beginners. That's why we suggest you try ManyChat. It helps your company send messages instantly to your customers. Moreover, it has a flexible and structured interface, robust integrations, and sound customization.
If you are still in turmoil about whether to have this chatbot, try the free version. It is good enough for you to try and decide whether you want it or not. However, there are some drawbacks to the free version, like a mediocre omnichannel experience. Yet it outperforms other chatbots on Facebook messenger.
Related: