One of the biggest reason for the increasing chatbot trends in 2019 is that the user does not need any technical knowledge to interact with chatbots.
"More than 61% of people say that messaging as a way of communication is the easiest and most convenient way to connect with a business."
Users need to enter their queries and get an instant response. Many people use instant messaging in their free time for interaction with their friends.
And that is the reason why most people enjoy using chatbots as a medium to solve their queries.
Insights for Chatbots in business:
o More users will begin to communicate with the company. Such is the belief that 70% of consumers will start to discuss their problems and queries with the business.
o According to the latest survey reports, over 59% of users are expected to use it for purchasing more in the future.
o 68% of users expect better user experience using chatbots.
"64% of business respondents believe that chatbots allow them to provide a more personalized service experience for customers."
Instant messaging is an attractive feature to attract customers to ask their queries. Is it enough for a chatbot to attract users?
Well, the clear answer is NO, not only speed matters but also the relevance of the answer to the query matters. In case of response time is fast but the answer is not at all relevant, then it is of no use.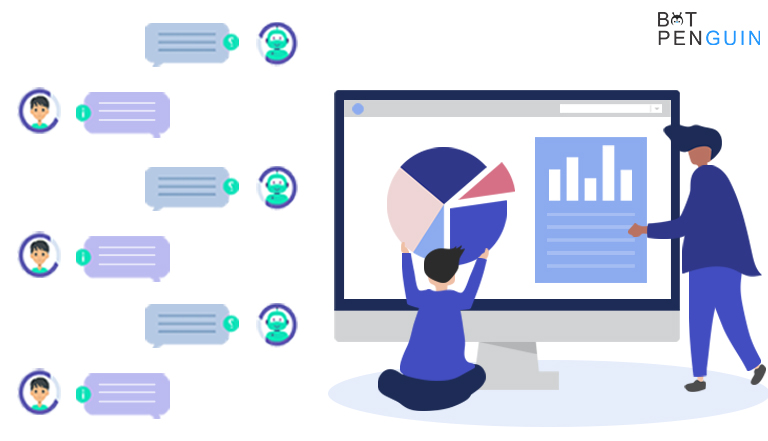 chatbot trends 2019
If you think that the process of building a chatbot is, but implementation is easy, then you must look at these statistics.
According to US Internet users, some challenges faced by them are:
• 47.5% of users say that there are too many unhelpful responses.
• 28.2% of users say that these provide bad suggestions.
• 24.2% of users say that chatbots take too long to respond to their queries.
• 39.5% of users say that it redirects to self- serve FAQs.
• 40.7% of users say that the answers provided are creepy.
"58% of respondents believe that chatbots were not as effective as expected."
Companies using chatbots see many areas for improvement to make the chatbot more effective.
Not only users but many organizations have encountered errors while using chatbots:
• 59% of respondents say that chatbots often misunderstand requests.
• 30% say that chatbots often execute inaccurate commands.
• 14% say that these often provide incorrect information.
• 29% refer to its security and privacy issue.
But still, chatbots are not ineffective or inefficient, as, with the increasing chatbot trends, more accurate technology is implemented to make them more intelligent and efficient.
As per the prediction, by 2022, 85% of enterprises will use chatbot.
According to Google chatbot trends, there is small annual growth every year, which means that people are still interested to know and use chatbot technology.
Increasing chatbot trends in businesses:
• More than 79% agree introduction of chatbot will help accelerate new technology implementation in their companies.
• 46% use AI for voice dictation.
• 26% to support teamwork.
• 24% use to manage employee schedule.
• 14% for customer service assistant.
• 13% to manage IT services.
Major industries benefiting from chatbots:
I. Hospitality
To make the process of finding hotels, restaurants, and booking easy for their customers and provide better service, the hospitality industry has engaged bots for their functioning and is coming out with a huge success.
II. Retail
Bots are becoming a hub for marketing products and increasing sales in the retail sector. They help in conversion even when the physical store is not open, and people still are interested in their products only through chatbots.
III. Customer Service
It is very beneficial for businesses who want to provide their customer fast and 24/7 service. It also helps in lead generation operations. Many companies even rely on their leads to sustain and expand their business.
IV. Real Estate
They don't have a direct connection to this industry i.e., it does not perform the primary function of agent-client relationship but answers all the questions customers ask about real estate or buying the property or home.
V. Banking
They can easily manage the multiple tasks performed by banks. The functions performed by banks are specific, which involves giving particular commands to pre-defined commands which can easily be accomplished like transferring funds, checking balances.
Conclusion:
In the next five years, Chatbots will handle 85% of customer interaction without human intervention. 50% of enterprises will spend more money on chatbots rather than mobile apps.
Cost saving with the use of chatbot conversation is going to be $8 Billion. Companies will save 2.5 Billion hours. $1.3Billion will be the overall market size for chatbots in the world.
The chatbot industry is a rapidly growing industry and to become a part of this great success and to engage chatbot in your business.
Click here https://botpenguin.com/ to create a chatbot for your business for FREE today.