What is Multi-channel eCommerce?
Multi-channel eCommerce refers to the practice of selling products, services, or both through a range of platforms and channels. This strategy includes online marketplaces, social media, and websites, as well as brick-and-mortar stores.
Assessing the Need
Nowadays, shoppers enjoy the freedom to browse and buy through multiple avenues. To keep up with the ever-evolving customer expectations, businesses must transcend the limitations of a single-platform approach by embracing multi-channel eCommerce.
Major Players
Some of the heavyweights in the realm of multi-channel eCommerce include Amazon, eBay, and Walmart, among others. These platforms enable businesses to expand their reach and connect with potential customers across varied platforms.
Expanding Opportunities
Multi-channel eCommerce allows merchants to explore different venues for selling their products and services, opening a world of possibilities. Brands are no longer confined to a single selling platform, allowing for a more comprehensive approach to grow their business.
Setting Up Multi-channel eCommerce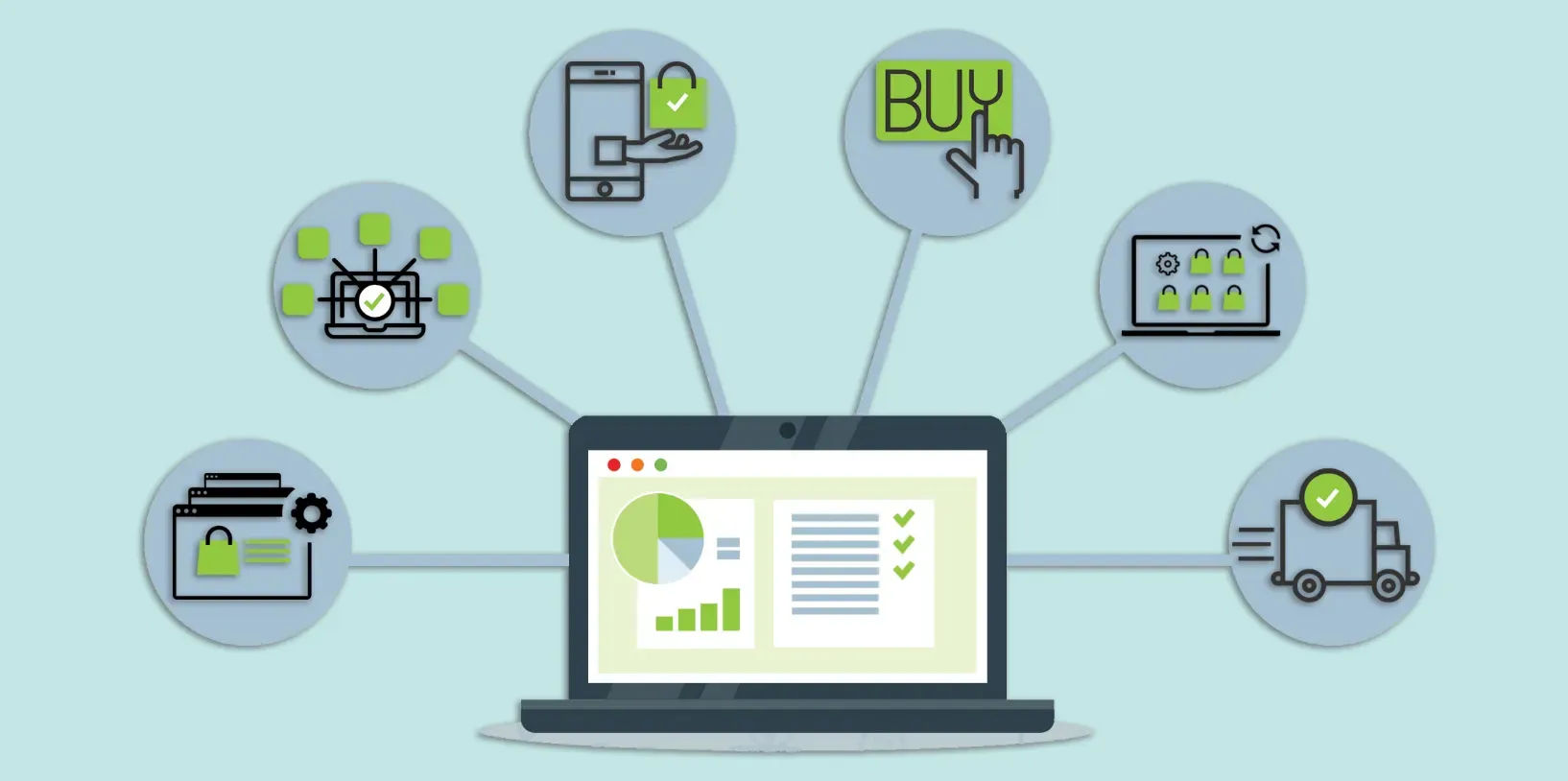 Selling on multiple channels requires thoughtful selection. It's important to determine which platforms best align with your target audience, product offerings, and overall business objectives.
Integration and Automation
Efficiently managing inventory, customer data, and pricing across multiple channels is paramount. Integration and automation tools like eCommerce management software streamline the process, ensuring a hassle-free and efficient operation.
Optimizing Channel-Specific Strategies
Each selling channel has its unique characteristics, requiring a tailored strategy. Hence, it's crucial to adapt your eCommerce operations—such as pricing, promotions, and listing formats—to suit each specific channel.
Data Analytics and Insights
Consolidating data and generating insights across various channels can help businesses make informed decisions. Tools like Google Analytics and Power BI provide actionable intel, allowing merchants to optimize their multi-channel strategies.
Advantages of Multi-channel eCommerce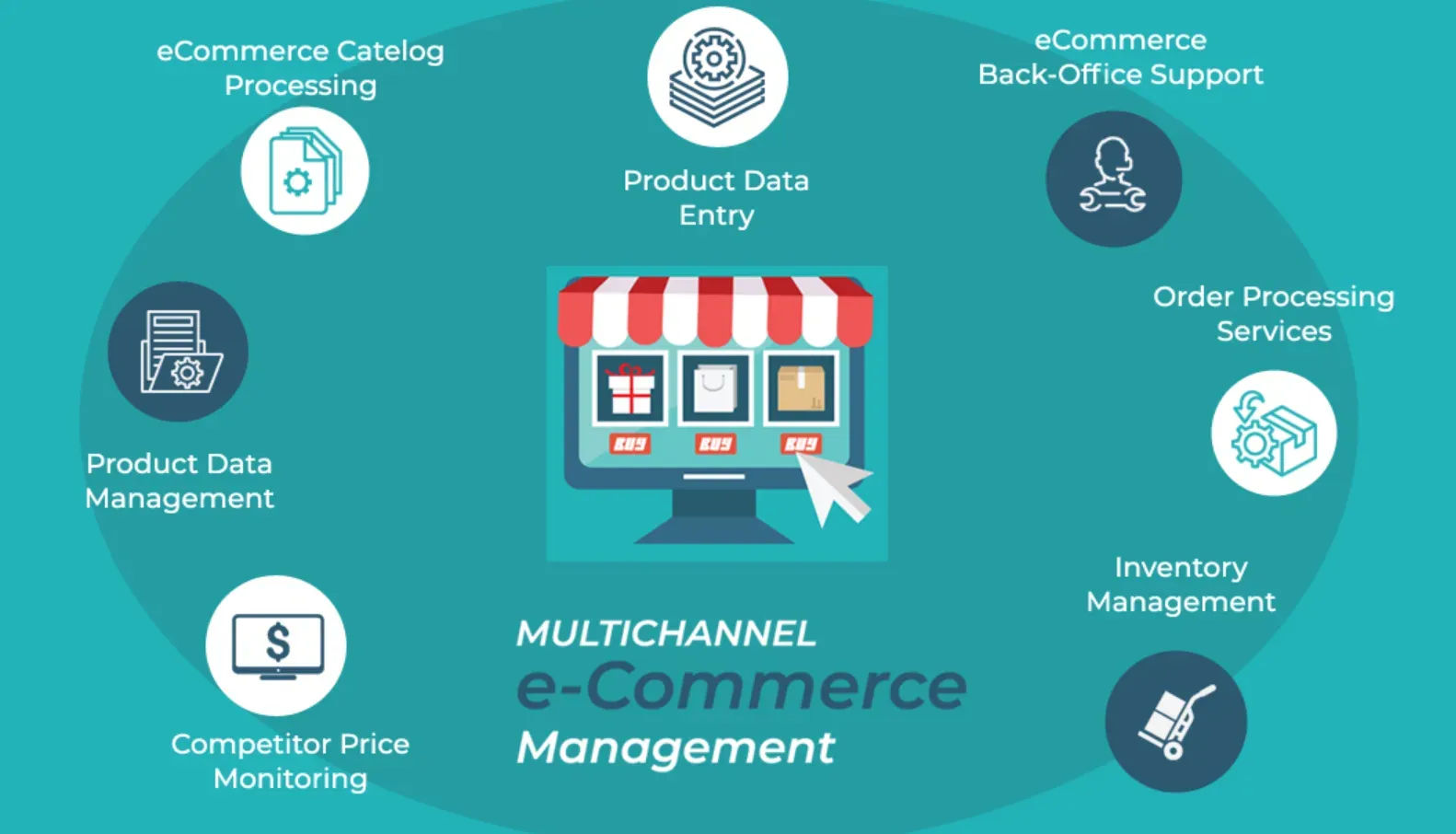 Enhanced Customer Reach
A multi-channel approach allows businesses to connect with a larger customer base by tapping into diverse platforms and market segments.
Boosted Brand Visibility
By being present on multiple channels and platforms, businesses can significantly enhance their visibility, leading to increased brand recognition and credibility.
Reaping the Benefits of Platform-specific Features
Different channels offer unique features and selling propositions. Leveraging these features can help businesses customize their offerings, appealing to a broader range of customers.
Mitigating Risks
Relying solely on a single channel can be risky. With multi-channel eCommerce, businesses can minimize risks associated with unforeseen changes or external factors like algorithm updates and policy amendments.
Fine-tuning Your Multi-channel Strategy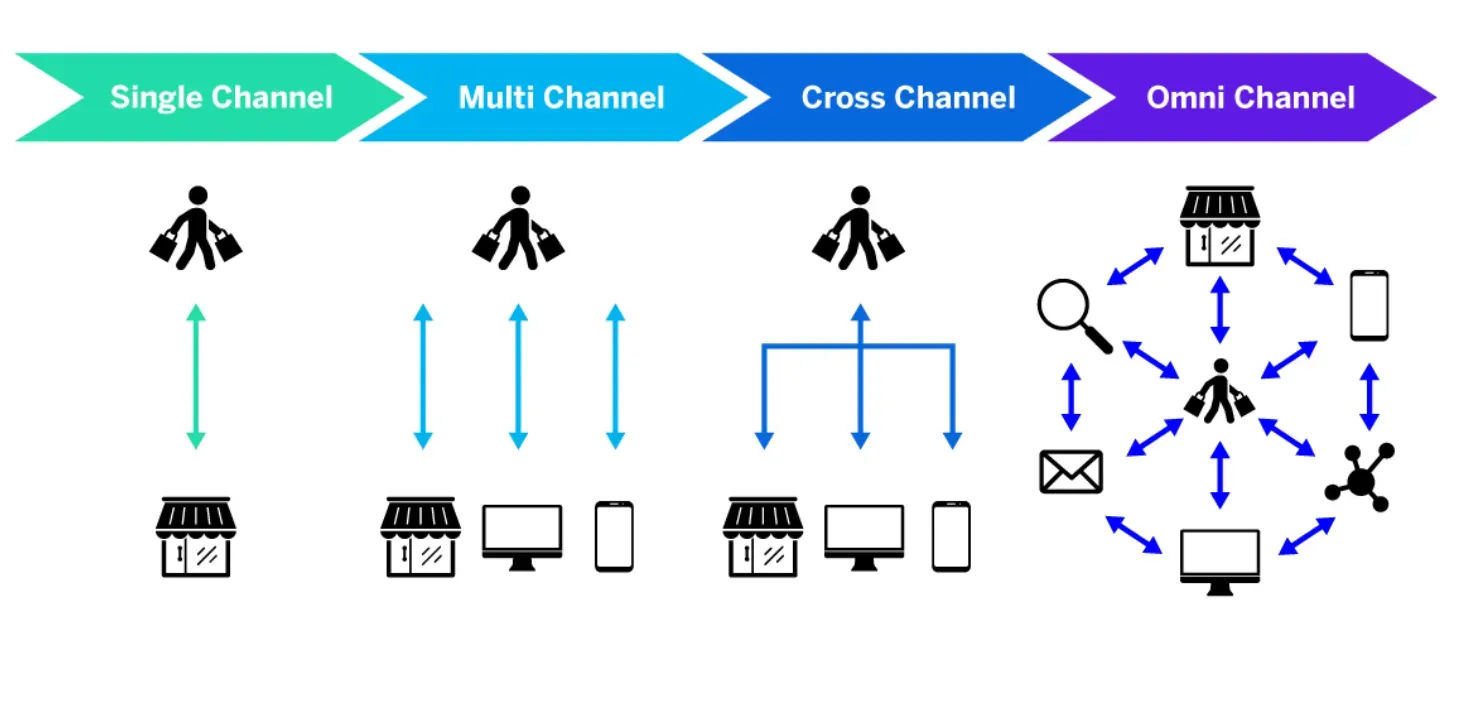 Omnichannel Customer Experience
Creating a seamless, omnichannel customer experience is essential for success in multi-channel eCommerce. To achieve this, merchants must recognize and integrate various touchpoints in the customer's journey.
Maintaining Consistency
Ensuring consistent messaging, branding, and customer experience across all channels creates a harmonious shopping environment, enhancing customer satisfaction.
Evolving with Trends
Staying updated on the latest trends in eCommerce is crucial. This awareness helps businesses adapt to emerging industry changes and develop a nimble multi-channel strategy.
Regular Performance Evaluation
Constantly assessing the performance of different channels and adjusting marketing budgets, pricing, and inventory accordingly is crucial to sharpening your multi-channel strategy.
Challenges and Solutions in Multi-channel eCommerce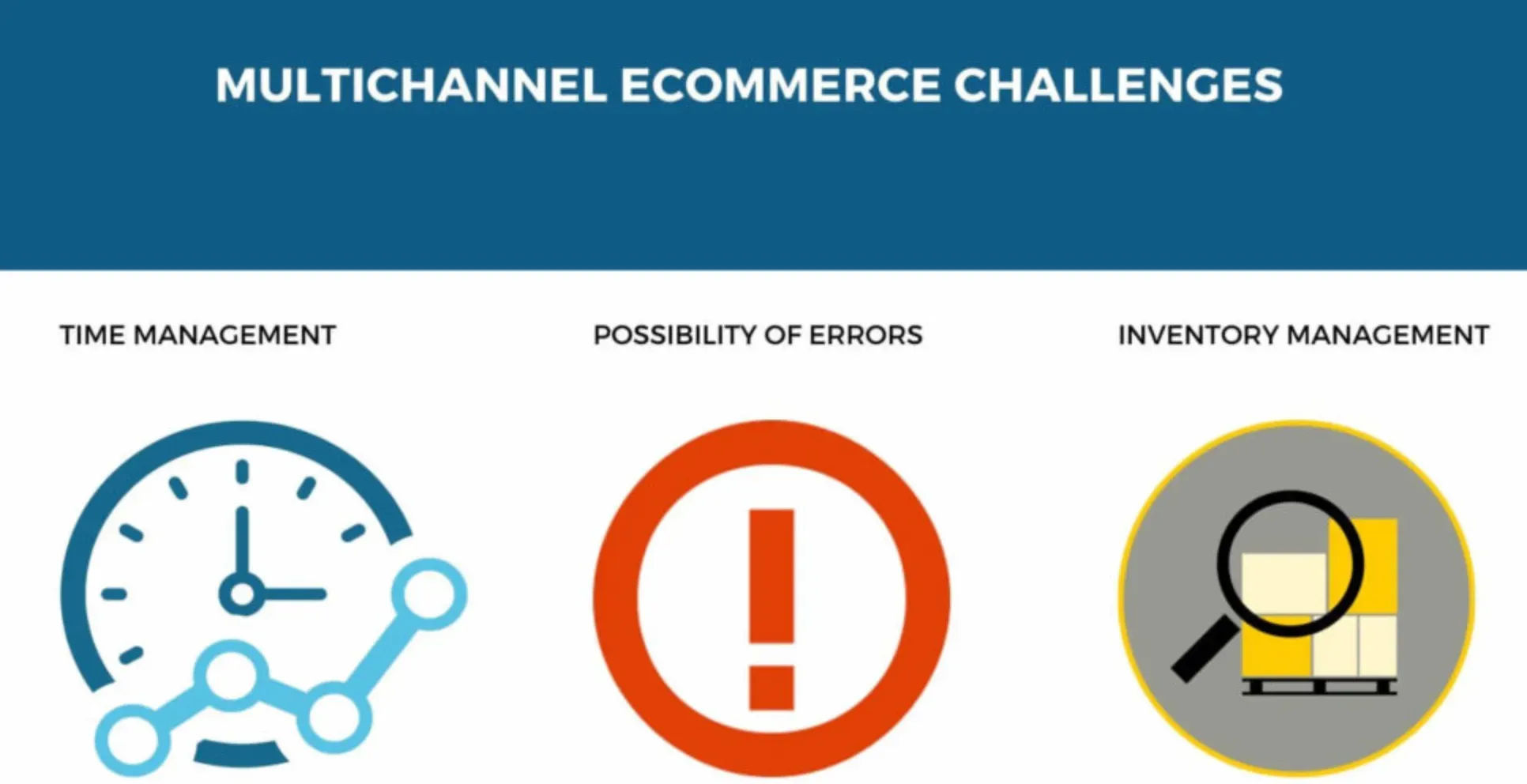 Inventory Management
Managing inventory across multiple channels can be challenging. To overcome this, invest in inventory management solutions that centralize and synchronize product data across all selling platforms.
Pricing and Promotions
Maintaining consistent pricing and promotions across channels may pose difficulties. By using pricing and promotion management tools, businesses can automate and regulate prices more efficiently.
Customer Service Excellence
Multi-channel eCommerce can raise customer support expectations. To ensure a top-notch customer service experience, consider outsourcing, utilizing customer support tools, or creating support knowledge bases.
Data Integration
Integrating multi-channel data is a demanding task. Employing data integration tools and setting up appropriate API connections with various platforms streamlines the process of consolidating data and generating insights.
Suggested Reading: Data Integration: Types and Best Practices
Future of Multi-channel eCommerce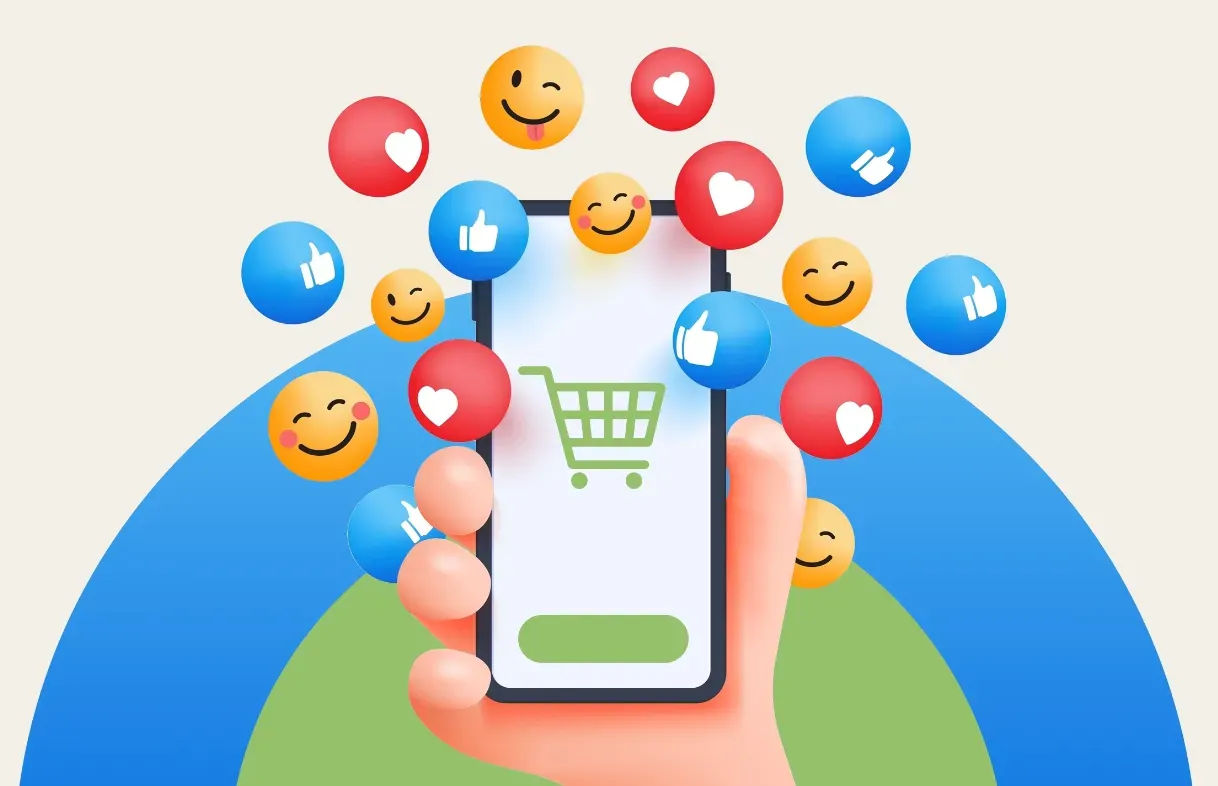 Social Commerce
The rise of social commerce will continue to shape the landscape of multi-channel eCommerce in the coming years. Social media platforms like Instagram, Facebook, and Pinterest will serve as prominent selling channels.
Voice Commerce
Voice-activated shopping through smart devices like Amazon Echo and Google Home is on the rise. Merchants should consider integrating voice commerce into their multi-channel strategy.
Suggested Reading: Voice Commerce: The Future of Shopping
Augmented Reality (AR)
AR will have a significant impact on the future of eCommerce, providing customers with immersive online shopping experiences through apps and websites.
Suggested Reading: Augmented Reality: Types & Challenges
Artificial Intelligence (AI)
AI will continue to reshape multi-channel eCommerce, offering personalized shopping experiences, chatbot-assisted support, and smarter logistic solutions.
Suggested Reading: Unlocking AI's Potential: Types, Applications, Challenges, Future
Frequently Asked Questions (FAQs)
How can multi-channel eCommerce help my business?
Multi-channel eCommerce can help your business by expanding your reach, increasing sales, and enhancing brand visibility across various sales channels.
Which sales channels should I prioritize for my business?
The sales channels you should prioritize depend on your target audience and product offering. Research different channels and choose ones that align with your goals.
How can I manage inventory across multiple channels?
Implement a centralized inventory management system that syncs stock levels across all channels in real-time, preventing overselling or stockouts.
Does multi-channel eCommerce require additional resources?
Yes, implementing multi-channel eCommerce may require additional resources such as technology systems, staff, and inventory management tools. Plan and allocate resources accordingly.
How can I provide a consistent customer experience across channels?
Ensure streamlined order fulfillment and customer service processes. Offer consistent branding, product information, and pricing to create a seamless customer experience.