What is Omnichannel?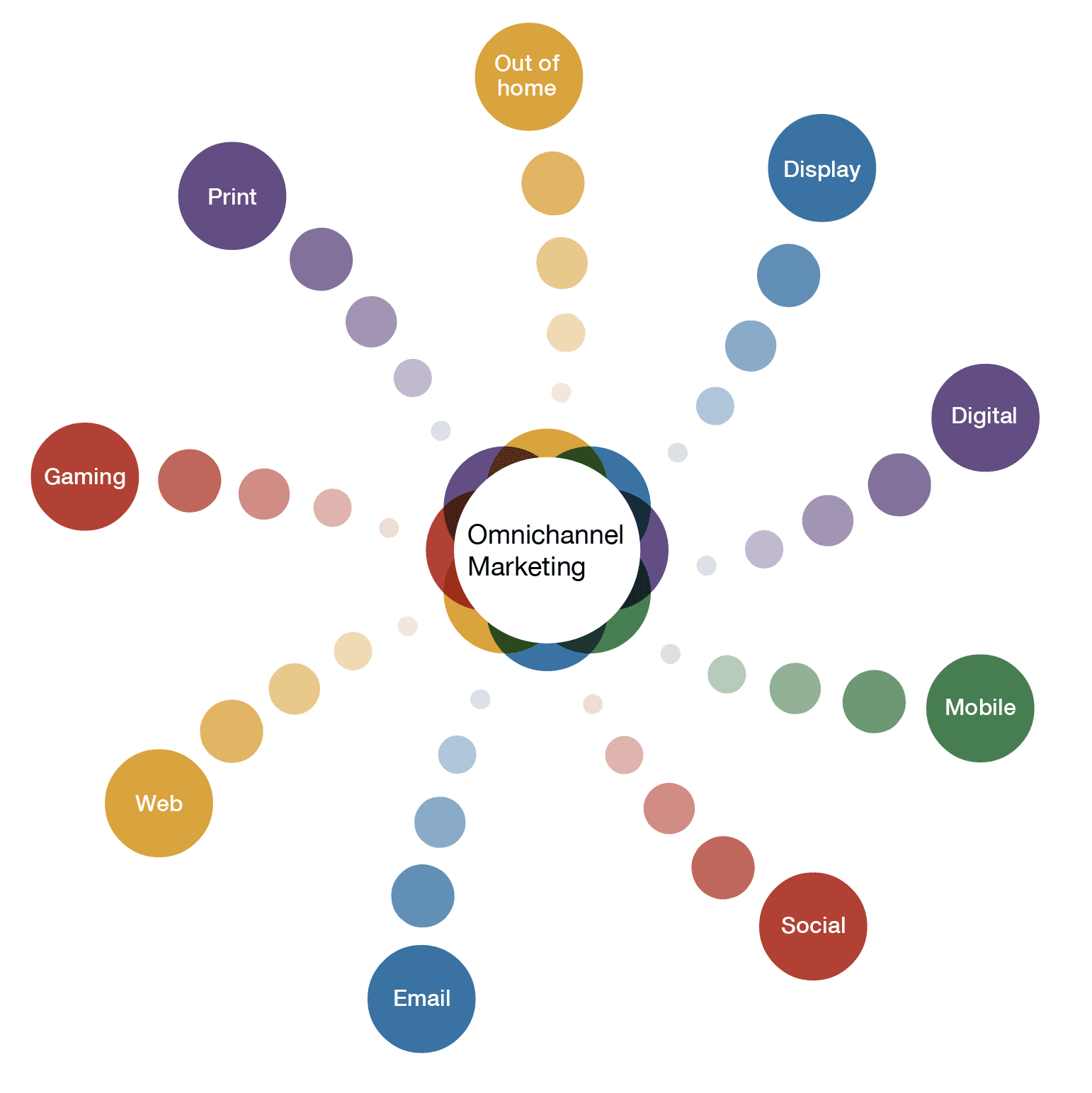 Omnichannel is a customer-centric approach that aims to provide a seamless and consistent experience across all touchpoints, whether online or offline.
It goes beyond multichannel marketing by integrating various channels and platforms, ensuring that customers can effortlessly switch between them while enjoying a unified brand experience.
The goal is to create a personalized, convenient, and coherent journey for customers, ultimately leading to increased satisfaction, loyalty, and sales. By embracing an omnichannel strategy, businesses can better understand their customers' needs and preferences, allowing them to deliver tailored and engaging interactions at every step.
Omnichannel vs. Multichannel

While both omnichannel and multichannel use multiple channels to engage with customers, there's a key difference: integration.
Multichannel is like a group of talented solo artists, each doing their own thing. They might be great individually, but they don't always harmonize. On the other hand, omnichannel is like a synchronized orchestra, where every instrument works together to create a beautiful symphony.
In simpler terms, multichannel strategies involve separate channels with their own goals and tactics, while omnichannel focuses on a cohesive and interconnected customer experience across all channels.
Why is Omnichannel Important?
Enhanced Customer Experience
Omnichannel strategies provide a seamless and consistent experience across all touchpoints, making it easier for customers to interact with a brand, find information, and make purchases.
Increased Customer Loyalty
By delivering a personalized and convenient experience, omnichannel approaches help build stronger relationships with customers, leading to increased loyalty and repeat business.
Better Customer Insights
Omnichannel marketing allows businesses to gather data from various channels, providing valuable insights into customer behavior, preferences, and needs, enabling more effective targeting and personalization.
Improved Operational Efficiency
Integrating multiple channels and streamlining processes can lead to increased operational efficiency, reducing costs and improving overall business performance.
Competitive Advantage
Embracing an omnichannel approach can give businesses a competitive edge by meeting the evolving expectations of today's customers, who increasingly demand a seamless and connected experience.
Who Benefits from Omnichannel Strategies?
Retail Businesses
Retailers stand to gain significantly from implementing omnichannel strategies. By integrating physical stores with their online platforms, they can provide seamless shopping experiences. This includes real-time inventory updates, in-store pickup for online purchases, and personalized recommendations across platforms. As a result, they can boost customer loyalty and increase sales.
E-commerce Companies
For online businesses, omnichannel strategies can amplify their reach and customer engagement. These companies can leverage multiple platforms like websites, social media, mobile apps, and email marketing to interact with customers. By ensuring a consistent message and experience across all channels, they can enhance brand recognition and customer satisfaction.
Customers
Customers are perhaps the biggest beneficiaries of omnichannel strategies. They enjoy a seamless, consistent experience, whether they are shopping in a brick-and-mortar store, on a website, or through a mobile app. Plus, they can communicate with the business through their preferred channel, which can significantly improve their overall shopping experience.
Marketing Teams
Marketing teams can benefit from the data collected through omnichannel strategies. By analyzing customer behavior across different platforms, they can gain valuable insights into customer preferences and habits. This can guide them in creating more effective marketing campaigns tailored to customer needs, leading to better conversion rates.
Customer Service Representatives
Customer service reps also benefit from omnichannel strategies. By having a unified view of customer interactions across all channels, they can provide more personalized and efficient service. This can lead to quicker resolution of issues, higher customer satisfaction, and a more rewarding work experience for the reps themselves.
When to Implement Omnichannel Strategies?
Growing Customer Expectations
Implement omnichannel strategies when you notice increasing customer expectations for seamless, consistent, and personalized experiences across multiple touchpoints. Meeting these expectations is essential for staying competitive and retaining customers.
Expanding Business Channels
As your business expands into new channels, such as e-commerce, mobile apps, or social media, it's crucial to implement an omnichannel strategy. This ensures a unified and consistent customer experience across all platforms.
Enhancing Customer Support
When you want to provide better customer support, an omnichannel strategy can help. By integrating various support channels, such as chat, email, phone, and social media, you can offer customers more convenient and efficient support options.
Streamlining Marketing Efforts
Implement an omnichannel strategy when you aim to streamline your marketing efforts and create a cohesive brand message. By integrating marketing channels, you can deliver a consistent message, improve targeting, and increase the effectiveness of your campaigns.
Analyzing Customer Data and Insights
When you want to gain a deeper understanding of your customers, implementing an omnichannel strategy can help. By collecting and analyzing data from multiple touchpoints, you can better understand customer behavior, preferences, and needs, allowing you to make more informed business decisions.
Where to Apply Omnichannel Tactics?
Customer Service
Omnichannel tactics are incredibly beneficial in customer service. By being present and responsive on multiple channels - from phone and email to social media and live chat - businesses can meet their customers where they're most comfortable. This strategy also ensures quick, consistent responses to customer inquiries, which greatly enhances the customer experience
Marketing Campaigns
Implementing omnichannel tactics in your marketing efforts helps to create a seamless and consistent brand message across various platforms. This might involve synchronizing your content and campaigns on social media, email, your website, and other channels your customers use. The goal is to provide a unified brand experience, regardless of the channel or device a customer uses.
Sales Strategies
Omnichannel sales strategies involve using all available channels to reach potential customers and close deals. This might include face-to-face interactions, social media, e-commerce websites, email, and even traditional mail. The objective is to ensure that customers can make a purchase wherever and whenever they choose, providing a frictionless buying experience.
Product Development
In product development, an omnichannel approach can mean incorporating feedback from multiple channels to inform design and functionality decisions. This can lead to products that better meet customers' needs and expectations. User reviews, social media comments, survey responses, and customer service interactions can all provide valuable insights.
Employee Training
An omnichannel approach to employee training can involve using a variety of platforms and formats - from in-person training sessions to online courses, video tutorials, and interactive quizzes. This ensures that training is accessible and effective for all employees, regardless of their learning style or location.
How to Build an Omnichannel Strategy
Understanding Customer Behavior and Preferences
Before you start building your omnichannel empire, it's crucial to understand your customers inside and out. This means analyzing data and insights to identify patterns in customer interactions, preferences, and pain points. It's like being a detective, but instead of solving crimes, you're uncovering valuable information about your customers. Armed with this knowledge, you can design a seamless and personalized experience that will make your customers feel like royalty.
Integrating Technology and Data
Integrating technology and data is a critical component of a successful omnichannel strategy. This might include using a customer relationship management (CRM) system to keep track of customer interactions, an inventory management system to ensure product availability, or marketing automation tools to personalize your communication efforts. By investing in the right tech tools, you'll be well-equipped to create a smooth and seamless customer experience.
Aligning Teams and Processes
Last but not least, let's talk about teamwork! To create a truly unified omnichannel experience, it's essential to align your teams and processes. This means breaking down silos between departments, fostering a culture of collaboration, and ensuring that everyone is working towards the same goals.
Best Practices for Omnichannel Success
Personalization and Segmentation
Personalization and segmentation are crucial for creating a tailored, relevant experience that resonates with your customers. By using data to understand their preferences, behavior, and demographics, you can deliver targeted content, offers, and recommendations. It's like a custom-made outfit that fits your customers like a glove!
Consistent Branding and Messaging
Ensure that your brand's look, feel, and voice are consistent across all channels – from your website to your social media profiles and even in-store signage. This will help create a cohesive customer experience and make your brand more memorable. It's like a catchy jingle that gets stuck in your customers' heads!
Continuous Improvement and Innovation
Last but not least, the world of omnichannel marketing is ever-evolving, so it's vital to embrace continuous improvement and innovation. Keep an eye on industry trends, gather customer feedback, and analyze your metrics to identify areas for growth and improvement. By staying agile and adapting to change, you'll ensure that your omnichannel strategy remains fresh and effective. It's like a never-ending game of "Simon Says" – always be ready for the next move!
Frequently Asked Questions
What is the difference between omnichannel and multichannel?
Multichannel involves using multiple channels for marketing, while omnichannel focuses on integrating those channels to deliver a seamless and consistent customer experience.
How can I implement an omnichannel strategy?
Start by analyzing customer touchpoints, mapping the customer journey, integrating data across channels, and aligning internal teams to ensure a consistent brand experience.
What are common omnichannel touchpoints?
Common touchpoints include websites, mobile apps, social media, email, in-store experiences, customer service, and phone support.
How does omnichannel benefit customers?
Omnichannel offers customers a seamless, personalized, and convenient experience, making it easier to engage with a brand and complete transactions.
Does omnichannel marketing increase sales?
Yes, by providing a consistent and integrated experience, omnichannel marketing can lead to increased customer satisfaction, loyalty, and ultimately, higher sales.