What is Multi-Channel Support?
Multi-channel support refers to a business strategy wherein a company provides customer service across multiple communication channels. Be it email, social media, live chat, or phone calls, it's all about reaching customers where they're most comfortable.
Who Provides Multi-Channel Support?
Any customer-centric business looking to improve its customer service experience provides multi-channel support.
It applies to businesses small and large across various industries—from technology giants to the local retail store wanting to deliver top-notch service.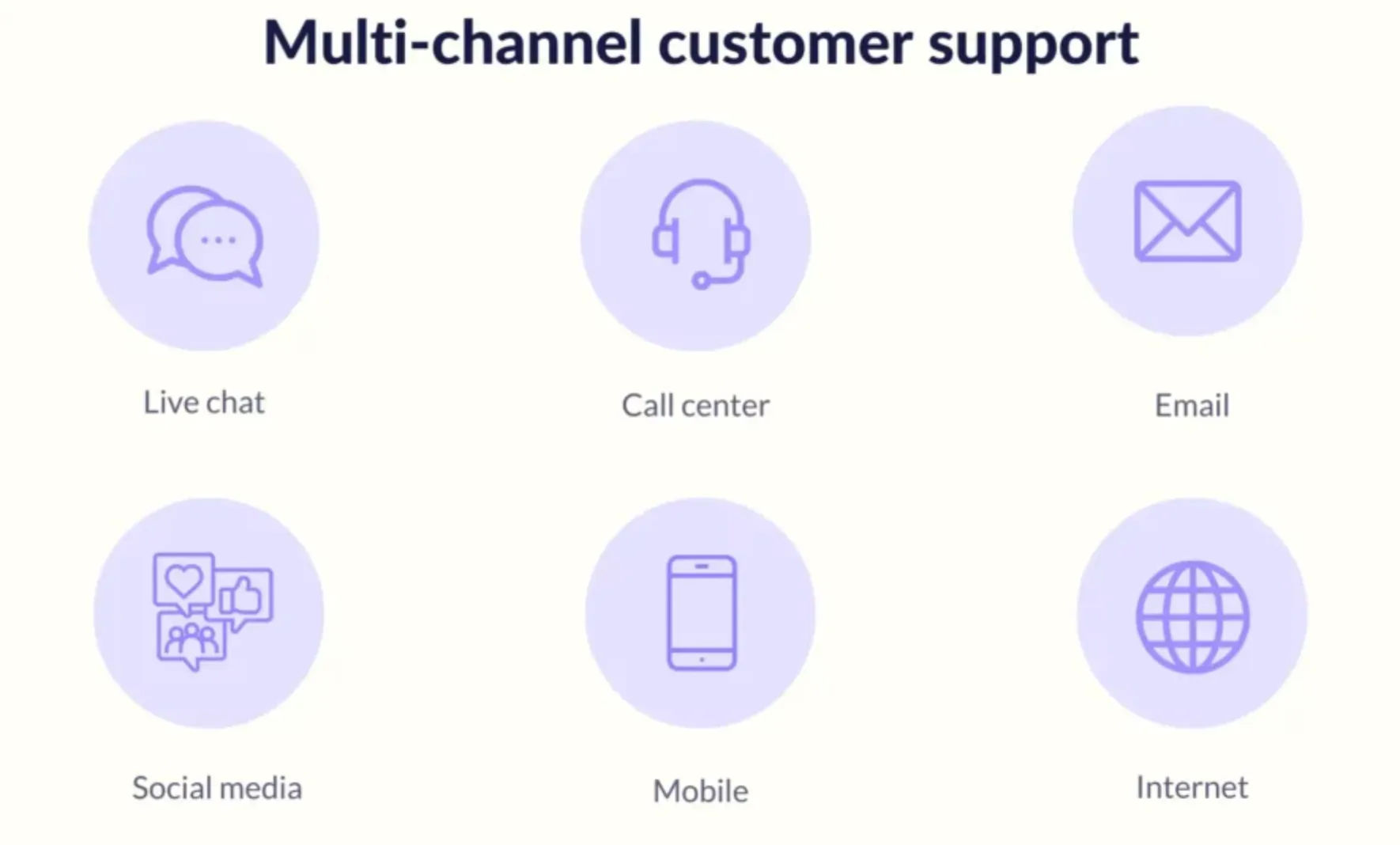 Where is Multi-Channel Support Implemented?
Multi-channel support can be seen across different communication platforms such as email, live chat, social media platforms, phone support, self-service portals, and even SMS.
The idea is to cover as many mediums commonly used by your target audience.
When Should You Consider Multi-Channel Support?
Consider multi-channel support when you wish to improve customer engagement, enhance the customer experience, or when you notice customers reaching out across multiple platforms.
It's also an excellent strategy when expanding your business footprint or planning to scale up your customer support operations.
Why is Multi-Channel Support Important?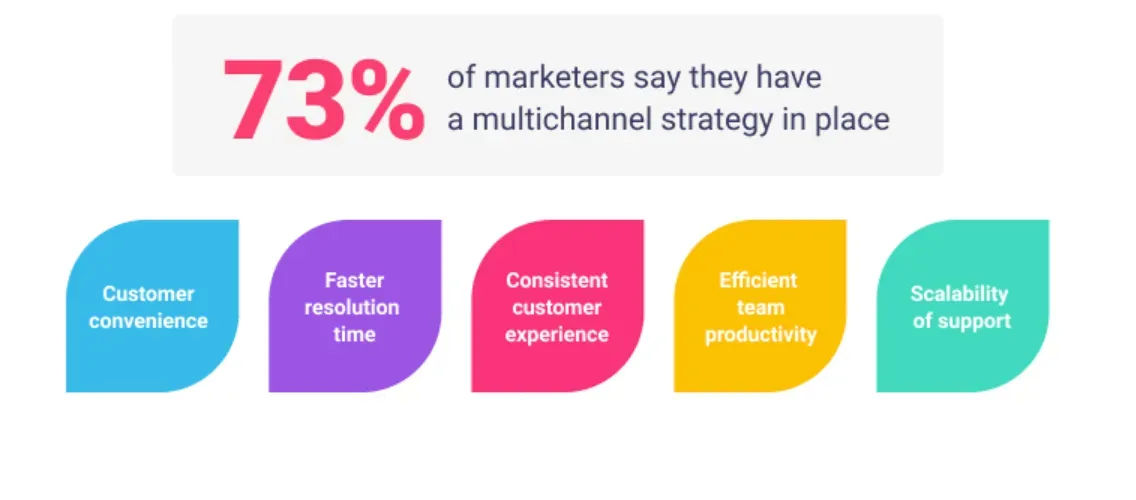 Multi-Channel Support is crucial in today's customer-centric landscape. Here's why it holds immense importance:
Enhances Customer Experience
Multi-Channel Support empowers customers by offering them the flexibility to connect with businesses through their preferred communication channel.
By providing a range of channels such as phone, email, live chat, social media, and messaging apps, organizations can meet customers where they are and provide them with the convenience they expect.
This enhances the overall customer experience and builds positive brand perception.
Increases Customer Satisfaction
When customers have the freedom to choose their preferred support channel, they are more likely to feel valued and satisfied.
By accommodating customers' preferences, multi-channel support ensures that customers can seek assistance through the channel that suits their situation or personal preference.
This results in higher customer satisfaction and fosters long-term customer loyalty.
Caters to Diverse Communication Preferences
Not all customers have the same communication preferences. Some may prefer the speed and convenience of live chat, while others may prefer the personal touch of a phone call.
By offering multiple channels, businesses can cater to customers' unique communication preferences.
This inclusivity helps organizations connect with a wider customer base and ensures that different customer segments are equally supported.
Improves Responsiveness
Multi-Channel Support allows organizations to respond to customer queries and issues in a timely manner.
By providing multiple support channels, organizations can reduce response times and ensure quick solutions.
This level of responsiveness demonstrates a commitment to resolving customer issues promptly, enhancing customer satisfaction and retention.
Maximizes Reach and Accessibility
Not all customers will proactively reach out for support. By providing various channels, businesses make it easier for customers to access support when they need it.
Furthermore, incorporating popular channels like social media and messaging apps enables organizations to reach customers where they are already spending their time online, increasing the chances of engagement and support utilization.
What is the difference between Multi-Channel Support & Omnichannel Support?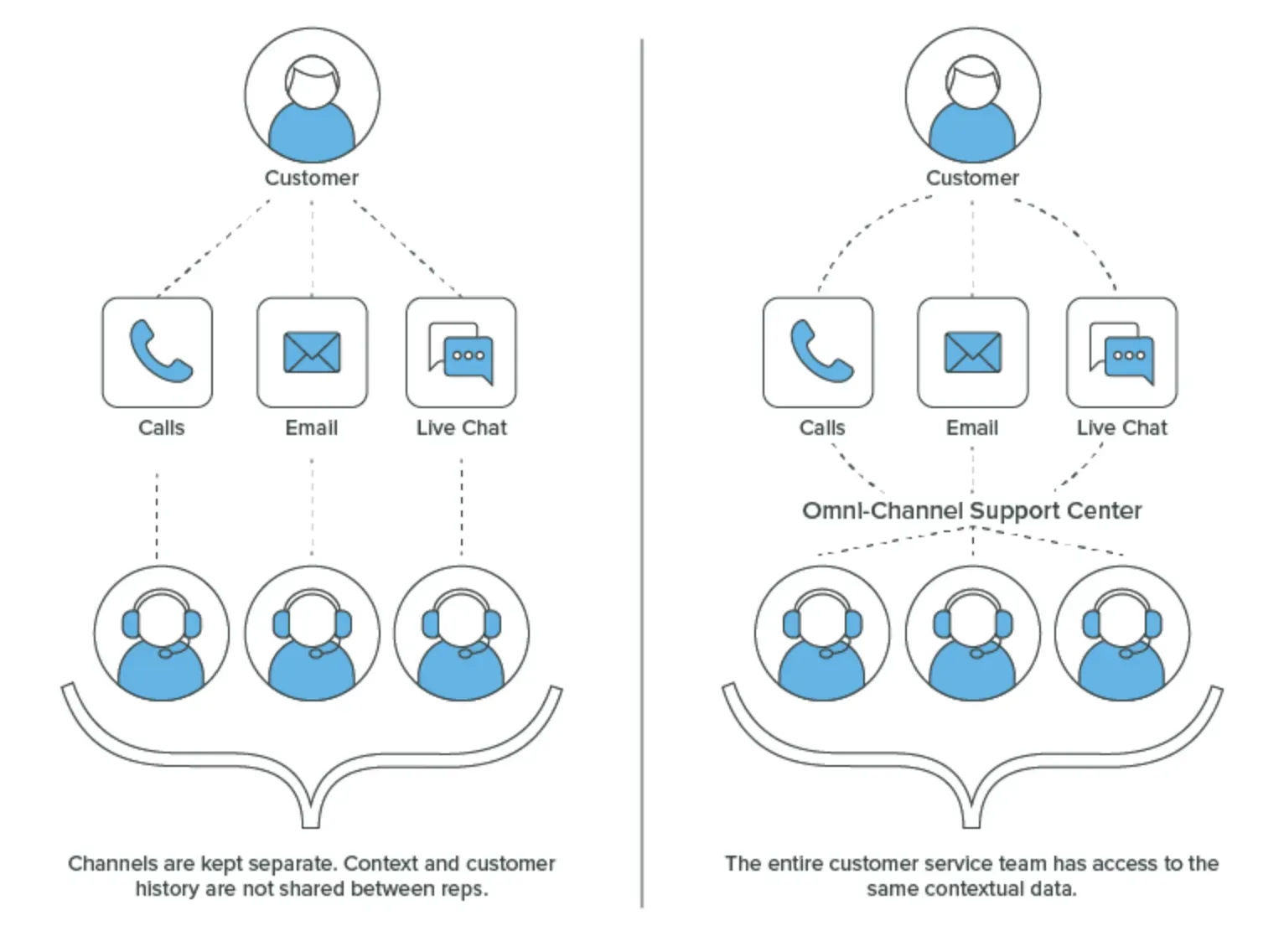 While both Multi-Channel Support and Omnichannel Support involve providing customer service through various channels, there is a significant difference between the two.
1. Definition
Multi-Channel Support allows businesses to engage customers on different communication channels, such as phone, email, chatbots, live chat, website, mobile apps, social media, and messaging apps. The focus here is to offer the customers multiple choices for support, including traditional and digital support channels.
In comparison, Omnichannel Support integrates multiple channels, allowing conversations to flow seamlessly across channels. The goal is to unify customer engagement across channels, ensuring that customers can pick up the conversation right where they left off, regardless of the channel they use.
2. Channel Integration
In Multi-Channel Support, the channels often operate independently, and if customers switch channels, they may need to repeat their queries. This can result in a fragmented customer experience as agents cannot access the context of past conversations.
On the other hand, Omnichannel Support integrates channels, ensuring a consistent and cohesive customer experience. Conversations can flow seamlessly across channels, and agents can access past interactions to provide personalized support. This helps to create a personalized customer journey and reduce customer frustration.
3. Customer Experience
Multi-Channel Support allows customers to choose the channel they prefer to interact with the organization over. However, these channels often operate independently, requiring customers to repeat queries and provide context as they move across channels. This can lead to an inconsistent customer experience with missed opportunities for personalization.
In comparison, Omnichannel Support ensures a consistent and personalized customer experience regardless of the channel used. Agents have access to all previous interactions, which helps them provide tailored assistance, leading to higher customer satisfaction, and loyalty.
4. Technologies and Analyses
Multi-Channel Support often uses standalone channel-centric systems, which can lead to data silos and hinder data sharing and tracking, leading to suboptimal customer insights for decision making and poor interaction analysis.
On the flip side, Omnichannel Support leverages an integrated system that centralizes customer data from all channels, allowing for a comprehensive view of customer interactions and providing insights for continuous improvement.
How to Provide Multi-Channel Support?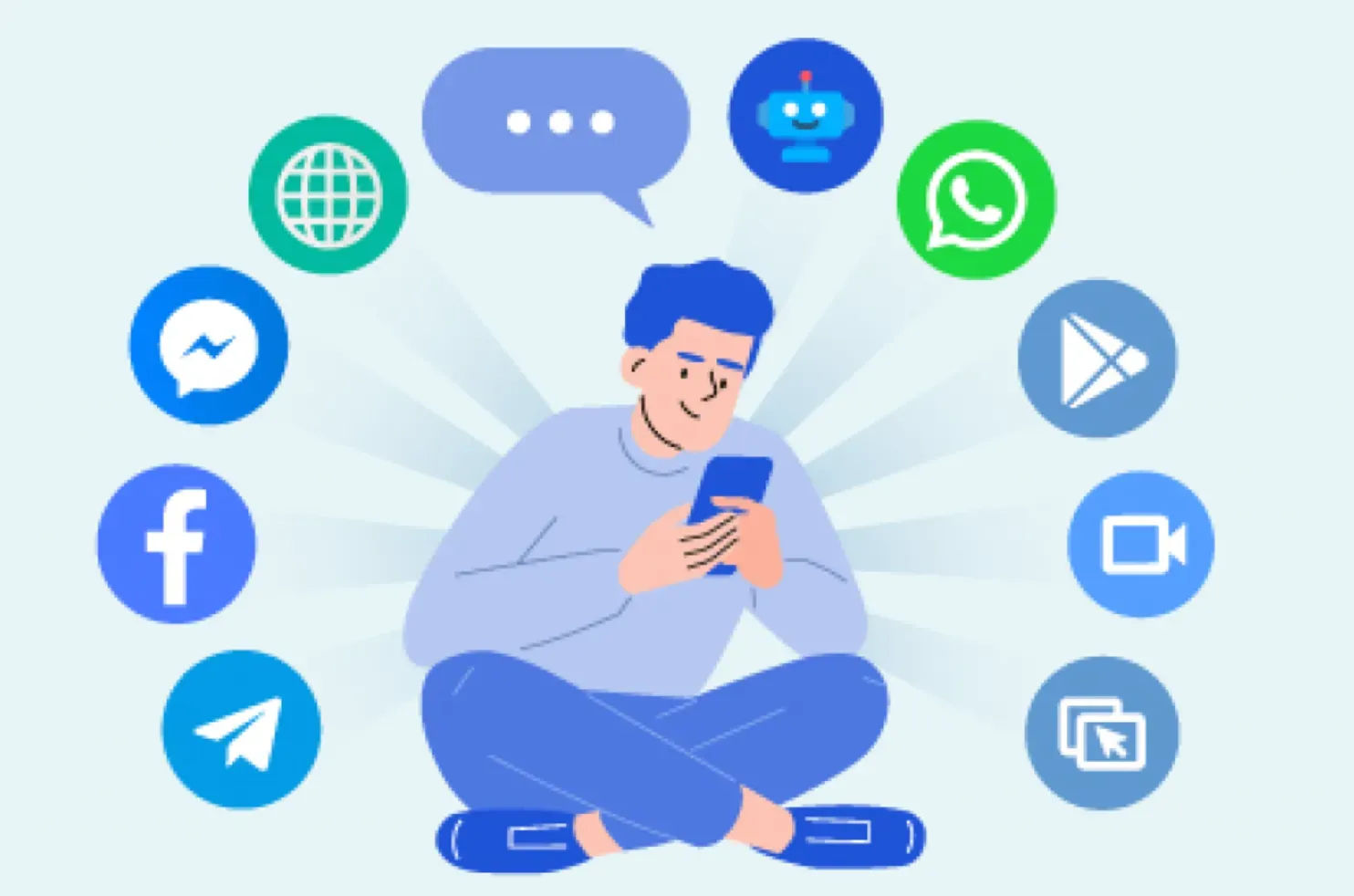 In this section, we'll discuss strategic suggestions for developing efficient multi-channel support to enhance your customer service experience and ensure all customer touchpoints are effectively attended to.
Select Appropriate Channels
Before diving into multi-channel support, first identify the communication channels most relevant to your customer base.
These may include email, phone calls, social media, live chats, or even in-person support. Prioritize channels based on customer preferences and business capabilities.
Establish Clear Operational Processes
For each chosen channel, it's vital to establish clear operational processes. Ensure that the workflow for receiving, addressing, and tracking customer inquiries is standardized across all channels.
This step is crucial for maintaining consistency in customer interactions, regardless of the communication method.
Train the Team Across All Channels
A well-trained team is key to executing effective multi-channel support. Train your support team to handle customer queries over all the channels you offer.
Being adept at multi-channel communication will help your team deliver a seamless and consistent customer service experience.
Implement a Unified Communications Platform
Integrated platforms simplify multi-channel support by consolidating communications and information into a single system.
Adopting a unified communication platform allows for managing all customer interactions from one place, improving efficiency and ensuring a consistent customer experience across all channels.
Provide Consistent Service across All Channels
Consistency is pivotal in multi-channel support. Regardless of the channel being used, the quality of service should remain steady. From response times to resolution rates, ensure that a uniform service standard is maintained.
Continuously Monitor and Improve
Efficient multi-channel support calls for continuous monitoring and improvement. Regularly track key performance indicators, gather customer feedback, and adjust your strategies accordingly.
This cycle of review and refinement will help keep your multi-channel support approach effective and relevant to your customers' evolving needs.
Best Practices for Multichannel Support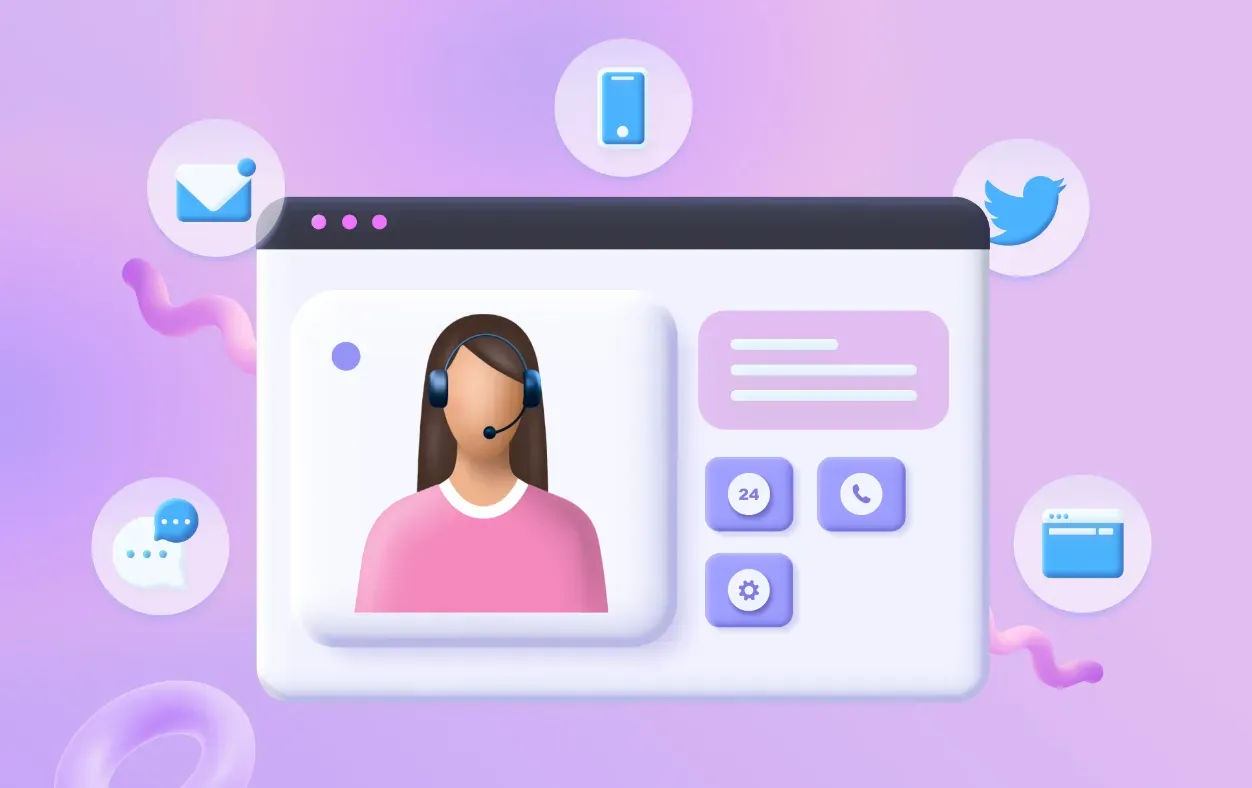 In this section, we'll cover strategies for implementing effective multichannel support systems to enhance customer satisfaction.
Choose Channels Based on Customer Preferences
To provide effective support, prioritize the communication channels your customers prefer. Survey your clients and analyze usage data to determine which channels are most popular, and then allocate resources accordingly.
Streamline Support Across All Channels
Ensure that your support team can provide seamless assistance regardless of the channel they're using.
Implement a shared ticketing system or CRM to give agents access to complete customer interaction history, enabling them to provide informed and consistent service.
Train Your Team to Handle Multiple Channels
Equip your support team with the skills to handle various channels efficiently. Provide training in the use of messaging apps, chatbots, social media, and more, ensuring they can adapt and deliver an outstanding support experience.
Monitor and Respond to Emerging Channels
Stay updated on the latest communication trends and platforms. As channels evolve or gain popularity, be ready to incorporate them into your support strategy so as not to lag behind customer preferences and your competitors.
Measure and Optimize for Channel Performance
Regularly assess the performance of each communication channel and optimize them accordingly.
Establish metrics such as response times, resolution rates, and customer satisfaction to identify areas of improvement.
With these best practices, you'll be well on your way to providing seamless, efficient multichannel support for your customers. Remember, prioritizing customer preferences and adapting to emerging trends will keep you ahead in offering an outstanding support experience.
Frequently Asked Questions (FAQs)
Can you reach out to your support team through multiple channels?
Yes, absolutely! We offer support through various channels like phone, email, live chat, social media, and messaging apps. Choose the channel that works best for you.
Do we have to repeat the query if we switch channels?
No, you won't have to repeat your query. Our multi-channel support system ensures that your conversation seamlessly continues across channels, and our agents have access to your previous interactions.
How quickly can we expect a response on different support channels?
Our response times may vary based on the channel, but we strive to provide timely assistance across all channels. Rest assured, we value your time and are committed to resolving your queries promptly.
Can to use social media to reach your support team?
Absolutely! We're active on social media and more than happy to assist you there. Simply reach out to us through our designated social media channels, and we'll be there to help.
Do you have a preference for which channel to use to contact support?
We don't have a preference; it's completely up to you! We understand that everyone has their preferred communication channel, and we're here to assist you on whichever channel you're most comfortable with.