We all have noticed the slow but steady changes in the business world. With Artificial Intelligence developing each day, there is something new to try out.
Artificial intelligence helps to reduce human workload by developing new software.
Chatbots developed with the help of Artificial Intelligence work like magic in maintaining customer relationships without the direct involvement of human efforts, except in some cases.
Chatbots are retaining a permanent position in the business market. Chatbots have very few limitations on what they can accomplish as AI technology gets stronger daily.
In the next few years, people will communicate with chatbots, as they would interact with people now.
In this blog, we will learn about Chatbots and the Top White label Chatbots of 2023.
So, let's dive into this exciting learning journey.
What is a White Label Chatbot?
Chatbots are generally chatting tools created for interpreting natural language and delivering immediate contextual replies based on the information provided.
In simple language, the Chatbot asks a question and gives you a quick response that is an honest and helpful answer.
A white-label chatbot platform is where chatbots remove their branding and replace it with the reseller's logo to create a product or a service for another company.
Whitelabel chatbots are mostly unbranded, and you can use them for your website or app by putting your logo on them.
In this case, the reseller is supposed to be the product's manufacturer.
They are the ones who create the product and then license it to other companies to sell under their brand names.
This procedure helps small businesses to enter the industry without working on the investment needed to manufacture the product.
Investing in a white-label chatbot can be a great idea as you have total control over the UI and the design of your Chatbot.
You can quickly change the Chatbot according to your client's need and resell it without worrying about how to design a chatbot.
It gives you a higher chance to satisfy your customers and saves you time and capital.
Why do you need a White Label Chatbot?
Creating a chatbot from scratch is challenging as well as time taking.
Chatbot creation needs a lot of coding, research, and quality testing. It can be a challenging task for a beginner in the business world.
But chatbots have become quite popular in the Global market and are estimated to reach a worth of 10.08 billion dollars by 2026.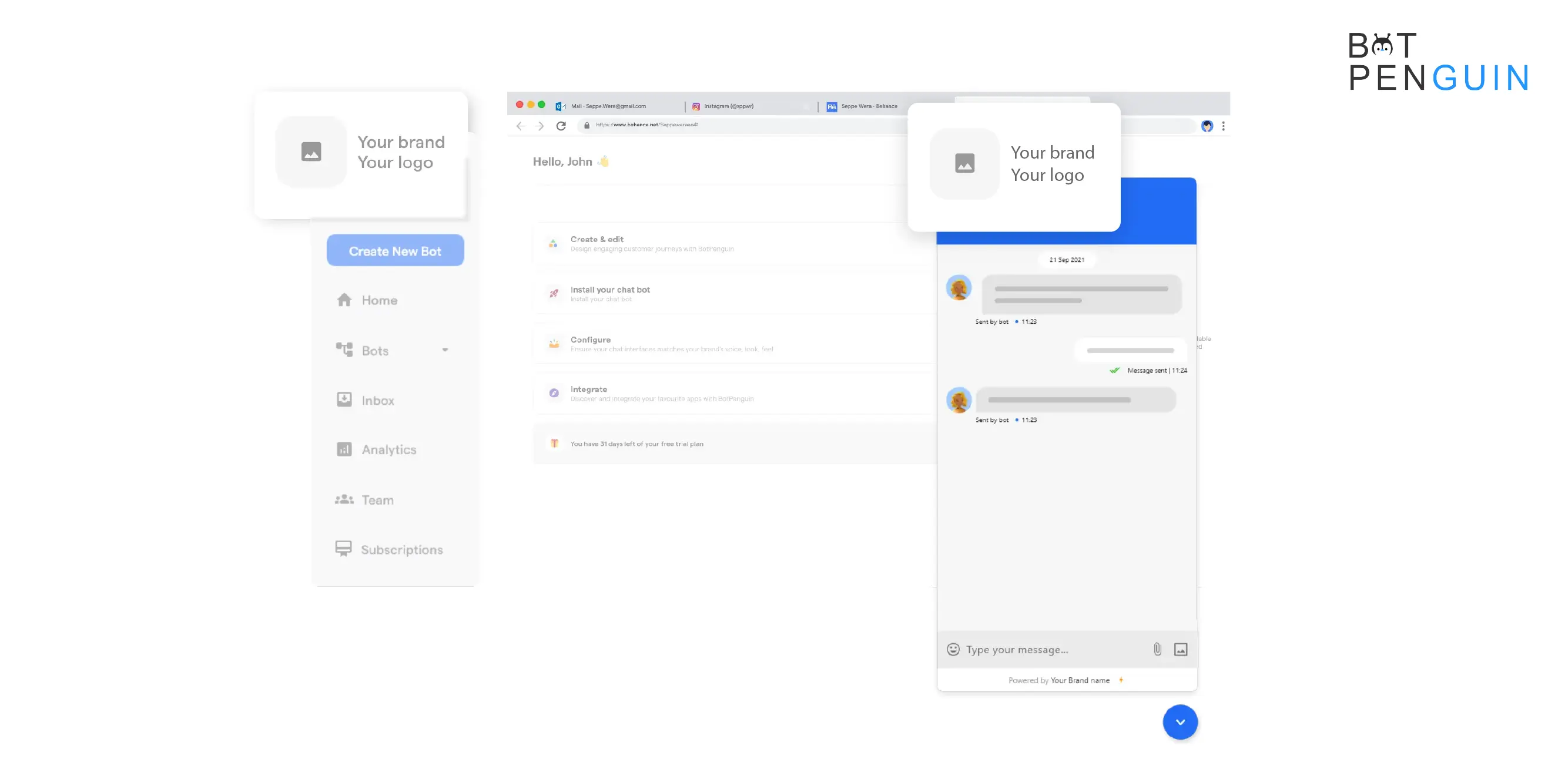 Keeping this search data in mind, it is essential to invest in a good chatbot because of the increase in the demand for conventional intelligence.
Nowadays, businesses seek ways to engage their customers effectively without putting pressure on their employees. Chatbots can be an excellent solution.
Whitelabel Chatbot solutions come as a power pack tool at a meager price.
Whitelabel chatbots are easy to sell to your customers, and you can guarantee them immediate benefits.
Whitelabel solutions are mostly preferred as they allow businesses to personalize their Chatbot in whatever manner they desire.
They can be instantly built, branded, and executed to fit any business chatbot demand.
Suggested Reading-
Become Chatbot Reseller with our White-Label Chatbot Solution
Essential Features of White Label Chatbot
Some of the essential features of a white-label chatbot are-
Cost Effective
White-label chatbot services help in reducing the money invested in customer support
They come at a low cost with various alternative packages for different sizes of businesses and can be much cheaper than a whole customer care team.
Reduced Workload
White-label chatbots can be great for reducing the workload of the customer service team, as it is tough for humans to provide 24/7 nonstop service.
It helps to create a better work environment for your workers and clients.
Increased Customer Satisfaction
Using a White label chatbot can increase customer satisfaction to a great level. It is so because customers can now get instant replies to their problems from a chatbot and can easily reach out in case of difficulties.
It will help build trust in the company from the customer's end, thus attracting more customers.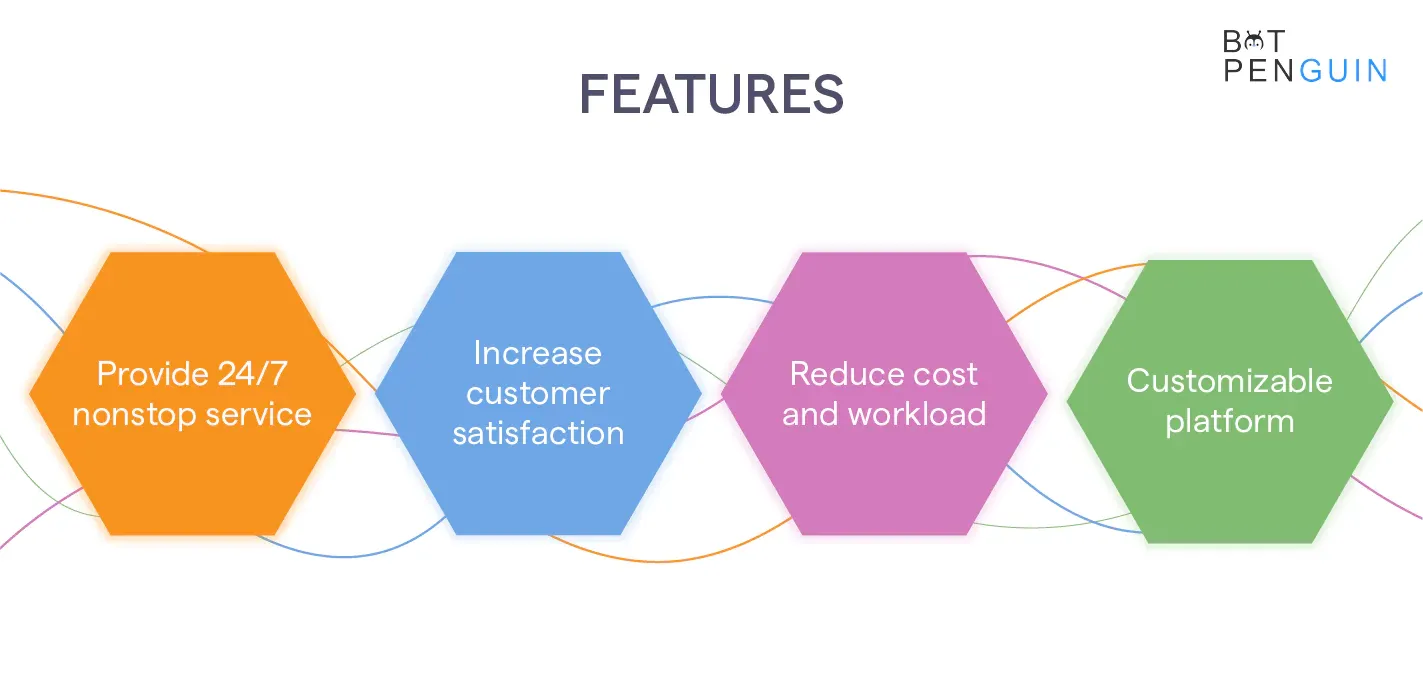 Multi-channel Support
It is easier for a traditional customer service team to handle multi-channel customer interactions. You need to invest in different groups for different platforms, increasing cost and workload.
A White label chatbot can help solve this problem. They can work as Auto reply bots or live chat solutions on different channels simultaneously.
Multiple Subscription Packages
They generally come with multiple subscription packages for tiny to big business houses so that everybody can equally access them to grow their business and attract more customers.
Customizable Platform
It is a customizable platform that allows the personalization of a chatbot solution according to the requirements of the client's brand.
Top 6 White label Chatbots of 2023
Interested in buying a White Label Chatbot?
But not sure which platform will be more suitable for your Business needs, here is a list of top chosen White Label Chatbot Platforms for you-
1. BotPenguin
BotPenguin is a leading white-label chatbot platform that offers businesses the ability to create and customize chatbots according to their specific needs.
Its AI-powered technology enables chatbots to engage with customers in natural language, providing quick and accurate responses to inquiries.
BotPenguin's platform also offers integration with popular messaging platforms such as WhatsApp, making it easy for businesses to reach their customers wherever they are.
BotPenguin offers four different types of Partner Programs:
BotPenguin's white-label WhatsApp chatbot platform is an excellent tool for businesses looking to improve their customer engagement and streamline their customer support.
This platform offers businesses the ability to create and customize chatbots specifically designed for use with WhatsApp, one of the world's most popular messaging apps.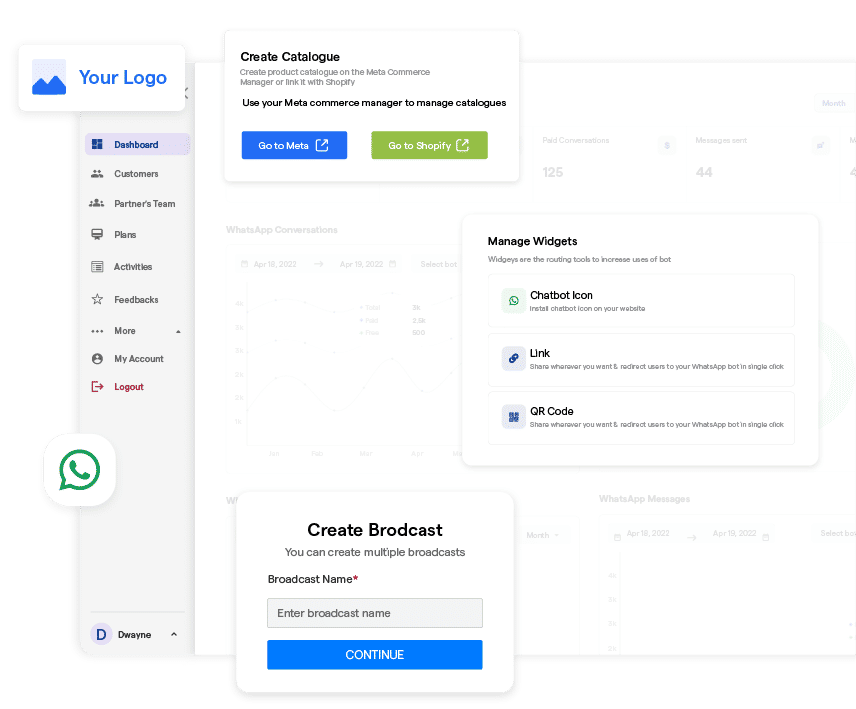 With a range of pricing options, including a free plan, BotPenguin's white-label chatbot platform is accessible to businesses of all sizes.
In summary, if you're looking for a top-performing white-label chatbot platform with WhatsApp integration, BotPenguin is an excellent choice.

2. Instabot
Instabot is a white-label chatbot platform that will help you to build your Chatbot according to your requirements.
Here you can create bots easily by adding nodes in a visual editor. It also allows you to embed YouTube videos, vivid images, and documents to provide a sound knowledge base for your customers.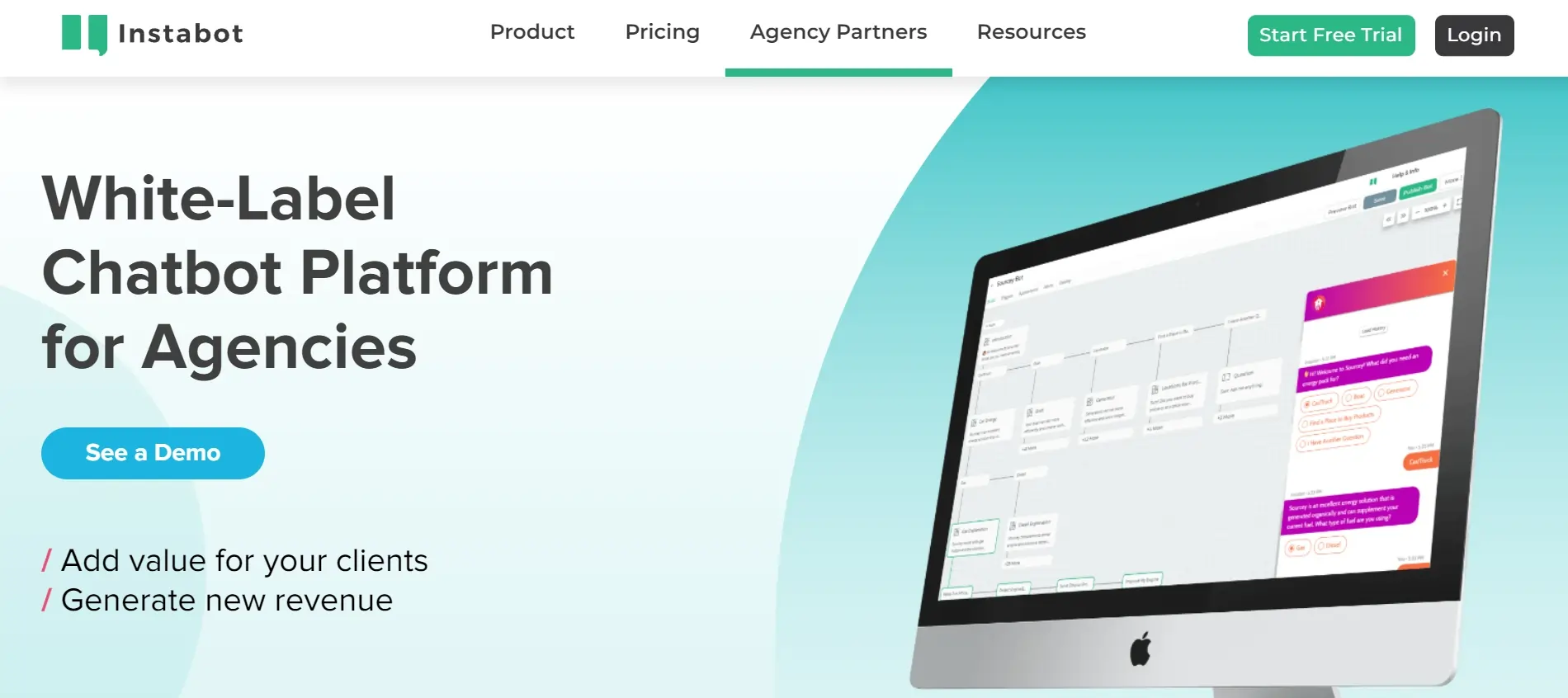 It also has a fully customizable user interface where you can add your brand's color, iconography, and fonts according to your choice.
It also helps you set goals throughout the bot to qualify leads and get alerts when a user reaches important conversation milestones.
You can also identify where the users are most engaged or drop off within your conversation so you can optimize your system.
3. Intelliticks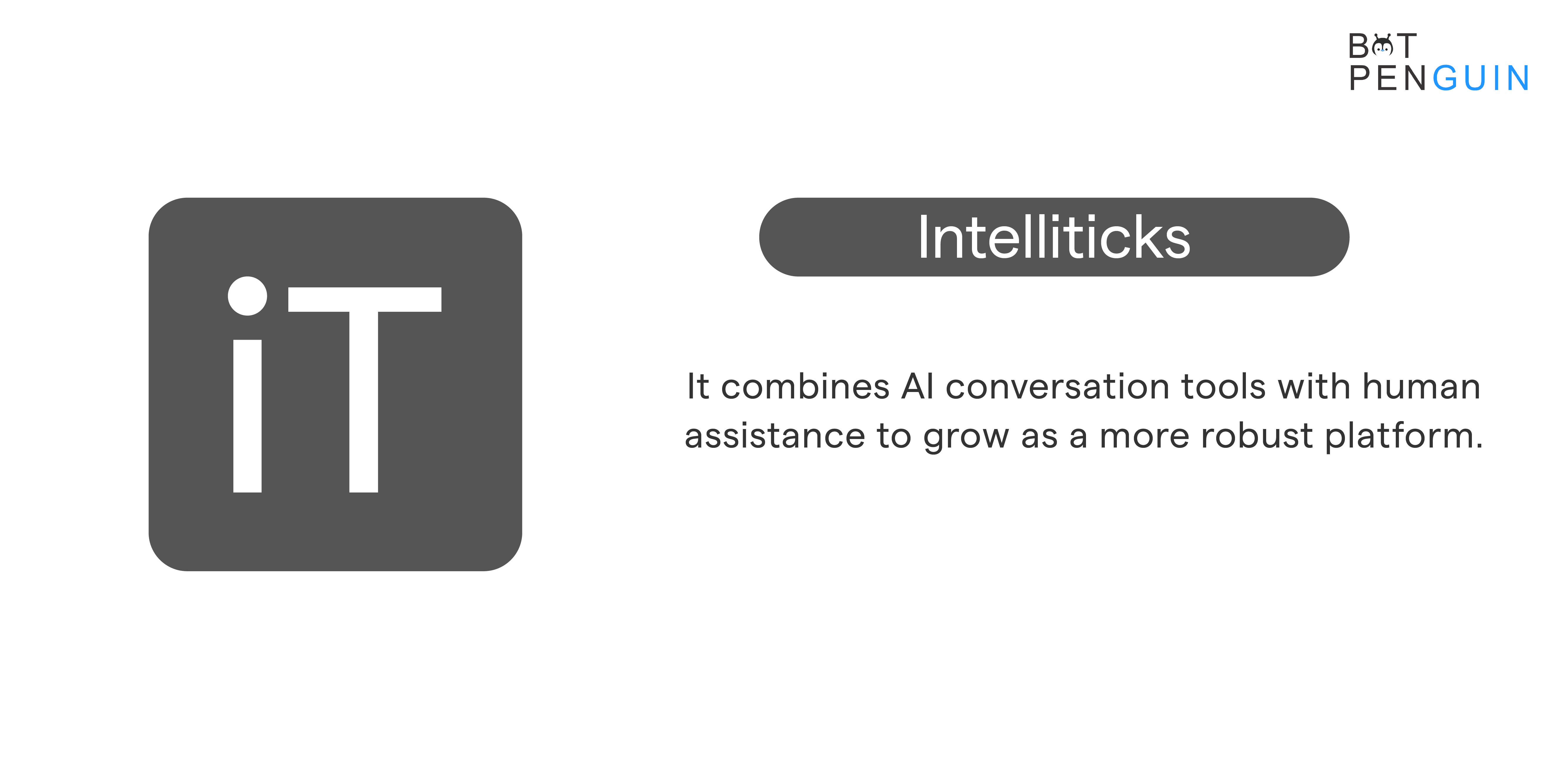 It is an AI-powered white-label chatbot platform, including a human fallback option.
This feature makes Intelliticks one of the market's most popular white-label chatbot options.
It combines AI conversation tools with human assistance to grow as a more robust platform.
The AI conversation can automate client involvement in the tailored conversation.
If the Chatbot cannot solve the customer inquiry, the conversation gets sent to a human agent.
It is powered by natural language processing to interpret and respond to clients' queries in natural languages.
4. Engati
Engati is also an amazing chatbot platform that helps you to build, manage, integrate, train, analyze and publish your personalized bot in the minimum amount of time.
It is a very versatile platform that presently supports eight major messaging platforms- Messenger, Kik, telegram, line, Viber, Skype, Slack, and web chat focusing mainly on customer engagement.

Engati has some cool features like multi-platform support, 20- languages, Live chat, third-party integrations, a voice chatbot, FAQ builder, etc.
This feature makes it one of the best white-label chatbots of 2023. With the help of Engati, you can design your chatbots with a workflow that requires no programming.
5. Wotnot
Wotnot is a renowned white-label chatbot platform that successfully supports your need to create, manage, and grow your chatbot Empire.
It helps you build brand identity by allowing you to customize the white-label platform according to your needs.
Add your logo, domain name, color, and fonts you want your customers to see.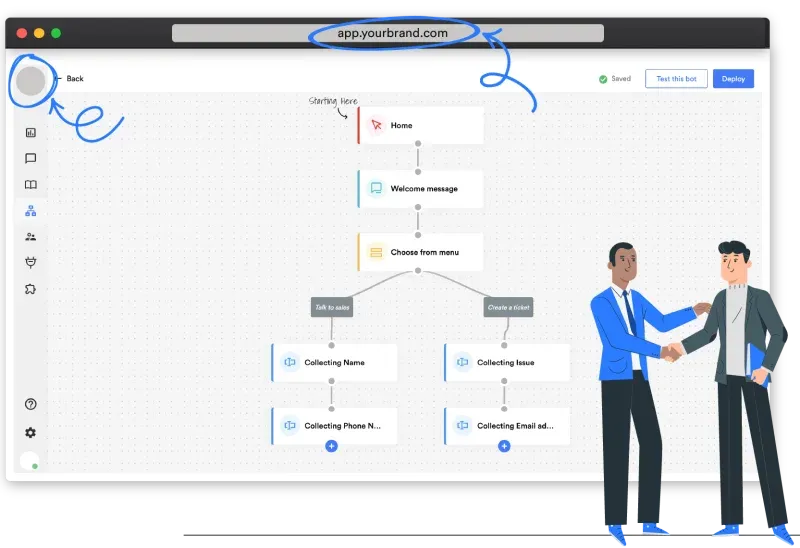 It also allows you to charge your customer as per your rates and manage subscriptions and invoicing.
This platform provides the freedom to do your own business without any interference.
They can also build new features according to your requirement to help you grow your business and give you a customized chatbot platform.
6. ChatCompose
ChatCompose is a white-label chatbot platform that allows you to build and install chatbots with your brand anytime and anywhere.
You can create about 20 chatbots using their premium plan, and the VIP plan offers the opportunity to create unlimited chatbots.
ChatCompose allows you to customize your Chatbot with your designs and schemes and add your logos or brand within the Chatbot. It offers three main styles: Default, Clean and Transparent.
It also makes it easier for you to manage all your chatbots in one place, and you can easily edit and configure them for your clients. It gives you alerts about important events that the client has received.
You can also add an extra email to the platform so that your clients can receive notifications about newly generated leads, new purchases, or support requests done through the Chatbot.
Conclusion
By now, you are aware of the top White-label Chatbot of 2023. If you plan on investing in a Chatbot, you can find one from this list according to your needs.
Chatbots are a rapidly growing solution software in recent times and still need a reason. They act as a support system for your team to bridge the gap between you and your customers.
Maintaining good relationships with your customers is very important to achieve business success. Chatbots are a trusted partner for your success journey.
We have discussed in detail all the points you need to know about Chatbots.
If you still face any problems regarding Chatbots, please allow us to help you by commenting on your issue below.
Also, if you are planning to invest in a good chatbot creator, do check out the fantastic features offered by BotPenguin!
Frequently Asked Questions (FAQs)

What are White Label Chatbot Resellers?
White Label Chatbot Resellers are companies that provide customizable chatbot solutions, allowing businesses to rebrand and sell them as their own products to their clients.
Are White Label Chatbots customizable to fit my clients' needs?
Yes, White Label Chatbots are designed to be easily tailored with custom branding, features, and AI-powered capabilities to meet your client's specific requirements.
What are the benefits of partnering with a top White Label Chatbot Reseller?
Benefits include access to cutting-edge chatbot technology, reduced development costs, faster time-to-market, and the potential for increased revenue by offering chatbot solutions to clients.
Can you integrate White Label Chatbots with your client's existing platforms and tools?
Yes, most White Label Chatbots offer seamless integration with popular platforms and tools, ensuring smooth adoption within your clients' existing infrastructure.
Are White Label Chatbot Resellers a cost-effective solution for your clients?
White Label Chatbot Resellers can be a cost-effective option, enabling businesses to access advanced chatbot technology without the high costs of developing a custom solution in-house.