You might know that the market for chatbots was previously valued at USD 1274.428 million in 2018. It is anticipated to grow to USD 7591.82 million by 2024, showing a CAGR of 34.75% (2019–2024).
By 2022, savings from chatbots will total more than $8 billion worldwide. Market revenue for chatbots will rise from $2.6 billion in 2019 to $9.4 billion in 2024.
The Whitelabel Chatbot Platform enables you to grow your brand and interact with customers whenever you want. Without investing time in chatbot creation, use the potential of AI, conversational marketing, and chatbots to connect with your target audience.
A reputable white-label chatbot platform will allow you to bring chatbot technology to your customers. You may engage new customers, help them to make educated decisions about their purchases, and help them quickly and easily solve their problems by just giving the chatbot your brand name.
To meet these customer expectations, AI is necessary. In this situation, BotPenguin comes up to help you out.
White-labeled chatbot software
The White Label Software program comprises completely rebranded software that features the partner's brand of choice, preferred color schemes, and icon sets.
It enables the white label software partner to implement multi-tier marketing models more efficiently, increase profits on scalable marketing campaigns, and profitably expand activity to newly available inventory.
About BotPenguin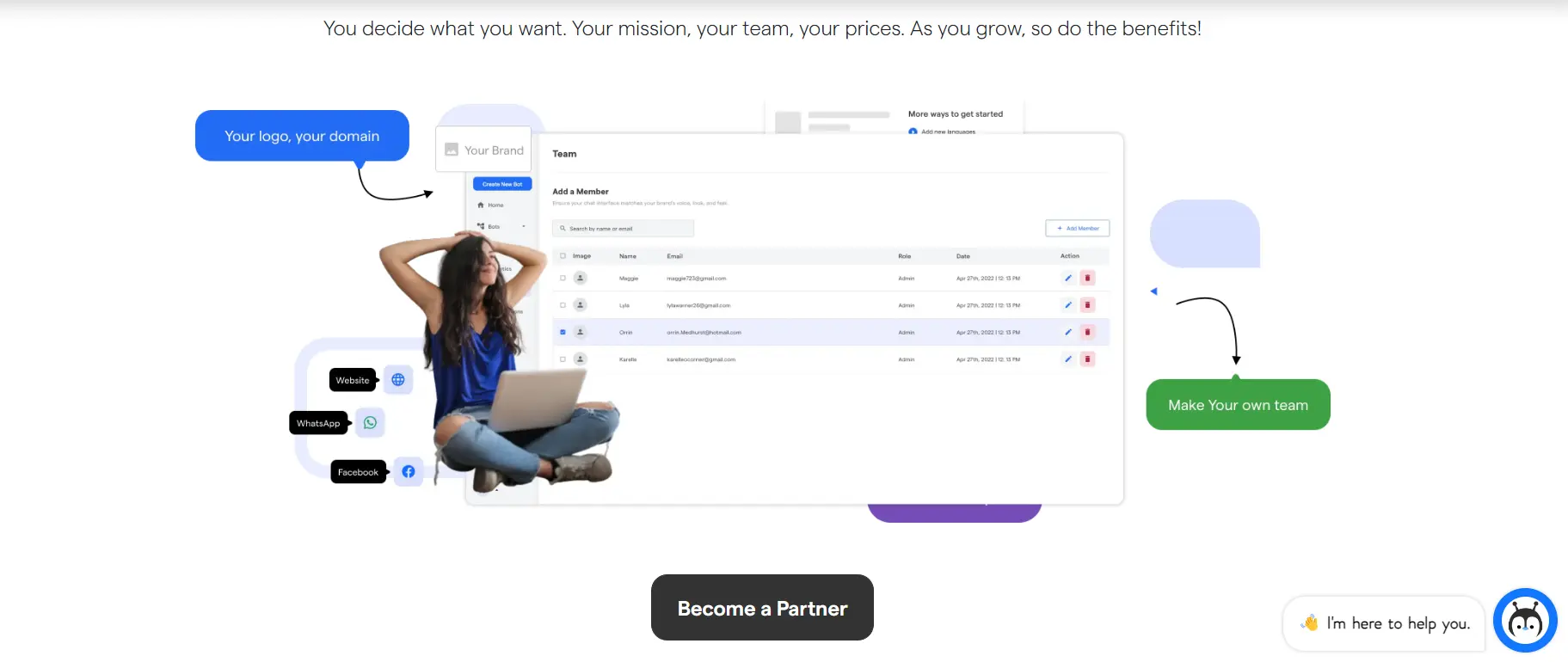 An exciting platform thriving in the industry for creating chatbots is called BotPenguin. This software makes AI chatbots for your website, Facebook Messenger, WhatsApp, and other social media platforms.
Its availability around-the-clock, lack of human mistakes, waiting time, high conversion rate, and automation are a few of its standout advantages.
BotPenguin Offers four different types of Partner Programs:

What does "White Label" mean?
White labeling is the process of producing products and services, further rebranding them, and then marketing them under another brand's name.
Its goal is to boost client loyalty and trust while reducing the time and resources needed to create new solutions.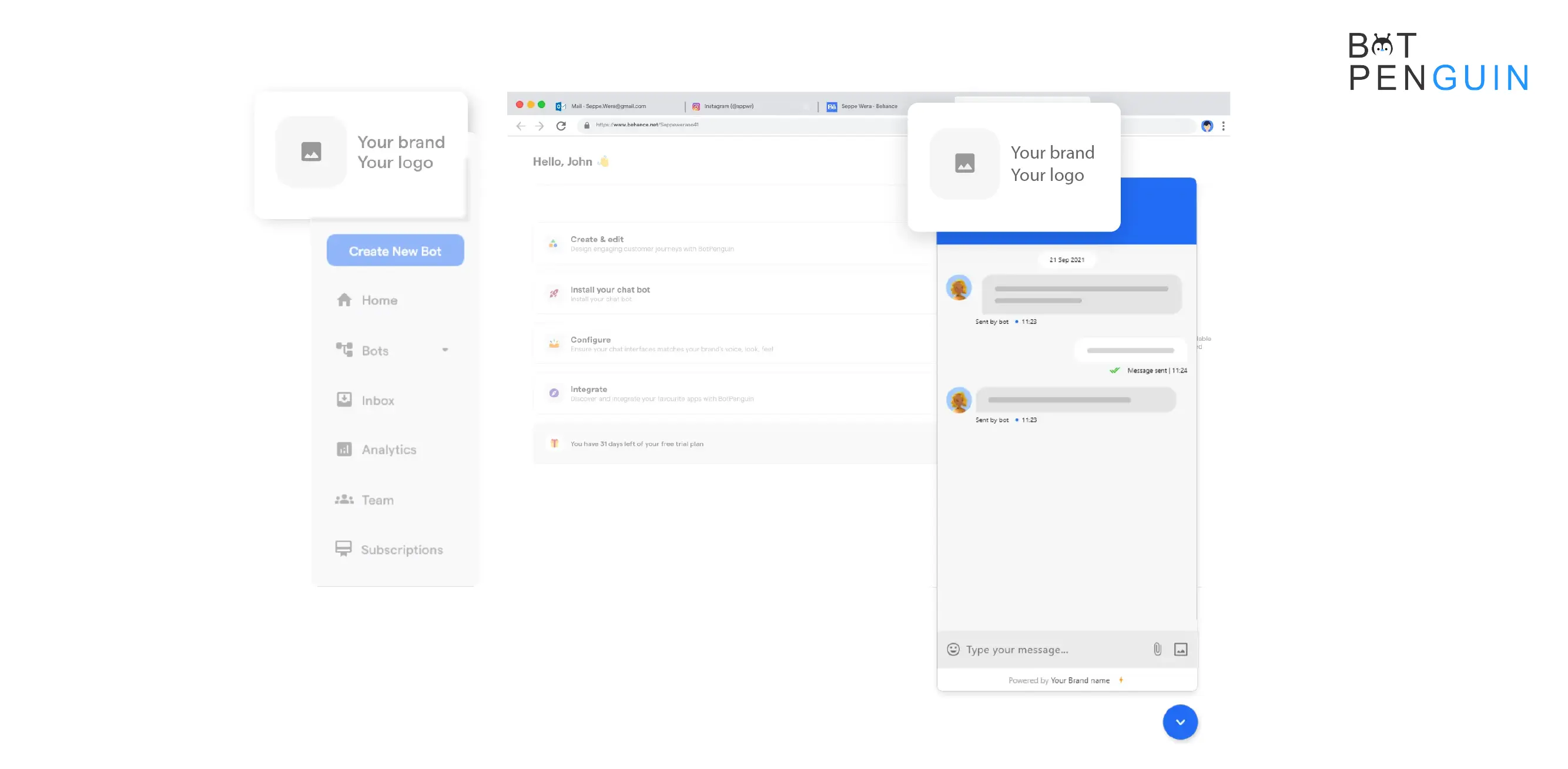 But how can white labeling affect the expansion of a business? Such a model is essential for startups and enterprises that currently provide the same, or in some cases, even higher quality products or services but don't yet have established competitive brand names.
Other businesses can use such a strategy to assist them in concentrating just on development rather than spending money on marketing and advertising.
A fully supported product produced by one firm but offered by another is referred to as a "white label business."
What is a White-Label product?

White label products are marketed and sold by merchants under their trademark, although a different company makes them. When a manufacturer chooses to utilize a customer's or marketer's branding over its own, this is known as "white labeling."
The finished product has the appearance that the buyer made it.
Because they feature the retailer's name (often referred to as the "store brand") on the label, white-label items are simple to identify on shop shelves.
According to the definition of a white label product, it is a "raw" generic good that has been rebranded, customized with the business's logo, label, and identity, and then utilized as its own.
The vendor manages all matters relating to software licensing, data center space or servers, and technical support. Hence white-label solutions need upfront capital expenditure.
The business may start selling the item as its own, earn profits, and split the commission with the service or technology supplier once it has given the product the feel and appearance of its brand.
Why BotPenguin is the Best White Label Chatbot Platform?
A customized chatbot requires a lot of time and effort to build from scratch. There must be much more testing, prototyping, research, and coding. Forget if you've never worked with artificial intelligence or natural language processing.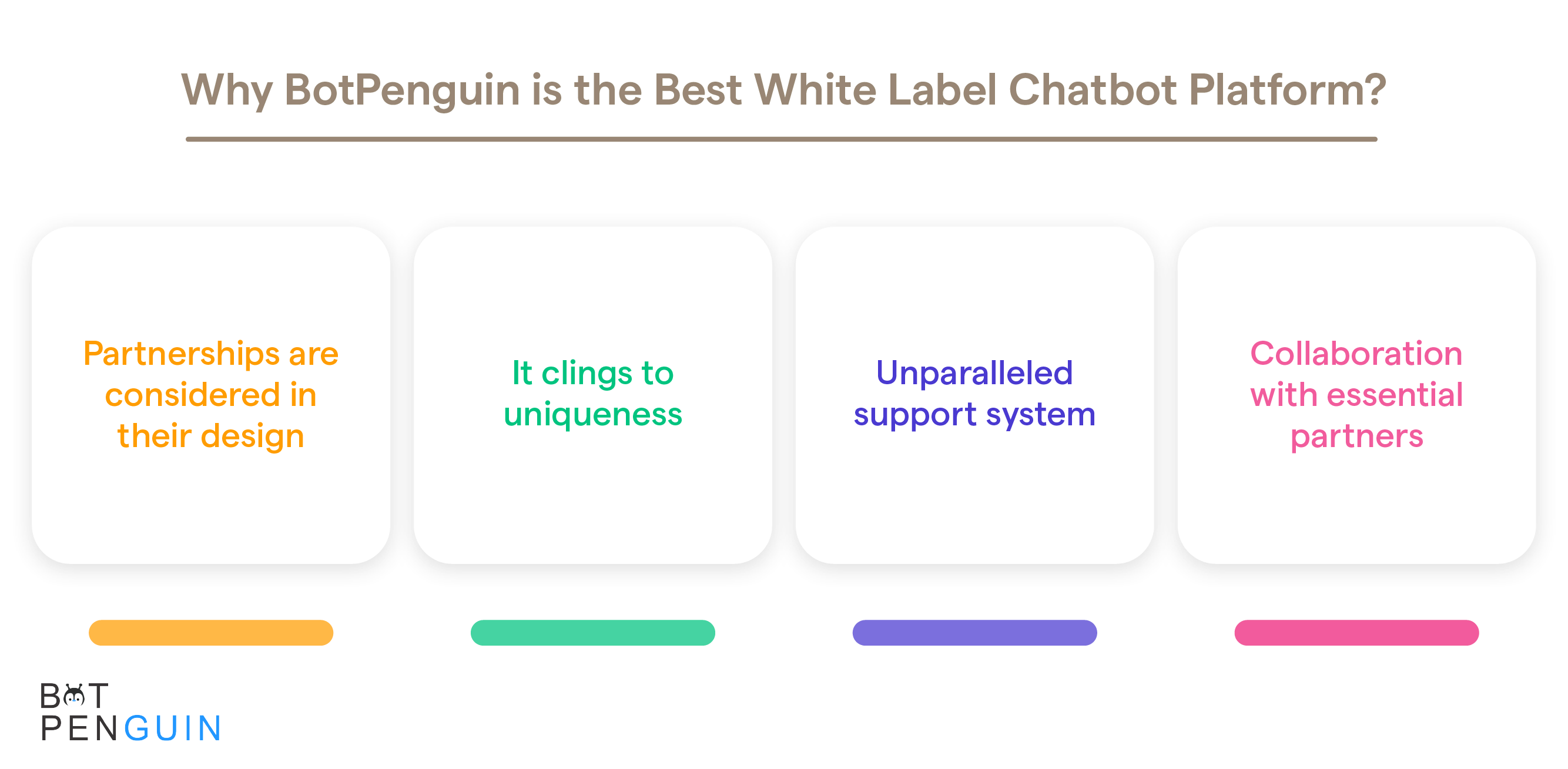 Whitelabel products come prepackaged and are reasonably priced. You may instantly resell them to your customers, who can use them immediately. Additionally, by giving your customers a profit, you may recoup the money you spent on the White label chatbot.
Whether from your customers or your designers, they could also enhance the brand identification of your business.
In essence, White label solutions provide you the freedom to customize the chatbot you like. It is simple to design, brand, and implement to meet all business chatbot requirements, whether it is for your organization or your clients.
Adopting white labeling services can increase your present items' sales. By contracting with a white label service provider, you may offer your clientele a wide choice of services. White label chatbot software from BotPenguin entails as follows:;
Partnerships are considered in their design
BotPenguin designed each chatbot from the ground up since nothing else could provide what clients needed. Most chatbot platforms only briefly consider collaborations.
It clings to uniqueness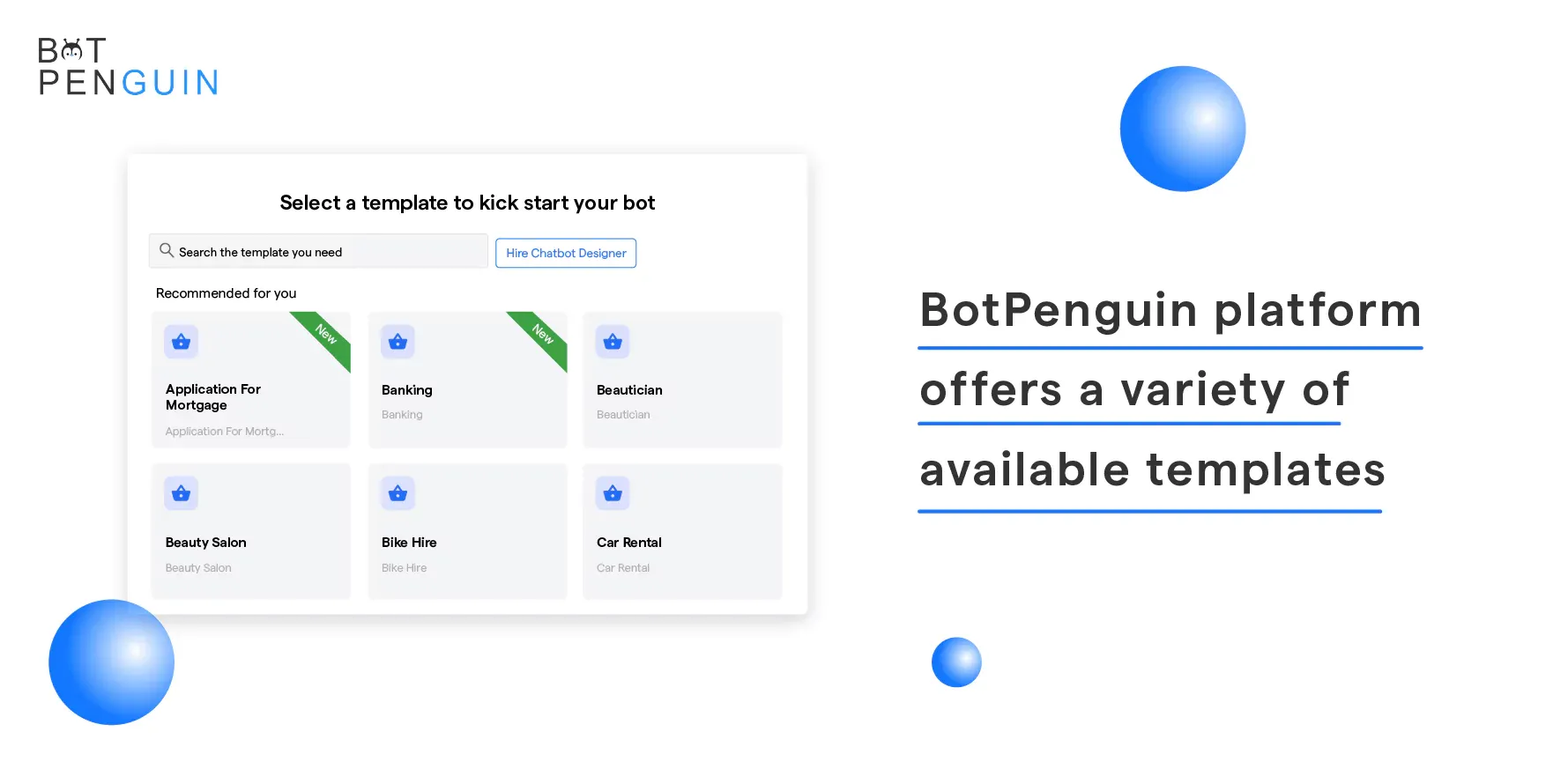 For organizations looking to employ conversational software to come up with original solutions for the challenges of their clientele, BotPenguin offers a partner program for chatbots.
BotPenguin platform offers a variety of available templates (that everyone else uses uniformly). There are a lot of pre-planned conversational flows (that don't entirely satisfy your clients' demands). There are no consistent qualities you will come across.
The templates will provide you with all the resources you need to create the exceptional, wonderful, and satisfying chatbot experiences your customers need.
Unparalleled support system
New, enormous, and exciting opportunities abound in the chatbot industry.
Whether you are a novice or a pro, the team of experts at BotPenguin is here to help you in any way.
A powerful tool is a BotPenguin platform. It possesses distinctive qualities that, when mastered, let our partners shine. To bring you there is the aim of our partner success team.
Collaboration with essential partners to develop and deliver solutions
The implementer program, created for businesses that offer chatbots and agencies, provides the opportunity for additional money.
By creating, installing, and maintaining the chatbot on your client's behalf, you may provide managed services for chatbots on the BotPenguin platform.
Conclusion
Whitelabel chatbots provide advantages and opportunities that more conventional human customer support teams can't match. Whitelabel solutions also give independent contractors and software companies a unique chance to resell sophisticated pre-built and customized chatbots to their customers.
Such solutions remove the hassle of complex software development and coding for your business or clientele. Your company will benefit from this investment as you develop strong ties with customers across all media. You may alter the colors, avatar, brand, etc.
BotPenguin white label chatbots don't require any coding expertise to utilize them.
For businesses in the e-commerce, customer service, healthcare, real estate, and other fields, you may utilize BotPenguin's white label chatbot solution. Give your customers a lovely experience by using the white-label BotPenguin chatbot.
Frequently Asked Questions (FAQs)
What makes BotPenguin the best White Label Chatbot Platform?
BotPenguin offers a user-friendly interface, powerful AI capabilities, customizable templates, and seamless integrations, making it an ideal choice for businesses of all sizes.
How does BotPenguin's AI technology stand out from other chatbot platforms?
BotPenguin uses advanced natural language processing and machine learning algorithms to understand and respond to user queries accurately and efficiently.
Can BotPenguin be customized to match my brand identity and requirements?
Yes, BotPenguin offers extensive customization options, allowing you to create unique chatbot experiences tailored to your brand and target audience.
How easy is it to integrate BotPenguin with my existing tools and platforms?
BotPenguin provides seamless integration with popular CRM systems, messaging platforms, and e-commerce tools, ensuring a smooth implementation process.
What industries can benefit from using BotPenguin as their White Label Chatbot platform?
Industries such as e-commerce, retail, customer service, healthcare, finance, and hospitality can all benefit from BotPenguin's customizable and AI-driven chatbot solutions.
How can BotPenguin's White Label Chatbot platform help me grow my business?
By offering advanced chatbot solutions, BotPenguin can attract new clients, expand your service offerings, and create additional revenue streams for your business.