You will probably find this challenging if you're searching for a white-label chat solution. There are so many options, so exploring the current industry can be intimidating. Understandably, users might have analysis paralysis given the availability of chat widgets for customer assistance, open-source APIs, and even chatbot builders. Therefore, we created this in-depth guide on white-label chatbots solution to sort through the confusion and assist you in choosing the best tool.
The market for chatbots had a valuation of $17.17 billion in 2020. It will soar to a staggering $102.29 billion by 2026 (registering a CAGR of 34.75 percent). As the new normal sets in, chatbot use has grown significantly. The chatbot industry has made clear the disadvantages of having an entirely informational or offline sales technique.
What is White labeling?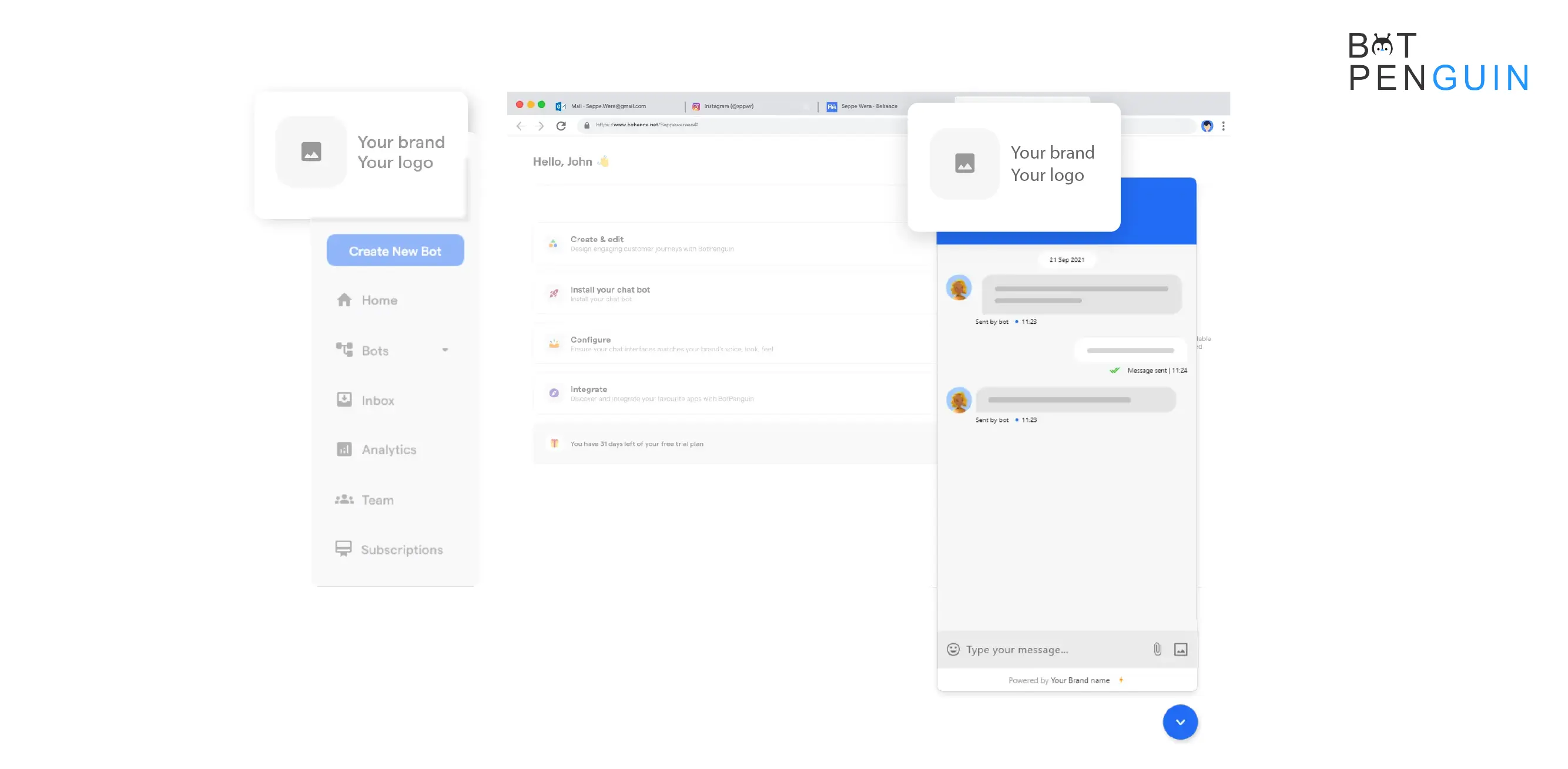 White labeling is the process by which a business develops something or service, removes its branding from it, and then inserts the reseller's logo. The item looks to have been produced by the reseller. Essentially, one business manufactures the item and permits other businesses to market it under their brand names.
Without having the ability to manufacture the goods in the first place, it enables the acquiring business to enter the market. Additionally, it helps them avoid spending much time and money on creating the product.

Similarly, BotPenguin Offers four different types of Partner Programs:

How Does White-Labeling Work?
Manufacturers and resellers work together in a business-to-business arrangement known as white-labeling. In essence, a software producer sells an unbranded product or service to a reseller who then adds their branding and resells it to their clientele of companies.
You normally need minimal (or no) expense to begin with digital items because they can be purchased and sold online. All you have to do is start knocking on doors and selling to businesses.
Why should Marketing agencies consider white label chatbots?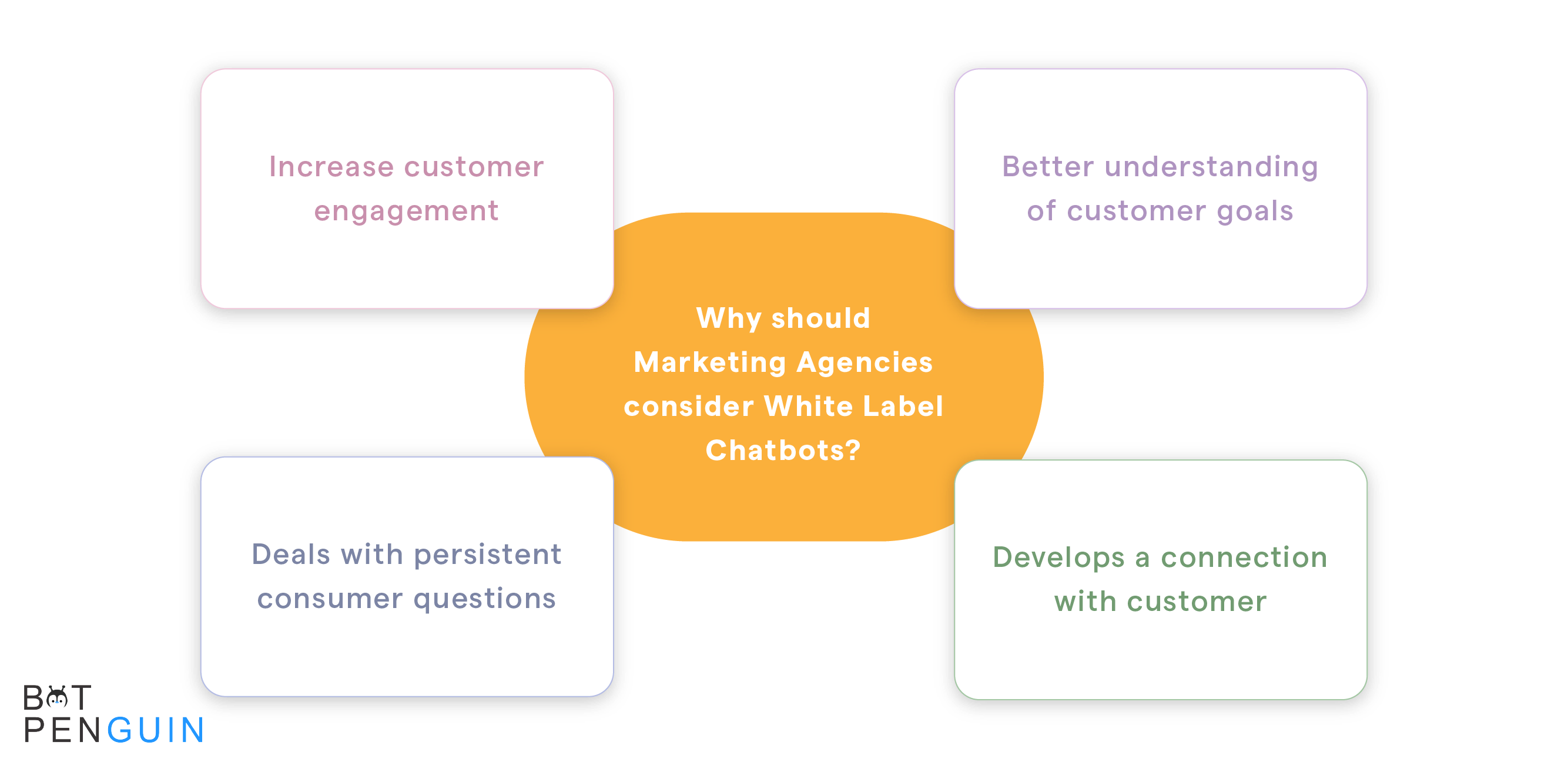 Marketing firms experiment with a variety of marketing strategies. Giving information in a way that a client's consumer can comprehend, spreading information everywhere, increasing brand awareness, and many other things.
Performance marketing companies would die for the ability to spread content to new locations and enhance prospects for boosting leads or sales. Wouldn't it be fascinating if we could engage the visitor instead of doing all of this? If we could try to understand their goals and then most likely offer them products?
That is conversational marketing, a better strategy for dealing with persistent consumer questions, problems, recommendations, and objections, and a smart yet compassionate method of conversing with the client and developing a connection.
Conversational marketing involves more informal and individualized methods of presenting your product to clients than informative marketing, which only provides facts about a product. Additionally, intelligent AI chatbots may be fun and engaging for customers to provide service casually.
Benefits of White Label Chatbots Platform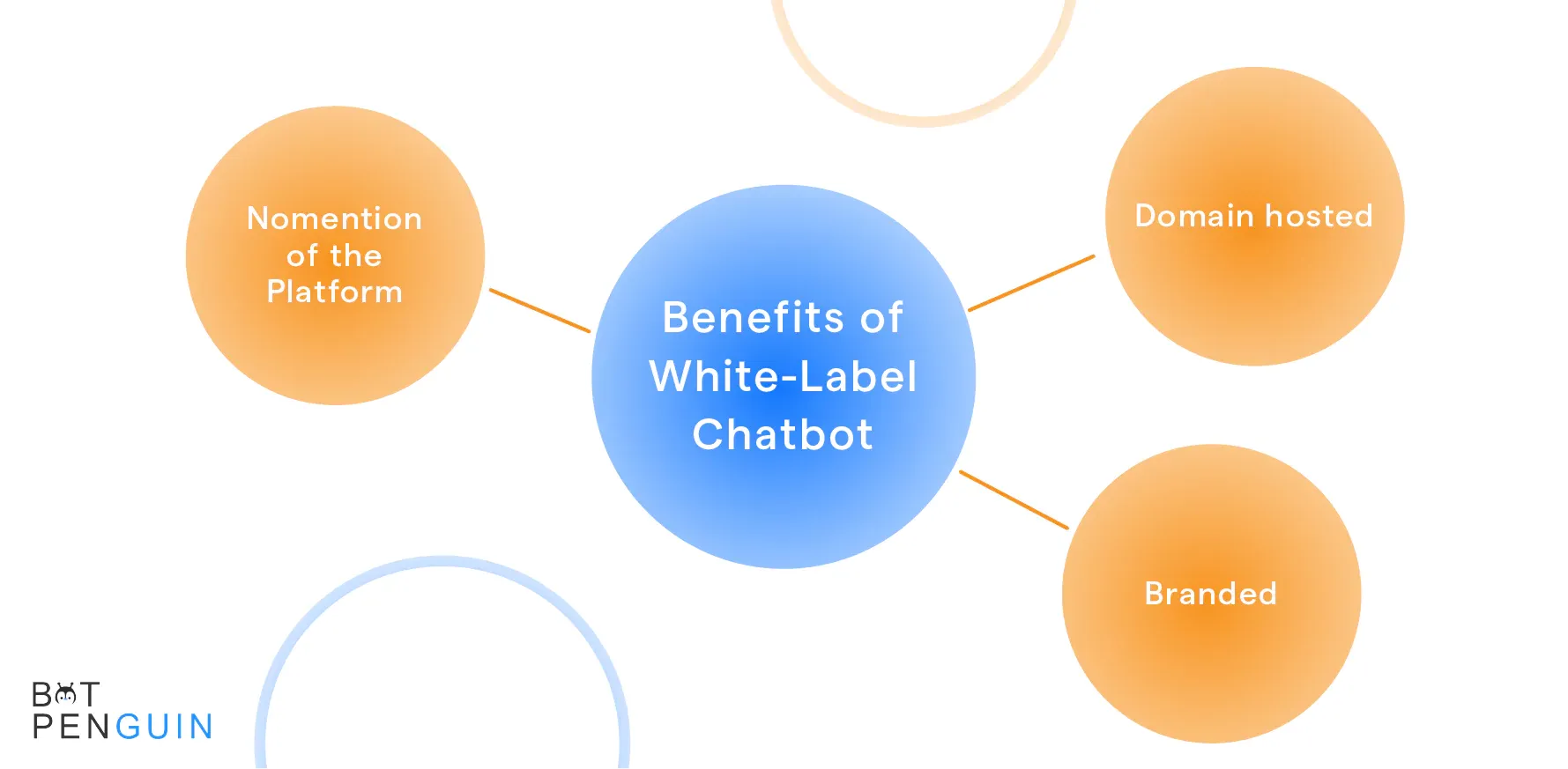 Growing Your Services Through White Labeling
Expanding your current offers is the primary advantage of adopting white labeling services, as was already discussed. You don't have to be an expert in each service you offer. Additionally, you may offer a variety of services to your client base by outsourcing them to a white label service provider.
It Can Aid in Expenditure Reduction
White labeling a chatbot platform provider would be great if you are a small business with a limited budget. Adding a chatbot platform to your services is also a great option. You may save money by outsourcing services to a white-label chatbot platform instead of keeping a permanent staff of experts. You may save money by forgoing charges like full-time staff wages, overhead, education, development, and licensing fees.
Increase your company's revenue by one more source
Every extra service you offer to your clients will generate another source of revenue for your company. Naturally, the key to maintaining good revenue profitability is to resell these services at a profit margin.
Increase Your Clientele
By expanding your service offering, you will also draw in new customers. You may access a consumer base from a wide range of industry sectors using white labeling. You can sell your services to more customers by having more service options. It will be simpler to draw customers if you have a reputation for offering high-quality services in your field.
It Raises the Value of Your Brand
You can guarantee that you keep your commitments to your customers and establish a solid reputation in the AI market by using white-label chatbot services. You may position yourself as the go-to agency for all types of services by offering a wide variety of services.
Build your White Label Chatbots Business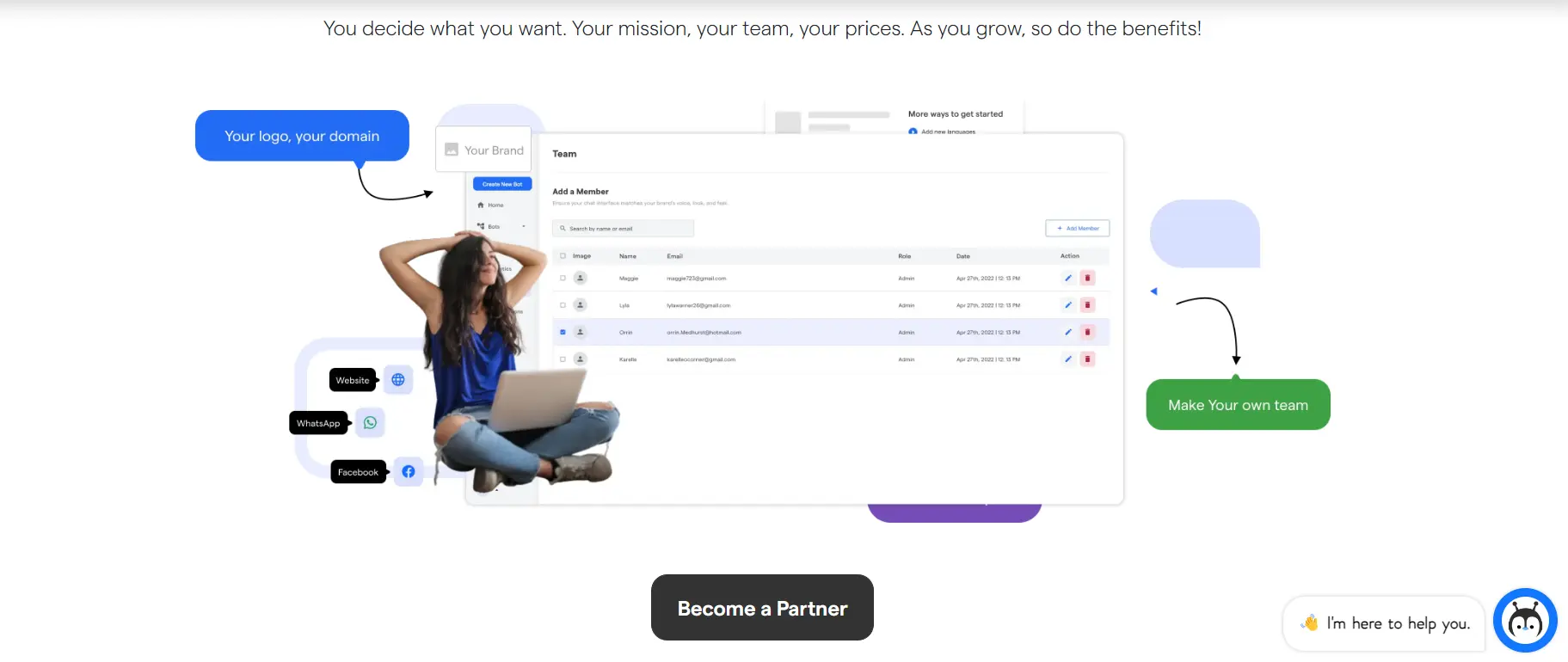 You can enjoy the following benefits when you partner with a white-label chatbot provider.
No mention of The Platform: This applies to all areas of the platform, including logos, the footer of the "powered by" widget, documentation, and more.
Domain hosted: Your chosen domain and subdomain host your chatbot platform (e.g., bots.yourcompany.com).
Branded: Your brand must be reflected throughout your platform. All color schemes, from navigation to buttons to logos, are customized to your brand (and easily changeable).
White-Label opportunities for Enterprise
Several white-label solutions may assist enterprise organizations in expanding their income streams through client upselling and cross-selling. These solutions don't just benefit entrepreneurs and startups. Many providers of corporate marketing services focus only on one important topic and rule their respective markets.
Using their authority and sizable clientele, these businesses can upsell clients with different solutions to boost income and client retention. Selling an SMB with only 1 product had a retention rate of only 30% after two years.
However, selling the same SMB with just one more product showed an enhanced retention rate of approximately 20%, according to the Vendasta churn research of 100K+ SMBs. Selling an SMB four goods further demonstrates an 80% retention rate.
The following are some white-label possibilities for enterprise businesses to consider:
Efficiently Scale Your Business with Our White-Label Solutions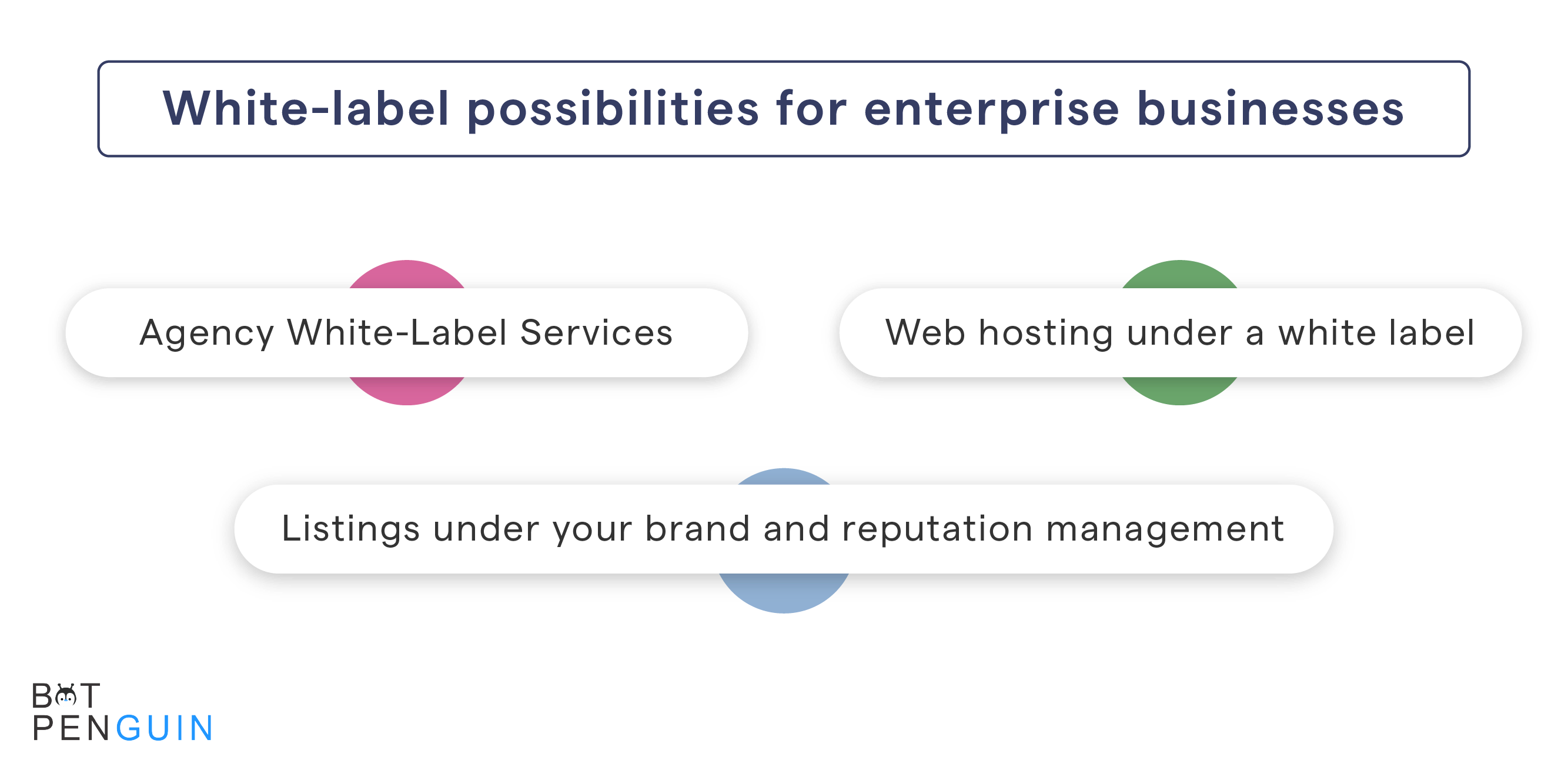 Agency White-Label Services
With a white-label team that takes care of your fulfillment, you can provide an entire package of marketing services. It can include ad campaign management, social media posting, website design, and more. For corporate firms, this is a fantastic option since it allows them to introduce additional solutions without having to increase the workload of their fulfillment crew.
Web hosting under a white label
Web hosting is a terrific service to add to an Enterprise's array of solutions, much like with agencies, because it's hands-off and a crucial component of a company's marketing plan. White-label website hosting may bring a ton of value to small and large corporate clients, and it can even aid in launching new companies.
Listings under your brand and reputation management:
Although they sometimes go unnoticed, listing and reputation management services are rapidly increasing regarding SMB ad expenditure.
Despite accounting for a combined $600 million market, our survey revealed that less than 45 percent of marketing service providers supply these services: low competition and a tremendous potential result. Without creating extra divisions, it may introduce white-label listings and reputation to profit from.
Is a White-Label Business Opportunity Right for You?
Your objectives as a business or entrepreneur will determine the kind of white-label potential you utilize. What type of neighborhood authority do you want to be? Any of these methods might help you start making money if your firm is just getting off the ground.
You must create a reliable brand and specialty to gain a competitive advantage in the market. You'll need a strong brand and messaging to stand out from the competition as you employ white-label solutions. These are the main factors to take into account when picking a business model:
Expertise: This might be a great starting point for figuring out which match is ideal for you or your company.
Price: It costs more money to enter some markets for

white-label digital solutions

than others. For instance, there would be a substantially greater overhead cost if you considered becoming an SEO reseller and using the service-heavy strategy we advised. As a reseller, there would be far less effort required.
Specialization in a particular good or service: As indicated before, white-label in the digital sphere includes products and services. You will need to choose which tasks you would like to accomplish in-house vs. outsourcing to a white-label firm based on your experience.
Digital-based reselling is the fastest path to development for entrepreneurs, startups, and other businesses providing business services.
Conclusion
In 2021, experts anticipated that $5 billion would be invested in chatbots. There are many white-label reseller options on the market right now (BotPenguin being one of the best ones).
As a digital marketing business, you can take advantage of this chance and provide your clients with a distinctive offering by using a white-label chatbot. Because they provide customers with an unmatched level of convenience, these chatbots can quickly increase sales through a company's website.
More Customers will want to visit your website or express their inquiries as your customer base migrates more and more online. A White-label chatbot is beneficial, especially as your business grows.
BotPenguin chatbot is an AI-based chatbot creation platform that also provides white label chatbots. Sign Up Today For Free!
Frequently Asked Questions (FAQs)
How do White Label Chatbot Platforms work?
White label chatbot platforms typically come with pre-built chatbot templates and a user-friendly interface, making it easy for resellers to create, customize, and deploy chatbots.
Resellers can add their branding elements, logos, and color schemes to match their identity.
What advantages do White Label Chatbot Platforms offer for resellers?
White label chatbot platforms offer several advantages to resellers, including faster time-to-market, cost-effectiveness, and scalability.
Resellers can focus on marketing, sales, and customer support while leveraging the technology and support provided by the platform.
How can resellers benefit from using White Label Chatbot Platforms?
Resellers can benefit from white label chatbot platforms by expanding their service offerings, attracting new customers, and generating additional revenue streams.
These platforms also allow resellers to establish themselves as AI and chatbot service providers.
Can resellers customize the chatbot's appearance and functionality?
Yes, resellers can fully customize the chatbot's appearance, including the design, user interface, and conversational flow.
Some white label chatbot platforms also offer integrations with third-party tools and APIs, allowing resellers to enhance the chatbot's functionality as per their clients' requirements.
What level of technical expertise is required to use these platforms?
White label chatbot platforms are designed to be user-friendly and require little to no coding knowledge.
Resellers can utilize drag-and-drop features and easy-to-use interfaces to build and manage chatbots efficiently.
Are White Label Chatbot Platforms suitable for small businesses?
Yes, white label chatbot platforms are well-suited for small businesses as they offer a cost-effective way to implement AI-driven chatbots without investing in extensive development resources.
Small businesses can use these platforms to improve customer support, lead generation, and engagement.
Do White Label Chatbot Platforms provide customer support and maintenance?
Many white label chatbot platforms offer customer support and regular maintenance to resellers.
This ensures that resellers can focus on their core business activities while the platform provider handles technical issues and updates.