Today, white-label marketing deals with many clients, from one-person consultancies to midsize businesses with 200+ people.
Most of them have the same questions and challenges, so all want to know how to evaluate or identify the right white-label partner for their business.
Adding white-label solutions to your business's existing service offerings will be the best option for your business. You must be thinking, why? 69% of consumers say they interact with an intelligent assistant or chatbot at least once a month. Also, 61% say chatbots in customer service are here to stay. Well, the white label provides unique services, working and assisting more with new clients and taking care of existing clients without much effort and investment.
There are various ways to explore the white label for business. But with so many agencies, it becomes quite challenging to choose one among all.
BotPenguin offers four different types of Partner Programs:
What are white-label products?
A white-label product is served by one company and produced by another. These are resellable or generic products, slightly customized with the brand and logo of the retailers.
White-label products are made, branded, and sold by one company, rebranded, and resold by another. It allows the provider access to a vast distribution network via their reselling partners, enabling the resellers to expand hassle-free in producing their products from scratch.
There are two types of white labels: B2B white label products and B2C white label products. The B2B white label products sell the products to the reseller, and the reseller resells them to the end user, a company.
And the B2C white label products are sold by a company and resold to the end user, a customer.
Top white-label chatbot platforms
There are many White Label Chatbot Platforms, but it's bit confusing to choose the right one! Here is a list of 5 Best White Label Chatbot Builders-
BotPenguin
BotPenguin is a chatbot maker tool and an AI-powered chatbot platform. It is available on various media platforms, including Facebook Messenger, Instagram, email, and SMS. With this white-label chatbot platform, BotPenguin, you can create chatbots more easily.
Some excellent features of BotPenguin worth mentioning are Natural Language Processing., Zero Development Time, Zero Setup Cost, Conversational UI, Deep Analytics, Ease of Integrate, Cost Effective, and Easily Customized.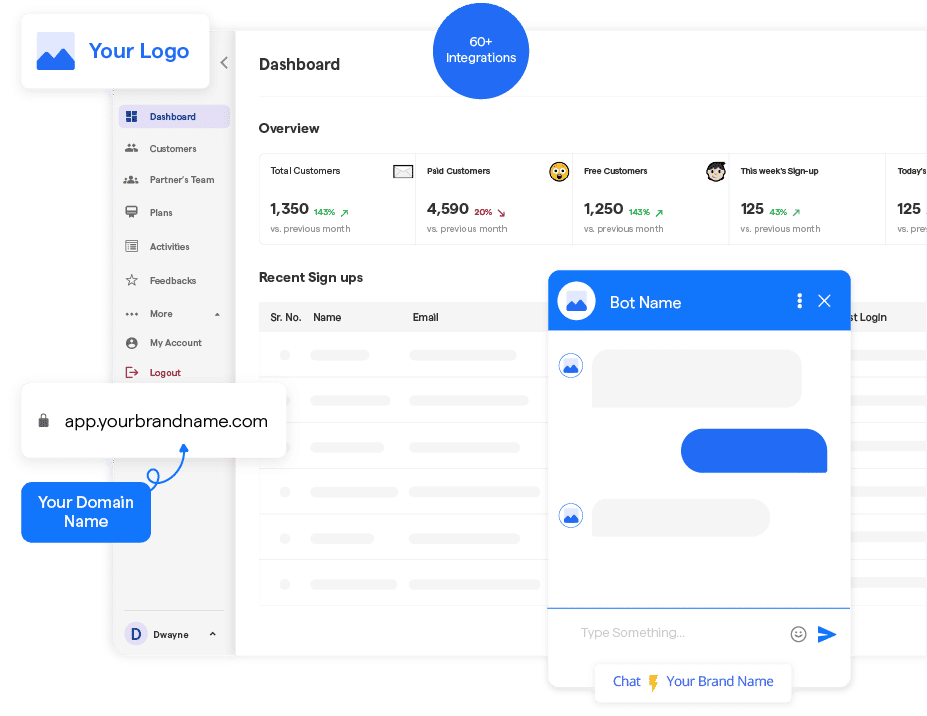 It is simple to construct chatbots with BotPenguin. Using the wide library of triggers and actions provided by BotPenguin, start with templates and adjust from there.
Depending on how complex you want your Chatbot to be, you may add conditionals, activate other flows you've made, and more.
The BotPenguin interface makes creating, comprehending, and updating the flow of your program a snap with non-rigid diagrams and buttons for copying and removing components on hover.
BotPenguin offers four different types of Partner Programs:
Engati
Engati is the best free, no-code AI Chatbot & Live chat platform.
This white-label chatbot platform supports eight major messaging systems: messenger, Kik, telegram, line, Viber, Skype, Slack, and webchat.

It allows you Social Media Integration, Speech Recognition, Third Party Integrations, Transcripts/Chat History, Transfers/Routing, Video Conferencing, and Workflow Management.
Tidio
Tidio is a powerful, all-in-one customer service platform. Chatbots from Tidio are popular on social media websites like Facebook Messenger. Tidio is a famous white-label chatbot platform with desirable features like Customization, Conversation Archiving, Lead Development, Knowledge Base, Team Inbox, Customer Profiles, etc.
This chatbot builder is made up of nodes, just like the majority of drag-and-drop editors. The consumer is addressed by each node, which offers a selection of potential responses.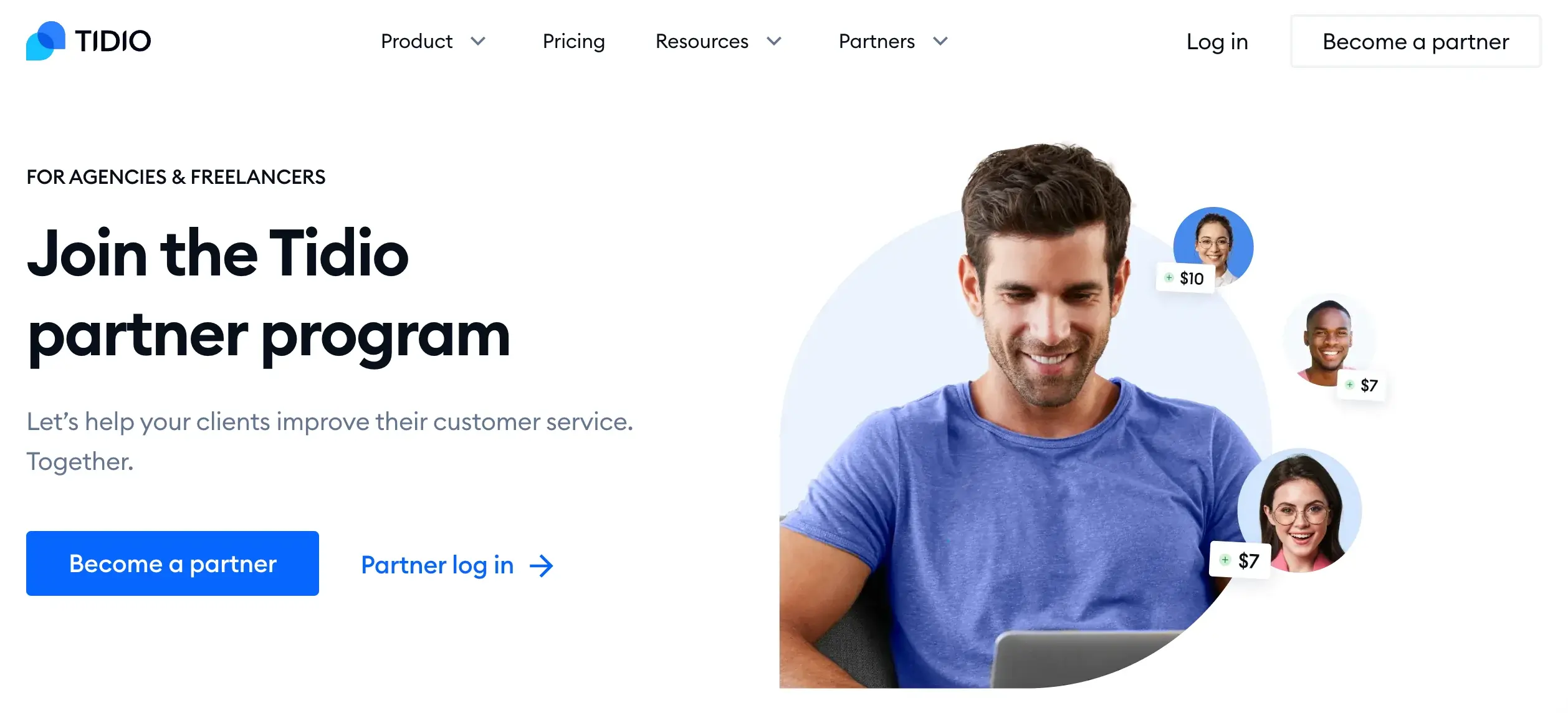 For instance, our developed bot invites users to view a special deal. If the user selects "Yes," the bot will request their phone number or email address. A new flow that collects the user as a lead and verifies their contact information starts depending on their choice.
Sendpulse
SendPulse is a cloud-based marketing solution or a white-label chatbot platform that automates your marketing and combines all delivery channels on one platform. SendPulse provides bots for Facebook Messenger, Telegram, and WhatsApp.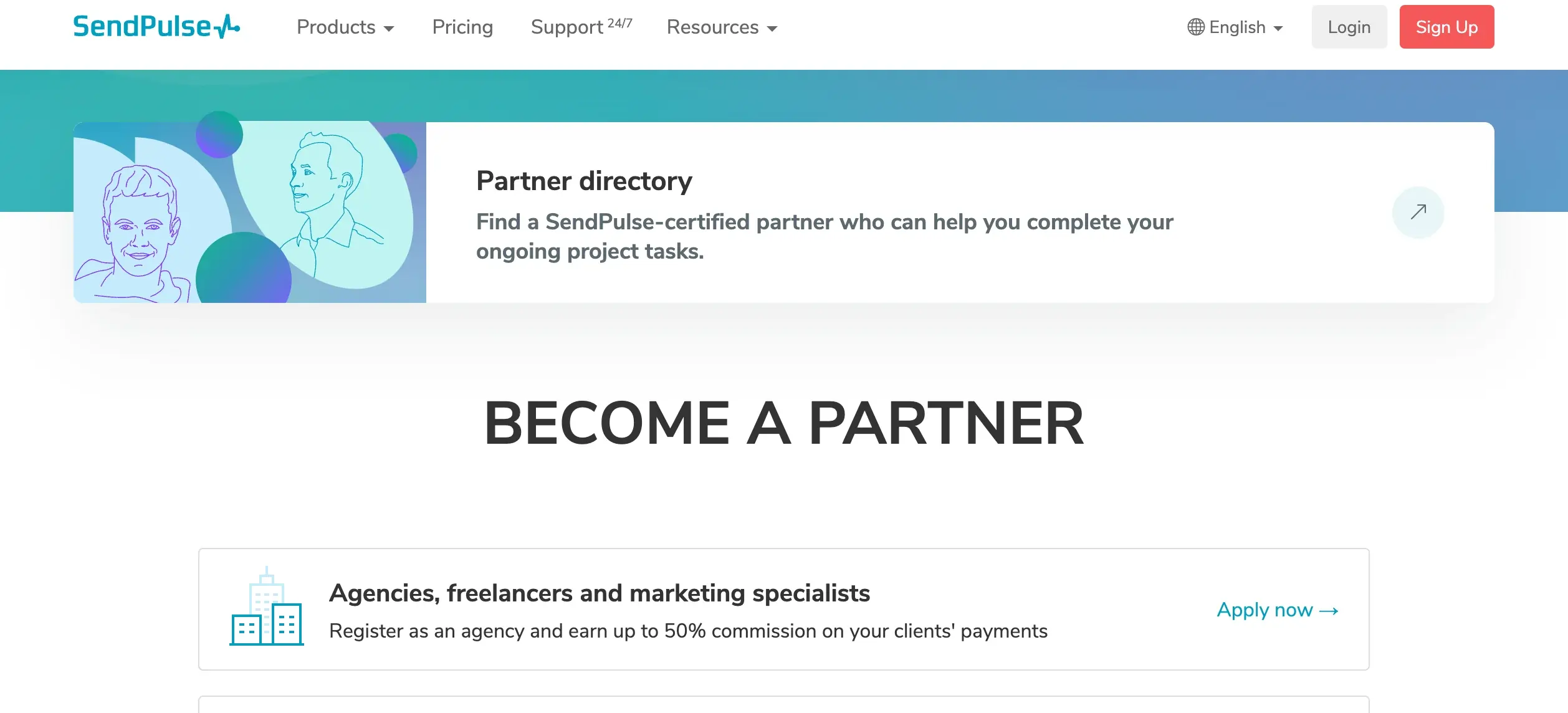 It integrates with over 16 platforms, including JotForm, Slack, and Zapier. Real-Time Analytics, Real-Time Notifications, Reporting & Statistics, Reporting/Analytics, SMS Marketing, SMS Messaging, Sales Pipeline Management, Spam Blocker, Alerts/Notifications, Auto-Responders, Automated Scheduling, CAN-SPAM Compliance, CRM, Campaign Analytics, Campaign Management.
All fall into sendpulses' characterization to make it a better chatbot builder.
IntelliTicks
IntelliTicks is quickly establishing a niche with AI-powered chatbots with a human fallback option.
IntelliTicks Chatbots could be a beneficial AI conversational tool for automating customer involvement with customized discussions. It will respond to typical and basic client inquiries without human intervention.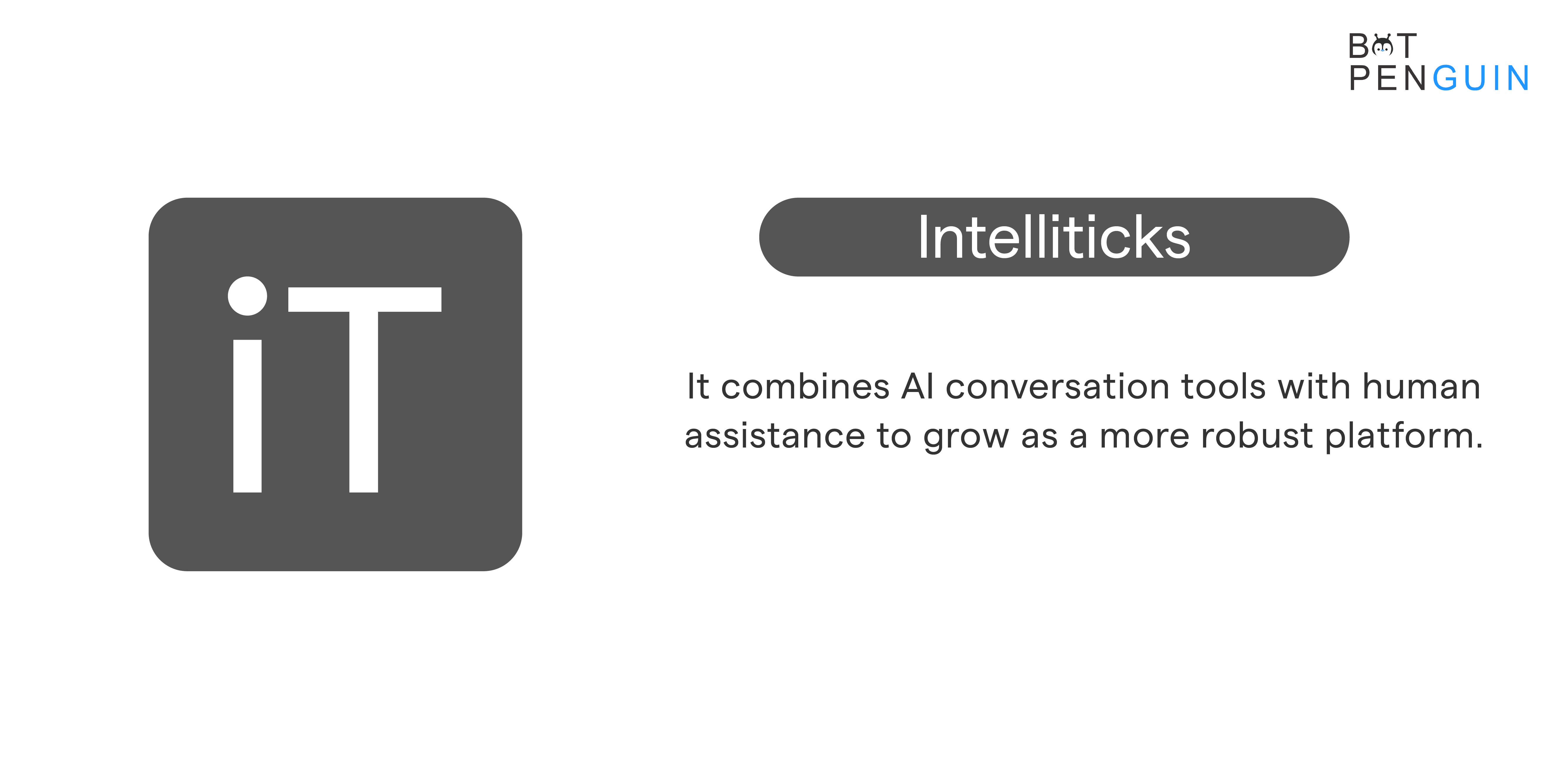 Natural language processing allows a chatbot to understand and reply to client inquiries. A human agent is contacted if the chatbot cannot respond to the customer's question. It includes Facebook Messenger bots that anyone with a basic understanding of programming can create.
Business owners may communicate with customers on the road thanks to the mobile app. Check for new leads and chats using IntelliTicks mobile, and converse anytime.
Super effective ways to find the best white-label partner for your business

Make your success the priority criteria
The white-label partner you choose must consider your success to keep it on their priority list. Check several times if your white-label partner is aligned with your company's goals.
Do not move into partnerships with those who do not focus on results. Instead, always focus on selling service because it will not be optimal.
Understand your customer's demand
Considering the minute qualities like flexibility and consistency can result in choosing the right white-label partner for your business.
Check the quality of services provided by white-label partners. Also, consider the differences, whether it is white-label web development, design, or if it appropriately meets your company's demands.
The right white-label partner can take your business to the top by speeding up modern business practices, using the latest technologies and best practices.
So this step must be ensured and taken care of while selecting the white-label partner for your business.
Suggested Reading:
Top 10 White Label Agencies in 2023
Always go over various testimonials
Another important sign to find out the best white-label partner for business is by considering google reviews, client testimonials, portfolios, etc. Look for a team that preferably has a hundred percent success rate and has years of experience in your niche.
Particularly when it comes to competition and the overall health of your company, a larger company with better-equipped resources can give you advice and lead.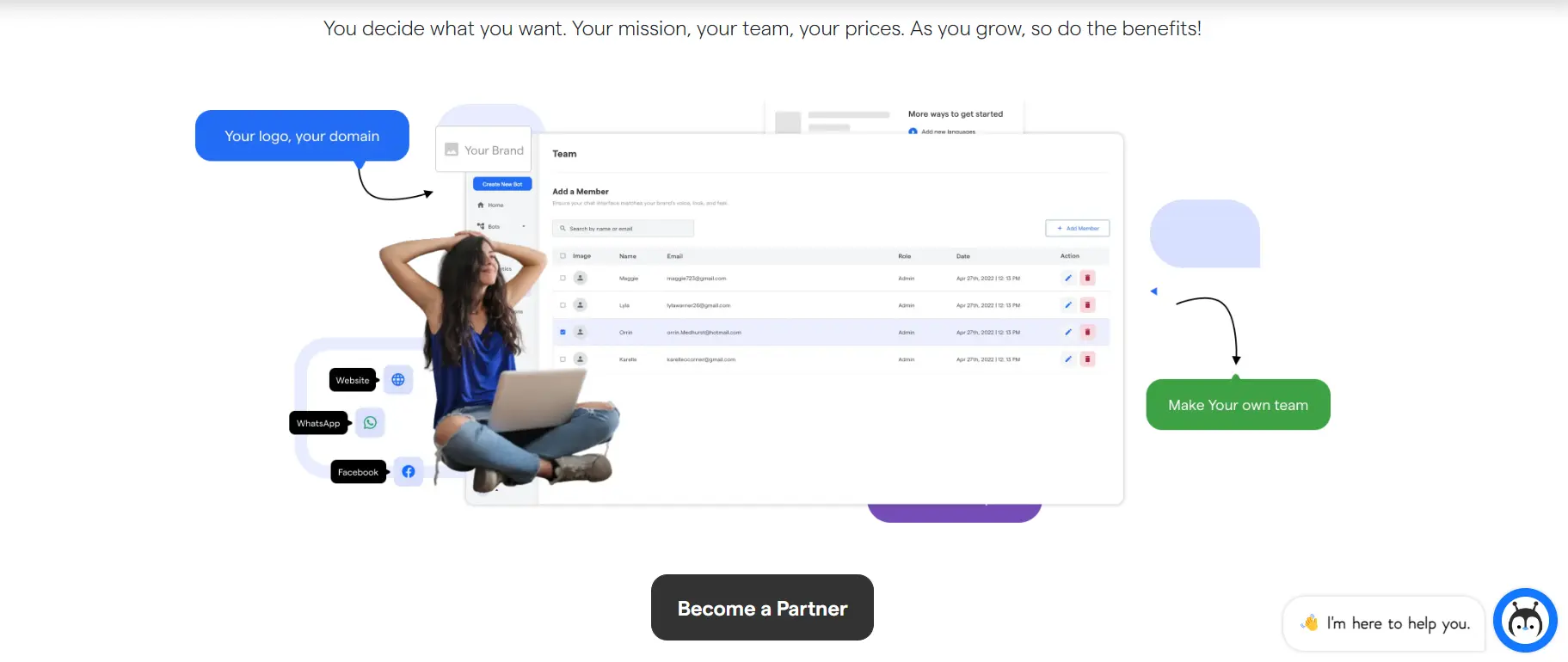 Opt for excellent customer service
Customer service is one of the main factors for any business. Good customer service helps to maintain a good reputation among reviewers. The company or industry will be measured regarding a good relationship with customers.
When choosing white-label partners, a hands-on approach to customer queries is mandatory for your digital agency. Ensure that your white-label partner understands clearly that your clients are your asset.
Look for detailed reporting
The white-label partner that you are choosing must have detailed and transparent reporting. Numbers are deciding factors in marketing whether your customer likes or cancels your service after the first few months.
Please avoid companies that show multiple products in their portfolio. Rather sign up with those with expertise in a single product or service.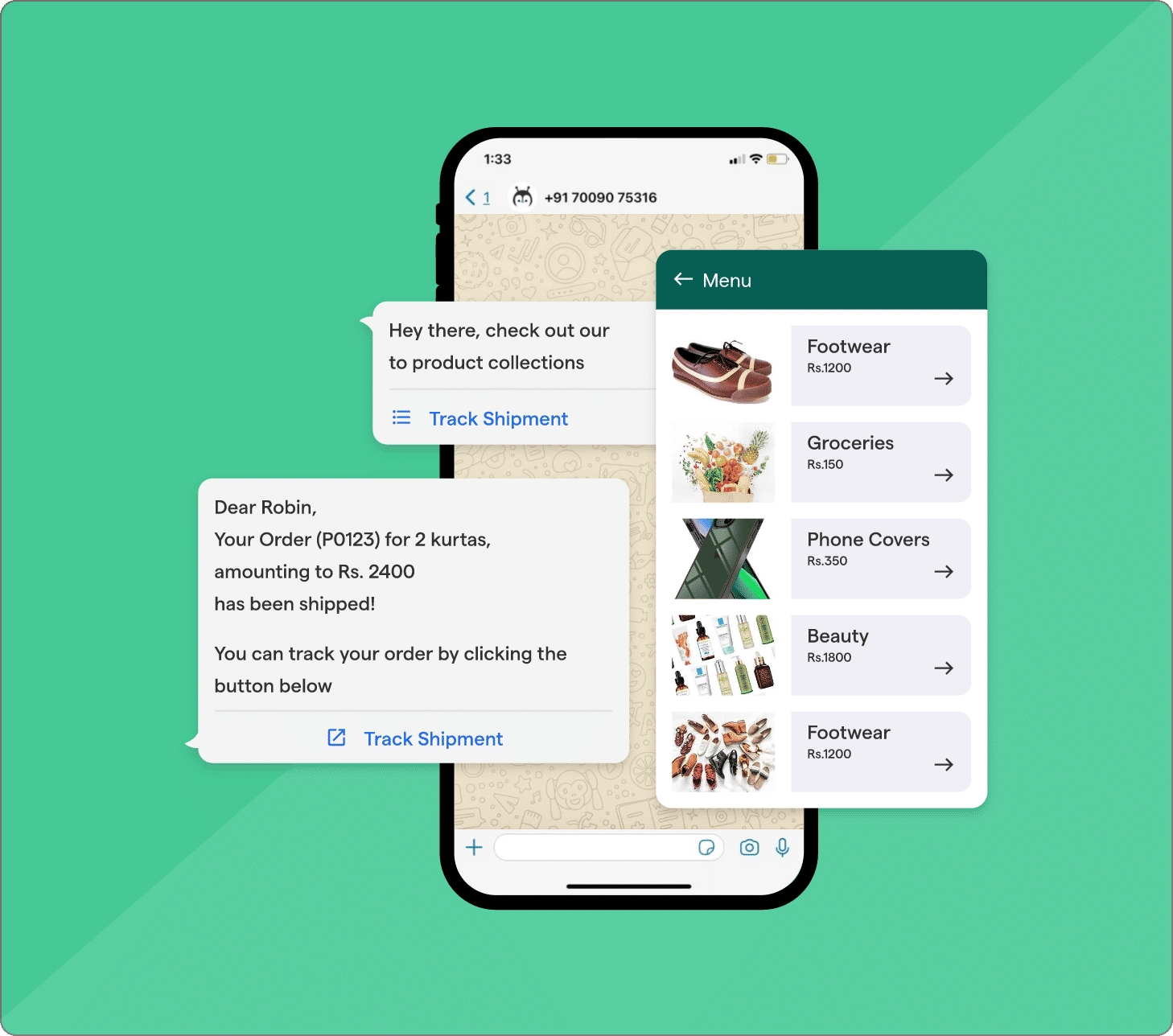 Try it beforehand on a free trial
Choosing a white-label partner based on face value and promises would be intelligent and wise. It would help to find the partners or agencies that will offer you a free sneak peek into the product.
Their services may include a free trial, where you can directly communicate with clients, assign tasks to developers, get detailed daily reporting, study their code quality, and much more.
Consider social media platforms and the internet for reviews
A visible and easy-to-find white-label partner on the Internet is vital. It makes it simple and easy to keep track of everything going on with your business. Also, you can understand the pros and cons of white-label partners.
Go for skills as well as education.
Most companies look for skills rather than educational qualifications when choosing white-label partners.
The major thing you must concentrate on is availability for full-time employment and specialization.
Also, it would be beneficial to eliminate some possible companies by applying the right ratios and KPIs.
What are the key factors to remember while choosing White label chatbot software?
The key factors are:
The

white-label chatbot

software must scale your services and help you to reduce expenditure.

You must expand your customer base and add another revenue source to your business with white-label chatbot software.

The white-label chatbot software must develop a strong reputation in the AI business and improve brand value.
Wrapping up
Choosing a white-label partner is a crucial step in your outsourcing journey. You can narrow down many white-label chatbot software by considering the above-mentioned tips to minimize the risk associated with partnership and guarantee the best solution for your clients and business
If you are wondering about choosing a white-label chatbot software, go for BotPenguin; it will prove ideal. Be it white-label web development, QA analysis, design, or digital marketing services, you will experience affordable pricing and a free trial. So what are you waiting for? Contact BotPenguin now!
Frequently Asked Questions (FAQs)

What is a white label partnership and how does it benefit my business?
A white label partnership involves collaborating with a third-party company that offers products or services under your brand name.
This allows your business to expand its offerings without investing in product development, saving time and resources.
What factors should I consider when searching for a white label partner?
When looking for the best white label partner, consider their reputation, experience, product quality, pricing, customer support, and alignment with your brand values.
How can I ensure the white label partner's products meet my quality standards?
To ensure product quality, request samples, testimonials, or case studies from the white label partner. Conduct thorough research and, if possible, test their products before committing.
Is it essential for the white label partner to have expertise in my industry?
While industry-specific expertise can be beneficial, it's not always necessary. Some partners may excel in white labeling across various industries, providing a fresh perspective to your business.
How do I protect my intellectual property and brand identity in a white label partnership?
Ensure you have a well-drafted agreement with the partner that clearly outlines intellectual property rights, brand guidelines, and confidentiality clauses to safeguard your business interests.