Do you know that 7 out of 10 internet users prefer chatbots? Did you know that businesses use white label chatbot and cut up to 50% of operation costs?
You need to spend only 5$ whereas you pay 10$ on a branded chatbot.
Chatbots are simple conversational tools that intend to convert visitors. They can analyze natural language and provide quick contextual replies depending on the info presented. When someone asks a chatbot a question, it responds friendly and helpfully.
You may be a marketing company, a software company looking to implement chatbots, a startup, or just someone with an idea.
White label chatbot allows you to create and launch chatbots of your brand anywhere you want. You can develop between 20 to limitless chatbots with a brand name or custom design.
Read ahead to get more info and answers.
What is a White label Chatbot?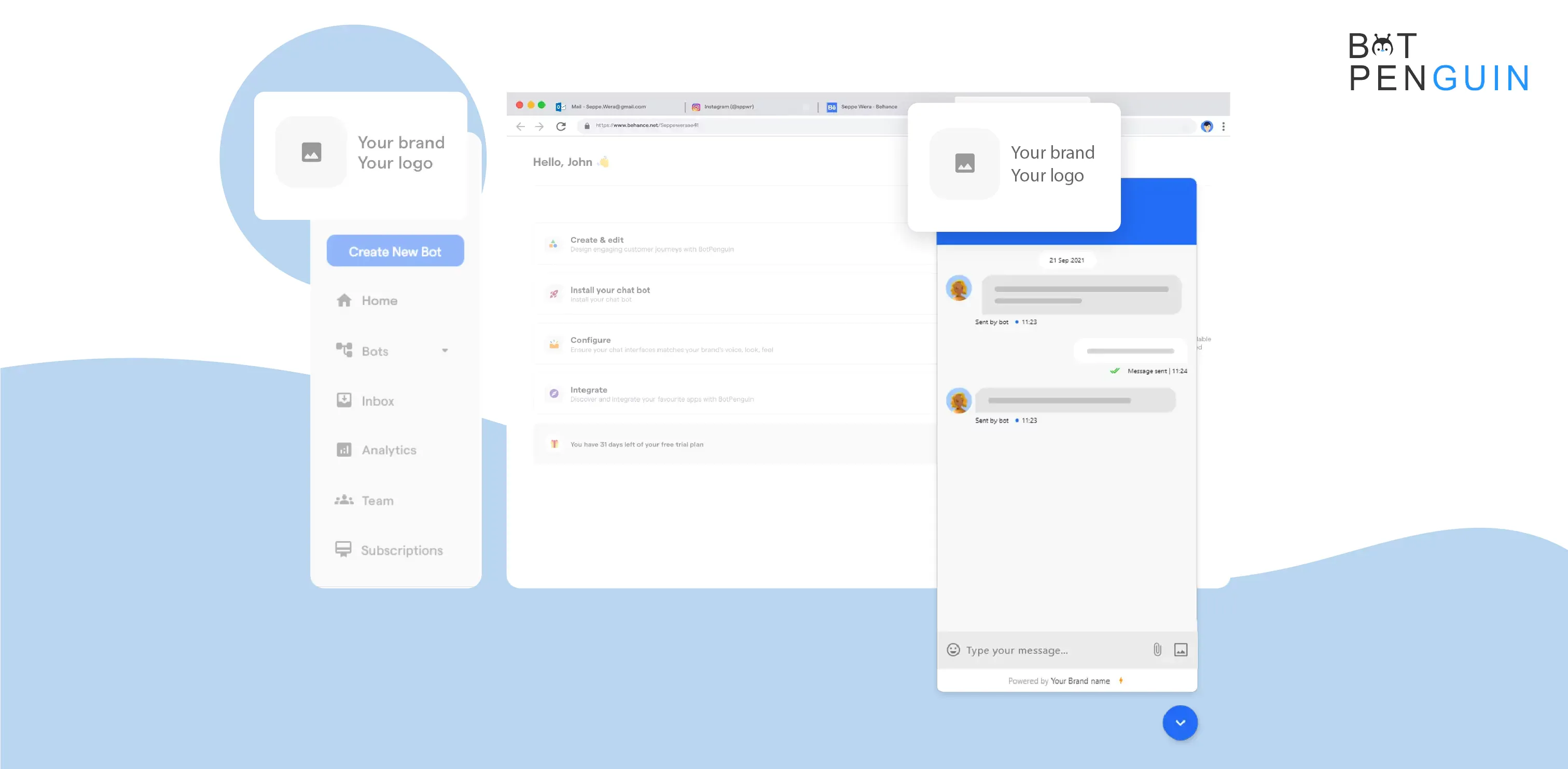 White label chatbots are the software that allows users to brand their business on any client's website. Users will see their logo, For example, the "powered by your brand" statement, brand the colors, which will help to boost Users' brand positioning.
White-labeling of chatbots allows you to completely customize the colors, avatar, brand, etc. You can even use custom CSS, so it should be seamless within the website. You can also white-label the entire platform to extend your company's brand and services and generate more revenue. Let me tell you more about all of the white-label capabilities.
White label chatbots can be bought from a corporation like Ideta, the brand with your logo, and used on your website or in your app with a white label chatbot. You have total control over the UI and design of your chatbot.
BotPenguin Offers four different types of Partner Programs:
You may easily adjust the chatbot to your client's needs and relaunch it all without generating a single line of code if you're a freelancer developer or a software business. It saves you time and money and ensures that your consumers are satisfied.

Why should you use a White label Chatbot?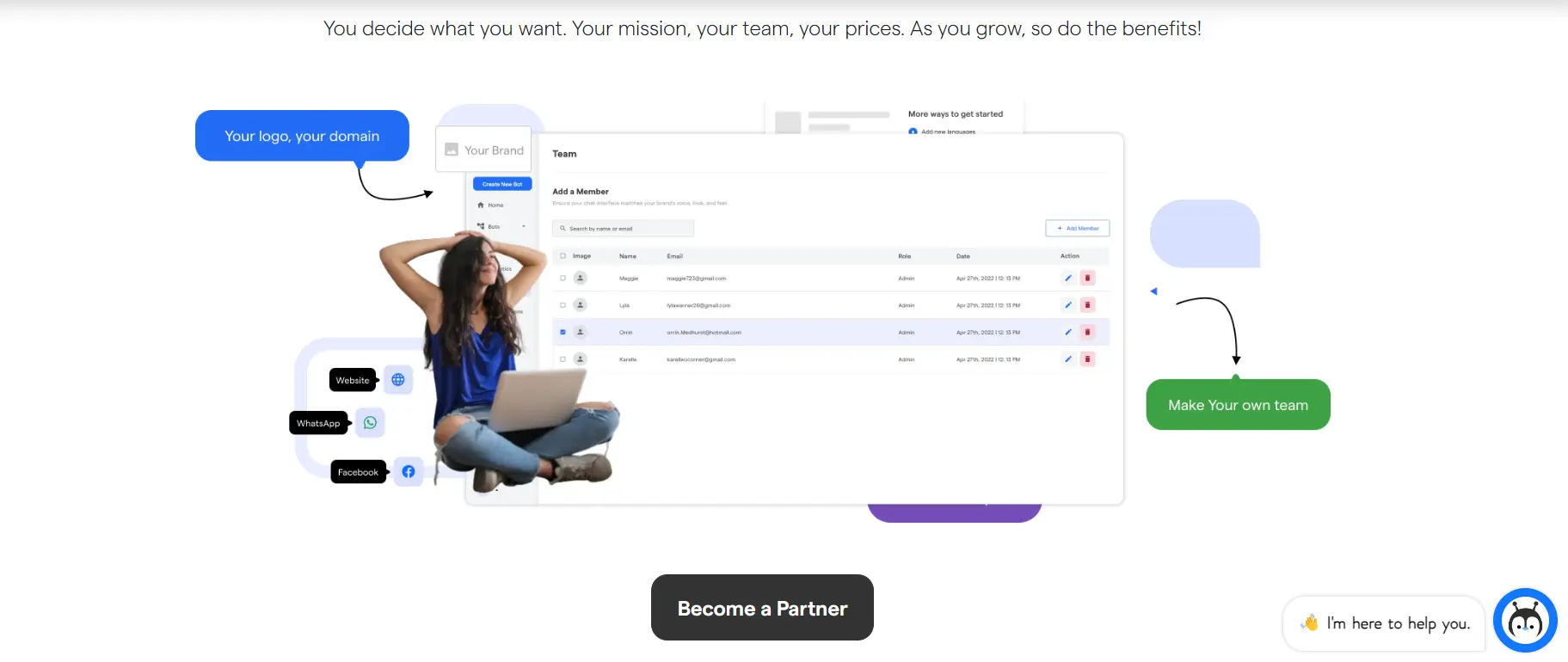 Creating a customized chatbot from the start is difficult and time-consuming. A lot more research, coding, testing, prototyping, and so on are required. If you don't have any experience with machine learning or natural language processing, forget it!
Whitelabel solutions are pre-packaged and inexpensive. You may quickly resell them to your consumers, and they can immediately benefit from them. Furthermore, you may recover the money you invest in a White label chatbot by paying your consumers with a profit.
They may also complement your company's identity, whether from your customers or your designers. There are no code editor-style windows in the Ideta solution that allow you to drag and drop logos or select colors from with a hex wheel.
Essentially, White label solutions allow you to personalize the chatbot in whatever manner you desire. You may create it easily, brand it, and execute to fit all business chatbot demands, whether it's for your company or your customers.
The following are some of the significant advantages of using a Whitelabel solution: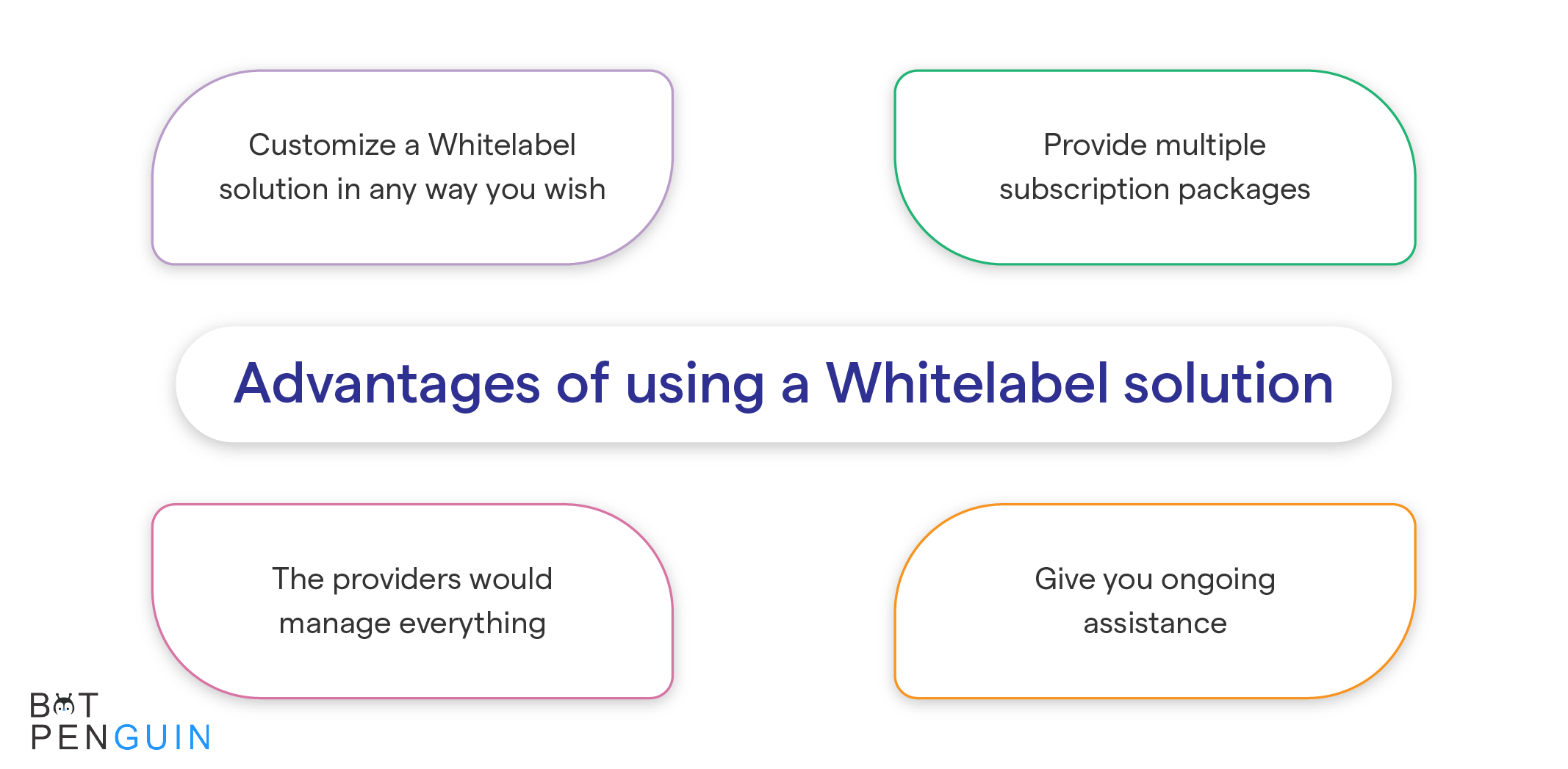 The service providers do not promote.
You may customize a

Whitelabel solution

in any way you wish. It may be customized to match the client's brand.
White label solution suppliers frequently provide multiple subscription packages for various service tiers to better meet the demands of your customers.
The providers will give you ongoing assistance during your subscription duration.
The providers would manage everything from the setup procedure to any software integration and configuration difficulties.
Benefits of White label Chatbot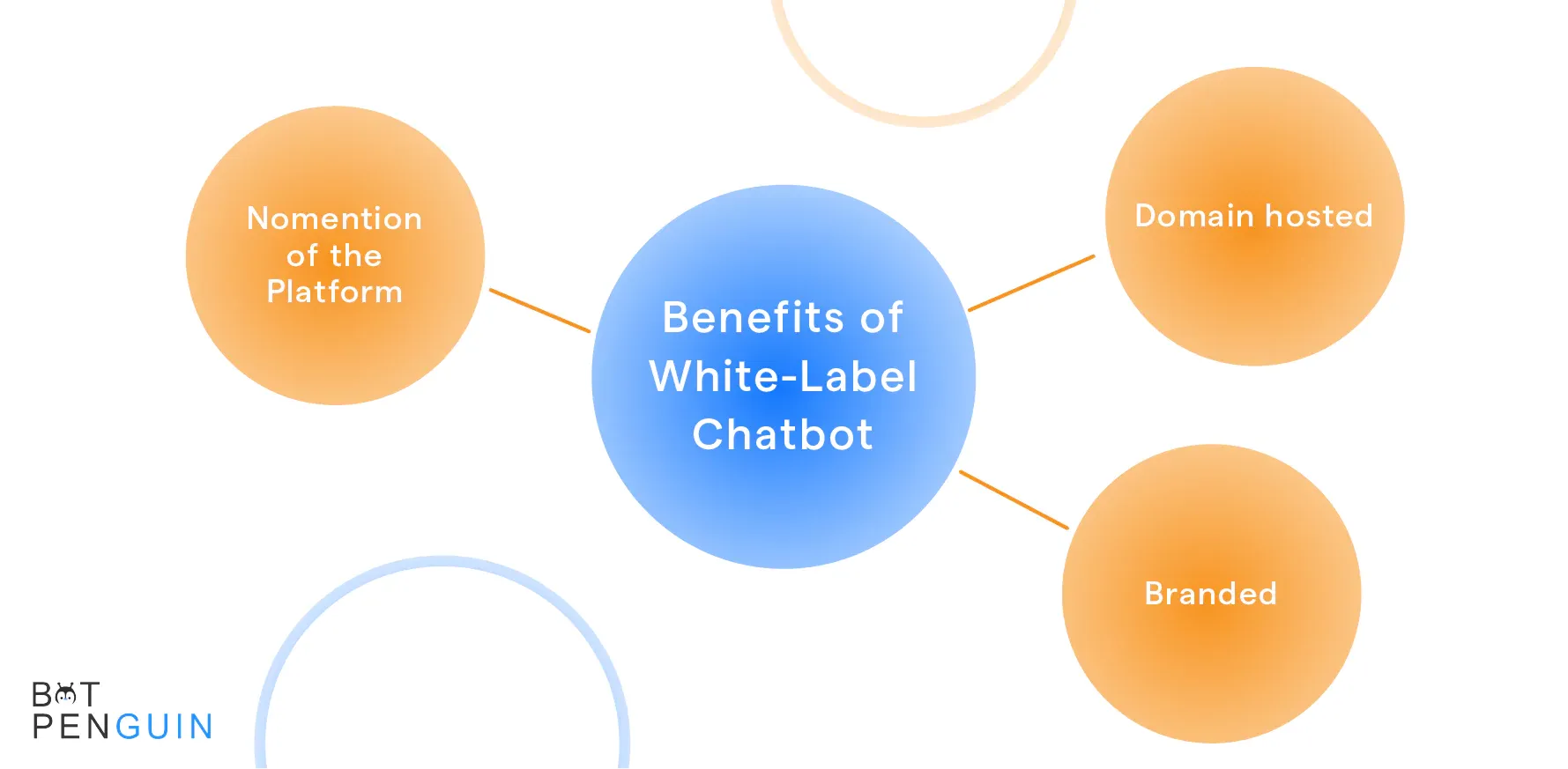 For today's entrepreneurs, white labeling is a wise decision. You don't have to produce a product right now to offer it to your customers and grow your service offerings. White labeling allows you to own a product by your brand name legally. It will enable your business to include everything your customers want and what's trending in the industry without requiring significant time and money.
Chatbots are becoming increasingly popular. Users may offer chatbots to the clients without having to construct the platform from the start if you white label a chatbot platform. While the distributor is responsible for technology and training, the seller aims to sell the product and profit from it.
White labeling has several advantages, but to list them all, below is a list of white label chatbot platform advantages.
Your client receives white-labeled outsourcing items under the company brand name. As a result, even when maintaining good communications with the clients, you must make sure that they only see your brand name.
Even if you're outsourcing the task, you must keep 'your' team informed on how they're working on their task. It builds trust, and customers know that your staff puts them first. Moreover, it is a critical business choice. As a result, you would only trust a trustworthy partner to manage client projects.
White Labeling Can Scale Your Services
First and foremost, as previously said, adopting white labeling services allows you to increase your current products. You don't have to be an expert in every service you offer. You may provide a wide range of services to your consumer base by outsourcing it to a white label service provider.
It Has the Potential to Help You Save money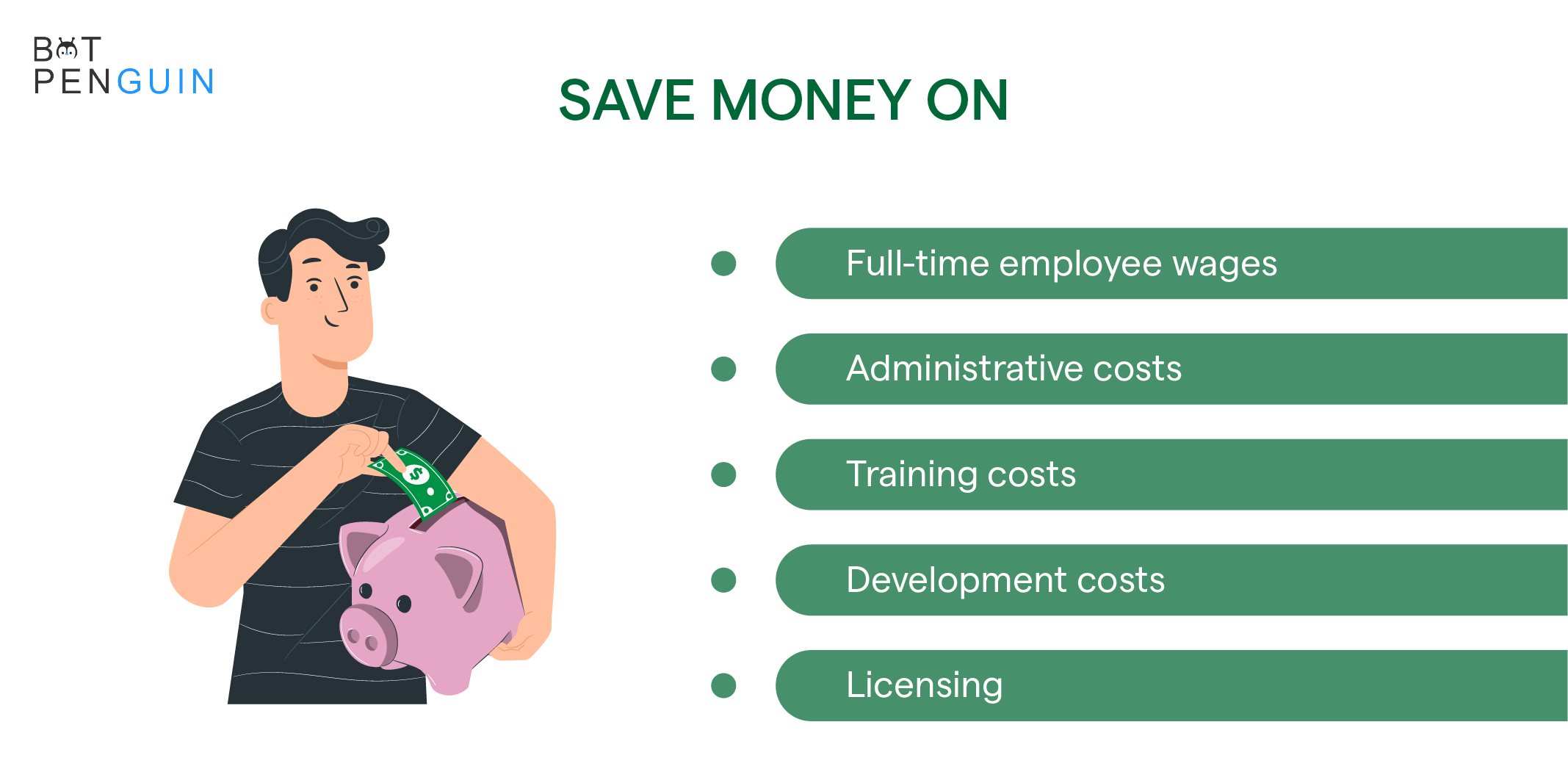 White labeling a chatbot software provider would be great if you're a small company on a low budget and want to add a chatbot platform to the service line. You may avoid retaining a full-time crew of professionals by offshore outsourcing to a white label chatbot platform. You may save money on full-time employee wages, administrative costs, training costs, development costs, licensing, etc.
Increase Your Business's Revenue Stream
Each extra service you provide your consumers generates an additional revenue stream for your company. Of course, maintaining good revenue profitability requires reselling such services at a profit margin.
Boost your customers base
You would also attract a new audience by expanding your service line. White labeling will provide access to a large consumer base from various industries. You can market your services to more people if you have more service offers. It will be easier to get clients if you have a reputation in the industry for offering high-quality service.
It enhances the value of your brand.
You can guarantee that you fulfill all the promises to your clients and develop a strong reputation in the AI market by using white label chatbot services. You may position yourself as the go-to agency for various services if you can supply a wide range of services.
Own your Brand
The White Label Platform comes with the company's logo. As a result, every time you sell a chatbot, it will be under your brand name. The platform's logo will not appear everywhere on the platform. You may use or create your logo, which you can then show on the bot platform. It will allow you to take advantage of the platform's technology and utilize it to attract new clients and convert them.
Expand your business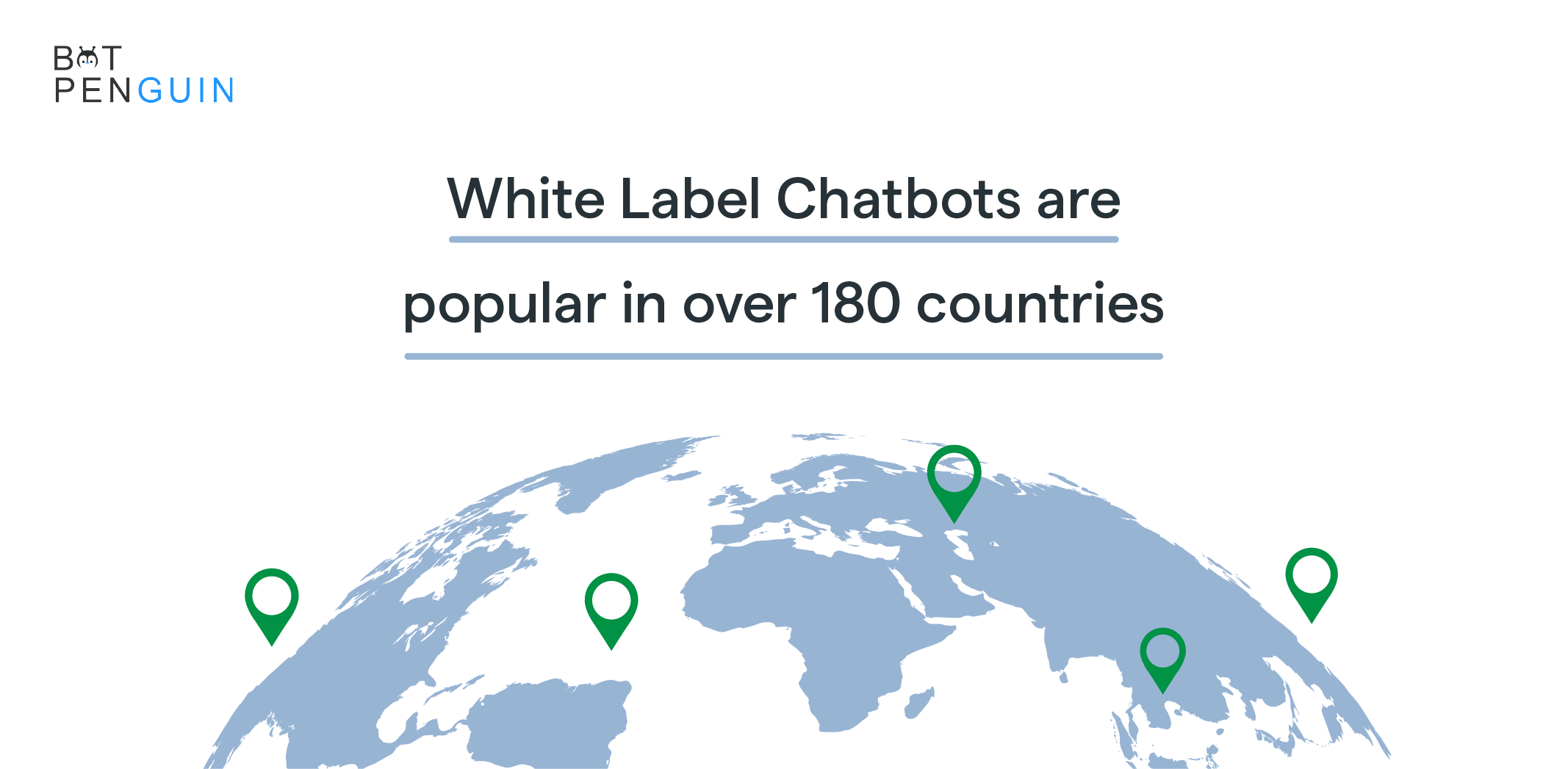 Numerous enterprises worldwide use White label chatbots. They are popular in over 180 countries. With white-label, your product is just as yours as any other in-house designed or built product. This solution will fulfill the exact requirements and complete duties as your in-house team's work. The only difference is that it will be under your brand name, allowing you to expand your business by adding other services.
Improves Customer satisfaction
To effectively address consumer inquiries, deploy across your customer base. To manage them, go to the Partner Portal. Moreover, the primary differentiating aspect in today's market is how well you handle your consumers. As a result, one of the most critical aspects that would assist you to stand out from the crowd is client happiness.
Get in touch with bot experts.
Our professionals may provide customizations and bot building for a very reasonable 24$ per hour. In this manner, you can leave technical help to the bot specialists and focus on customer service.
Exclusive Support
All businesses who team up with us through our White Label Solution receive special assistance from the support team. The support team will guarantee that you develop a solution whenever and however you are stuck and assist your customers. We constantly work in two-way cooperation where we give technical help, and you effectively manage your clients.
What you receive with a Whitelabel:
Platform Licensing
Natural Language Processing
Conversation starter
Live Chat
Bot Administration
Broadcast and Campaigns
In-depth Integrations
Portal for Partners
Financial Assistance
Information Base
Form of Community
Email
Expert Bot Access
Specialized Training
Branding
Logo
Color Scheme
Email
Domain
Conclusion
Whitelabel Chatbots offer benefits and opportunities that traditional human customer service teams cannot match. Whitelabel solutions also provide freelance developers and software businesses with a unique chance to resell sophisticated pre-built and customized chatbots to their clients.
Such solutions eliminate the headache of sophisticated software development and code, whether for your company or your clients. It's a business investment that will help you build deep relationships with consumers across all media. It allows you to completely customize the colors, avatar, brand, etc.
For more information regarding various bots, you can visit our website. We can be your team's second half. You can schedule a call with one of our BotPenguin experts, and let's work together to create magic!
Frequently Asked Questions
Can you give examples of popular White Label Chatbot Builders?
Examples include BotPenguin, MobileMonkey, TARS, Chatfuel, Imperson, Botsify, and Continually, known for their advanced features and customizable solutions.
What are the benefits of using White Label Chatbots?
Benefits include cost-effectiveness, faster deployment, customization options, revenue generation for resellers, and access to advanced AI technology without in-house expertise.
What problems may arise when using White Label Chatbots?
Potential problems include limited customization capabilities, reliance on third-party technology, and potential data security and privacy concerns.
How customizable is White Label Chatbots?
Customization options may vary among builders, but most White Label Chatbots provide a range of branding, design, and functionality customization to meet clients' needs.
Can White Label Chatbots integrate with existing business tools?
Yes, most White Label Chatbots support seamless integration with popular CRM systems, messaging platforms, and e-commerce tools.