Welcome to the world of white-label chatbots and marketing automation!
Are you tired of dealing with the hassle of manual marketing efforts and lack of personal touch in your customer interactions?
With a white-label chatbot, you can provide your clients with a 24/7 human-like chat experience and streamline your marketing and sales processes.
In this blog, we will dive into the world of white-label platforms and how they can revolutionize your marketing and sales game.
From understanding what a white-label platform is to discovering its various names, sizes, and shapes, we will cover it all.
And the best part?
With a white-label platform, you can fully or partially automate your marketing and sales efforts and align them with your brand identity.
So, let's get started and explore the power of white-label chatbots and marketing automation!
What Does "White Label" Mean?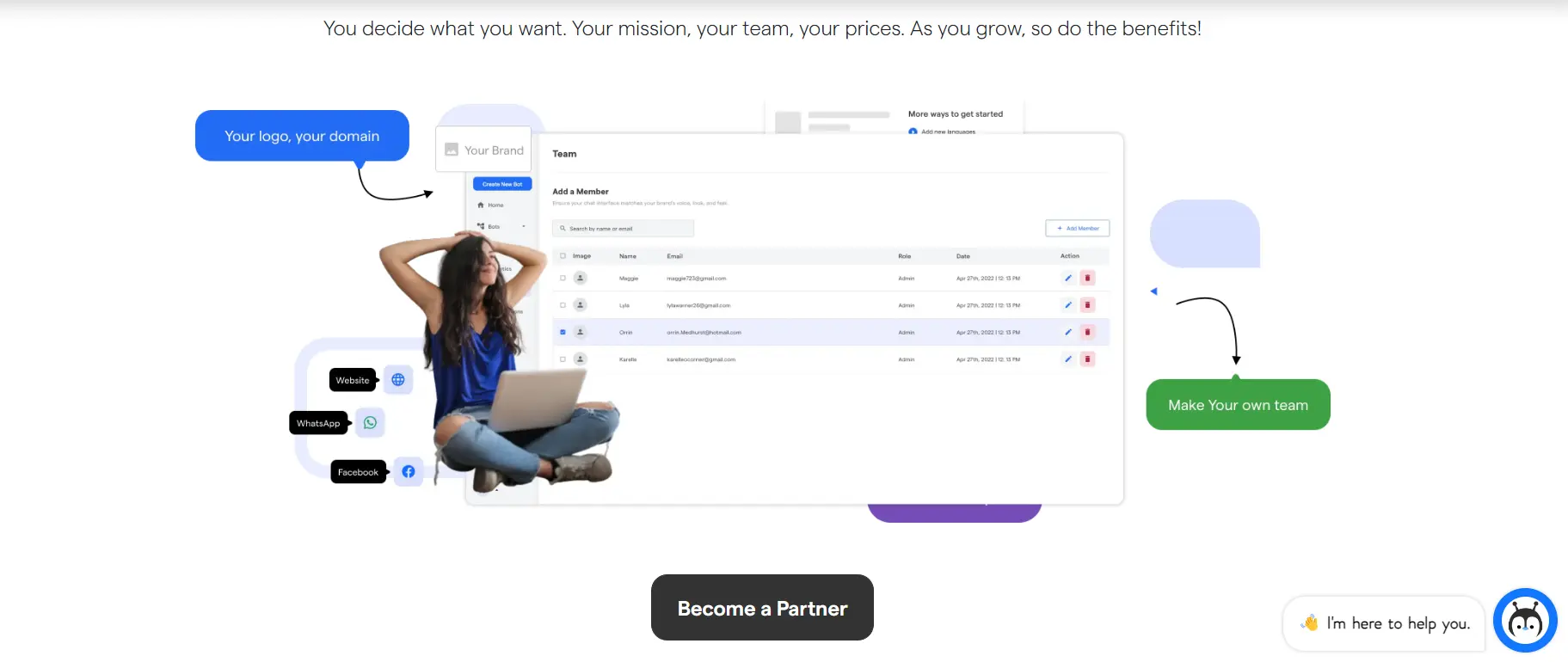 A product or service that is bought by a reseller and rebranded to appear as though the new owner produced it. White-label goods are frequently created through mass manufacture.
Some businesses provide a certain service without making any infrastructure or technology investments.
The producers can boost sales by allowing another business to market a white-label version of its product or service.
The business is paying to release a white-label product by expanding its brand without investing resources in producing it.
What is meant by a White Label Chatbot Platform?
A white label chatbot platform is a service that allows businesses or organizations to create and deploy their own chatbots using pre-built or customizable templates without having to develop the chatbot technology themselves.
These platforms typically provide the infrastructure, tools, and support necessary for creating, managing, and integrating chatbots into various channels, such as websites, messaging apps, and customer service systems.
The chatbot can be rebranded and customized to the client's specific needs and requirements.
Benefits of White Label Chatbot Platform
Here are the benefits of White Label Chatbot Platform-
Increase your company's revenue by one more source
Every upgrade option you provide to your customers will open up new revenue opportunities for your business. Reselling these services at a profit margin is the key to sustaining excellent revenue profitability.
Increase Your Customer Base
You will bring in more consumers by increasing the range of services you offer. By employing white labeling, you can gain access to a consumer base from various business sectors.
You can sell your services to more clients by offering additional service options. It will be easier for you to draw customers if you have a reputation for offering high-quality services in your field.
It Raises the Value of Your Brand
You can guarantee that you keep your commitments to your customers and establish a solid reputation in the AI market by using white-label chatbot services.
You may position yourself as the go-to agency for all types of services by offering a wide variety of services.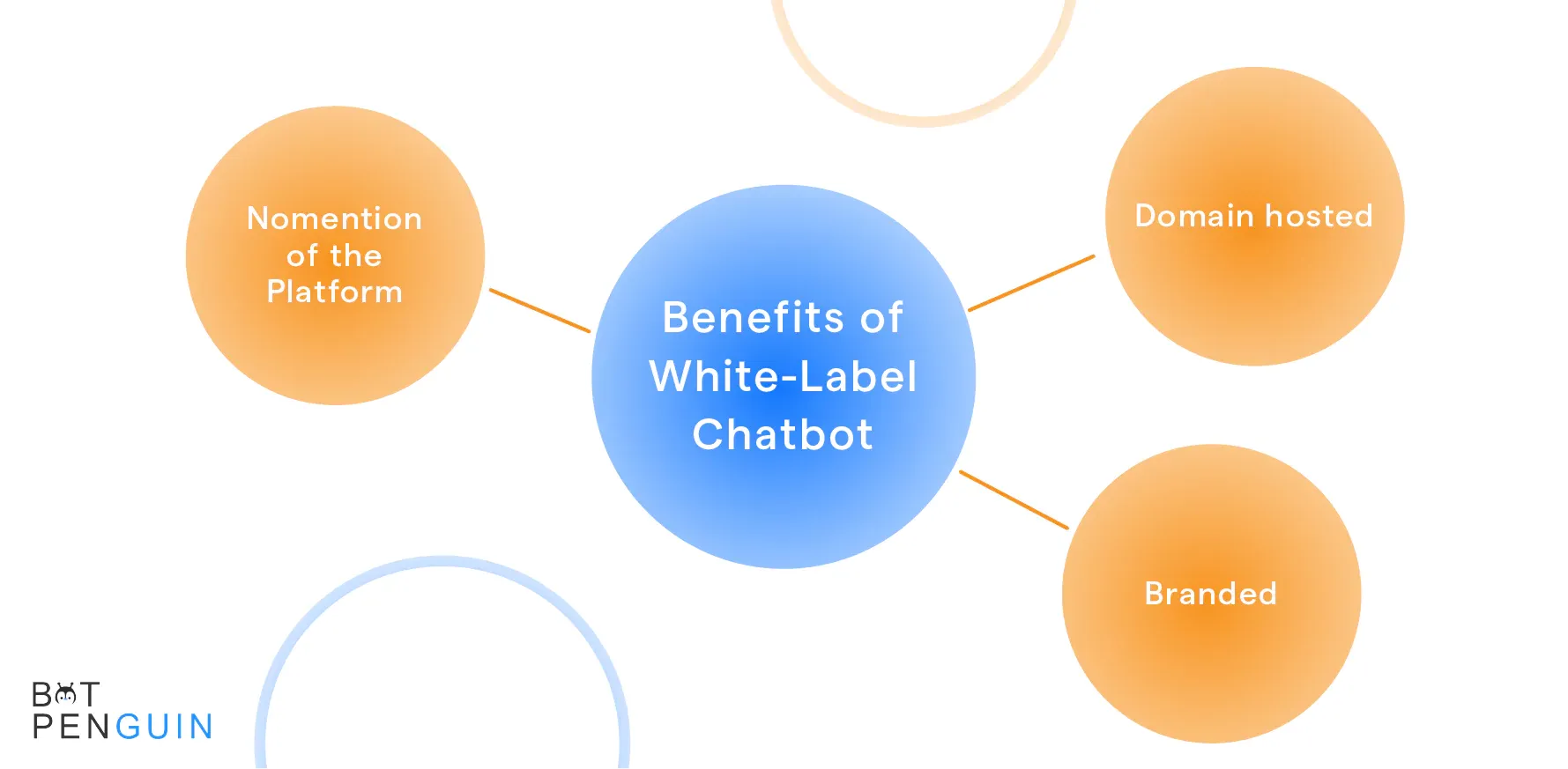 Cost and Time Efficient
White-label chatbots save time and money by not having to be developed from scratch. They also provide white-label outsourcing items to your clients.
Maintaining Communication
They ensure your brand name is the only thing seen by the customers. White-label chatbots also foster trust by maintaining proper communication with clients.
Why Should You Use a White Label Platform?
Are you looking for justifications for why you ought to think about using a white-label platform's services? Here are some reasons why companies decide to adopt white label applications in their daily operations.
Expanded offers
By using a white label app, companies may increase the range of products they provide without investing years in the design and development of a new product. A white-label, on-demand delivery app will also give your clients a flawless experience because it has been well-tested.
Building brand credibility
By using a white label platform to grow your business, you also give your clients the impression that your product or service is widely available and of high quality.

Greater customer loyalty
Since platform white label apps are ready to use, you can concentrate on branding and marketing initiatives and forge deeper relationships with potential clients.
Faster launch
A white label platform is the best option for businesses wishing to join any industry as soon as possible since it takes far less time to launch a white label product or service than it does to launch something that was created from scratch.
Less expensive
It should go without saying that adopting a white-label platform enables you to spend less on development and research. You may start selling your product or service without even finishing the development phase.
The Leading White Label Chatbot Platform out there!
BotPenguin is a highly valued white label chatbot platform that places emphasis on the user's previous experience.
Its user-friendly drag-and-drop editor and cost-effective subscription plans make it a top choice among chatbot builders.
BotPenguin chatbots are compatible with various platforms such as Facebook Messenger, Instagram, email, and SMS and offer a wide range of topics to get started with.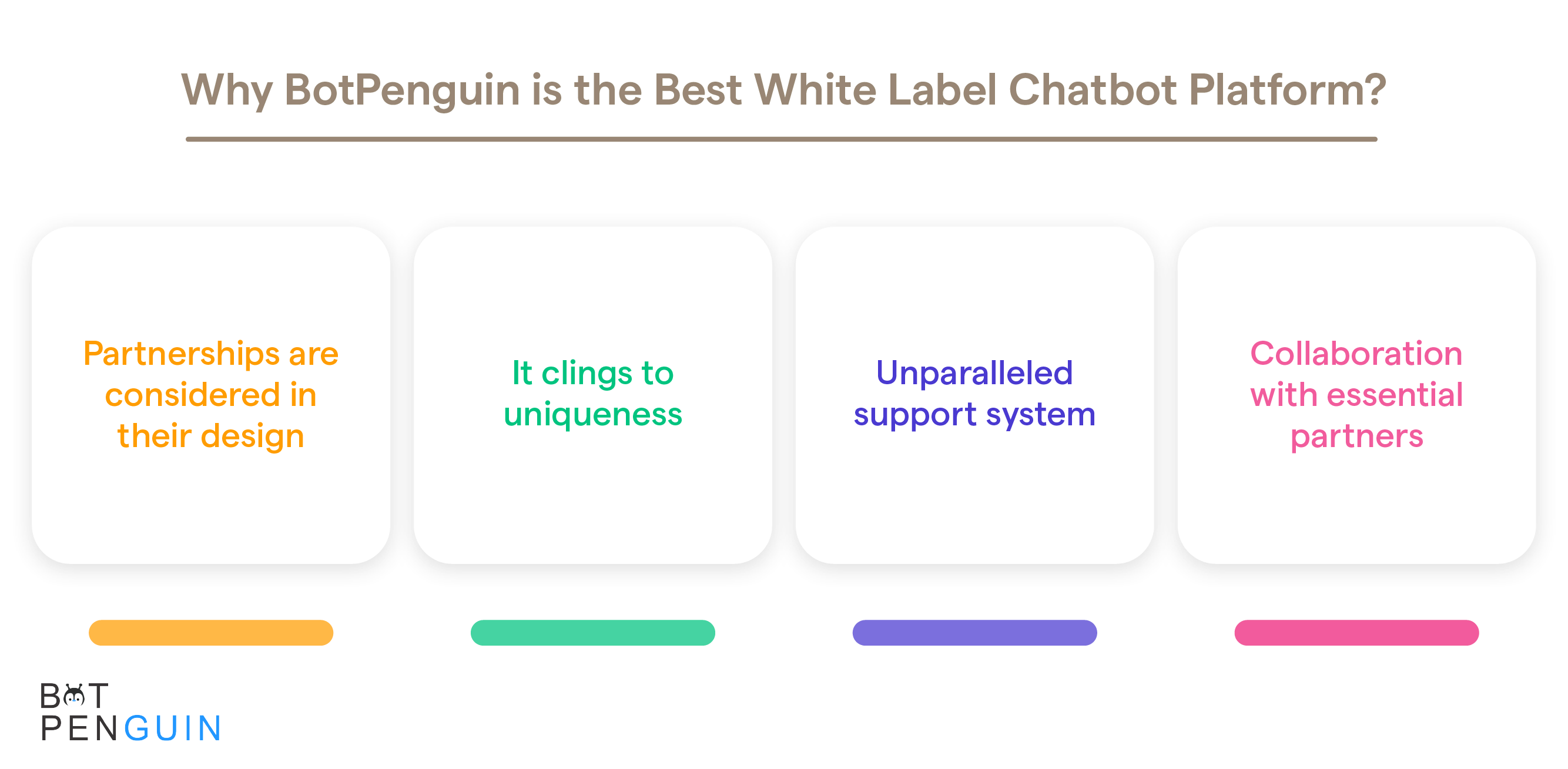 The platform's intuitive interface makes creating, understanding, and updating chatbot flows easy, with its non-rigid diagrams and hover buttons for copying and removing components.
The platform's free plan is a great starting point as it offers a wide range of features not typically included in other chatbot builders such as 1,000 contacts, unlimited chatbot flows, audience segmentation, and growth tools.
For additional channels, analytics, and integrations, the paid plan is available for just $5/month.
We also offer a free service for a baby plan that offers 2000 messages per month at 0 cost.
BotPenguin offers four different types of Partner Programs:
Conclusion
If you've ever considered how difficult it would be to create your items and brand, you should be aware that purchasing white-label products is easier.
In truth, if this is your first time selling goods online, you may spend a lot of money with no return.
Working under your brand is your best course of action in this situation. These products can also help you save time and money.
Depending on the products, you may be able to sell white or private-label goods. However, it is clear that taking an existing product and renaming it can be easier than developing your own.
Using BotPenguin's white label chatbots and live chat, users get access to the whole platform, specialized training, and personal support from experts who have created hundreds of bots for companies of all sizes and types.
So, why wait? Contact us today!
Frequently Asked Questions (FAQs)
Why should you use a white label chatbot platform?
Using a white label chatbot platform offers several benefits. It saves time and resources by providing a pre-built chatbot infrastructure that can be customized to fit specific business needs.
It also allows businesses to offer an enhanced customer experience, automate repetitive tasks, and improve overall operational efficiency.
What features should you look for in a white label chatbot platform?
When choosing a white label chatbot platform, it's important to consider features such as natural language processing capabilities, integration with popular messaging platforms, customizable templates, analytics and reporting tools, multi-language support, and easy deployment options.
Additionally, the platform should provide a user-friendly interface for managing and updating the chatbot.
What makes BotPenguin the leading white label chatbot platform?
BotPenguin is considered a leading white label chatbot platform due to its user-friendly interface, robust features, and exceptional customer support. It offers a wide range of customizable chatbot templates, multilingual support, and integration with popular messaging platforms.
BotPenguin also provides advanced AI capabilities, including sentiment analysis and conversation flow management, to deliver highly engaging and personalized chatbot experiences.
How can a white label chatbot platform benefit customer support?
A white label chatbot platform can greatly enhance customer support by providing instant responses to frequently asked questions, guiding users through self-service options, and escalating complex queries to human agents when necessary.
This improves response times, reduces customer waiting periods, and ensures consistent and accurate support across different channels.
Does BotPenguin provide analytics and insights?
Yes, BotPenguin offers comprehensive analytics and reporting features. You can track key metrics such as user interactions, conversion rates, and customer satisfaction.
These insights enable you to optimize your chatbot's performance and make data-driven decisions to improve customer experience.