You may be aware that in 2018, the market for chatbots was estimated to be worth USD 1274.428 million.
By 2024, it is predicted to increase to USD 7591.82 million with a CAGR of 34.75%. (2019–2024).
Chatbots will result in more than $8 billion in global savings by 2023.
Building a bespoke chatbot from scratch takes a lot of time and work. Testing, prototyping, research, and coding must all increase significantly.
White-label goods are reasonably priced and packed. You may immediately resell them to your clients, who can utilize them immediately.
Additionally, you might recover the cost of the white-label chatbot by making a profit from your clients.
They might improve your company's brand recognition, whether they come from your clients or your designers.
In this blog, we will discover what makes the BotPenguin the #1 white label chatbot platform.
So let's get started!
What makes BotPenguin the #1 White Label Chatbot Platform?
While other chatbots failed to satisfy customers, BotPenguin allows you to create one from scratch that can provide satisfaction.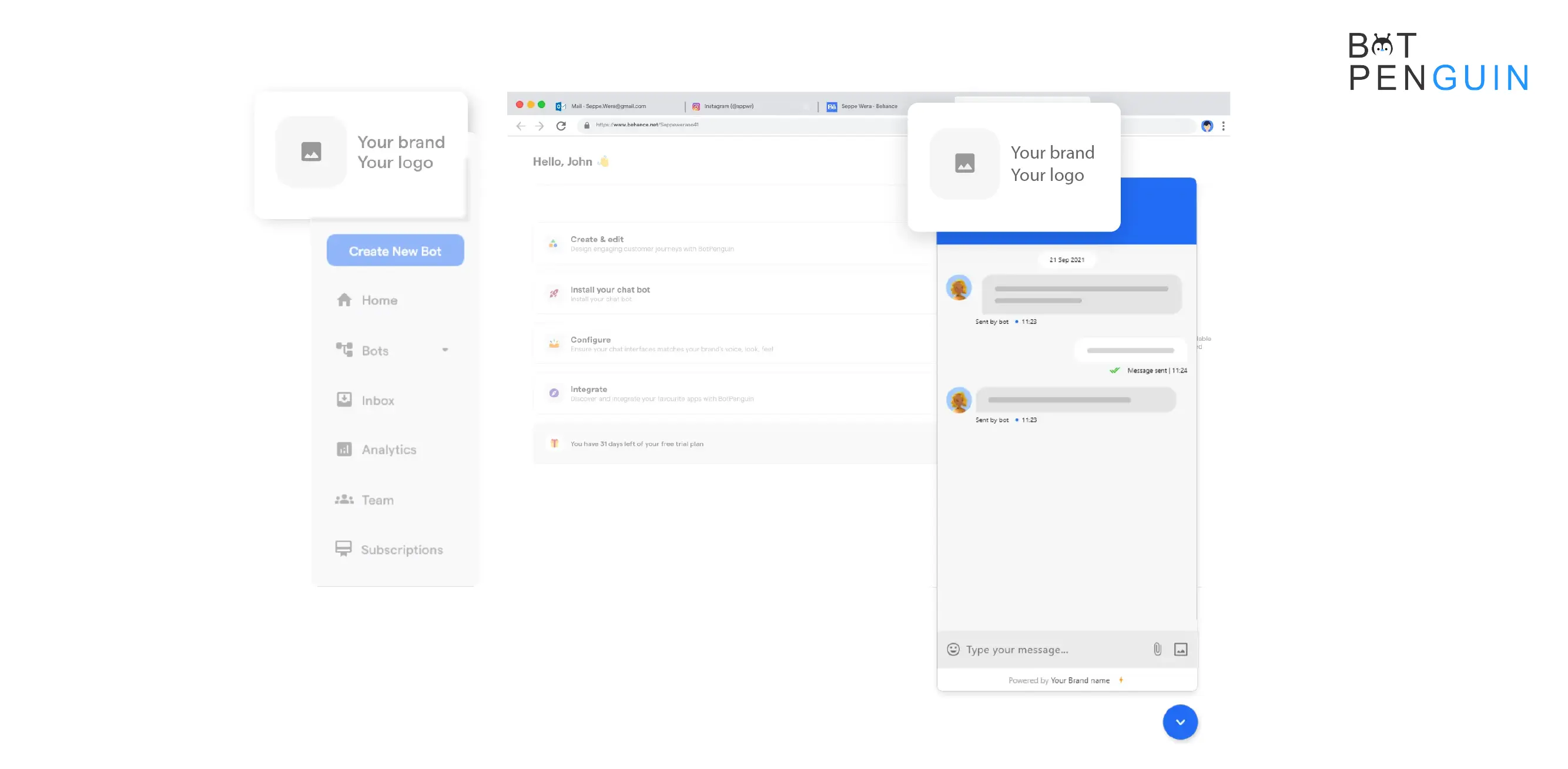 Here are a few reasons why BotPenguin is the #1 white label chatbot platform:
BotPenguin carries on with its originality
BotPenguin provides a partner program for businesses seeking to leverage conversational software in developing innovative solutions to address their customers' challenges.
Many different templates are offered by the BotPenguin. Many pre-planned conversational flows also exist. You will not notice any recurring characteristics.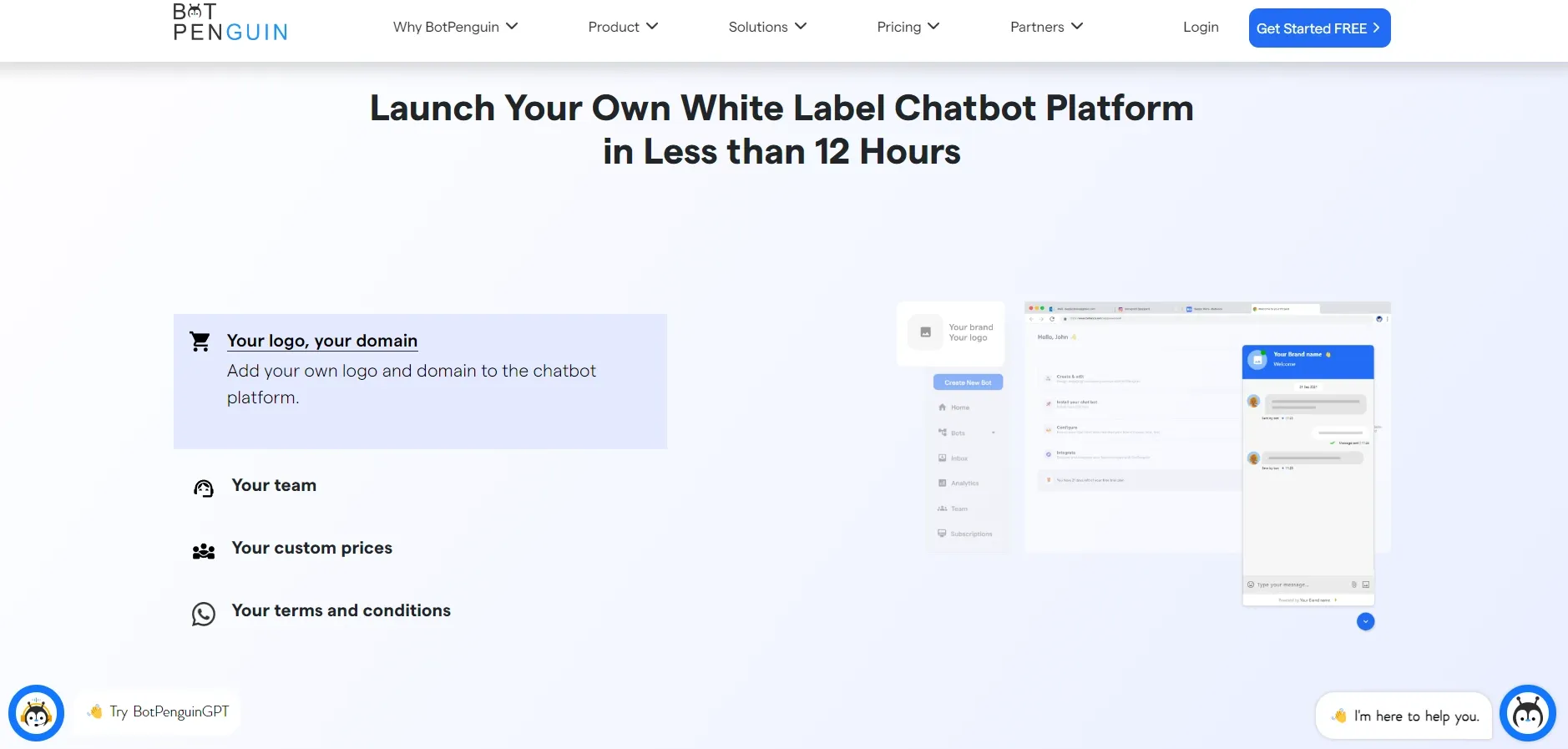 Thanks to these templates, you will have the tools you need to create the outstanding, amazing, and content-rich chatbot experiences your clients expect.
BotPenguin offers an unparalleled support network
The chatbot sector has a ton of brand-new, massive, and exciting potential.
BotPenguin is here to assist you in any manner, whether you are a beginner or a pro.
A BotPenguin is a robust platform as it has unique characteristics that, when mastered, make our partners stand out. Our partner success team's goal is to get you there.
Also, BotPenguin offers four different types of Partner Programs:
BotPenguin is working together with key partners to create and deliver solutions.
The implementer program, designed for companies and organizations that deliver chatbots, offers the chance to earn more money.
You may offer managed chatbot services on the BotPenguin platform by building, setting up, and managing the chatbot on your customer's behalf.
BotPenguin would enable you to make financial savings
If you're a small business with a tight budget and want to expand your service offering to include chatbots, white labeling a chatbot software supplier might be ideal.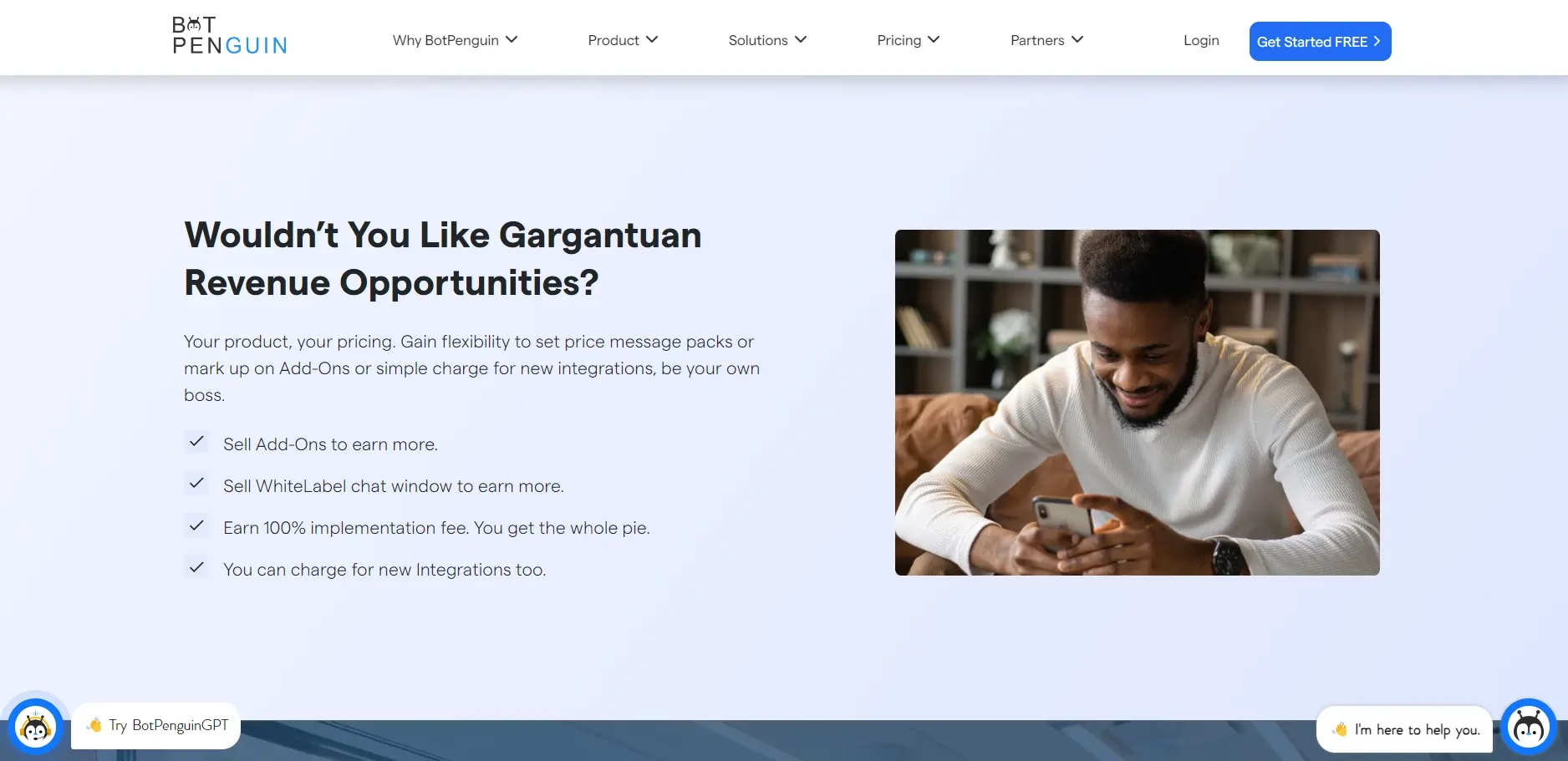 By using a white-label chatbot platform for offshore outsourcing, you may avoid hiring a full-time staff of experts.
You may spend less on full-time staff salaries, office expenses, training, development, and license fees.
BotPenguin boosts your company's revenue stream
Every additional service you provide your customers creates a new source of income for your business.
Profitably reselling such services is required to maintain strong revenue and profitability.
BotPenguin collaboration with partners to create and deliver solutions
The implementer program, designed for companies and organizations that deliver chatbots, offers the chance to earn more money.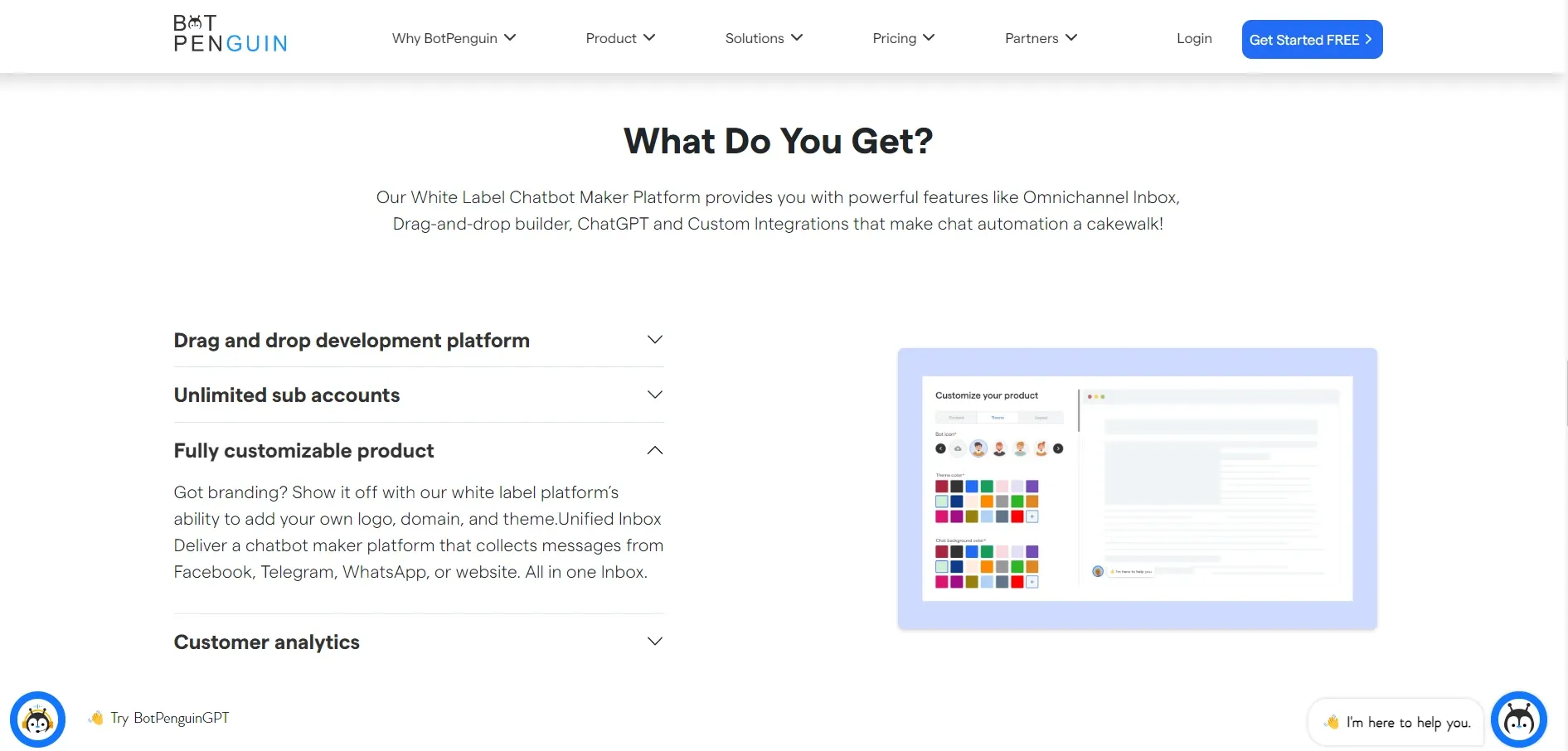 You may offer business solutions for chatbots on the BotPenguin platform by building, setting up, and managing the chatbot on behalf of your customer.
Conclusion
White-label chatbots provide benefits and prospects that more traditional human customer service teams can't match.
Additionally, independent contractors and software firms can market sophisticated, pre-built, and personalized chatbots to their clients using white-label solutions.
For your company or customers, these solutions take the effort out of complicated software development and coding.
This investment will pay off for your business as you develop solid relationships with clients across all media.
Maximize your customer satisfaction and streamline your operations by utilizing BotPenguin's white-label chatbot solution, regardless of your industry.
No programming knowledge is required to implement these cutting-edge chatbots. Try it today!
Frequently Asked Questions (FAQs)
How does BotPenguin ensure the highest level of chatbot customization?
BotPenguin provides a comprehensive set of customization options, allowing users to tailor chatbots to their specific needs. With its intuitive drag-and-drop interface, users can easily modify chatbot flows, design conversational scenarios, and personalize the bot's appearance.
Does BotPenguin support multiple languages for global businesses?
Yes, BotPenguin supports multiple languages, making it an ideal choice for global businesses.
It enables users to create chatbots that can communicate fluently in various languages, ensuring effective customer support and engagement across different regions and markets.
How does BotPenguin integrate with popular messaging platforms?
BotPenguin offers seamless integration with popular messaging platforms such as Facebook Messenger, WhatsApp, Slack, and more.
This integration allows businesses to deploy chatbots on their preferred platforms, reaching customers where they are most active and providing a seamless conversational experience.
How does BotPenguin help businesses analyze chatbot performance?
BotPenguin offers comprehensive analytics and reporting tools to track and measure chatbot performance. It provides valuable insights into user interactions, conversation metrics, conversion rates, and more.
These analytics enable businesses to identify areas for improvement, optimize chatbot performance, and make data-driven decisions to enhance customer engagement.
Can BotPenguin integrate with existing business systems and databases?
Yes, BotPenguin supports integration with existing business systems and databases through APIs and webhooks.
This enables businesses to connect their chatbots with CRM systems, customer databases, ticketing systems, and other backend applications, ensuring seamless data exchange and streamlined workflows.