Have you ever wondered how do small businesses manage to grow on a smaller budget?
Only some business houses are equipped to invest in every requirement personally for their business. In such cases, White label business agencies play a crucial role.
A white-label business agency provides small business houses a platform where they can use the features designed by those agencies to sell products and provide services.
So white label agency is very much required in today's business market.
In this blog, we will discuss some popular white-label agencies that provide chatbot services and the importance of white-label agencies in the business.
So let's begin!
What are White Label agencies?
White-label chatbot agencies are top-rated in today's market because they offer small businesses to use their features without worrying about investment.
Chatbots are generally tools created for interpreting natural language and delivering immediate contextual replies based on the information provided.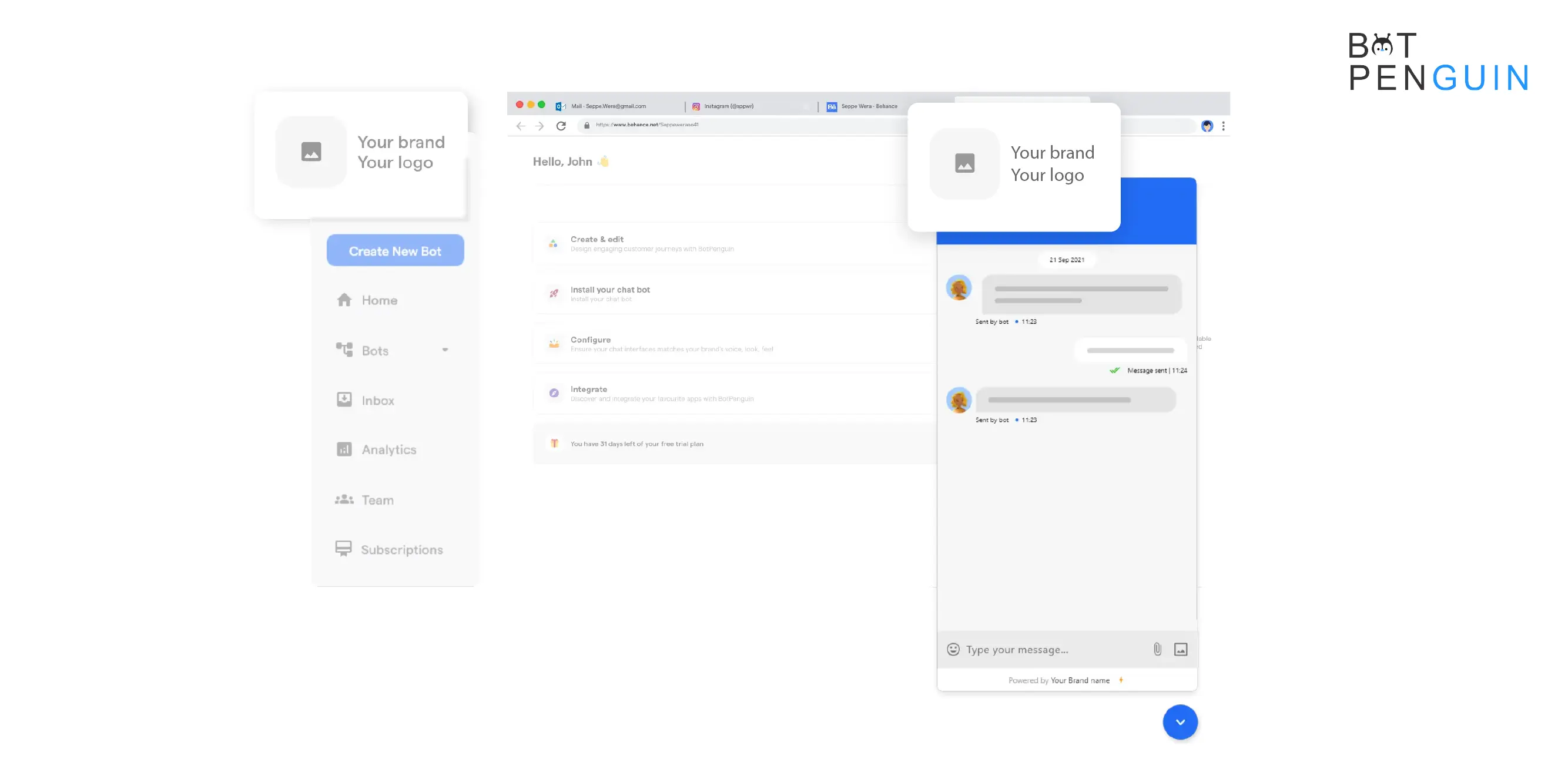 A white-label chatbot platform is where chatbots remove their branding and replace it with the reseller's logo to create a product or a service for another company.
It also helps them to save a lot of time and money. It also allows them to increase the current readings and provide a more holistic experience for their clients.
Investing in a white-label chatbot can be a great idea as you have total control over the UI and the design of your chatbot.
You can quickly change the chatbot according to your client's need and resell it without worrying about how to design a chatbot. It gives you a higher chance to satisfy your customers and saves you time and capital.
Why do you need a White Label Agency?
Creating a chatbot from scratch is challenging as well as time taking. Chatbot creation needs a lot of coding, research, and quality testing. It can be a challenging task for a beginner in the business world.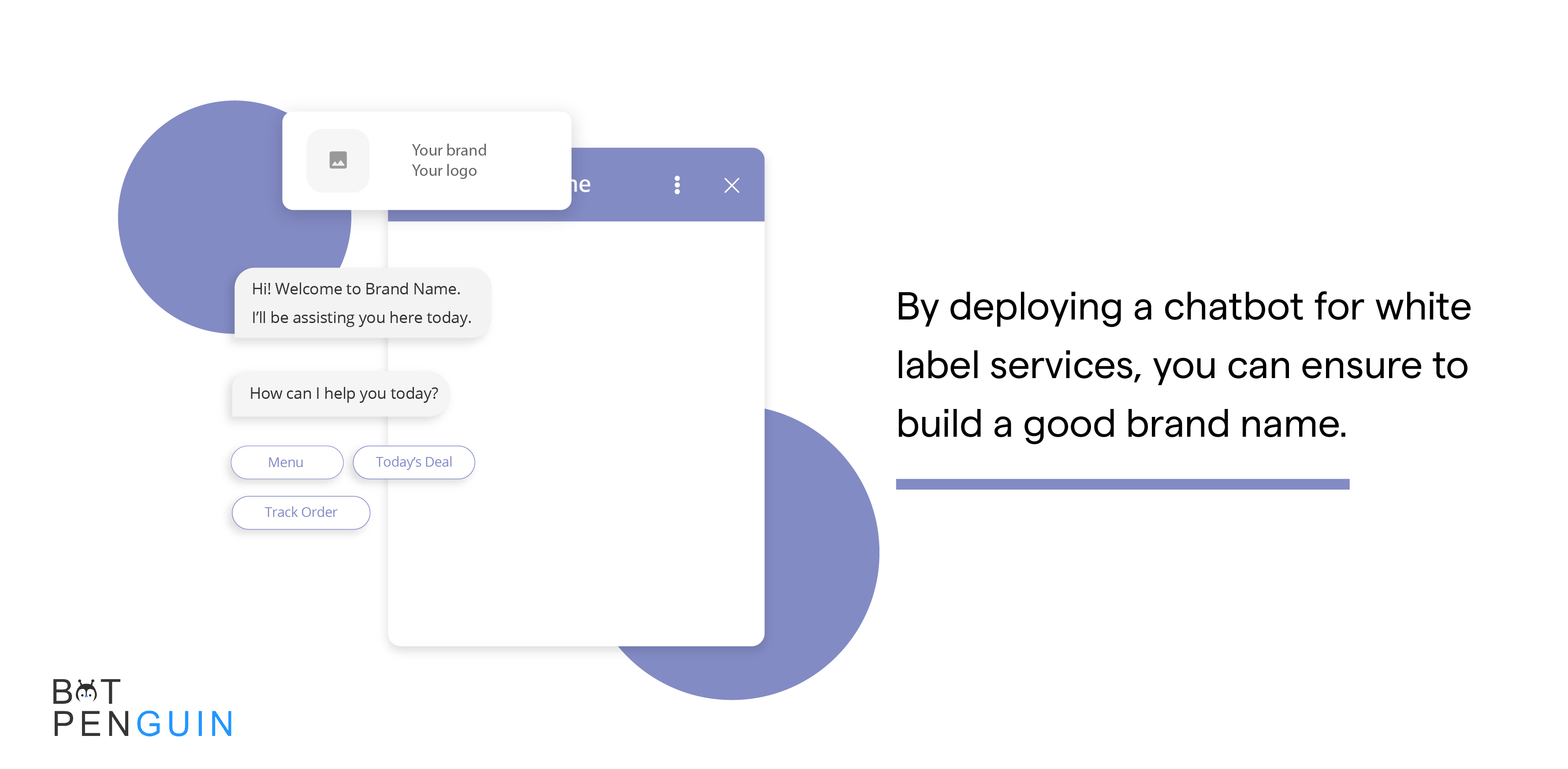 But chatbots have become quite popular in the global market and are estimated to reach a worth of 10.08 billion dollars by 2026. Keeping search data in mind, it is essential to invest in a good chatbot because of the increase in the demand for conventional intelligence.
Nowadays, businesses seek ways to engage their customers effectively without putting pressure on their employees. Chatbots can be an excellent solution.
Whitelabel Chatbot solutions come as a power pack tool at a meager price. Whitelabel chatbots are easy to sell to your customers, and you can guarantee them immediate benefits. Whitelabel solutions are mostly preferred as they allow businesses to personalize their Chatbot in whatever manner they desire.
Try it for yourself! - How to become a White Label Partner with BotPenguin?
BotPenguin Offers four different types of Partner Programs:
They can be instantly built, branded, and executed to fit any business chatbot demand.
They can be instantly built, branded, and executed to fit any business chatbot demand.
Suggested Reading-
Become Chatbot Reseller with our White-Label Chatbot Solution
10 Best white label agencies in 2023!
There are several white-label chatbot companies in the market. Let's discuss some popular and reliable ones.
1. BotPenguin
BotPenguin is a renowned chatbot creator whose main aim is to provide a great experience to the person building the bot.
It is a very user-friendly platform and has a clean look of the drag-and-drop editor along with the cheap price point for their subscription plan. BotPenguin can be used on various media.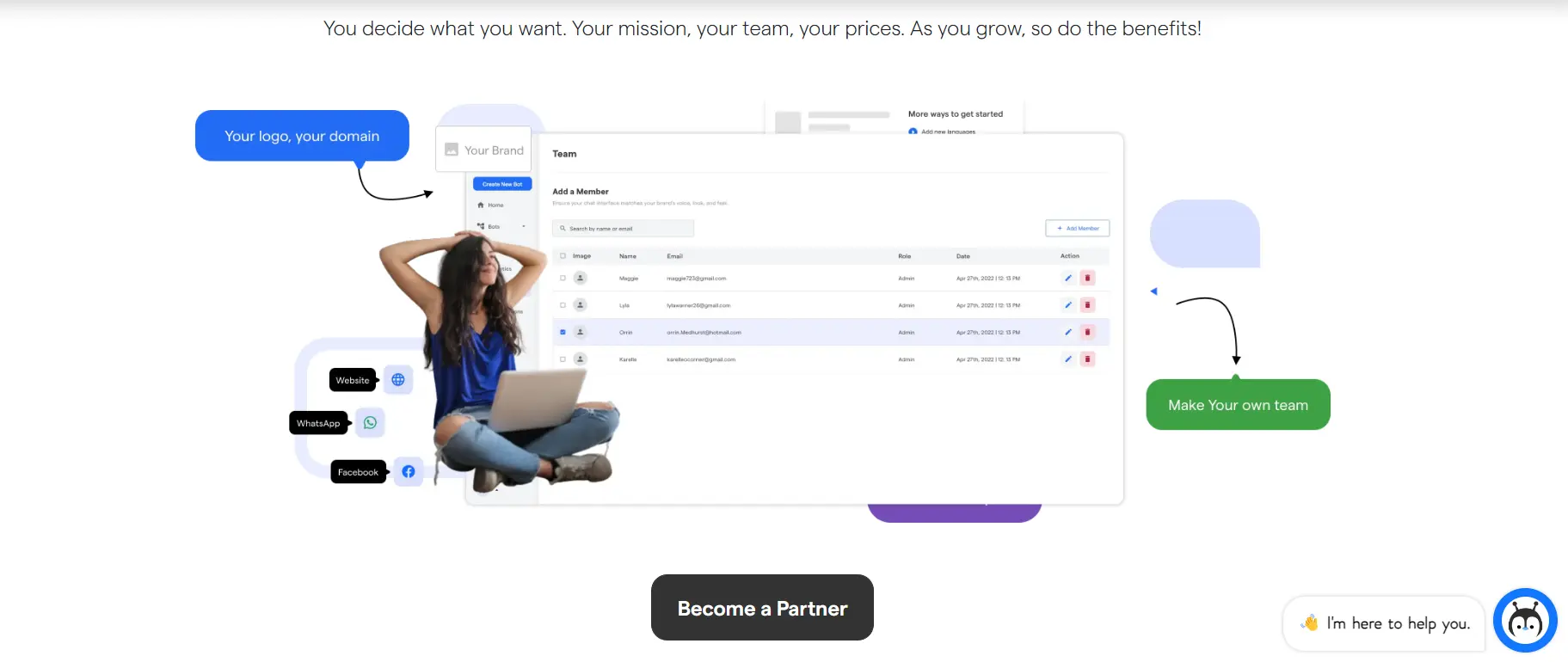 BotPenguin has an extensive set of triggers and actions which can be used to modify the templates that are already provided. It makes developing, understanding, and changing the flow of your App a lot easier with its non-rigid diagrams and buttons for copying and moving pieces.
The main attraction of BotPenguin is its excellent price point, where you can update yourself to a profession for only $4 per month. It also has a free plan with many features primarily available in the paid version of other chatbot builders.
It provides impressive benefits like audience segmentation, limitless chatbot flows, Growth tools, and over 1000 contacts.
Try it for yourself! - How to become a White Label Partner with BotPenguin?
BotPenguin Offers four different types of Partner Programs:
2. Wotnot
Wotnot is a renowned white-label chatbot platform that successfully supports your need to create, manage, and grow your chtbot Empire.
It helps you build brand identity by allowing you to customize the white-label platform according to your needs. Add your logo, domain name, color, and fonts you want your customers to see.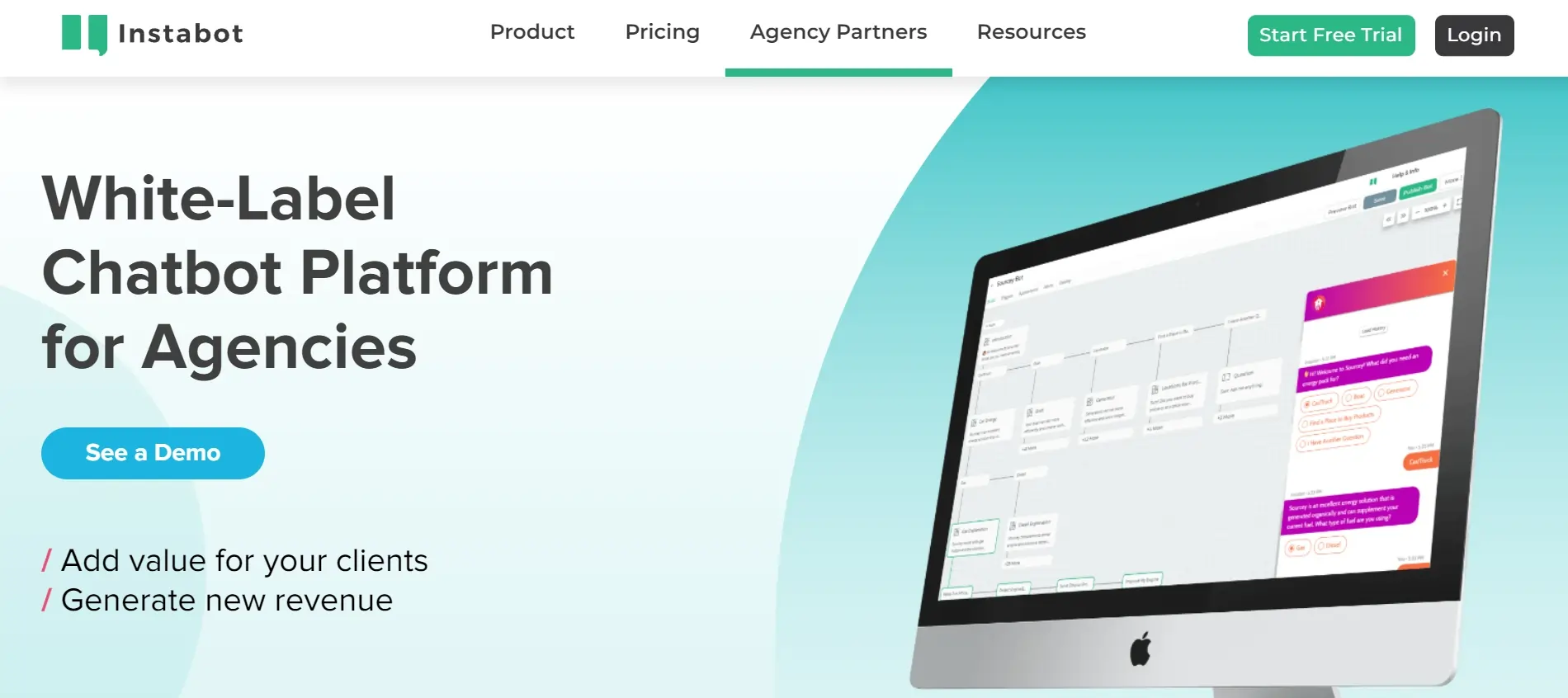 It also allows you to charge your customer as per your rates and manage subscriptions and invoicing. This platform provides the freedom to do your own business without any interference.
They can also build new features according to your requirement to help you grow your business and give you a customized chatbot platform.
3. Instabot
Instabot is another white-label chatbot agency that will help you to build your Chatbot according to your requirements. Here you can create bots easily by adding nodes in a visual editor. It also allows you to embed YouTube videos, vivid images, and documents to provide a sound knowledge base for your customers.
It also has a fully customizable user interface where you can add your brand's color, iconography, and fonts according to your choice. It also helps you set goals throughout the bot to qualify leads and get alerts when a user reaches important conversation milestones. You can also identify where the users are most engaged or drop off within your conversation so you can optimize your system.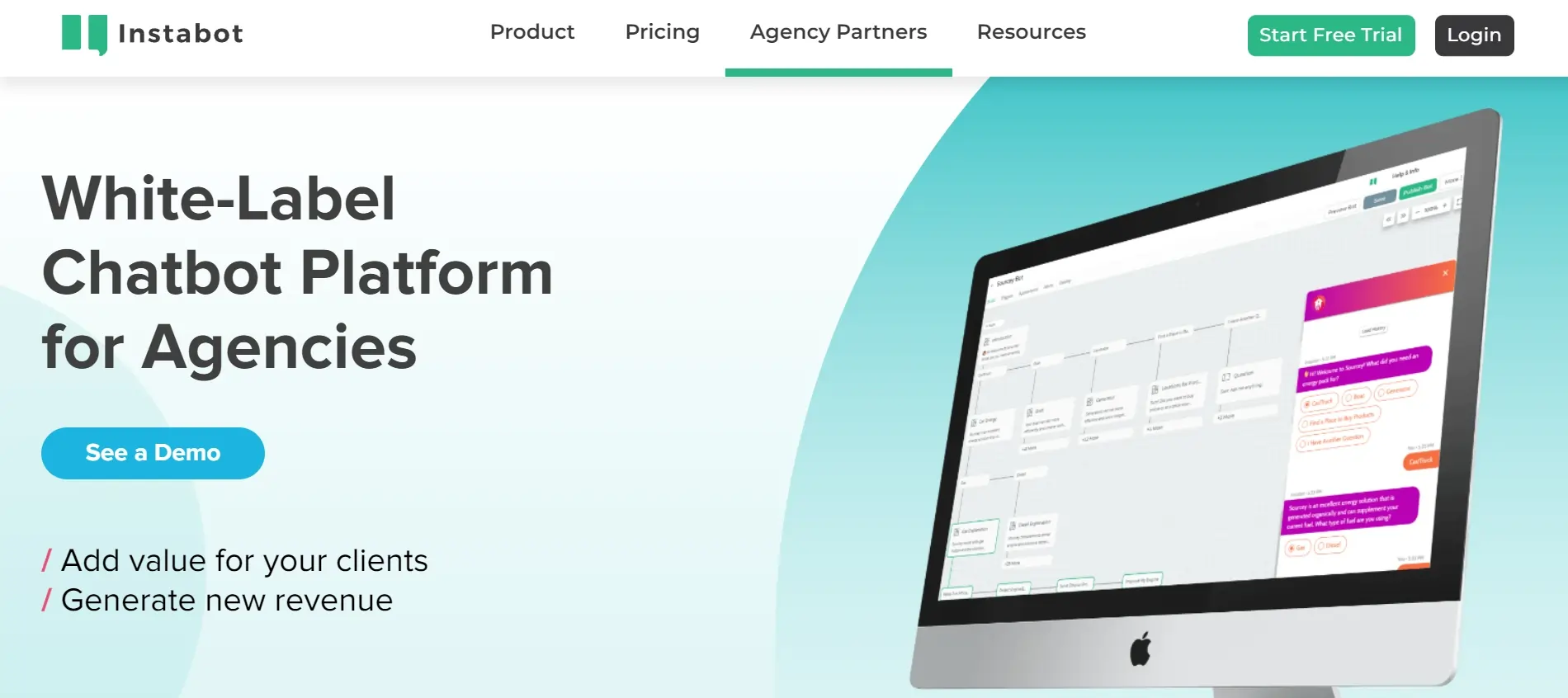 4. Intelliticks
It is an AI-powered white-label chatbot platform, including a human fallback option. This feature makes Intelliticks one of the market's most popular white-label chatbot options.
It combines AI conversation tools with human assistance to grow as a more robust platform. The AI conversation can automate client involvement in the tailored discussion.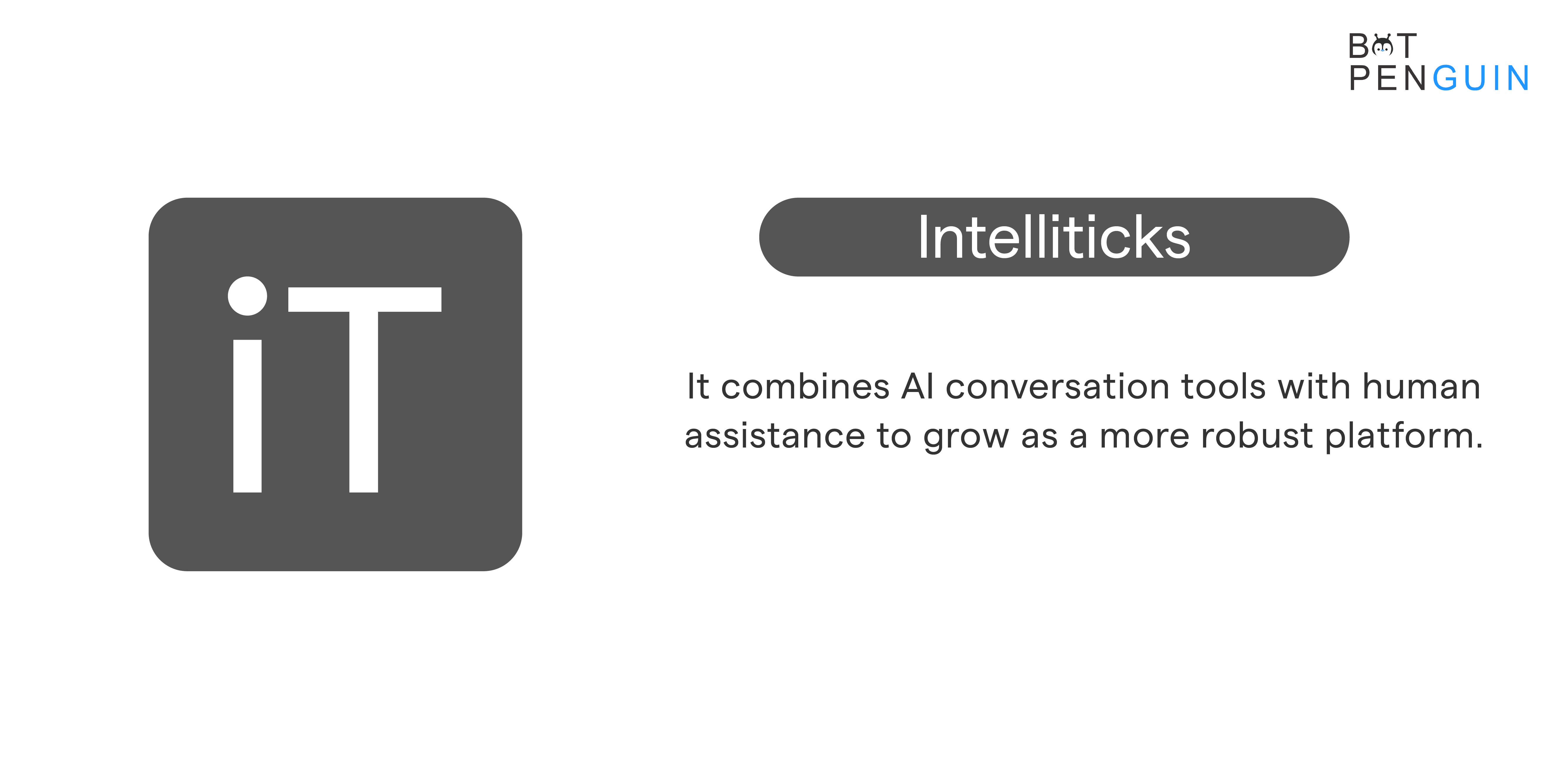 If the Chatbot cannot solve the query made by the customer, the interaction gets sent to a human agent. It is powered by natural language processing to interpret and respond to clients' questions in natural languages.
5. Tidio
Tidio is one of the most popular white-label chatbot builders on websites, emails, and Facebook Messenger. It comes with over 17 connections, including some popular options like Zendex, Wix, and even JavaScript API.
Tidio consists of nodes where each node addresses the customer and provides a menu of possible replies. According to the user's response, a new flow begins collecting the user as a lead and validating their contact information. It has over 30 templates to get started, including abandoned carts, customer feedback, surveys, and more.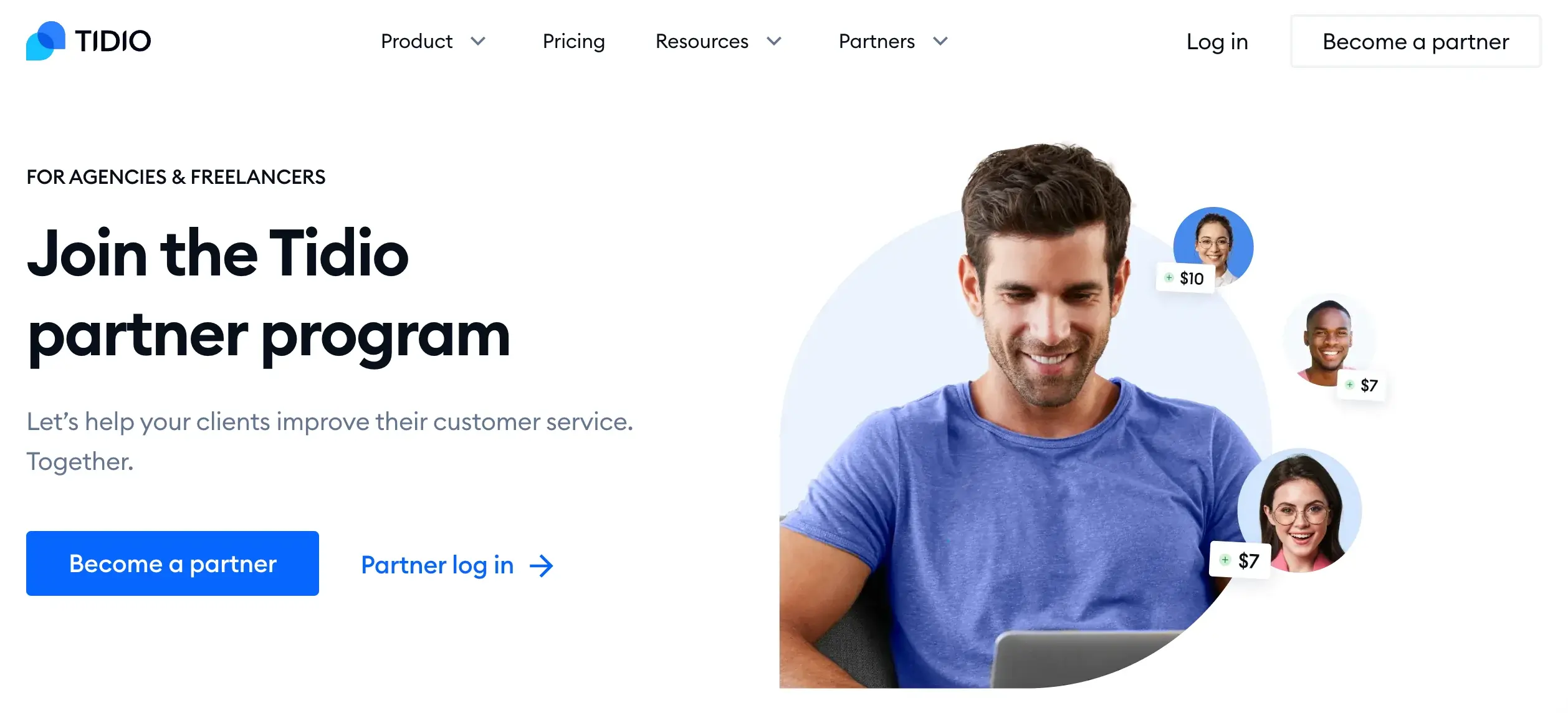 The most attractive feature of Tidio is that customers can build an infinite number of chatbots after paying $18 per month for the subscription plan. This feature is rare in other chatbot builders, even with premium subscription plans.
6. Chatcompose
ChatCompose is a white-label chatbot platform that allows you to build and install chatbots with your brand anytime and anywhere. You can create about 20 chatbots using their premium plan, and the VIP plan offers the opportunity to create an unlimited number of chatbots.
Chatcompose gives the freedom to customize your Chatbot with your designs and schemes. It helps to add your logos or brand within the Chatbot.
It offers three main styles: Default, Clean and Transparent.
It also makes it easier for you to manage all your chatbots in one place, and you can easily edit and configure them for your clients. It gives you alerts about important events that the client has received. You can also add an extra email to the platform so that your clients can receive notifications about newly generated leads, new purchases, or support requests done through the Chatbot.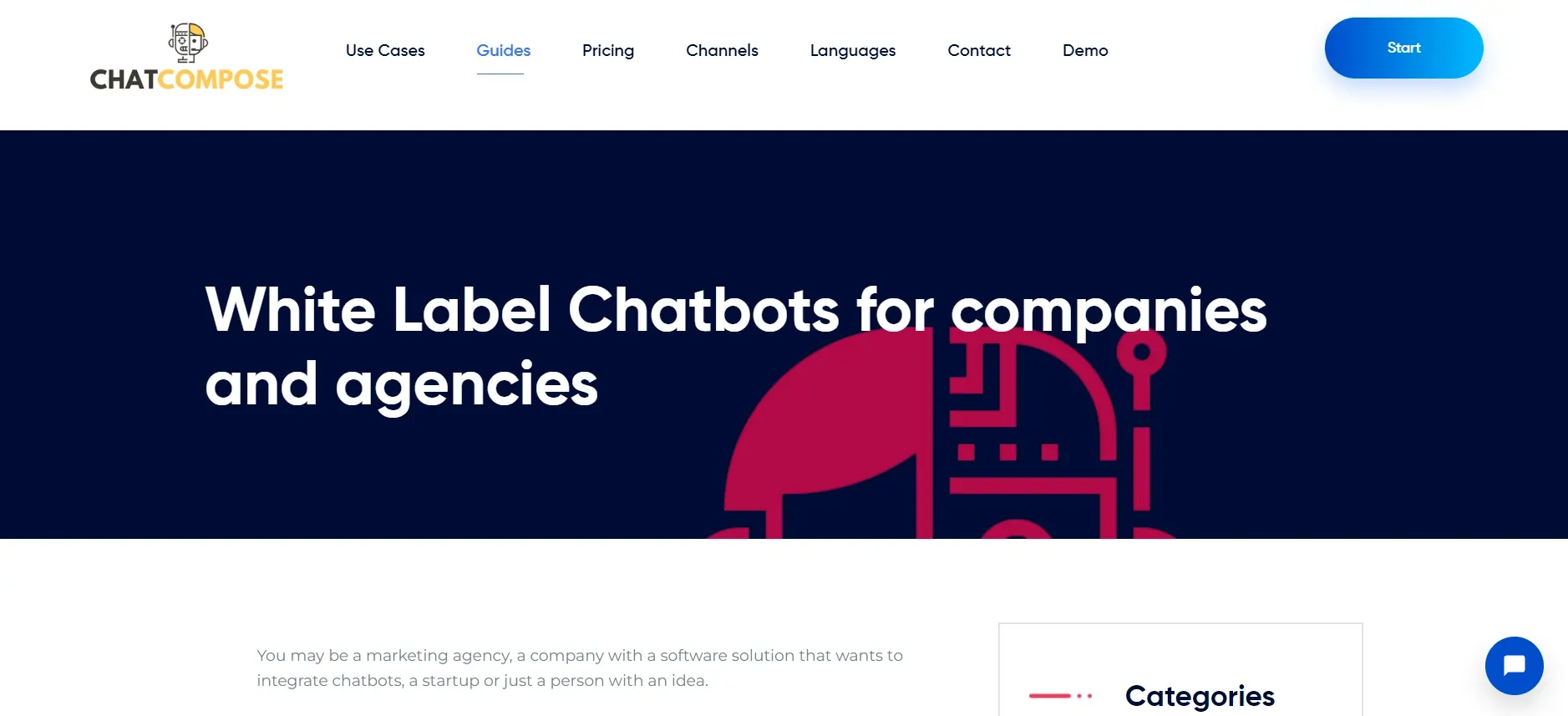 7. Engati
Engati is a white-label chatbot agency that helps you to create, manage, integrate, train, analyze and publish a customizable chatbot in the minimum time. It emphasizes client involvement and supports eight major messaging systems: messenger, Kik, telegram, line, Viber, Skype, Slack, and web chat.

With the help of Engati, you can create your Chatbot without knowing any programming language. It is a multi-lingual chatbot that supports over 20 languages that help you communicate with a large community of customers. It is one of the promising alternative options if you are looking for a customizable white-label chatbot.
8. SendPulse
SendPulse is a white-label chatbot builder that offers a variety of features. It integrates over 16 platforms like Jotform, Slack, and Zapier.
They also have an outstanding integration where you can set up your Chatbot to receive payments from clients using Paypal and Money.
It is one of the best platforms for sales because of the unique feature that you can finish a purchase by leaving the current page.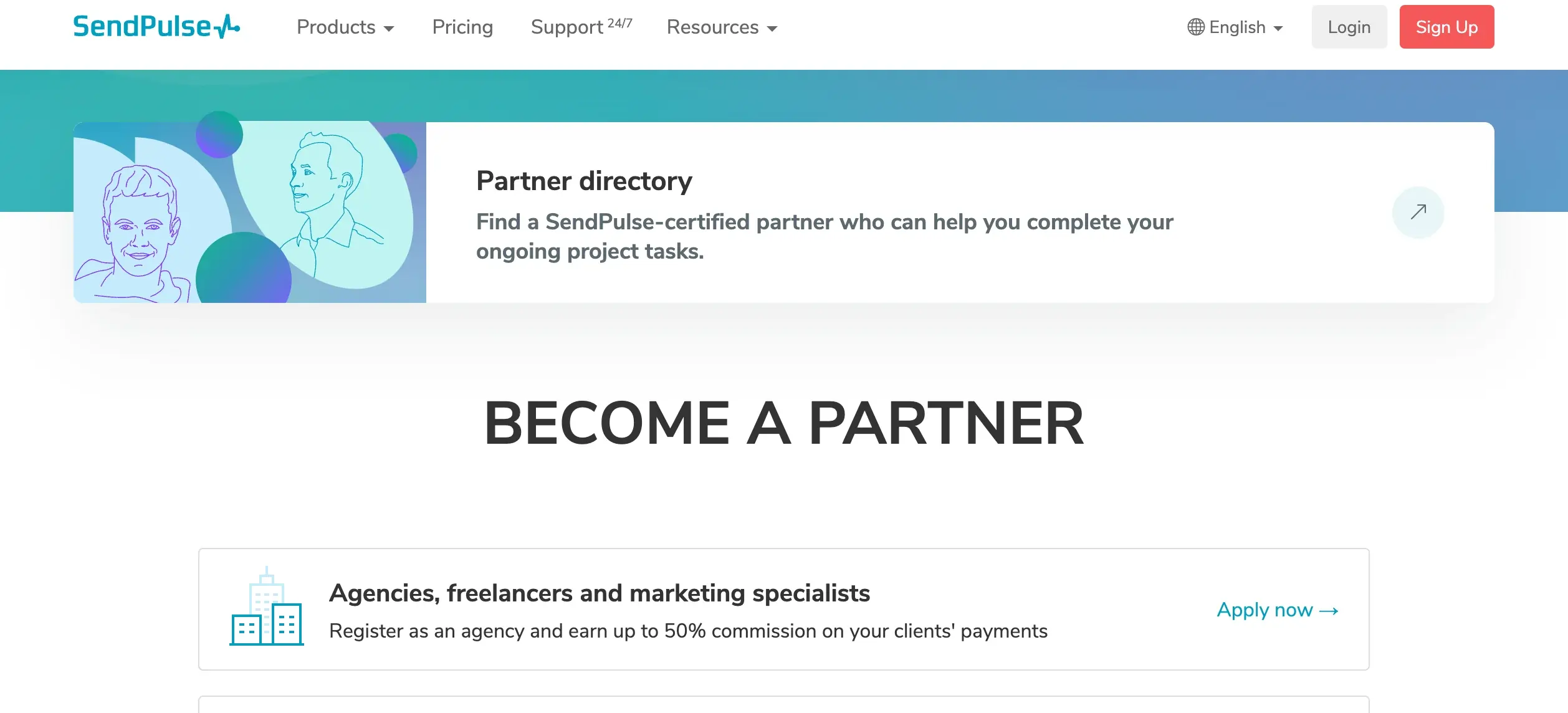 You can see the desired payment option from the settings of Mount and link it using webhooks to set up a payment connection. SendPlus Chatbot is also available on Facebook Messenger, Telegram WhatsApp.
The best feature of SendPlus is that it has a free plan that allows users to build 3 separate bots and use all of their channels without any monetary requirement.
9. Botsify
Botsify is another amazing white-label chatbot platform that helps you build intelligent virtual assistants for your websites in no time. It also has the feature of automating your chat and providing real-time assistance so that you can attract more customers.
It helps the customers to generate qualified leads by asking questions to them.
It helps to get faster customer support and build a good reputation for your business. It also enables you to reach your prospects faster with its messenger chatbot, which is ten times more effective than other chatbots available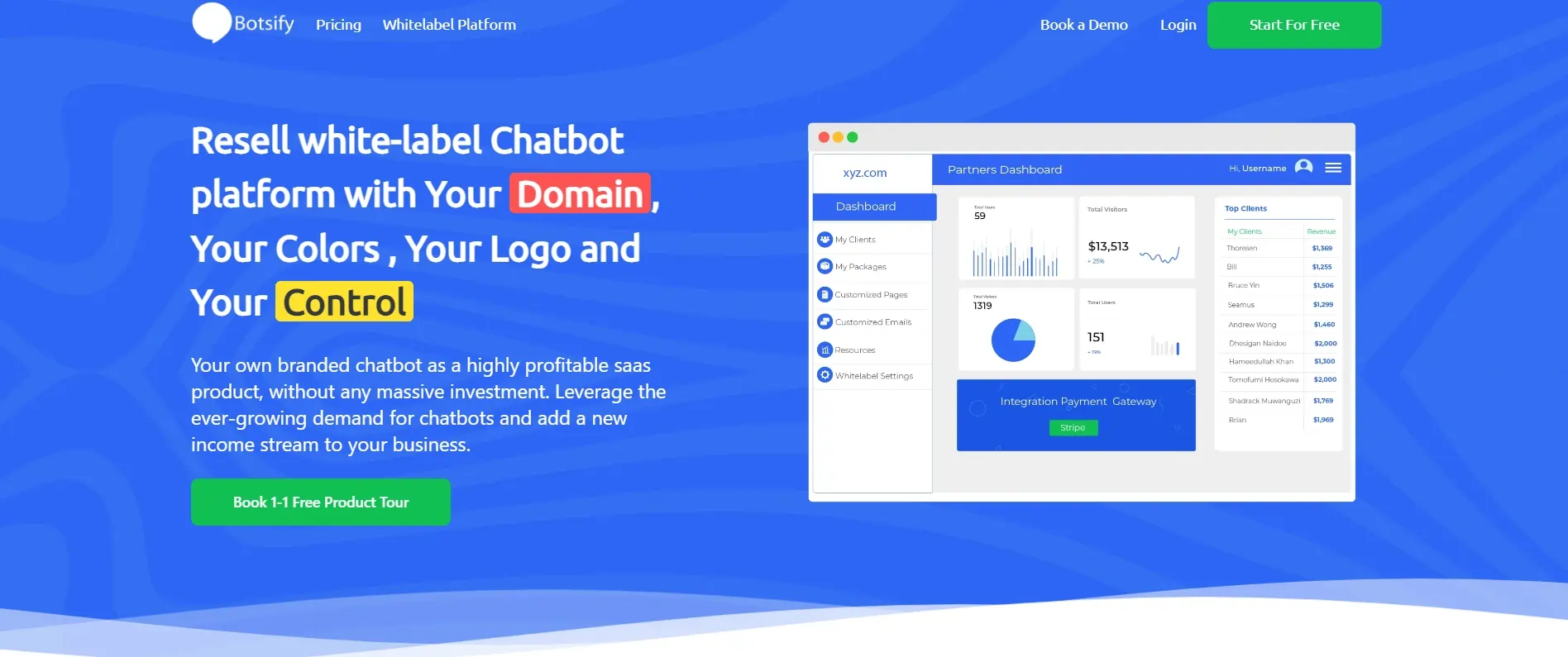 10. MoEngage
MoEngage is another white-label customer engagement platform, mainly built for customer-obsession marketers and product owners.
It enables hyper-personalization across multiple channels like mobile push, email, websites, onsite messaging, Facebook audience, and connectors to other technologies.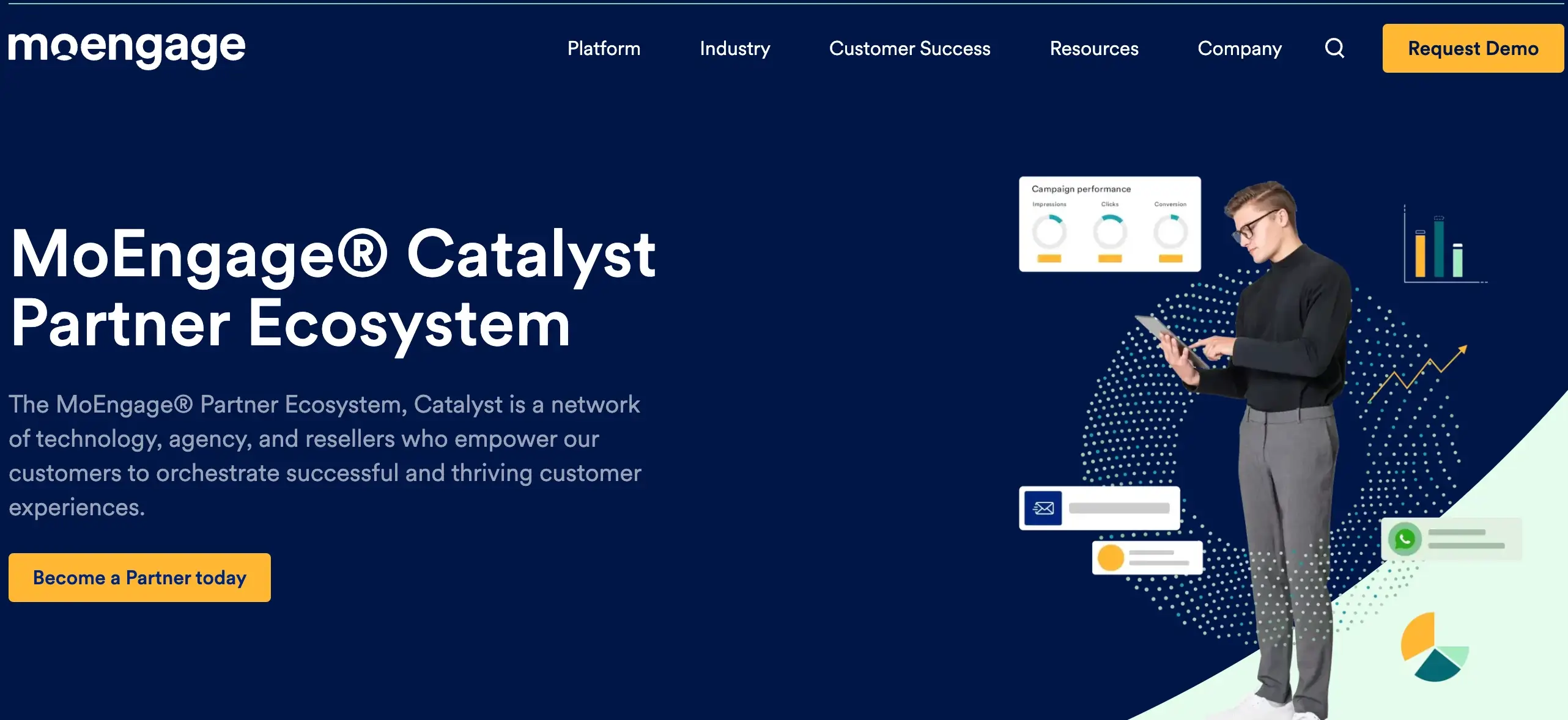 Most importantly, it can analyze audience behavior with its AI-powered automation and optimization tools to segment the right audience and engage customers with personalized communication at every end of their journey.
It is one of the most popular white-label customer engagement platforms offering customized service to customers on a budget.
Conclusion
This blog gives you a clear idea about the need for a white-label agency and shows the top 10 white-label chatbot agencies you can invest in 2023!
Furthermore, we have discussed the importance of white-label agencies in the business and some of their unique features.
If you are a small business house looking for chatbot solutions but cannot build one yourself and have the money to invest, you can indeed look for a white-label chatbot agency to fulfill your requirements. It is one of the best solutions to help your business to grow and flourish in the future at the minimum cost.
If you have any problems regarding Whitelabel Agencies or how they work, feel free to comment below.

Frequently Asked Questions (FAQs)


What are White Label Chatbot Builders?
White Label Chatbot Builders are platforms that enable resellers to create, customize, and rebrand chatbot solutions for their clients without having to develop their own technology from scratch.
How do White Label Chatbot Builders benefit businesses and resellers?
These builders allow businesses to easily implement chatbot solutions while enabling resellers to expand their service offerings, attract new clients, and generate additional revenue streams.
What key features should I look for in a White Label Chatbot Builder for 2023?
Look for advanced AI capabilities, customization options, seamless integration with popular tools, data security and privacy, and dedicated customer support.
Do White Label Chatbot Builders provide seamless integration with existing business tools?
Yes, these builders typically support integration with popular CRM systems, messaging platforms, and e-commerce tools, ensuring a smooth implementation process.
What level of AI capabilities can I expect from White Label Chatbot Builders for 2023?
Expect advanced AI technologies like natural language processing and machine learning, enabling accurate and efficient chatbot experiences.
Do White Label Chatbot Builders offer dedicated customer support and training?
Yes, most builders provide comprehensive onboarding, training, and ongoing technical support to ensure the successful implementation and usage of their chatbot solutions.