BotPenguin's whitelabel chatbot partnership allows businesses of any size to provide an engaging, personalized customer experience at scale.
Our plug-and-play solution handles all the technical details so you can focus on what matters - your customers.
Curious how a chatbot can boost sales, improve customer service and drive real results for your brand? Keep reading to discover key benefits of our whitelabel partnership like increased conversions, enhanced support and valuable customer insights.
So let's get started with the amazing benefits of BotPenguin's Whitelabel Chatbot Partnership. Let's explore first about what is whitelabel chatbot.
What is a Whitelabel Chatbot?
Before we dive into the benefits, let's first understand what a whitelabel chatbot is.
A whitelabel chatbot is a solution that allows businesses to customize and brand the chatbot as their own.
Instead of promoting the chatbot provider's branding, a whitelabel chatbot ensures businesses can maintain their unique brand identity and offer a seamless customer experience.
Now it's time to see the Benefits of BotPenguin's Whitelabel Chatbot Partnership.
And, BotPenguin is not limited to the Whitelabel chatbot partnership. Apart from the Whitelabel Partnership, BotPenguin offers other partner programs as well, these are-

The Benefits of BotPenguin's Whitelabel Chatbot Partnership
Our AI-powered virtual assistants can respond to frequent questions around-the-clock, providing your clients with the quick, courteous service they want while freeing up your team to concentrate on more complicated demands.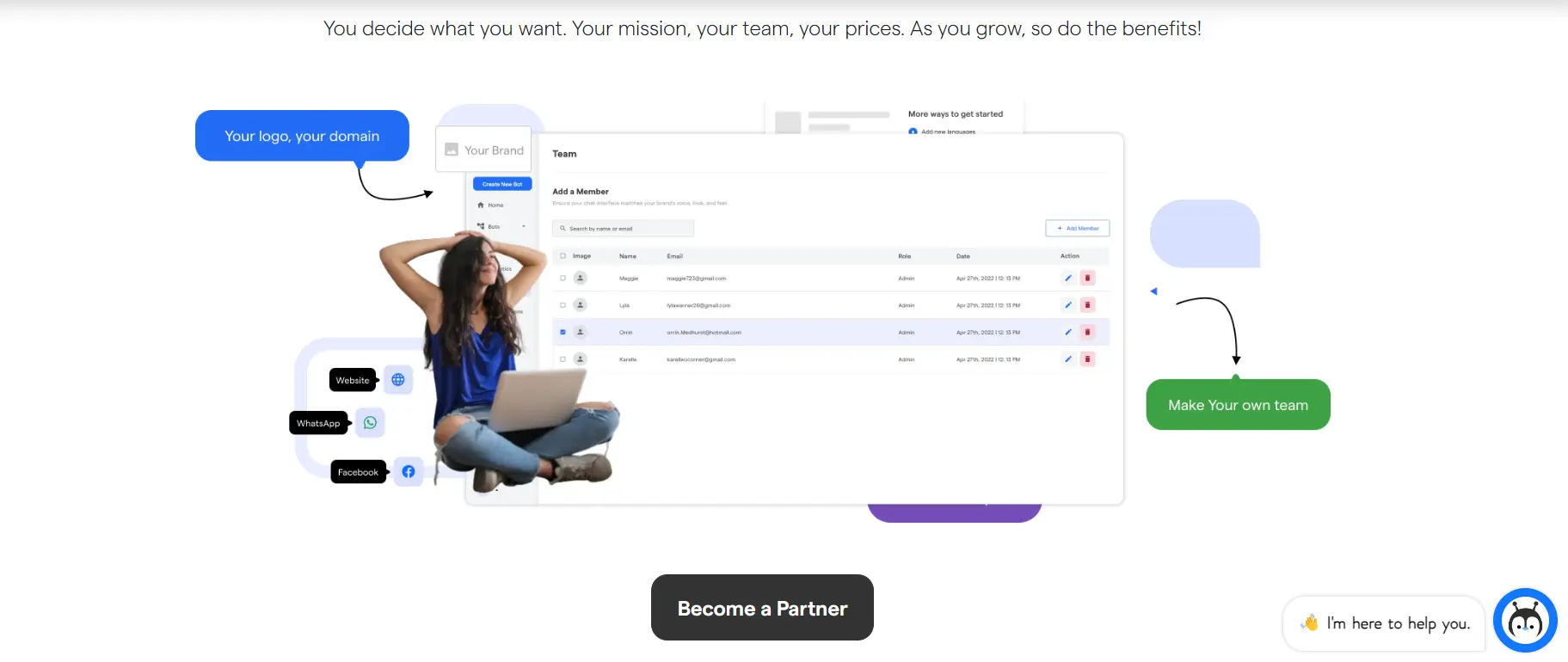 Let's discuss how a chatbot may improve your customer service and advance your company.
Customized Branding and Personalization
One of the key advantages of BotPenguin's whitelabel chatbot partnership is the ability to customize the chatbot to align with your brand.
With BotPenguin, you can easily incorporate your logo, colors, and brand elements into the chatbot interface, Making sure a consistent and cohesive brand experience for your customers.
This personalized touch helps to strengthen brand recognition and build trust with your customers.
Enhanced Customer Support and Engagement
Chatbots are not only capable of handling customer queries but can also provide real-time support and assistance.
BotPenguin's whitelabel chatbot partnership allows businesses to offer 24/7 customer support, ensuring that customers can get their questions answered and issues resolved anytime.
Businesses can reduce wait times, improve response rates, and provide a seamless support experience by automating customer support.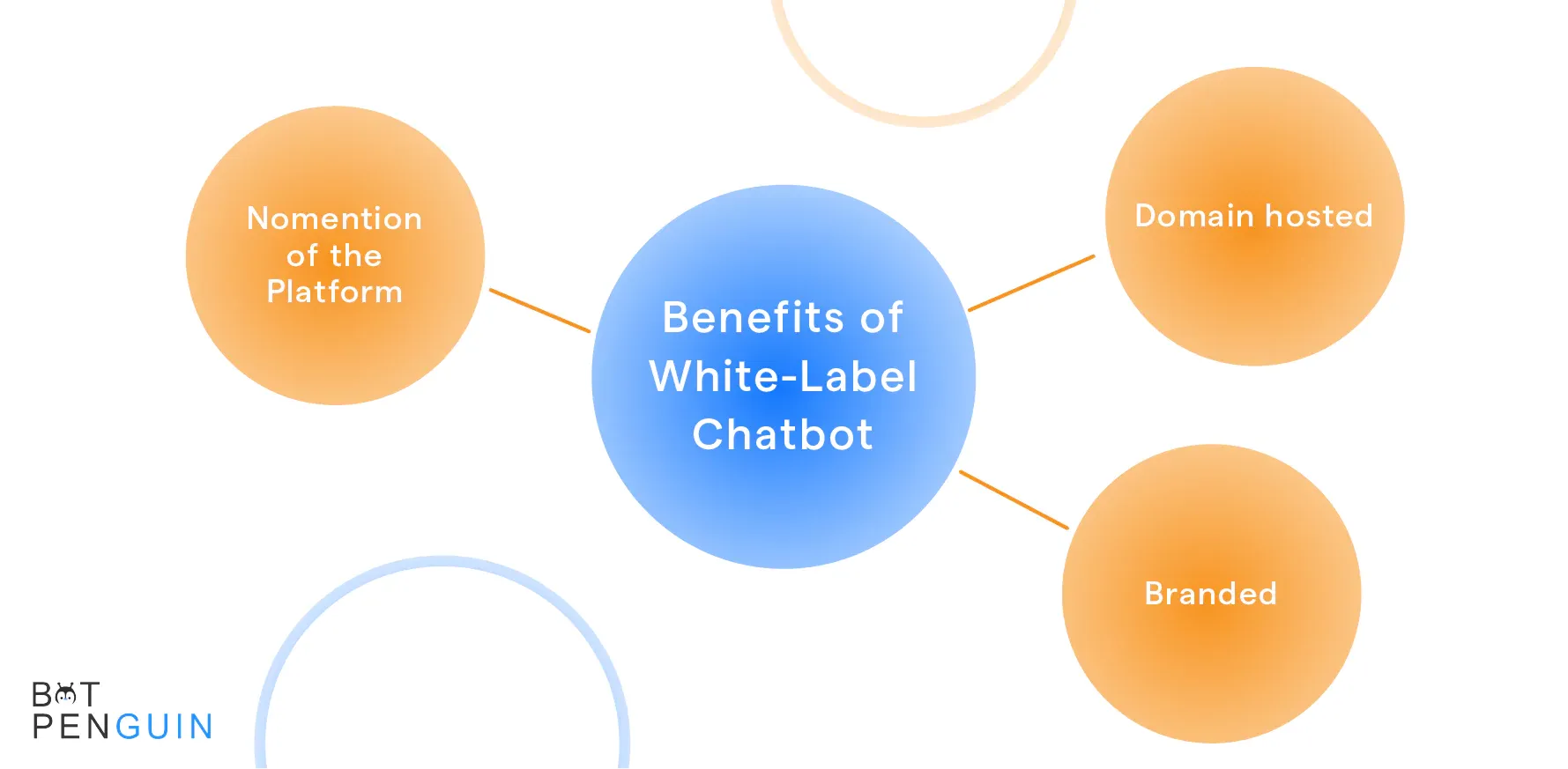 Streamlined Operations and Efficiency
Businesses can automate repetitive tasks by leveraging BotPenguin's whitelabel chatbot partnership, freeing up valuable time and resources.
The employees can concentrate on more high-value activities by using the chatbot to handle chores like lead generation, appointment scheduling, and product suggestions.
This simplified strategy lets organizations grow their operations without adding more staff, which increases productivity.
Data Collection and Analytics
Any company must understand client behavior and preferences. Whitelabel chatbot collaboration with BotPenguin provides extensive statistics and insights, allowing organizations to analyze and enhance chatbot performance.
Businesses may gather useful insights to drive decision-making and improve the entire customer experience by evaluating user interactions and engagement indicators.
Furthermore, the chatbot may collect user data, which businesses can use to create focused marketing campaigns and customized offers.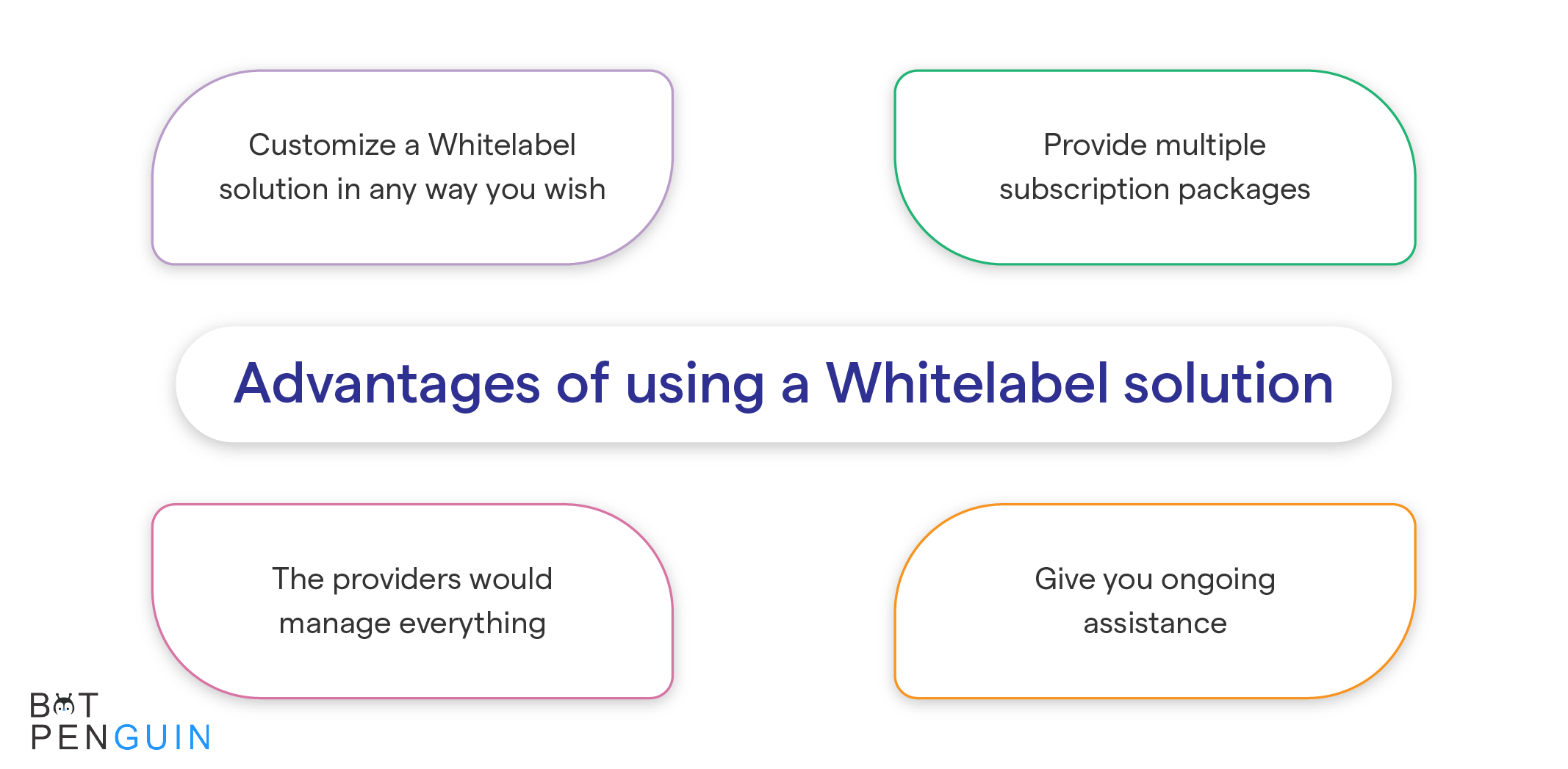 Integration with Popular Platforms
BotPenguin's whitelabel chatbot partnership ensures seamless integration with popular messaging platforms like WhatsApp, Facebook Messenger, and Telegram.
This means businesses can engage with their customers on their preferred platforms, extending their reach and enhancing customer interactions.
Additionally, BotPenguin also integrates with various other platforms, including Google Calendar, Bitrix 24, Hubspot, Zoho CRM, Zendesk, and more, allowing businesses to streamline their processes and centralize their data.
Cost-Effective Solution
Implementing a chatbot solution can be a cost-effective alternative to hiring additional customer support staff.
With BotPenguin's whitelabel chatbot partnership, businesses can provide round-the-clock support without incurring high costs. The chatbot can handle multiple conversations simultaneously, reducing the need for additional resources.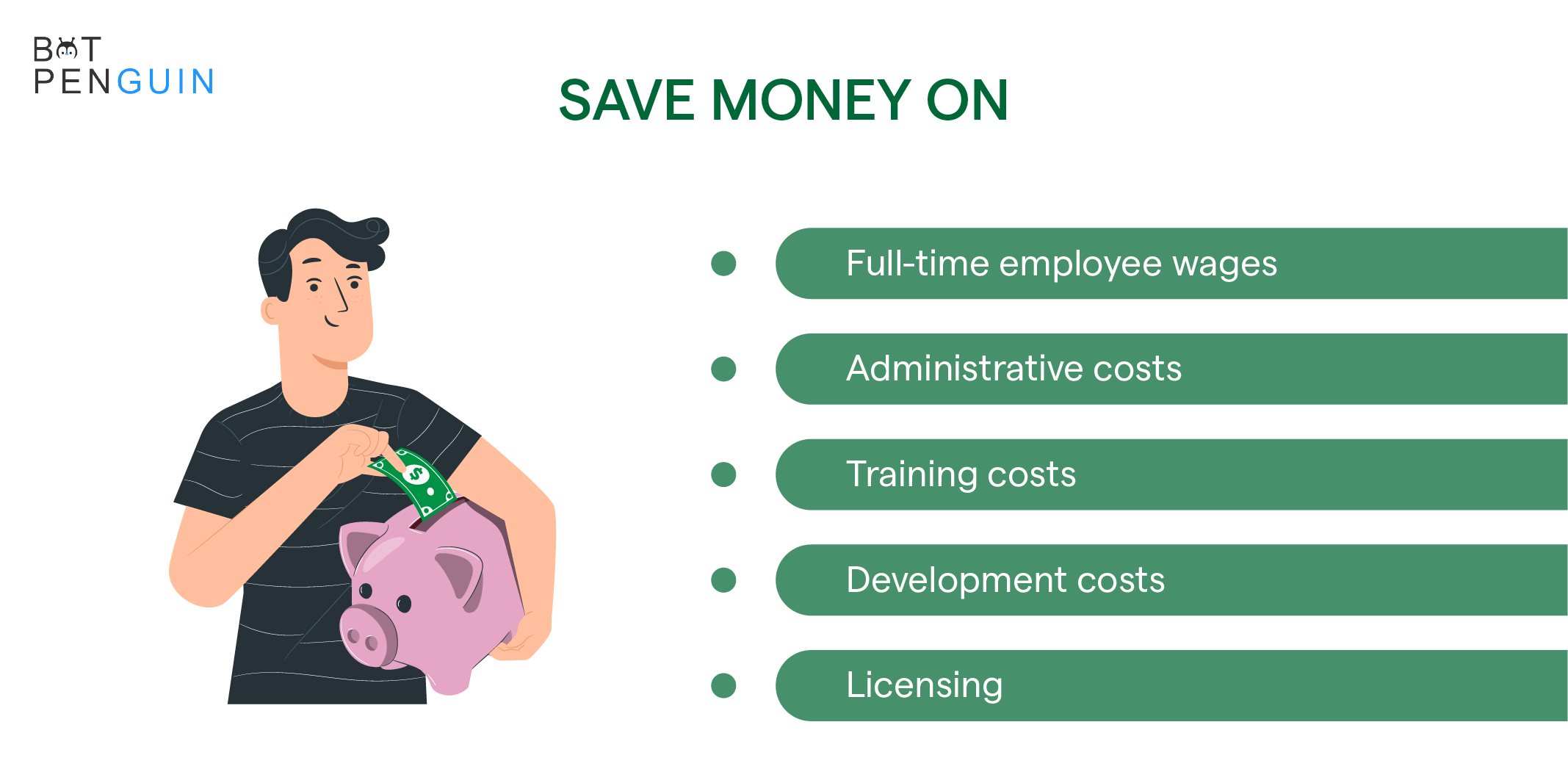 This cost-effective solution allows businesses to provide exceptional customer support while optimizing their budget.
Future-Proof Technology
In today's rapidly evolving digital landscape, staying ahead of the curve is essential.
BotPenguin's whitelabel chatbot partnership ensures businesses access cutting-edge chatbot technology.
With regular updates and advancements, businesses can leverage the latest features and capabilities to stay competitive and meet evolving customer expectations.
Conclusion
Partnering with BotPenguin for whitelabel chatbot solutions offers businesses various benefits, including customized branding, enhanced customer support, streamlined operations, data collection and analytics, integration with popular platforms, cost-effectiveness, and future-proof technology.
With these advantages, businesses can enhance customer interactions, improve efficiency, and drive growth.
If you want to leverage the power of chatbots to take your business to the next level, consider partnering with BotPenguin for their whitelabel chatbot solution is best choice.
Contact us today! To start with it.
Frequently Asked Questions (FAQs)
What is the best white-label chatbot builder?
The best white-label chatbot builder will depend on your specific needs and preferences. Some popular options include BotPenguin, Chatfuel, TARS, and MobileMonkey.
What is white label and how does it work?
White label refers to a product or service that is created by one company but is rebranded and sold by another company as their own. The white label provider remains anonymous to the end users.
How do you start white labeling?
To start white labeling, you need to find a product or service that offers white label options. Reach out to the provider to discuss partnership opportunities and terms for rebranding and reselling the product.
Is white labeling a good idea?
White labeling can be a good idea if you want to offer a product or service under your own brand without investing the time and resources in developing it from scratch. It allows you to focus on marketing and sales.
What are the benefits of white label apps?
White label apps allow you to save time and money on development, as you can leverage an existing app and add your branding. It also allows you to offer a broader range of products or services under your own brand.