What is Just in Time Inventory?
Just in time inventory is a manufacturing workflow and inventory management technique that aims to reduce costs and flow times within production systems. It involves receiving goods and materials from suppliers only as they are needed, rather than stocking excess inventory. This strategy helps lower inventory holding costs and boosts inventory turnover.
The main objective of the just-in-time (JIT) inventory system is to reduce carrying and warehousing costs while increasing inventory turnover. By only placing orders with suppliers when needed, businesses can minimize the need for warehouses and decrease the number of items stored. This system also provides manufacturers with more control and flexibility, allowing them to produce on a demand-pull basis and optimize their resources accordingly.
Who Uses Just in Time Inventory?

Just in time inventory is utilized by a wide range of businesses, both large enterprises and small businesses. One of the most notable proponents of this system is the Toyota Motor Corporation. Additionally, major retailers like Target and Walmart make use of just in time inventory for their seasonal merchandise to align with customer demand. This system is widely adopted by retailers, technology manufacturers, automobile manufacturing companies, on-demand publishers, restaurants, and various industries.
Characteristics of Just in Time Inventory System
In this section, we'll unveil the distinctive characteristics of the Just in Time (JIT) Inventory System and its role in shaping modern inventory management.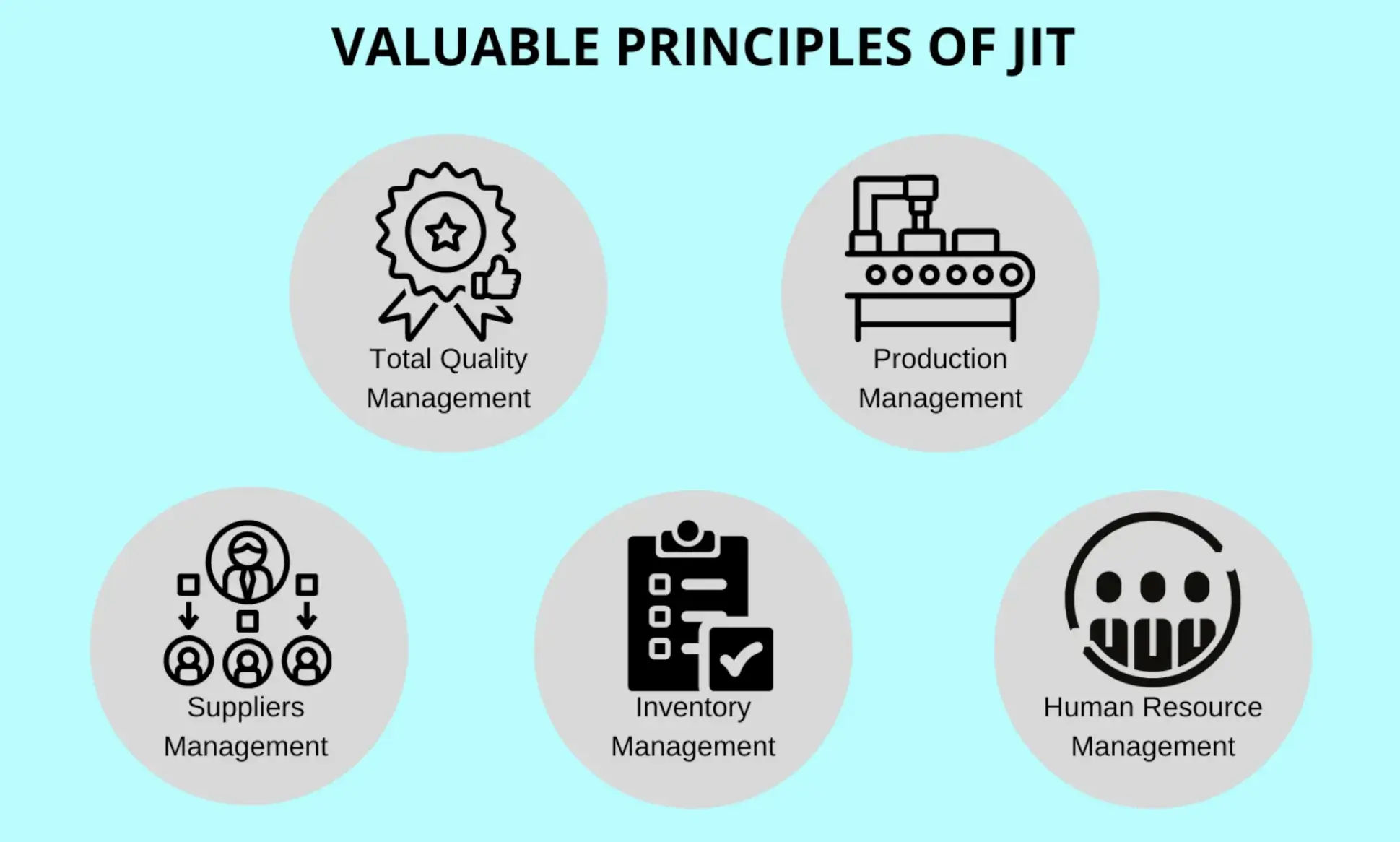 Demand-Driven Approach
A JIT Inventory System's core characteristic is its demand-driven approach. Businesses focus on producing goods based on actual customer demand, ordering raw materials, or components only when required. This results in a reduction of overstocked inventory and enables companies to operate at leaner, more efficient levels.
Seamless Coordination and Communication
For JIT inventory systems to operate effectively, there's a need for seamless coordination and communication across production, purchasing, and logistics departments. Through constant information exchange, businesses can ensure that all aspects of the organization are working in harmony, enabling goods to flow smoothly throughout the supply chain.
Real-time Monitoring and Data Analysis
To successfully implement JIT inventory systems, companies need to have real-time monitoring and comprehensive data analysis at their disposal. Strict control over inventory levels and prompt identification of potential disruptions in the supply chain are paramount for effective JIT management. Advanced analytics tools and technologies enable businesses to monitor their inventory closely and make data-driven decisions.
Continuous Improvement Focus
JIT inventory systems are designed with continuous improvement in mind. Emphasizing efficiency and productivity, businesses that adopt JIT are committed to refining their processes and eliminating wasteful practices. This can be achieved through root cause analysis, problem-solving, and iterative learning, ultimately leading to improved overall performance.
Strong Supplier Relationships
Another influential characteristic of JIT systems is the importance placed on building strong supplier relationships. As businesses rely on their suppliers for timely deliveries, trustworthy and reliable partners are crucial to minimize disruptions and maintain production momentum. In turn, reliable suppliers contribute to achieving the full potential of JIT inventory management.
Advantages and Disadvantages of Just in Time Inventory
In this section, we'll explore the various advantages and disadvantages of the Just in Time (JIT) Inventory system and its impact on businesses.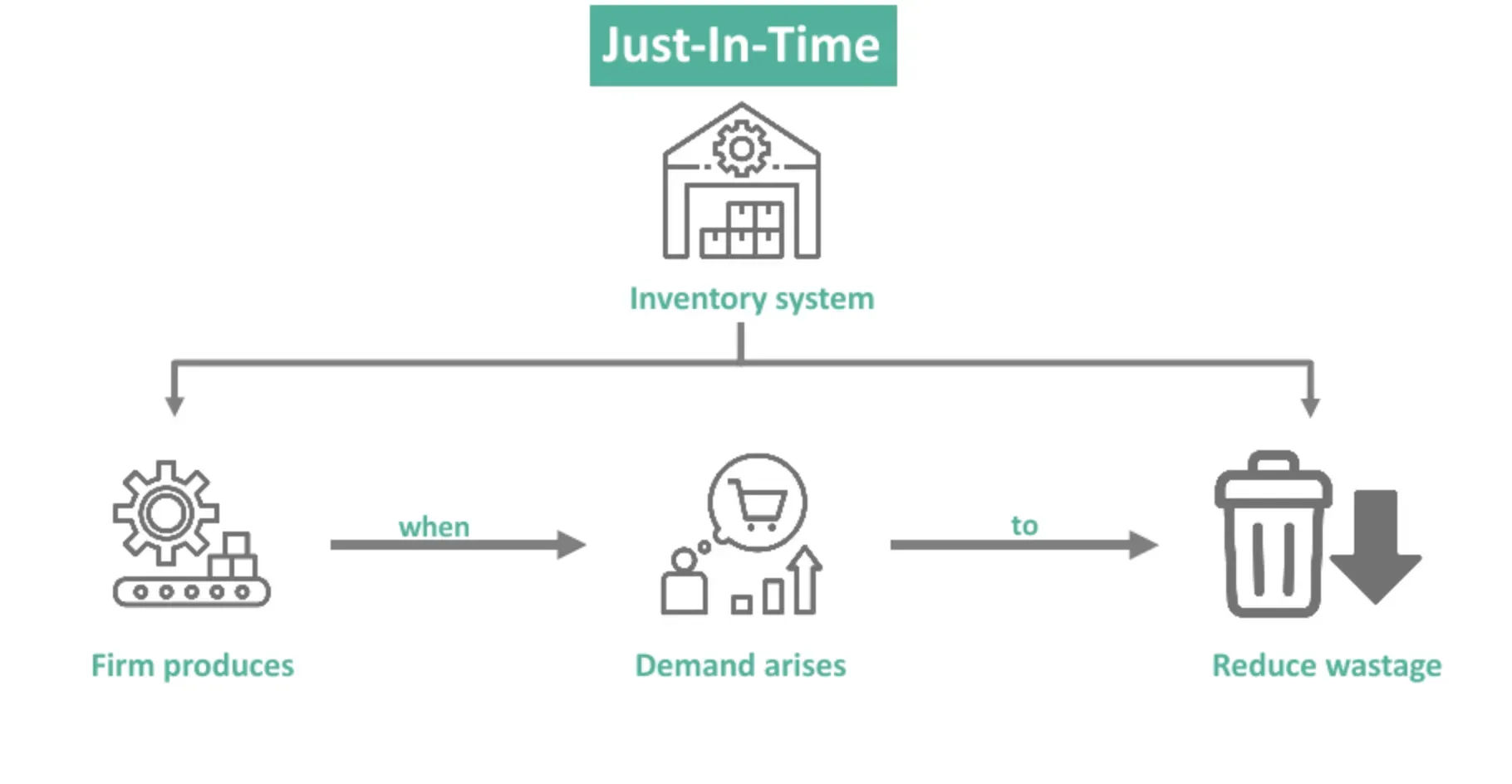 Reduced Inventory Costs
One of the most significant advantages of JIT Inventory is its ability to minimize inventory costs. By ordering supplies only when they are required, businesses can lower their holding and storage expenses, resulting in improved overall profitability.
Enhanced Efficiency and Productivity
Another key benefit of JIT Inventory is the enhancement of operational efficiency and productivity. By streamlining inventory management and eliminating excess inventory, businesses can focus on optimizing production processes, ensuring a smooth flow of goods from the production line to the end consumer.
Improved Cash Flow
By implementing JIT Inventory, companies can better manage their cash flow. Since inventory levels are maintained at a minimum, the working capital tied up in inventory is reduced, allowing businesses to allocate their funds leading to higher cash liquidity and investment in other core areas.
Potential Stockouts and Delays
However, JIT Inventory also presents its share of challenges. The reliance on minimal inventory levels makes businesses susceptible to stockouts and delays due to unforeseen factors, such as natural disasters, supplier issues, or transportation disruptions. Such uncertainties might impede production, negatively impacting customer satisfaction.
Supplier Dependency and Communication
The success of JIT Inventory relies heavily on maintaining strong relationships with suppliers and ongoing communication. A hiccup in the supply chain can lead to vulnerabilities in JIT systems. It's crucial for businesses to establish efficient communication channels and maintain a reliable supplier base to reduce potential risks and ensure successful JIT Inventory implementation.
How to Implement Just in Time Inventory?
In this section, we'll delve into a step-by-step guide on how to effectively implement a Just in Time (JIT) Inventory System within a business setting.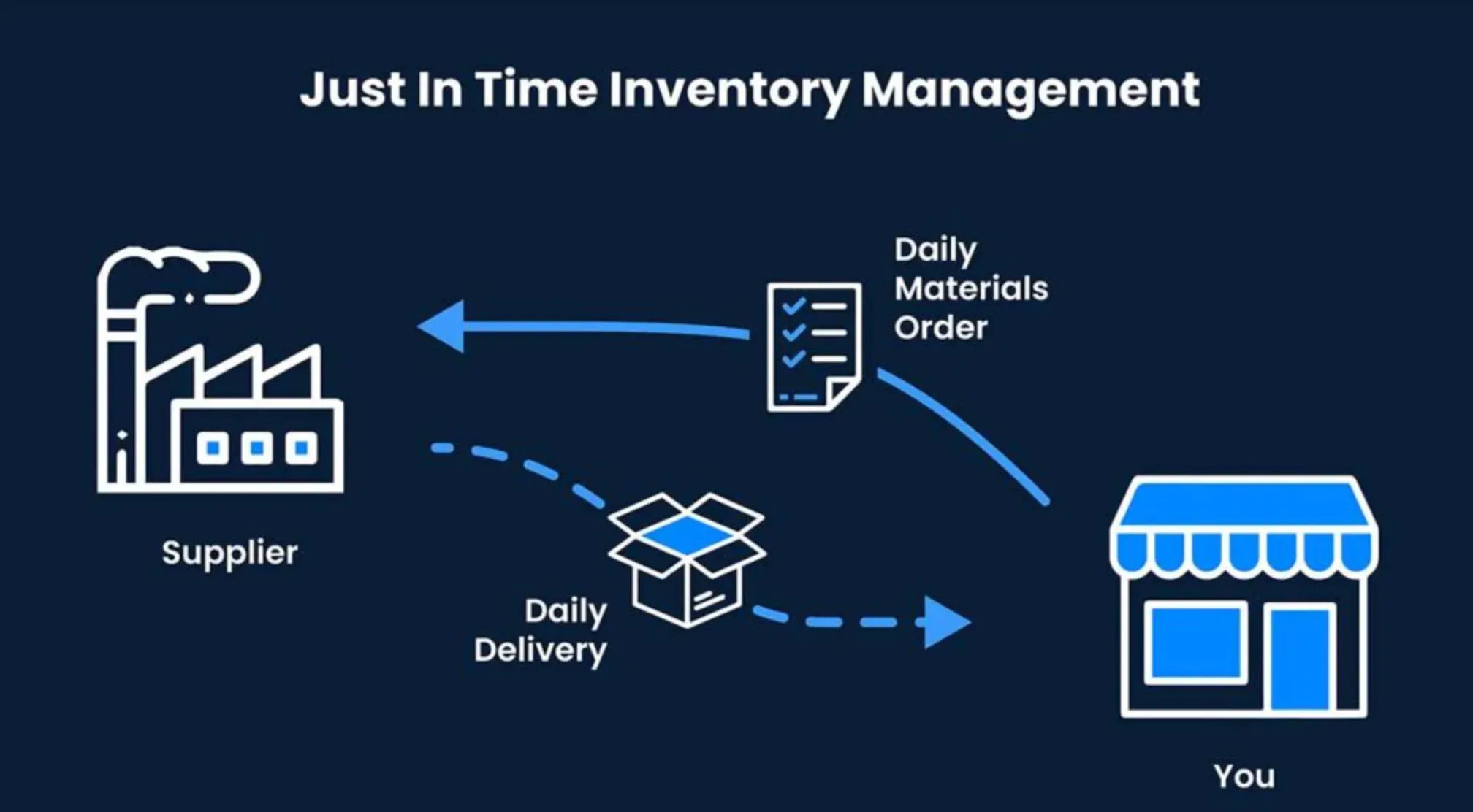 Understanding Current Inventory Levels
To implement JIT, first, businesses need a clear understanding of their present inventory levels, including the inflow and outflow of goods. Detailed analysis of current stock, order history, and sales trends enables companies to define what a 'just in time' reorder point looks like for them, laying the groundwork for successful JIT implementation.
Strengthening Supplier Relationships
With JIT, reliable and efficient suppliers are indispensable. Businesses should invest time in establishing robust relationships with their suppliers, ensuring a mutual understanding of the system's goals. Clear communication, agreed-upon dates for deliveries, and strict adherence to quality standards are essential.
Adopting Demand Forecasting
Accurate demand forecasting is critical for JIT Inventory implementation. Understanding when spikes in demand might occur and planning accordingly can prevent stockouts and production halts. Statistical tools, machine learning algorithms, and historical sales data can greatly help in creating accurate demand forecasts.
Emphasizing Continuous Improvements
Implementing JIT Inventory isn't a one-time event—it requires continuous improvement initiatives. This involves reviewing processes regularly, identifying inefficiencies, and solving problems swiftly to streamline operations. Companies successful with JIT fosters an environment that encourages learning and adapts to changes.
Leveraging Inventory Management Software
With JIT, managing inventory manually can result in errors and inefficiencies. Employing inventory management software or ERPs can automate processes, give real-time insights, and simplify JIT implementation. These technologies also make the analysis of inventory data easier, paving the way for more accurate decision-making.
Frequently Asked Questions (FAQs)
What are the benefits of implementing Just in Time Inventory?
Implementing Just in Time Inventory can help reduce storage costs, increase inventory turnover, avoid obsolete stock, and improve order fulfillment efficiency.
How does Just in Time Inventory handle unexpected orders or delays in supply?
Just in Time Inventory relies on timely supply delivery, but businesses can mitigate risks by working closely with local vendors and suppliers for faster response times.
Does Just in Time Inventory work for all industries and businesses?
Just in Time Inventory is not suitable for all industries and businesses. It requires careful analysis and consideration of the specific needs and characteristics of the industry or business in question.
What challenges should businesses anticipate when implementing Just in Time Inventory?
Businesses implementing Just in Time Inventory should anticipate potential challenges such as limited room for error, reliance on timely supply delivery, and the need for strong communication with suppliers.
How can technology be leveraged to effectively implement Just in Time Inventory?
Leveraging technology, such as ERP software and inventory management systems, can help automate processes, improve communication with suppliers, and streamline the implementation of Just in Time Inventory.