What is Warehouse Automation?
Warehouse automation refers to the use of automation technology, including robotics, artificial intelligence (AI), and machine learning, to enhance and streamline the processes within a warehouse environment.
Who Uses Warehouse Automation?
Warehouse automation is mostly used by companies involved in industrial, manufacturing, and retail sectors - essentially any enterprise needing substantial storage and distribution solutions.
When Did Warehouse Automation Start?

The inception of warehouse automation can be traced back to the mid-20th century, with the advent of simple mechanical handling systems. However, rapid advances in technology over recent decades have vastly increased the scope and sophistication of automation capabilities.
Where is Warehouse Automation Implemented?
Warehouse automation is implemented within warehouses and distribution centers. It vastly improves operations such as inventory tracking, picking, packing, and transporting goods, among others.
Why is Warehouse Automation Important?
Automating warehouse processes significantly increases productivity, accuracy, and efficiency, reducing the chances of errors and operational costs. Furthermore, it can improve safety and provide scalable solutions to meet fluctuating demand.
Types of Warehouse Automation Solutions
Warehouse automation is supported by various software solutions and chatbots that enhance the overall efficiency of operations. These include WhatsApp Chatbot, Shopify Chatbot, AI Chatbot, Instagram Chatbot, Live Chat and GPT.
BotPenguin is a no-code chatbot builder platform that helps in creating chatbots for different platforms such as WhatsApp, Telegram, Website, and Squarespace. It also covers 60+ Integrations which helps in increasing efficiency in operations.
Advantages of Automated Warehouses over Manual Warehouses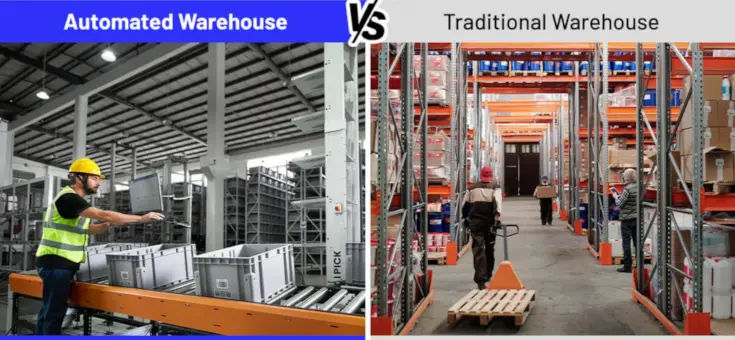 Increased accuracy and efficiency
Automation minimizes the risk of human errors, resulting in higher accuracy in order fulfillment and other warehouse operations. It also improves overall efficiency by reducing the time required to complete tasks.
Improved safety
By automating hazardous tasks and reducing the need for manual handling of heavy items, automated warehouses create a safer working environment for employees.
Reduced labor costs
Automation allows warehouses to optimize labor resources, resulting in reduced staffing requirements and lower labor costs.
Decreased need for physical storage space
Automated systems utilize vertical space efficiently, reducing the need for large warehouses and lowering real estate costs.
Types of Warehouse Automation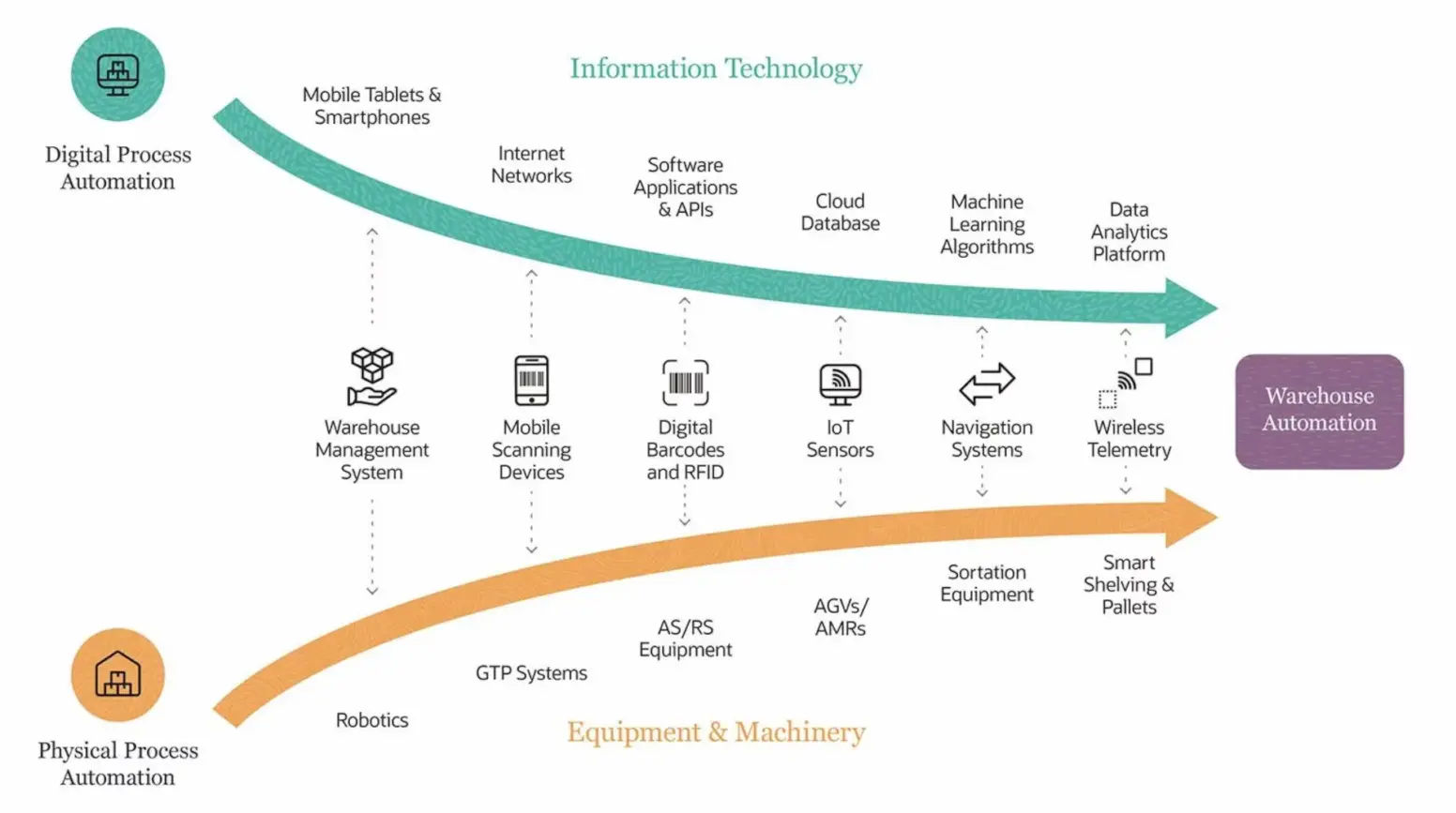 Goods-to-Person technologies (GTP)
GTP systems bring items to the operator, minimizing the need for manual travel within the warehouse. This improves the speed and accuracy of order fulfillment.
Automated Storage and Retrieval systems (ASRS)
ASRS systems are automated machines that efficiently store and retrieve goods from designated locations within a warehouse. They utilize conveyors, cranes, or robots to handle these tasks.
Pick-to-Light systems
Pick-to-light systems use visual indicators to guide warehouse operators in the picking process. Lights illuminate specific items or shelves, improving accuracy and speed.
Autonomous Mobile Robots (AMRs)
AMRs are robots that navigate autonomously within a warehouse. They are equipped with sensors and AI algorithms to transport goods, pick items, and perform various other tasks.
How Does Warehouse Automation Work?

Automation in warehouses involves the integration of various technologies and systems. Warehouse robots play a crucial role in executing tasks efficiently.
Integration of Different Technologies
Warehouse automation combines various technologies - such as robotics, artificial intelligence (AI), machine learning, and the Internet of Things (IoT) - and harmoniously blends them to automate processes within a warehouse environment.
Suggested Reading: Unlocking AI's Potential: Types, Applications, Challenges, Future
Robotic Automation
Robotic automation plays a crucial role in automating physical tasks such as picking, packing, and transporting goods. Robots can work around the clock, providing increased productivity while reducing the risk of errors.
Suggested Reading: Robotic Process Automation: Types and Applications
Use of Artificial Intelligence and Machine Learning
AI and machine learning algorithms are used to automate data-driven tasks. These can range from simple chores, like sorting items based on defined rules, to complex operations, like predicting demand to manage inventory.
Suggested Reading: Machine Learning: Algorithms & Techniques
Implementation of Internet of Things
IoT devices are used to control automated components and ensure seamless communication and information flow within the warehouse. They facilitate real-time tracking and monitoring of goods, equipment, and processes.
Suggested Reading: Internet of Things: Technologies and Challenges
Sorting Systems
Automated sorting systems ensure efficient organization of goods, categorizing them based on various defined parameters like size, weight, destination, etc.
Conveyor Systems
Automated conveyor systems help in the rapid transport of goods within the warehouse, reducing the time taken for movement and ensuring smooth operations.
Automated Storage and Retrieval Systems (AS/RS)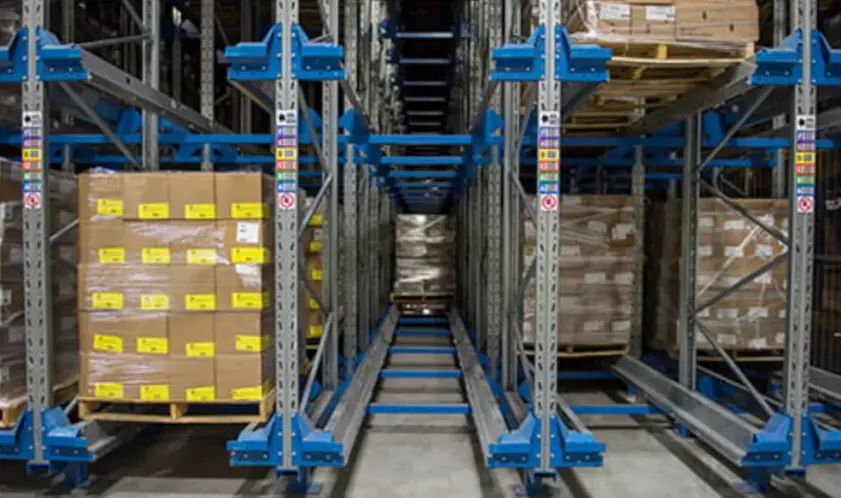 AS/RS is a key component of warehouse automation, providing efficient and accurate storage and retrieval of goods. These systems reduce manual labor and improve inventory management.
Automated Guided Vehicles (AGVs)
AGVs help in transporting goods within the warehouse, reducing the dependency on human labor and increasing overall productivity.
Vision-Guided Robotics
These advanced systems employ cameras and AI to visually guide robots, allowing them to perform complex tasks with great precision and speed.
Warehouse Management System (WMS)
At the heart of warehouse automation is a WMS that manages and coordinates the entire operation. The WMS uses AI algorithms and real-time data to optimize processes, making decisions about storage, labor deployment, and order fulfillment.
Through a synergistic integration of various technologies, warehouse automation streamlines operations, boosts productivity, and paves the way for a more efficient, economical, and safer work environment.
Suggested Reading: Warehouse Management System: Types & Benefits
Industries Transformed by Warehouse Automation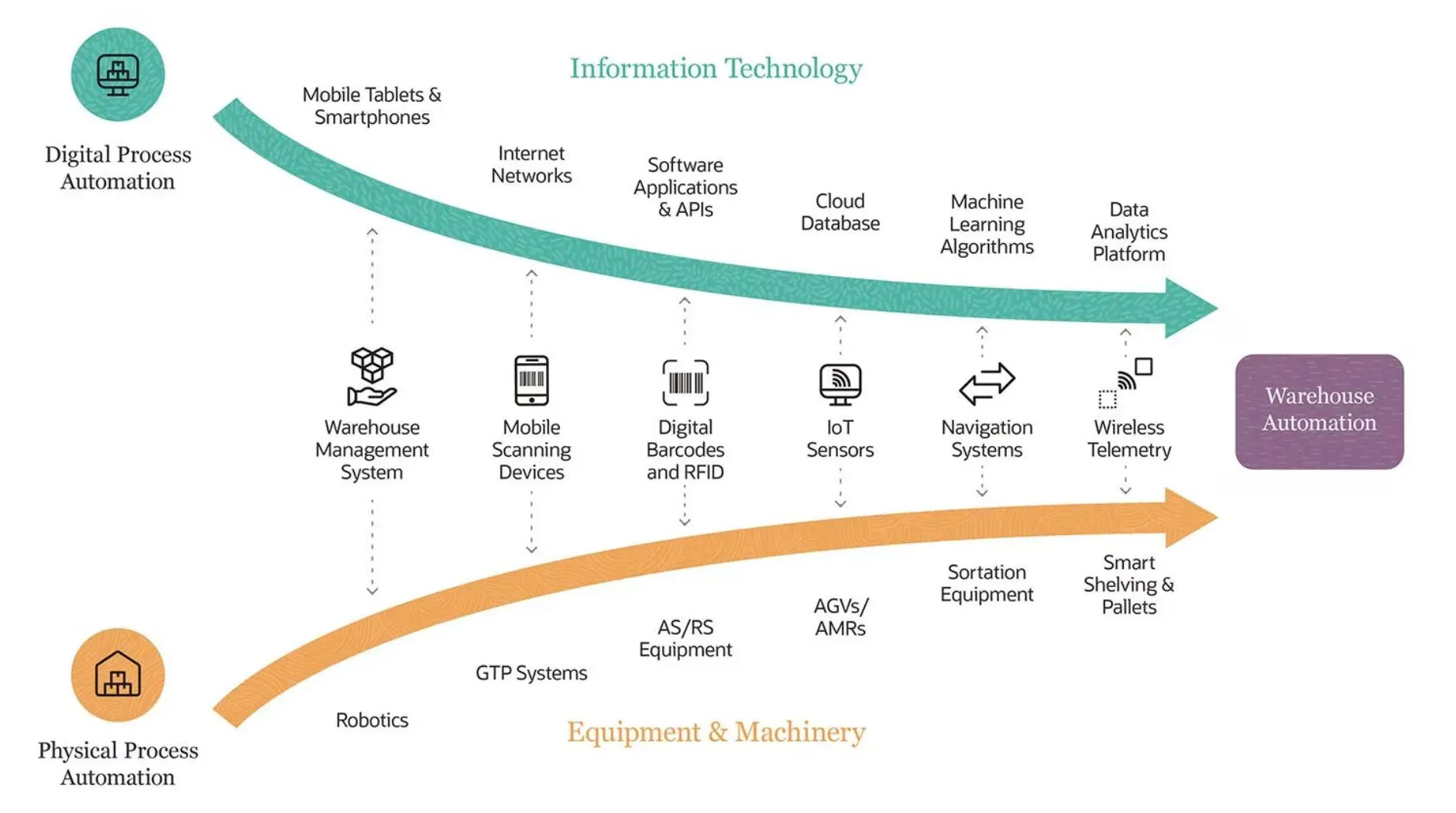 E-commerce and retail
Warehouse automation has revolutionized the e-commerce industry, enabling quick and accurate order fulfillment, reducing shipping times, and improving customer satisfaction.
Logistics
Automation has improved logistics operations by optimizing supply chain management, reducing order processing times, and enhancing inventory visibility.
Travel and hospitality
Warehouses that support the travel and hospitality industry benefit from automation by efficiently managing the storage and distribution of linens, uniforms, and other essential supplies.
Insurance and banking
Automated warehouses play a crucial role in the insurance and banking industries by providing secure storage for sensitive documents and assets and optimizing document retrieval processes.
Government
Government organizations rely on automated warehouses for secure storage of files, evidence, and other important documents, ensuring efficient retrieval and management.
EdTech
The education technology sector benefits from warehouse automation in managing educational resources, textbooks, and equipment, ensuring prompt delivery to educational institutions.
Frequently Asked Questions (FAQs)
Will warehouse automation eliminate the need for human workers?
No, warehouse automation is designed to enhance human capabilities, not replace them entirely. While some manual tasks may be automated, human workers are still essential for managing and monitoring automated systems, as well as handling more complex tasks that require problem-solving and decision-making.
What are the key considerations for implementing warehouse automation?
When implementing warehouse automation, organizations should consider factors such as the upfront investment cost, scalability of the technology, integration with existing systems, training requirements for employees, and potential disruptions to the workflow during the implementation process.
How can warehouse automation improve inventory accuracy?
Automated tracking and monitoring systems in warehouses ensure accurate inventory counts. By using barcode scanning and real-time data, automation reduces the chances of stockouts, overstocking, and inventory discrepancies. This improves inventory accuracy and enables better supply chain planning and optimization.
Can warehouse automation handle various types of products?
Yes, warehouse automation can handle a wide range of products, including small items, large and bulky items, fragile goods, and perishable items. The automation technology can be adaptable and customizable to suit different product types and sizes.
Is warehouse automation expensive to implement?
The cost of implementing warehouse automation varies depending on the scale and complexity of the automation systems. While there is an upfront investment, the benefits, such as increased efficiency, reduced labor costs, and improved accuracy, often outweigh the initial expenses. The return on investment (ROI) analysis should be considered when assessing the cost-effectiveness of implementing automation in a warehouse.