What is Supply Chain Management?
Supply Chain Management (SCM) is the practice of managing the flow of goods and services through the entire production process, from raw materials to finished products reaching the customers.
It involves activities such as shipping, production, and distribution, with the goal of maximizing efficiency, minimizing costs, and delivering value to customers.
Why do we need Supply Chain Management?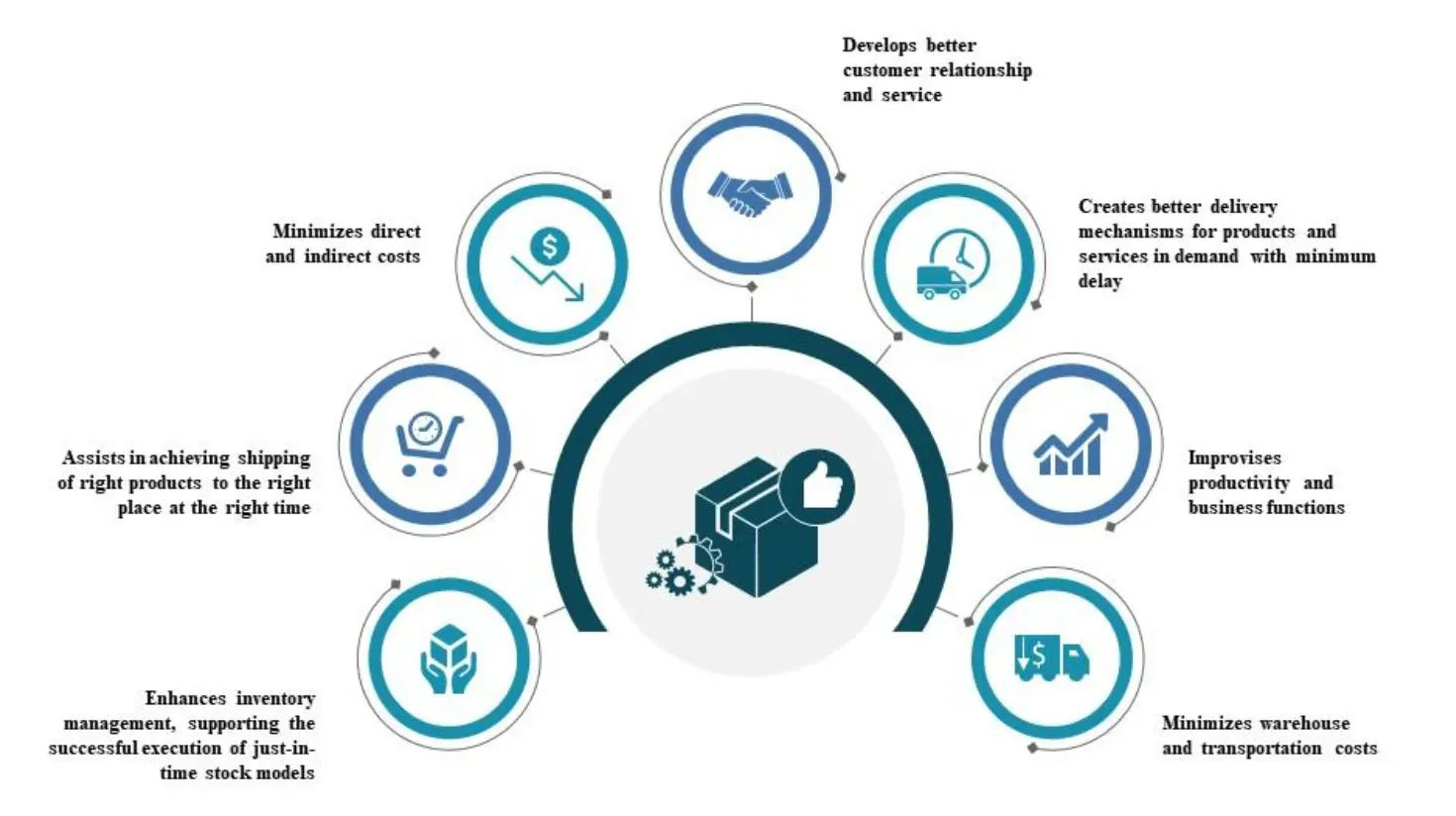 In this section, we'll unravel the compelling reasons why supply chain management is crucial for optimizing business functions, reducing costs, and ensuring customer satisfaction.
Cost Reduction and Efficiency
Effective supply chain management enables companies to streamline operations, reduce costs, and increase overall efficiency.
By identifying inefficiencies and implementing cost-cutting measures, businesses can allocate resources wisely and drive growth.
Improved Collaboration
Supply chain management fosters stronger collaboration between suppliers, manufacturers, and distributors.
By syncing the interests of all parties, it ensures seamless communication and information sharing, resulting in a more harmonious and efficient process.
Inventory Management
Effective supply chain management plays a pivotal role in inventory management.
Balancing the stock levels with demand forecasts prevents overstocking and stock-outs, leading to a reduced carrying cost and higher customer satisfaction.
Enhanced Flexibility and Agility
Robust supply chain management empowers businesses to respond swiftly to changes in market conditions or consumer needs.
By rapidly recalibrating their supply chain in reaction to external factors, companies maintain a competitive edge and better risk management.
Elevated Customer Satisfaction
Supply chain management focuses on delivering the right products at the right time, crucial to ensuring customer satisfaction and loyalty.
By monitoring every aspect from sourcing to delivery, it generates a smooth experience that wins repeat business and positive reviews.
What are the 5 Basic Steps of Supply Chain Management?

Supply chain management can be broken down into 5 major steps, here's a detailed look:
Step 1
Planning
This step involves analyzing data and creating an action plan to match supply with demand, ensuring efficient inventory and manufacturing processes.
It helps avoid the "bullwhip effect" caused by demand variations.
Step 2
Sourcing
In this step, organizations identify vendors who can procure goods and services in the most cost-effective and efficient way.
It includes setting standards for quality and lead time to ensure reliable suppliers.
Step 3
Making
The making step involves transforming raw materials into finished products through activities such as assembling, testing, and packaging.
Step 4
Delivering
This step focuses on using various modes of transportation, such as road, rail, and air, to deliver products to customers according to their demand.
It plays a crucial role in shaping a firm's brand image.
Step 5
Returns
The returns process, also known as reverse logistics, deals with handling returned products.
It includes managing post-delivery support and improving customer relationships by ensuring a hassle-free return experience.
What are the 6 Types of Supply Chain Management?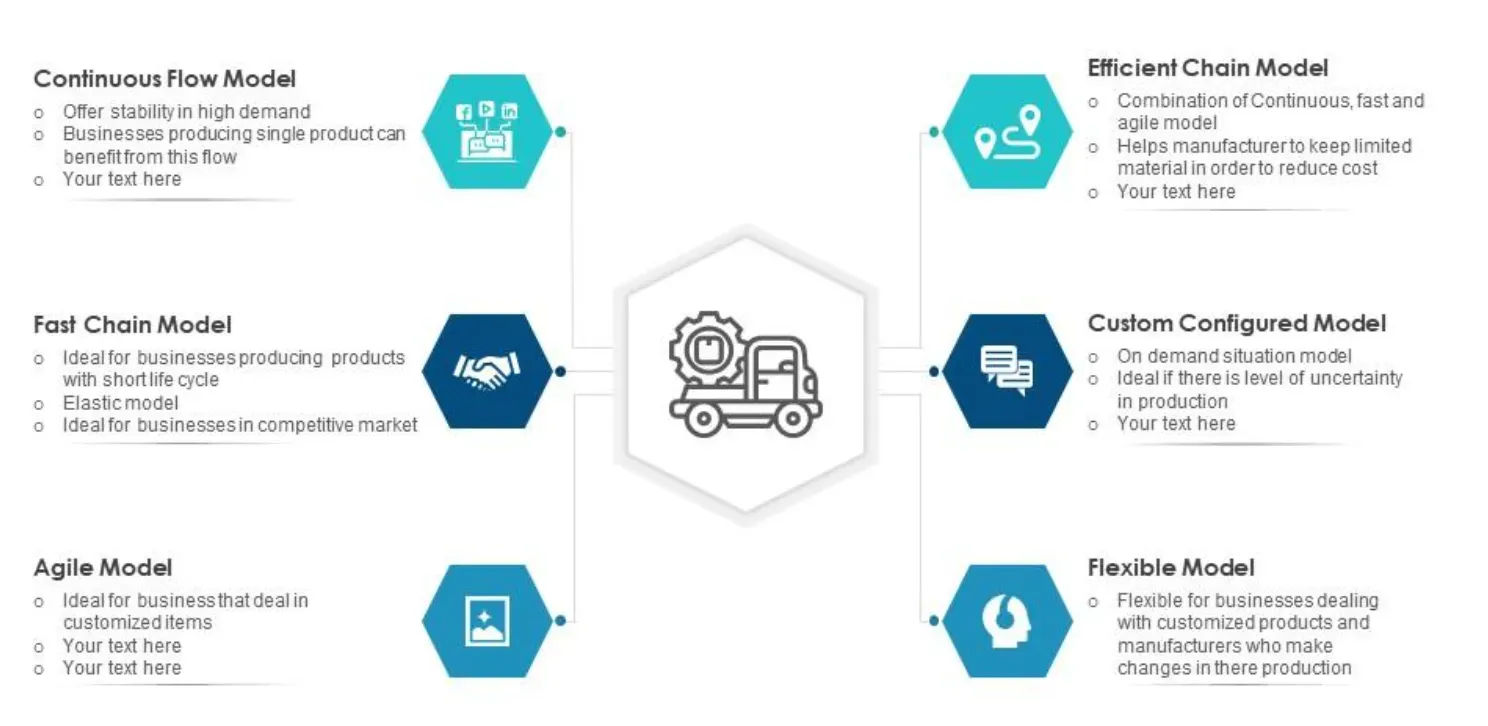 In this section, we'll take a look at the various models used in SCM.
1. The Continuous Flow Model
This supply chain model prioritizes efficiency, making it suitable for manufacturers who produce the same products repeatedly.
It is commonly used in commodity manufacturing, driving lower prices.
2. The Fast Chain Model
This model is all about responsiveness and is ideal for manufacturers with rapidly changing product lines.
It enables businesses to seize the first-mover advantage in trendy markets.
3. The Efficient Chain Model
Designed for hypercompetitive industries, this model focuses on end-to-end efficiency.
It emphasizes production forecasting, machinery asset optimization, and managing commodity and raw material prices.
4. The Agile Model
The agile supply chain model is best suited for manufacturers dealing in specialty items.
It emphasizes small product batches, expert knowledge, and customization. While it may not match the efficiency levels of the efficient chain model at high volumes, it enables businesses to charge higher prices.
5. The Custom-Configured Model
This model combines the features of the agile and continuous flow models.
It focuses on providing custom setups during production and assembly runs, allowing for shorter turnaround times and smaller product batches.
6. The Flexible Model
This all-weather supply chain approach can scale up during peak demand periods and scale down during low-to-no-demand stretches.
It requires the right tools, a broad supplier network, or a team with diverse expertise.
What are the Industries Transformed by Supply Chain Management?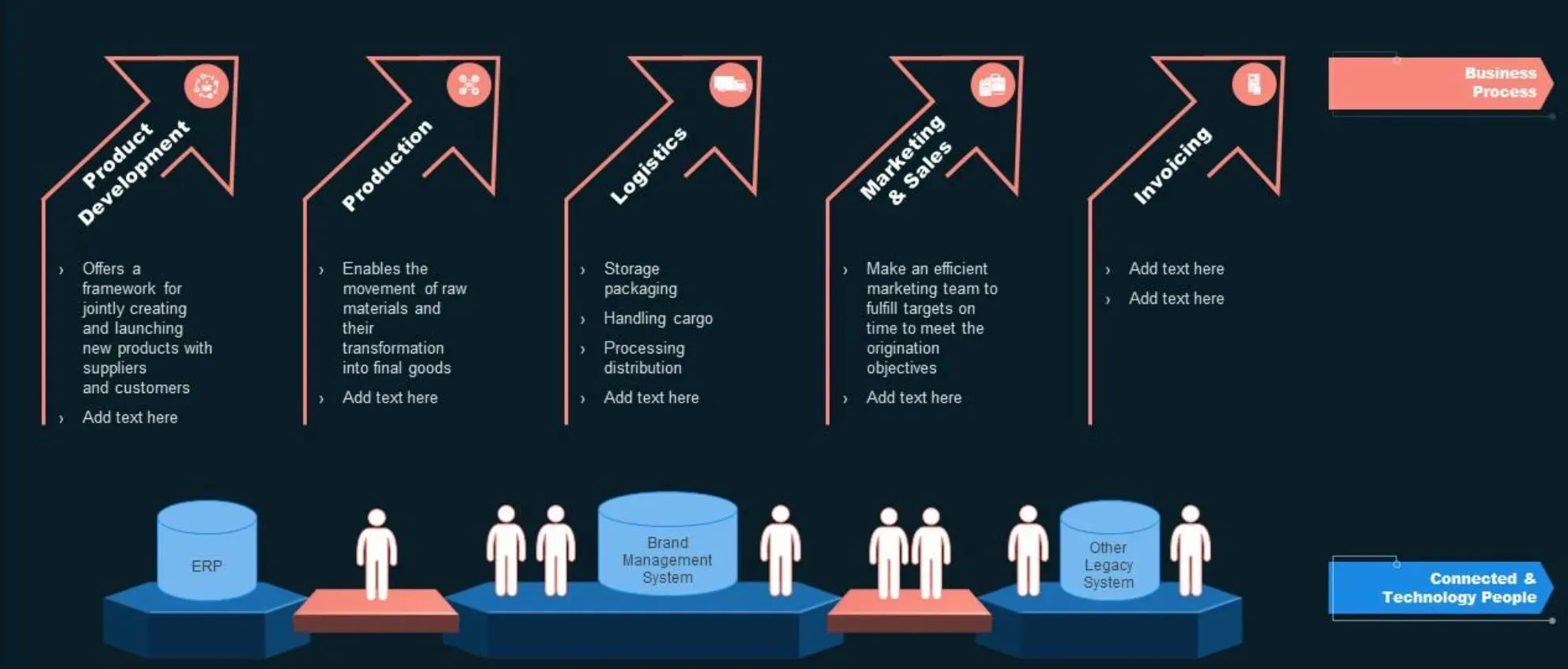 E-commerce and retail industries have undergone a paradigm shift due to the rise of supply chain management practices.
It has enabled businesses to take a data-driven approach to product demand and inventory management.
Supply chain efficiency in this industry is making the difference between successful and collapse.
Logistics
An efficient supply chain management system plays a vital role in the logistics and transportation industry due to the tight delivery time frames required.
SCM enables businesses to streamline their operations, reduce freight costs and increase on-time delivery rate.
Travel & Hospitality
The travel and hospitality industry relies on supply chain management to produce experience-enhancing products at an affordable price.
Systematic sourcing, efficient supply distribution, and waste reduction all contribute to achieving these objectives.
Insurance & Banking
The insurance and banking industries use supply chain management to streamline and optimize their internal support systems, such as process automation, customer support, and financial procedures.
SCM has become indispensable in such industries.
Government
Supply chain management has a significant impact on government projects, from logistics and transportation to forecasting and budgeting.
Edtech
Supply chain management is playing an increasingly significant role in the developing edtech industry. Around planning, procurement, and efficient delivery of online learning materials.
This enables online learning platforms to remain efficient while delivering an exceptional student experience.
Real Estate
Supply chain management is essential in the real estate industry and helps manage the entire purchasing process, including acquisition, renovation, and resale of properties.
What is the Role of Technology in Supply Chain Management?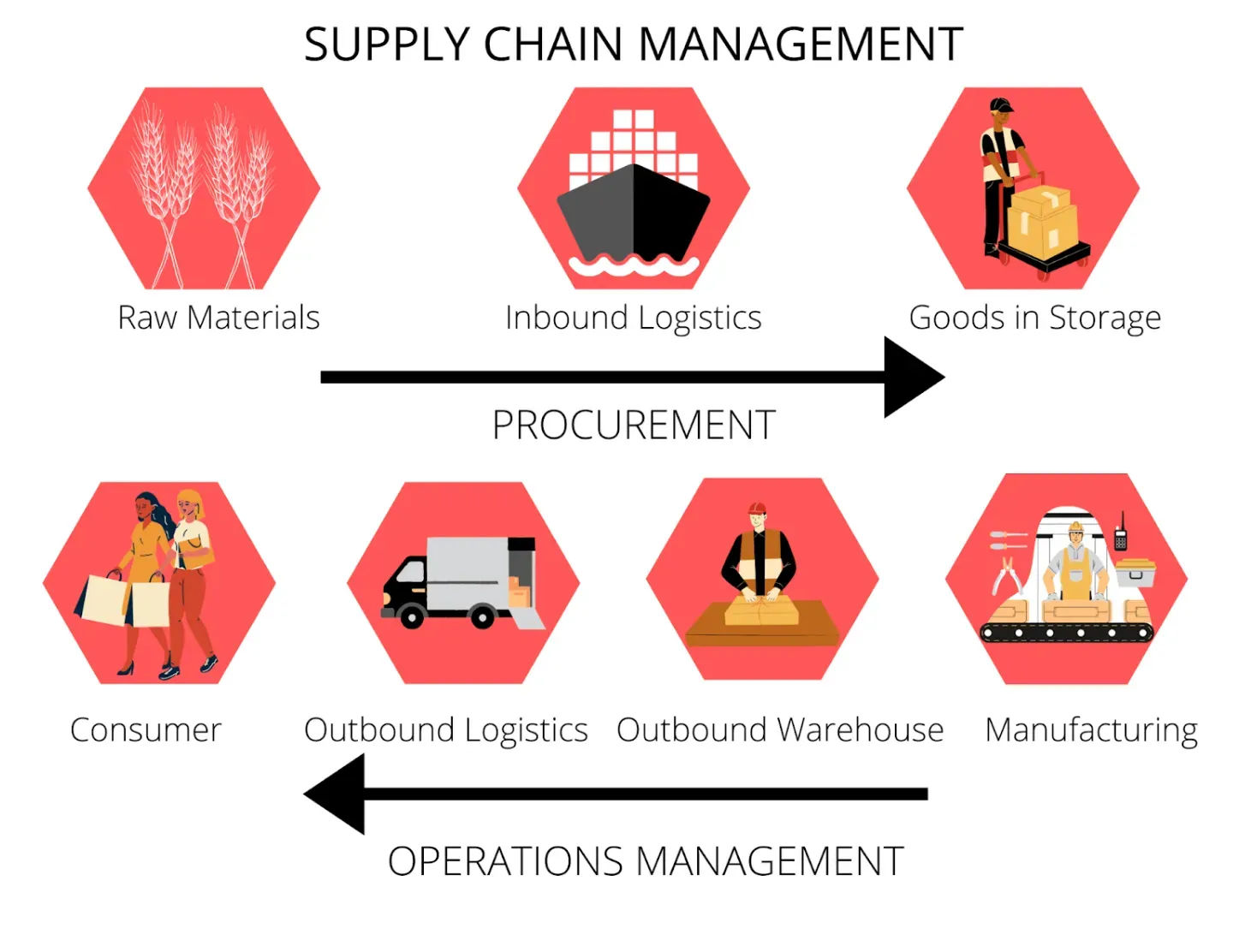 How does SCM and technology go hand in hand, let's take a look at it:
Automation in Supply Chain Management
Automation has enabled businesses to streamline their supply chain process through repetitive activities, improve inventory management, and minimize human error.
AI and Machine Learning in Supply Chain Management
AI algorithms, machine learning, and predictive analytics are capable of analyzing data, predicting outcomes, and identifying operational efficiency opportunities, revolutionizing supply chain management.
Blockchain in Supply Chain Management
Blockchain is transforming supply chain management by enabling secure, and transparent transactions between different participants involved in the supply chain process.
Blockchain technology offers unmatched visibility and traceability, making the supply chain process more reliable and efficient.
Suggested Reading: Blockchain technology: Features & Types
What are the Challenges in Supply Chain Management?

While SCM comes with a lot of good models to help deal with logistics, there are some challenges too, here's a detailed look.
Supply and Demand Alignment
Aligning supply and demand is a complex problem that affects the entire supply chain management process, from planning to returns.
Inventory Management
Having too little inventory can result in lost sales and profits, while having too much inventory can lead to higher carrying costs and increased waste.
Suggested Reading: Inventory Management: Benefits & Types
Transportation and Logistics
Logistics and transportation are fundamental to the supply chain management process, and delays or disruptions can have a severe impact on operations.
Communication and Collaboration
Clarity in communication and efficient collaboration are crucial to a smooth supply chain process. Miscommunication can cause delays and quality issues, impacting the overall process.
Risk and Disruption Management
Risks and disruptions such as natural disasters, trade wars, and geopolitical tensions can cause significant disruption in the supply chain management process and need to be managed correctly.
What are the Best Practices in Supply Chain Management?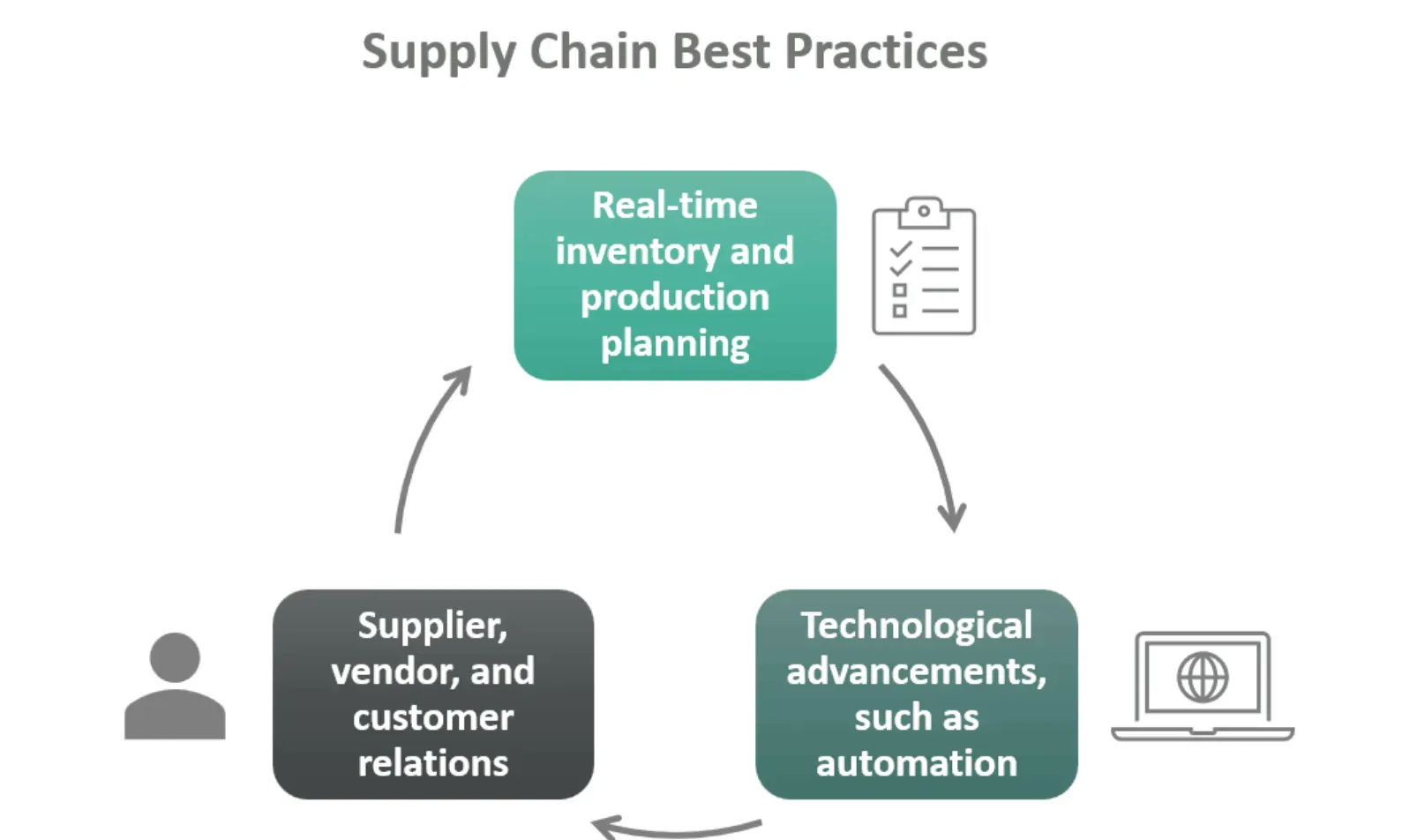 In this section, we'll delve into the top five strategies that define successful supply chain management, guiding businesses to optimize processes, reduce costs, and escalate growth levels.
Enhance Supplier Relationships
Strengthening ties with suppliers is key to a well-run supply chain.
Regular communication, fair deals, and mutual trust build fruitful, long-term relationships. When suppliers feel valued, they're likely to provide better services and concessions in challenging times.
Implement Technology Integration
Integrating technologies like AI, IoT, and advanced analytics can streamline the supply chain.
These tools aid in predictive analysis, risk management, and real-time tracking, fostering informed decision-making and improved efficiency across the entire chain.
Foster Cross-Functional Communication
Encouraging communication and collaboration across departments reduces silos and streamlines processes.
Breaking down these barriers ensures all parties understand how their actions impact others, enhancing overall productivity and morale.
Adopt Continuous Improvement
A successful supply chain avoids complacency. Regular audits, performance evaluations, and training keep the supply chain dynamic.
By identifying areas of weakness and implementing improvements, the chain remains lean, efficient, and competitive.
Prioritize Sustainability
A sustainable supply chain not only benefits the environment but also enhances the business image, attracts conscientious customers, and complies with evolving regulations.
From ethical sourcing to waste reduction, sustainability should be ingrained in every supply chain aspect.
Frequently Asked Questions (FAQs)
How does supply chain management contribute to sustainability?
Supply chain management plays a significant role in promoting sustainability by optimizing transportation routes, reducing waste, and promoting ethical sourcing and production practices.
What are some common challenges in supply chain management?
Common challenges in supply chain management include demand forecasting, inventory management, supplier relationships, transportation delays, and data visibility.
How can supply chain management help in risk management?
By identifying potential risks and implementing contingency plans, supply chain management helps companies mitigate disruptions caused by factors like natural disasters, political instability, or supplier issues.
What is the role of supply chain analytics in decision-making?
Supply chain analytics uses data to gain insights into inventory optimization, demand forecasting, cost reduction, and other factors. It enables informed decision-making to enhance overall supply chain performance.
How can supply chain management adapt to changing market conditions?
Supply chain management needs to be flexible to adapt to changing market conditions. This includes adjusting inventory levels, finding alternative suppliers, or modifying transportation routes based on customer demand and market trends.