What is Customer Support?
Customer support is an essential aspect of any business. It's all about helping the customer, make the most out of a product or service you've purchased.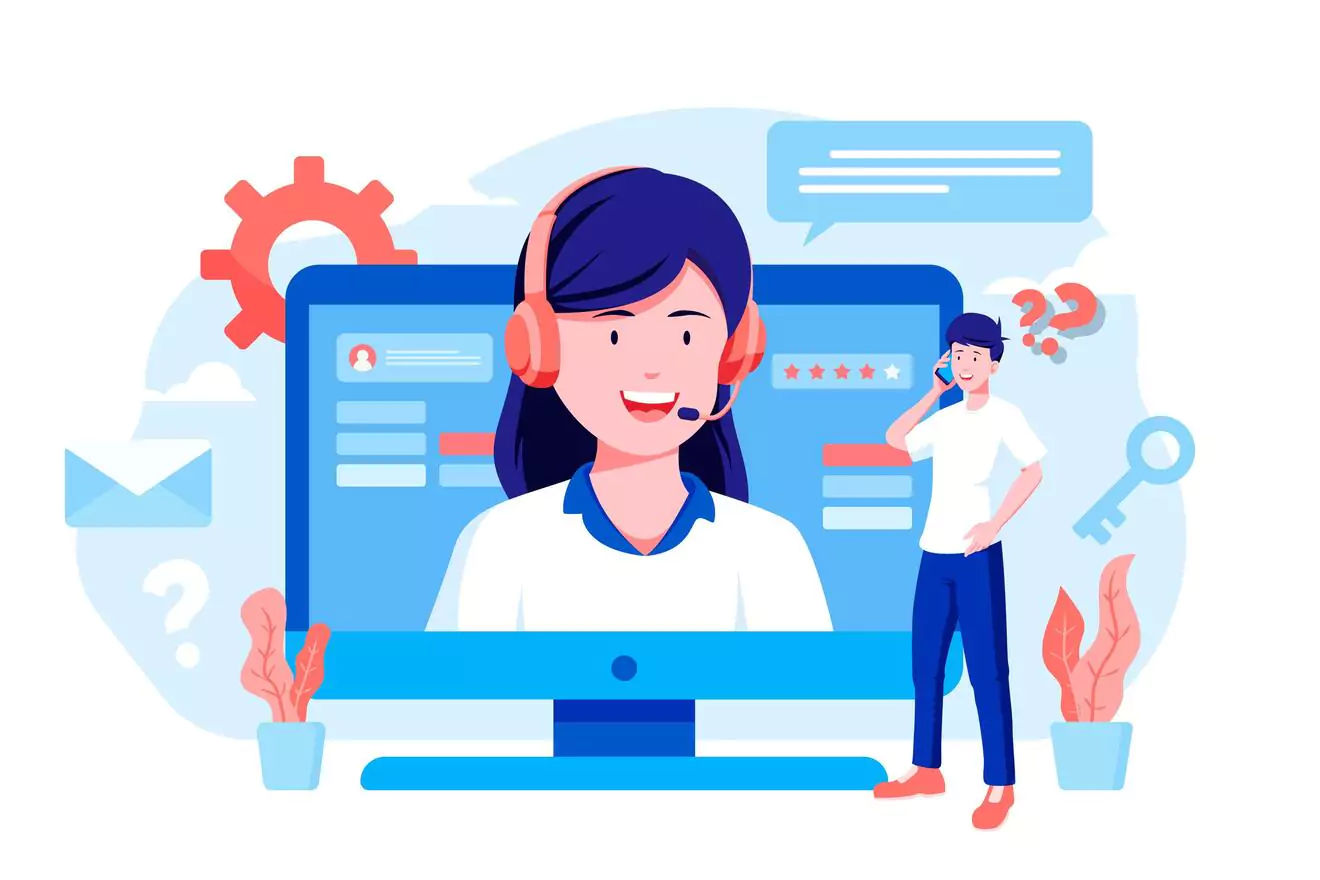 It's about resolving any issues or answering any queries you might have, often through different channels like phone calls, emails, or even live chats. And it's more than just fixing problems; it's about ensuring that you're completely satisfied at the end of the day! In essence, a good customer support team has your back whenever you need it!
Types of Customer Support Channels
Email Support
One of the most common channels, email support allows customers to send detailed queries and receive thorough, well-thought-out responses at any time.
Phone Support
A direct and personal way to engage with customers. It's immediate and allows for a quicker resolution, especially for complex issues that need real-time discussions.
Live Chat Support
Often located on the business's website, live chat support provides instant assistance, answering questions and resolving issues in real time, enhancing customer experience.
Social Media Support
Social media platforms like Facebook, Twitter, Instagram, provide an easy and accessible way for customers to reach out, making support accessible and boosting public image.
Self-Service Support
Self-service portals, interactive guides, and FAQs offer customers the option to resolve issues themselves at their own convenience, reducing support workload and increasing customer satisfaction.
Who is Responsible for Providing Customer Support?
Customer Support Representatives
They are the frontline heroes directly interfacing with customers, resolving issues, providing information, and enhancing customer experiences every day.
Technical Support Specialists
Technicians and engineers often have the role of helping customers overcome more complex or technical challenges related to a product or service.
Support Managers
They lead the support team, ensuring efficient operations, meeting performance targets, and implementing improvements for better customer service.
Company Leaders
CEO's and other top leaders play an integral role in setting the company's customer service culture, values, and direction.
Every Employee
To some extent, every employee in a company has a responsibility in customer support, whether by enhancing product quality, improving services, or advocating for customer needs.
When to Offer Customer Support?
Pre-Sales Support
Pre-sales support is like the helpful sales assistant who helps you find the perfect outfit. It involves providing assistance and information to potential customers before they make a purchase, guiding them towards the right products or services that meet their needs.
Post-Sales Support
Post-sales support is like the friendly waiter who checks in on you after your meal. It involves assisting customers after they've made a purchase, ensuring that they're satisfied with their products or services and addressing any issues or concerns that may arise.
Ongoing Support and Maintenance
Ongoing support and maintenance are like the reliable mechanic who keeps your car running smoothly. It involves providing continuous assistance to customers, such as software updates, bug fixes, and troubleshooting, to ensure that your products or services remain in tip-top shape.
Where to Provide Customer Support?
On Your Website
A dedicated customer support section on your website can provide valuable information through FAQs, troubleshooting guides, and other resources. This can be further enhanced by adding a live chat feature for instant communication.
Social Media Channels
Your customers are likely active on various social media platforms. Offering support via Facebook, Twitter, or other channels can help you reach customers and promptly resolve their concerns in a familiar environment.
Email Support
Providing an email channel for customer inquiries allows customers to share more detailed information about their issues and attach relevant documentation. This is a convenient and widespread method of ensuring customer support.
Telephone Support
While telephone support tends to be resource-intensive, it remains a preferred option for many customers. Telephone support allows customers to talk directly to a representative, which can lead to quicker issue resolution and a more personal touch.
In-App Messaging
If your business has a mobile or web application, offering in-app support gives users an easy way to ask for help directly within your application. Features like chatbots, knowledge bases, and ticket systems can provide convenient assistance without interrupting the user experience.
Why Invest in Customer Support?
Investing in customer support plays a critical role in growing and maintaining a successful business. Here are some reasons why it's so essential.
Enhance Customer Satisfaction
Excellent customer support ensures customers get timely and accurate assistance during their interactions with your brand. As a result, they'll feel valued and experience higher satisfaction, leading to increased customer retention and loyalty.
Drive Repeat Business
When customers receive superior customer support, they're more likely to return for future purchases. By continuously providing exceptional support, you solidify your brand's reputation and encourage repeat business, leading to the sustained growth of your company.
Attract New Customers
Word-of-mouth is a powerful marketing tool. When satisfied customers talk to friends, family, and colleagues about their positive experiences with your brand, it generates new leads and potential customers who might be searching for an organization that offers top-notch support.
Gain Valuable Insights
Customer support interactions provide an opportunity to better understand your customers and their needs. By collecting customer feedback and monitoring support requests, you can identify patterns and areas for improvement that result in the development of better products and services.
Foster Brand Advocates
Investing in stellar customer support transforms happy customers into brand advocates. These advocates effectively promote your business through reviews, recommendations, and social media endorsements. Ultimately, these advocates contribute to your brand's credibility, reputation, and overall success, without additional marketing costs.
By prioritizing customer support and building a team that genuinely cares about customers, you'll set yourself apart from competitors, boost customer satisfaction, and foster a robust, trusted brand in the long term.
How to Improve Customer Support?
Empathize with Customers
Develop genuine empathy by actively listening and understanding customers' concerns. Address issues with sincere care and responsiveness, creating a lasting positive impression.
Offer Multi-Channel Support
Provide customers with multiple support channels such as phone, email, live chat, and social media. This accessibility increases customer satisfaction and helps to resolve issues quickly and efficiently.
Invest in Training
Equip your support team with the needed skills, knowledge, and tools. Regular training and workshops ensure they can handle diverse situations and deliver outstanding customer service.
Utilize Technology
Leverage technological advancements like AI-powered chatbots and CRM systems to streamline customer engagement and support. These tools can handle repetitive tasks, allowing human agents to focus on complex situations.
Consistently Evaluate Performance
Monitor and assess your customer support team's performance through customer feedback, surveys, and key performance indicators. Use this data to identify areas for improvement and continuously refine your support strategy.
Frequently Asked Questions
What is Customer Support?
Customer support is a range of services provided to assist customers in making effective use of a product or service, resolving issues, and ensuring their overall satisfaction.
What Differentiates Customer Support from Customer Service?
While customer service is about delivering a positive customer experience through service attitudes and behaviours, customer support often refers to providing technical help and solving product/service related problems.
What are Examples of Customer Support Channels?
Customer support channels can include email, phone calls, live chat support, social media, self-service portals, and forums.
What is the Role of a Customer Support Agent?
A customer support agent interacts with customers to handle complaints, process orders, and provide information about the organization's products and services.
How Can a Company Improve its Customer Support?
A company can improve its customer support by investing in training for support staff, utilizing technology like chatbots or CRM systems, offering multi-channel support, and consistently evaluating performance.