According to our analysis of Wix, Squarespace, and WordPress, the best overall platform is Wix. It is the best in most areas and works well for novice and advanced users.
On the other hand, WordPress and Squarespace both put up a valiant effort and triumph in their respective categories. Wix is the most famous builder, but it doesn't always mean it's your best choice.
Squarespace boasts fantastic designs, WordPress gives you the most creative freedom, and Wix is the ideal platform for new users.
According to W3techs stats, Wix has a 3.4% market share of all websites that employ content management systems. Wix is the market leader in the necessary website builders category and is now the second-most popular website construction service. Whereas, WordPress is the only platform that has 64.1% of users, according to BuiltWith. Squarespace has a share of 17 percent.
So let's get started. By the time we're done, you'll have discovered the ideal website builder for your requirements!
Squarespace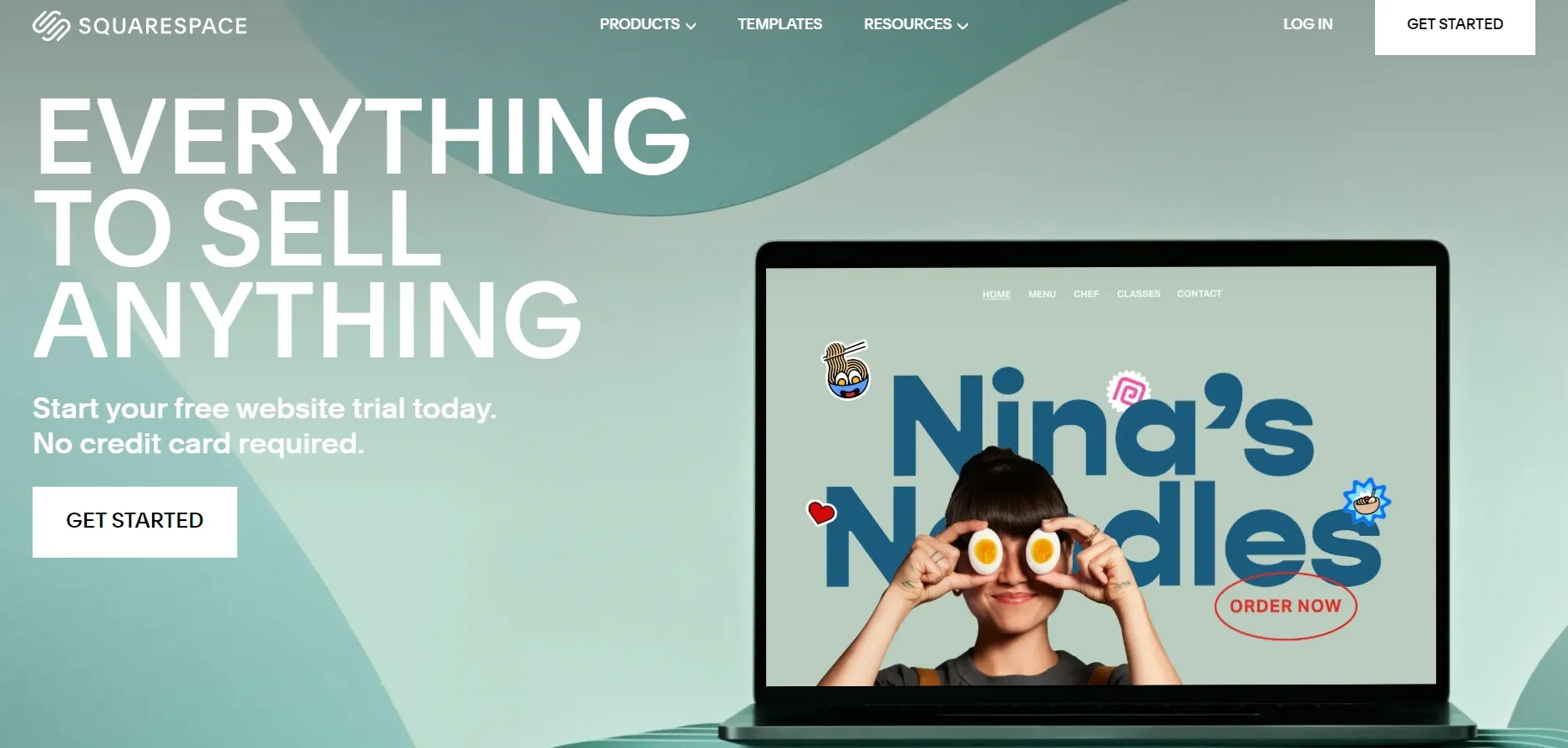 Since Squarespace describes itself as the "leader of website design," you have probably realized that this is where most of its essential functions are located.
Squarespace is feature-rich, unlike Wix, which depends on add-ons to expand its fundamental capability.
There are also more than 100 professionally created templates available. You may alter any of them to match the look and feel of your business because they are all editable. Visually, Squarespace designs are highly attractive and outperform some of Squarespace's rivals.
It's one of the finest website builders if you want to create a visually appealing portfolio or present a lot of visual information.
Furthermore, Squarespace offers a complete set of eCommerce services, such as calendars and tools for events, reservations administration, and even the ability to construct member sections.
To help you expand and develop your site, Squarespace also offers reliable SEO tools and a variety of helpful website metrics. You may evaluate your top-selling goods here and see where visitors are coming from and how they engage with your content.
Squarespace pricing
Squarespace's premium options range in price from $14 to $40 per month. In comparison to other products on the market, this pricing is fair. Only the premium plans are available for purchase. If you don't feel like spending money, you may always sign up for the 14-day free trial.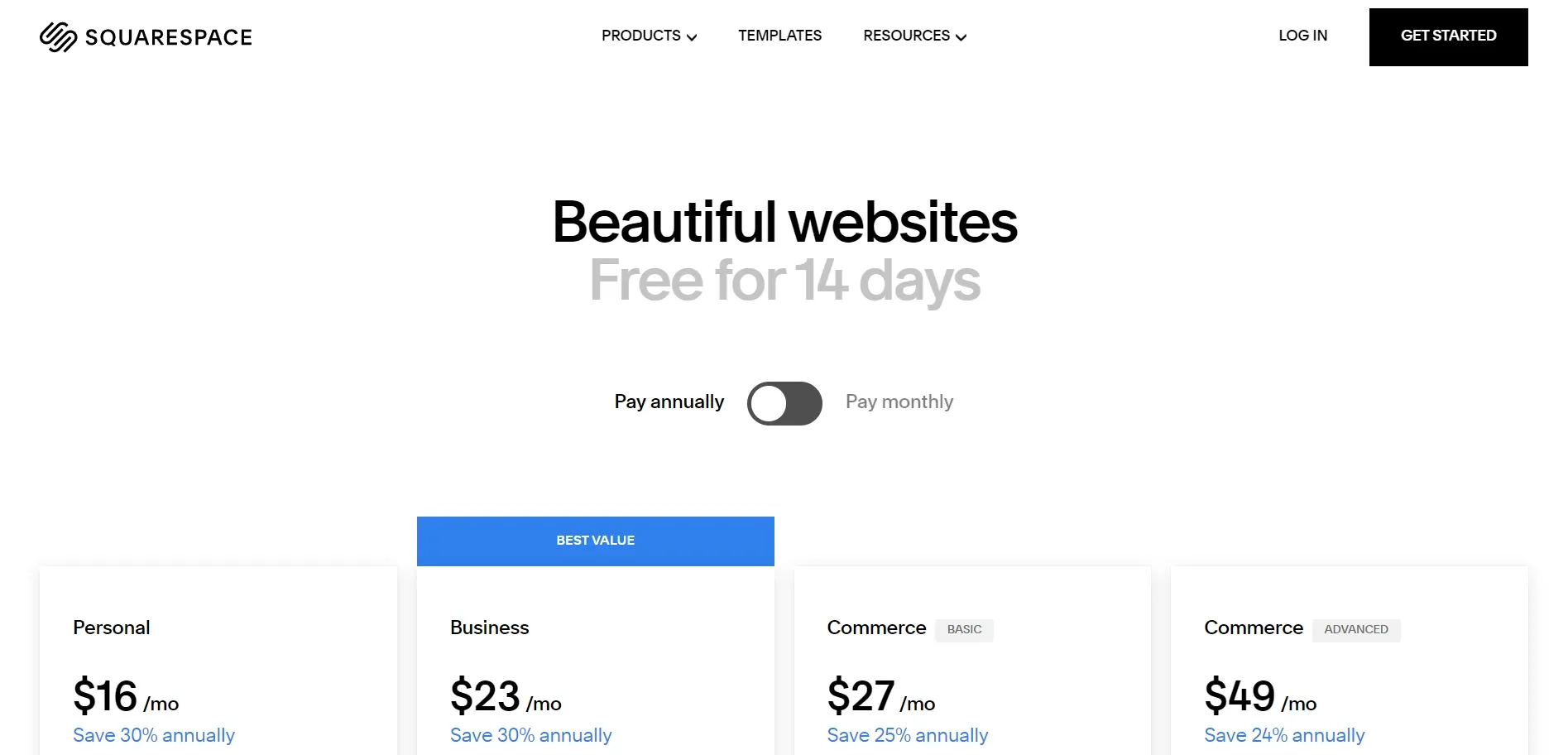 Squarespace features
Tools for blogging: Use an on-site blog to provide news about your business, your life, and thought leadership articles.
Mobile management: While on the road, you can manage and modify your website, blog, and online store using the Squarespace mobile app.
E-commerce: Using a variety of themes, it's simple to build a unique online store.
Customer management: To send targeted email campaigns, you may construct audience profiles and include tags and comments. Additionally, viewing, searching, and filtering through your subscriber, donor, and customer lists is simple.
Scheduling: You can set up automated email reminders, create one or more calendars for you and your team, and sync your calendar with applications like Google and Outlook. Clients can purchase one-time, ongoing, and packaged appointments with you and your staff.
WYSIWYG("what you see is what you get.") Editor: Squarespace's editor allows various content formats and intricate multi-column layouts. If you want more design flexibility, this is fantastic.
Additionally, you may make use of full-screen editing and dynamically responsive designs. Not to mention that your photographs benefit from automated scaling, which simplifies preparing media for your website.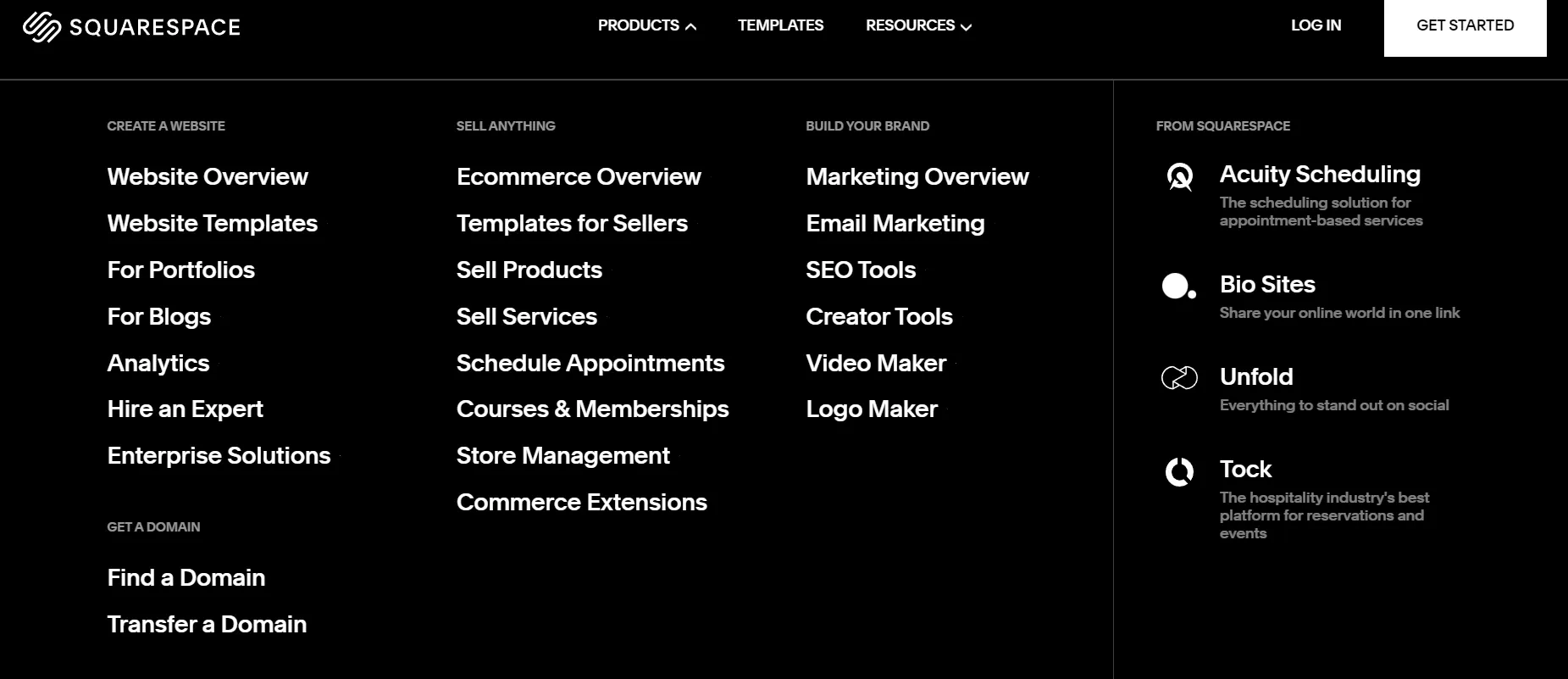 Wix
Anyone new to website creation who needs a simple, affordable, and useful promotional website or online store should use Wix as their platform. Only Wix offers a free plan; however, it lacks the capability for a custom domain name and shows Wix's network advertisements. A fully branded website requires a paid subscription.
Wix is a user-friendly turnkey solution that offers hosting, website design templates, and website functionality, such as e-commerce and other online sales capabilities, all in one tidy package.
When it comes to design, Wix is less flexible than its rivals. Although the method you select offers many customization choices. After it has been published, you cannot modify the appearance of your website.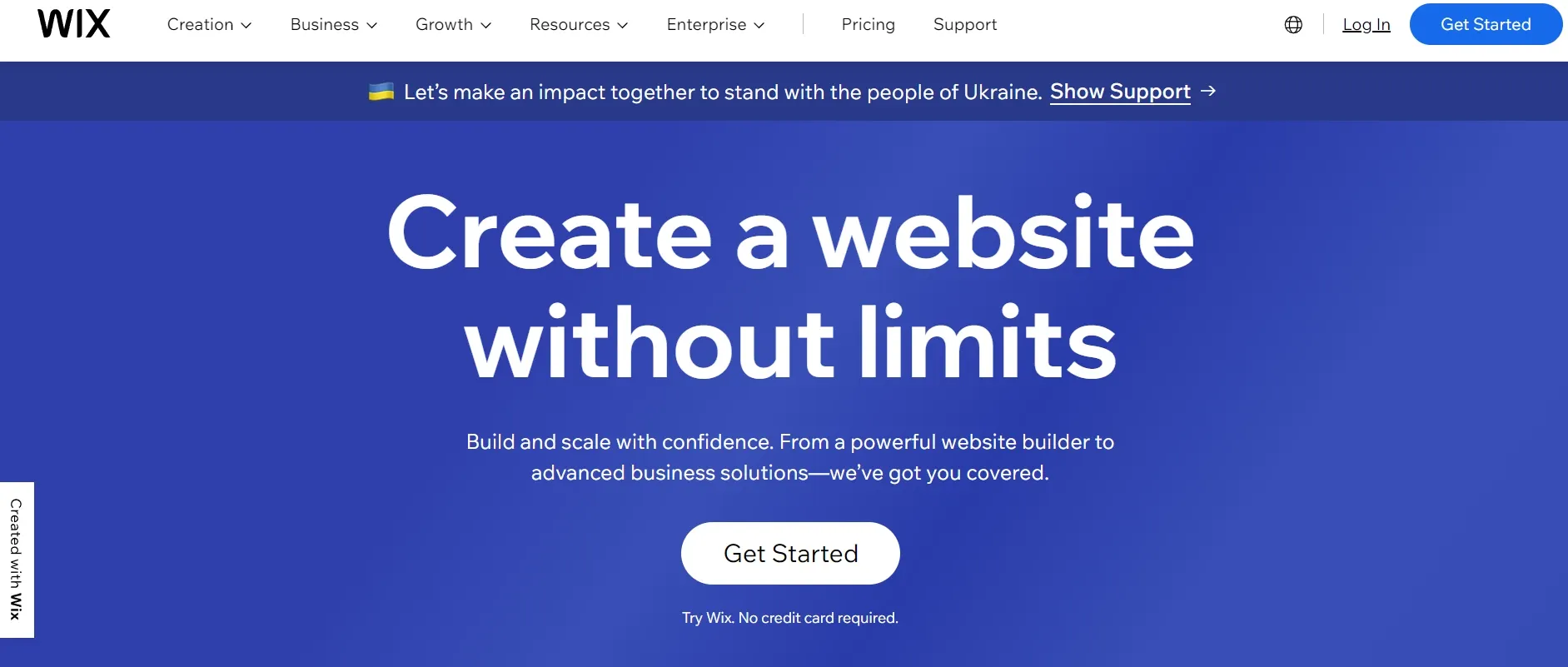 WIX Pricing
Wix's "Website" plans cost between $13 and $39 per month. With any premium membership, the domain name or URL—commonly referred to as the address of your Wix website—is free for the first year. To sell anything online using Wix, you need a "Business & E-commerce" package, which costs between $23 and $49 per month.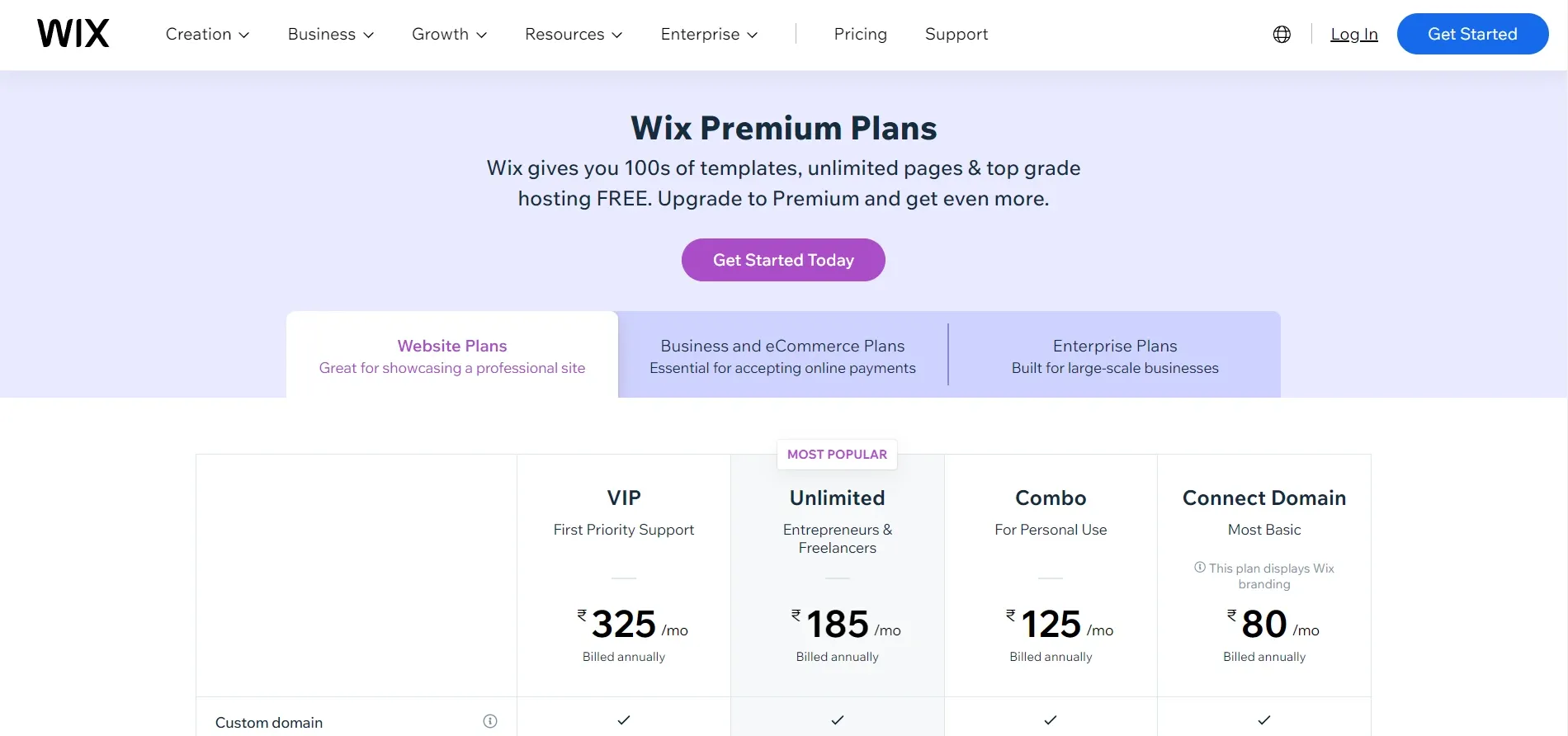 Wix features
Blogging platform: You may create a simple blog with various styles. However, you don't have much control over your posts' layout, tags, or categories. However, Wix allows you to control comments and share blog entries on social media.
Bookings: You can manage reservations round-the-clock from your Wix website on a desktop or mobile device. Additionally, you may synchronize appointments with your Google calendar and provide private or group services.
Music player: To display albums, tracks, and playlists on your site, you may install a customizable music player. Additionally, you may allow commission-free on-site music sharing and purchases from fans. Further, you'll get engagement data.
Media galleries: Include various media galleries on your website. Snapshots from your media collection may be edited, and the image quality can be changed.
Email marketing basics: You may begin by gathering email addresses and contacting your clientele via email campaigns.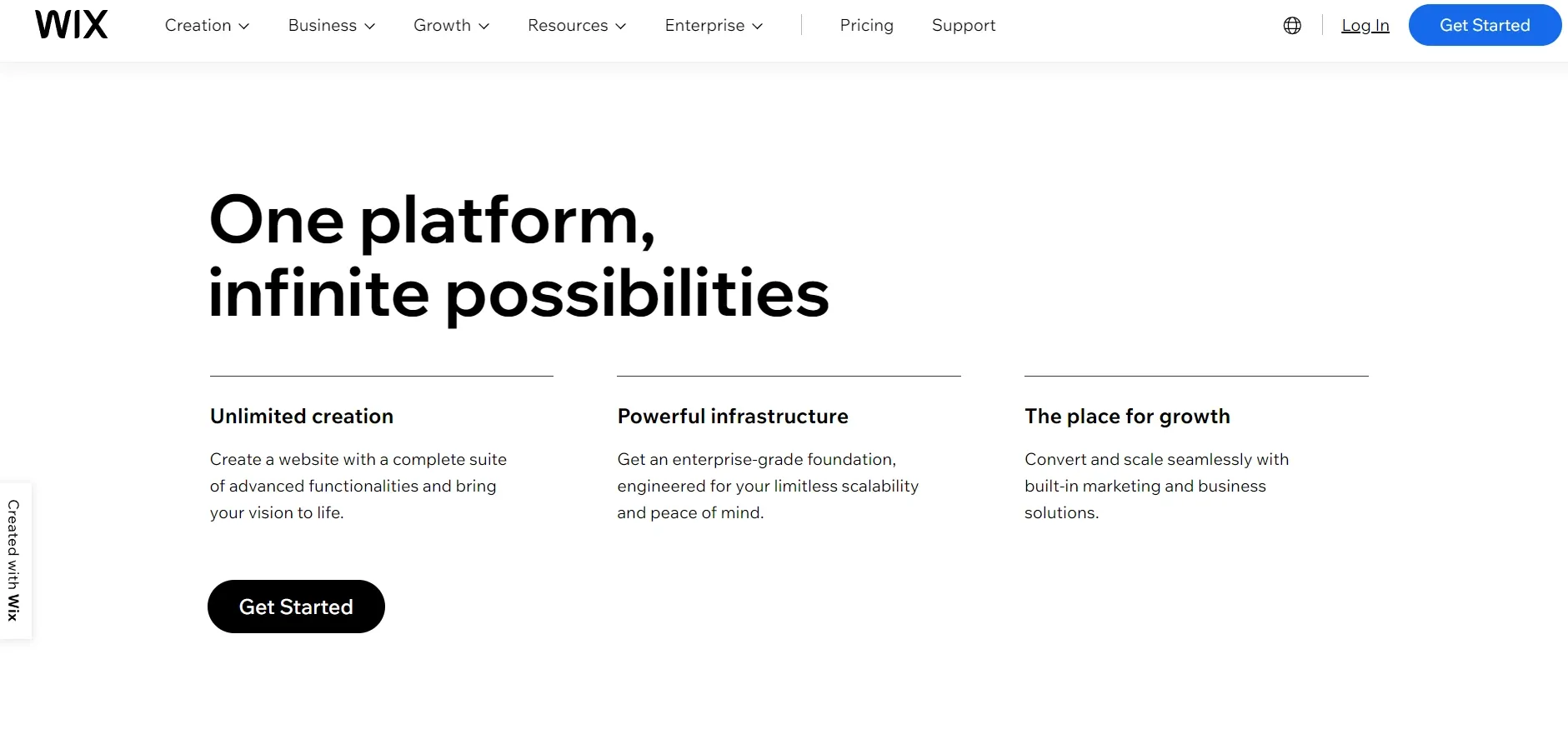 WordPress
Without having any prior technical knowledge, WordPress is a Content Management System (CMS) that offers a framework for building and maintaining websites. With the help of this tool, you can customize practically every element of your website.
In 2003, Matt Mullenweg and Mike Little created the first iteration of WordPress. It began as a platform for people who sought to create simple blogs and post them online. However, it has developed into a flexible and effective tool for creating any website.
There is a difference between WordPress.com and WordPress.org. The first is a website builder that lets you create and host a website without spending any money. It is simple to use. However, it has limited possibilities. But, WordPress.org is a more robust platform.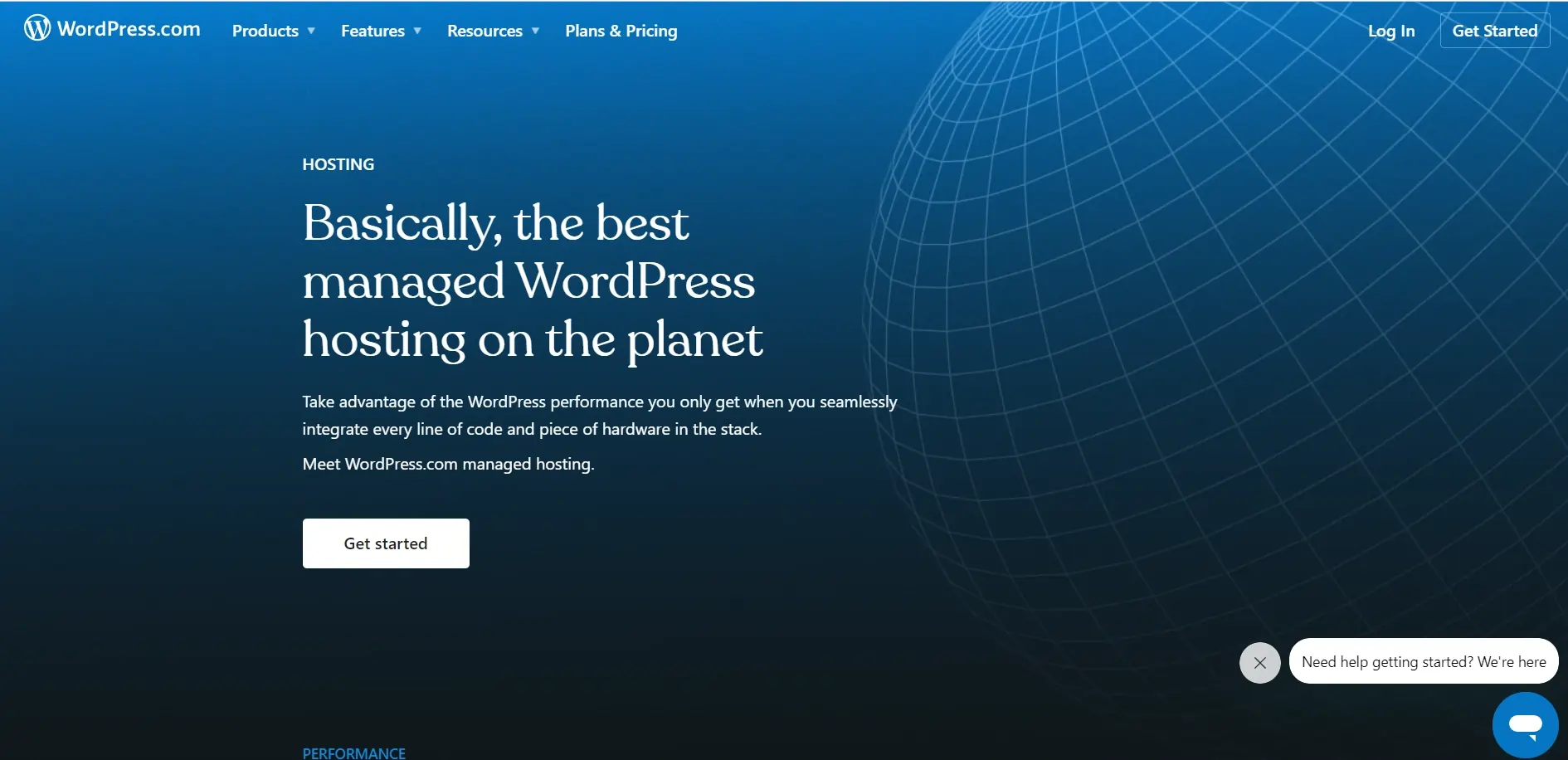 WordPress pricing
Building a WordPress website for a business typically costs between $75,000 and $115,000. Upkeep for a WordPress website ranges from $75 to $15,000.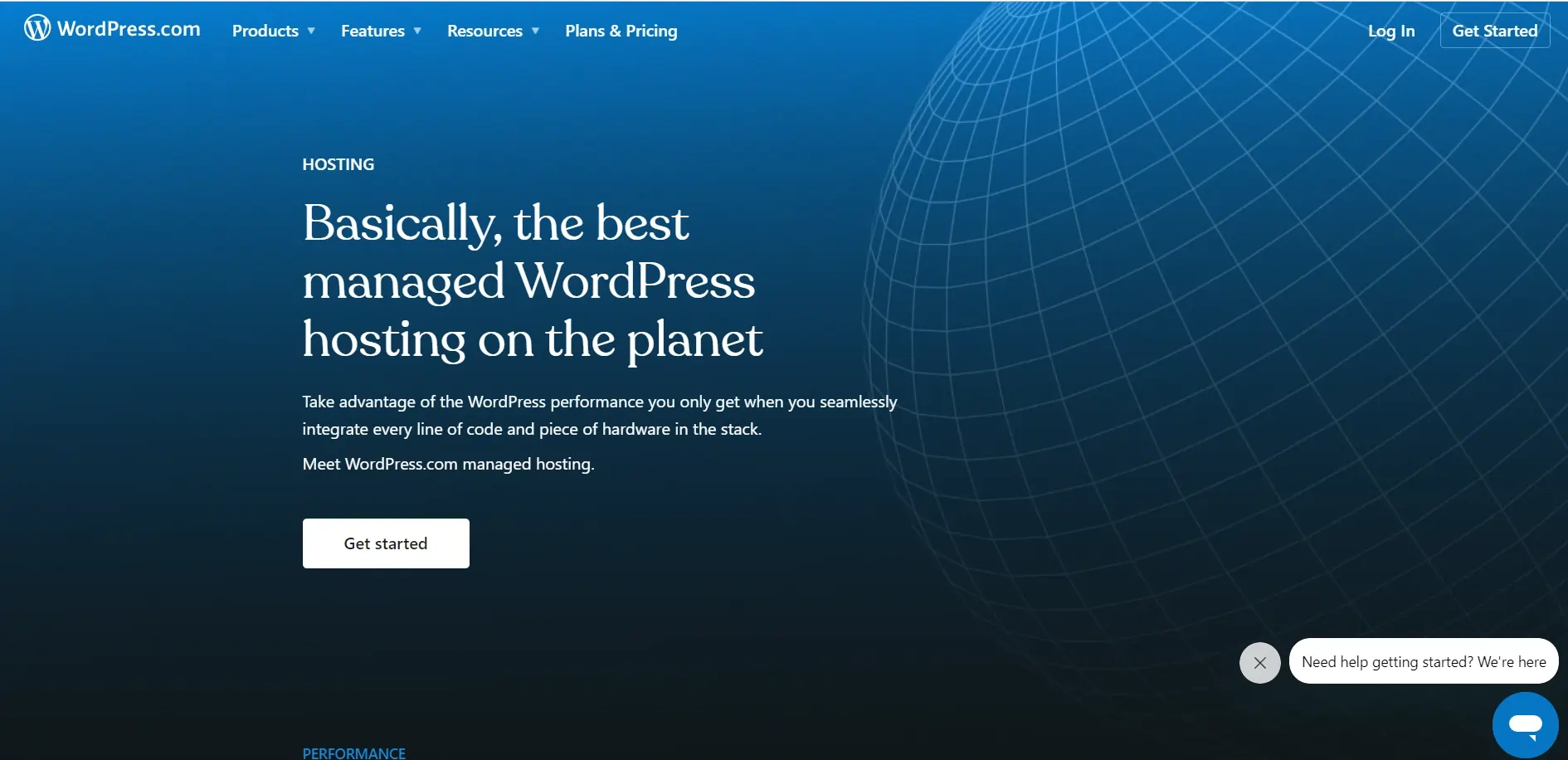 WordPress features
Website builder: To design your website, select from hundreds or even thousands of WordPress themes. The best part is that you can change your theme at any moment and create a unique brand identity using various website-building pieces.
With WordPress's new FSE features, you may also design global styles and arrange the layouts of your website in any way you choose.
Accept credit and debit card payments online: Include a payment block to take payments online for digital downloads, memberships, services, contributions, tips, etc.
Community: You'll get access to the active WordPress community. It is a fantastic chance for networking, and should any problems develop; assistance is always available.
Complete freedom for customization: You may alter the source code of your WordPress website. Therefore, you can modify your site in any way you see fit, provided you have the necessary technical skills. To completely personalize your website, you can create your themes and plugins.
Built-in blogging: WordPress comes with some of the most potent blogging tools. Your postings may be scheduled, categorized, SEO-optimized, media-embedded, and structured.
Backup: You'll also benefit from automatic backups, which allow you to restore a prior version of your WordPress website instantly.
Add administrators: You can include other users to assist with managing and creating content for your website.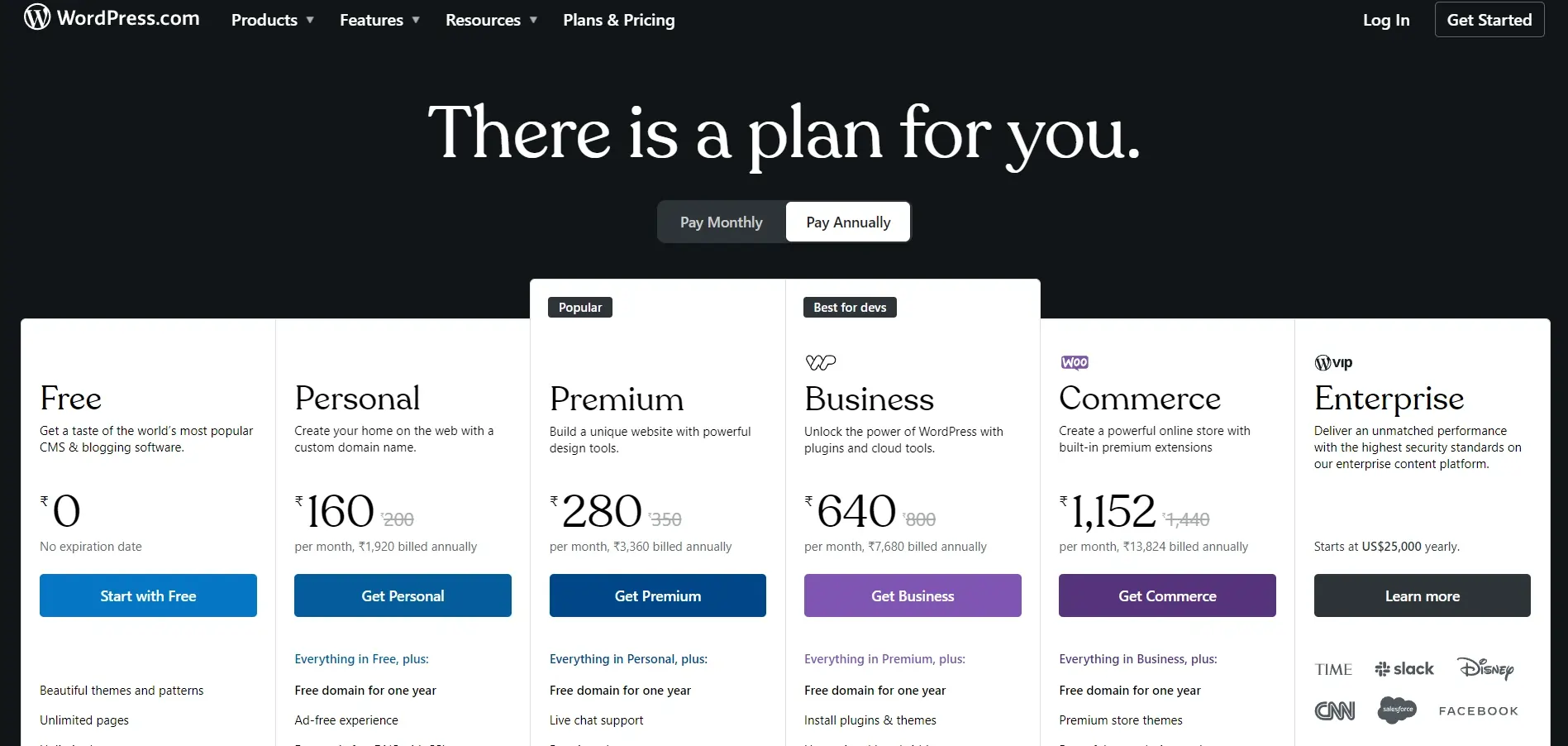 Conclusion
All three services come with their own set of advantages and disadvantages. Whatever you choose, you can quickly develop a professional-looking website with any of them, though some may take longer. The extra features are what set these three solutions apart in distinct ways.
Finally, it is where WordPress excels. If you know HTML or CSS coding, Wix and Squarespace may feel restrictive (though the latter enables some tweaking on select packages), but WordPress allows you to be genuinely hands-on if you choose. Regarding e-commerce, none of these services are significant for a huge company, but we recommend Squarespace for a smaller company, with Wix coming in second.
WordPress.com is a fantastic platform for building a blog or a necessary personal website. Regarding general customizability and creative flexibility, Wix is undoubtedly the best website builder, while Squarespace excels because of its expert designs and top-notch native connections.
If you want an accessible and reliable customer service alternative, your best choice will be BotPenguin!
Frequently Asked Questions (FAQs)
Which platform, Squarespace, Wix, or WordPress, is better for creating a website?
Squarespace, Wix, and WordPress are all popular website builders, but the choice depends on your specific needs.
What are the key differences between Squarespace, Wix, and WordPress?
Squarespace offers sleek templates and built-in features, while Wix provides more design flexibility. WordPress offers the most customization options and is ideal for complex websites.
Which platform is more user-friendly: Squarespace, Wix, or WordPress?
Squarespace and Wix have user-friendly interfaces with drag-and-drop functionality. WordPress requires more technical knowledge but offers extensive flexibility and control.
Are there any limitations on design options with Squarespace, Wix, or WordPress?
Squarespace and Wix offer extensive design options, but customization might be limited compared to WordPress, where you can create a unique design using themes and plugins.
Which platform is more suitable for e-commerce websites: Squarespace, Wix, or WordPress?
Squarespace and Wix both provide built-in e-commerce features, while WordPress offers numerous plugins like WooCommerce, making it highly customizable for online stores.
What are the pricing plans for Squarespace, Wix, and WordPress?
Squarespace and Wix offer subscription-based plans, including hosting. WordPress is free, but you'll need to pay for hosting and possibly premium themes or plugins.