Today, if someone wants to build a website WordPress is the perfect place to build one. According to Kinsta, WordPress creates 40.03% of the current websites. WordPress provides a platform to establish websites for different purposes.
WordPress helps in developing Business websites, e-commerce websites, blogs, portfolios, social networks, etc. Once you have made your website on WordPress, you would need integration with third-party platforms. These plugins are essential to drive traffic and achieve sales.
It makes a lot of sense to have information about such plugins beforehand or as soon as you are done with the website. So are you looking for the plugins that your WordPress website might need? If not you should be. This article will outline the information about the best WordPress Plugins a website will need
WordPress has plugins for SEO, contact form, blog designs, spam protection, google analytics, and many more. There are more than 54000 plugins available free of charge in the official plugins directory. Out of these many plugins, selecting specific plugins for your device can be complicated.
We are here to sort out your confusion by listing down the 11 best plugins that your website would usually depend on.
WordPress Plugins
The software that increases the functionality of a WordPress website. These website extensions are in the PHP programming language. WordPress is also written in PHP paired with other database management software.
Hence, WordPress websites integrate plugins. Currently, 55,463 free plugins are available. 7,200 plugins are premium. The paid plugins provide support in maintaining the latest version of the website.
One can also add chatbot in WordPress either by using a plugin or creating using a Chatbot Building Platform. For that we have BotPenguin.
BotPenguin offers chatbot creation for social platforms, websites, wordpress:

Most Popular Plugins with Highest Installation
Among many plugins, few of these have more than 5 million installs.
This WordPress plugin examines the comments and contacts on the website. Besides this, cross-checks them from Akismet global data of spam. Akismet protects against spam on your website.
It is available in 72 different languages. It is one of the most popular free plugins available on the plugin directory.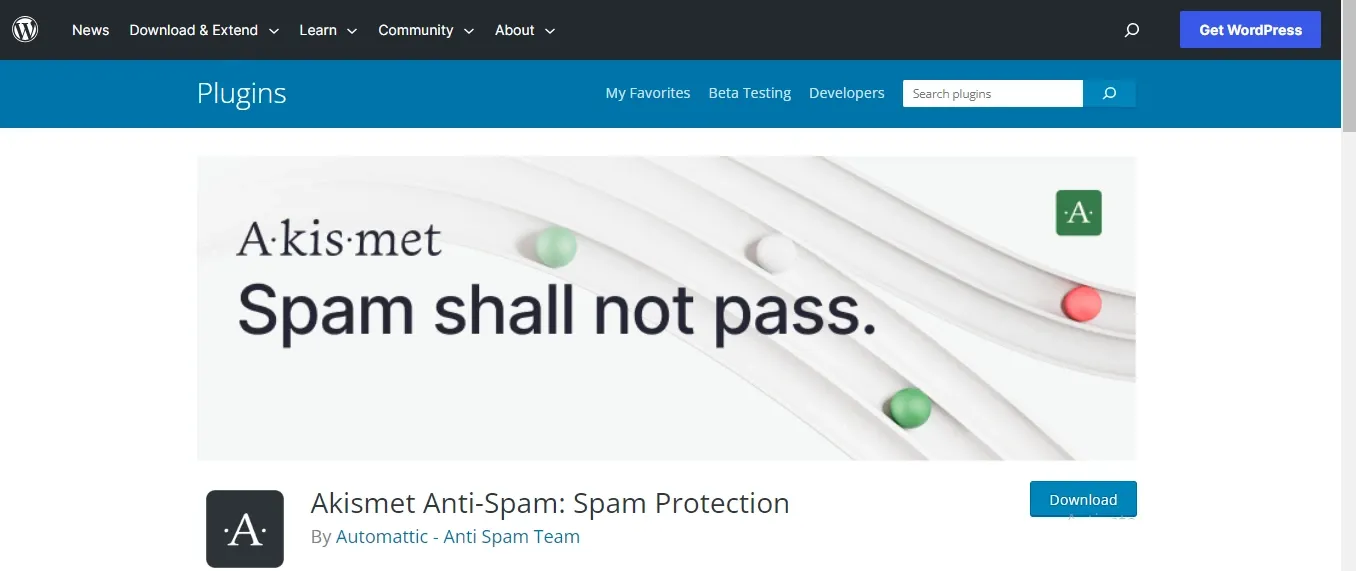 Akismet Anti-spam filters the spam
The comments filtered by Akismet can be visible in your status history.
To save your disk and maintain speed, it discards and blocks the worst spam.
The comment body shows URLs to avoid hidden and misleading links.
WooCommerce Plugin
This plugin facilitates e-commerce to your WordPress website. WooCommerce was launched in 2011. It is a free plugin.
As per the data on BuiltWith.com, WooCommerce integrates 99% of WordPress e-commerce websites in the UK, US, and Canada.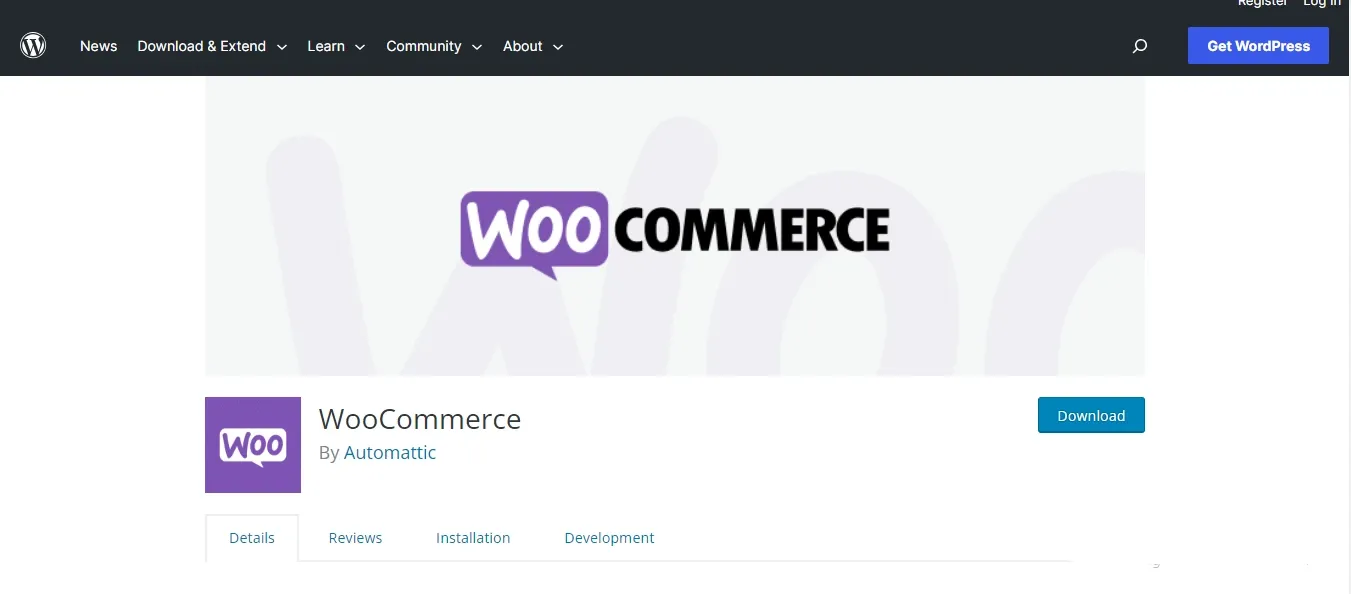 Features of WooCommerce Plugin
Proper data management
WooCommerce protects your data and you will have control over the data.
Shop cart with numerous options
WooCommerce allows you to design your online store as you want.
Various payment options for your customer. It implements the payment through cash, checks, credit cards, debit cards, and other online payment facilities.
These WordPress Plugins enable the geolocation of the customers. This provides accurate prices including taxes.
WooCommerce allows selling worldwide and facilitates checkout control on you.
It has the provision of choosing the currency to sell products.
It gives complete control of products.
Allows you to share unlimited products on your online store.
No bound on the type of products
Your Customers can review various options available in the product on your store based on size and color.
It manages your inventory. WooCommerce notifies you of the low stock of products or sold-out products.
Comfortable shipping options
It has easy shipping options including Local delivery, international shipping, free shipping, etc.
It is backed up with SEO optimization tools. Potter and York, Singer, Root Science, etc. are the websites built on this WordPress Plugin.
Yoast SEO
A WordPress Plugin that offers SEO services. "Yoast SEO" was launched in 2008.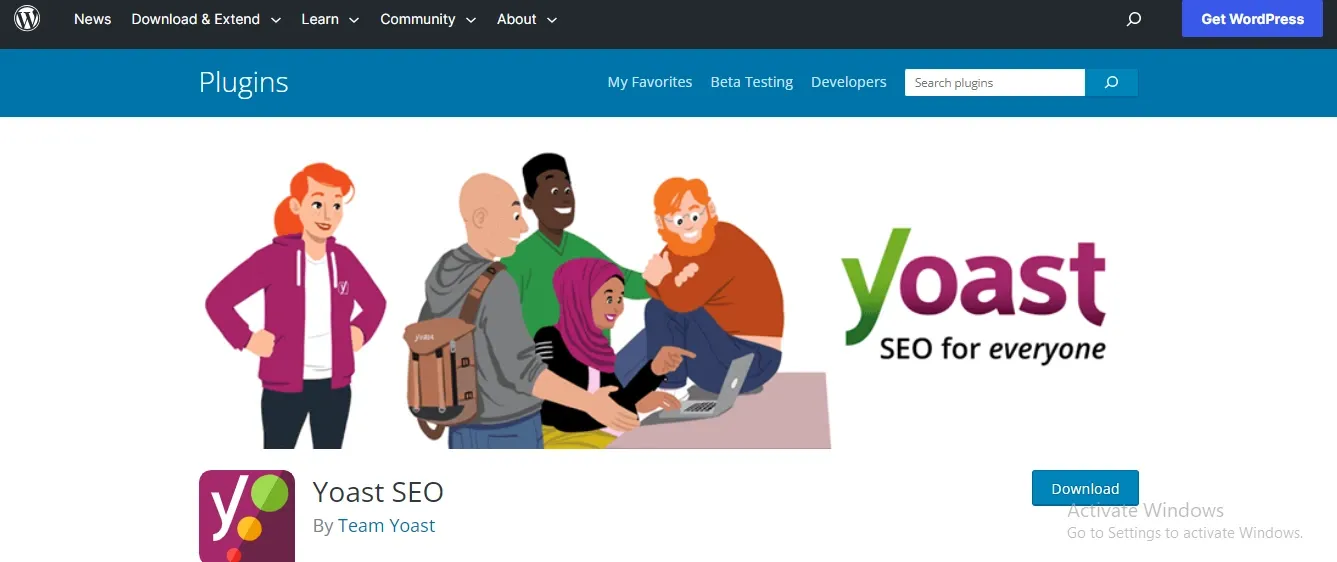 Features of Yoast SEO
It provides canonical URLs and meta tags using technical SEO.
Advanced XML sitemaps for Google to understand the structure of your website.
Yoast SEO performs Meta and title description templating to receive consistent snippets. It also improves brand image.
Controls site breadcrumbs, to allocate to users and search engines
The website will load fast with the data managing system of the WordPress
Jetpack
This WordPress Plugin is for site protection. The purpose of Jetpack is to make WordPress websites easy and fast. They provide real-time backup and restore benefits, malware scans, spam protection, etc.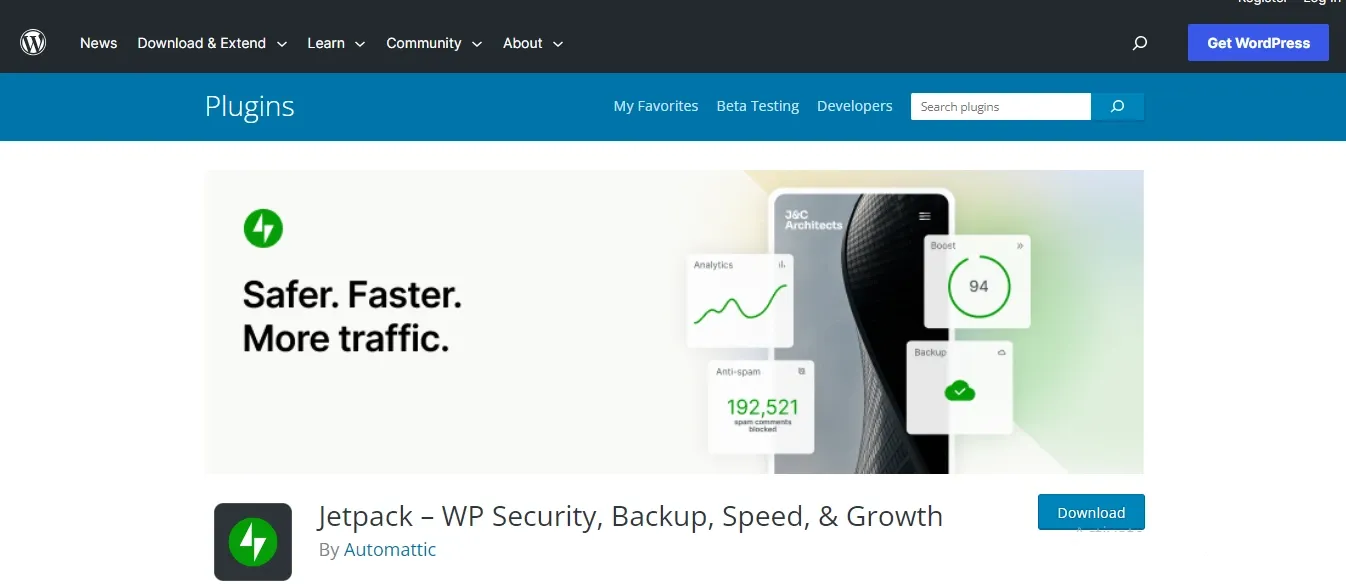 Features of Jetpack
It enables automatic backup and restores the facility in a click. The storage is unlimited in Jetpack.
The WordPress plugin provides migration to theme files, new hosts, and plugins to a new database. It also allows duplicating websites, cloning websites, repairing broken WordPress websites. Additionally, it helps create a full database backup.
Jetpack aids in Coordination, maintenance, troubleshooting, and debugging the website.
Jetpack scans malware and checks on security for code threats. Moreover, it blocks spam comments using the anti-spam feature of Akismet.
It secures the website login page from attacks
This WordPress plugin notifies you of your website's uptime and downtime.
Assures two-factor authentication (2F) and extra protection on WordPress.com powered login.
The Content Delivery Network (CDN) of Jetpack reduces site loading time.
Classic Editor
The editor plugin to restore the previous WordPress Editor. A perfect plugin for someone who wants to work with a classic WordPress editor.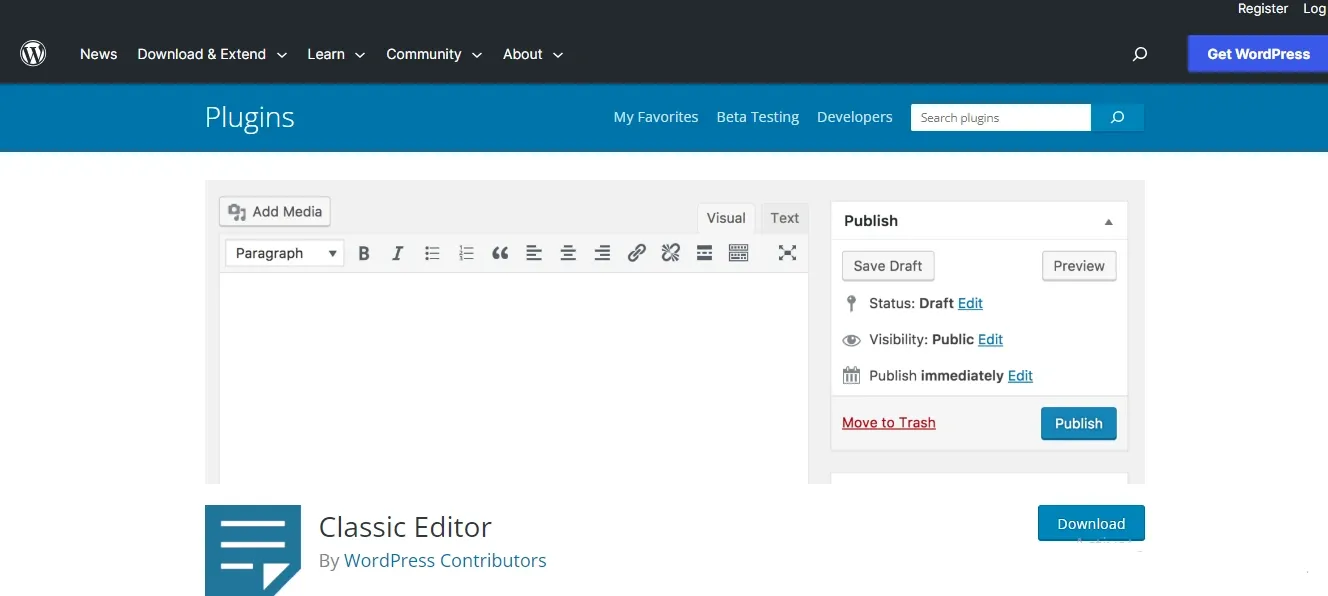 Features of Classic Editor
It allows the administrator to set the default editor or to grant the privilege to users to change the editor.
Users can choose from different editors for the different posts if allowed.
This WordPress plugin includes filters to allow other plugins to change the settings.
Contact Form 7
The WordPress plugin for the formation of contact forms and contact pages on the website. Contact Form 7 provides several customizable contact forms. It is a free plugin.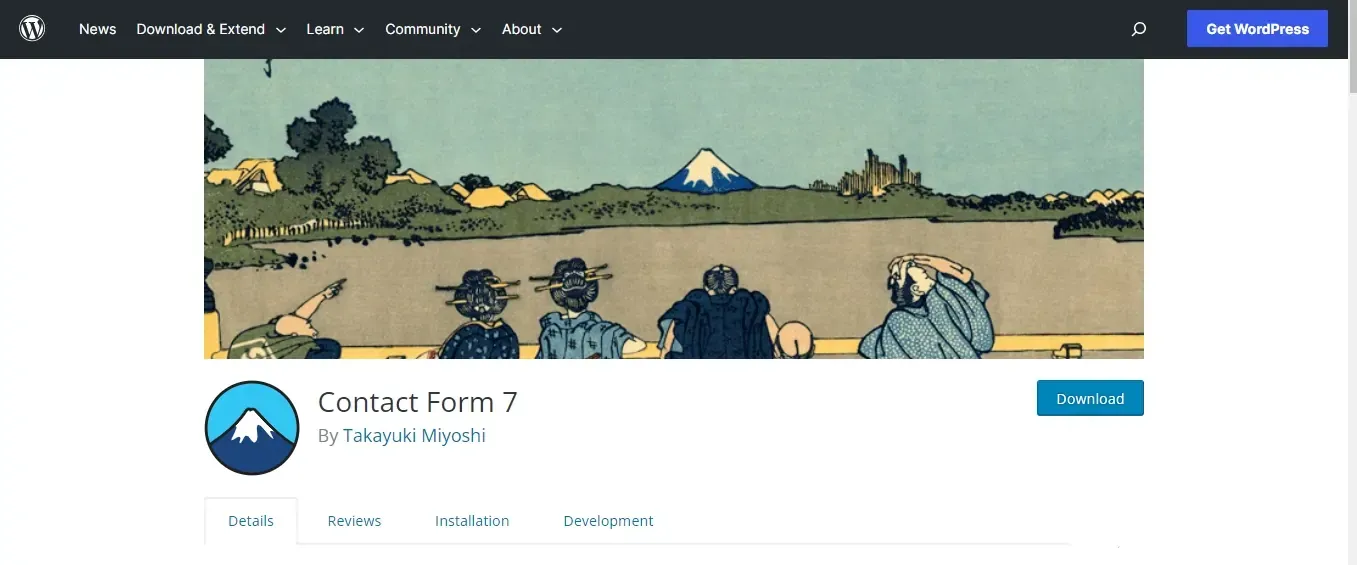 Features of Contact Form 7
To maintain privacy and security there are various features Contact Form7 has. There are certain features you need to activate to confirm the privacy policy
The feature of reCAPTCHA is to confirm that a human is operating.
Akismet automatic spam detection feature.
Constant contact for reliable email subscription services.
Sendiblue to have access to Sendiblue API.
Stripe for credit card payment device.
Really Simple SSL
Really Simple SSL plugin arranges your website to run HTTPS by detecting the website setting.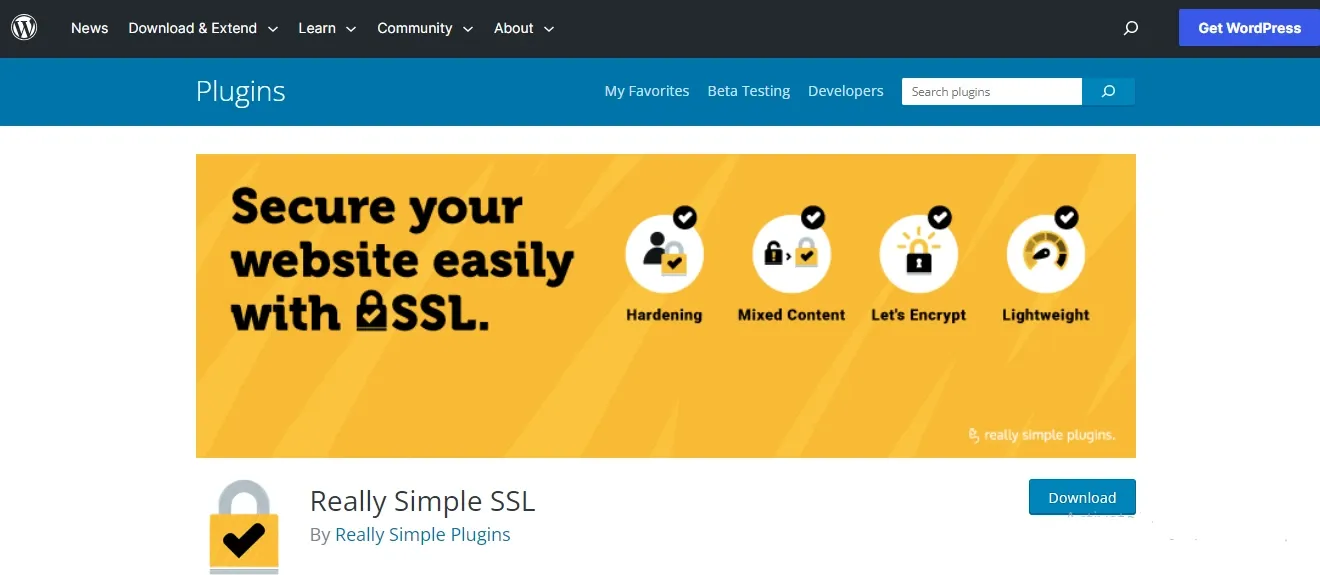 Features of Really Simple SSL
This WordPress plugin scans Mixed content errors and fixes them.
Really Simple SSL extensive scan feature to detect the mixed content and fix it.
It creates secure and encrypted cookies with HttpOnly and Secure flags.
The WordPress plugin provides advanced security using a security header.
In Really Simple SSL the premium plugin offers experts' guidance on WordPress configuration.
Few Other Best WordPress Plugins
Certain WordPress Plugins are useful and have provided great services. Let's check them out.
Mega Menu
The WordPress plugin is used to build a menu for your website. Mega Menu provides overall menu management. It creates a user-friendly menu that is accessible and touch-ready.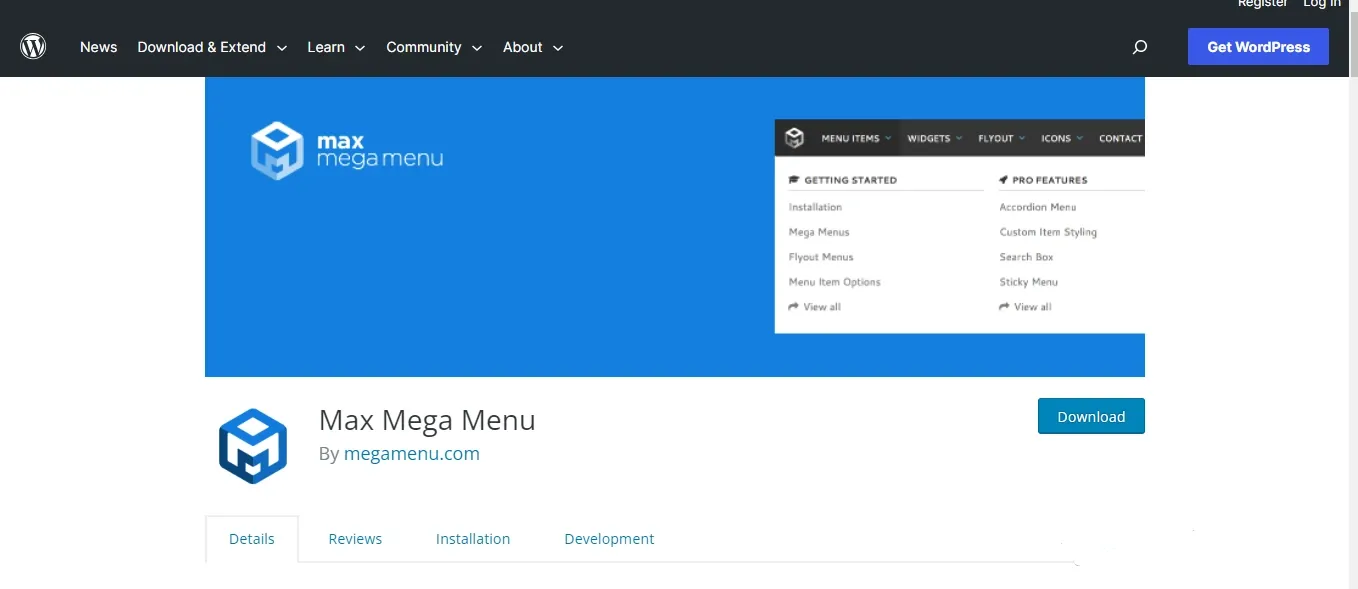 Features of Mega Menu
This WordPress Plugin creates a menu on a standard WordPress menu system.
Mega Menu can add icons to your menu list. In addition to this, it customizes the style of a menu with the theme editor. In this plugin, the menu styles are either traditional Support Flyout or Mega Menu sub-menu styles.
It provides menu transitions like Slide up, slide sub-menu, fade up, fade, etc.
Mega Menu aligns the menu and sub-menu to the left or right of the menu bar and menu items.
Grid Layout Builder in Mega Menu arranges sub-menu into rows and columns.
Smart Slider 3
It creates interesting sliders and blogs for a WordPress website. Generating sliders using Smart Slider 3 is efficient and easy.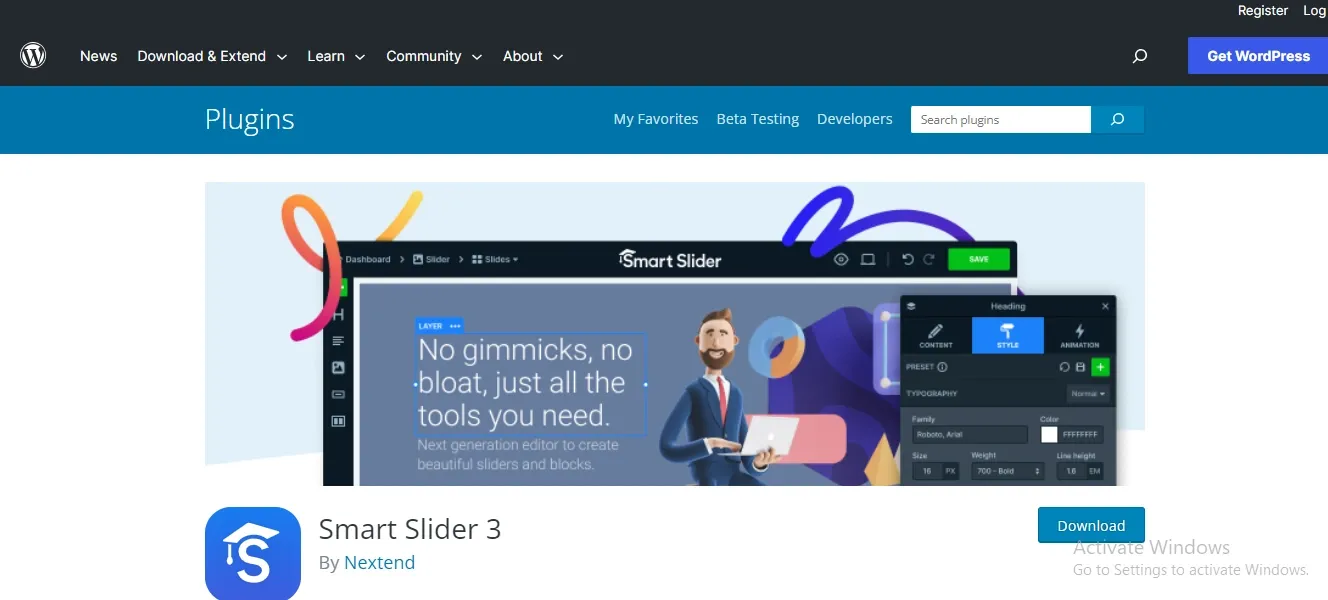 Features of Smart Slider3
There are Slide Libraries that are ready-made on Smart Slider 3
The sliders can function through touch and on any device, for example, mobile phone, tablet, computers, etc.
The slides can be easily edited as per your need.
The topography and style can be easily changed
WordPress integrates media manager, shortcode, widget, post permalinks, and post editor.
Elementor Website Builder
The website builder provides high-end website designs. It makes your website look lively and a website can be developed instantly.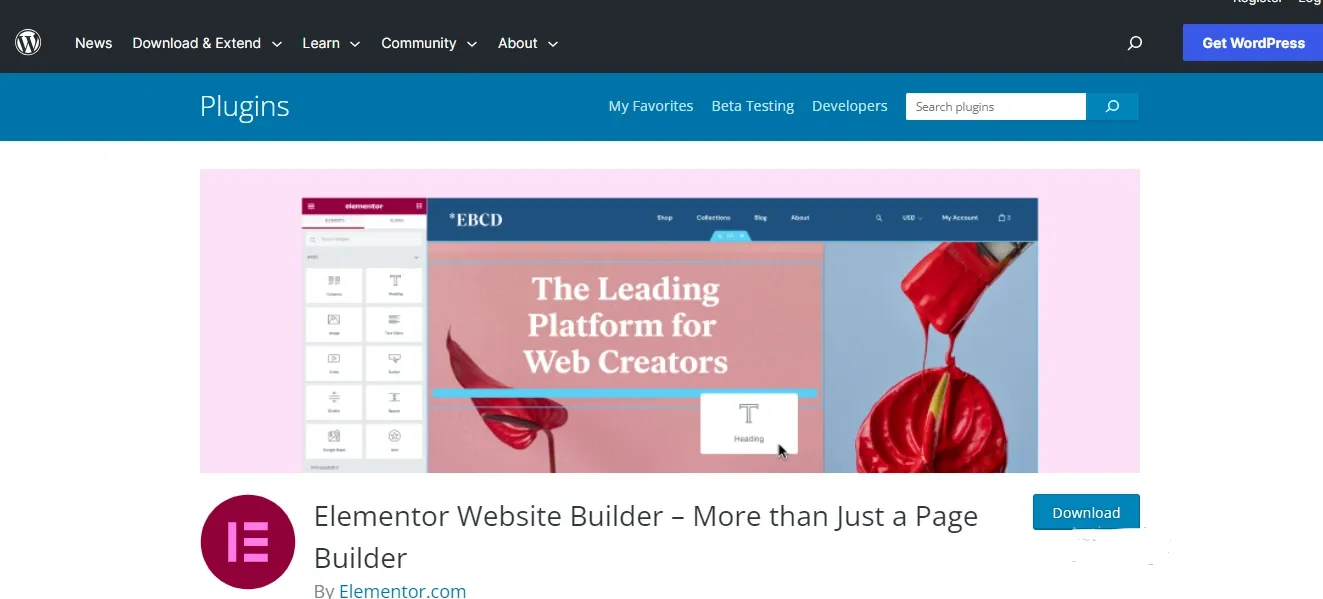 Features of Elementor Website Builder
This WordPress Plugin has the facility of unlimited website creations.
The live drag and drop editor enables innovative website building without coding.
There are 90 + widgets on Elementor Website Builder that enables you to customize your website as per your preference.
With global settings for topographies and colors, it gives a pixel-perfect design for your website.
This plugin offers advanced animation, custom Cascading Style Sheets (CSS). In addition to this, it separates responsive designs using advanced web creation.
Elementor WordPress Plugin enhances WordPress by eradicating the need for several plugins. It increases the speed of page loading by enhancing WordPress.
MonsterInsights- Google Analytics Dashboard for WordPress
The WordPress Plugin provides Google Analytics for WordPress websites. MonsterInsight helps you increase traffic to your website. Google Analytics becomes accessible with this plugin.
MonsterInsight enables all the advanced Google Analytics tracking features as well. The Dashboard of MonsterInsights has all reports of all the statistics that matter to your website.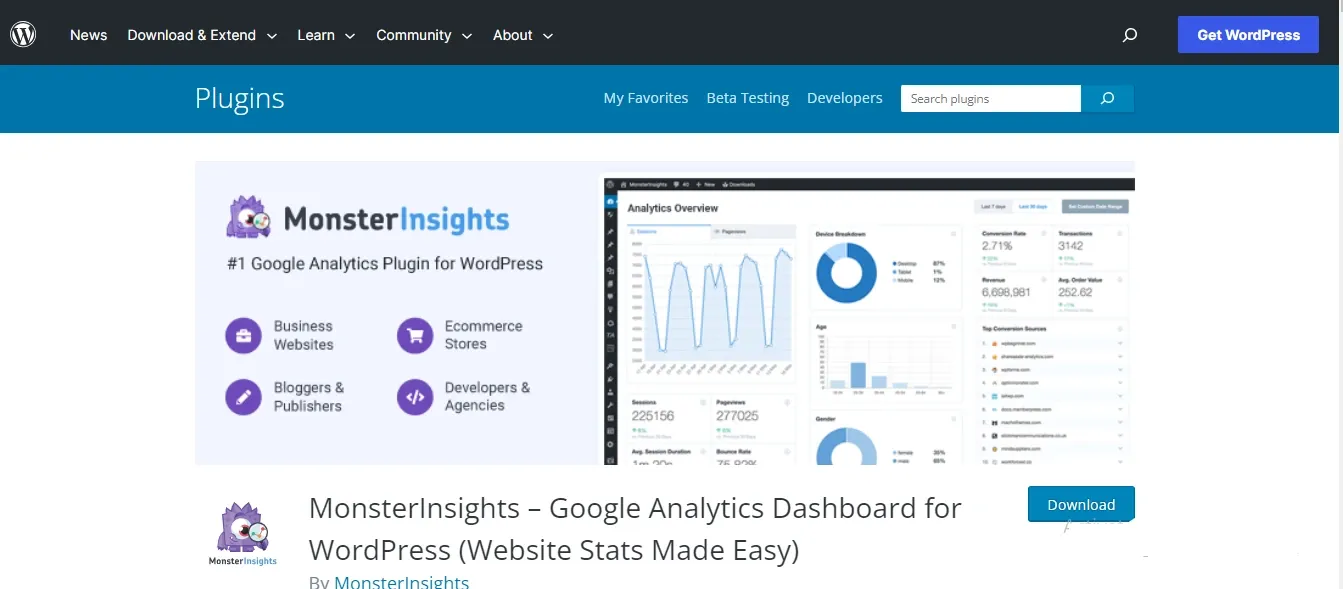 The Reports on MonsterInsights
Audience Report
This report shows details regarding the visitors visiting your website. These details include their interest, age, the device they use, country, etc.
Behavior Report
It reports the keywords they researched for and the preferences of your audience. Additionally, provide the clicks they did on your website, etc.
Ecommerce Report
It provides statistics on revenue, top referral sources, average order value, conversion rate, etc.
Forms Report
It shows results of conversion statistics on different contact forms and lead forms on your site.
Search Console Report
This report offers the performance of your website in ranking on Google.
Content Report
It gives statistics on the topics that create traffic and conversion
Custom Dimension Report
The report provides statistical data on popular authors, best publication times. Moreover, it states the focus keywords and SEO ranking.
Site Speed Report
It tracks the page speed and shares information on increasing SEO ranking.
OptinMonster
This WordPress plugin is for popups. It aids in receiving more email subscribers, increasing sales, etc.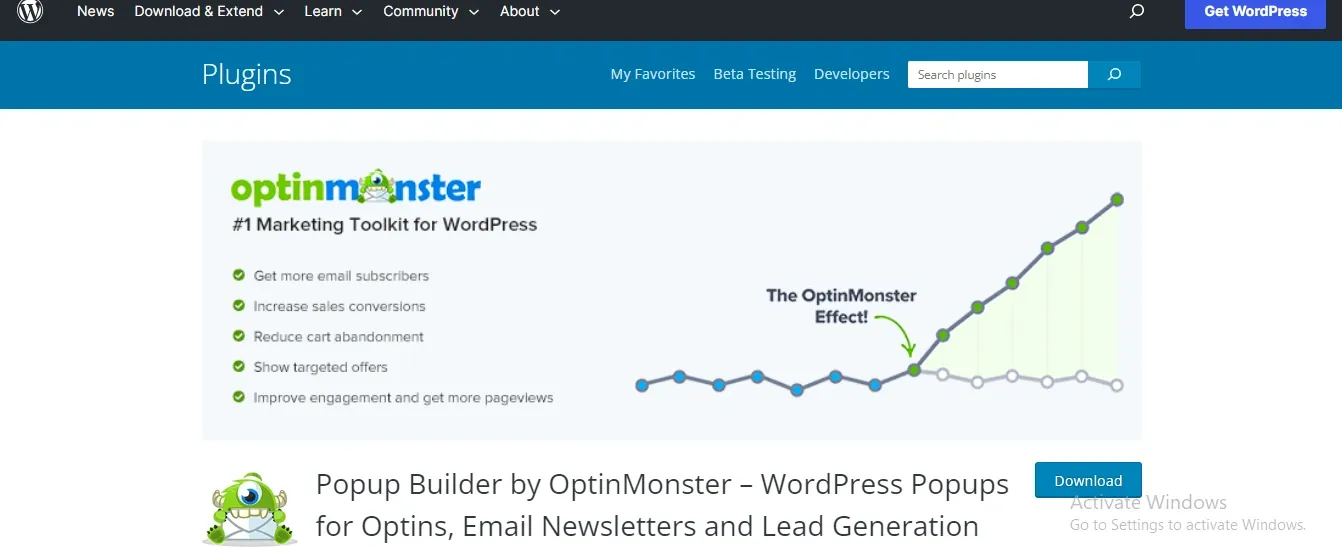 The WordPress popups that OptinMonster provides
Lightbox Popups
The popup for a list of emails, coupons, to make a cross-sell through WooCommerce, etc.
Floating bar Popups
This popup generates floating footer bars that provide free shipping notice, sales countdown timer, etc.
Slide-in Popups
The scroll box's popups that slide from the bottom provide highlights of WooCommerce products, coupon codes, and related posts.
Full-Screen Welcome Mats
This one offers interstitial popups (Full-screen popups). This popup helps gain new subscribers.
Gamified Spin a Wheel Popup
Gamified Spin a Wheel popup has been generated to increase customer interaction. Here there is usually a spin wheel gamification for coupon generation.
SlideBar Subscribe Forms
This Sidebar enables you to add an email newsletter sign-up form to your blog sidebar. It will elevate the subscribers to your site.
Content Locker Popups
This popup converts popular articles to gated articles. This allows you to increase your email subscribers and marketing conversions
Countdown Timer Popup
The Countdown timer popup is generated to create a sense of urgency and scarcity. This will help you raise the sales.
Yes/No Popup
This popup offers several step campaigns and opt-in forms. They are effective for list segmentation and elevated marketing conversion
Mobile Popups
These are specific to mobile phones and tablets. These popups are perfect for mobile applications.
Canvas Custom Popups
This popup is to generate custom campaigns using drag and drop popup builders.
Conclusion
WordPress is an ideal place to build a website with many free and premium plugins. These plugins extend features on your website. They customize your website based on your specific requirement. With the increasing demand for WordPress, the WordPress plugins are increasing too.
Choosing the best plugins available when you are new to WordPress can be challenging. This article was to familiarize you with the WordPress platform and its plugins. Start building your website promptly and let us know about your experience here in the comment section.
Frequently Asked Questions (FAQs)
How do I install a WordPress plugin on my website?
To install a WordPress plugin, log in to your WordPress dashboard, navigate to "Plugins," click "Add New," search for the desired plugin, and click "Install Now." After installation, click "Activate" to enable the plugin on your website.
Which are the best SEO plugins available for WordPress?
Some popular SEO plugins include Yoast SEO and All in One SEO Pack. These plugins help optimize your website for search engines, assisting in improving rankings and organic traffic.
What are some must-have security plugins for WordPress?
Plugins like Wordfence Security and Sucuri Security provide essential security measures, protecting your website from malware, brute force attacks, and other security threats.
Can you recommend any plugins to speed up my website's performance?
WP Super Cache and W3 Total Cache are excellent choices for improving website loading times by caching content and optimizing server performance.
Are there any plugins to help with website backups?
Yes, plugins like UpdraftPlus and BackWPup enable easy and automated backups of your WordPress site, ensuring you can restore it in case of data loss.
What are some plugins that can enhance my website's design and aesthetics?
Plugins such as Elementor and Beaver Builder offer powerful page-building capabilities, allowing you to create visually stunning and customized web pages without coding.
Are there any plugins to integrate social media into my website?
Yes, plugins like Social Warfare and Shared Counts enable social media sharing buttons and counters, encouraging better social engagement.
How can I add an online store to my WordPress website?
You can use plugins like WooCommerce, Easy Digital Downloads, or Shopify (with a WordPress integration) to set up and manage an e-commerce store on your website.