What is AI-powered customer service?
AI-powered customer service involves harnessing the power of Natural Language Processing (NLP) and Machine Learning (ML) to provide instant answers to customer queries, enhancing the overall customer experience.
With AI, businesses can automate processes, analyze data, and deliver personalized support.
How is AI used in customer service?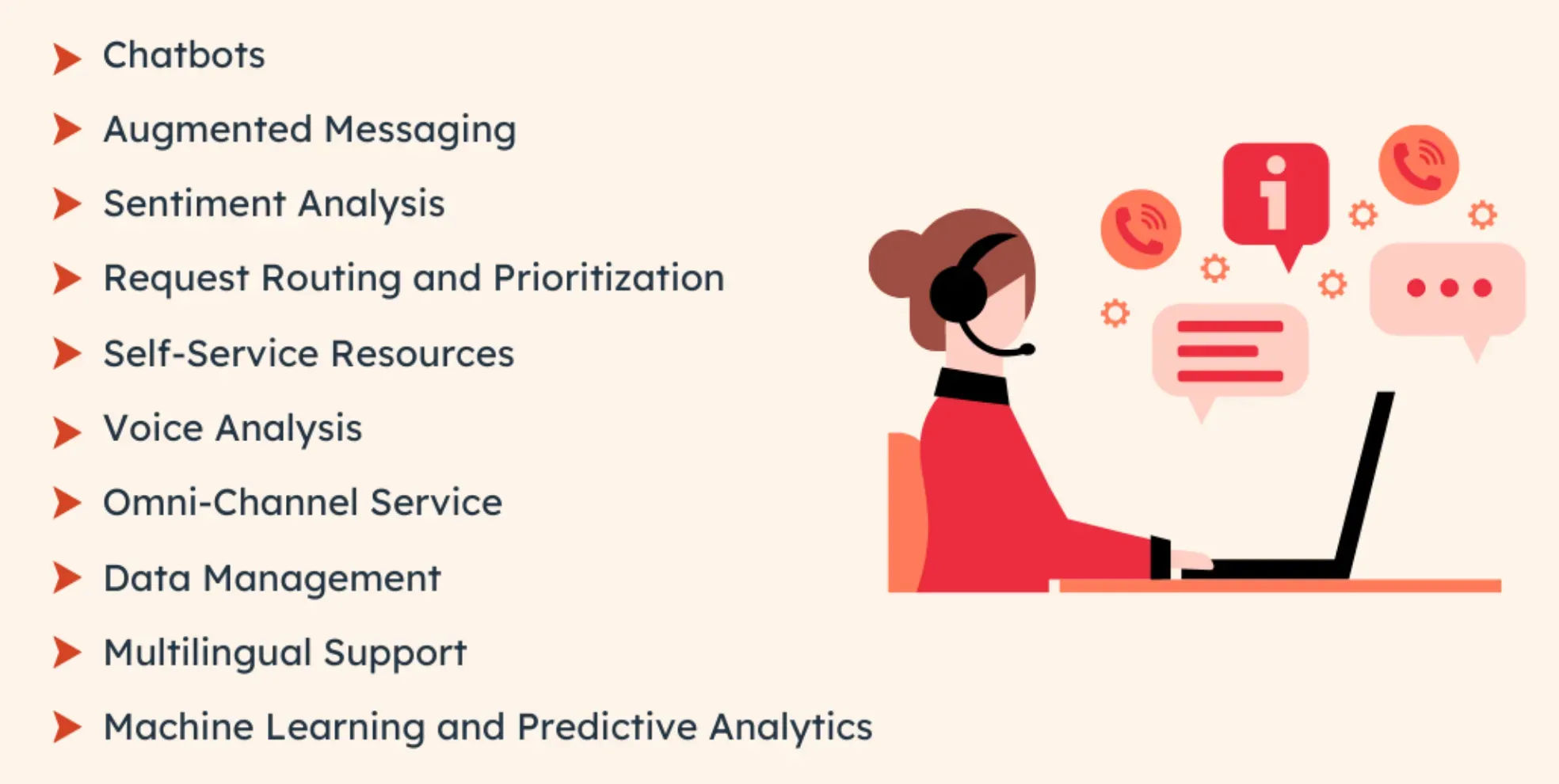 AI is used in customer service to provide faster and more efficient assistance to customers.
Some common applications of AI in customer service include:
Faster Answers: AI-powered chatbots can handle commonly asked simple questions, providing instant responses and eliminating the need for customers to wait for human assistance.
Reduced Research: AI can store answers and recognize patterns in commonly asked questions, enabling customer support teams to quickly access relevant information and provide timely solutions.
Messaging Powered by Artificial Intelligence: Using a combination of chatbots and human agents, businesses can offer seamless customer interactions. Simple queries are handled by chatbots, while complex issues are escalated to human agents for resolution.
Artificial Intelligence for Customer Phone Calls: Despite challenges like accents and complex issues, AI can still be used to improve customer phone calls by providing automated solutions and routing calls to the appropriate departments.
Artificial Intelligence for Managing Emails: AI can tag and categorize emails, allowing businesses to prioritize and streamline their response process. It can also suggest relevant responses based on previous interactions, improving efficiency.
How does AI improve customer experience?

AI plays a crucial role in enhancing customer experience by providing personalized, real-time support.
Here's how AI improves customer experience:
Proactive Support
AI, coupled with predictive analytics, enables businesses to anticipate common customer problems and take proactive measures to address them, resulting in a smoother customer experience.
Customer Insights
AI can analyze customer data to uncover valuable insights about customers' preferences, pain points, and interests. This information allows businesses to tailor their offerings and communications, creating a more personalized experience.
Workflow Streamlining
AI automates repetitive tasks, freeing up human agents to focus on more complex customer issues. This streamlines workflows, improves overall efficiency and ensures prompt resolution of customer queries.
What are the benefits of using AI in customer service?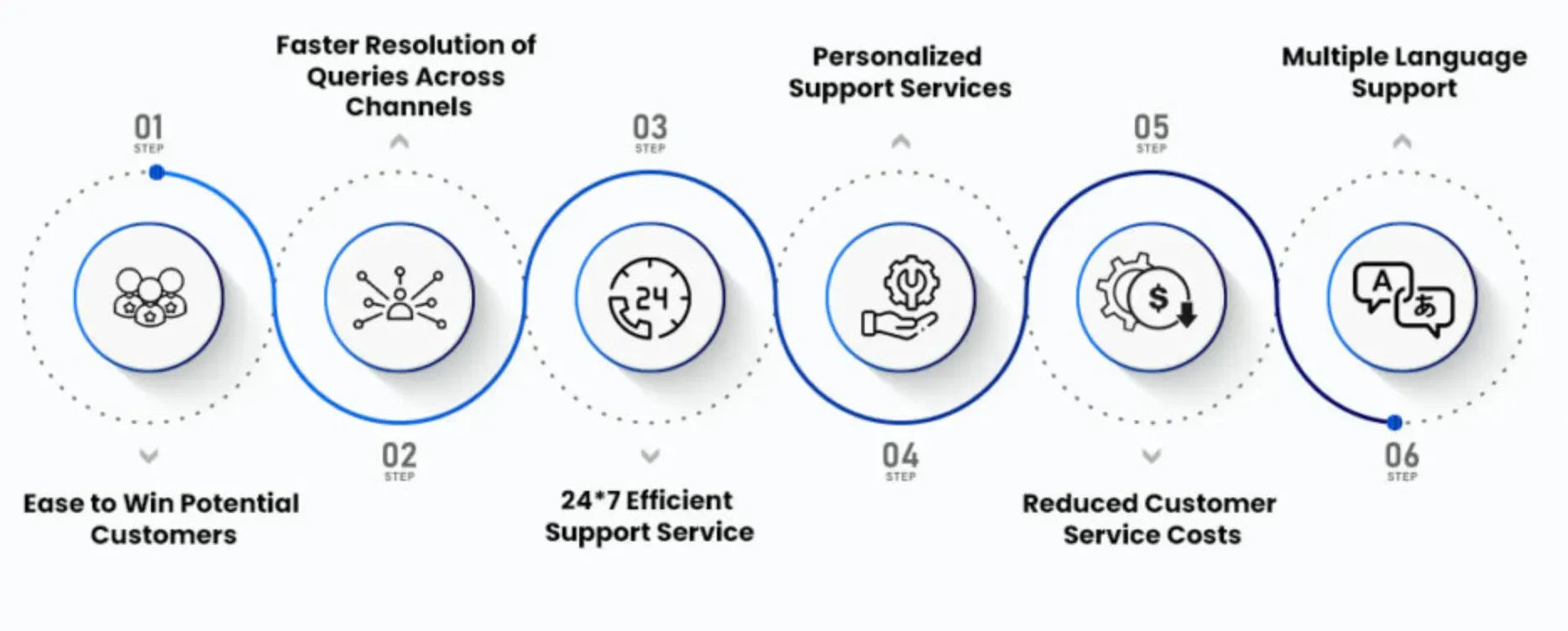 Integrating AI into customer service processes offers several benefits for businesses.
Here are some notable advantages:
Improved Customer Satisfaction
AI-powered chatbots can handle a large volume of customer interactions 24/7, providing instant responses and reducing customer wait time. This leads to improved customer satisfaction and loyalty.
Customized User Experience
AI enables businesses to analyze customer data and tailor recommendations and offers based on individual preferences. This personalized approach enhances the user experience, increasing engagement and conversion.
Privacy Concerns
While there are legitimate concerns about data tracking and privacy, AI systems can strike a balance between providing relevant content and respecting customer privacy. By leveraging AI, businesses can deliver customized experiences without compromising data security.
Suggested Reading: The Benefits of Using a Custom Chatbot for Customer Service
Where Can AI in Customer Service be Used?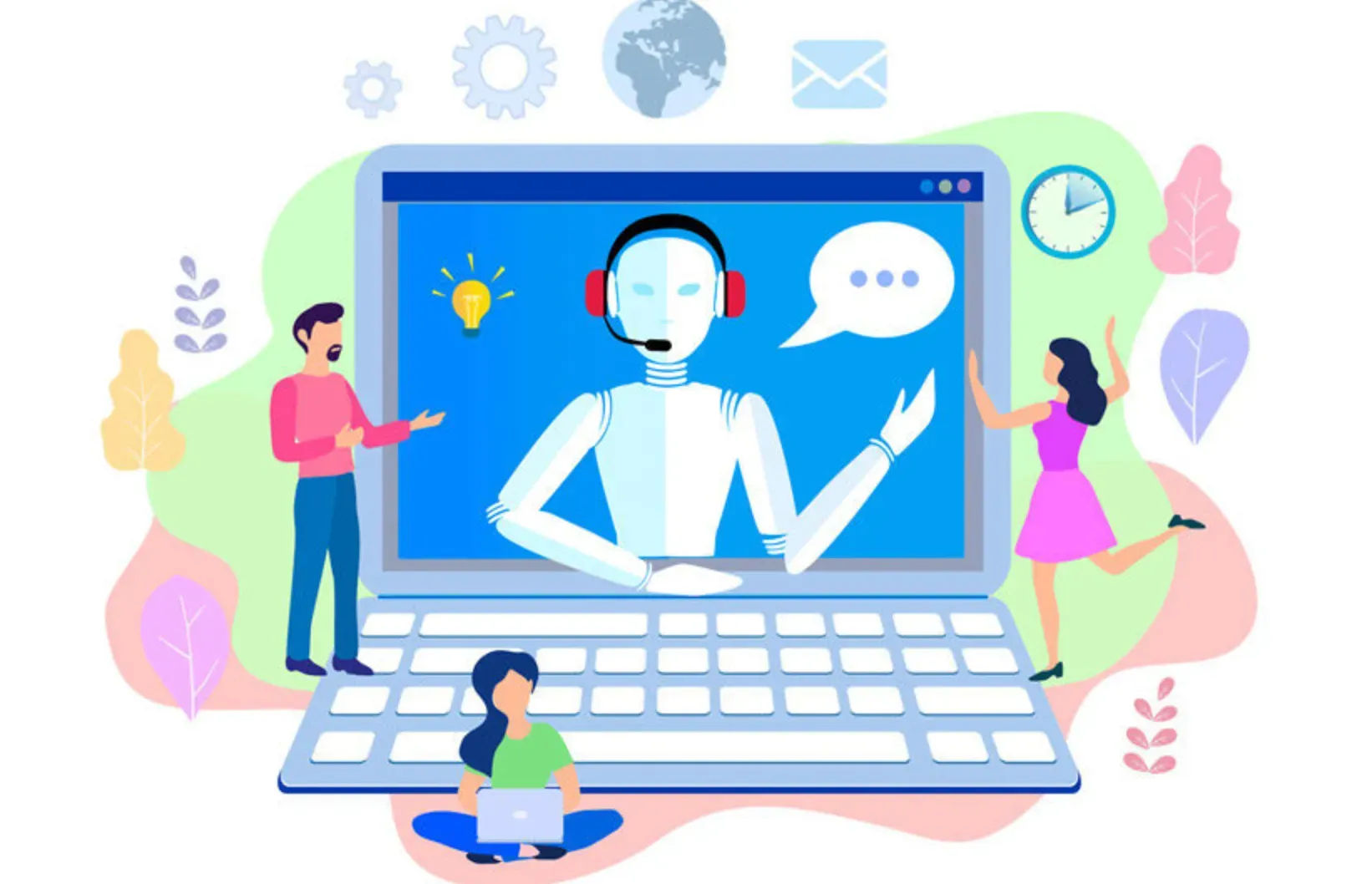 In this section, we'll explore the numerous applications of AI in customer service, streamlining communication, and support.
Handling FAQs and Knowledge Bases
AI-powered chatbots can efficiently manage frequently asked questions, directing customers to relevant sections of knowledge bases or providing direct answers, thus improving customer experience and reducing response times.
24/7 Customer Support
AI-driven chatbots have the advantage of being available around the clock, providing consistent support, and resolving customer issues even outside of regular business hours.
Suggested Reading: Why Live Chat is the Future of Customer Service?
Email Support Automation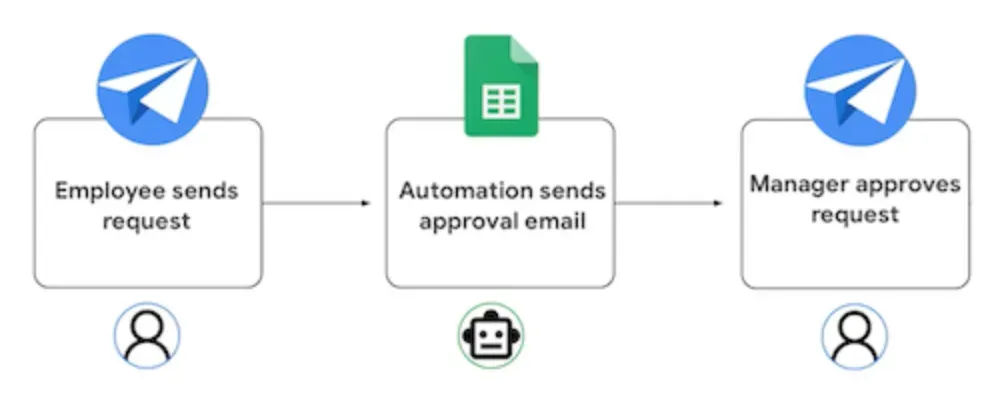 AI technology can augment email support services by intelligently categorizing requests, replying to simpler inquiries, and escalating complex issues to human agents.
Social Media Monitoring
AI-enhanced customer service tools can analyze and respond to customer queries or sentiments on various social media platforms, providing timely support and elevating brand reputation.
Call Center Routing
Call center AI can identify a caller's needs and direct calls to the best-suited agent, guaranteeing a personalized and efficient resolution.
Personalized Marketing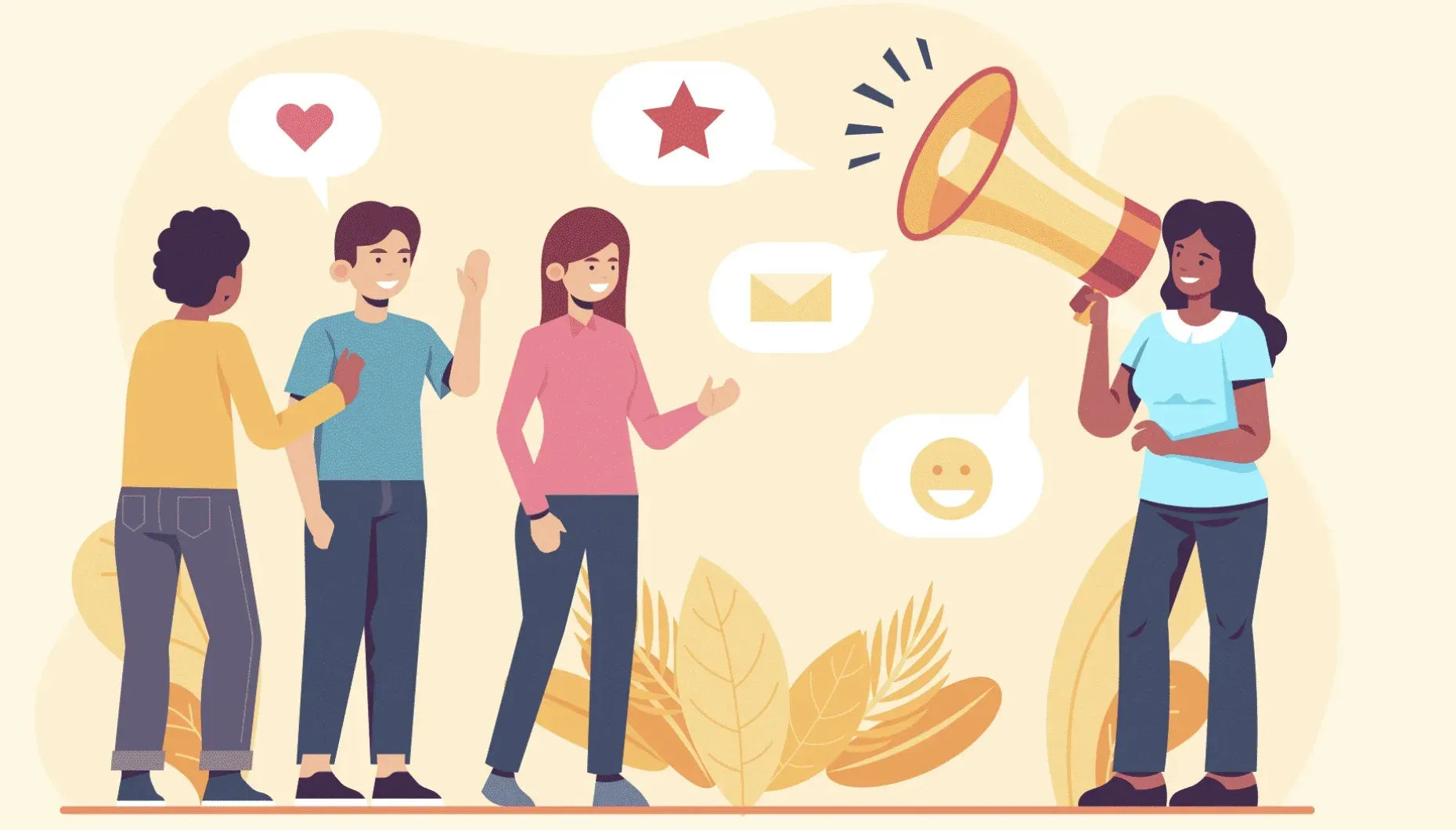 AI algorithms can analyze customer preferences and create tailored marketing messages, ensuring they receive relevant offers and content designed to optimize engagement.
Predictive Analysis
Leveraging customer data, AI can help generate insights into emerging trends and offer real-time recommendations, fostering proactive customer service strategies.
Real-Time Language Translation
AI technology enables real-time translation, empowering support teams to overcome language barriers and offer outstanding global service.
Voice Assistants

Voice assistant AI is integrated into numerous devices, making customer service more accessible by providing instant assistance through natural language interactions.
Sentiment Analysis
AI-driven sentiment analysis tools can assess customer feedback, pinpointing key areas that require improvement and ensuring continuous service optimization.
The implementation of AI in customer service is revolutionizing the ways businesses interact with their customers, delivering more personalized and efficient support experiences.
Suggested Reading: What is the best Chatbot Platform with NLP for Customer Service?
When is AI in Customer Service Most Effective?
In this section, we'll delve into the realms of AI in customer service, exploring its effectiveness and optimal applications in various scenarios.
AI-Powered Chatbots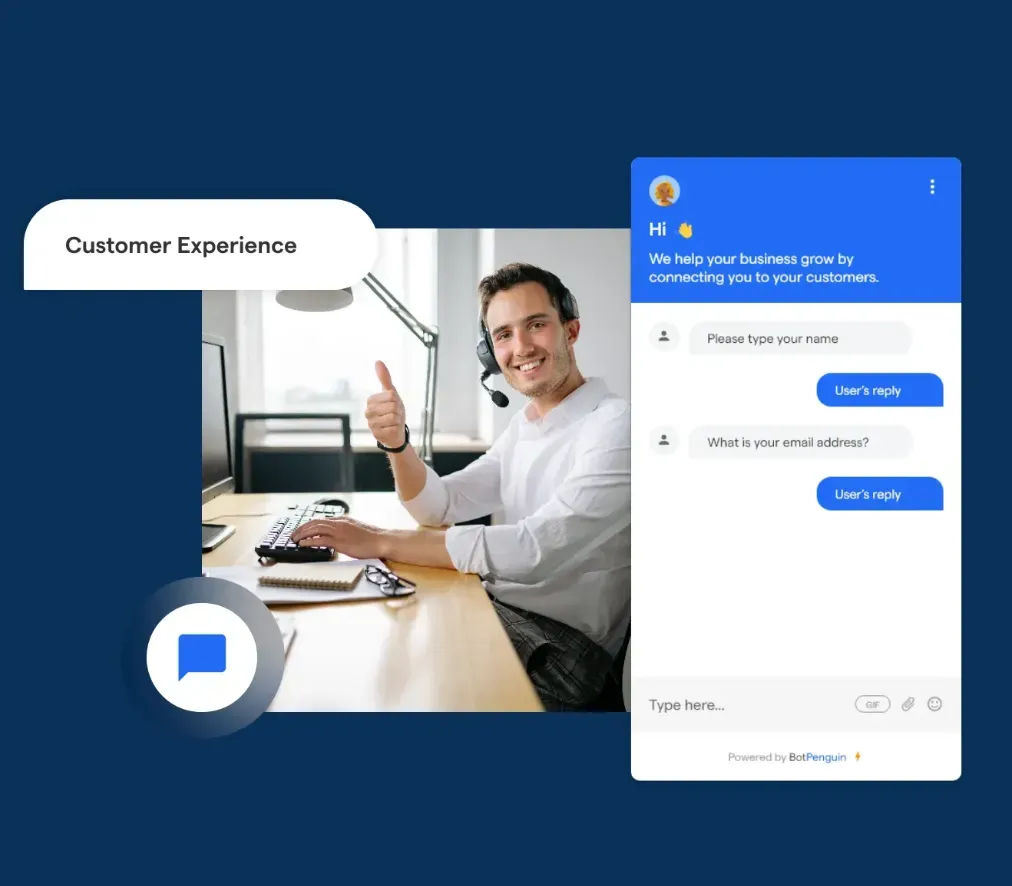 AI-powered chatbots are most effective in handling repetitive, straightforward inquiries and providing instant support.
They cater to customers' needs 24/7, operate efficiently even during peak times, and offer quick response times to enhance customer satisfaction.
AI-Driven Personalization
AI can boost customer experiences by providing personalized interactions tailored to individual preferences and requirements.
By analyzing customer data and tracking behavior patterns, AI-driven personalization can offer customized product or service recommendations, improving conversion rates and fostering loyalty.
AI for Efficient Issue Resolution
AI shines in streamlining support processes, from ticket triaging to automated troubleshooting.
By intelligently categorizing and prioritizing customer issues, AI can route tickets to the right agents, drastically reducing response times and facilitating faster, more efficient problem resolution.
AI Analytics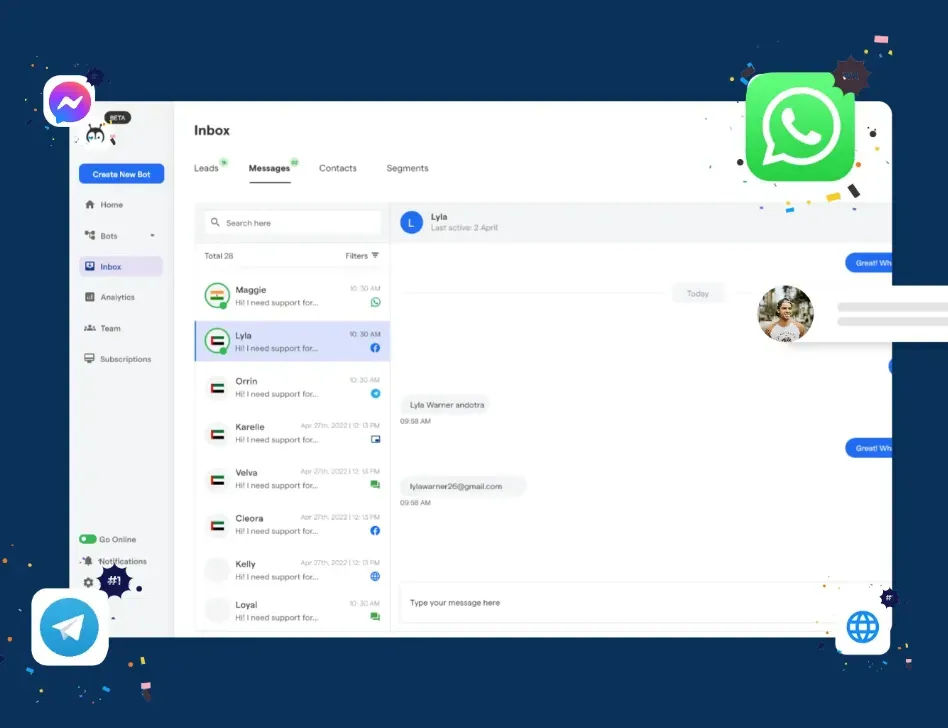 In today's data-driven world, AI thrives in analyzing large sets of customer service data to identify trends and derive valuable insights.
These insights empower businesses to continuously improve their customer service processes and proactively address recurring pain points to enhance customer experiences.
Challenges and Considerations
While AI plays an essential role in optimizing customer service, it's crucial to be mindful of the challenges and considerations involved.
Implementing AI effectively requires overcoming certain hurdles, such as integration into existing systems and striking the right balance between AI assistance and retaining the human touch in customer interactions.
Suggested Reading: Revolutionizing Customer Service with Custom Chatbots
How to Implement AI in Customer Service?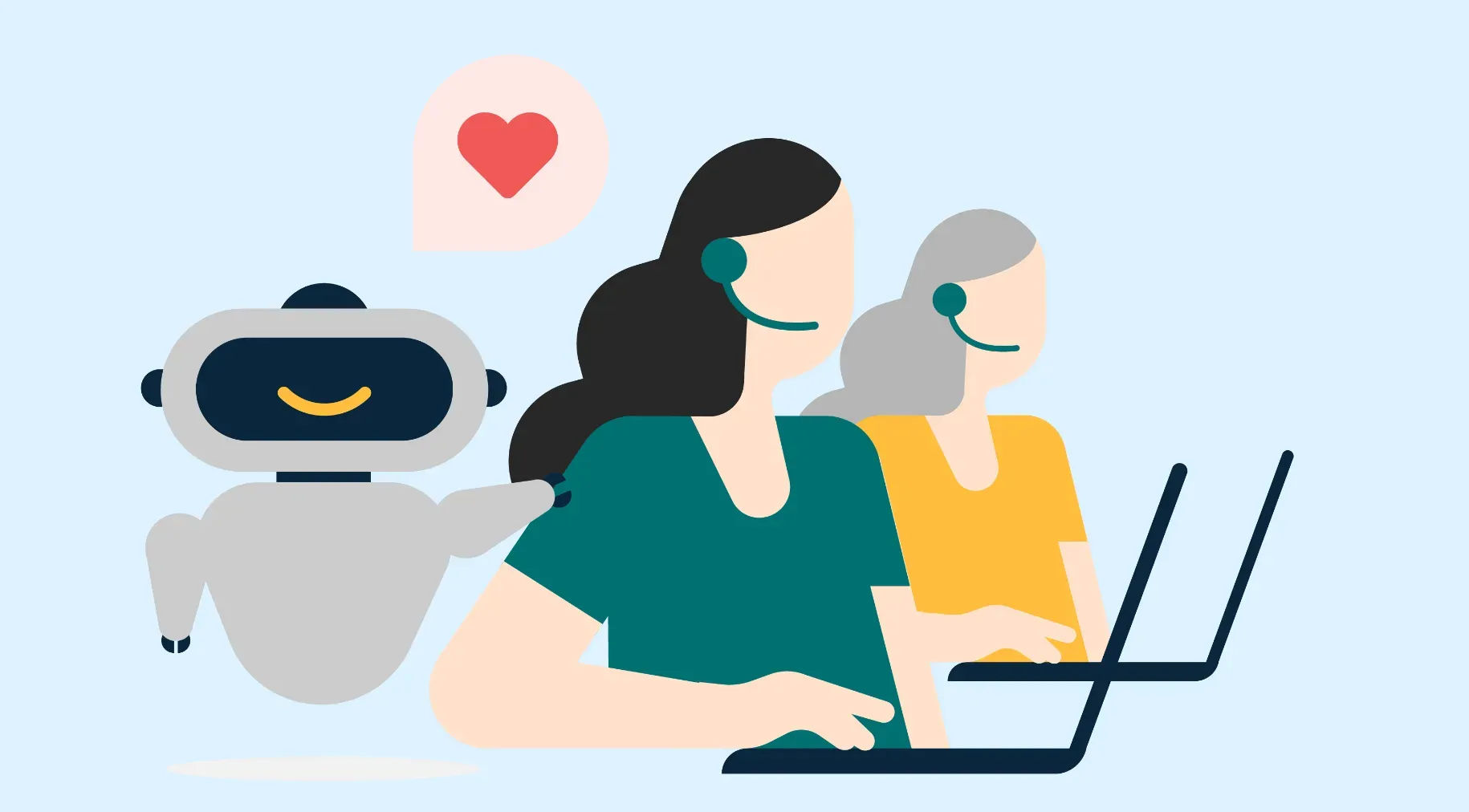 In this section, we'll delve into the process of implementing AI in customer service and uncover how it can enhance the user experience and operational efficiency.
Identify Opportunities for Automation
The first step in implementing AI in customer service is identifying processes that could benefit from automation.
Look for repetitive tasks or cases where consistent responses are provided—the ideal candidates for AI application.
Implement AI Chatbots
AI chatbots are powerful tools for automating customer service interactions.
They can handle basic queries round the clock, freeing up human agents to tackle more complex or sensitive issues. Ensure the chatbot is well-optimized for your customers' needs and questions.
Deploy Predictive Analytics
Predictive analytics powered by AI can analyze customer interaction data and predict response patterns.
This can help in fine-tuning your support approach, predicting customer needs, and offering proactive service.
Train AI Models on Real Customer Interaction Data
For AI models to be successful in customer service, they need to be trained on data from real customer interactions.
Over time, these machine learning models can 'learn' to understand and respond to customer queries more accurately.
Continually Monitor and Optimize
AI implementation in customer service is not a one-time process.
Continuous monitoring and optimization are essential to ensure that automated responses remain accurate and effective and customer satisfaction levels are high.
Frequently Asked Questions (FAQs)
What are some challenges of implementing AI in customer service?
Some challenges of implementing AI in customer service include ensuring data privacy and security, addressing ethical concerns, integrating with existing systems, and properly training the AI model.
Can AI in customer service improve customer satisfaction?
Yes, AI in customer service can improve customer satisfaction by providing fast and accurate responses, personalization, and proactive support that meets customer needs in a timely and efficient manner.
What skills are needed to work with AI in customer service?
Working with AI in customer service requires knowledge of AI technologies, data analytics, and customer service skills such as communication and problem-solving.
How does AI in customer service impact job roles?
AI in customer service can automate routine tasks and free up human agents to focus on more complex issues or provide personalized support, resulting in changes to job roles and responsibilities.
What is the future of AI in customer service?
The future of AI in customer service is expected to involve more advanced technologies like natural language processing, enhanced personalization, and greater integration with other systems for improved customer experiences.