Introduction
In addition to a million other trends, automation accelerated substantially in 2020. Many business owners and consumers believed they weren't ready for automation before the pandemic. As we now know, the majority of them erred.
More than a year after the pandemic began, automation of some type may be found almost everywhere. And chatbots, or conversational bots, are arguably the most common front for corporate automation. Let's discuss them!
Software programs known as conversational bots converse with users in a human-like manner. Every time customers use your website or app. You give them an immersive experience by replicating human-like conversations.
You may construct a conversational bot for your company that is highly tailored, thanks to the rapid advancement of chatbot technology.
Small, mid-sized, and large businesses are all implementing chatbots for automated customer care as constructing them becomes more straightforward and economical. Here are some ways that conversational bots are changing the world of automation.
What are chatbots?
A chatbot is computer software that can carry on a conversation with a person. Also referred to as an interactive agent, smart bot, talk bot, chatterbot, bot, IM bot, or intelligent conversational entity.
Even though English may not be the user's native language, a well-designed chatbot will still be able to assist those for whom it is not. Chatbots can communicate with users via written or spoken natural language.
Additionally, chatbots can discern a user's primary goal and reply accordingly. For instance, you can create a chatbot that searches the knowledge base of your website to discover a solution for a consumer on one of your pages.
Apple's Siri and Amazon's Alexa are two well-known examples of chatbots, however many chatbots are integrated into landing pages and websites to assist clients with the following:
Using a website's navigation

Knowing how something operates

Giving contact information

Asking inquiries

Making reservations

Making demands
How does AI improve chatbots?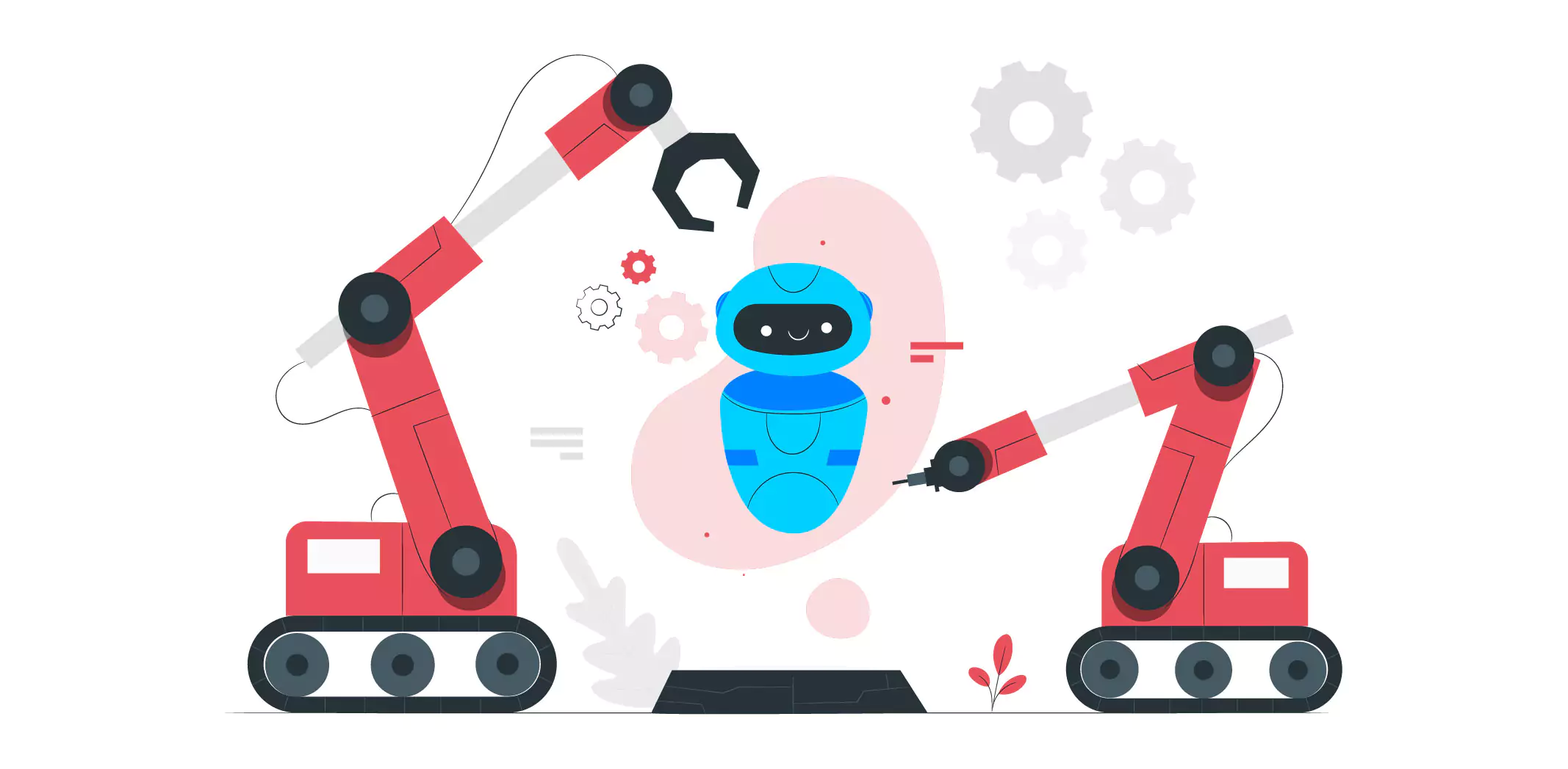 In general, chatbots that AI powers are regarded as artificial intelligence since they replicate human interaction at a response rate comparable to that of the typical person.
With the advent of Natural Language Processing, AI has further aided this process (NLP).
NLP enables computers to comprehend natural language and respond appropriately, which aligns with the "humanizing" trend many businesses are embracing.
For instance, a consumer would inquire, "How much does this outfit cost?" The automated response may be, "You can order your favorite style for $25."
What causes that to occur? With NLP technologies, chatbots can recognize and extract natural language rules like syntax, grammar, and semantics.
It makes it possible for more natural replies that more closely resemble human-to-human interactions than ever before!
Chatbots can use artificial intelligence to analyze data better and gauge the effectiveness of their client interactions.
Chatbots can gather data on consumer interactions through machine learning and adjust their services accordingly!
Benefits of using a chatbot
Reduced customer service costs
Customer service expenses, which take up a considerable portion of many businesses' budgets, can be reduced with a chatbot. Businesses should invest the time and effort necessary to install the best chatbot solution since they will save money in the long run.
Every industry has profited from chatbots' cost-effectiveness in automating customer care and effectively carrying out tasks. Still, surprisingly, the banking sector has reaped the most rewards. According to estimates, businesses that use conversational solutions with chatbots can lower customer service expenses by up to 30%.
Offer 24/7 service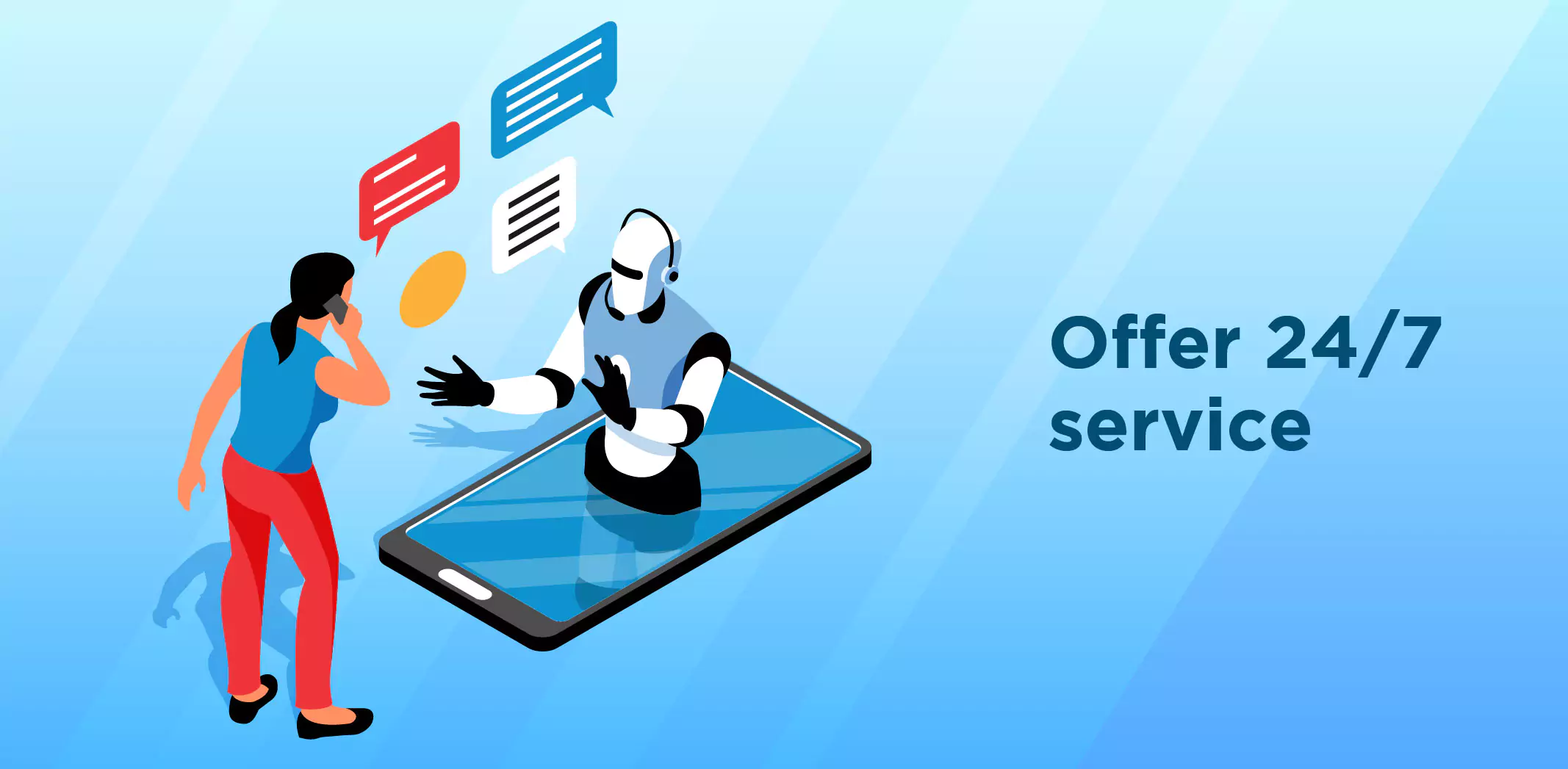 Unlike human employees, chatbots don't require breaks, weekend downtime, or sleep. You can still assist and direct your clients even after regular business hours.
It is particularly crucial for businesses that cater to clientele from all over the world. Due to time zone variations, it frequently happens that a customer care representative must wait until the start of business hours.
Chatbots are used to tackle this problem immediately. They may offer high-quality consumer support at any hour or day of the week.
Make tasks easier for your staff.
The use of chatbots is advantageous to both the company and its employees. Customers that ask the same question frequently engage in repeated transactions. For customer care agents, this can easily become a routine chore and make them bored.
However, chatbots make the job of the customer support professional simpler. It is due to chatbots handling routine tasks like creating lists of complaints or resolving straightforward issues. At the same time, customer care representatives concentrate on deeper conversations and queries.
Ways chatbots are revolutionizing customer service.
Chatbots improve customer service relationship management.
The conversation is the way of the future for customer relationship management (CRM).
The topic of discussion is how consumers relate to brands, get individualized experiences, and feel seen. It is how businesses personalize themselves and create enduring bonds with their ideal clients.
With the help of CRM chatbots, brands can fill in the gaps where vital customer data is frequently missing and begin productive dialogues with customers.
CRM chatbots assist with data upkeep and may also be configured to produce highly tailored conversational experiences and prevent messaging irrelevant consumers.
Check out BotPenguin to create the best chatbot for CRM.
Chatbots to help teams track sales.
Chatbots can support the sales tracking strategy of a team.
Teams receive useful data that enable them to assess the effectiveness of their sales processes by utilizing chatbots to track each stage of the sales process.
Teams can pinpoint bottlenecks, restructure workflows, and enhance sales activities in this way.
For instance, a chatbot can track which campaigns were successful and which were unsuccessful if it presents three different campaigns to three different audience segments.
Chatbots help teams improve sales processes.
Chatbots are now an indispensable component of the sales process.
Using chatbots, you can qualify your leads and initiate discussions with individuals at scale. A CRM chatbot can identify the precise content that a lead requires next. This knowledge enables it to forward the lead to the following level of the sales funnel.A well-designed chatbot should be able to gather knowledge from many data sources and combine it to provide unified target profiles. It can be extremely useful for business models where leads need a lot of information upfront. For instance, leads typically need to connect with trust-based businesses like credit repair agencies numerous times before they commit. A chatbot comes in helpful for early encounters in this situation.
Chatbots may direct clients through the sales funnel and weed out unqualified leads by gathering and strategically exploiting data.
Chatbots help overcome language barriers.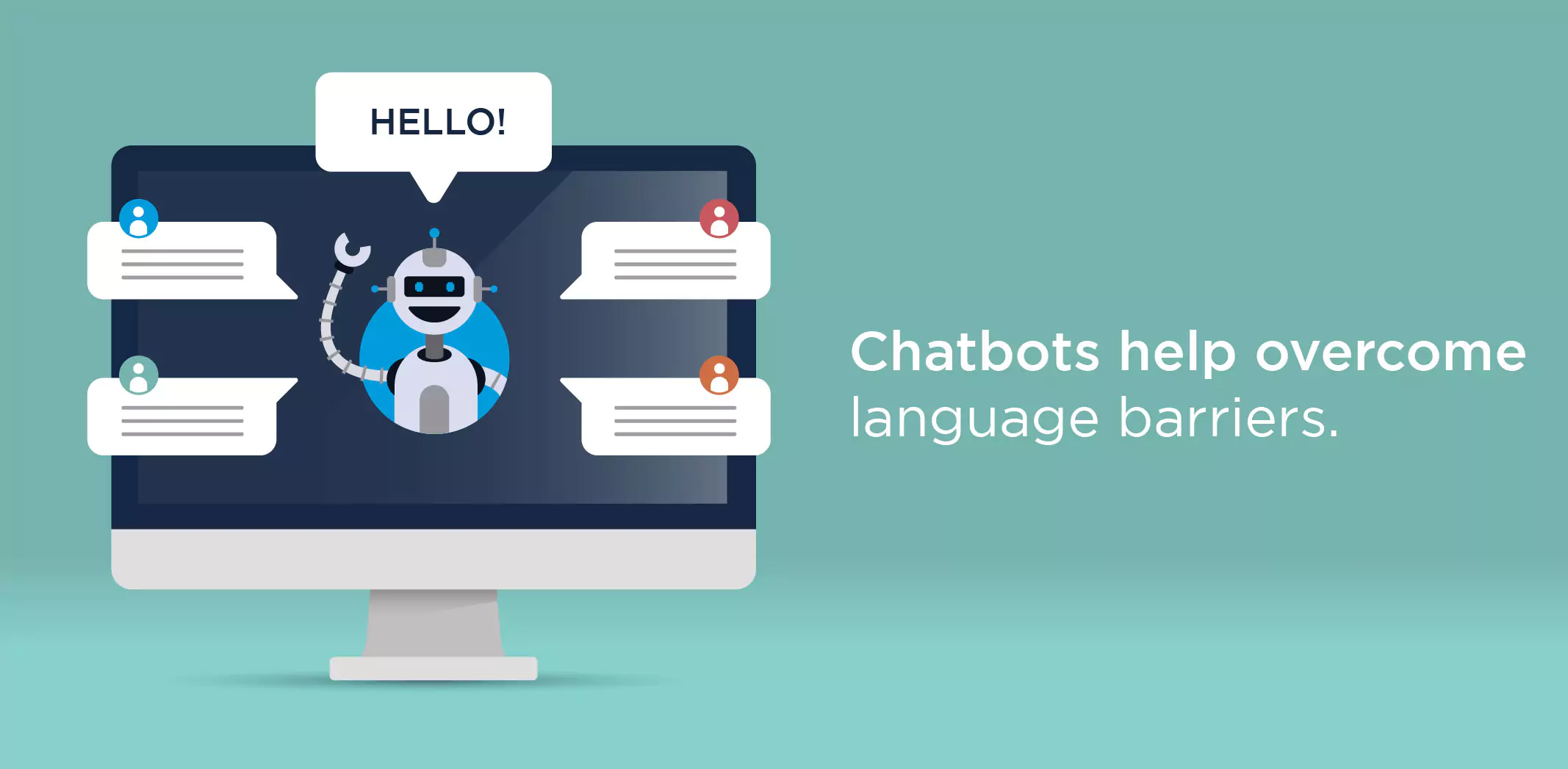 Businesses must be ready to accommodate clients who may not speak their language in a global market. It is particularly true for small firms that might serve a larger global clientele.
Communication friction is a key issue when attempting to provide a tailored experience. However, you do not need to hire bilingual workers when using chatbots. Natural language processing (NLP) standards are used by chatbots by default, allowing them to understand various languages easily.
Client care chatbots learn various terms and phrases from chats with guests that are pertinent to customer issues. It makes it simple to expand upon and improve a company's current knowledge base.
Chatbots can access this knowledge base at any moment to provide impartial and customer-focused interactions. Additionally, because they utilize machine learning and artificial intelligence, they can respond to inquiries for which they have no formal training.
Conclusion
The most practical method for businesses to stay in touch with their customers without hiring numerous community managers is to use chatbots.
They assist the user with tasks including checking the weather, ordering pizza, scheduling a doctor's appointment, signing up for an event, purchasing a new Christmas dress, requesting directions to a destination, getting answers to their frequently asked questions, or simply chatting for fun.
Chatbots are here to stay, whether you like them or not. Due to significant developments in machine learning, artificial intelligence, and other underlying technologies like natural language processing, chatbots have become incredibly popular in recent years. The future is predicted to bring about even more chatbots, which are already more intelligent, responsive, and helpful.