In 2027, it is predicted that the worldwide chatbot market cap will be around $454.8 million, up from $40.9 million in 2018.
If you are looking to cash in this market, you will need a reliable chatbot builder to help your business grow. Chatbots can automate redundant tasks and come with a boatload of use cases that can cut your operating costs significantly.
Before you start your research, get a head start with this article.
Here are the top 7 effective and simple-to-use chatbot creators to help you and your business achieve greater heights.
How do chatbots work?
Chatbots have various levels of complexity- stateless or stateful.
Stateless chatbots approach each conversation as if interacting with an entirely different and new user. On the other hand, stateful chatbots can go through past conversations and frame new responses in the context of the new conversation. Implementing a chatbot in a sales department requires low or zero coding knowledge. Most chatbot creators allow developers to create conversational user interfaces for business applications.
A critical aspect of choosing the right chatbot is its implementation of the Natural Language Processing(NLP) engine. And, if your chatbot can interact with the user through voice, you need a speech recognition engine.
Chatbot owners also need to decide whether they want structured or unstructured conversations. Chatbots built for structured conversations are highly scripted, simplifying programming but restricting what the users can ask the bot. In B2B environments, chatbots are scripted to respond to FAQs or perform simple and easy tasks.
Try BotPenguin to create your Chatbot NOW!
BotPenguin offers chatbot creation for other social platforms like:
Types of chatbots
Scripted chatbots
These are the most basic chatbots and act as a hierarchical decision tree. These bots interact with users through a predefined set of questions that continue until the user is satisfied.
Keyword recognition-based chatbots
These chatbots are a bit complex. They listen to what the user is typing and respond accordingly using keywords to previous customer responses. This bot uses customizable keywords and AI to respond to the questions appropriately. These chatbots struggle with redundant questions or repetitive keywords.
Hybrid chatbots
These chatbots combine elements of scripted chatbots and keyword recognition-based chatbots. Users can choose to have their questions answered directly or use the menu-based questions to make selections if the chatbot cannot identify the keywords effectively.
Contextual chatbot
These chatbots are far more complex than the other chatbots and are based on a data-centric approach. It uses ML and AI to learn from previous user conversations and use this data to grow over time. Instead of relying on keywords, these chatbots use whatever the customers ask and how they ask it to provide them the solutions.
Voice-enabled chatbots
These chatbots are the future of chatbot technology. They use spoken dialogue from the user as input and provide prompt responses. Developers can use text-to-speech and voice recognition APIs to create these bots.
Handy Features that can Help Your Business
Integration with third-party apps
Connect the chatbot to your chosen third-party programs, such as Google Sheets, Salesforce, and Zendesk. Businesses can extract or get around the data, analysis, and reports needed to monitor trends and make business choices by integrating with 3rd party applications.
Multilingual capabilities
As the company expands internationally, more and more clients demand the ability to communicate with the company in the languages and dialects of their choosing. And multilingual involvement becomes crucial for all international online shops and companies that seek to improve client interactions. More than 37 worldwide languages are supported by Engati chatbots, offering a wide variety of languages to choose from.
Easy live chat
Chatbots can handle around 80% of your client inquiries without human assistance. Additionally, you can transfer or direct encounters for difficult conversations to live agents to assist customers better. Depending on their needs, customers can select or request live support via chatbots.
Emotional Intelligence
Our chatbots can comprehend the customer's feelings, whether joyful, perplexed or irritated – exactly like their better half!
Brands and customers can connect emotionally and engage in relationship building. It's critical to enable or construct chatbots that can develop and foster connections with customers because they serve as the main point of contact between your company and its clients.
Chatbots can understand consumers' underlying emotions and intentions with sentiment analysis and respond to them in the most effective way possible. Sentiment analysis becomes a crucial chatbot feature as a result.
Security and privacy
Your chatbot needs to be secure, given how often data breaches occur. Having a completely open policy about the data that bots acquire and how it is utilized is a smart idea. Additionally, users should opt out of data gathering (if they want) but keep in mind that doing so will prevent the system from performing progressive profiling.
7 Best chatbot creators
There are many chatbot creators out there, but here are the best 7 chatbot creators
BotPenguin
With the help of the AI-powered chatbot platform BotPenguin, you can create amazing chatbots for your business. You won't regret it, whether it's for Facebook Messenger, your website, or other platforms.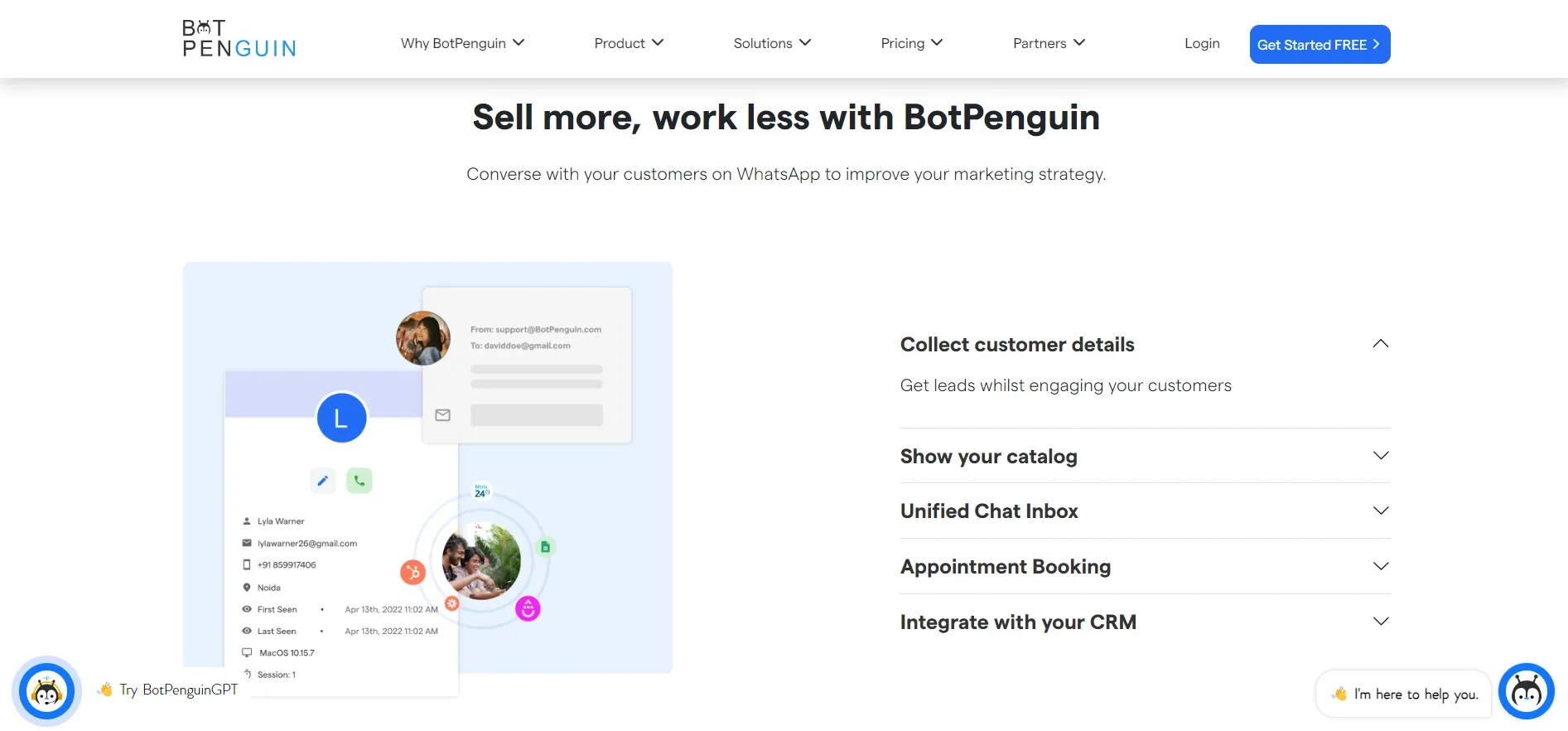 It is one of the best available chatbot creators in the market today. AI and NLP are among the strongest and best and provide you with the best chatbot benefits.
Key features:
Visual chatbot builder with drag-and-drop editing.
Customizable chatbot UI
Ready-to-use templates
Integrations with other platforms like Shopify, CRMs, etc
Social media integrations that enable Messenger chatbots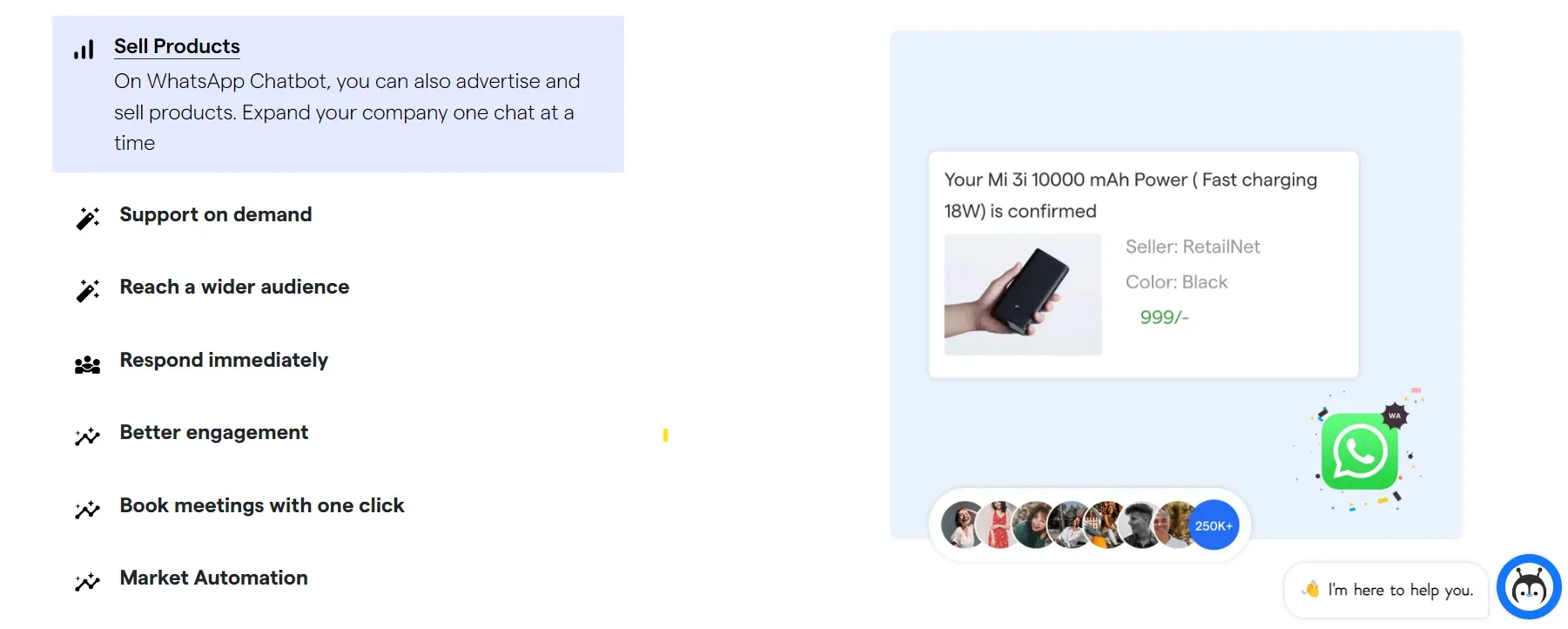 Tidio
For small and medium-sized enterprises who want a live chat with integrated chatbots, Tidio is undoubtedly the best chatbot builder available. Tidio offers a simple and rapid chatbot editor for your company, whether you're creating your first chatbot or need some new ones.
Key features:
AI-based chatbot
Third-party app integrations
HubSpot
Small to medium-sized organizations who want to increase lead generation and support their marketing team can use this bot builder software.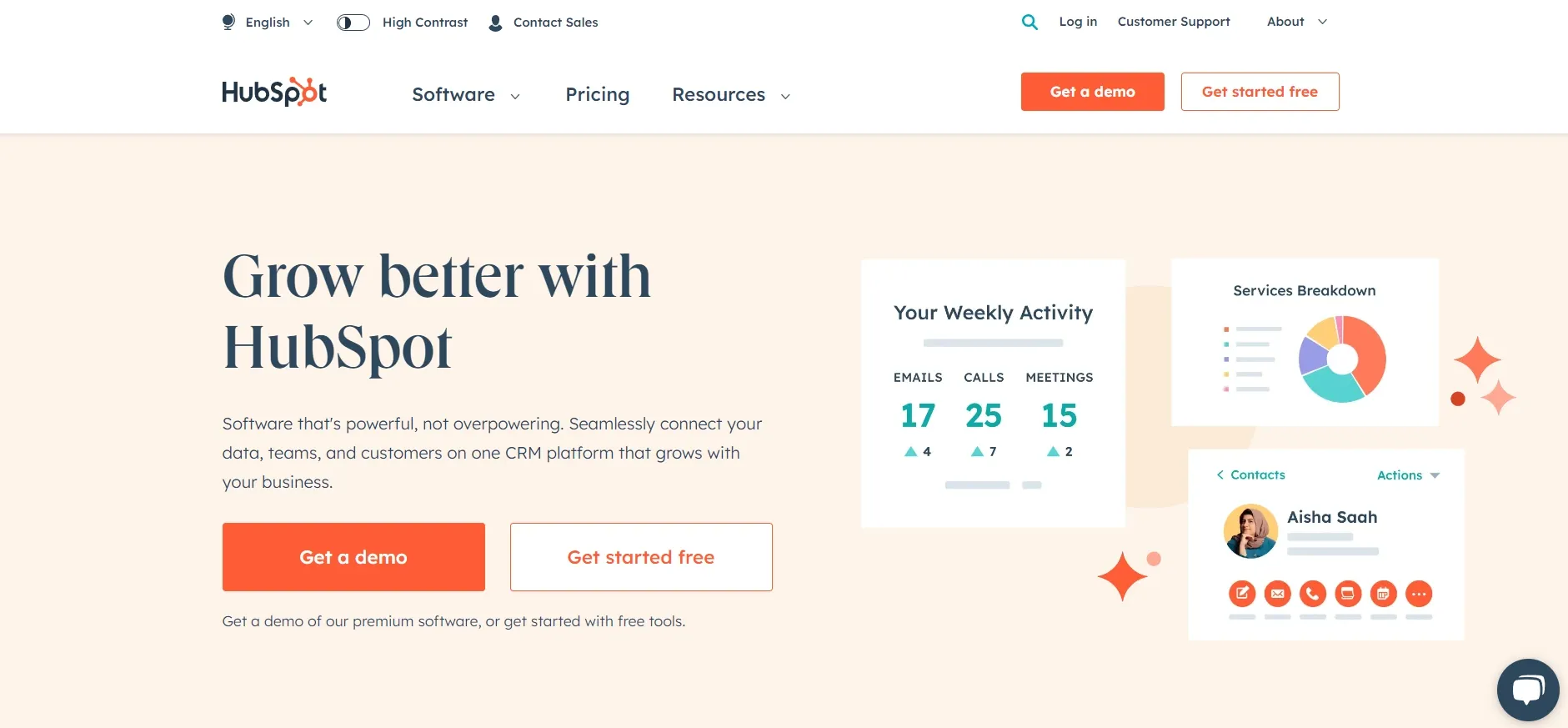 The HubSpot free CRM service includes chatbot-building tools. Your chatbot can be programmed to schedule appointments, respond to routine inquiries, and give an automated welcome message. You can also establish your team's response times to inquiries to let clients know when you are available to chat or unavailable.
Key features:
Seamless integration with other HubSpot services
Calendar booking available
One inbox for all customers
Chatfuel
For independent contractors, new businesses, and organizations that prioritize customer interactions on social media, Chatfuel is a terrific bot-making tool.
It is a Messenger chatbot builder that provides businesses with a central platform for including certain editing capabilities and other connectors (works exclusively with Facebook and Instagram). You can employ NLP (Natural Language Processing) for your international customers to provide a better customer experience. You can also pick from Messenger bot templates to suit your needs when developing a conversational flow.
Key features:
A huge amount of chatbot templates to choose from
Reporting and analytics available
User-friendly
Pandorabots
A nice option for small enterprises is Pandorabots. However, you'll need some free time to understand its functions fully.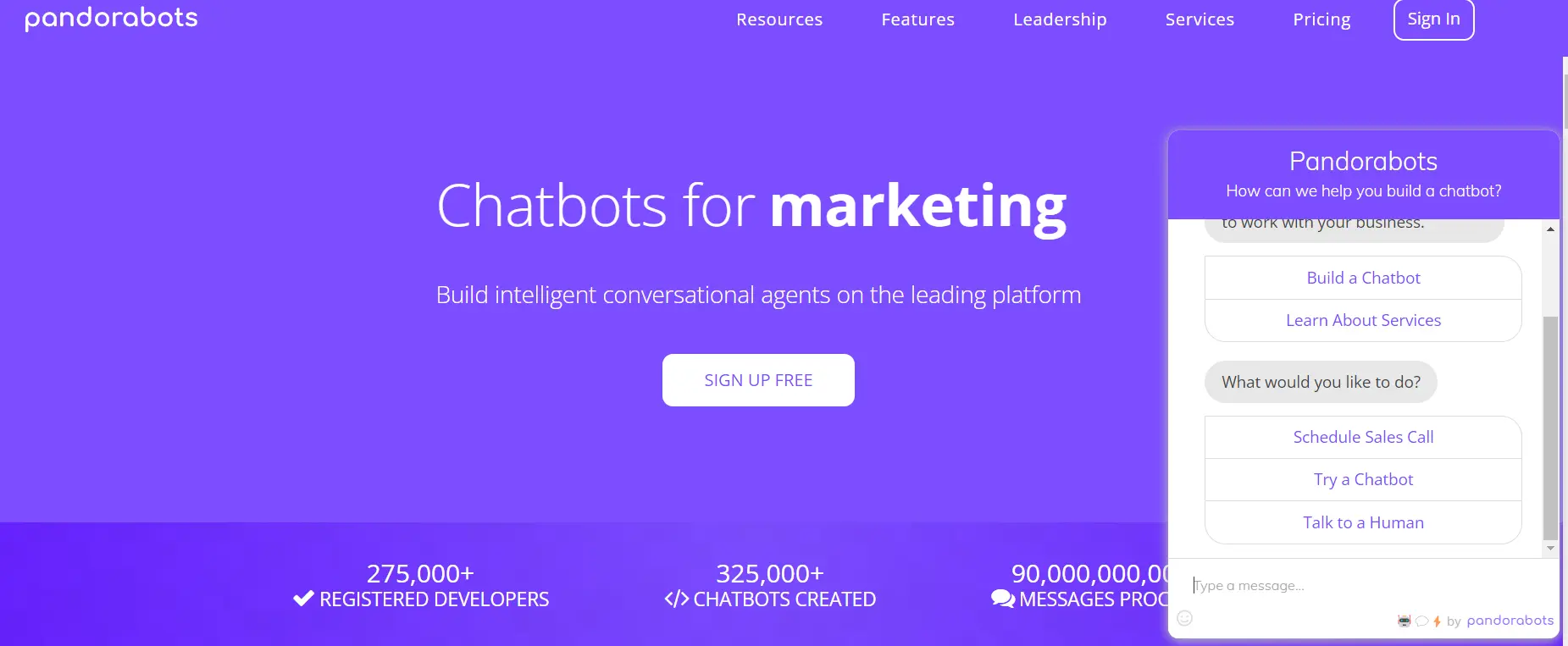 It is an open-source platform that allows users to create and deploy chatbots using artificial intelligence. You can use its framework, based on AIML (Artificial Intelligence Markup Language), to develop conversational bots that converse with your customers. However, it excludes machine learning techniques, which are useful for automation in sales and marketing.
With the help of Pandorabots, chatbots can be created and used on numerous platforms, including WhatsApp, Slack, Viber, and others. For businesses that have an omnichannel presence, this is helpful.
Key features:
Pre-built dialogues available
Cloud-based platform
Customizable interface
ManyChat
This bot-building software performs well for businesses with a strong social media presence on Facebook, Instagram, and WhatsApp.
With the help of this chatbot creator, you can communicate and have conversations with your customers and subscribers on WhatsApp, Telegram, and Instagram. For your convenience, it also offers integration with SMS and email.
A Facebook chatbot builder called ManyChat provides quick onboarding and excellent teaching information for all skill levels. Additionally, it offers a drag-and-drop editor with a structured and flexible interface for building your chatbot. Additionally, you have complete control over the content of what your bot tells your customers.
Key features:
User-friendly
Many third-party app integrations such as Zapier, Google Sheets
Highly customizable
Aivo
It is a suitable bot creation platform for medium-sized to large enterprises that need help handling many customer inquiries.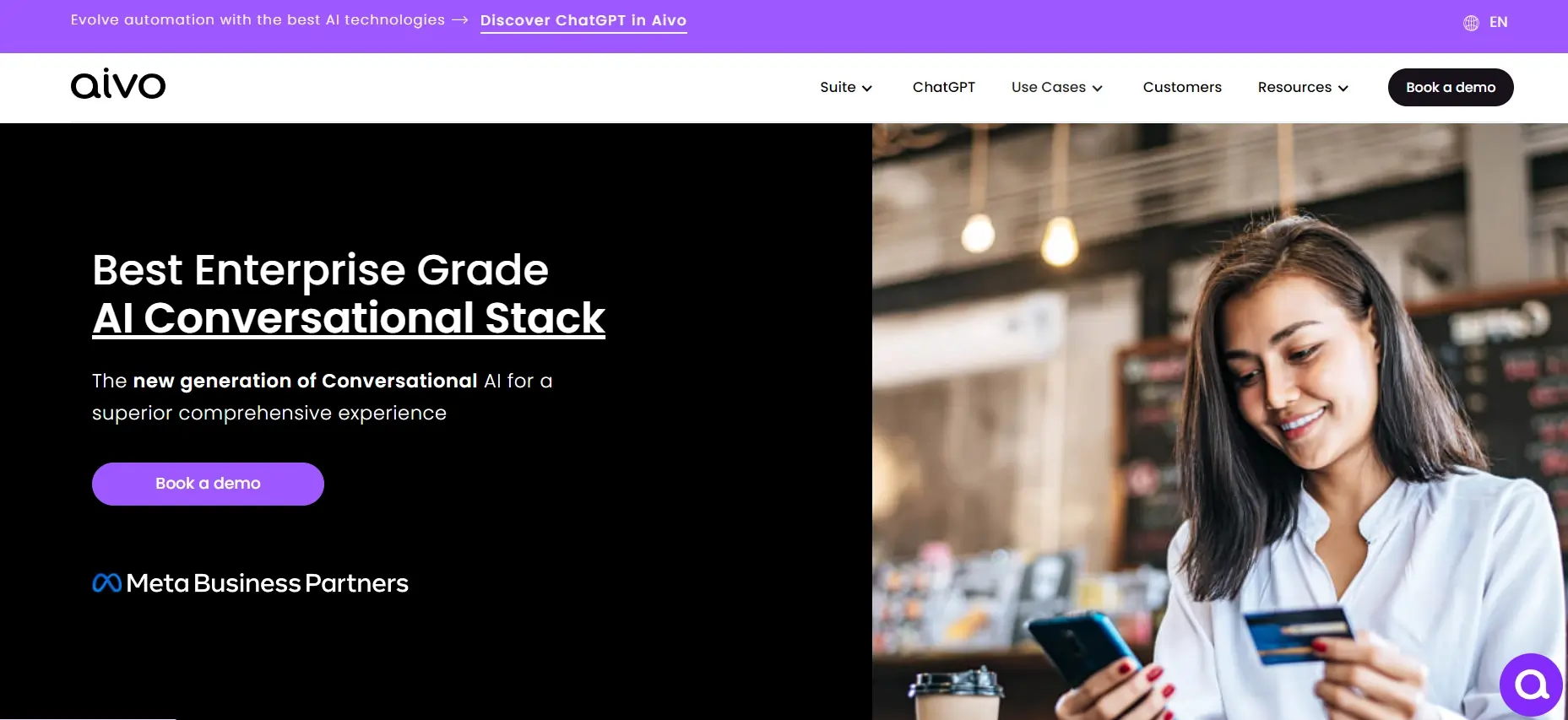 One of the chatbot developers that provides conversational AI is Aivo. Conversing with customers can help your brand maintain its authenticity and provide excellent customer service. It's simple to use, allowing you to quickly develop your bot, launch it, and analyze how well it's performing.
Suppose any of your brand's reps speak any of these languages. In that case, you will have more flexibility using this bot builder platform because it offers English, Spanish, and Portuguese support. Additionally, it interfaces with programs like Salesforce, Zapier, and Zendesk to help you do your duties more quickly.
Key features:
AI chatbot available
In-depth analytics
You can move failed interactions to a database for further reference
Conclusion
You are missing out on many great features and stopping your business from growing by not using a chatbot.
Chatbots are a great addition to your website or app and help generate leads, and provide important analytics.
These platforms are some of the best in their field, and you should try them before deciding which one fits your business.
Build your own chatbot today, Try BotPenguin!
Frequently Asked Questions
How can I choose the best chatbot creator for my needs?
To choose the best chatbot creator, consider factors such as your technical expertise, desired features, integration capabilities, scalability, pricing, and user reviews. Assessing these factors will help you identify the platform that aligns with your requirements and offers the necessary tools to create powerful and easy-to-use chatbots.
What features should I look for in a chatbot creator?
When selecting a chatbot creator, look for features such as a visual interface, natural language processing (NLP), AI and machine learning capabilities, multi-channel support, integration options with popular messaging platforms, analytics and reporting, customization options, and easy deployment processes.
Can I build chatbots without coding skills using these platforms?
Yes, the top chatbot creators mentioned earlier are designed to be user-friendly, allowing users to build chatbots without extensive coding knowledge. They typically provide drag-and-drop interfaces and pre-built templates, enabling you to create chatbots with minimal coding or technical expertise.
Are these chatbot creators suitable for both small businesses and large enterprises?
Yes, these chatbot creators cater to both small businesses and large enterprises. They offer different plans and pricing options to suit various budgets and requirements. Whether you have a small e-commerce store or a multinational corporation, you can find a suitable chatbot creator from the top options available.
Can I integrate the chatbot with my existing business systems?
Most chatbot creators provide integration options with popular business systems such as customer relationship management (CRM) platforms, email marketing tools, e-commerce platforms, and more. This allows you to streamline your business processes and leverage the power of chatbots in sync with your existing systems.
Can I create multilingual chatbots using these platforms?
Yes, many chatbot creators offer multilingual support, allowing you to build chatbots that can communicate with users in different languages. This feature is particularly useful if you have a global customer base or operate in regions with multiple languages.
What kind of customer support is available with these chatbot creators?
The level of customer support varies among chatbot creators. Some platforms offer extensive documentation, knowledge bases, tutorials, and community forums to assist users. Others may provide email support, live chat, or even dedicated account managers for higher-tier plans. It's important to review the customer support options offered by each platform before making a decision.
Can I integrate chatbots with voice assistants like Alexa or Google Assistant?
Some chatbot creators offer integrations with popular voice assistant platforms like Alexa Skills or Google Assistant. This allows you to extend the functionality of your chatbot to voice-enabled devices and provide a seamless conversational experience across different channels.