It is normal for business owners to believe that they are able to handle everything on their own. This is due to a variety of factors.
There are many reasons why some companies might be scared to outsource, including a lack of funds, a concern about things going wrong, or they haven't yet seen the benefits of outsourcing.
White Label Agencies have been used by some of the largest corporations in the world (you have unlimited resources) to scale and grow their businesses.
As a result of white labeling, a digital business can expand its range of services, attract new clients, and maintain relationships with current clients more easily and more affordably.
White-label services refer to third-party rebranding software already developed by one company under a license from another.
Consequently, a white-label agency is the only growth catalyst for digital agencies.
But it can be difficult to choose one agency for a white-label partnership when so many claims to provide the best white-label services.
In this blog, we will walk you through the steps to finding the best white label agency for your business!
White-label digital marketing agency: What is it?
A company that offers outsourced marketing services that are later resold under another company's name is known as a "white-label" digital marketing agency.
To turn a profit and claim ownership of the services they offer, the business typically raises the price of the services being supplied.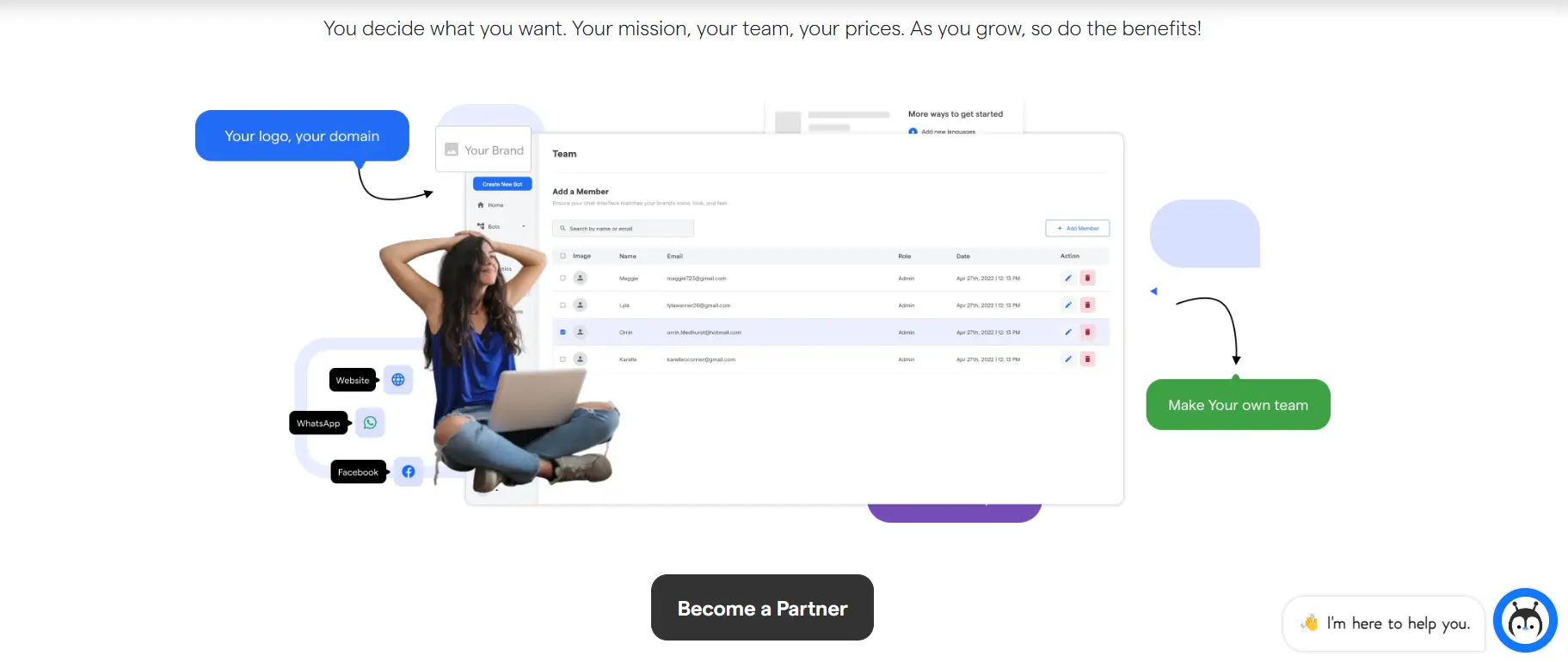 Similar to "ghostwriting," this idea also pertains to all types of digital marketing, including PPC, SEO, and web design.
Why choose a white-label digital marketing agency?
The most frequent reason businesses use a white-label provider is that they need services performed for their clients but lack the personnel or systems necessary to provide those services at an appropriate scale.
In this case, you would ask a white-label provider to process your orders using your brand name.
As opposed to having to spend time reviewing a variety of digital marketing experts and creating procedures and processes, it is usually simpler to work with an agency that can handle everything for you in a fully controlled manner.
Steps to find the Best White Label Agency for you
It's important to comprehend your white-label business possibilities to do things correctly.
You can concentrate on achieving your next income target more quickly if you partner with the ideal white-label provider.
Finding the ideal white-label business requires a thorough search, which is essential for laying the groundwork early on.
Here are 7 steps to finding the #1 white label agency for your business:
Step 1
Find the best fit for your company
First, understanding the kind of business you want to partner with is crucial.
Are you planning to launch a business primarily providing goods or services? Or would it be advantageous to collaborate with a bigger business with manufacturing capabilities that aren't specifically geared toward your sector?
Finding and choosing the ideal agency requires various tools and techniques for every organization.
White-label companies can assist you in bringing your company up to date by using the latest technologies and industry best practices.
Finding the best fit for their requirements is not something that every company can do.
You should take care of this step when choosing the ideal white-label business to collaborate with your business.
BotPenguin offers four different types of Partner Programs:
Step 2
Look for a group with years of experience in the industry & ideally, a 100% success rate
Finding a team with years of experience in your target market is the first step.
When we refer to a "niche," a market comparable to or larger than your existing industry, you can try e-commerce businesses, but be aware that middle-aged or older experts typically own them.
Larger organizations with greater resources could be better able to guide and advise you, especially regarding the market and the general health of your business.
However, smaller businesses with less money are also worth considering because they are frequently more responsive and agile and may be able to offer quicker returns.
Step 3
Establishing a solid social media presence
A successful online presence depends on having a prominent and easy-to-find online presence when white-label businesses make it easy for customers to locate them and keep track of everything happening with your business.
Start by listing your online resources, including your website, social media accounts, and LinkedIn groups, and describe how you use each.
Use a user-friendly platform to record your web presence and any other marketing collateral you may be providing (e.g., business cards).
Step 4
Choose a business that specializea in a single product or service rather than those with diverse offerings
Recognize and stay away from the numerous "white label" businesses.
They provide inexpensive services but no professional direction.
Contact companies with a history of providing superior service and that have worked with various clients instead.
A thorough conversation will reveal how your offer will differentiate them from their competitors.
Create your own "insurance policy" against repeating repetitious things to save time, effort, and hopefully money.
Step 5
Recognize the advantages & disadvantages of working with a white-label partner
White-label businesses have both benefits and drawbacks. It all boils down to each company's strategy, product portfolio, and marketing plans.
A white-label business, however, can result in greater earnings and savings for both businesses and customers if it is correctly handled.
Anyone may profit from creating a white-label business with the right information.
Choosing a white-label provider offers several advantages, particularly if you want to launch an internet business from scratch.
This procedure is essential to keep your options open and discover a quality white-label business that will partner with you to grow your company abroad.
Step 6
Utilize the appropriate ratios & KPIs to eliminate potential companies
Companies usually hire based on experience and knowledge rather than academic credentials.
Finding a business that is both specialized and willing to hire full-time employees should be the aim.
There's a decent possibility that you already know a few businesses that fit this description, but if not, looking for reliable substitutes can enable you to save more money in the long run.
Establish Key performance indicators (KPIs) for each area of expertise, such as revenue, cost per visitor, and time to first satisfaction. They then use these KPIs as criteria for competitive analysis.
Step 7
Make contact with white-label businesses
Working with a white-label business makes sense for a variety of reasons.
It can be to make financial savings, gain greater visibility, or perform better. Whatever your motivation, the following guide will help you identify a top white-label business.
Though not every business will provide everything on this list, around half will.
Also, remember that not all businesses will offer services that will aid your business's success.
Conclusion
Partnering with the right white-label digital marketing company is essential.
Since you will be providing the services under your name, choosing one that offers subpar services will be detrimental to your reputation.
Before signing any long-term contracts, choose the agency you want to work with, and don't be scared to test out a few.
We hope that this step has aided you in your search for it.
If you want, you can use the white-label chatbots from BotPenguin, which don't require coding knowledge.
Use BotPenguin's white-label chatbot solution for companies in e-commerce, customer service, healthcare, real estate, and other industries.
Use the white-label BotPenguin chatbot to provide your consumers with a delightful experience.
Thank you for stopping by!
Frequently Asked Questions (FAQs)
What is a white label agency?
A white label agency is a company that provides services or products that can be rebranded and resold by another company as their own. These agencies typically work behind the scenes and allow businesses to offer specialized services without having to build the expertise in-house.
How do I know if I need a white label agency?
If your business lacks the resources, expertise, or time to develop certain services or products but still wants to offer them to your customers, a white label agency can be a valuable solution.
What services can I expect from a white label agency?
White label agencies can offer a wide range of services, including web design, marketing, software development, content creation, SEO, and more. The specific services offered will vary depending on the agency's expertise.
How do I identify the best white label agency for my needs?
To find the best white label agency for your business, consider factors such as their track record, client testimonials, the quality of their work, their expertise in your industry, and their ability to scale with your business.
What questions should I ask potential white label agencies during the selection process?
When evaluating white label agencies, ask about their experience in your industry, the size of their team, their communication process, their pricing structure, and how they handle confidential information.