Business industries are increasing in today's market. You need to know the tricks and tips that will help you succeed on your business journey. With the rapid growth of different AI Technologies that can be implemented to grow your business, chatbots cover a critical arena.
Chatbots have already made their position in the business market. A chatbot is a blessing for your business and helps you work efficiently. It allows you to devote your time to productive work by handling small but essential tasks on your behalf.
But only some business houses have the capability to create their chatbot service. Here comes the role of White Label Chatbots. They play an essential part in implementing chatbots for businesses.
This blog will explain why White Label Chatbots are a savior for your business journey. We will get into greater detail about chatbots and White label chatbots, their roles, and an excellent white-label chatbot suggestion for you.
So, let's not waste our time and dive straight into it.
Getting to know White Label Chatbots in detail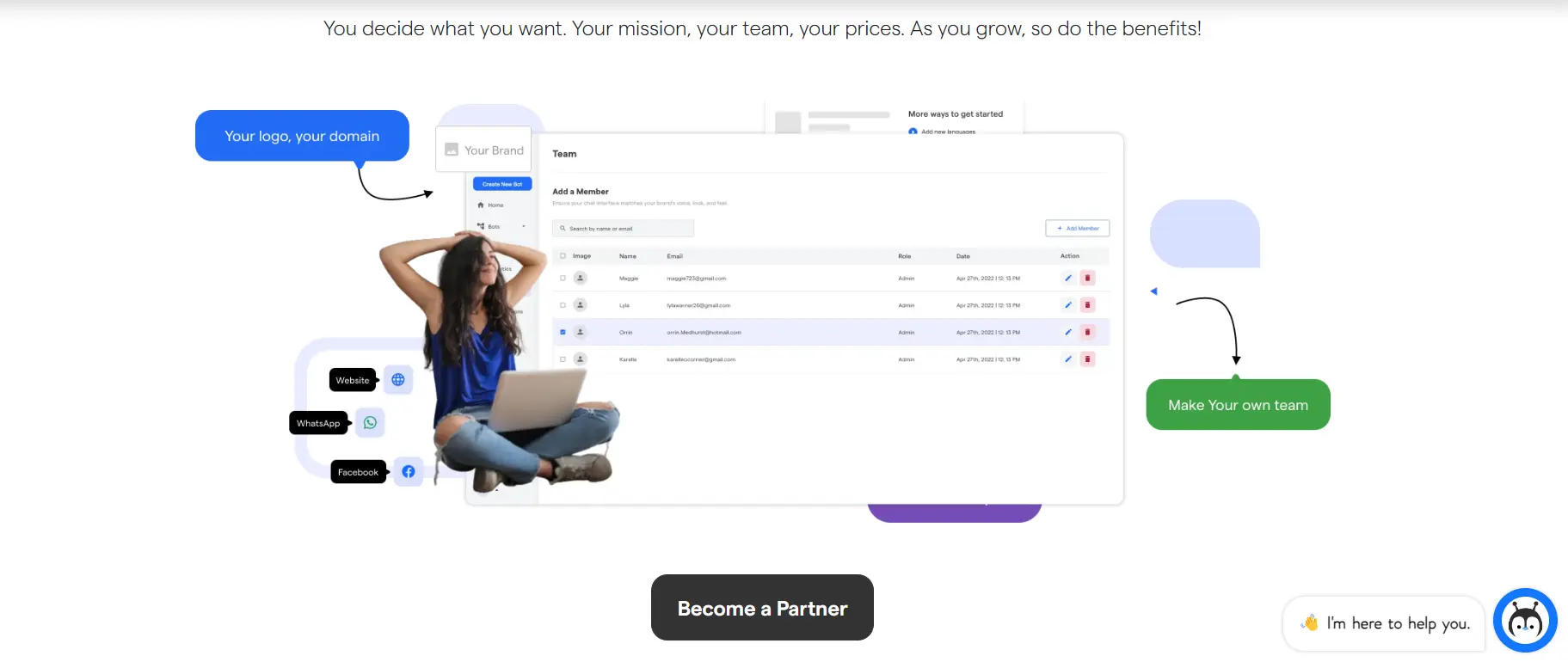 Chatbots are generally chatting tools created for interpreting natural language and delivering immediate contextual replies based on the information provided. In simple language, you ask the chatbot a question, and it gives you a quick response that is honest and helpful.
White Label chatbot agencies are top-rated in today's market because they offer small businesses to use their features without worrying about investment.
Investing in a white-label chatbot can be a great idea as you have total control over the UI and the design of your chatbot. You can quickly change the chatbot according to your client's need and resell it without worrying about how to design a chatbot. It gives you a higher chance to satisfy your customers and saves you time and capital.
A white-label chatbot platform is where chatbots remove their branding and replace it with the reseller's logo to create a product or a service for another company. In this case, the reseller is supposed to be the product's manufacturer.
They are the ones who create the product and then license it to other companies to sell under their brand names. Whitelabel chatbots are mostly unbranded, and you can use them for your website or App by putting your logo on them.
Not only this But, BotPenguin Offers four different types of Partner Programs:
This procedure helps small businesses to enter the industry without working on the investment needed to manufacture the product. It also helps them to save time as well as money. It also allows them to increase the current readings and provide a more holistic experience for their clients.
Are Chatbots the future of the business world?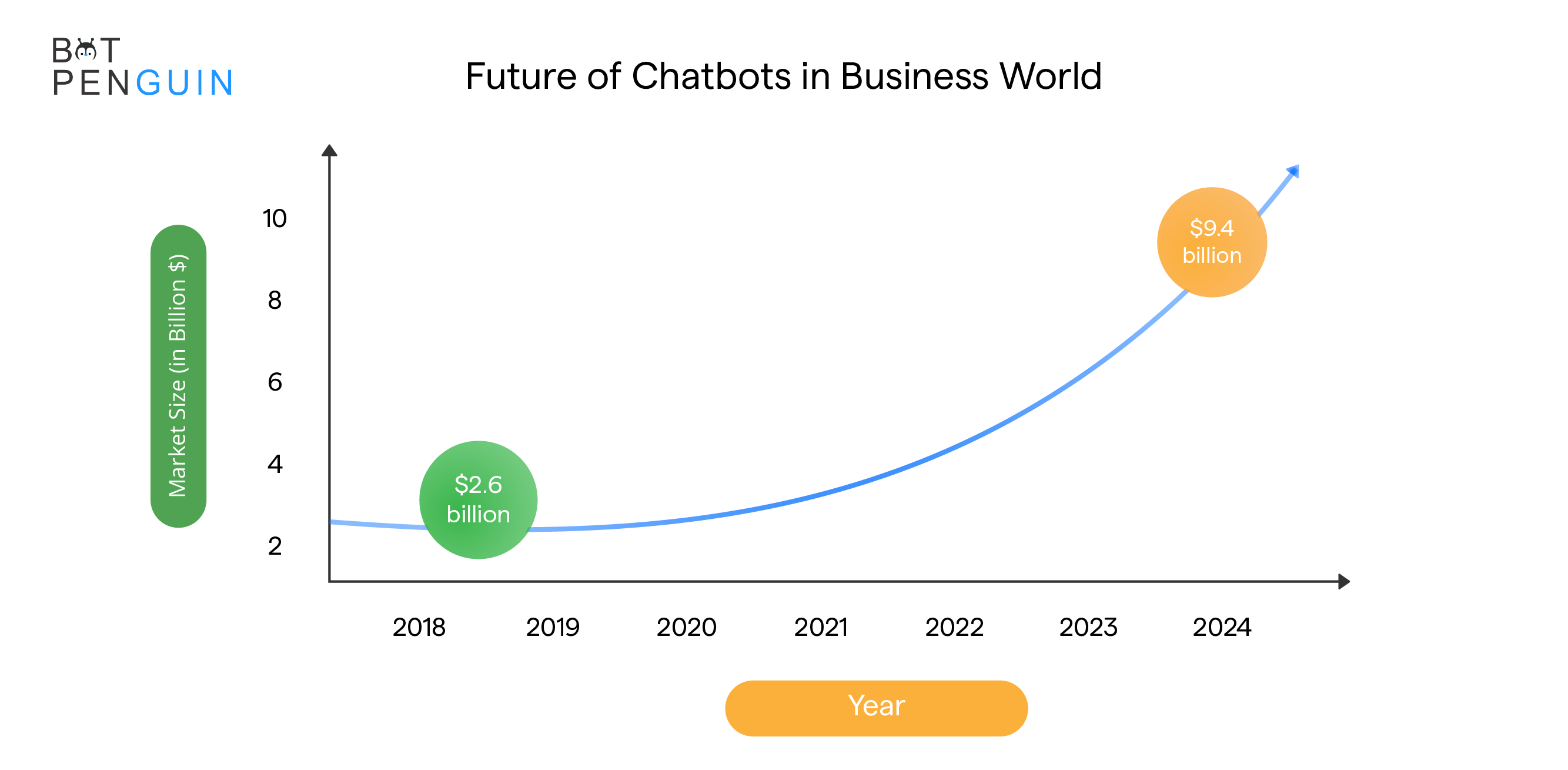 As you know, Artificial intelligence is prevalent these days, and chatbots are no less. Chatbots are convenient tools used in task distribution and reducing cost and are known to create new possibilities. An AI-powered chatbot provides support in all situations, answering our questions instantly.
Most companies are now comfortable with integrating AI chatbots in their business units, but this rate is eventually increasing. A recent study found that three out of four executives believe that artificial intelligence is the future of the business globe.
That survey also found that just 1 out of 20 companies has integrated chatbots into their processes or offerings. Chatbots are slowly making their way into the business world.
Six reasons why so should opt for a White Label Chatbot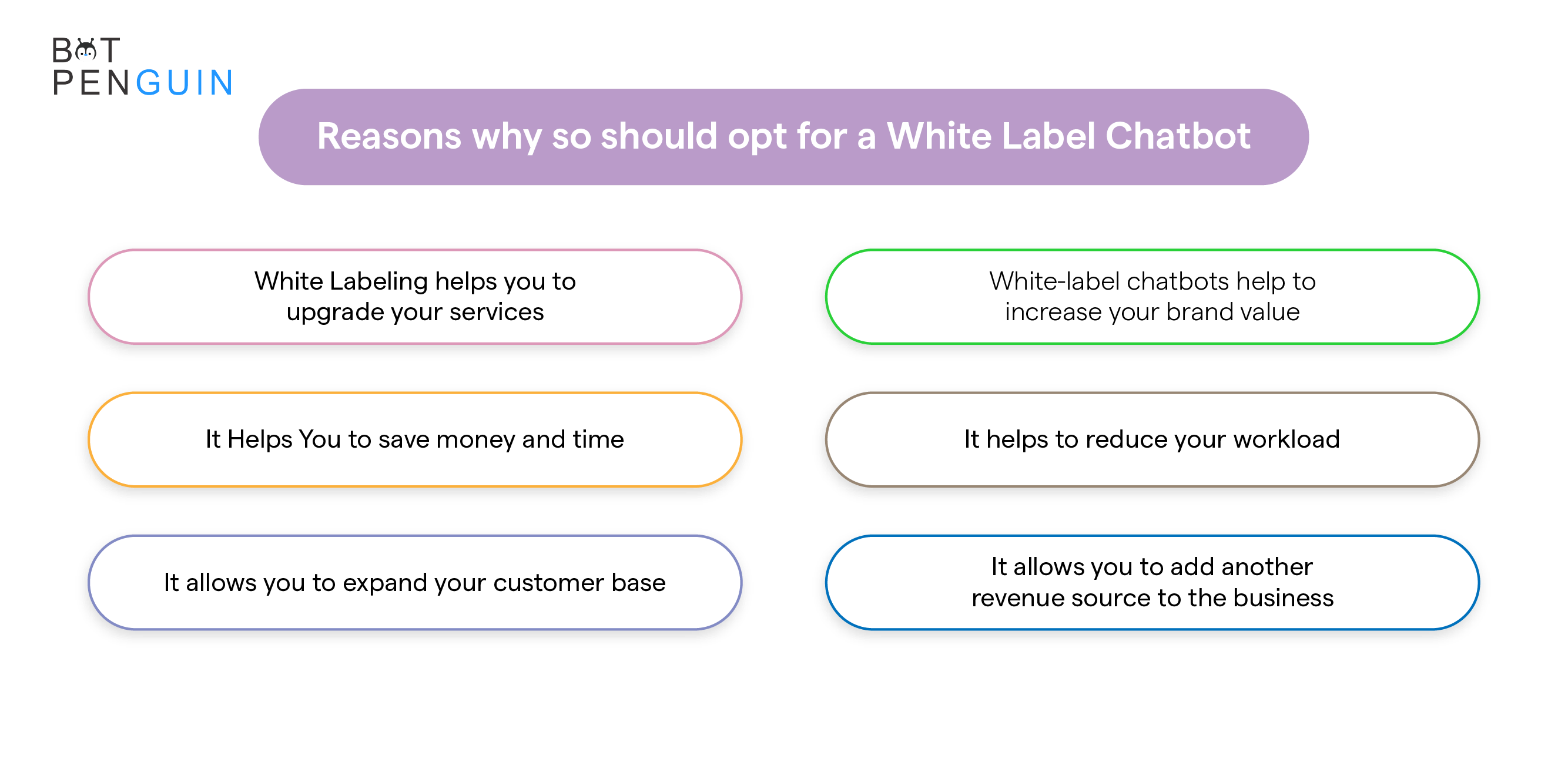 Make Your Business Stand Out with a Custom White Label Chatbot, here are the reasons to opt them
1. White Labeling helps you to upgrade your services
As you already know, using a White label chatbot is to expand your current offerings. You don't need to specialize in every service you're providing; you need to find the right solution. It can be done by outsourcing some of your work to a white-label service provider who will help you to provide your customer base with a wide range of services.
2. It Helps You to save money and time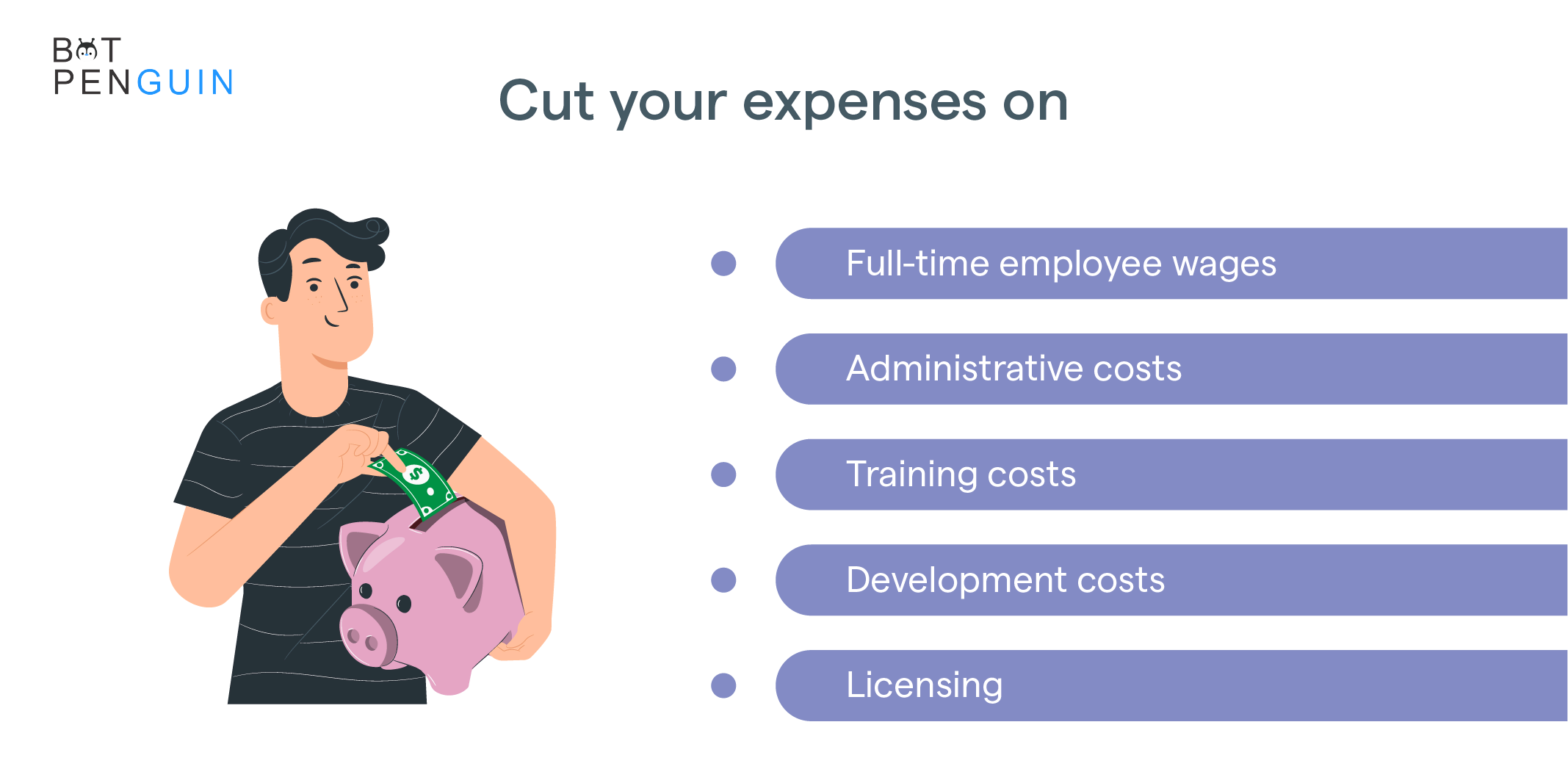 A White label chatbot platform would be an ideal choice if you're a small-scale firm on a tight budget but still want to include a chatbot platform in your service line. You don't have to maintain a full-time team of specialists when you outsource a service to a white-label chatbot platform.
It will help you to cut your expenses on grounds such as salaries for full-time employees, development costs, licensing, overhead costs, training costs, and several other areas.
3. It allows you to add another revenue source to the business
Each additional service you provide to your customers will help you generate an added income stream for your business. But you need to resell these services at a good profit margin to maintain healthy revenue profitability.
4. It allows you to expand your customer base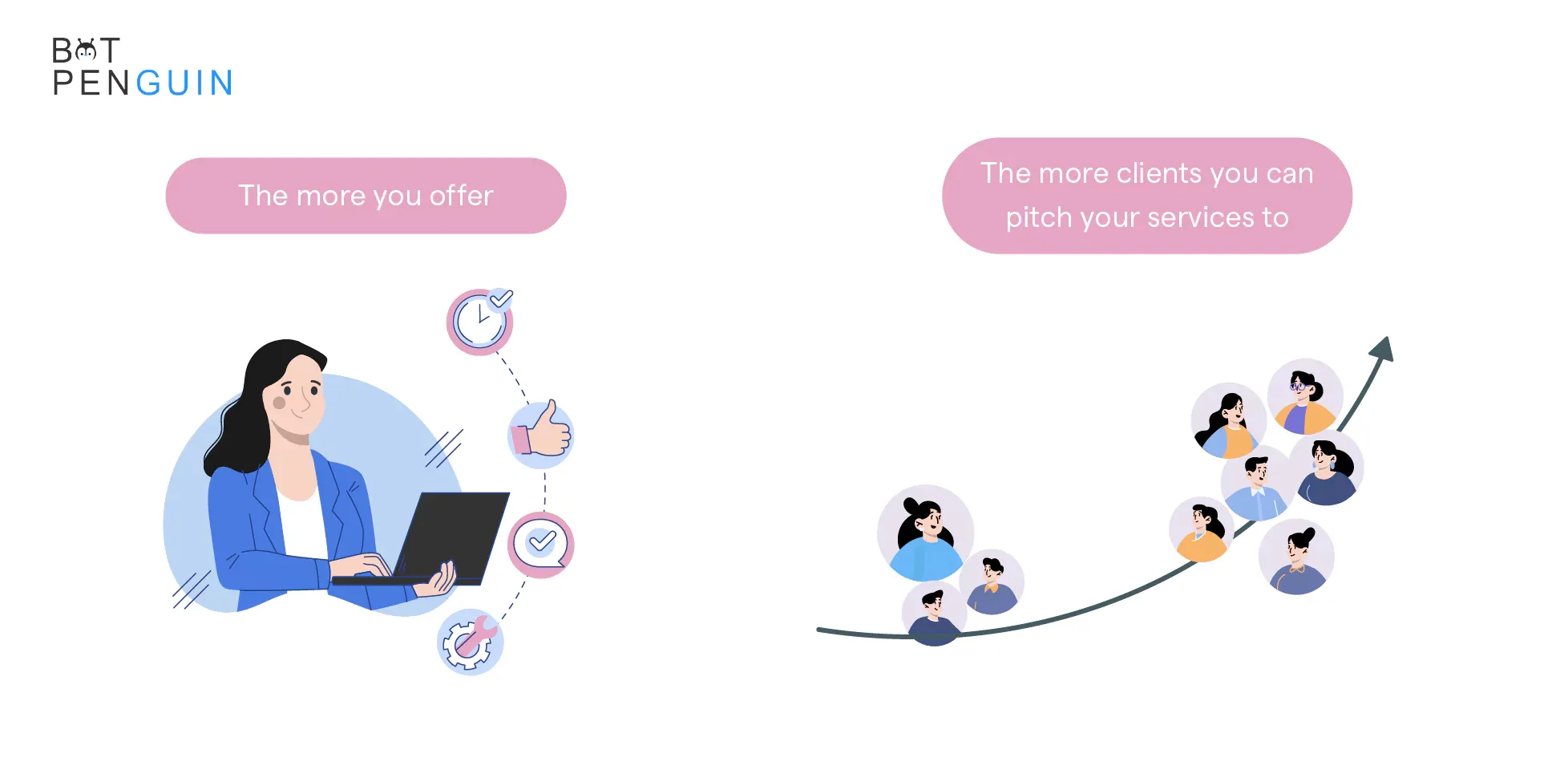 White-label chatbots help you to increase your service line so that you can attract a new audience. White labeling exposes you to a customer base belonging to many sectors of the industries. The more you offer, the more clients you can pitch your services to.
If you can gain an industry reputation for providing high-quality service, it will be easier for you to achieve clients' attention.
5. White-label chatbots help to increase your brand value
When someone uses your White label chatbot services, you should ensure that you deliver on your promises and try to build a good reputation in the AI industry. If you can provide a broad range of services to your clients, you can position yourself as a top-choice agency for all sorts of services.
6. It helps to reduce your workload
There is a lot of manual work required to run your business smoothly. Taking care of each matter of your business is essential to avoid mistakes. But this, in turn, increases your workload, and your team gets over-exhausted.
A White Label chatbot can help you perform your tasks to maintain good relationships with your customers and answer simple queries without direct human involvement. Thus it enables you to eliminate the extra burden and invest your time into productive activities.
Why BotPenguin is the best choice if you are searching for a White label chatbot ?

BotPenguin is a renowned chatbot creator whose main aim is to provide a great experience to the person building the bot. It is a very user-friendly platform and has a clean look of the drag-and-drop editor along with the cheap price point for their subscription plan. BotPenguin can be used on various media, including Facebook messenger, Instagram, email, and SMS.
BotPenguin has an extensive set of triggers and actions which can be used to modify the templates that are already provided. It makes developing, understanding, and changing the flow of your App a lot easier with its non-rigid diagrams and buttons for copying and moving pieces.
The main attraction of BotPenguin is its excellent price point, where you can update yourself to a profession for only $4 per month. It also has a free plan with many features primarily available in the paid version of other chatbot builders. It provides amazing benefits like audience segmentation, limitless chatbot flows, Growth tools, and over 1000 contacts.
Conclusion
By now, you already know what chatbots and white-label chatbots are and why they are the only way to go.
In recent years, we have noticed how much White label chatbots have grown as a business. Whitelabel chatbots help reduce many business problems, giving you more opportunities to transform your business career.
Investing in an excellent White label chatbot is a crucial decision as it can affect the future of your business. It's better to opt for services with a trial period so that you can know better about the chatbot before investing in it. It is better to choose a chatbot to help you fulfill your business needs rather than follow the market trend.
An excellent White label chatbot can act as a blessing for your business. In this blog, we have discussed each aspect of a white-label chatbot in detail and why you should invest in one.
If you have any more queries regarding a White label chatbot, feel free to comment below. Also, as suggested above, remember to check out the amazing features offered by BotPenguin!
Frequently Asked Questions
What is the primary reason resellers should consider White Label Chatbots?
The primary reason is the ability to offer advanced, customizable chatbot solutions without investing in developing their own technology, saving time and resources.
How can White Label Chatbots help resellers generate additional revenue streams?
Resellers can charge a markup for rebranding and customizing chatbot solutions for clients, creating a new source of revenue.
Will White Label Chatbots enhance the range of services offered by resellers?
Yes, by adding chatbot services to their portfolio, resellers can attract new clients and better cater to existing clients' digital transformation needs.
Can resellers expect ongoing support from White Label Chatbot providers?
Yes, most White Label Chatbot providers offer comprehensive support, including training, onboarding, technical assistance, and regular updates to the platform.
Are White Label Chatbots cost-effective for resellers?
Yes, using White Label Chatbots eliminates the need for costly in-house development and maintenance, making it a cost-effective option for resellers.
Can resellers expect a competitive advantage by offering White Label Chatbots?
Resellers can gain a competitive edge by staying ahead of industry trends and providing cutting-edge chatbot solutions to clients, setting them apart from competitors.