Everyone's Chanting ChatGPT as the revolution. But What can it actually do? We've got you covered.
In this post, we'll guide you through the diverse ways ChatGPT can be applied to enhance business operations, boost productivity, automate tasks, and more. You'll discover real-world use cases across industries to spark ideas.
Whether you're an exec exploring emerging tech or an entrepreneur looking to incorporate AI, we've got you covered. Let's dive in to uncover what's possible and brainstorm how to put this game-changing AI to work for you!

Let's dive in!
What is ChatGPT?
ChatGPT is an advanced AI language model developed by OpenAI. It leverages deep learning and machine learning techniques to generate human-like responses to text inputs.
Think of it as a virtual chatbot capable of engaging in interactive conversations. ChatGPT understands the context of a conversation and provides relevant and insightful replies. It makes users feel like they're interacting with a human.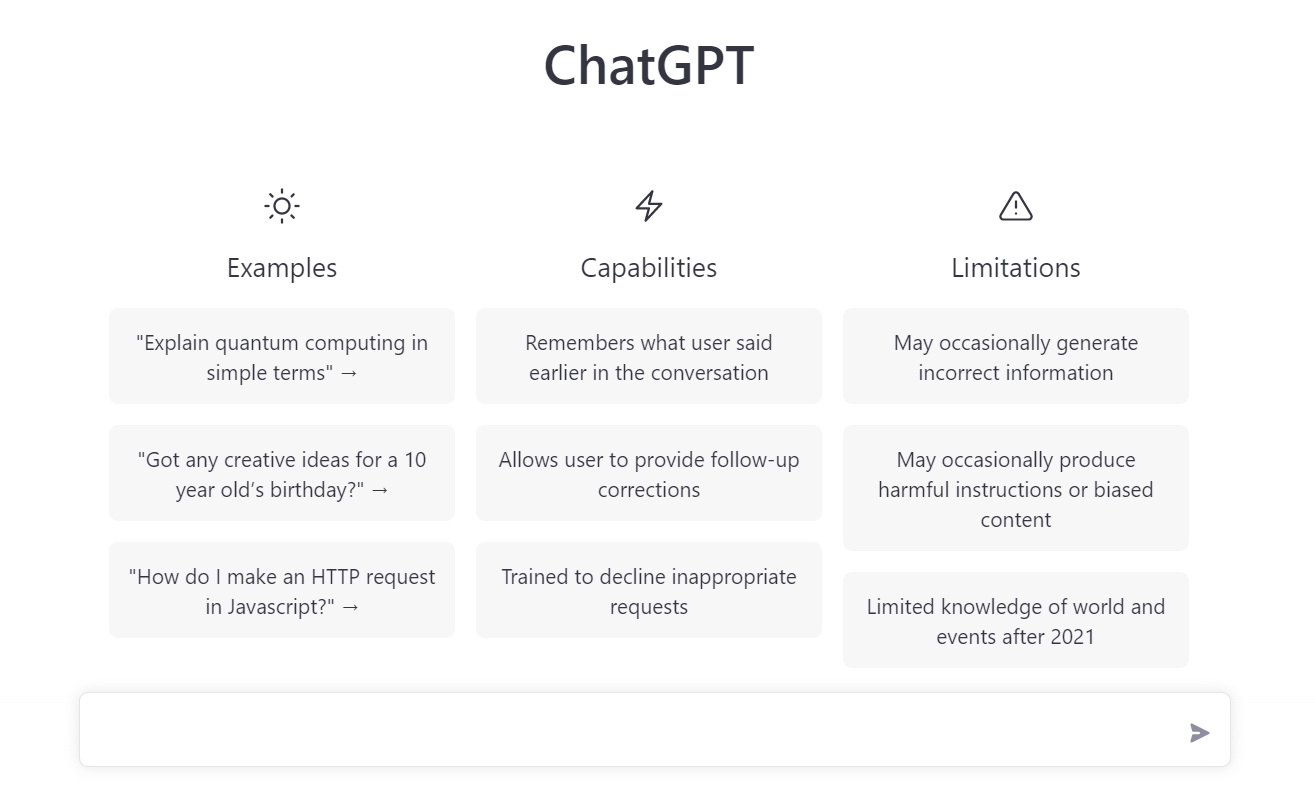 How does ChatGPT work?
ChatGPT makes use of AI algorithms that helps it process and understand the user input, just like how a real human would understand another human's language.
Data Training
ChatGPT is initially trained on a large amount of data from the internet. During its training process, it learns to predict the next word in a sentence, enabling it to generate human-like text.
Fine-tuning with Reinforcement Learning
Once the initial training is done, ChatGPT undergoes a process called fine-tuning. It is presented with different versions of an answer to a particular prompt and learns to generate the better one over time.
Leveraging Transformer Models
ChatGPT makes use of a machine-learning model known as a transformer model. This model helps it to make connections between different parts of the input and generate accurate and coherent responses.
User Interaction and Feedback
The more ChatGPT interacts with users, the better it gets. The feedback and interactions it gets from users are used to improve its response generation and overall functionality.
To summarize, ChatGPT effectively understands user input, is trained and fine-tuned with a huge amount of internet data and reinforcement learning, uses transformer models to make sense of different parts of the input, and continues to improve through user interaction and feedback.
The Role of AI in ChatGPT
AI plays a crucial role in powering ChatGPT and making it function effectively:
Natural Language Processing
AI technology enables ChatGPT to process and understand human language. ChatGPT uses NLP techniques to parse and interpret the meaning behind text inputs. It allows ChatGPT to generate responses that are contextually relevant and linguistically accurate.
Deep Learning
Deep learning is at the core of ChatGPT's architecture. It uses neural networks with multiple layers to process and analyze the input data. ChatGPT can develop a deep understanding of language by learning from vast amounts of text. Then, it can generate coherent responses that align with the given prompts.
Training and Fine-Tuning
AI facilitates the training and fine-tuning process of ChatGPT. During the training phase, the model uses a massive dataset to learn the statistical patterns of language. Fine-tuning involves refining the model's behavior based on specific objectives and fine-tuning it with additional data. This iterative process helps optimize the model's performance and generate more accurate and reliable responses.
ChatGPT: The Advantages
In today's fast-paced world, efficiency is critical. And that's where ChatGPT shines.

Let's take a look at how it makes life easy for us and explore the numerous benefits associated with using ChatGPT.
Versatility
ChatGPT's ability to understand and generate human-like text makes it extremely versatile. It can be used in various applications, from customer service automation and tutoring, to content generation and programming help.
Cost-Effective
Automatic conversation handling reduces the need for human agents, which can result in a cost-effective, 24/7 customer service operation. Furthermore, the time saved can be devoted to more complex tasks.
Continuous Learning
Through reinforcement learning, ChatGPT continues to improve over time. It adapts to its mistakes, learning to provide more accurate and useful responses based on human feedback.
User Personalization
ChatGPT can offer personalised experiences by understanding and responding to user contexts. The more it interacts with a user, the better it is able to respond accurately to their inputs.
Global Reach
ChatGPT's language proficiency makes it an excellent tool for companies that have a global audience. With it, companies can overcome time and language barriers, delivering support and service around the clock.
Potential ChatGPT Use Cases
ChatGPT can revolutionize a wide range of industries. From customer service to healthcare, the possibilities are endless. In this section, we'll explore some of the potential use cases of ChatGPT that are already making waves in various fields.
Customer Service and Support
AI chatbots like ChatGPT revolutionize customer service by being available around the clock, providing instant support, and handling multiple queries simultaneously.
Sales and Marketing
With the ability to deliver personalized messages and respond promptly, ChatGPT can be a game changer in the world of sales and marketing.
Education and Training
ChatGPT can be utilized for personalized learning experiences, simulations, and even training staff by answering queries and simulating scenarios.
Healthcare and Wellness
From scheduling appointments to reminding patients about their medicine, AI chatbots are finding their usefulness in healthcare by making processes smoother and more efficient.
E-commerce
ChatGPT acclimates well in the e-commerce sector as well. It can be used to automate order tracking, provide product recommendations, and offer instant customer support.
Content Creation
ChatGPT, with its advanced language patterns and quick learning, can be used for content creation and proofreading as well.
Human Resources
Streamlining the hiring process, automatic scheduling of interviews, and timely reminders are ways in which ChatGPT can be utilized in the HR field.
Finance Sector
The finance sector can leverage ChatGPT for answering client queries, providing financial recommendations, tracking market updates, and automating repetitive tasks.
Hospitality Industry
From booking orders to answering customer queries, ChatGPT can excel in investing the hospitality industry with an improved, streamlined approach.
Data Management
ChatGPT can automate data entry tasks, provide data analysis, and ensure the smooth management of information in various sectors.
ChatGPT, in essence, is revolutionizing the way we approach various tasks across industries - offering efficiency, automation, and significant enhancement in terms of interaction and engagement.
Here you are done with the use cases. But next comes up BotPenguin, a one-stop destination for every ChatGPT solution:
How ChatGPT is Revolutionizing Different Professional Roles?
AI (Artificial Intelligence) is reshaping various professional roles in unprecedented ways and OpenAI's ChatGPT is at the forefront of it. Let's take a look at its impact.
Impact on Customer Service Representatives
ChatGPT can help customer service representatives in many ways. ChatGPT can help reps with common inquiries, freeing time to handle more complex requests. Additionally, ChatGPT can help customer service teams with multilingual support, ensuring that customers are always understood. This technology can also enhance customer satisfaction by providing smoother communication and quick solutions to inquiries.
Impact on HR Professionals
ChatGPT can also benefit human resource professionals. ChatGPT can help sort resumes and other documents more efficiently and unbiasedly by eliminating human errors. This process allows HR reps to save time and reduce potential biases. It helps them quickly identify suitable candidates for specific job roles.
Impact on Writers
When it comes to writing, chatbots like ChatGPT can be a boon. Writers can use ChatGPT to develop creative ideas for their next piece of content. ChatGPT's ability to process language and create original text can inspire and even help with blocking out significant sections of content. By doing so, ChatGPT can free up more time for the writer to focus on brainstorming and actual writing.
Impact on Web Developers
ChatGPT can make chatbot development more accessible and practical, a boon for web developers. Developers can use ChatGPT's capabilities to train their bots rather than using pre-scripted templates. With ChatGPT, web developers can develop their unique chatbots. It allows them to build chatbots that are more personalized and more efficient.
Impact on Data Science Roles
ChatGPT's capabilities have leverage in data science roles. Data analysts can use ChatGPT to mine data and analyze it for insights. ChatGPT can be used to categorize data and identify common trends. This automation saves data scientists time and can help them make real-time data-driven decisions.
How is ChatGPT Different from other AI models?
When it comes to AI models, ChatGPT stands out from the crowd. With its unique features and capabilities, ChatGPT offers a different experience than other AI models. This section explores three key aspects that set ChatGPT apart.
Contextual Understanding
One of the most skilled advantages of ChatGPT is its ability to understand context. Unlike other AI models that rely solely on individual sentences or words, ChatGPT can comprehend the flow of conversation and maintain context throughout. It allows for more natural and human-like interactions, making the conversation seamless.

ChatGPT can pick up on subtle cues and references from previous messages, enabling it to provide accurate and relevant responses. This contextual understanding makes ChatGPT a powerful tool for customer service, education, and other applications where maintaining a coherent conversation is vital.
Versatility
ChatGPT is a jack-of-all-trades in the AI world. Its versatility sets it apart from other models specialized in specific tasks. With ChatGPT, you can go beyond fundamental question-and-answer interactions. The platform can handle various language-based tasks, including content generation, translation, summarization, etc.

Whether you need assistance with writing, generating product descriptions, or even composing music, ChatGPT has got you covered. Its flexibility and adaptability make it a valuable resource for businesses and individuals. It allows them to accomplish tasks more efficiently and creatively.
Language and Global Reach
The power of ChatGPT extends far beyond borders. While other AI models may be limited to specific languages or geographical regions, ChatGPT boasts a wide-ranging global reach. It gets trained on a vast amount of multilingual data. It enables it to understand and respond to queries in different languages.

This language diversity is invaluable, especially in today's interconnected world. It allows businesses to cater to a global audience and engage with customers from various cultural backgrounds. ChatGPT's ability to support multiple languages breaks down barriers and fosters communication on a worldwide scale.
Potential Limitations of ChatGPT
As promising as ChatGPT is, there are still some potential limitations to count.
Bias and Ethics
One of the primary issues with ChatGPT is the possibility of bias in its responses. The platform's responses are based on the data it has been trained on, which means that if the data is biased or contains inappropriate material, ChatGPT's responses could also be emotional or improper.

Additionally, ChatGPT's responses get influenced by the user's input. If the user provides inappropriate or biased information, this can lead to similarly wrong or partial answers. Ensuring that the training of ChatGPT is on appropriate data and that users interact with the platform ethically and responsibly is crucial.
Data Dependency
Another limitation of ChatGPT is its dependence on large amounts of data to function effectively. To provide accurate and relevant responses, ChatGPT requires vast amounts of training data from a variety of sources. The reaction's quality directly correlates with the quantity and quality of the data it receives.

This data dependency limits ChatGPT's effectiveness in specific applications, particularly those where data is scarce or inaccessible. ChatGPT may need to be more accurate or provide adequate responses. Considering the quality and quantity of data required for ChatGPT to function effectively is essential.
Need for Continuous Training
Finally, ChatGPT requires continuous training to maintain its effectiveness. As language evolves and new data becomes available, ChatGPT must be continually updated to keep up with these changes. Failure to keep the platform up-to-date can result in outdated responses, leading to inaccurate information and user frustration.

It needed for continuous training can also create a long-term cost for businesses and organizations using ChatGPT. Maintaining and updating the platform requires a dedicated effort to ensure its accuracy and effectiveness.
Conclusion
In conclusion, ChatGPT represents the future of AI technology. Its remarkable capabilities and versatility make it a valuable resource for businesses and individuals. It has the potential to transform the way we live and work.

Businesses may simplify customer service, produce valuable content, and provide clients with tailored experiences by utilizing ChatGPT's natural language processing and machine learning capabilities. People can study, communicate, and create new and intriguing manners with the help of ChatGPT.
Although ChatGPT has potential drawbacks and ethical dilemmas, the advantages might be too significant to overlook. In the future, we anticipate seeing even more fascinating breakthroughs from ChatGPT and other AI models as technology progresses.
With ChatGPT, we're only beginning to scratch the surface of AI's potential, and there are countless possibilities. Living in such an exciting time, we eagerly anticipate how ChatGPT and other AI models will continue influencing future generations.
Frequently Asked Questions (FAQs)
What is ChatGPT, and how does it work?
ChatGPT is an AI language model developed by OpenAI. It uses deep learning techniques to understand and generate human-like text, making it capable of engaging in conversations and providing relevant responses.
What are the potential applications of ChatGPT?
ChatGPT has uses in various domains, such as customer support, content generation, virtual assistance, language translation, and more. Its versatility makes it applicable to a wide range of tasks that involve language understanding and generation.
Is ChatGPT suitable for businesses of all sizes?
Yes, ChatGPT can benefit businesses of all sizes. Its scalability and flexibility allow it to cater to the needs of startups, small businesses, and large enterprises. It provides valuable AI-powered solutions for various business operations.
How can developers integrate ChatGPT into their applications?
OpenAI provides developer-friendly APIs and resources for integrating ChatGPT into applications. Developers can seamlessly access the OpenAI API documentation, SDKs, and tools to incorporate ChatGPT's capabilities into their software or platforms.
How does ChatGPT enhance customer support?
ChatGPT can be integrated into customer support systems to provide the following:
Instant responses

Answer frequently asked questions

Assist customers with their queries or issues

Streamline support processes

Ensures efficient and personalized interactions.