Need more leads but dread cold calls and spammy ads? There's a better way - WhatsApp chatbots!
So many businesses struggle to generate quality leads. Email outreach goes to the promo folder. Social campaigns bring low-intent traffic. It's tough out there!
But chatbots on WhatsApp deliver hot leads on a silver platter. How? By having real, personalized conversations that convert visitors into engaged prospects.
In this blog, We'll share the specific benefits you get from leveraging WhatsApp chatbots for lead gen.
If you're ready to say goodbye to generic lead gen, embrace conversational AI!
WhatsApp chatbots will pump qualified prospects into your pipeline from day one, here's why.
What is WhatsApp Chatbot?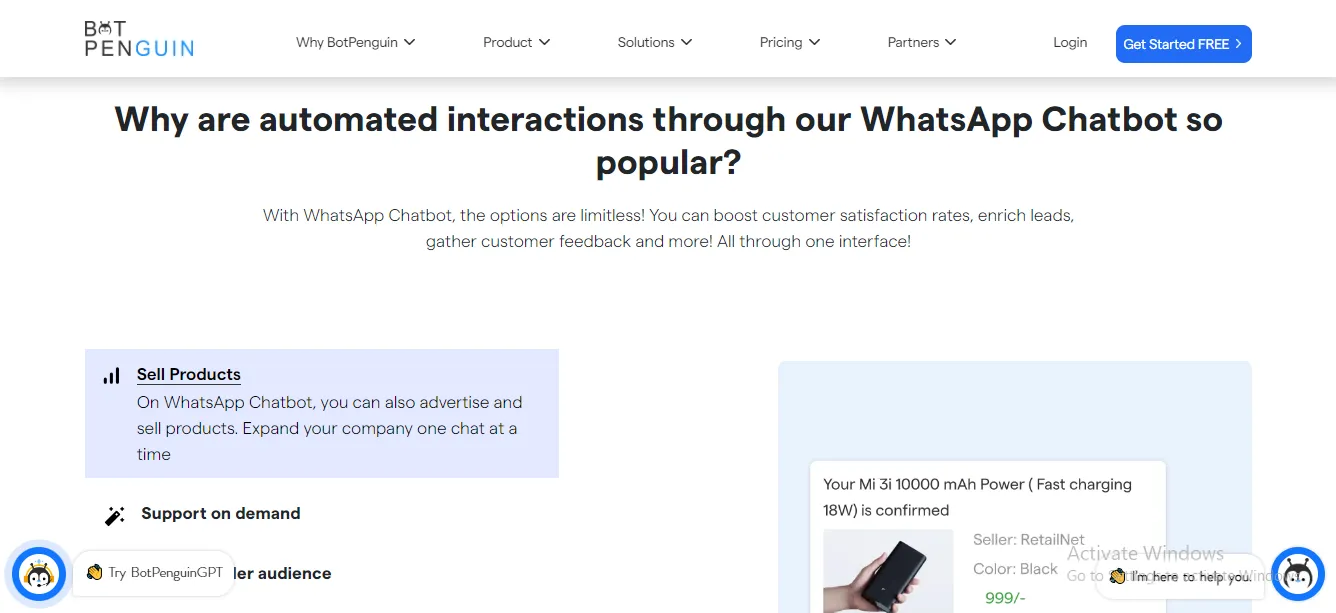 At its core, a WhatsApp chatbot is a computer program designed to simulate human-like conversations via the WhatsApp messaging platform. WhatsApp chatbot uses natural language processing (NLP) algorithms for understanding and responding to user queries conversationally.
WhatsApp chatbots can leverage using the WhatsApp Business API. The API platform provides a secure and scalable infrastructure for businesses to interact with customers.
Companies can automate responses by integrating a chatbot into their WhatsApp Business account. It can also collect user information and provide personalized experiences.
What About having own WhatsApp Chatbot for lead generation? Try BotPenguin

Advantages of Using WhatsApp Chatbots for Customer Interaction
WhatsApp chatbots offer a range of benefits for businesses:
24/7 Availability: Chatbots are available round the clock. It ensures that customers can reach out and receive assistance anytime, even outside business hours.
Prompt Responses: With chatbots, no waiting in line or being put on hold. Instant responses ensure a smooth and efficient customer experience.
Personalized Conversations: Chatbots can gather user information and tailor conversations based on individual preferences, creating a more personalized and engaging interaction.
Why Use WhatsApp Chatbots for Lead Generation?
In this section, we will see the reasons for using WhatsApp chatbots for lead generation:
Increased User Engagement
Imagine having a virtual assistant to engage your customers and capture their interest. WhatsApp chatbots excel in boosting user engagement, leading to higher conversion rates.
To increase user engagement, integrate BotPenguin's WhatsApp chatbot for lead generation.
Personalized Conversations
Chatbots can offer personalized recommendations and suggestions by collecting and analyzing user data. This level of customization enhances user engagement and creates a more meaningful interaction.
24/7 Availability
Unlike traditional customer support, chatbots are available 24/7. They can respond to inquiries and engage with potential leads even when your team is offline. It ensures every opportunity gets noticed.
Automated Lead Capture
Chatbots can collect lead information by asking relevant questions and storing the data for future use. This automated approach saves time and minimizes the risk of human error.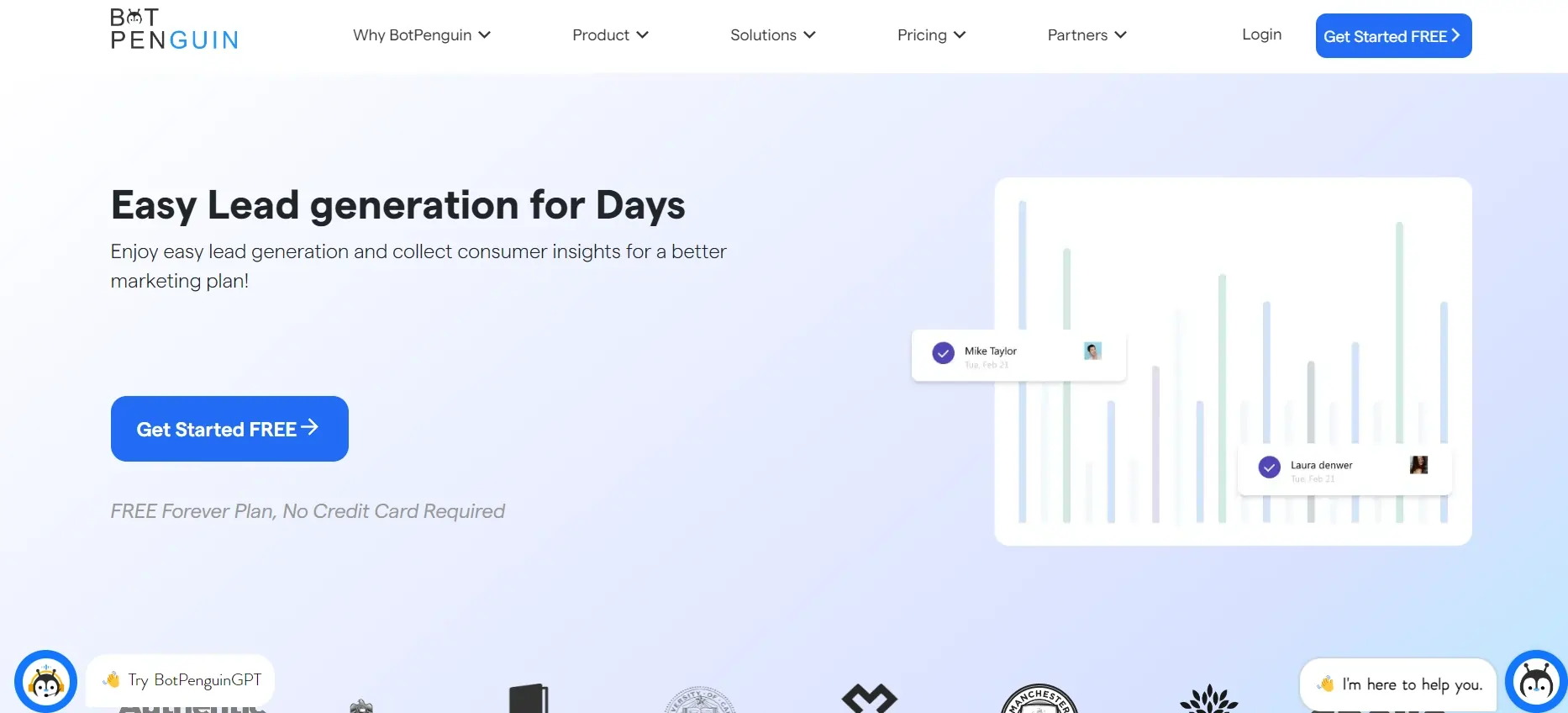 Qualifying Leads in Real-Time
By using predefined criteria, chatbots can evaluate leads in real-time. They can ask specific questions to gauge a lead's interest, budget, or requirements. It helps businesses prioritize and focus their efforts accordingly.
Streamlined Lead Qualification
Lead qualification serves as an essential step in the sales process of conversion. WhatsApp chatbots automate this process, making it more efficient and effective.
Boost your lead qualification and turn it into lead conversion using BotPenguin's whatsapp chatbot for lead generation. It has a conversion rate of 20%
Benefits of WhatsApp Chatbots for Lead Generation
Here are the WhatsApp chatbot lead generation advantages for your business:
Cost-Effectiveness
Implementing WhatsApp chatbots can significantly reduce staffing requirements and operational costs. With chatbots handling significant customer interactions, businesses can streamline their workforce and allocate resources more efficiently.
Enhanced Customer Experience
WhatsApp chatbots elevate the customer experience by providing personalized and efficient interactions. For instance, use BotPenguin's whatsapp lead generation chatbot to target customers across different ways.
Like, you add a cool WhatsApp button, QR code, Ads, and a website.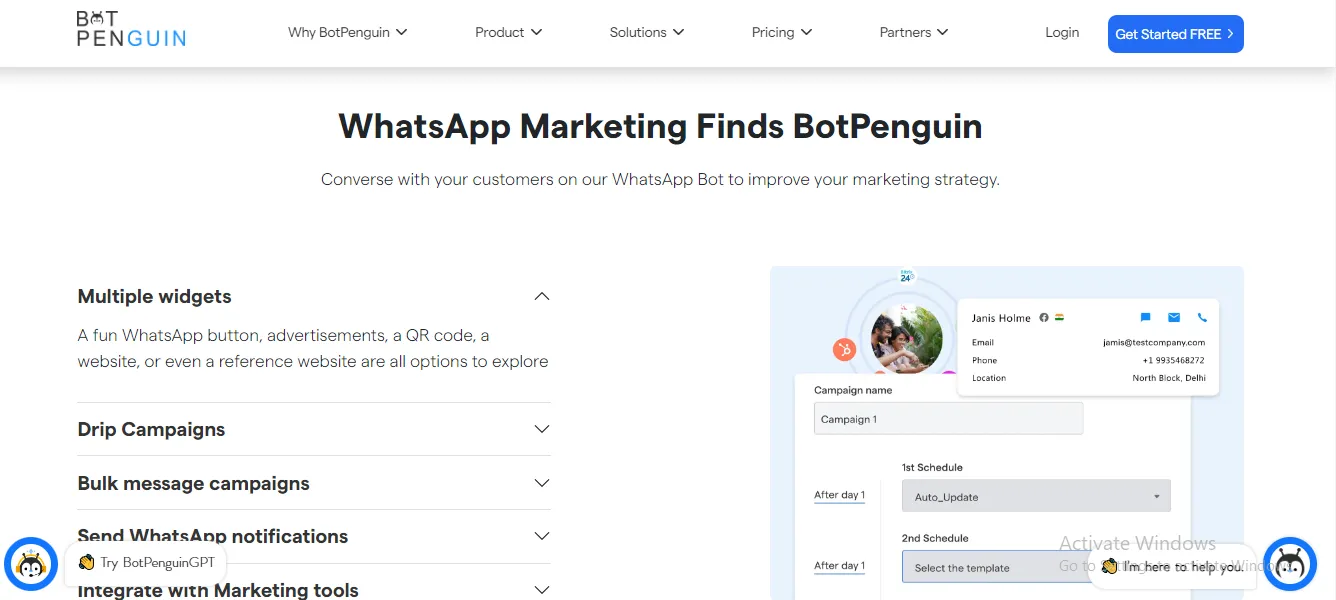 Personalized Interactions
By leveraging user data, chatbots can tailor conversations, recommendations, and offers to individual customers. This personalized touch enhances customer satisfaction and engagement.
Quick Issue Resolution
Chatbots can address common customer queries and provide instant solutions. It saves time for both customers and support staff. It leads to faster issue resolution and improved customer satisfaction.
Detailed Data-driven User Insights and Analytics
WhatsApp chatbots provide businesses valuable data and insights, enabling continuous improvement and optimization. Chatbots can track and analyze user interactions.
It provides insights into customer preferences, pain points, and behavior patterns. This data helps refine marketing strategies and enhance customer targeting.
Lead Behavior Tracking
By monitoring how leads engage with chatbots, businesses can gain customer insights. It includes their interests, preferences, and readiness to convert. This information enables more effective lead nurturing and personalized follow-ups.
When to Use WhatsApp Chatbots for Lead Generation?
You can use whatsapp chatbots for lead generation in the following ways: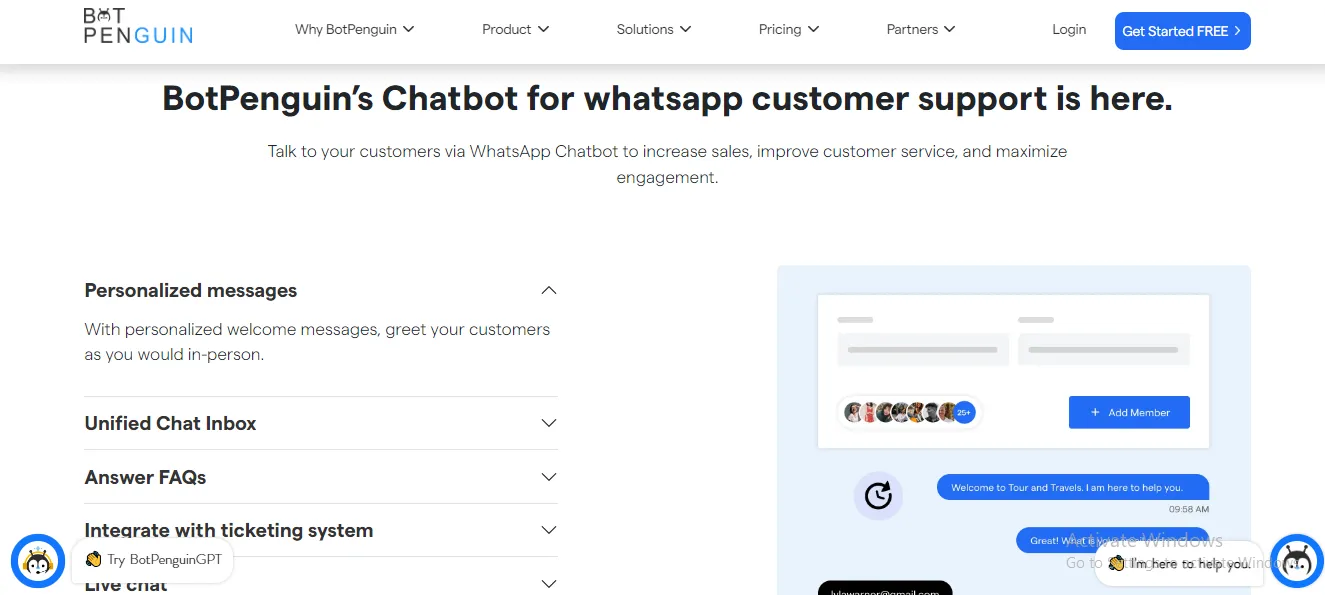 Lead Generation Campaigns
Chatbots can be pivotal in capturing and qualifying leads during lead generation campaigns.
Initial Customer Acquisition
Chatbots act as the first touchpoint in the lead generation process. As it engages with potential customers and gathers their information. They can collect contact details, preferences, and specific requirements, laying the foundation for future interactions.
Lead Capture and Qualification
Chatbots capture leads by asking relevant questions and qualifying them based on predefined criteria. This automation speeds up the lead qualification process, allowing businesses to focus on high-potential leads.
Customer Support and Assistance
Chatbots are utilized for customer support, assistance, and resolving queries promptly. It, in turn, increases customer experience.
Frequently Asked Questions (FAQs)
Chatbots can instantly respond to commonly asked questions by leveraging a knowledge base, saving customers and support teams time. It ensures that customers receive quick, accurate answers, improving their overall experience. Troubleshooting and Technical Support
Chatbots can guide customers through troubleshooting processes and provide step-by-step instructions for resolving technical issues. This self-service approach empowers customers and reduces the burden on support staff.
Meet BotPenguin, Your Ultimate Solution To Lead Generation
More high-quality leads without burning out your sales team? You can have it with BotPenguin.
WhatsApp chatbots are the secret weapon you've been missing.
With 2 billion+ active users, WhatsApp is the world's most powerful yet underutilized lead channel. Our intelligent bots engage users in natural conversations to capture and qualify leads 24/7. Forget manual follow-ups and cold calls. Automate lead gen with AI-powered conversations that feel human.
With seamless CRM integrations, hot prospects are sent straight to your sales reps, ready to convert.
Let BotPenguin help you maximize WhatsApp's potential to drive 10X more leads and revenue. Our easy-to-use chatbot builder requires no coding skills. Become a pioneer in your industry with cutting-edge lead gen technology.
Sign up now to deploy results-driven WhatsApp chatbots!