In a digital world where seamless communication is paramount, businesses are perpetually searching for platforms that provide reliable and cost-effective solutions. With its massive global reach, WhatsApp has been an enticing option for companies to engage with their customer base.
As a part of Meta, WhatsApp continuously evolves, and staying up-to-date with its latest updates is crucial for businesses. One of the recent significant changes is unveiling the new conversation-based pricing for the WhatsApp Business API.
This revamped structure, effective from June 1, 2023, is set to change how businesses communicate with their customers. In this blog, we'll dissect the new pricing model, discuss its implications, and equip you with all the knowledge you need to continue leveraging WhatsApp as an efficient communication tool.
Whether you are a business owner, marketer, or developer, this is a must-read to understand the essentials of the new Meta WhatsApp API pricing.
What is the WhatsApp API Message Meta?
The Meta WhatsApp API is an interface provided by WhatsApp, which is part of Meta (formerly Facebook), for businesses to integrate WhatsApp messaging into their systems.
This API allows businesses to automate sending and receiving messages, thus enabling efficient communication with customers on a large scale. With the Meta WhatsApp API, businesses can send notifications, updates, and customer service messages, as well as respond to customer queries.
This serves as a powerful tool for companies to provide timely support, enhance customer engagement, and improve overall customer experience by leveraging the widespread popularity of WhatsApp as a communication platform
What does the Meta WhatsApp API offer?
Simplified Customer Interaction
One of the remarkable offerings of the Meta WhatsApp API is the simplicity it brings to customer interactions. Whether it's for answering queries, providing support, or sharing updates, WhatsApp is a platform that a vast majority of consumers are familiar with. This familiarity eliminates the learning curve and allows customers to communicate with businesses just as they would with friends or family.
Automated Messaging and Responses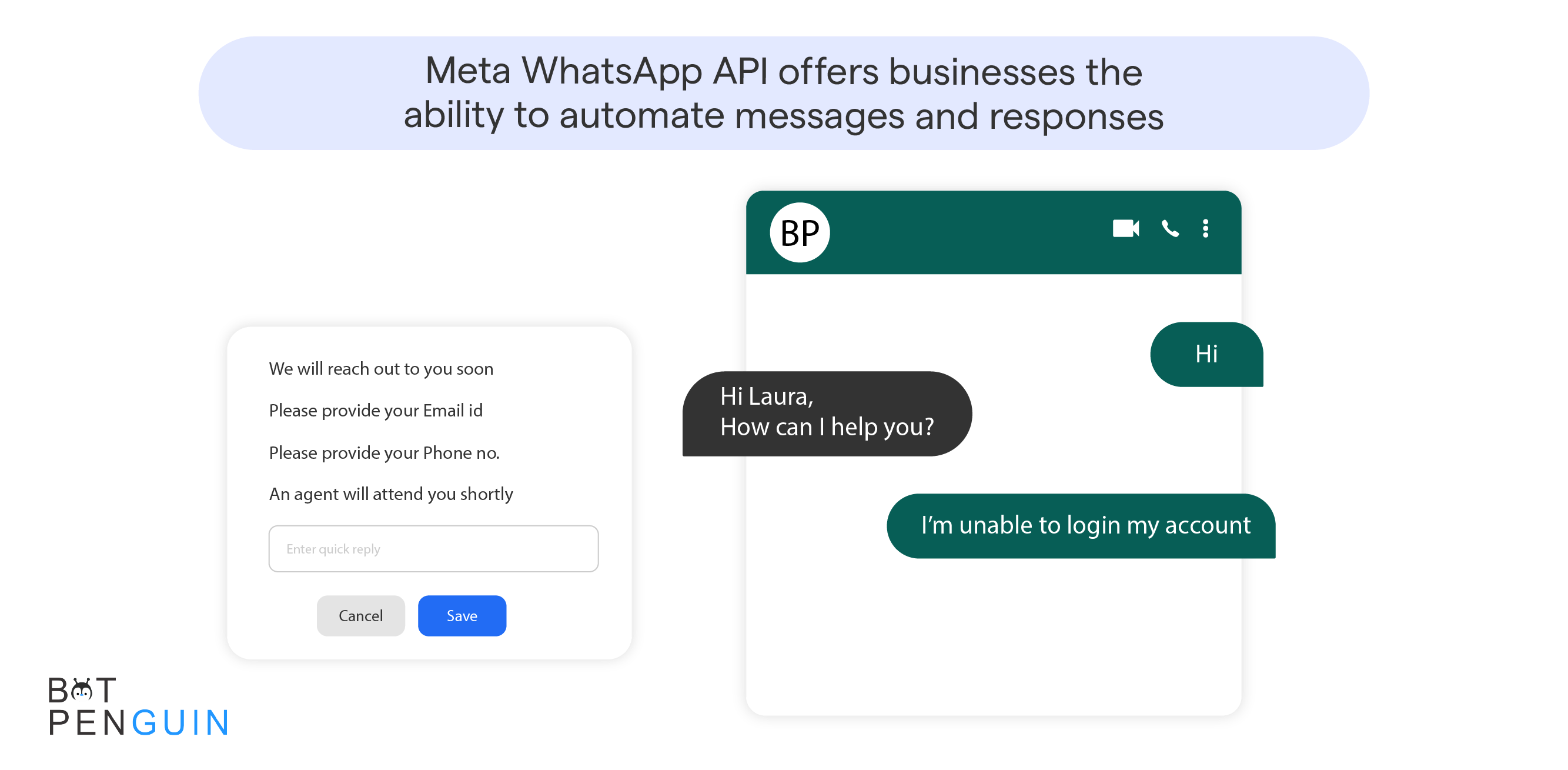 Say goodbye to the days of manual texting! Meta WhatsApp API offers businesses the ability to automate messages and responses. This is an absolute game-changer for those who need to send bulk messages or provide immediate responses. For instance, an automated greeting can be sent the moment a customer messages, or a payment confirmation can be sent when a transaction is completed.
Robust Security and Privacy
Security and privacy are at the heart of WhatsApp, and the Meta WhatsApp API ensures that these standards are upheld. With end-to-end encryption, messages shared between businesses and customers remain confidential. This is essential in building trust, especially when sensitive information, such as financial details or personal data, is being exchanged.
Integrated Business Tools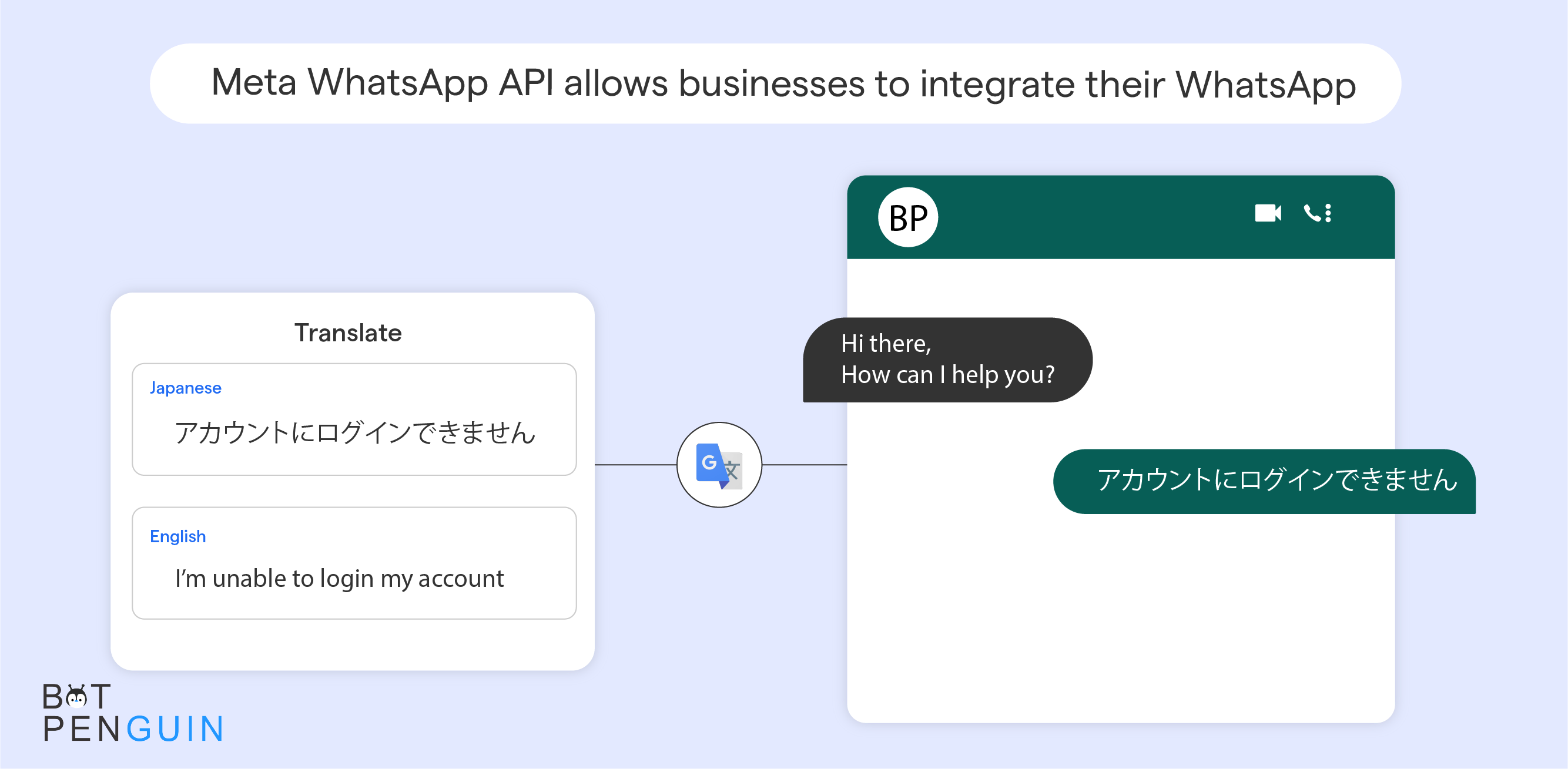 Integration is the name of the game when it comes to efficiency. Meta WhatsApp API allows businesses to integrate their WhatsApp communication with various CRM systems and other tools. This integration ensures a streamlined workflow where customer data, analytics, and communication can be managed from a single dashboard.
Global Reach and Engagement
Finally, WhatsApp, being one of the most popular messaging apps globally, provides businesses with an unparalleled global reach. The Meta WhatsApp API empowers businesses to tap into this vast network, making it easier to connect and engage with customers from different parts of the world. This is especially valuable for businesses looking to expand internationally.
How to Get Started with the Meta WhatsApp API?

Getting started with WhatsApp API Message Meta pricing is easier than you might think. Follow these simple steps to access the pricing information you need
Visit the official Facebook for Developers website at developers.facebook.com/WhatsApp/pricing.

Navigate to the WhatsApp API section and click on the pricing tab.

Explore the available pricing options and plans tailored to your business needs.

Get detailed information on pricing tiers, volume discounts, and additional features.
Conversation Categories and Their Pricing Implications
Understanding Conversation Categories
When it comes to the WhatsApp Business API, Meta has categorized conversations into four main types. These are Utility, Authentication, Marketing, and Service conversations. This classification helps in organizing the interactions and also has implications on the pricing structure. It's like neatly sorting your communication closet, with each type serving a specific purpose.
Utility Conversations - The Helping Hand
Utility conversations are like the helpful friend who keeps you updated. They are used for specific requests, transactions, or updates to customers regarding ongoing transactions. This could include appointment reminders, delivery notifications, or billing statements. These conversations facilitate a specific, agreed-upon request, ensuring that the customer is kept in the loop.
Authentication Conversations - The Security Guard
Think of Authentication conversations as the vigilant security guard ensuring that only authorized individuals can enter. These conversations enable businesses to authenticate users through one-time passcodes. This is crucial in scenarios like account verification, recovery, or integrity challenges. It's the watchful eye to ensure that user accounts are secure.
Marketing Conversations - The Social Butterfly
Marketing conversations are the social butterflies spreading the word about promotions, offers, or new products. They are used to send promotional messages or informational updates to customers. Essentially, if a conversation does not qualify as Utility or Authentication, it's likely to be a Marketing conversation. This is your megaphone for broadcasting exciting news or deals!
Service Conversations - The Problem Solver
Service conversations are initiated by users, usually seeking help or information. Consider this category as the problem solvers, ready to tackle any queries or issues that the customers might have. These are particularly crucial for customer support, ensuring that your customers always have a helping hand when they need it.
Pricing Implications of Conversation Categories
Different conversation categories come with different pricing tags. Meta charges businesses per 24-hour conversation based on the category. While sending multiple messages within the same category doesn't incur additional costs, initiating a new category within an open conversation triggers separate charges. Knowing these categories and their pricing implications is essential for optimizing communication while keeping an eye on the budget.
Introduction to Meta WhatsApp API Pricing Model
WhatsApp Business API, under Meta (formerly Facebook), offers businesses an efficient communication channel to engage with customers. The Meta pricing model for WhatsApp Business API is designed to streamline this interaction. It is conversation-based, which means that businesses are charged based on the conversations they have with customers over a 24-hour period.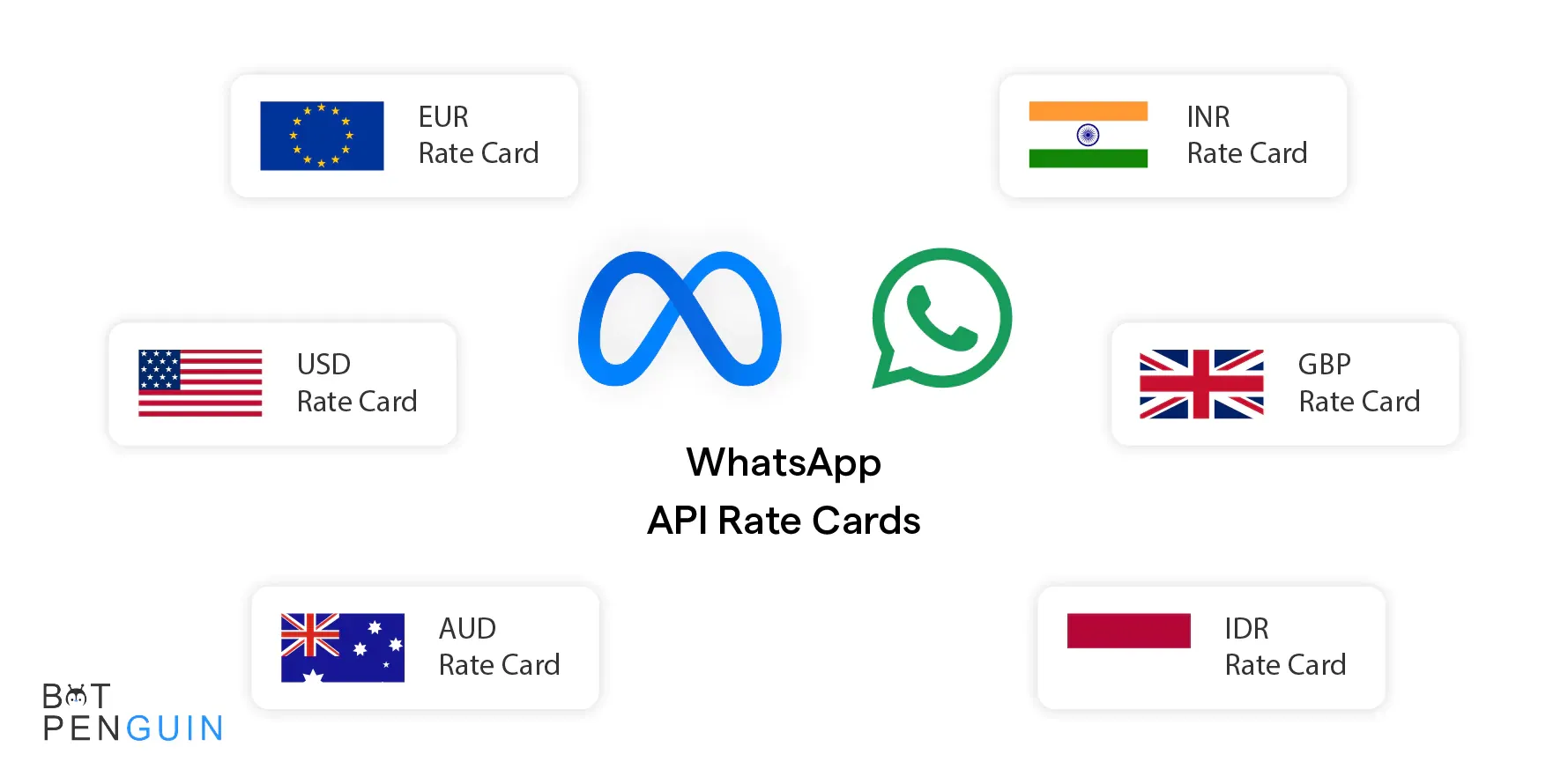 Conversation Categories
The pricing model categorizes conversations into four main types: Utility, Authentication, Marketing, and Service conversations. Utility conversations are focused on specific transactions or updates. Authentication involves verifying user accounts through one-time passcodes. Marketing encompasses promotions and offers. Service conversations are those initiated by users seeking help or information.
Charging Mechanism
Charges are incurred when a conversation is initiated. The cost depends on the category of the conversation. Sending multiple messages within the same conversation doesn't incur additional costs. However, if a business sends a different category message during an open conversation, a new conversation is opened, and corresponding charges are applied.
Rate Cards
The costs for the conversations are dependent on the customer's country code. Meta has provided rate cards in various currencies including USD, AUD, EUR, GBP, IDR, and INR. These rate cards offer detailed information about the charges per conversation category based on the user's location.
Free Entry Point Conversations
Meta also offers free entry point conversations, where users engage with businesses through certain call-to-action buttons on ads. These conversations are not charged, and businesses can communicate with users within the defined window without opening new conversation categories, even when different templates are used.
Free Tier for Trials
To help businesses experience the WhatsApp Business Platform, Meta offers a free tier. This includes 1,000 free user-initiated conversations each month. It's a great way for businesses to get a taste of the platform and understand how it can benefit them without any initial investment.

The Updated Pricing Model Of The WhatsApp API
Conversation Categories and Pricing Structure
WhatsApp Business Platform, under Meta, has introduced a new conversation-based pricing structure effective June 1, 2023. The pricing is based on the type of conversation a business initiates with customers. Essentially, businesses pay per 24-hour conversation, and the conversations are split into four main categories.
Business-Initiated Conversations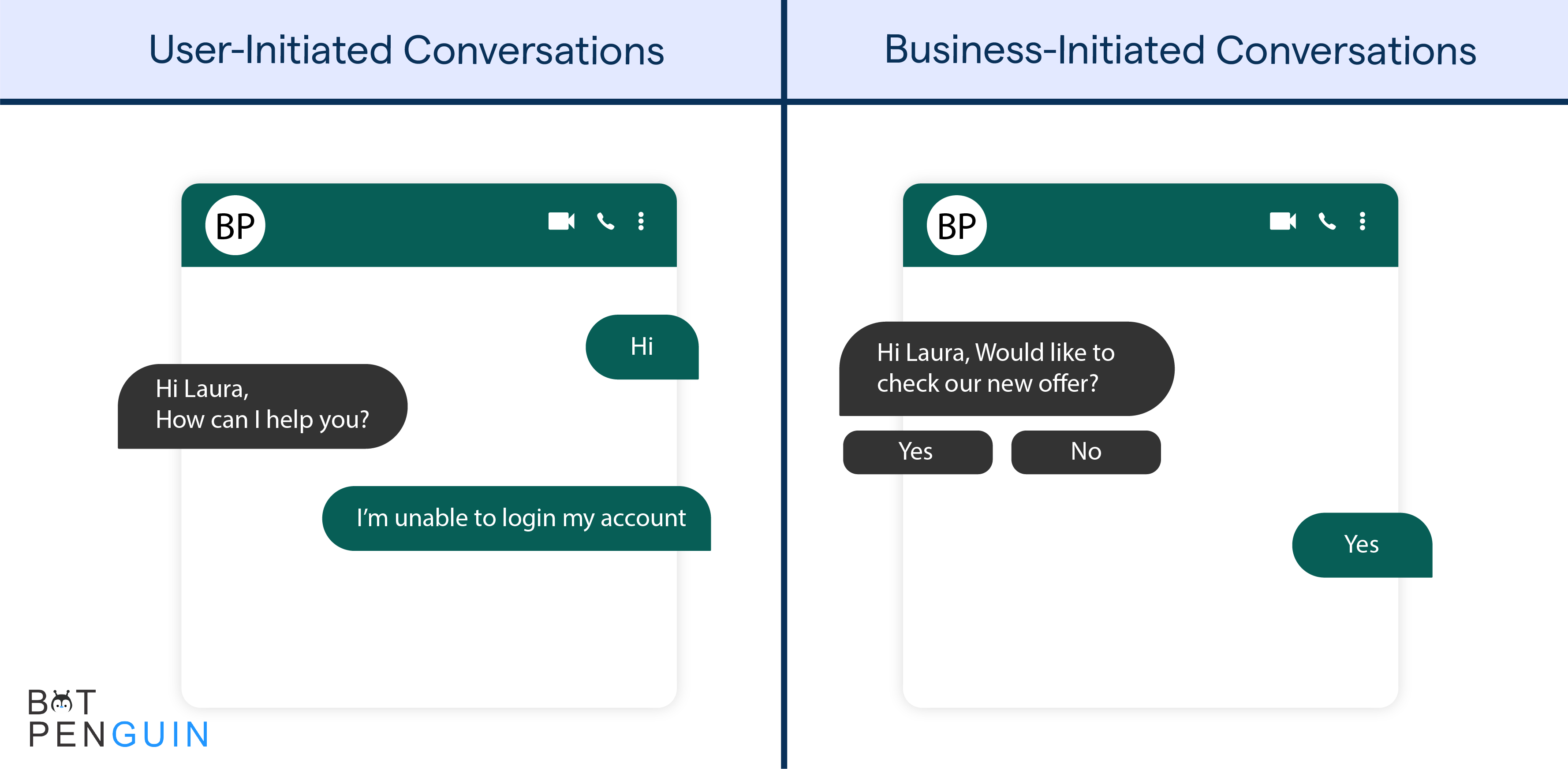 These conversations involve the business reaching out to the customer, and are divided into three types - Utility, Authentication, and Marketing. Utility conversations facilitate specific requests or transactions, like updates on an ongoing transaction. Authentication conversations are for sending one-time passcodes and helping users verify their accounts. Marketing conversations include promotions, offers, or informational updates.
User-Initiated Conversations
User-initiated conversations, also termed as service conversations, are initiated by the customer and primarily aimed at resolving inquiries. Charges for service conversations are initiated when no other conversation window is open and a business responds to a user with a free form message within a 24-hour window.
Conversation Charges and Templates
Conversation charges are based on the category of the template message used by the business to initiate the conversation. Sending multiple templates of the same category within an open conversation doesn't incur additional charges. If a different category template is sent within an open conversation, a new conversation of that category is opened, incurring a charge.
Free Entry Point Conversations
Starting March 1, 2023, free entry point conversations have been expanded from 24 hours to 72 hours. These conversations are not charged when users message businesses through certain call-to-action buttons on Ads that link to WhatsApp or Facebook Page. During the 72-hour window, businesses can send multiple templates without opening a new conversation.
Rate Cards by User's Country Code
The pricing for these conversations varies based on the user's country code. Rate cards are available in multiple currencies including
Changes to the Free Tier
Businesses can trial the WhatsApp Business Platform with 1,000 free user-initiated conversations each month. However, business-initiated conversations are no longer part of the free tier. Each WhatsApp Business Account will receive these 1,000 free conversations per month, regardless of the number of phone numbers attached to the account. The free tier is refreshed monthly.
How are Conversation Charges Initiated?
We know what you're thinking: how do these conversations impact my wallet? Well, it all boils down to the template category and the flow of conversation. Let's break it down:
Template Messages and Conversation Categories: When you send a template message, it opens a new conversation of that category and incurs the respective conversation charge. However, if you send multiple templates of the same category within an open conversation, no additional charges will be incurred.
Service Conversations: These conversations are initiated when no other conversation window is open and you respond to a user with a free-form message within the 24-hour customer service window. Keep in mind that if you reply with a template message or send a template message in an open service conversation, it will open a new conversation based on the template category.
Pricing Details and Regional Variations
Charges for conversations vary based on the user's country code. It's essential to consider the rates for business-initiated and user-initiated conversations specific to your country or region. Check out the rate cards for utility, marketing, authentication, and service conversations, effective from June 1, 2023.

Why Should Businesses and Developers Consider WhatsApp API Message Meta Pricing?
Reasons why Should Businesses and Developers Consider WhatsApp API Message Meta Pricing?
Catering to Customer Preferences
Today's customers crave convenience and familiarity. WhatsApp, being one of the most widely used messaging apps, is where many customers feel most comfortable communicating. By utilizing WhatsApp API, businesses can meet customers where they are and enhance their experience through seamless interactions.
Cost-Efficient Messaging
WhatsApp API Message Meta Pricing is structured in a way that makes it cost-effective for businesses. By paying per conversation category, businesses can be more strategic with the messages they send and maximize the value they receive. This can be particularly beneficial for small and medium-sized enterprises that need to be mindful of their budget.
Automating Customer Engagement
With WhatsApp API, businesses have the opportunity to automate messages and responses. This not only streamlines the communication process but also ensures customers receive timely responses. Automating routine communications can free up time for customer service representatives to focus on more complex inquiries, enhancing efficiency and customer satisfaction.
Strengthening Security and Trust
WhatsApp is known for its robust security features, including end-to-end encryption. When businesses use WhatsApp API, they assure their customers that the communication is secure. This builds trust, especially when exchanging sensitive information, and ensures that customers can interact with the business with confidence.
Global Market Accessibility
For businesses with aspirations to grow globally, WhatsApp API is a gateway to international markets. Its widespread usage across different countries means that businesses can easily connect with a global audience without the need for multiple communication platforms. This ease of access to international markets is invaluable for businesses looking to expand their reach.
Conclusion
The New WhatsApp API Pricing presents an evolved landscape for businesses seeking to foster meaningful and secure communication with their customers.
The conversation-based model is tailored to accommodate varying needs, ensuring cost efficiency and enhanced customer experiences.
With features like automation, integration, global reach, and robust security, WhatsApp under Meta's umbrella demonstrates its unwavering commitment to redefining business communication.
As we navigate an ever-changing digital terrain, staying informed and adapting to such advancements is vital. Embracing the new WhatsApp API pricing model could be the pivotal step your business needs to thrive in this dynamic environment.
Frequently Asked Questions
Are WhatsApp bots free?
The WhatsApp bot is not free. Utilizing the bot to send or receive messages results in conversational and data charges. As, Conversation based charges are paid to Meta Resulting in varied charges.
How can I build a bot?
A bot can be made in several different ways. One option is using a chatbot platform like BotPenguin, which enables you to develop bots without programming knowledge. Another option is to create a bot using a language like Python.
How can WhatsApp be automated?
Automating WhatsApp is very much possible. It is a task of minutes with BotPenguin's chatbot-making suite.
How do chatbots operate?
A chatbot responds to a user's input based on a predetermined set of rules after receiving information from the user. For purposes like customer service or marketing, this enables them to mimic a conversation with a person.
What kind of technology does a chatbot use?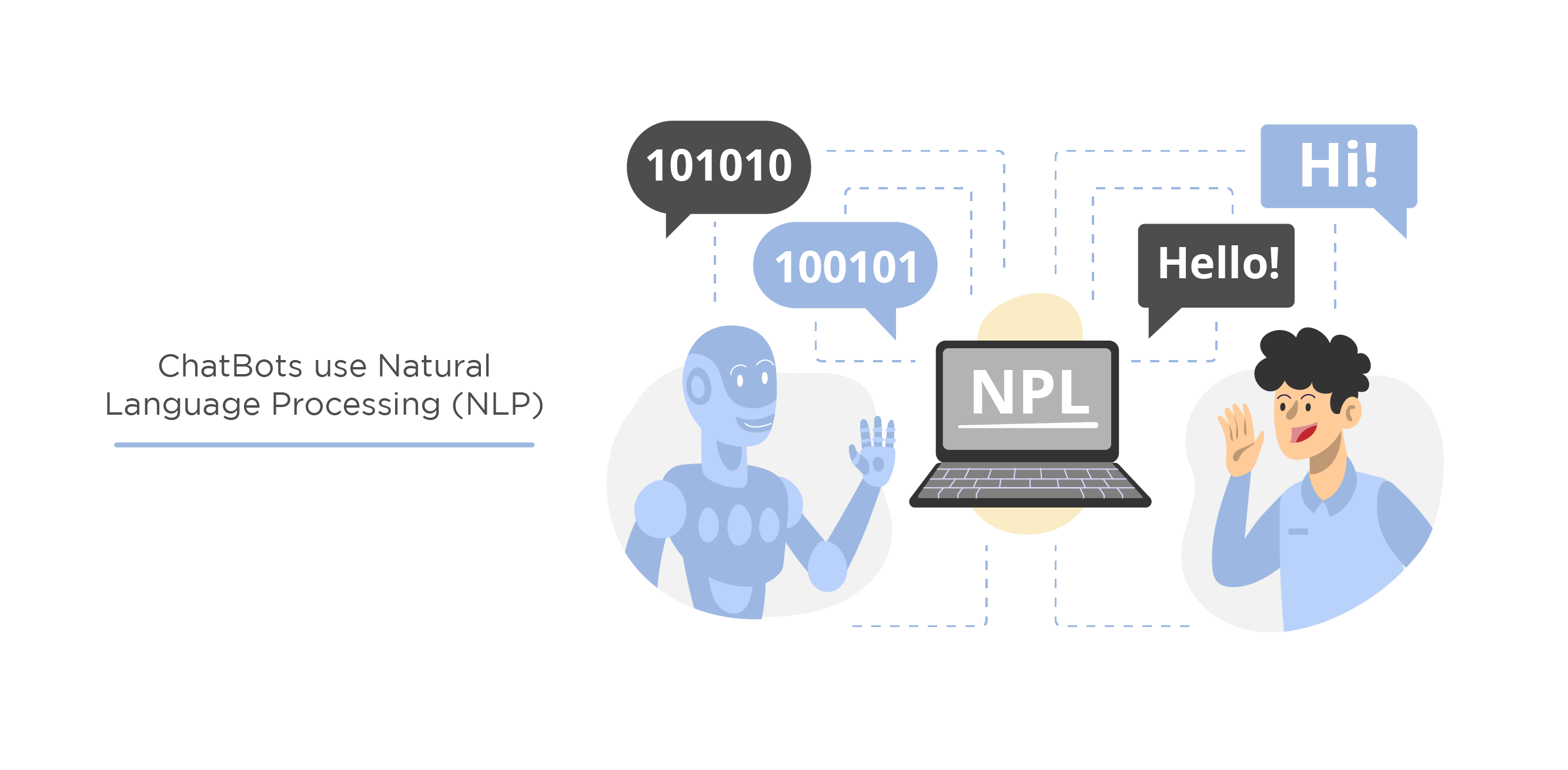 Chatbots can employ various technologies depending on how they are implemented. Typically, they use natural language processing (NLP) to comprehend user inquiries and provide answers, together with a rules engine to choose the most appropriate response. Additionally, they could employ machine learning to develop their comprehension over time.