A customer-centric approach can impact various facets of your organization, and enhancing it is readily achievable through live chat tools.
Live chat software, a burgeoning communication avenue, solves service issues, consistently achieving high customer satisfaction.
Implementing this technology into existing products is cost-effective, catering to various functionalities.
The specialized live chat software and support tools cater to small businesses, enabling efficient customer assistance via chat or email.
Did you know a study by eMarketer found that 63% of customers are more likely to return to a website that provides live chat support?
Experience the enthusiasm of your customer support team as they seamlessly integrate live chat software into their daily operations.
While you've conducted thorough research, the vast array of options can lead to confusion.
Your search for the right website live chat software can be overwhelming due to the abundance of over 500 providers.
If this resonates with you, you're in the perfect place.
10 Essentials for a Live Chat Platform
In customer-centric communication, a robust live chat platform emerges as a cornerstone.
As businesses strive to provide impeccable support, these 10 essential elements stand as the pillars of an exceptional live chat experience:
Feature 1: Real-Time Messaging
Imagine conversing with your favorite person and waiting minutes before receiving a response.
Frustrating, right?
The same frustration can occur when your customers are waiting for answers to their queries. That's why real-time messaging is essential in a live chat platform.
This feature allows you to engage with your customers instantly, creating a seamless and efficient communication channel.
You can resolve issues promptly with real-time messaging, boosting customer satisfaction and loyalty.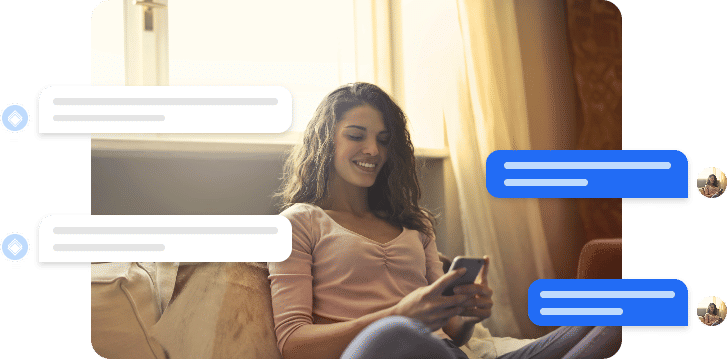 The Power of Instantaneous Communication
Thanks to real-time texting, every contact between you and your customers happens in the blink of an eye.
By eliminating the delays associated with traditional communication methods such as email or phone conversations, you can give immediate help and strengthen relationships with your customers.
Feature 2: Omnichannel Support
Customers demand convenience and flexibility nowadays.
That's why a live chat platform with omnichannel support is a game-changer.
This feature lets you engage with your customers across multiple channels, such as website chat, social media platforms, and mobile apps.
Whether your customers prefer to reach out via Facebook Messenger or through your website, you'll be there to assist them every step of the way.
And that is where you might be needing BotPenguin, the home of chatbot solutions. For every chatbot solution you can name, BotPenguin can do it, making omnichannel support look easy: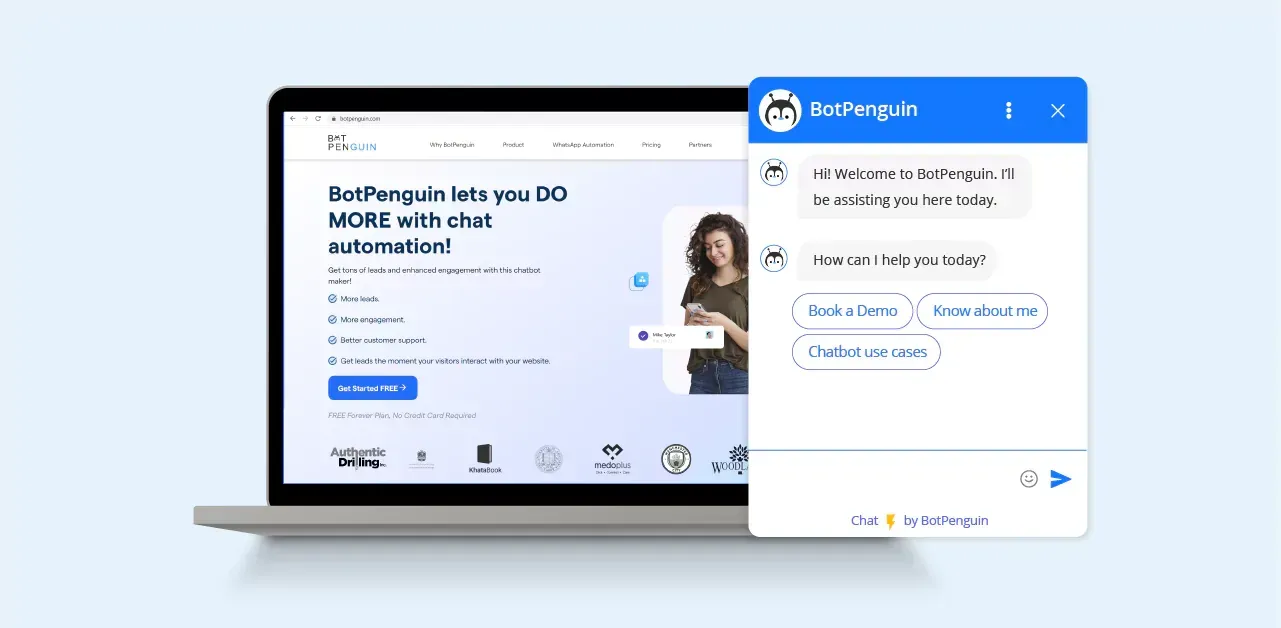 Seamless Support, Anywhere and Everywhere
Omnichannel support ensures your customers can engage with you on their preferred channels, making their journey hassle-free.
This feature empowers you to provide consistent support and reduce response times, regardless of the platform your customers choose to interact with you on.
Feature 3: Proactive Chat Invitations
Customers love it when businesses take the initiative to reach out. Proactive chat invitations are the perfect way to show your customers you care.
This feature allows you to send personalized messages to visitors on your website, inviting them to chat with you.
By being proactive, you can address any potential concerns your customers may have, leading to increased conversions and customer satisfaction.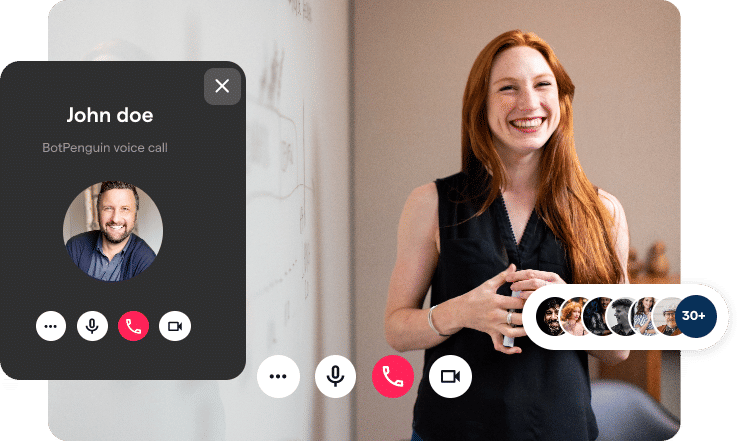 Engage Your Visitors, Boost Your Results
Proactive chat invitations enable you to connect with visitors before they even realize they need assistance.
By offering your help at the right moment, you can guide them through their journey, answer their questions, and turn them into loyal customers.
Suggested Reading:
Feature 4: Customization and Branding
Your live chat platform should be an extension of your brand. That's why customization and branding options are crucial.
This feature allows you to tailor the appearance of your chat widget to match your website's design, ensuring a seamless user experience.
You can customize colors and fonts and even add your company logo to reinforce your brand identity.
Stand Out and Stay On-Brand
Customization and branding options give your live chat platform a personal touch that resonates with your customers.
By aligning the chat widget with your website's look and feel, you create a cohesive and memorable brand experience.
Feature 5: Chat Transcripts and History
Closing the loop on customer interactions is essential for effective communication. Chat transcripts and history features allow you to archive and review past customer conversations.
This feature helps you understand their needs better, track their journey, and ensure consistent support across all touchpoints.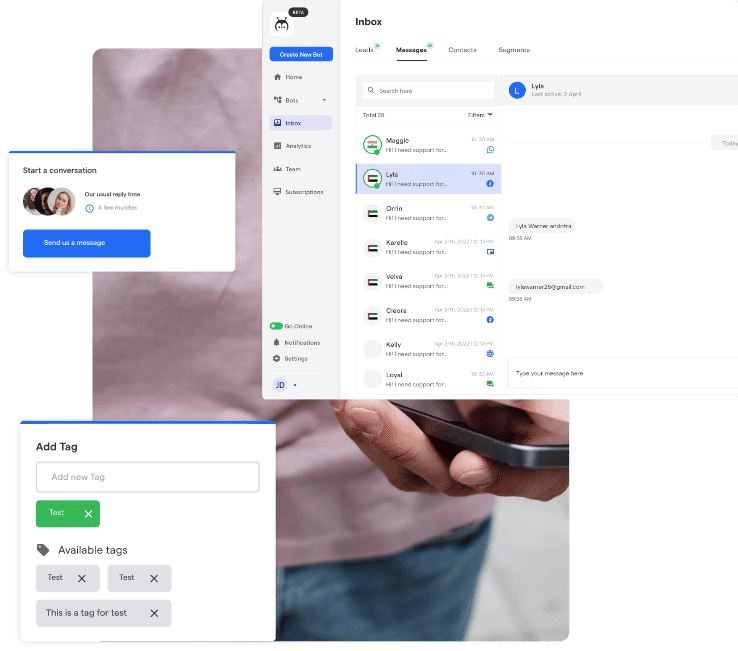 Never Forget a Conversation, and Always Improve
Chat transcripts and history features are valuable for your customer support team.
By referring to past conversations, agents can provide personalized and contextualized support, enhancing customer satisfaction and loyalty.
Suggested Reading:
Feature 6: File Sharing
Sharing files with your customers is an essential component of modern communication. As a result, file sharing is an essential element in a live chat platform.
This feature allows you to exchange relevant documents, photographs, and videos with your clients, streamlining the support process and improving their experience.
Convenience at Its Best
File sharing saves you and your customers the hassle of sending files via email or other platforms.
This feature lets you share files in real-time and keep the conversation flowing smoothly.
Whether you need to share an invoice, a product manual, or a troubleshooting video, file sharing makes it easy.
Feature 7: Chatbot Integration
Artificial Intelligence (AI) is revolutionizing the world of customer service.
Chatbot integration is a must-have feature in a live chat platform, enabling you to automate responses and provide 24/7 customer support.
This functionality can elevate your live chat experience, increasing efficiency and productivity.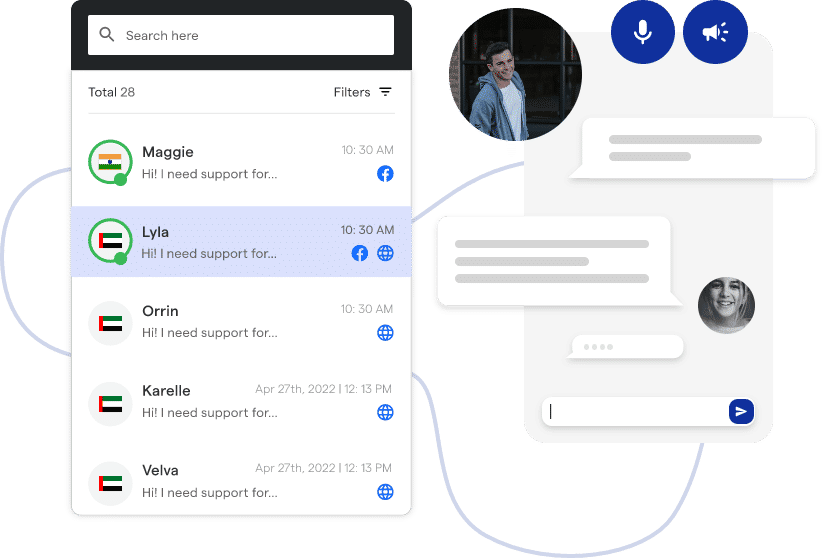 The Rise of the Machines
Chatbot integration automates repetitive tasks, such as answering frequently asked questions and routing inquiries to the appropriate agent.
With this feature, you can provide instant support to your customers, making their journey effortless and seamless.
Chatbots also enable you to handle multiple conversations simultaneously and prevent customers from waiting in a queue.
Feature 8: Integration with CRM Systems
Customer Relationship Management (CRM) systems are central to modern businesses, consolidating customer data and facilitating personalized interactions.
That's why integration with CRM systems is a critical feature for a live chat platform.
This feature lets you access your customers' details and interactions, providing insights that inform your support strategy.
The Power of Personalization
Integration with CRM systems allows you to personalize your support interactions by tailoring them to your customer's needs.
This feature lets you see previous conversations, purchase histories, and other valuable information, empowering you to provide the best possible support.
Feature 9: Analytics and Reporting
Data is the key to enhancing your customer service strategy.
Analytics and reporting are must-have features in a live chat platform, enabling you to measure your success and identify areas for improvement.
This feature lets you track response times, resolution rates, and customer satisfaction scores, providing a comprehensive performance overview.
The Art of Measuring Success
Analytics and reporting enable you to continually leverage data to enhance your support strategy.
With this feature, you can track trends and patterns, identify strengths and weaknesses, and make informed decisions based on real-world data.
Feature 10: Mobile Compatibility
Our lives are increasingly mobile, and customers expect businesses to keep up.
That's why mobile compatibility is a must-have feature in a live chat platform. This feature enables you and your customers to engage in support conversations on the go using mobile devices such as smartphones and tablets.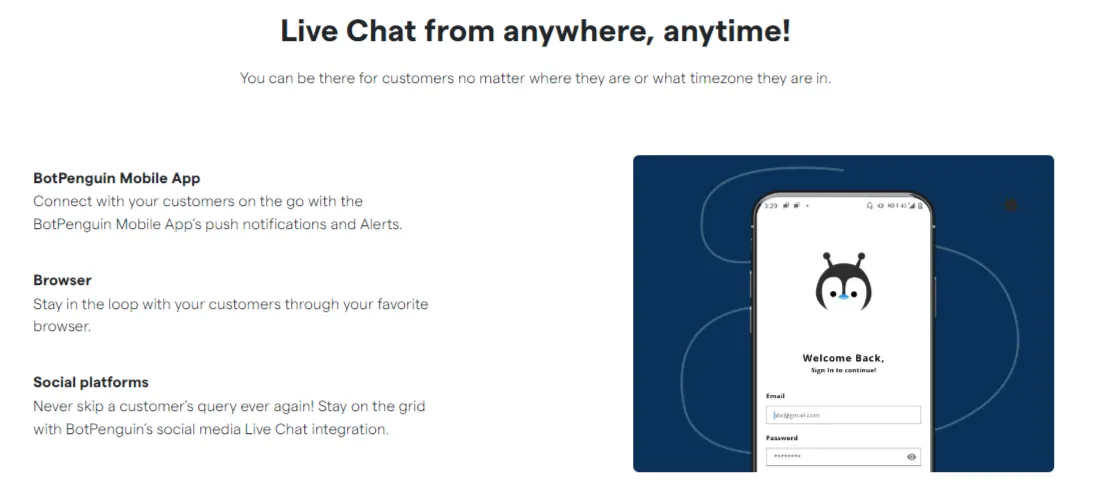 Anytime, Anywhere
Mobile compatibility ensures that you can support your customers anytime, anywhere.
This feature lets you stay connected to your customers and provide instantaneous assistance, regardless of location.
Conclusion
Live chat software capabilities can increase conversion rates, provide quicker customer service and improve customer satisfaction. And if you get the right Live chat platform, you can do all that with 2x effectiveness.
Luckily, you'd landed at the right spot. It's time for us to introduce ourselves and put an end to your search for a perfect Live Chat Platform.

We're BotPenguin– the ace of Live Chat Platforms.
Why we're the ace?
Not only does our Live Chat have every feature you've read above, but we spoil our customers with so many extra features.
While other Live Chat platforms offer only a fistful of integrations,

BotPenguin gives 65+

.





While other platforms' reach ends at two or three channels, BotPenguin takes you wherever your customers are.





While other platforms make you shuffle through multiple chats from multiple channels, BotPenguin brings everything to one place– The Unified Chatbox.





While other platforms take an absurd amount of money to give basic features, BotPenguin lets you try out everything for FREE. No credit card required.





While other platforms are just thinking about implementing AI,

BotPenguin has already launched AI Chatbot with ChatGPT integrations

.

What else can we offer you? Why don't we get in touch and show you everything live?
Frequently Asked Questions (FAQs)
How does proactive engagement benefit businesses?
Proactive features like automated greetings and proactive chat invitations engage visitors, reduce bounce rates, and increase the chance of converting visitors into customers.
Can integrations enhance the functionality of a live chat platform?
Integrating with CRM systems, e-commerce platforms, and help desk software ensures seamless data flow, enabling agents to provide personalized support and insights.
What role does chat transfer play in customer support?
Chat transfer allows routing queries to the right agent, avoiding frustration. This feature ensures customers get relevant assistance and that their issues are resolved efficiently.
How important are reporting and analytics in a live chat platform?
Reporting features provide insights into response times, customer satisfaction, and common issues. These analytics guide improvements in support strategies and agent performance.
What's the significance of mobile compatibility in live chat platforms?
Mobile compatibility ensures customers can access support even on the go, enhancing accessibility and user experience.