What is a CRM?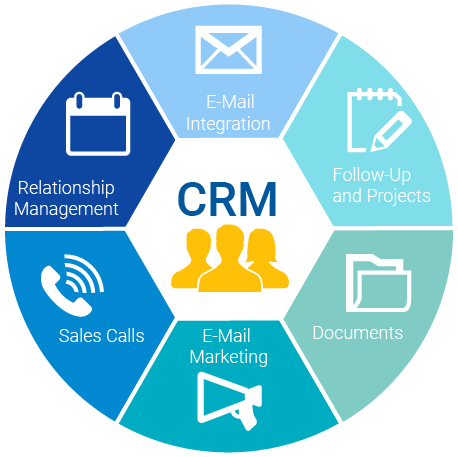 CRM, or Customer Relationship Management, is a strategy businesses use to manage and improve their interactions with customers. It's all about understanding your customer's needs, preferences, and behaviors to provide a better experience and build long-lasting relationships. After all, happy customers equal happy businesses, right?
CRM isn't just a fancy term; it's crucial for businesses to thrive in today's competitive market. With CRM, companies can streamline their processes, make data-driven decisions, and increase customer satisfaction - all leading to higher profit margins. So, if you want to keep those customers coming back for more, CRM is the way to go!
Key Components of CRM
Now that we know what CRM is, let's dive into its key components. These elements are the building blocks of an effective CRM strategy:
Sales management: Keep track of leads, sales, and customer interactions to close deals faster and make better decisions.

Marketing automation: Send targeted and personalized messages to your customers to boost engagement and conversions.

Customer support: Offer top-notch assistance to resolve issues and make your customers feel valued and heard.

Analytics and reporting: Collect, analyze, and visualize data to uncover insights and optimize your CRM strategy.

Integration: Connect your CRM system with other tools and platforms to streamline processes and make your life easier.
Why is CRM Essential for Businesses?
Benefits of CRM Implementation
Better customer experiences: With all the information about your customers at your fingertips, you can offer personalized experiences that make them feel like they're the center of your universe.

Increased efficiency: Automate repetitive tasks and streamline processes to save time and money.

Improved decision-making: Use data and insights to make informed decisions that align with your business goals.

Enhanced collaboration: Keep your team on the same page with a centralized system that tracks customer interactions and information.

Scalability: A flexible

CRM

system can grow with your business, allowing you to add features and users as you evolve.
So, are you ready to join the CRM party yet?
CRM and Customer Retention
Ever heard the saying, "It's easier to keep a customer than to find a new one"? Well, it's true! Retaining customers is essential for business growth, and CRM is the secret sauce to keeping them loyal and engaged.
With CRM, you can track customer interactions, preferences, and histories to create personalized experiences that make them feel special. Plus, CRM helps you identify at-risk customers and proactively address their needs before they jump ship. So, if you want to keep your customers coming back for more, it's time to embrace CRM!
Who Can Benefit from CRMs?
Industries That Utilize CRMs
You might be thinking, "Sure, CRM sounds great, but is it really for me?" The answer is a resounding YES! CRM is beneficial for businesses of all shapes, sizes, and industries. Here are just a few examples of industries that can benefit from CRM:
Retail: Manage customer preferences, purchase histories, and loyalty programs to keep shoppers coming back.

Healthcare: Coordinate patient care, track medical histories, and maintain regulatory compliance.

Finance: Streamline customer onboarding, manage accounts, and offer personalized financial advice.

Real estate: Track leads, manage property listings, and maintain client relationships.

Technology: Offer efficient customer support, manage subscriptions, and develop targeted marketing campaigns.
The list goes on! So, no matter what industry you're in, CRM can help you build stronger relationships with your customers.
Role of CRM in Small, Medium, and Large Enterprises
Whether you're a small business owner or the CEO of a multinational corporation, CRM can work its magic for you. Here's how CRM benefits businesses of different sizes:
Small businesses: CRM helps small businesses manage customer information, automate processes, and save time - all while staying cost-effective.

Medium-sized businesses: As businesses grow, CRM becomes even more critical to manage increasing customer interactions, streamline processes, and improve collaboration between teams.

Large enterprises: For large corporations, CRM plays a crucial role in managing complex customer databases, integrating with other systems, and offering a consistent experience across various channels and touchpoints.
When Should a Business Implement CRM?
1. Signs Your Business Needs CRM
Wondering if it's time to hop on the CRM train? Here are some telltale signs that your business could benefit from implementing CRM:
Disorganized customer data: If you're drowning in spreadsheets and sticky notes, a CRM system can help you stay organized and access customer information with ease.

Inefficient processes: Are tasks taking longer than they should? CRM can streamline your processes and save time by automating repetitive tasks.

Missed opportunities: If you're losing track of leads or struggling to follow up with customers, CRM can help you stay on top of your game and close deals faster.

Inconsistent customer experience: Are your customers receiving mixed messages from different team members? CRM can improve collaboration and ensure a consistent experience across all touchpoints.

Difficulty scaling: If you're struggling to keep up with your growing customer base, a CRM system can help you scale your business and maintain strong relationships.
2. Timing for Optimal CRM Adoption
There's no "one size fits all" answer for when to implement CRM, but the sooner, the better! Embracing CRM early on can help your business establish a strong foundation for managing customer relationships and streamlining processes.
However, it's never too late to start! You can adopt CRM at any stage of your business journey, whether you're a brand-new startup or an established enterprise looking to improve your customer experience.
Where can a CRM be Implemented?
1. CRM in Sales and Marketing
Picture this: your sales and marketing teams working together like a well-oiled machine. Sounds like a dream, right? With CRM, it can be a reality! CRM can help your sales and marketing teams:
Track leads and prospects: Keep tabs on potential customers and nurture them through the sales funnel.

Personalize campaigns: Use customer data to create targeted marketing messages that resonate with your audience.

Measure performance: Analyze campaign results to identify what works and what doesn't, and optimize your strategy accordingly.
2. CRM in Customer Support and Service
Nobody likes waiting on hold or dealing with unhelpful support agents. That's where CRM comes in! Implementing CRM in your customer support and service teams can:
Resolve issues faster: Access customer information and interaction history to provide efficient and personalized support.

Improve response times: Automate processes, like ticket creation and assignment, to ensure faster response times.

Measure satisfaction: Collect and analyze customer feedback to improve your support services and keep customers happy.
How do CRMs Work?
Let's take a journey through the inner workings of CRMs and see how they make your business shine.
1. Collecting Data
First things first, CRMs are data-hungry creatures. They collect information about your customers from various sources, like your website, phone calls, emails, and social media.
A. Data Entry
Data can be entered manually, imported from existing files or databases, or captured automatically through integrations with other software, such as your email client or e-commerce platform.
B. Data Enrichment
CRMs also have magical data enrichment powers. They can automatically update customer information by pulling data from external sources like public directories, social networks, and company websites.
2. Organizing Data
Next up, CRMs are like the Marie Kondo of customer data, organizing everything neatly to make it easily accessible and useful.
A. Centralized Database
All collected data is stored in a centralized database, creating a single source of truth for your customer information. This means no more hunting for that email or sticky note with a client's phone number!
B. Customization
CRMs allow you to customize how data is displayed, create custom fields, and categorize contacts based on criteria such as industry, location, or deal stage.
3. Analyzing Data
CRMs don't just store data; they analyze it to provide valuable insights that help you better understand your customers and make informed decisions.
A. Reporting
CRMs generate reports on metrics like sales performance, customer demographics, and campaign effectiveness, giving you a clear picture of what's happening in your business.
B. Predictive Analytics
Some CRMs even use predictive analytics to forecast trends and customer behavior, helping you make data-driven decisions and plan for the future.
4. Automating Tasks
Finally, CRMs are like wizards, casting spells to automate routine tasks and save you time.
A. Workflow Automation
CRMs can automate tasks like sending follow-up emails, assigning leads to sales reps, or updating contact information, freeing up your team to focus on more important tasks.
B. Integration
CRMs can also integrate with other tools you use, such as email marketing platforms, social media management tools, and project management software, creating a seamless workflow.
Types of CRM
There's a whole world of CRM solutions out there, each with its unique features and benefits. Let's dive into the three main types of CRM systems that cater to different business needs.
1. Operational CRM
Operational CRMs are the superheroes of daily business operations. They help streamline and automate essential tasks like sales, marketing, and customer service. Let's explore the key components of operational CRM.
A. Sales Force Automation (SFA)
SFA helps businesses manage their sales process, from lead generation to closing deals. It keeps your sales team organized, tracks potential clients, and ensures that no opportunities slip through the cracks.
B. Marketing Automation
Marketing automation takes the guesswork out of marketing campaigns. It helps identify the right target audience, creates personalized content, and automates marketing activities such as email campaigns and social media posts.
C. Customer Service Management
This component ensures that your customers receive top-notch support. It tracks customer interactions, manages support tickets, and provides insights to help improve customer satisfaction.
2. Analytical CRM
Data-driven decision-making is the name of the game with analytical CRM systems. They collect and analyze customer data to provide valuable insights for businesses. Let's see what makes analytical CRM tick.
A. Data Analysis
Analytical CRM tools examine customer data to identify trends, preferences, and potential areas for improvement. These insights can help you make informed decisions and better serve your customers.
B. Forecasting
By analyzing historical data, analytical CRM systems can predict future trends and customer behavior. This information enables businesses to plan and execute effective strategies.
3. Collaborative CRM
Teamwork makes the dream work, and collaborative CRM systems are all about fostering communication and collaboration between team members, departments, and even external stakeholders. Let's check out the essentials of collaborative CRM.
A. Information Sharing
Collaborative CRM promotes information sharing across departments, ensuring that everyone is on the same page. This leads to better decision-making and more efficient processes.
B. Partner Relationship Management (PRM)
PRM focuses on nurturing relationships with external partners, such as suppliers, distributors, and affiliates. It helps manage joint ventures, handle partner inquiries, and monitor performance.
CRM Best Practices
1. Data Security and Privacy
While CRM systems can work wonders for your business, it's essential to keep data security and privacy in mind. After all, nobody wants to deal with data breaches or angry customers! To protect your customer data and stay on the right side of privacy regulations, follow these best practices:
Choose a reputable CRM platform with strong security measures.

Train your team on data privacy practices and compliance.

Regularly review and update your security policies and procedures.
2. Employee Training and Adoption
A CRM system is only as good as the people using it, so it's crucial to ensure your team is on board and well-trained. To boost employee adoption and make the most of your CRM investment:
Provide comprehensive training on your CRM platform, including its features, benefits, and best practices.

Offer ongoing support and resources to help your team get the most out of the system.

Encourage a culture of collaboration and open communication around CRM usage.
3. Centralize Customer Data
By centralizing customer data in one CRM platform, you can easily access, analyze, and manage customer information, enabling better decision-making and improving overall customer service quality.
4. Regular Data Updates
Ensure that your CRM data is accurate and up-to-date by regularly updating customer information, tracking interactions, and removing duplicate records. This prevents misinformation and miscommunication with clients.
5. Segment Your Customers
Segment your customers based on various attributes, such as demographics, purchase history, and preferences, to create targeted marketing campaigns and personalized interactions that cater to specific needs.
6. Integrate CRM with Other Systems
Integrate your CRM with other business software, such as marketing automation, sales, and customer support tools, to streamline processes, improve efficiency, and provide a seamless customer experience.
7. Train and Empower Your Team
Invest in training your team on CRM best practices, ensuring they understand how to effectively use the system to manage customer relationships, track performance, and drive business growth.
FAQs
1. How do CRMs improve customer relationships?
CRMs centralize customer data, enabling personalized interactions and swift issue resolution, ultimately boosting customer satisfaction and loyalty.
2. Can CRMs integrate with other software?
Yes, CRMs often integrate with email, e-commerce, marketing, and project management software, streamlining workflows and enhancing data sharing.
3. Are CRMs suitable for small businesses?
Absolutely! CRMs cater to businesses of all sizes, with scalable features and pricing plans to accommodate growing needs and budgets.
4. How secure is customer data in CRMs?
CRMs prioritize data security with encryption, access controls, and regular backups to protect sensitive customer information and ensure compliance.
5. Can I access my CRM on mobile devices?
Most CRMs offer mobile apps or responsive web interfaces, granting easy access to customer data and essential features on-the-go.