WhatsApp has been a game-changer in the instant messaging app landscape, offering a simplistic and user-friendly approach to communication.
Meta, formerly known as Facebook Inc., recently announced the introduction of the WhatsApp Channels feature in India.
This innovative feature allows users to stay connected with businesses and brands while ensuring the privacy that WhatsApp is known for.
In this guide, we'll delve into everything you need to know about this new offering, including its functionalities and how to make the most of it.
What are WhatsApp Channels?
WhatsApp Channels are designed to enable users to follow businesses, organizations, and brands to stay informed on the latest updates, promotions, and events.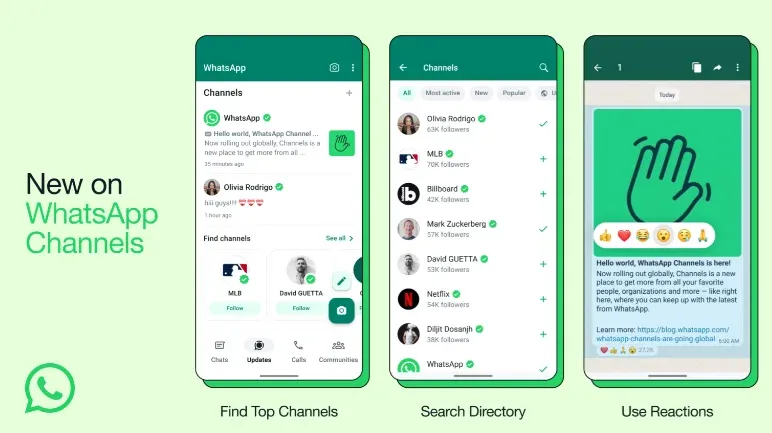 Businesses can create a Channel by providing basic information and verifying their account to ensure a genuine and valuable experience for users.
One of the primary aims of this feature is to bridge the gap between users and businesses, driving authentic connections.
The Channels are focused on ensuring user privacy, and the conversations are always end-to-end encrypted, just like other WhatsApp chats.

How to use WhatsApp Channels
To begin using WhatsApp Channels, follow these simple steps:
Discover and follow businesses: Look for businesses and brands you're interested in, and follow their unique QR code or click the invite link to join their Channel.
Receive updates: You'll start receiving updates, announcements, and promotional messages directly from the businesses and organizations you follow in separate chats.
Interact with businesses: You can send and receive messages from businesses in a private chat format. Your conversation with them will remain separate from the main Channel chat.
Unfollow a Channel: In case you'd like to unfollow a Channel, simply select the chat, navigate to the chat settings, and click 'Exit this Channel.'

Advantages of WhatsApp Channels
Here are the different advantages of WhatsApp Channels
Privacy: WhatsApp Channels are designed to prioritize privacy, offering end-to-end encrypted conversations. This means the

messages

you exchange are only visible to you and the businesses, keeping your interactions from prying eyes.

Easy one-to-one communication: Users can connect with businesses on a personal level, allowing for seamless communication and a more personalized experience.
Efficient notifications: The Channels offer regular updates and notifications from businesses, helping users stay informed about the latest promotions, events, or announcements.
Promote brand loyalty: With direct access to businesses, customers can build stronger connections, enhancing brand loyalty.
Customizable settings: Users can customize the notification settings to filter out messages that might not interest them, enabling a more tailored experience.
Key Points for Businesses and Privacy
To ensure an authentic and secure experience for users, businesses must follow certain guidelines when using WhatsApp Channels:
Businesses need to provide accurate information and verify their account to create a Channel, ensuring credibility.

Companies must respect user privacy and not share any user's personal data or contact details for promotional purposes.

An extra layer of protection is added by WhatsApp: anonymized phone numbers. This means that the businesses will never see users' actual phone numbers when they join the Channel, further securing users' personal information.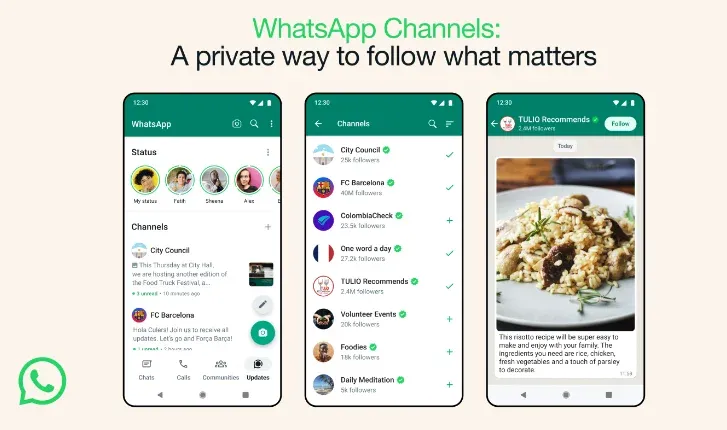 Wrapping Up
WhatsApp Channels introduce a new and innovative approach to strengthen the connection between users and businesses while maintaining a focus on privacy.
By enabling users to follow, interact and keep up to date with numerous brands while enjoying end-to-end encryption, WhatsApp continues to demonstrate its commitment to connecting people securely and effortlessly.
Don't miss out on this opportunity to make the most of the Channels feature and experience a whole new level of interaction with your favorite brands and businesses.

Frequently Asked Questions (FAQs)
How to Create a WhatsApp Channel?
Creating a WhatsApp Channel is primarily a task for businesses. Here's the step-by-step process:
Open WhatsApp and tap 'More Options' (the three vertical dots on the top right).

Click on 'Business Tools' > 'Create a Channel.'

Fill in all the requested details about your business.

Then, submit the application for approval.
After you've created the Channel, potential subscribers can enroll by scanning a unique QR code or clicking an invitation link shared by the business.
How to Delete a WhatsApp Channel?
If you're a business owner and decide to delete your WhatsApp Channel, follow these steps:
Open WhatsApp

and navigate to your Channel.

Click on Delete Channel button, then click on Delete.

Enter your phone number for verification, and you are done.
Remember, this action is irreversible, and all the Channel's data, including followers and messages, will be permanently deleted.
How to Remove the WhatsApp Channel Feature?
As a user, you cannot remove the Channel feature from WhatsApp. However, you can stop using it by unfollowing all channels you've joined. The steps to unfollow a channel are:
Open the Channel chat that you wish to unfollow.

Tap on the 'More options' (three vertical dots) button.

Click 'Exit this Channel.'
Alternatively, if you don't want to use WhatsApp Channels, don't subscribe to any in the first place. The Channels feature will then remain inactive for you.