WhatsApp is not just another messaging service; it's an essential digital connector that's brought billions of people from all corners of the globe closer. As we tread further into 2023, WhatsApp reigns supreme in the realm of communication technology, consistently rolling out brilliant features to refine and redefine our interaction experiences.
Among these features, the WhatsApp Green Tick has emerged as a game-changer for businesses worldwide. As digital communication becomes the lifeblood of our lives, the Green Tick serves as a reliable compass for businesses to identify and reach their ideal audiences.
If soaring WhatsApp usage statistics are anything to go by, the Green Tick is an indispensable tool in streamlining communication and boosting business credibility. And it's time for you to get in on the action!
If you've been wondering how to earn that coveted WhatsApp Green Tick for your account, you've come to the right place. We've got your back with a simple, four-step guide to getting your free WhatsApp Green Tick.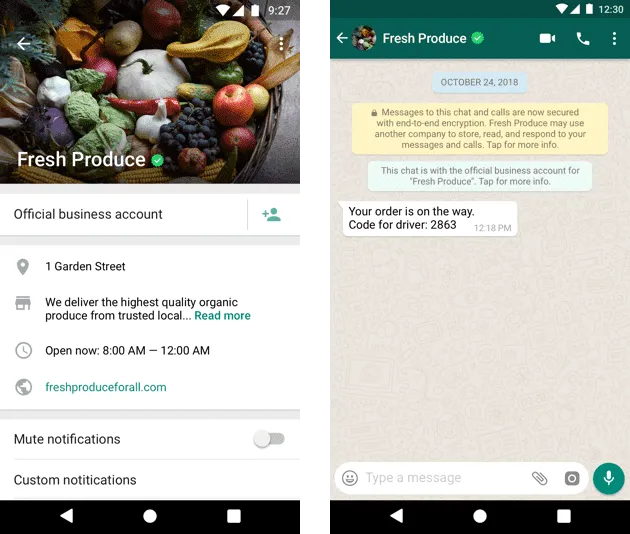 What is the WhatsApp Green Tick?
At its core, the WhatsApp Green Tick is a verification badge that signifies the authenticity and credibility of a WhatsApp account. It serves as a visual indicator to distinguish verified accounts from others. This tick is displayed next to the account name and adds an extra layer of trust for users.
It's essential to understand the various types of ticks on WhatsApp and how they differ. There are three types of ticks:
Gray Tick: A single gray tick indicates a message has been sent.
Double Gray Tick: Two gray ticks signify that the message has been successfully delivered to the recipient's device.
Green Tick: The coveted green tick is the WhatsApp verification badge, which establishes the account's authenticity.
Why is the WhatsApp Green Tick Important?
The WhatsApp Green Tick is necessary for the following reasons.
Establishing Credibility
The WhatsApp Green Tick establishes credibility for businesses, public figures, and organizations. With the abundance of fake accounts and scams online, the green tick assures users that they interact with a legitimate and verified entity. This verification badge helps build trust, essential for establishing meaningful connections and transactions on WhatsApp.
Enhancing User Trust
When users come across a WhatsApp account with a green tick, they feel a sense of confidence in the account's authenticity. It eliminates doubts and skepticism, allowing users to engage more openly and actively with the verified account. By earning the WhatsApp Green Tick, you gain credibility and foster a stronger connection with your audience.
Who Can Get the WhatsApp Green Tick?
To get a WhatsApp green tick for your account, there are specific criteria, like:
Verification Criteria
WhatsApp follows a specific set of criteria to verify accounts and award them with the Green Tick. While the exact details of the verification process are undisclosed, some common factors that influence verification include:
Authenticity: The account must represent a real business, public figure, or organization.
Popularity: The account should have a significant following or reach.
Compliance: The account must adhere to WhatsApp's terms of service and community guidelines.
Eligibility Requirements
While verification is unavailable to everyone, WhatsApp continues expanding its verification program. Initially, the focus was on prominent public figures and notable businesses.
However, the program has since expanded to include more categories and industries. To increase your chances of getting the Green Tick, ensure that your account meets the verification criteria and maintains a strong presence on WhatsApp.
Things to Know Before Getting WhatsApp Green Tick?
In the competitive world of business messaging, having the WhatsApp Green Tick verification badge on your account adds credibility and trust. This comprehensive guide will walk you through the step-by-step process to obtain the WhatsApp Green Tick for your business account. Let's get started!
Account Setup and Verification
Before diving into the verification process, ensuring your account is correctly set up and verified is crucial. Follow these steps to lay the foundation:
Sign Up for WhatsApp API Access and Create a Business Account
To begin, create a dedicated business account on WhatsApp using WhatsApp Business API like BotPenguin. It will differentiate your business presence from personal funds and provide access to exclusive features. Although WhatsApp green Tick is available for free on the WhatsApp Business app.
After you receive your WhatsApp API access, begin your WhatsApp campaign. Why, you may ask? It is to show WhatsApp that you are a regular user and actively using the platform for your business. A point to remember is that reach out to at least 1000 people daily through your company.
Verifying Phone Number and Email Address
WhatsApp requires a verified phone number and email address for your business account. Ensure both are linked to your account to proceed with the verification process smoothly.
Verification of your Business on META Business Manager
Verifying your business on Meta Business Manager makes it seem more reputed and authenticated. To avoid confusion, Facebook Business Manager is now Meta Business Manager. The eligibility criteria for verification is your business authorization with local authorities. Plus, you must have an active phone number and address.
Meeting the Criteria
WhatsApp has specific criteria businesses must meet to qualify for the Green Tick verification. Take the following factors into consideration:
Business Verification
Your business needs to undergo a verification process to be considered for verification. It entails confirming your business entity and ownership to establish authenticity.
Authenticity and Reputation
WhatsApp assesses the authenticity and reputation of your business by evaluating factors such as customer feedback, online presence, and compliance with WhatsApp's terms of service. It's essential to maintain a positive reputation and engage with customers effectively.
Submitting the Application
Once you set up your account and you meet the necessary criteria, it's time to submit your application for the Green Tick verification. Pay attention to the following:
Application Process Overview
Understand the application process and gather all the required information and documentation before submitting your request. Now, familiarize yourself with the guidelines and ensure you adhere to them.
Required Documentation
WhatsApp may require specific documentation to verify your business, such as legal registration certificates, tax identification numbers, or proof of address. Prepare these documents in advance to expedite the verification process.
Verification Process
After submitting your application, WhatsApp undertakes a verification process to evaluate your eligibility for the Green Tick. Here's what you should know:
Timeline and Waiting Period
The verification process may take time, and no specific timeframe is known. Be patient and avoid reapplying during this waiting period to prevent any potential delays.
Possible Outcomes
After the verification process, there are several possible outcomes. Your account may receive the coveted Green Tick verification badge, or you might be requested to provide additional information or documentation for further evaluation. In some cases, your application might get declined. Regardless of the outcome, learn from the process and make necessary improvements.
How To Apply For WhatsApp Green Tick
You can apply for a WhatsApp green tick badge through META Business Manager, which we will show shortly. But you also apply it through Business Service Providers like BotPenguin, for which you have to contact BotPenguin. To have the WhatsApp green tick for your account, follow these steps:
Step 1: Open the META Business Manager and go to Business Settings.
Step 2: Select WhatsApp Accounts and then WhatsApp Manager
Step 3: Now go to Account tools and click Phone Number.
Step 4: Upon going to the next page, you will get your WhatsApp account details. Click the Settings button there to proceed.
Step 5: Click on Profile and fill out the details.
Step 6: After that, click on the Submit Request.
Step 7: After submitting your request, you can see your review status for the WhatsApp green tick badge.
Common Challenges in Obtaining the WhatsApp Green Tick
Although obtaining a WhatsApp green tick is easy, you might face a few challenges while receiving it. The challenges are:
Lack of Documentation
One of the significant hurdles many businesses face is the need for clear documentation regarding the verification process. Proper guidance makes figuring out the necessary steps clear and time-consuming.
Difficulty in Meeting Criteria
WhatsApp has specific criteria businesses must meet to qualify for the Green Tick. It can include having a notable presence, adhering to WhatsApp's policies, and maintaining an active user base. Meeting these requirements can be challenging, but don't worry; we've got your back. Just follow the steps mentioned above.
Benefits of Having the WhatsApp Green Tick
Having a WhatsApp green tick can be immensely helpful for your business. So, let's see the benefits of having the WhatsApp green tick:
Increased Trust and Credibility
The Green Tick acts as a seal of approval from WhatsApp, instilling trust and confidence in your customers. It signifies that your business is authentic and verified, which can go a long way in establishing credibility and fostering customer loyalty.
Enhanced Visibility and Reach
Having the Green Tick sets your business apart from unverified accounts and increases your visibility in search results. Users are more likely to engage with verified companies, giving you a competitive edge and expanding your reach to potential customers.
Building Trust
Verification is crucial in establishing trust and credibility in the digital realm. The WhatsApp Green Tick sets your business apart, instilling confidence in your customers and helping you stand out in a crowded marketplace.
Remember, the WhatsApp Green Tick is not just a badge; it's a symbol of trust that can propel your business to new heights. Follow the steps outlined in this guide, overcome the challenges, and reap verification rewards. Good luck on your journey!
Conclusion
To wrap up, acquiring the WhatsApp Green Tick is as simple as following these four steps, and the benefits to your business credibility could be transformative.

This symbol not only amplifies your brand's authenticity but also improves customer trust — a key ingredient for success in 2023 and beyond.

Remember, it's the details that count when it comes to customer relationships. Make the most of these tips, earn your free WhatsApp Green Tick, and pave the way for enhanced customer engagement.

Take your communication to the next level, and let that green tick be a beacon of trust in your digital interactions.
Frequently Asked Questions
What are the eligibility criteria to obtain the free WhatsApp Green Tick badge?
To be eligible for the free WhatsApp Green Tick badge, you must have an active WhatsApp account, comply with all WhatsApp terms and policies, and meet any additional requirements set by WhatsApp for obtaining the Green Tick badge.
Is the WhatsApp Green Tick badge available for all WhatsApp users?
No, the WhatsApp Green Tick badge is not available for all WhatsApp users. It is typically reserved for individuals or entities with a significant public presence, such as celebrities, public figures, and brands. WhatsApp determines the eligibility for the Green Tick badge based on certain criteria.
How long does it take to complete the registration process for the WhatsApp Green Tick badge?
The time required to complete the registration process for the WhatsApp Green Tick badge can vary. It depends on the completeness and accuracy of the information provided during the registration, as well as the volume of applications being processed by WhatsApp at that time.
Can I apply for the WhatsApp Green Tick badge multiple times if my application is rejected?
Yes, if your initial application for the WhatsApp Green Tick badge is rejected, you can usually reapply. However, it is crucial to understand the reasons for the rejection and make necessary improvements or adjustments to increase your chances of a successful application.
Are there any verification fees or charges associated with obtaining the WhatsApp Green Tick badge?
No, the WhatsApp Green Tick badge is provided free of charge. WhatsApp does not impose any fees or charges for the badge verification process. Beware of fraudulent schemes or third-party services claiming to provide the badge in exchange for payment.
Can I lose the WhatsApp Green Tick badge once obtained?
Yes, WhatsApp reserves the right to revoke the Green Tick badge if the account holder violates WhatsApp's terms and policies or engages in activities that undermine the authenticity and credibility of the badge. It is essential to adhere to WhatsApp's guidelines to maintain the badge.