WhatsApp is now the messaging platform of choice for people worldwide, with over 1.5 billion active users each month and a presence in 180 countries.
Initially designed for users to keep in touch with loved ones, an aspect of the site has since developed into a viable channel for companies to communicate with customers.
The inspiration for the WhatsApp Business API and the WhatsApp Business application came from the popularity of Facebook Messenger and chatbots for easing the communication between businesses and their customers.
The WhatsApp Business app was created specifically for use by entrepreneurs and helps them stay in touch with their clientele.
However, the WhatsApp Business API is designed to allow enterprises of all sizes to communicate with their consumers globally and deliver automated instant responses.
The WhatsApp Business App powered by AI chatbots
The WhatsApp Business announcement came out in 2018, the commercial version of the popular chat service. It's great for local businesses to communicate with their customers using WhatsApp.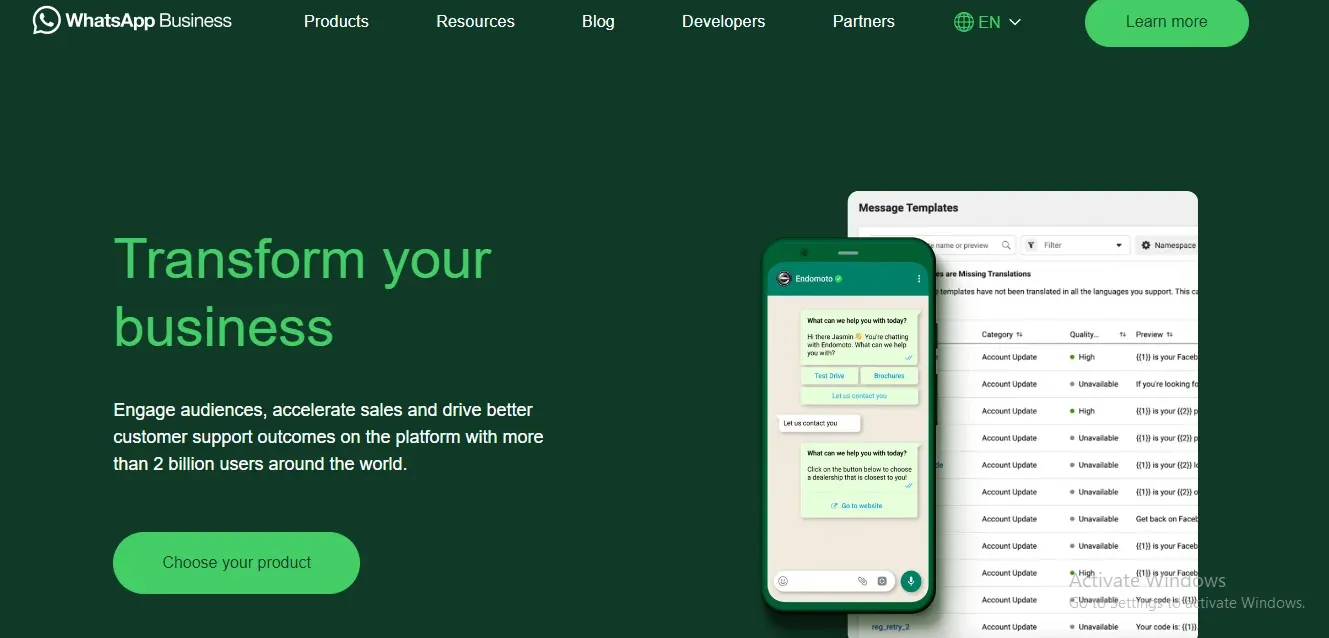 Customers can easily connect with and be connected to businesses without downloading any additional software or apps.
Users will know they are being contacted by a business account rather than a personal account because WhatsApp Business accounts are labeled as such.
Characteristics of the WhatsApp for Business App
The WhatsApp development team has stated, "WhatsApp Business app is created with the small business owner in mind."
It's loaded with tools to assist local merchants in promoting their wares and connecting with consumers. Let's see a few highlights:
Business Profile Availability
When you create a WhatsApp Business profile, you can provide your consumers with quick and easy access to crucial information.
Information such as store hours, geographical pins, email addresses, websites, phone numbers, and contact information should be included.
As a result, not only will people be able to find you easily, but the brand value of your company will also be improved.
Apart from WhatsApp Chatbot BotPenguin provides chatbot for different platforms such as-

Interactive Messages and Intelligent Replies
Create a template of an often-sent message and quickly reply to it in the future using the "Quick Replies" function.
If you type "/thanks," you'll see the message "Thank you for your business!" Tell the client, "We hope to have the opportunity to work with you again. The wording of these alerts can be altered to suit your needs.
If people call you when you're unavailable, you can even have an automatic "away" message play.
Similarly, you might welcome customers who commence a chat with your company with a prerecorded message that provides an overview of your offerings.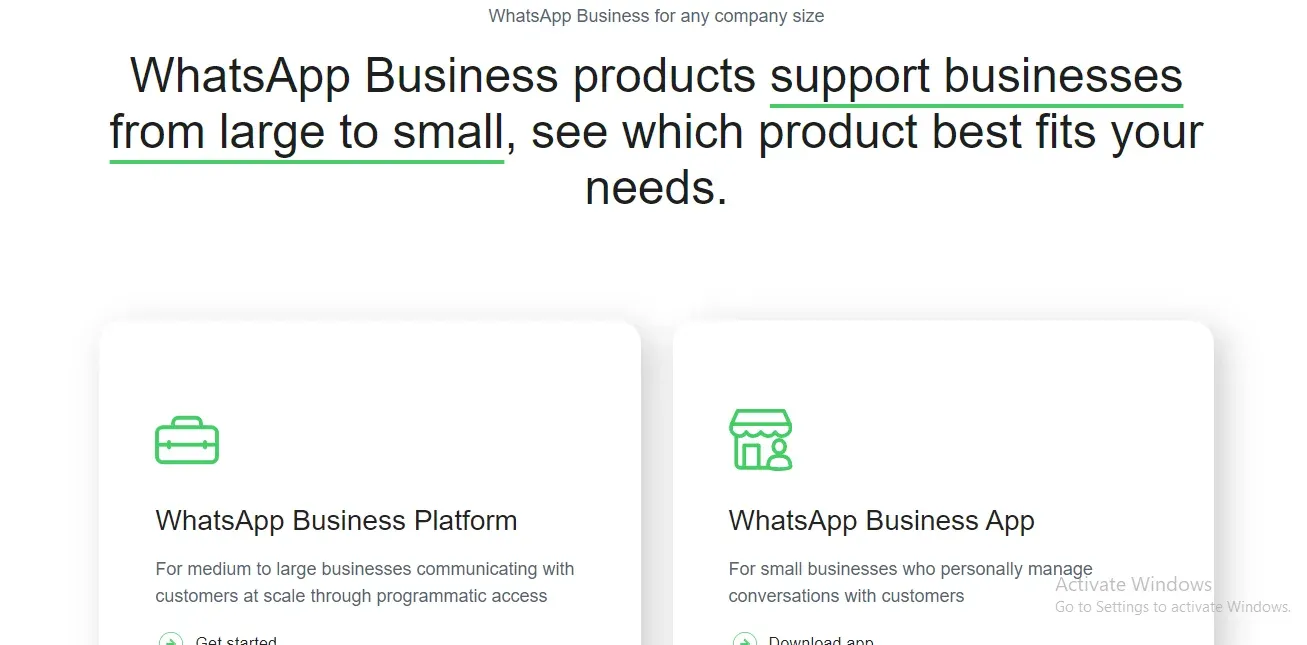 Messaging Stats
WhatsApp for Business's Messaging Stats function is really helpful.
Learn how many messages were sent, delivered, and read by recipients. Examining these indicators can help your business run much more smoothly.
WhatsApp Web enables you to access your WhatsApp Business account from the web browsers of other devices, including desktops and laptops.
That means it's far simpler for groups to work together without contention over shared resources if they share an account's upkeep.
WhatsApp AI Chatbot's Advantages
Businesses may reach a bigger audience and provide excellent customer care that keeps them returning.
The following are some of the many advantages of using a WhatsApp AI chatbot:
For Customers
Customers may instantly get answers to their questions and start conversations with businesses through chatbots.
When customers send messages to businesses and receive prompt responses, it opens the door to two-way communication between the customer and the company.
Increased customer satisfaction is a direct result of 24/7 service availability.
The value and quality of interactions with AI-powered chatbots will increase due to their ability to tailor responses to individual users.
User personal information and digital identities can be safeguarded using end-to-end encryption, two-factor authentication, and enterprise verification.
Instead of requiring users to download yet another app, businesses may now be accessed via a preferred medium.
And because it's so familiar, app users can dive right in without learning the ropes.
For Entrepreneurs
Our platform is open to you if you manage a one-person operation out of your home or a multinational conglomerate.
WhatsApp AI chatbots provide a more gratifying experience, increasing consumer loyalty and participation.
Improves your brand's image and client loyalty while strengthening your connection with your target audience.
Puts your company in front of customers through a variety of avenues.
Client broadcasting and notification capabilities
Enables companies to communicate with clients through a visual and interactive channel.
The WhatsApp AI chatbot is used in every country outside China, so you may build a customer-focused chatbot that can communicate with people worldwide.


For the Marketers
Marketers may free up time for more strategic work by having WhatsApp AI chatbots do the bulk of the mundane tasks.
Assists in establishing a reliable path for generating and communicating with leads.
The team can use this to guide consumers through the sales process.
Chatbots with the ability to personalize their interactions with users might utilize this to their advantage by offering discounts to repeat customers or potential prospects.
The marketing team is free to express their originality through the use of a variety of formats and the incorporation of multimedia.
Takes potential buyers through each stage of the sales process.
Customers can get advice on any purchase decision from a chatbot.
The WhatsApp AI chatbot may take on much of the heavy lifting in a conversation, from product discovery to guiding users to payment processors.
Send out promos to leads that are starting to get cold.
Spread the word about the latest order status and other pertinent announcements.
An amazing way to publicize limited-time offers is using WhatsApp's 24-hour Status function.
It will maintain your consumers' interest in buying if you respond to them quickly.
Helps your company make more money by suggesting additional purchases to customers
For Customer Service Reps and Managers
Frequently requested questions can be programmed into WhatsApp AI chatbots.
Instantaneous reactions from your company will increase customer satisfaction and loyalty.
Using chatbot-to-human handover, the bot can automatically pass on complex questions to a human customer service representative.
If WhatsApp AI chatbot cannot solve the problem, it can offer suggestions for local businesses that might be able to and even provide maps to those businesses.
A chatbot can update a customer on the status of a ticket and provide other pertinent information.
For instance, a travel agency's chatbot on WhatsApp may provide real-time information on bookings, flight status, itineraries, and more.
Businesses may efficiently conduct customer surveys and gather responses using a WhatsApp AI chatbot. This can aid in developing their offerings (and even chatbot workflows in some instances).

Conclusion
Today's businesses know they must meet their clients where they are online.
The ability to establish a reliable and ongoing connection with clients without them having to actively seek you out on other channels is a major benefit of the WhatsApp AI chatbot and the added functionality of WhatsApp Business.
With the creation of a friendly chatbot, companies can take advantage of the dedicated following and increased interaction that WhatsApp provides.
You may provide superior service to your consumers and streamline your customer care operations with the help of a suitable chatbot platform.