What comes to mind first when thinking about various marketing methods to interact and engage with your ideal clients?
Most likely, Facebook, with its 2.167 billion members, is active. Perhaps Instagram, with its 800 million busy members? What about the 330 million active users on Twitter or the 310 million active users on LinkedIn? On there, you're presumably also advertising.
What if we say there is a third text-based social media site with more subscribers than Instagram and LinkedIn put together? And you still need to join.
The third text-based social media is known as WhatsApp.Fapi
Even though email marketing is essential, you may expect an open rate of 30% (assuming you're doing a good job).
Even that 30% is already far more than you would ever receive naturally on Facebook. An average text message is opened 98% of the time.
That explains why chatbots function so effectively as well. And for that reason, WhatsApp is the world's most interesting marketing medium with WhatsApp features.
So, in this blog, we'll examine how WhatsApp Business may interact with your customers to take your business to greater heights.
What is WhatsApp for Business?
WhatsApp for Business is a version of the WhatsApp messaging app specifically designed for small and medium-sized businesses.
It offers a range of WhatsApp features and tools to help companies to connect with their customers, automate responses, and manage customer interactions more efficiently.
Some of the WhatsApp features for Business include:
Business Profile: Businesses can create a business profile with their contact information, website, and business description to make it simpler for customers to find and connect with them.
Quick Replies: Businesses can save and reuse frequently used messages to respond quickly to common customer inquiries.
Automated Messages: Businesses can set up automated messages to greet customers or send quick responses outside business hours.
Labels: Businesses can label chats to organize and prioritize customer inquiries and track interactions.
Catalogs: Businesses can showcase their products and services in a catalog format to make it easier for customers to browse and make purchases.
WhatsApp Web: Businesses can use the WhatsApp Web interface to manage their customer interactions on desktops.
WhatsApp for Business is free to use and is present on both Android and iOS devices. However, some features, such as WhatsApp Business API, require businesses to pay for them.
How Whatsapp for Business can engage with your customers.
You can make your WhatsApp Business profile unique.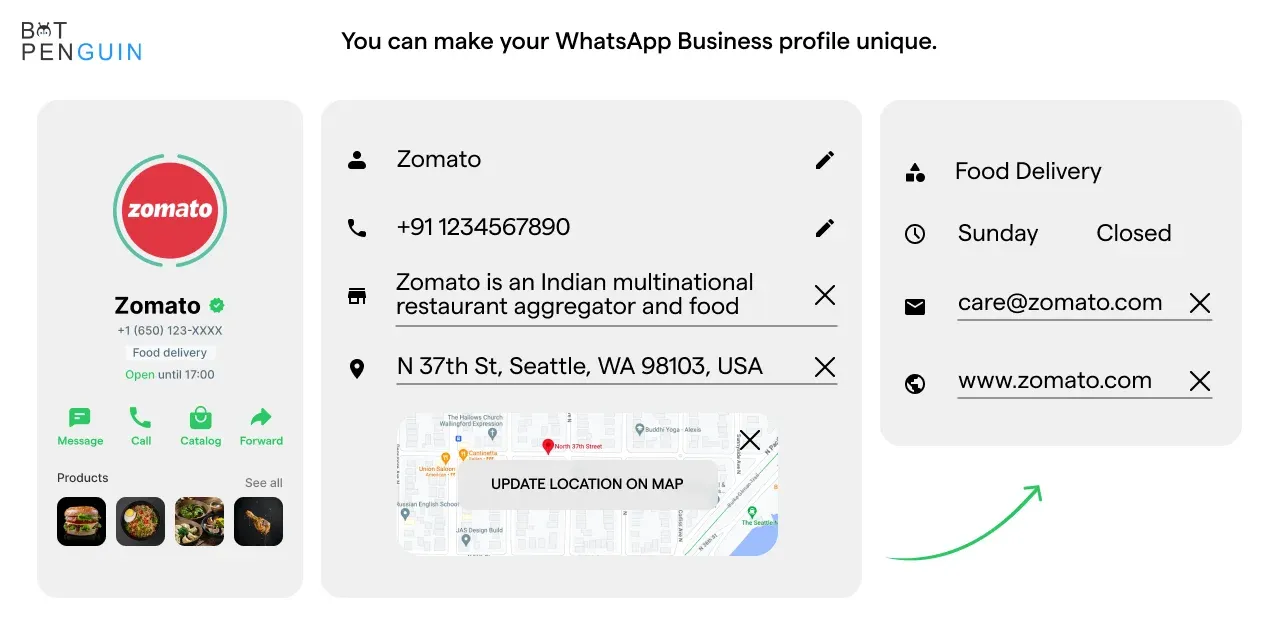 You may customize your profile on WhatsApp Business, one of WhatsApp features main advantages.
Your page will be loaded with crucial information regarding your company rather than someone else's, complete with emotive status updates.
Contact details, the address and hours of your website, your website's URL, and a brief summary of the goods or services you provide could all be included in this profile.
By giving your company an additional layer of legitimacy, you may gain the confidence and Business of your clients.
Better Customer Communication.
Your customers will only demand that you be sometimes available, which is one of the best things about WhatsApp Business.
The program lets you choose business hours and an "away message" offered by WhatsApp features so that your clients know the best times to reach you. They will feel heard if you do this, we are sure.
To some of the queries you frequently get, you may also pre-set specific responses or "quick replies."
It is the best thing you can do with these WhatsApp features.
Streamlining Customer Management with WhatsApp payment feature.
You may categorize your clients based on their orders' progress, arguably one of the most outstanding WhatsApp features.
As soon as a customer's status changes inside your company, you can label them as "Pending payment", "Paid" and others. Sorting through customers and interacting with them are now a lot simpler.
You can receive comments and market research with WhatsApp business features.
Increase involvement and participation when you have a closer relationship with your clients, which is one of the major benefits.
You can quickly enhance that relationship while also gaining a ton of fascinating information by actively including your clients in the design and development of your product or service.
Of course, the fact that the app supports many kinds of media is also lovely.
It implies that you may give outstanding customer service in addition to text using audio, video, and even a brief phone conversation.
Utilizing WhatsApp Business may be a quick and affordable approach to conducting research and gathering client feedback.
Do you need to be more particular about the flavors you should offer your store? Request a selection from your consumer from a range of choices.
Do you want to know what WhatsApp features your Business should focus on next? Consult your clients.
Instead of contacting a specific customer by phone or email in the hopes that they would read it, you may ask questions of the various segmented groups.
Participating with your customers is always a terrific approach to acquiring answers pertinent to your company.
Utilizing WhatsApp Business is a quick and effective way to do marketing research, and best of all, it is free!
Your offering may be changed, and you can create promotions for particular goods using the input you receive from these talks.
Make the discussion as natural as possible; they could start blocking you again if you come off as invasive.
Send out great deals through WhatsApp business.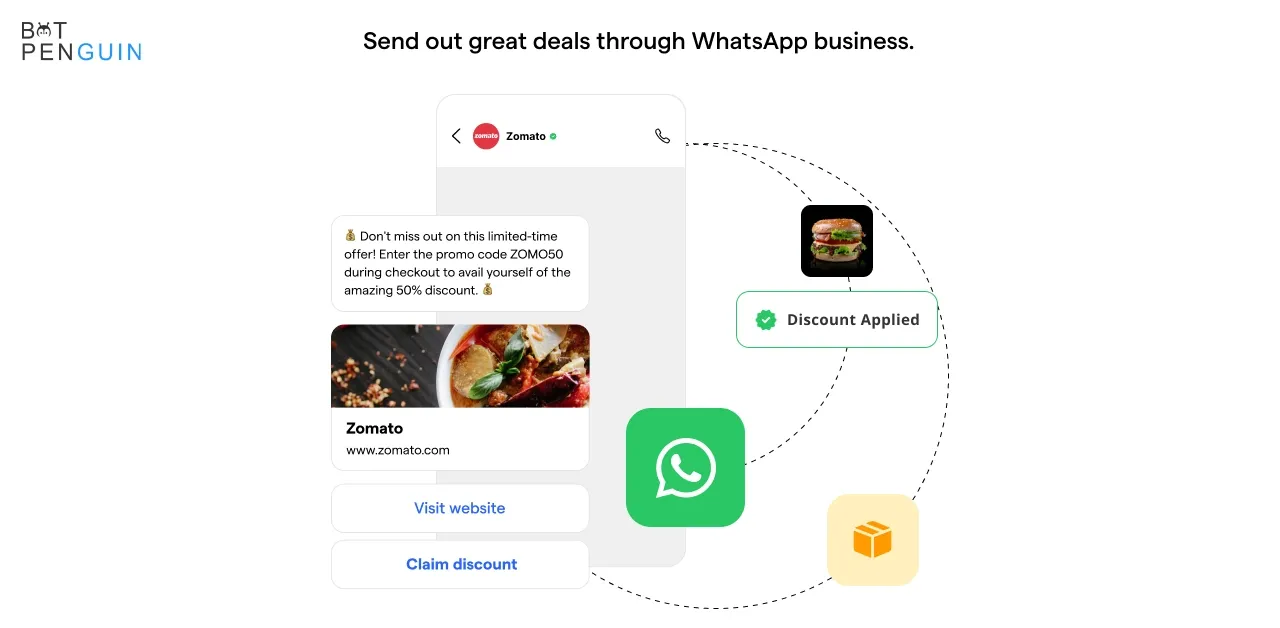 When you combine goods with the distinctive qualities of a WhatsApp tale, special offers naturally spring to mind as one of the first things that should be considered.
The lack of stories is the critical argument here. (a story is only live for 24 hours).
Because of it and the high open rate, WhatsApp Business is a great place to offer coupons.
Post a "coupon" to your WhatsApp Business story and specify that it expires after the story's 24-hour window.
People may then be sent to a private one-on-one chat, which will lead them to a landing page (designed first for mobile devices), where they can find out more about how to use the offer.
Customers and potential leads for sales are more likely to feel FOMO (Fear Of Missing Out) if the tale is time-sensitive.
They are far more likely to pay attention to your message as a result.
Show off your Innovative process through WhatsApp features.
You could include the following:
A video of your visit to the facility where your product is made.

A drawing of the product's early concept.

The first item to be produced.
This in-depth analysis of your company's creative process might increase your contacts' faith in you on a new level.
If you're a web design company, consider giving a customer a sneak preview of a new, unreleased product or service to make it even more memorable.
An excellent method to demonstrate what your business can do is to share your work with their contact.
Give an Honest, Objective look into your company through WhatsApp business.
A business is much more than just its goods and services. WhatsApp is also the perfect medium for exhibiting your company's human side.
WhatsApp features key to humanizing your brand to existing consumers and possible leads for sales is to provide (un)polished status updates that give your company's operations a genuine look.
Even though the status changes are merely momentary, they nonetheless have an impact on your brand.
Use WhatsApp features to find feedback and rankings.
You may solicit reviews from your clients for your goods or services. Please provide them with links or survey response alternatives.
The popular messaging app WhatsApp might encourage your clients to provide you with more precise feedback. They'll engage with you if you provide them with creative opportunities to provide feedback.
You can use WhatsApp features to send out reminders on WhatsApp businesses.
You may use it to send reminders and update your clients on their orders' progress.
Like (or perhaps much less than) reading the newspaper, millennials and even members of Generation Y have become accustomed to checking WhatsApp every day.
It implies that you can send a message to remind them to do anything, such as renewing insurance or board a flight the next day. Doing this may also lessen the possibility that they will miss crucial deadlines.
Conclusion
WhatsApp Business offers small and medium-sized businesses an incredible opportunity to interact with their customers and engage them effectively.
With more subscribers than Instagram and LinkedIn combined, WhatsApp has a massive user base, making it an ideal platform for businesses to reach out to customers.
WhatsApp Business offers a range of WhatsApp features and tools such as business profiles, quick replies, automated messages, labels, catalogs, and WhatsApp Web to help businesses connect with their customers, automate responses, and manage customer interactions more efficiently.
The platform allows businesses to conduct market research and quickly gather customer feedback. Companies can increase customer engagement and loyalty by personalizing their profiles, being available to their customers, and offering deals and promotions.
WhatsApp Business is a quick, affordable, and best approach to reaching out to customers, and its high open rate makes it an attractive marketing tool.
WhatsApp Business is a must-have tool for businesses looking to connect with their customers and stand out in today's competitive marketplace.
You can market and sell products on Whatsapp, and also you can grow your Business with our Whatsapp chatbot maker platform.
So what are you looking for? Go and signup for free today only! Build your Whatsapp chatbot for Business with BotPenguin. It will offer you an amazing service like you can do advertising and sell products. Expand your company one chat at a time with BotPenguin.