Struggling to connect with customers and missing out on sales?

Tired of juggling multiple WhatsApp accounts for personal and business use?

If you feel held back by regular WhatsApp's limitations, it's time to upgrade to the WhatsApp Business account. In this post, we'll explore the top 10 benefits you get for your business with this optimized version of WhatsApp.
Whether you need better analytics, quicker responses to customers, or the ability to communicate your brand personality, the WhatsApp Business account has you covered. Let's uncover how this can transform your WhatsApp marketing and customer experience.
Join us as we dive into the key features that solve critical business challenges on WhatsApp. It's time to start leveraging WhatsApp's potential!
Let's dive in!
10 Advantages of Using WhatsApp for Business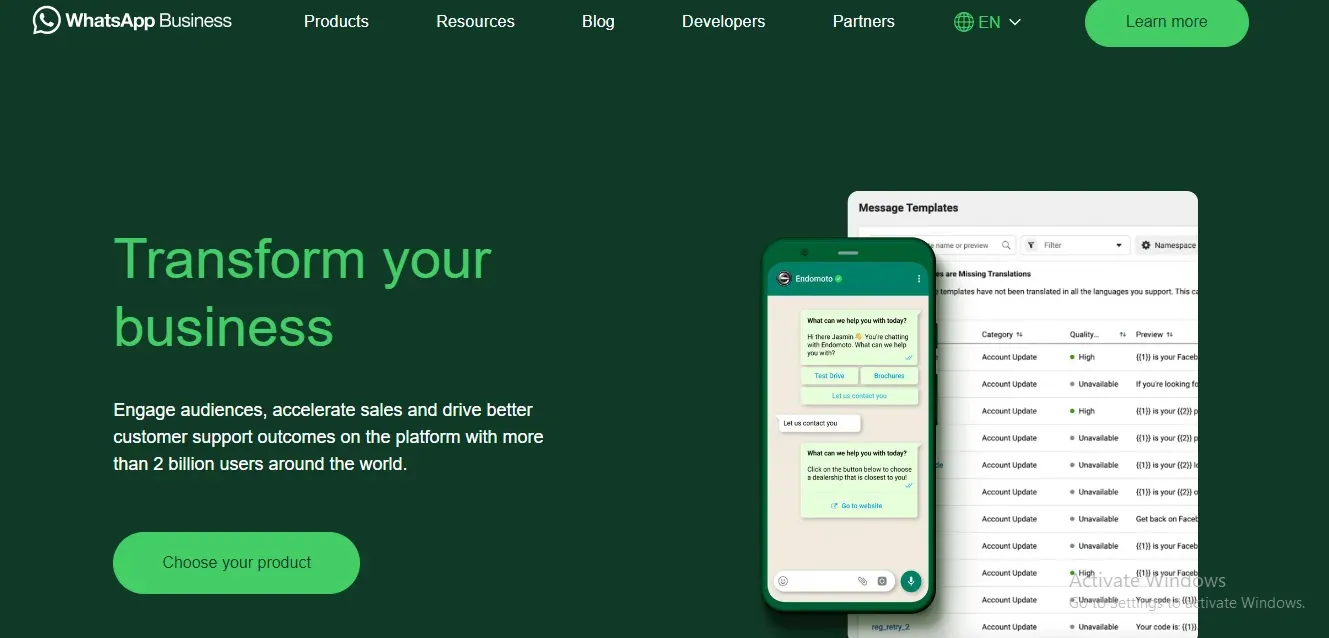 Buckle up, as we dive into the top 10 advantages of using WhatsApp for Business and discover how it can help your company thrive. Trust us, you won't want to miss this!
Improved Communication and Accessibility
Say goodbye to delayed responses and missed opportunities. WhatsApp Business API allows you to have real-time conversations with your customers.
You can do it instantly by answering their queries, providing product information, or addressing concerns. No more waiting or frustration—just seamless communication that keeps your customers engaged.
Availability across devices and operating systems
WhatsApp Business API ensures that you can connect with your customers wherever they are.
Whether they prefer smartphones, tablets, or desktop computers, WhatsApp is accessible across multiple devices and operating systems.
This means that you can reach your customers on the go, making it convenient for them to engage with your business.
Enhanced Customer Engagement
WhatsApp Business API puts your customers at the center of your business. You can use this platform to understand their needs, preferences, and pain points better.
By actively listening to them and having two-way interactions with them, you can adjust your goods, services, and marketing initiatives to match their needs. It's like having a direct line to their thoughts and desires.
Personalized messaging and targeted communication
Gone are the days of generic mass messaging. With WhatsApp Business API, you can send personalized messages to individual customers or targeted groups.
Whether it's a special offer, a birthday greeting, or a personalized recommendation, you can make your customers feel valued and appreciated.
By providing pertinent material to the appropriate audience, you'll build a lasting and positive customer relationship.
Along with WhatsApp Chatbot, BotPenguin offers chatbot creation for other social platforms like:
Streamlined Customer Support
WhatsApp Business API enables you to resolve customer queries with speed and efficiency.
Customers may simply contact you, and you can quickly answer, giving them the information they require. No more long waits on hold or back-and-forth emails.
Just a simple, streamlined process that keeps your customers satisfied.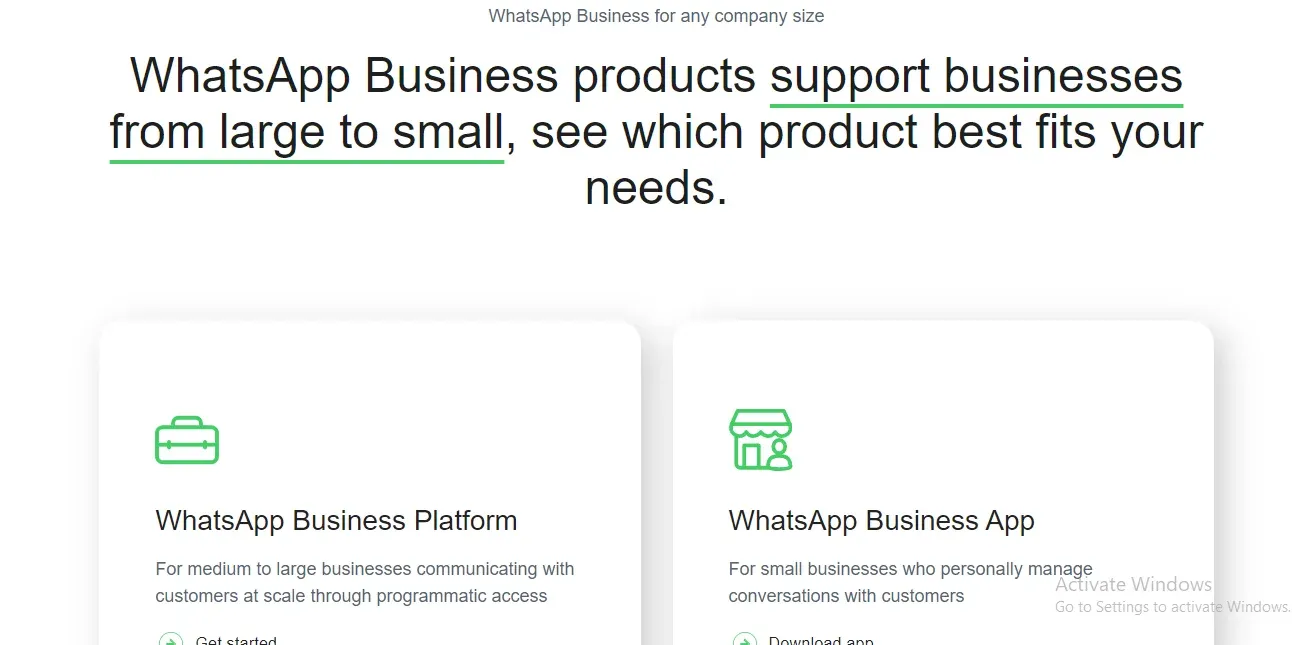 Automated responses and chatbots for 24/7 support
Round-the-clock support is no longer a dream. With WhatsApp Business API, you can set up automated responses and deploy chatbots to handle common queries and provide instant assistance.
Customers can receive immediate answers to frequently asked questions or get directed to the appropriate department. This ensures your customers are always cared for, even outside regular business hours.
Secure and Trusted Platform
Any firm that wants to succeed must have the trust of its customers. WhatsApp Business API prioritizes data privacy and authenticity, instilling confidence in your customers.
End-to-end encryption for data privacy
WhatsApp Business API uses end-to-end encryption, ensuring your conversations are secure and private.
This means sensitive information shared between you and your customers remains protected from prying eyes. With WhatsApp, you can build trust by demonstrating your commitment to data privacy.
Verified business profiles and authenticity
Create a verified business profile using the WhatsApp Business API to ensure that your clients are communicating with a real company.
The verification badge adds credibility to your business and helps establish trust with potential customers. When people know they're engaging with a genuine business, they are likelier to engage and purchase.
Cost-effective Communication
In addition to its myriad features, WhatsApp Business API offers cost-effective communication solutions that can help you save money and optimize your budget.
Free messaging and low-cost international communication
WhatsApp Business API enables you to send messages to your customers at no cost. You can share updates, notifications, and promotional content without worrying about extra charges.
Additionally, it becomes more economical to communicate internationally, enabling you to reach a worldwide audience without spending a fortune.
Reducing expenses on traditional communication channels
By leveraging WhatsApp Business API, you can reduce your reliance on traditional communication channels, such as phone calls and SMS.
This can lead to significant cost savings, as WhatsApp provides a convenient and cost-effective alternative.
You can allocate those saved resources to other aspects of your business, driving growth and innovation.
Broad Audience Reach
WhatsApp is not just another messaging app; it's a global sensation with over 2 billion active users worldwide.
With such a massive user base, you have an incredible opportunity to connect with diverse customers. It's like having a virtual storefront in every corner of the globe.
Targeting diverse demographics and markets
The beauty of WhatsApp lies in its broad demographic appeal. From tech-savvy millennials to seasoned professionals, people from all walks of life use WhatsApp.
You can target specific demographics and markets using WhatsApp Business API with personalized messages and offers. It's like speaking directly to your ideal customers, wherever they may be.
Rich Media Sharing
A picture is worth a thousand words, and WhatsApp Business API lets you make a visual impact.
With the ability to share images, videos, and documents, you can showcase your products or services in a visually appealing and engaging way. Wow, your customers with stunning visuals that leave a lasting impression.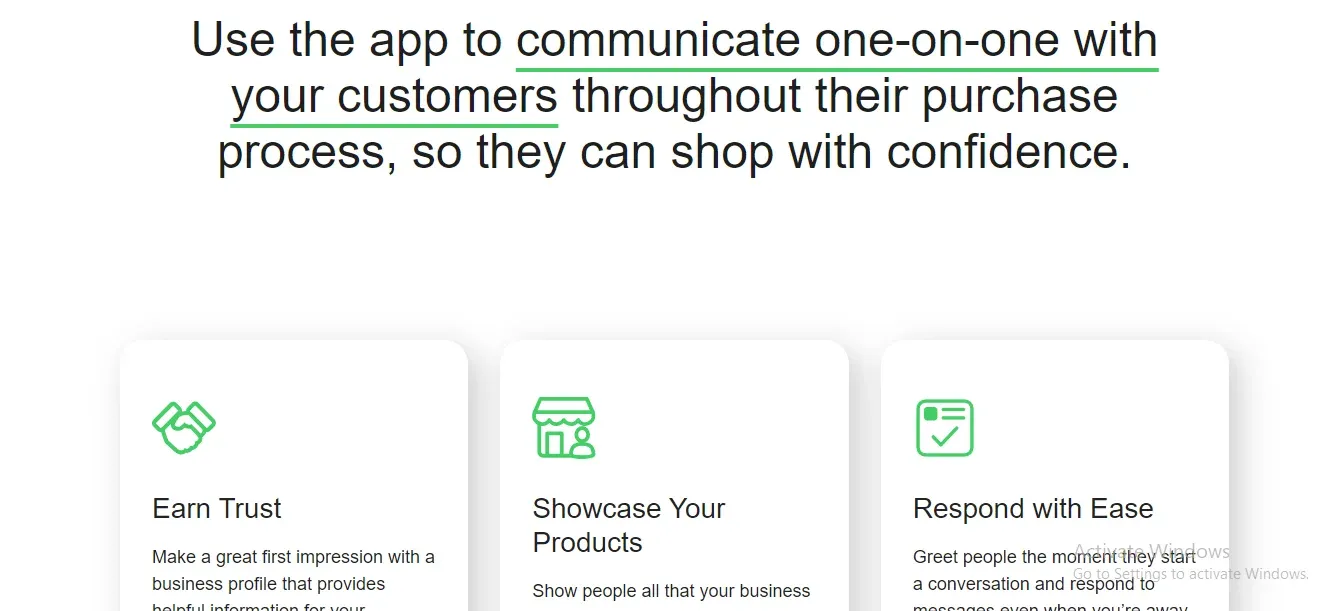 Showcasing products and services creatively
Get your creative juices flowing because WhatsApp Business API allows you to think outside the box.
You can create interactive product catalogs, share product demos, and even conduct virtual tours. Let your imagination run wild and captivate your audience like never before.
Business Profile and Analytics
First impressions matter; with WhatsApp Business API, you can make a stellar one. Create a professional business profile that showcases your brand identity, contact information, and business hours.
It's like having a virtual storefront open 24/7, ready to welcome customers and provide essential information.
Tracking metrics and analyzing customer behavior
Data is the fuel that drives business decisions, and WhatsApp Business API provides a treasure trove of insights.
Track metrics like message open rates, response times, and customer engagement to gain valuable insights into your audience's behavior.
Use this knowledge to refine your messaging strategy and deliver better customer experiences.
Seamless Integration with Business Systems
Efficiency is the game's name, and WhatsApp Business API plays it exceptionally well.
Seamlessly integrate your WhatsApp Business Account with CRM systems, customer support platforms, and other tools you use to manage your business.
Centralize your communications and streamline your workflows for maximum productivity.
Automating workflows and enhancing efficiency
Let's face it, we all love automation. WhatsApp Business API allows you to automate responses, set up chatbots, and create predefined message templates.
Say goodbye to repetitive tasks and hello to enhanced efficiency.
Provide instant responses, deliver personalized messages, and free up time to focus on other important aspects of your business.
Enhanced Marketing Opportunities
With WhatsApp Business API, you can create broadcast lists and groups to send your customers updates, promotions, and special offers.
Segment your audience based on their preferences and send targeted messages that resonate with them.
This allows you to tailor your marketing campaigns and increase the chances of conversion.
Integration with WhatsApp Business API partners
WhatsApp Business API has partnered with third-party service providers, such as customer engagement platforms and CRM systems.
These integrations enable you to leverage additional marketing tools like automated campaigns, analytics, and customer segmentation.
By combining the power of WhatsApp Business API with these partners, you can optimize your marketing efforts and drive better results.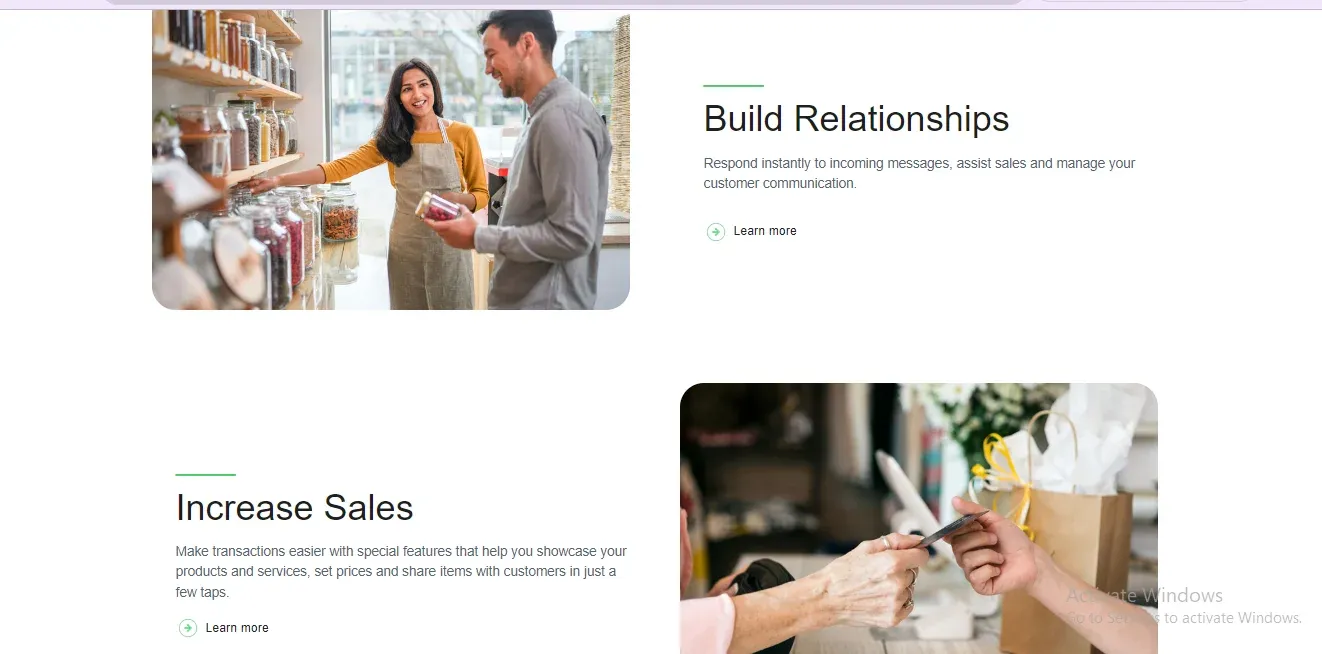 Meet BotPenguin: The Perfect Partner For WhatsApp Chatbots
You read about all the ways a WhatsApp Business account can help your business. But doing everything manually is time-consuming, right?
Let us introduce you to BotPenguin. We're experts in creating smart WhatsApp chatbots to automate conversations and free up your time.
Our bots don't just respond with basic pre-set messages.
They have real conversations to engage customers 24/7! You can provide quick support, share updates, take orders, send reminders - almost anything you can imagine to wow your customers on WhatsApp.
We designed BotPenguin to be super easy to use - no complex coding needed. In just minutes you can have your own chatbot ready to take your WhatsApp presence to the next level.
Hundreds Of businesses trust us as their WhatsApp automation partner.

So join them and say hello to seamless WhatsApp management with BotPenguin's Chatbots!
Sign up today!

Frequently Asked Questions (FAQs)
How can a WhatsApp Business Account improve customer engagement?
With a WhatsApp Business Account, businesses can directly communicate with their customers in real-time, send personalized messages, provide quick support, and build stronger relationships, leading to improved customer engagement.
Can a WhatsApp Business Account be used for marketing purposes?
Yes, a WhatsApp Business Account can be used for marketing purposes.
Businesses can send promotional messages, updates, and offers to their customers, allowing for direct marketing and increased brand visibility.
What is a product catalog in WhatsApp Business Account?
A product catalog in a WhatsApp Business Account is a feature that allows businesses to showcase their products or services to customers.
It enables businesses to provide detailed information, pricing, and images to help customers make informed purchasing decisions.
How can a WhatsApp Business Account simplify customer support?
A WhatsApp Business Account makes customer support simpler by enabling businesses to quickly respond to customer queries, provide automated responses, send order confirmations, and deliver personalized support, resulting in improved customer satisfaction.
What kind of insights can businesses get from using a WhatsApp Business Account?
Through a WhatsApp Business Account, businesses can gain insights into customer behavior, preferences, and interactions.
This data can help businesses make informed decisions, optimize their strategy, and provide a more tailored customer experience.
Can multiple team members access and manage a WhatsApp Business Account?
Yes, multiple team members can access and manage a WhatsApp Business Account.
Businesses can add and assign roles to different team members, ensuring efficient collaboration and management of customer interactions.
Is there a cost associated with using a WhatsApp Business Account?
The basic features of a WhatsApp Business Account are free to use.
However, there are additional paid features available, such as WhatsApp Business API, which offers more advanced functionalities for larger businesses.