Whatsapp, how safe is it in reality? WhatsApp has been around for a while; it was first released in 2009 and was bought by Facebook in 2014. However, it has recently been more popular due to its encryption capabilities, which make its chats more secure than rivals.
"We designed WhatsApp to help you remain in touch with friends, communicate critical information during natural catastrophes, reconnect with divided families, or seek a better life," reads the website for WhatsApp. We included end-to-end encryption in our software since some of your most private moments are shared with WhatsApp. Your calls, documents, voicemails, photographs, and videos are protected from being intercepted by unauthorized parties when end-to-end encrypted. Worldwide, there are 2 billion active WhatsApp users.
According to statistics, the most popular mobile messaging app worldwide is WhatsApp. On WhatsApp, more than 100 billion messages are transmitted every day. On average, each Android user of WhatsApp uses the app for 38 minutes daily.
India has 390.1 million active WhatsApp users each month. Over the past four years, WhatsApp has gained 1 billion new members (2016-2020). Whatsapp's monthly active user base has expanded by 365 percent from 465 million in February 2014 during its six years as a Facebook subsidiary. More than 100 billion messages are transmitted daily on WhatsApp, according to a tweet by WhatsApp's CEO Will Cathcart in December 2020.
What is WhatsApp?
It is a free messaging and mobile app. WhatsApp uses a Wi-Fi connection in place of a cellular network to deliver encrypted videos, audio calls, and text messages globally. The app was first released in 2009, but its popularity surged when Facebook acquired it in 2014. With more than 2 billion users globally, WhatsApp is currently the most widely used messaging service.
WhatsApp encryption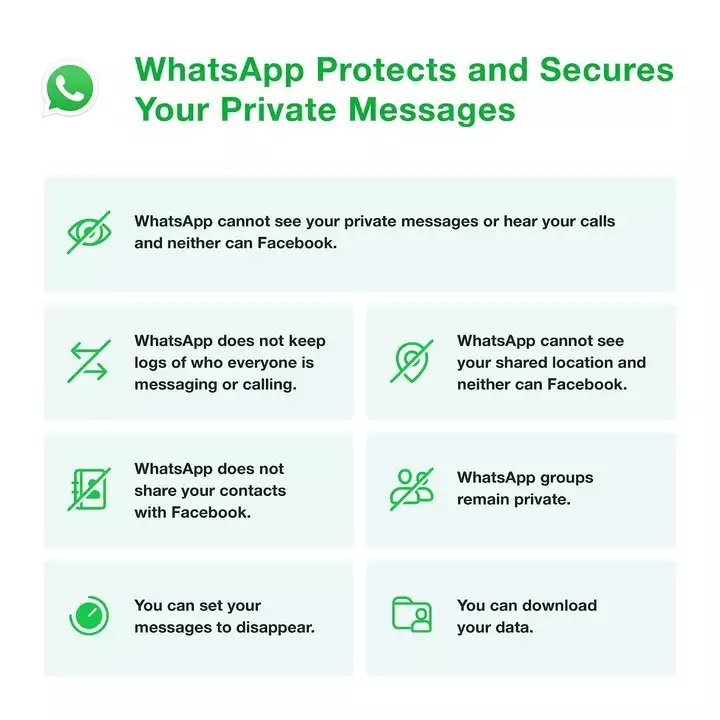 All communication on WhatsApp's platform is secured by end-to-end encryption. In addition to rendering it hard to decipher transmissions, these encryption keys also bar WhatsApp and third parties from accessing messages or calls. James E. Lee, CEO of Identity Theft Resource Center implies that "only you and the person/group you are talking with may read or view the messages, images or files you transmit, or listen to the conversations you make."
In addition to its encryption feature, WhatsApp users may configure their privacy settings, including who can see their status and profile. However, keep in mind that not all of your activity on the app is secret. Including exchanging information with their parent firm, Facebook, Lee claims that WhatsApp "does gather and exchange information about how you use the service." Read WhatsApp's privacy policy to learn more about the data gathered and how it is used.
Please be aware that someone may be watching you if these applications are still on your phone.
Is WhatsApp safe?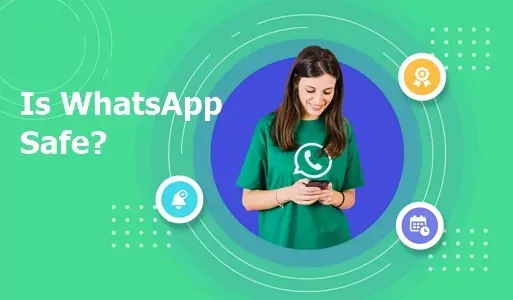 WhatsApp has developed a reputation for being safe, secure, and private because of its end-to-end encryption feature. Is it true, though? WhatsApp is more secure than other messaging applications as it employs end-to-end encryption for decoding messages. But it's not entirely impervious to error. Remember that WhatsApp still asks for your contacts when establishing an account, even though your files and chats may be encrypted. Your personal information is still a danger despite the encryption protections in place; it is at a more negligible risk than most, but it is still a risk.
5 Common myths busted about WhatsApp
we will debunk five common myths surrounding WhatsApp, shedding light on the truth behind them. By separating fact from fiction, we aim to provide a clearer understanding of WhatsApp's capabilities and address any
1. Is WhatsApp listening to my conversations?
Said, "No!" WhatsApp is a messaging app that uses end-to-end encryption. It means the only people with the key to decode and encrypt those communications are you (the sender) and your friend (the recipient). No one can listen in on your chats with your pal.
2. WhatsApp can read your messages.
According to Emma Sadleir, the founder of South Africa's Digital Law Company, WhatsApp's end-to-end encryption is a robust security measure that assures inaccessibility to your communications. This encryption, implemented by WhatsApp in April 2016, entails the complete encryption of your messages, allowing only the intended recipient, possessing the unique "key," to decipher and read them.
WhatsApp's privacy statement affirms that they do not retain or store your communications on their servers. Instead, your contacts are exclusively stored on your smartphone, and once your messages are successfully delivered, they are promptly removed from WhatsApp's systems.
While WhatsApp's assurances may leave room for doubt, it is worth noting that the Information Regulator is diligently scrutinizing the updated privacy policy to ensure its alignment with the Protection of Personal Information Act (POPI).
3. Is WhatsApp can see your photos
WhatsApp's privacy statement states, "When a user forwards media inside a message, we temporarily store that material in encrypted form on our servers to help in the more effective delivery of subsequent forwards."
According to Chetan Nayak, a writer for The Indian Express, the app merely momentarily saves the media. Once shared, a picture or video will only remain on the devices it was shared with and not on WhatsApp's real servers. Your profile picture is the only image the app can access, so when selecting an image, make sure it's one you don't mind WhatsApp seeing.
4. Unencrypted Backups
WhatsApp uses end-to-end encryption to secure its communications. Only your device and the recipient's device can decode these messages, preventing interception by anyone, including Meta. However, WhatsApp offers backup options for messages and media on iOS and Android. These backups, stored on iCloud or Google Drive, include decrypted copies of your communications, potentially compromising the theoretical security of end-to-end encryption. While cloud service providers aim to protect your data, there's a risk of unauthorized access or government intervention. In summary, while end-to-end encryption safeguards your in-app messages, cloud backups may pose security and privacy concerns.
Thank goodness WhatsApp added end-to-end encrypted conversation backups to its service. But by default, this option is deactivated. To safeguard your WhatsApp backups, go to Settings > Chats > Chat Backup > End-to-end Encrypted Backup and click Turn On.
5. WhatsApp knows and shares your location
Thanks to your IP address and phone number, WhatsApp only has a rough idea of where you are. It won't be able to share your location with anyone else because it doesn't honestly know where you are.
Again, this is private information that is only shared between the sender and the recipient, so WhatsApp and other outside parties won't be able to see where you are in real-time. So why do the software record your phone number and IP address? It will provide Facebook knowledge of the places in which its users reside and their spending patterns.
In this approach, Facebook may develop profiles of its users to understand their purchasing patterns for advertisers. For example, Facebook might look at data like the demographics of a particular set of individuals and their interests, which is a common technique for marketers and salespeople.
Conclusion
All messages, chats, and video calls on WhatsApp employ powerful end-to-end encryption, which is fantastic! Your WhatsApp messages and calls are private to you. On the other hand, WhatsApp is owned by Facebook, a business notorious for its massive and dubious ethical data collection.
It is evident that WhatsApp has specific problems, which causes some users to have legitimate concerns, but knowledge is essential when making a final decision.
What do you think about the problem WhatsApp is having? Will you continue using WhatsApp? Please share your thoughts in the comments area down below. I hope you like our blog. Suppose you want more such informational blogs to connect us on our website BotPenguin.
FAQs
How secure is WhatsApp?
WhatsApp provides end-to-end encryption for all messages, which means that only the sender and recipient can read the messages, and even WhatsApp itself cannot access the content. This encryption ensures that your conversations are secure and protected from external threats.
Is WhatsApp listening to my conversations?
No, WhatsApp does not listen to your conversations. It does not have access to the microphone on your device unless you explicitly grant permission to record voice messages or make voice or video calls. WhatsApp respects user privacy and does not engage in unauthorized monitoring or recording of conversations.
What are some common myths about WhatsApp?
There are several common myths surrounding WhatsApp that are not true. One such myth is that WhatsApp shares user data with Facebook. In fact, WhatsApp's policy states that it does not share personal information with Facebook for advertising purposes. Another myth is that WhatsApp messages are stored on servers forever, but in reality, messages are stored temporarily and deleted once delivered.
Can WhatsApp be hacked?
While no system is completely immune to hacking, WhatsApp has implemented strong security measures to protect user data. The end-to-end encryption ensures that even if someone intercepts the messages, they cannot be deciphered without the encryption keys. However, it's important to keep your device and WhatsApp app up to date and follow good security practices, such as enabling two-factor authentication and being cautious of suspicious messages or links.
Can WhatsApp be used anonymously?
WhatsApp requires users to register with a phone number, so complete anonymity is not possible. However, you can take certain steps to enhance privacy, such as not using your real name as your profile name and avoiding sharing personal information in your profile or public groups. You can also use privacy settings to control who can see your profile picture, last seen status, and other details.
Can WhatsApp be used for business communication securely?
WhatsApp offers several security features for business communication, such as two-factor authentication, end-to-end encryption, and the ability to verify business accounts. These features enhance the security of business conversations on the platform. However, it's important to assess the specific security and compliance requirements of your business before using WhatsApp for sensitive business communication.
How can I enhance my WhatsApp security?
To enhance your WhatsApp security, you can follow these best practices: enable two-factor authentication, keep your device and WhatsApp app up to date, be cautious of suspicious messages or links, avoid sh
aring sensitive information unnecessarily, use strong passwords for cloud backups, and regularly review your privacy settings to ensure they align with your preferences. Additionally, consider using additional security measures like