WhatsApp is the most used messaging application in the world. It acts as a pigeon, with over 2 billion using it to communicate. It is widespread across the globe for its features, speed, and security. Like any other software, WhatsApp evolved too. Now there are two products - personal WhatsApp and business WhatsApp. Both are suitable for personal and official purposes due to their reliable, user-friendly design and functionality.
WhatsApp introduced payments, document attachments, location shareability, and audio/video calls. Housing all these necessary features in one app, WhatsApp is the best solution for virtual interaction and business.
WhatsApp also extended its service to small companies and start-ups by launching WhatsApp Business in 2018. The main aim of WhatsApp Business is to facilitate companies promoting their band or assisting customers on brand. Both apps have different operation capabilities.
So, what's the difference between personal WhatsApp and WhatsApp Business.
WhatsApp for Business API
With simply a phone number, you can create a WhatsApp business account, but there are certain restrictions to what you can do with it. You've found an excellent method to linearly scale your communication if you're happy managing communities and helping consumers who have bought services or products.
The commercial edition includes capabilities to automate simple answers to keep your clients informed even when you aren't available. The software primarily focuses on small enterprises, from simple inquiries to product cards that assist customers.
Assume you're a mid-sized business looking to automate more than just auto-replies with your customers. Or if you have many personnel in your business that need to interact with clients (sales, support, operations, etc.). In these situations, you'll require WhatsApp's Business API. Let us know what you're looking for, and we'll help you decide what's ideal for your company.
What is the difference between personal and WhatsApp Business?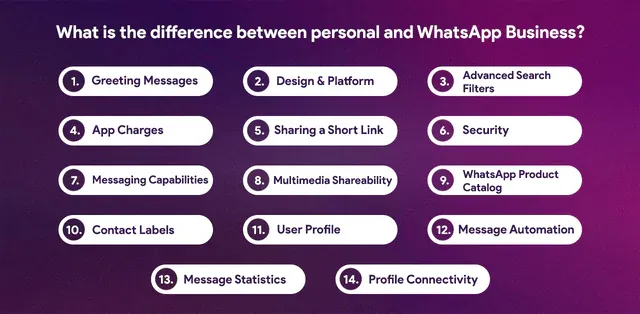 Greeting Messages
You may establish automated welcome messages in the WhatsApp Business app. When someone sends you a text on WhatsApp business, they get automated personalized messages.
Design & Platform
WhatsApp uses the Erlang programming language and the FreeBSD operating system. For everyday activities, both applications use the same platform. Furthermore, they adhere to the same design principles. Both applications, however, have distinct branding.
Advanced Search Filters
It is yet another feature that distinguishes WhatsApp from WhatsApp Business. The Business app has additional sophisticated search criteria that aren't available in the standard version. You may use them to look for group texts, unread messages, broadcast messages, and conversations with a specific label.
App Charges
When WhatsApp began, there was a $0.99 yearly membership payment after the first year. Both applications are now available for free download. They're available on both the Google Play and Apple App Stores.
Sharing a Short Link
Customers may start a discussion with you by sharing a short link that connects directly to your WhatsApp Business chat. You can share this link on social media, include it in your email signature, and let everyone know that you're on WhatsApp. A default message can have a specification. It's essentially a quick means of informing folks.
Security
Both applications provide end-to-end encryption for communications, so there's no need to be concerned about security. Each message has complete protection by a multi-layer protocol unavailable to third-party users. It ensures that every communication shared across both platforms reaches its intended recipient safely.
According to a recent policy modification, all WhatsApp actions are kept private. WhatsApp cannot read your messages, listen to your calls, or access location information or file attachments. On the other hand, business accounts can collect client information to improve their buying experience.
Messaging Capabilities
Companies and individuals can send unlimited messages in any format if they follow WhatsApp's restrictions (audio, video, or file attachments). You can send a message to up to 256 people at once. The same limitation applies when adding members to a group on both applications.
If you're going on vacation and won't be able to contact your customers, you may leave them messages. Switch on WhatsApp Business's "Away message" function and specify the automated messages that your clients will receive while you are unavailable.
Multimedia Shareability
Many users utilize this function. Thus it's undoubtedly one of the most popular. Both applications let you connect audio and video files, share documents, and share your location and contact information.
WhatsApp also offers an in-chat payment tool that allows you to send and receive payments using your UPI ID. On both platforms, this functionality is accessible. WhatsApp has made a strategic step that allows the applications to provide customers with an end-to-end buying solution.
WhatsApp Product catalog
The product catalog function allows you to set up an online store for your company. You may include images of your goods and services and descriptions, price, and a code. Customers will obtain a fast summary of your products and services. You will be able to share specific products in the conversation.
Contacts Labels
This function is not available in WhatsApp personal messenger. However, it is available on WhatsApp Business. WhatsApp Labels are color-coded according to their category. You may use this functionality to generate custom label names for sorting contacts. You may use up to 20 unique labels to identify individual contacts or groups. It allows you to choose tags and organize your data effectively.
For any business that wishes to flourish in the long run, being well-organized is essential. WhatsApp Business's labels function aids in the organization of your account. Multiple tags help track your orders, generate leads, and manage your WhatsApp Business account.
User Profile
Both applications have different user profiles. You may use WhatsApp Business to display your firm's name, logo, business category, website URL, product catalog, company description, location, and working hours.
In contrast, the WhatsApp personal app profile contains the following information: section, name, display photo, and phone number.
Message Automation
WhatsApp Business has messaging automation that will save you time and help you communicate with your consumers more effectively. It comes with three message automation:
If clients write to you during a period you've designated as unreachable, WhatsApp's Away message automatically answers.
The WhatsApp Greeting message, as the name implies, welcomes your clients when they establish a discussion with you and send you a message.
With WhatsApp Quick Replies, you may build themes to utilize when chatting. By typing the / sign in the conversation, you will be able to access and send out popular responses or phrases.
You'll be able to send messages quicker, notify people while you're gone, and greet them when they send you the first message with their assistance.
Message Statistics
In WhatsApp Business, you get a complete analysis from the Message Statistics Report.
The app's pre-defined metrics, such as the number of messages sent, delivered, read, and received, may be analyzed. It is essential for business owners since they may use the dashboard to analyze account performance. The message statistics report in WhatsApp personal messenger is restricted.
Profile Connectivity
Click-to-chat links, QR code connections, and even phone number interactions are all supported by both applications. The click-to-chat link feature generates a link that a user may use to start a chat with your account by just clicking it. You may easily make your own WhatsApp click-to-chat link.
The user must first scan the QR code before initiating a conversation. Every profile has its QR code, which you can locate in WhatsApp settings; after you've logged in, you'll see a QR code symbol beside your name.
On the other hand, only WhatsApp Business owners may produce a Shortlink from their settings and share it with their clients. It allows them to initiate chats with your Business account. Unlike click-to-chat, short links are produced automatically in the app.
Pros & Cons of WhatsApp Business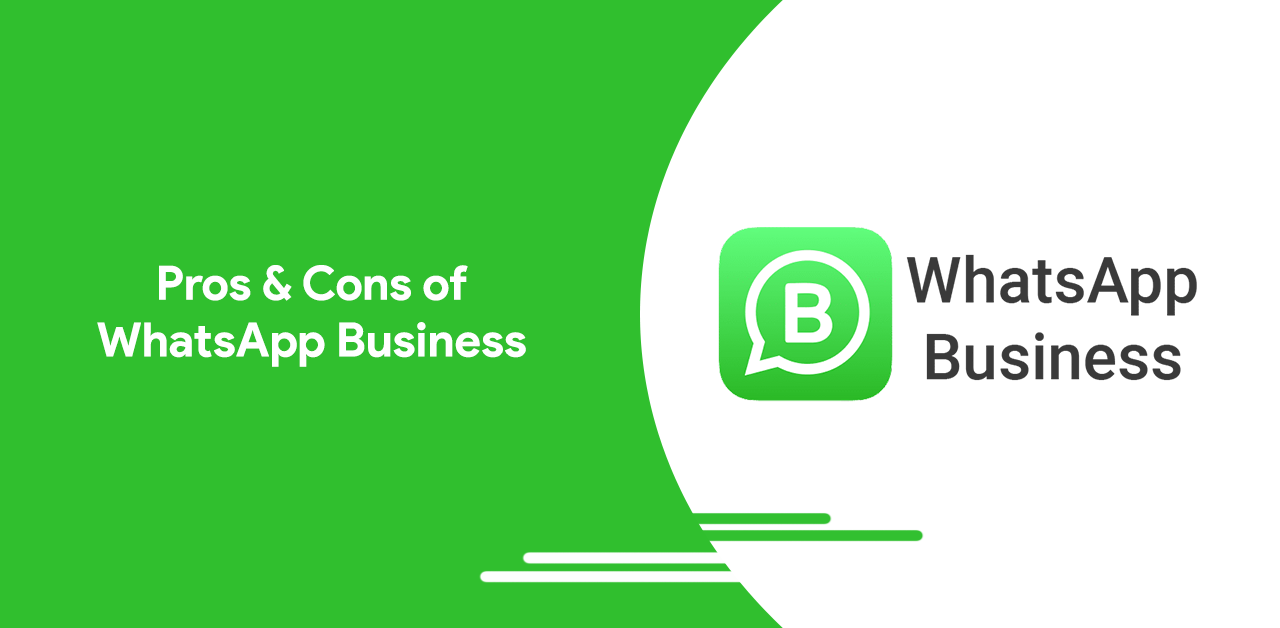 Pros
Catalogs: This allows users to understand your business better than a salesperson eager to sell. It's a feature that lets companies have a face and catalog that displays items, prices, images, and a link that leads to your landing page.
Present responses: Everyone likes WhatsApp Business because of this clever time-saving function. It's a programmable element where you may pick a default message from a list by pressing "/." Businesses adore it because instantaneously programmable rapid responses are preferable to out-of-context responses.
Labels: These are ideal for segmenting clients and having particular dialogues with them. It retrieves information without having to rummage through old communications. Tags help organize messages, groups, and broadcast lists, making sorting easier.
Broadcast lists: This tool in WhatsApp is similar to creating an email distribution list, but it differs in that the list can't have contacts who haven't interacted before. The list can't have more than 256 accounts.
WhatsApp shopping cart: Carts are a helpful tool when texting business-related chats. It's ideal for any company that offers a lot of different things at once. A clothes store, bakery, or restaurant, for example. Carts allow consumers to explore a catalog and pick other stuff before delivering the complete order to the admin or company owner as a single message. It simplifies things for a firm, keeps track of every order inquiry, and assists in closing purchases.
WhatsApp Pay: It allows you to send and receive money from anybody, at any time, directly from your chat. It's easy to use and relies on your UPI PIN to transmit money every time. On the other hand, WhatsApp does not save your credit card or PIN information.
Simple Stats: This feature assists small companies in measuring their operations using in-app KPIs. No matter how basic, metrics provide essential bits of data to change goals and plans. WhatsApp Business can be a viable option because it offers so much more than just texting.
Cons
Lack of Automation: One of WhatsApp Business's disadvantages is the lack of basic automation. While labels, rapid responses, prepared messages, and social network connection tools satisfy tiny enterprises with a small customer population. A little more prominent firm is left wanting more. You'll need WhatsApp Business API to provide tailored product recommendations and recover abandoned carts if you wish chatbot connections. It will do more than serve as a communication handrail in the customer journey. This version is more advanced than the standard business version.
Unique Phone Number: Setting up a WhatsApp Business account requires a unique phone number that is non-transferable. It means that unless your workers or co-owners have actual access to your phone, they won't be able to use the dominant account. WhatsApp Business is designed for sole entrepreneurs rather than collaborators or assigned employees in a hierarchy. Furthermore, before accessing business-ready features, You must transform your ordinary WhatsApp account linked to a phone number into a business type.
Conclusion
It would be best to have a better and steady way to manage your conversation with customers with a growing business. After all, every company that revolves around communication requires 24*7 support. WhatsApp Business has a solution for your business.
It aids to reply FAQs and building better relationships. Personal WhatsApp has many exciting features which serve as a great way to communicate with your friends and family. With its features like family and advanced features, WhatsApp Business can help businesses handle all in one app. WhatsApp Business is the updated version of WhatsApp.
If you want to reach people directly through your WhatsApp Business, Go For BotPenguin's Whatsapp Chatbot. It can automate everything for you. All you need to do is configure it once. Take a look here!
Related Articles: