Whatsapp is one of the most widely used messaging platforms worldwide. It has over 2 billion registered users and over 100 billion messages delivered daily across 180 countries.
The platform is feature-rich, including status updates, search capabilities, and encryption to protect your message.
It may be a valuable complement to any company's text messaging strategy. You can use it for chatting, video and audio calling, voice messages, and image sharing.
If their phone number is kept in your address book, you may message anybody on WhatsApp. WhatsApp makes it challenging to text someone if you don't have their phone number saved in your contacts list.
It might not be very reassuring if you only need to contact someone once, such as a courier delivery person who can't locate your location.
In these circumstances, you may wish to WhatsApp message them without saving their phone number. Here are four quick methods to accomplish that.
How does WhatsApp work?
WhatsApp may appear to be nothing more than a text messaging program, but it is capable of much more.
The main characteristics of WhatsApp are listed below in brief
Calls via voice and video
WhatsApp now provides video calls, including a group feature that supports up to eight users per chat and audio calls.
Voice Messaging
Voice messages may be recorded and sent to both individual and group conversations.
Private messages
WhatsApp utilizes end-to-end encryption, a secure communication protocol that allows only the parties involved in a message to read it.
Sharing of images and videos
You don't have to be concerned when sending films, photographs, or GIFs through SMS between various mobile platforms and cellular carriers. Your images will not be distorted or unavailable.
Sharing of documents
Without the burden of email or separate document-sharing apps, WhatsApp enables you to transfer various documents, including PDFs, spreadsheets, and slideshows.
Desktop accessibility: A Mac and a PC desktop version of WhatsApp are available.
WhatsApp Business
Using a handy and well-known platform, WhatsApp's dedicated business account allows company owners to exhibit their products and interact with consumers.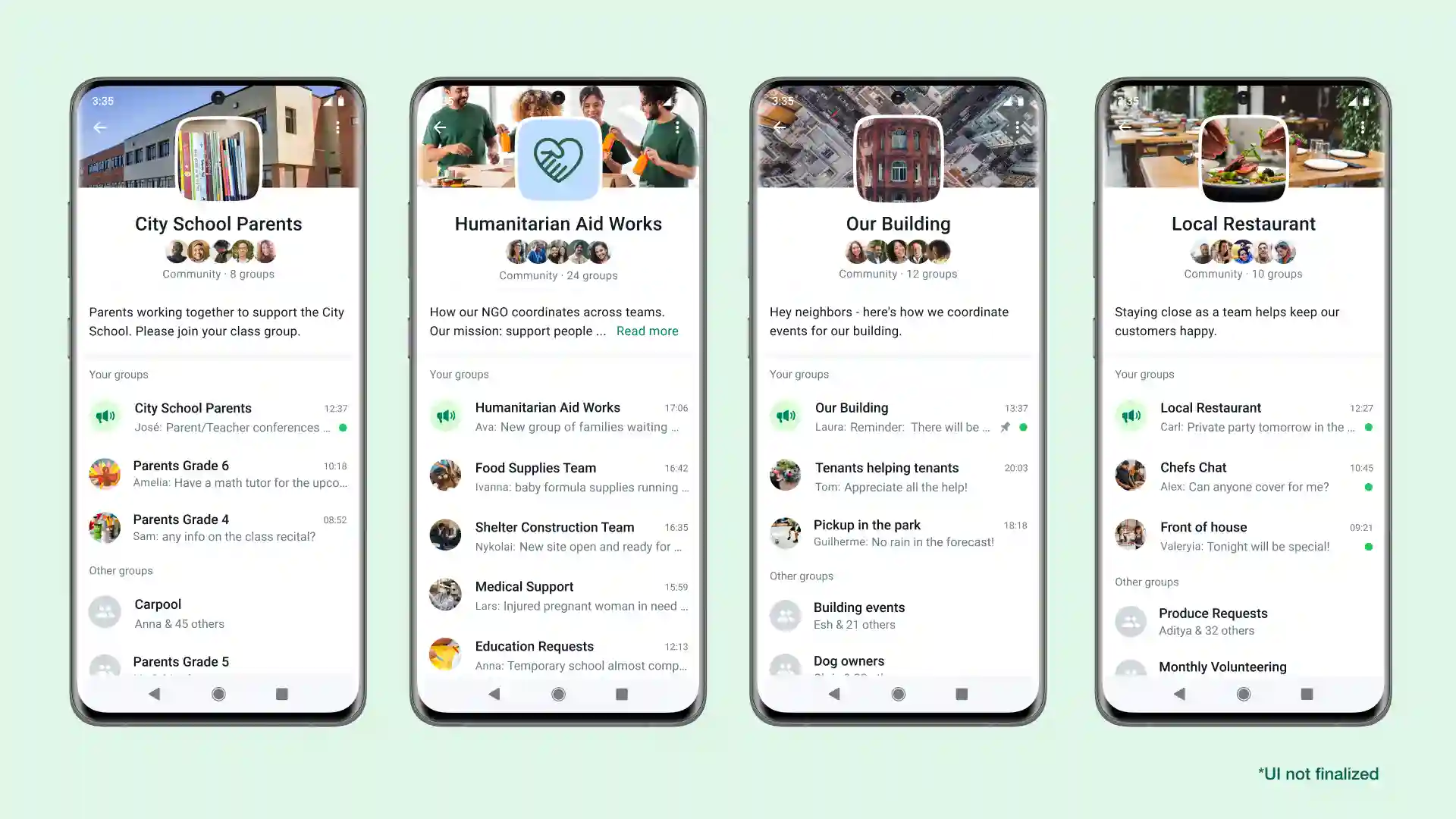 Four different Ways to Send Messages on WhatsApp
Text people on WhatsApp using a URL
Suppose you know your contact's WhatsApp number. In that case, you may easily ping them on the messaging service by entering a URL in any browser.
The URL is https://wa.me/NUMBER, where NUMBER is the phone number of your contact plus the country code. The URL will be https://wa.me/91 1234567890, for example, if the number is +91 1234567890.
The connection doesn't need you to add the plus sign (+).
You'll notice a popup asking if you want to access the website on WhatsApp after you open the URL in a browser. Press the Open button. Your conversation will now start.
Use a WhatsApp group to reply to specific phone numbers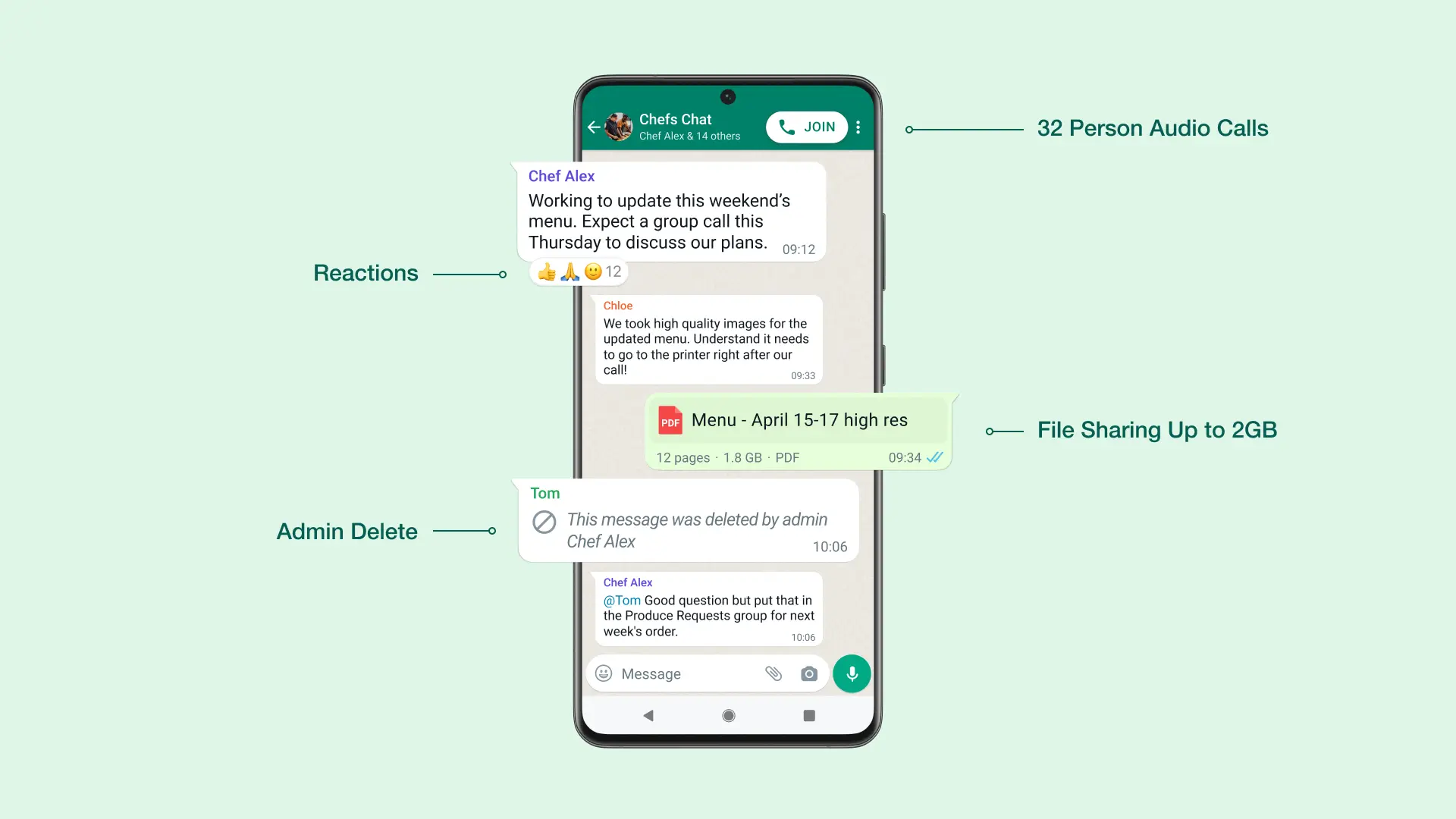 WhatsApp groups are a different method of starting conversations without adding individuals to your contacts. The catch is that the person you wish to chat with must be in a WhatsApp group with you.
There are two approaches you can take. The procedures to communicate them are as follows if they have already sent a message to the group:
Hold your finger on the message delivered by the person you wish to text.
Select "More"
Choose Reply Privately next.
The person's phone number will appear at the top of the chat instead of their name when you click this to start a new conversation.
Suppose the individual above hasn't posted anything in the group. In that case, you may ping them by accessing the WhatsApp group's list of members. What you must do is as follows.
Open WhatsApp and click the group's name in the top menu.
To see a list of the group's members, scroll below.
Locate the individual whose phone number you wish to message.
Select the number, then click Info.
You can start a private chat with this individual by clicking the message button at the top.
These techniques may be helpful if you're a member of a sizable WhatsApp group and need to message a stranger or an acquaintance without recording their number.
What if you have a chatbot for WhatsApp? Try BotPenguin for so
Along with WhatsApp Chatbot, BotPenguin offers chatbot creation for other social platforms like:
Limit WhatsApp's access to your iPhone's contacts
Yes, you may disable WhatsApp's access to your contacts so that you can text individuals without adding their phone numbers to your address book. Take the following steps:
Go to Settings on your iPhone, scroll down, and hit Privacy.
Select Contacts.
Scroll down until you see WhatsApp. To turn it off, click the switch next to it. Contacts access is enabled if the switch is green. If it's not green, it's not working.
Now, open WhatsApp and tap the new chat button in the upper right corner.
It will display a popup asking you to enter your contact's phone number. Enter your phone number and then click Done.
It will initiate a conversation without adding new phone numbers to your iPhone's contact book.
Ping Unsaved Numbers on WhatsApp for iPhone Using a Siri Shortcut
Using Apple's Shortcuts app, you may message someone on WhatsApp without recording their phone number
After installing the app, proceed as follows
Go to Settings > Shortcuts and make sure the Allow Untrusted Shortcuts option is selected.
Now launch the Shortcuts app, navigate to the Gallery tab, and select any random shortcut to perform once. It is necessary to launch shortcuts obtained from the internet.
Download the WhatsApp to Non-Contact shortcut and launch it from the Shortcuts app's My Shortcuts menu.
You will be prompted to input the person's phone number on the shortcut. You can type that, but remember that the + sign is unnecessary. It implies that your phone number should be like this: 911234567890
Enter the phone number and OK to begin a new conversation with the unbookmarked number.
To transfer links, photos, and other items straight to unsaved numbers on WhatsApp, you can use this shortcut from the share sheet on the iPhone.
Launch any program, like Photos or Safari, and select the Share button. Once you notice the shortcut for WhatsApp to Non-Contact, scroll down and click on it.
Now that the phone number has been entered, as previously explained, you may start texting individuals without adding them to your contacts.
WhatsApp Chats tips and tricks
Send a voice message hands-free
Instead of typing a message on WhatsApp, you may tap and hold the microphone to the right of the message input box to send a voice note. It is possible to lock the microphone button down to record your message without holding your phone.
Android and iOS
Chats > Particular chat > Right next to the message box, there is a microphone that you may tap. Press and hold the microphone, then swipe up to the lock. Then, until you send the message, it will lock the microphone on record.
It allows you to preview the voice note before sending it and to pause and continue.
Find out who you talk to the most
Have you ever wondered which WhatsApp users you talk to the most frequently? It is simple to learn using this free WhatsApp technique.
To check how you communicate with a contact, navigate to Settings > Data and Storage Usage > Storage Usage and choose a contact.
The list is arranged according to the person you give the most data to, so if you send a lot of GIFs to one buddy but not many other types of communications, they may surpass a friend you just text.
It's a terrific indicator of who captures your attention the most. Only messages, pictures, GIFs, videos, voicemails, and documents are included in the statistics.
iOS to Android WhatsApp conversation transfers
Moving your WhatsApp conversations from iOS to Android was incredibly challenging, but it has luckily become simpler.
Move chats to Android under Settings > Chats on iOS. Assemble the steps.
Remove all conversations
WhatsApp provides a simple alternative for clearing all your messages while allowing you to maintain all the connections you are conversing with.
To clear all chats on iOS, go to Settings > Chats.
Always be online
Want to appear "online" on WhatsApp at all times? If you download the WhatsApp web app and register, you can set it up that way even though you can't do it on your phone.
Everything from your phone is synced, giving the impression that you are constantly available. It may be beneficial to certain people. Additionally, it permits the usage of WhatsApp on an iPad.
Find how long you have been neglected
Nothing is more frustrating than waiting for a response and seeing those blue ticks appear. You have the option to further torment yourself by learning when your message was really read and how long it went unanswered.
But we don't suggest it.
iOS
Chats > Particular Chat > Particular Message Right to left swipe.
Android:
Tap and hold on to a particular conversation, choose a message, and tap. At the top, click the info "I" symbol.
Conclusion
WhatsApp Messenger is a free, cross-platform instant messaging service that lets users send and receive text, picture, video, and audio communications. Those end customers who do not have unlimited text messaging are particularly fond of WhatsApp.
Here we have shared four ways to Send Messages on WhatsApp and other valuable tips that you might not know! You can use these tricks for WhatsApp messaging.
BotPenguin is your best option for a reliable and accessible chatbot alternative. It's free!
FAQs
Is it possible to send messages on WhatsApp without using my phone number?
No, you need a valid phone number to register and send messages on WhatsApp. The app relies on your phone number as a unique identifier to connect with your contacts.
Can I schedule messages on WhatsApp?
Currently, WhatsApp doesn't provide an official feature for scheduling messages. However, there are third-party apps like "SKEDit" or "Scheduler for WhatsApp" that enable you to schedule messages on WhatsApp.
What is the method to send a broadcast message on WhatsApp?
To send a broadcast message on WhatsApp, go to the Chats tab, tap the three-dot menu, and select "New Broadcast." Then, add the desired recipients from your contacts list and compose your message. The message will be sent to all the selected recipients individually.
Can I send messages to someone who doesn't have my number saved?
Certainly, you can send messages to someone who doesn't have your number saved if you have their phone number. Simply initiate a chat by entering their number in the chat search bar and sending them a message.
How can I format text in WhatsApp messages?
To format text in WhatsApp, you can utilize specific characters to achieve different effects. For instance, enclosing a word or phrase with asterisks (*) will make it bold, using underscores (_) will make it italic, and employing tildes (~) will strike through the text.
How can I change the font size in WhatsApp messages?
WhatsApp doesn't offer a built-in feature to modify the font size. However, you can adjust the font size at the system level on your device, and it will be reflected in WhatsApp messages as well.