Are you looking for the best Zapier alternative for business? Your search is now done.
If you want to boost business performance, task automation must come first. In digital task automation, Zapier has undoubtedly held the top position in the market. People are, however, stopping using Zapier for a variety of reasons.
With Zapier, customers can connect the daily-use applications they use with one another and automate their activities using Zapier.
The 250+ employees of Zapier are distributed across more than 24 nations and work remotely.
Zapier is putting a lot of effort into creating a multicultural, collaborative workforce that can relate to one another to take on complex problems and produce a product.
There are several Zapier alternatives available. In this blog, we'll list six of the best so you can decide which is best for your business. There are too many of them, and new Zapier competitors arise about once a month, like mushrooms after rain.
What is Zapier?
Zapier can automate many corporate activities, like sending emails and entering data into spreadsheets, integrating with your CRM tools, and numerous, more often repetitive tasks. It does this by speaking with APIs to transmit data across applications easily.
Zaps, or connections, are how it does this.
These act as virtual conveyor belts that connect any two programs to automate any procedure. There's probably a Zap for any design you want to automate, and there are more than 3,000 applications to interface with.
Even if the words vary, this procedure functions similarly on most automation platforms. Zapier has come to represent automation and integration. However, it is no longer the lone participant in the game. There are alternatives if Zapier is too pricey or lacks your desired capabilities.
Six effective Zapier alternatives with unique features and service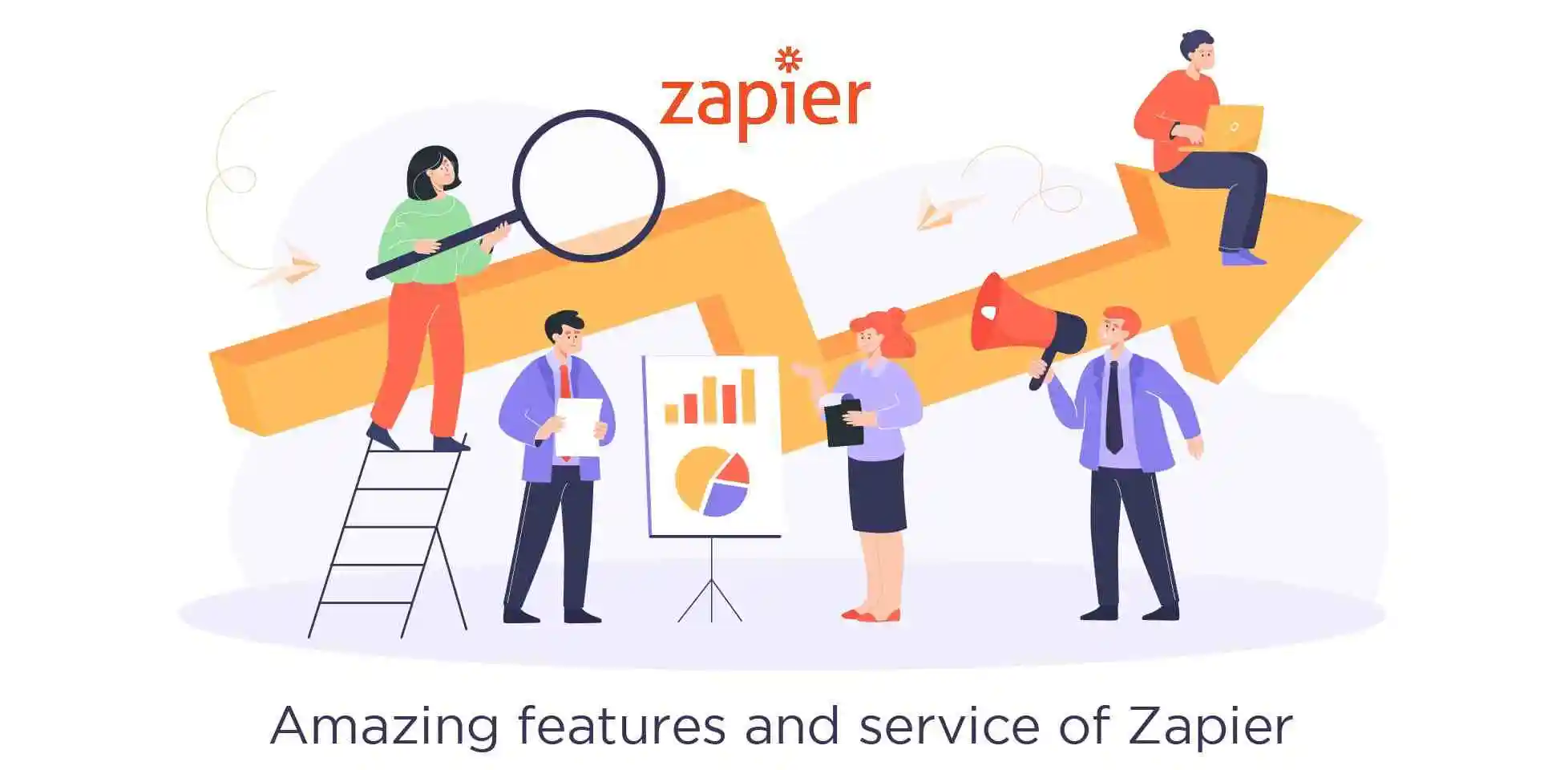 LeadsBridge
The LeadsBridge platform is ideal for businesses that simplify their advertising processes by fusing the marketing technology stack with Facebook & Instagram Ads, Google Ads, and LinkedIn Ads.
You can quickly link your selected software with your advertising platform and synchronize data for your marketing processes, thanks to the more than 370 out-of-the-box connectors available.
Leadbridge features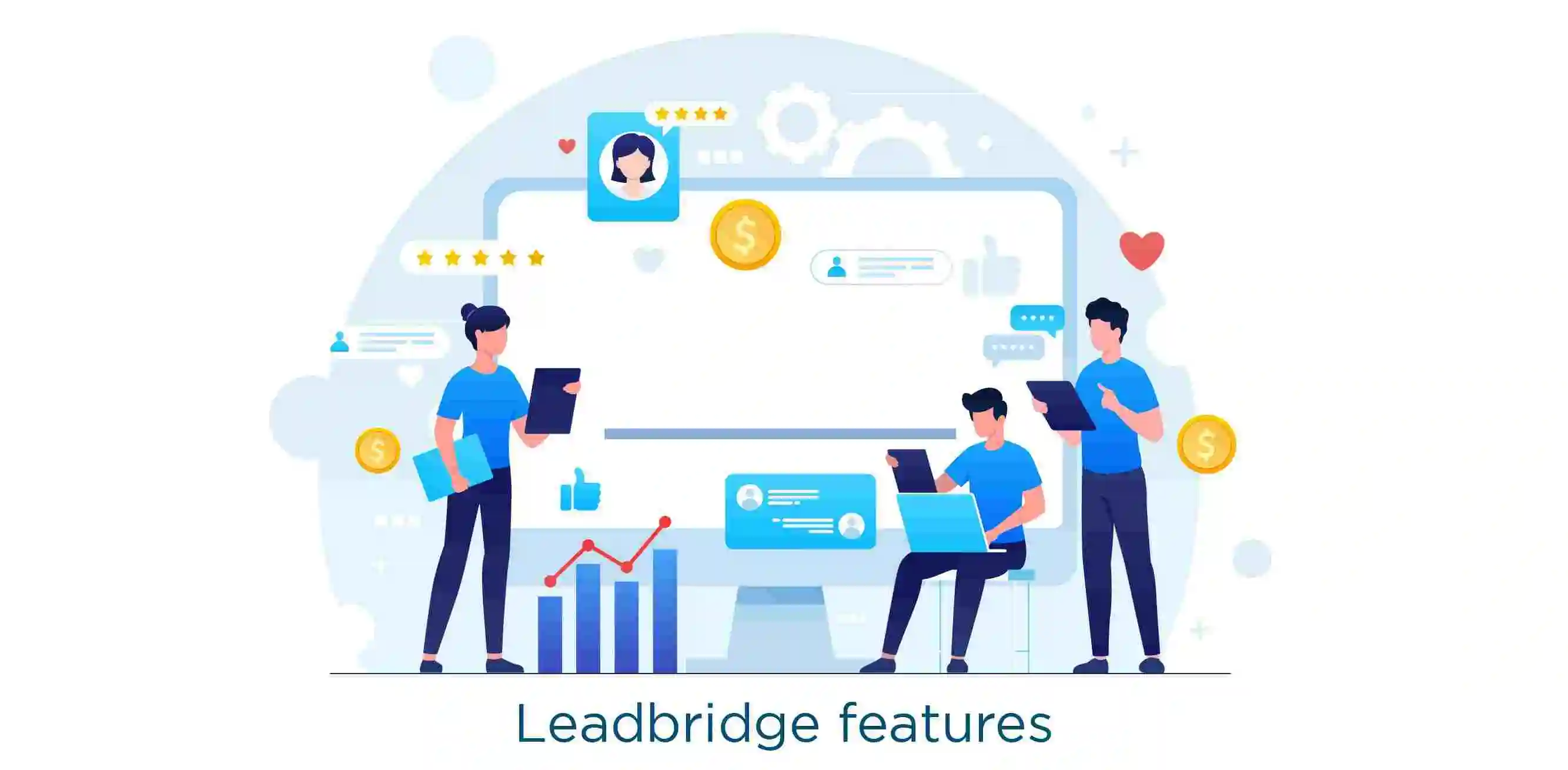 You can automatically sync leads with your preferred CRM and email marketing software from Facebook Lead Ads, Google Lead Form Ads, and LinkedIn Lead Gen forms.

By integrating CRM segments, email marketing contacts, or customer lists with Facebook, LinkedIn, and Google Ads, you will be able to automatically construct the optimal audiences while remaining in compliance with GDPR and other privacy rules.

Using LeadsBridge, you may link the company's platforms to improve team productivity and eliminate data silo problems.
Leadbridge service
LeadsBridge provides a service for exchanging and linking client data across all touchpoints. It allows you to build connections and activities across several platforms (including social media websites, your CRM, email software, help desk software, and more).
Make (Formerly Integromat)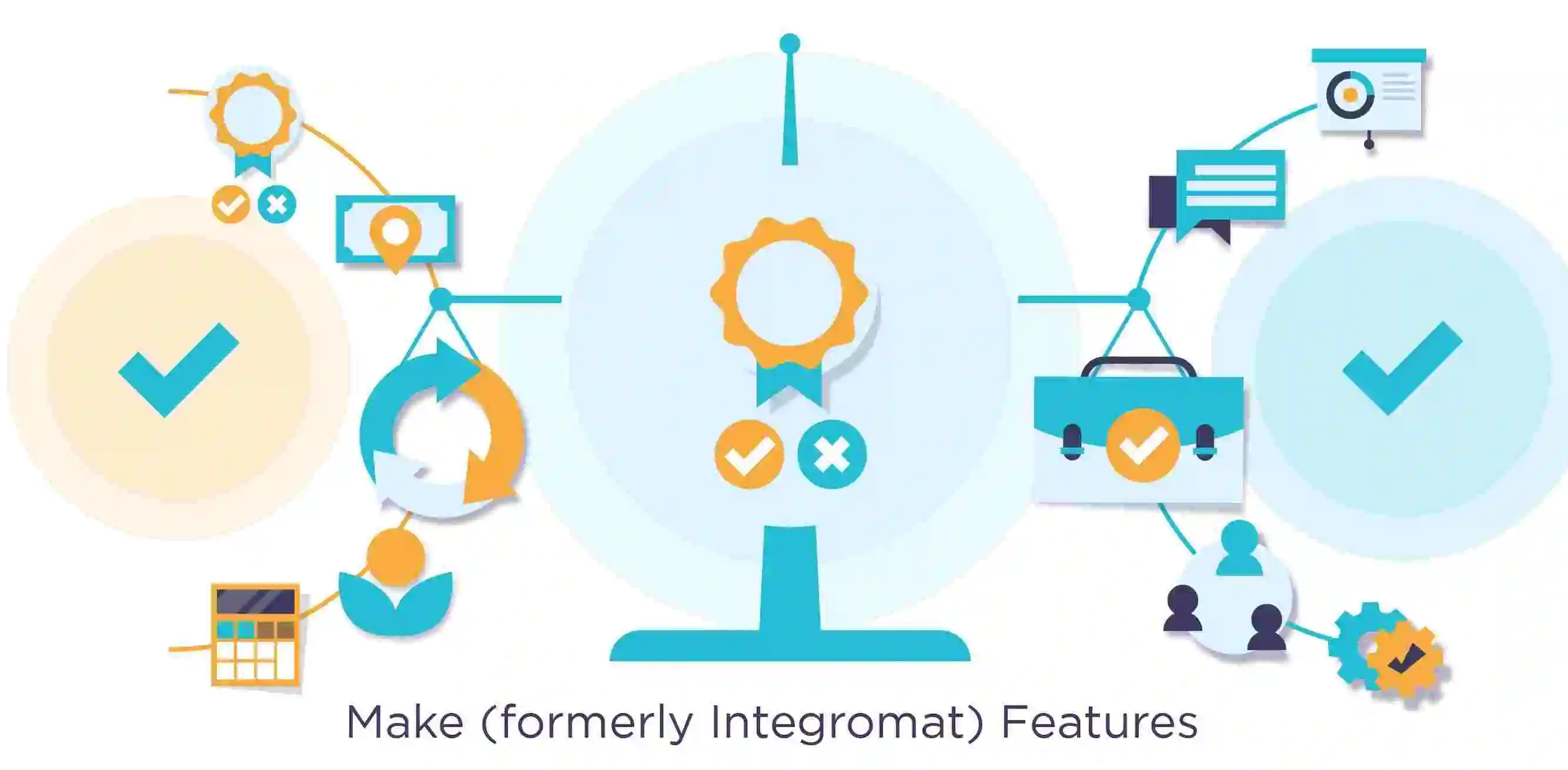 One of the most effective Zapier alternatives is Make (formerly Integromat), which supports simple and complicated automation routines.
It offers many helpful features, but its visual editor and the combination of code elements like HTTP/SOAP and JSON, which gives tech-savvy users even more automation options, stand out the most.
Make provides a free plan to help new users become used to the site. It's a fantastic choice to further your automation efforts while maintaining a Zapier-like cost structure.
Make (formerly Integromat) Features
Observe how your automation functions in practice and how your data moves across various applications and services.

It enables you to examine what data was processed and when it was processed and specific details about each workflow.

More specific and recognizable functions, including those that sum up detailed data, find the aggregate and percentage, etc., are comparable to Excel functions.
Make (formerly Integromat) Service
You can monitor social media performance in real time with Integromat. Start monitoring mentions, comments, images, and more after studying our use cases. Make your projects better. It automatically creates projects, notes, and notifications.
Microsoft Flow
You can work less and accomplish more with Microsoft Flow. It enables you to set up automatic processes between apps and receive notifications even when minor changes occur.
You may access various well-known Microsoft services with Flow, including OneDrive, Office Outlook, SharePoint, Dropbox, etc. Start using Microsoft Flow by selecting the appropriate template from the offered selection.
Microsoft Flow Features
Make more thoughtful judgments by combining Microsoft Flow's automation with the company's robust applications.

Boost business process efficiency, save development costs, and enhance ROI using PowerApps and Flow.

Get access to Microsoft's well-known services, including Facebook, Instagram, and other popular application integrations.
The Microsoft Flow Service
Employees may construct and automate processes and activities across many apps and services using Microsoft Flow, formerly known as Power Automate, a cloud-based piece of software. Flows are the name for automated workflows.
Pabbly Connect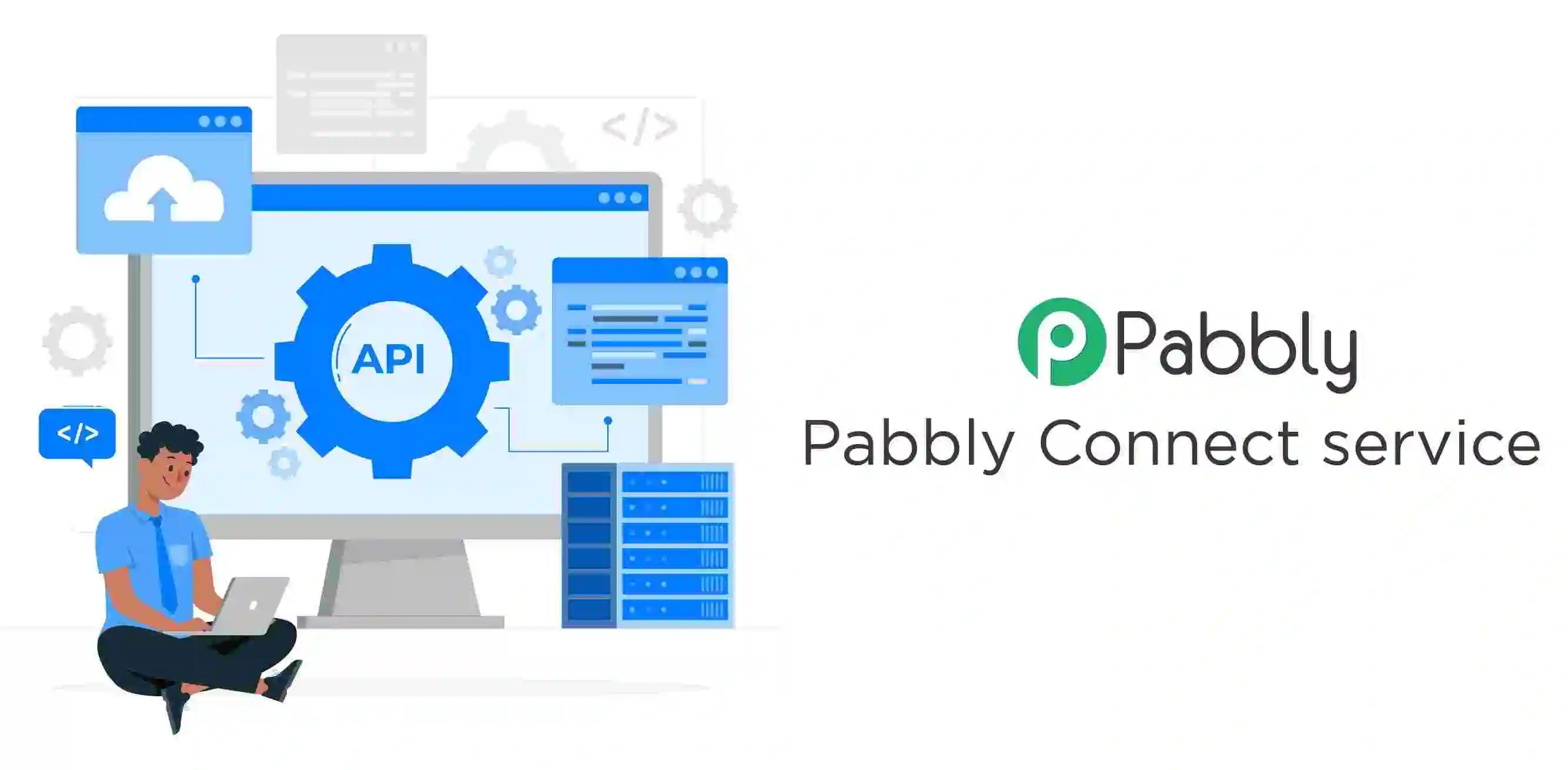 Pabbly Connect is one of the newer automation solutions that has fiercely challenged Zapier and other automation platforms due to one advantage: advanced functionality and a one-time purchase.
Here, you may implement automation without having to deal with technical issues by linking two or more apps.
Pabbly Connect is enticing to try because of its 850+ popular app integrations, excellent customer service, 30-day money-back guarantee, and free trial plan.
Pabbly Connect features
It produces many products.

Under each product, you can create unlimited plans.

No cap on revenue collection.

It is entirely free. There is no charge per transaction.

You have to use a Single Sign-On client portal.
Pabbly Connect service
By controlling the data flow effectively, Pabbly Connect allows you to link numerous apps. Without requiring programmers or any coding effort, you may automate repetitive tasks by connecting two or more apps without professionals' help.
ZigiOps
ZigiOps is a no-code on-premises integration platform for your company's business application data.
ZigiOps was developed to run invisibly in your environment while extracting and transmitting data between systems in real-time.
It was created to assist users in automating procedures and improving cross-team communication. In a system outage, the recovery tools guard against losing important data.
ZigiOps Features
Integration may be set up in less than 5 minutes, even by non-technical people. Even easier is the template library with established usage cases.

After integration has been set up, users may change it and add new filters, data mappings, and other things.

Regardless of how difficult a use case may be, ZigiOps is an established product that can handle anything.
ZigiOps service
With the help of ZigiOps, data is synchronized, and procedures are automated across ITSM, Monitoring, DevOps, Cloud, and CRM platforms. With completely editable templates, you can Set up your integrations in under five minutes. ZigiOps support advanced data mappings. All associated and unique fields are synchronized as well.
IFTTT
The acronym IFTTT stands for "IF This Then That" and refers to a platform for connecting short conditional statements, or "applets," in a chain. These applets represent the modifications caused by other interconnected online services.
For instance, get alerted when a new email, tweet, or post is made. By combining all of your apps to function in a novel way, IFTTT makes your daily life easier. In addition, IFTTT may be used on both iOS and Android devices.
IFTTT Features
IFTTT is a free service that facilitates communication between your applications and gadgets for quicker and more intelligent automation.

It works well with social networking applications, allowing you to publish and tweet from anywhere and have them appear everywhere.

Synchronizing across your devices enables you to customize your mobile assistant.
IFTTT Service
With over 700 different applications and services, including Twitter, Dropbox, Evernote, Fitbit, Amazon Alexa, and Google Assistant, you can accomplish more with IFTTT.
IFTTT combines services into Applets, automation enabling you to perform tasks that your applications and devices cannot complete independently.
FAQs
Integromat or Zapier—which is superior?
In comparison to Integromat, Zapier offers over 4,000 integrations. Either Zapier or Integromat will probably provide the integration you're looking for. However, Zapier is unquestionably the winner if you're searching for the most extensive array of integrations.
Wrap Up
In light of the information we have gathered so far, you must now be aware that there are other tools available for integration and automation besides Zapier. You can select another one with confidence by looking at them.
Furthermore, these alternatives provide more and more than Zapier, allowing users to use them for additional features that outweigh Zapier's own.
Here we have discussed six effective Zapier alternatives with their unique features and services.
Now you can choose your favorite one. Whichever you like, you can go with that.
Good luck using the alternatives!
If you want to create a chatbot, you are at the right place. To build your chatbot, you can sign up on our website, BotPenguin. It's free.