In 2021 WhatsApp launched its new privacy policy, which has raised concerns in the mind of its estimated 2 billion MAU(monthly active users). WhatsApp is still the most used messaging application with no one to compete, but there's an app running to be a game-changer with over 500 million active users and over 500 million downloads on the google play store; Its Telegram.
Telegram's rapid growth and claims around privacy and security helped it become an important platform for businesses and brands. Many companies and brands are using apps like Telegram to provide customer support services. Telegram has become an important platform to focus on, with an increased user base.
The remarkable thing about Telegram is that it doesn't only provide features like text messages, groups, audio, and video calls but also provides features like user profile, groups, channels, and telegram bots, unlike any other platform.
What is a Telegram?
Telegram is an open-source application. This has allowed many external developers to add features to the platform.
For so, BotPenguin offers several features, including messaging, SMS notifications, data analytics, Facebook messenger integration, live chat support, and more. You can get your bot up and running in minutes, and it is perfect for both small businesses and large corporations.
Build your own Telegram Chatbots using BotPenguin, it also offers chatbot creation for social platforms, websites, wordpress:
This is not the same with other apps like WhatsApp and Facebook Messenger developed by the parent company's programmers only. Some important features to know about Telegram are the following:
User Profile
User profile or user account is the term used to refer to an identity of a user of a telegram. The user profile is created through a phone number provided by the person willing to make an account on Telegram.
These people can now exchange messages, media, audio, and video calls, subscribe to telegram channels and use the Telegram bot.
Telegram Group
Telegram groups form when more than one user is added in a chat and can interact with each other, share media, and even use the Telegram bot if they want to.
The person who creates the group is referred to as the owner. The owner can assign authorities like the admin to other members who have special privileges in the group.
For example, the admins and owner can change the group's setting to allow only them to send messages in the group.
Other members have a choice to leave the group whenever they want. Telegram bot can be added by the owner or admins of the group in the telegram group. Telegram allows a maximum of 20,000 members in a group.
Telegram Channel
Telegram channel is a subset of the Telegram group. In Telegram groups, there is a limit on the number of members, but there are no limits on subscribers to a telegram channel.
Unlike the telegram groups, in Telegram channels, only the admin and the bot in the Telegram channel can send messages or share media.
Telegram Bot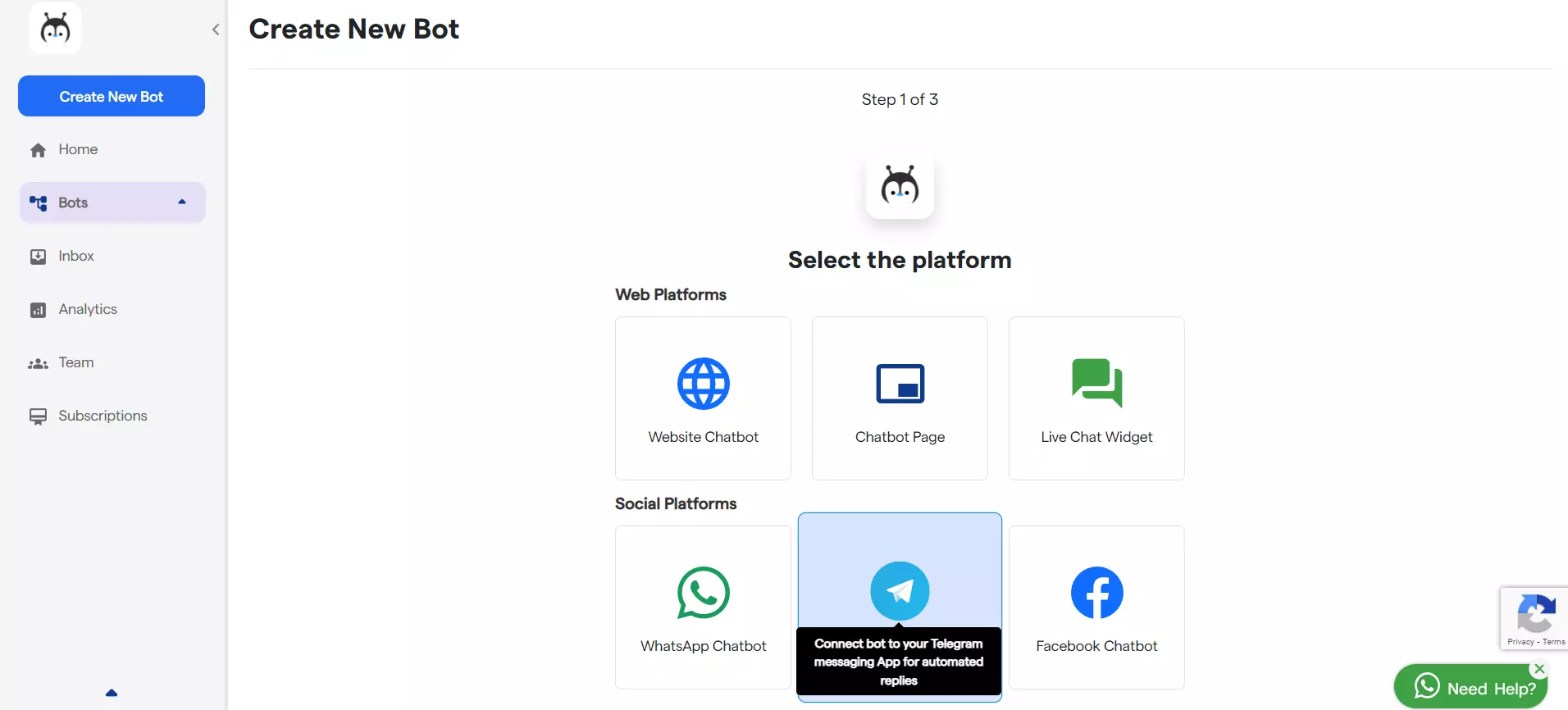 Telegram bot is a third-party application that runs inside Telegram. Bot in Telegram can interact with users by sending messages.
A telegram bot is a particular type of user that is not a human but a computer program that can serve companies or brands with many features such as sending out information, reminders, playing tunes, ordering, and more.
Users can interact with the telegram bot by sending messages. Out of all the four peer types, the Telegram bot comes with many useful features for businesses. Telegram provides an API to create bots for social interactions, productivity, gaming, and e-commerce services.
Apart from these, Telegram bots can also provide customer support or collect leads by connecting them to a CRM, ticketing system, or a messaging platform.
Build your own Telegram bot now, use BotPenguin and create your first telegram bot:
6 reasons to use bots for Telegram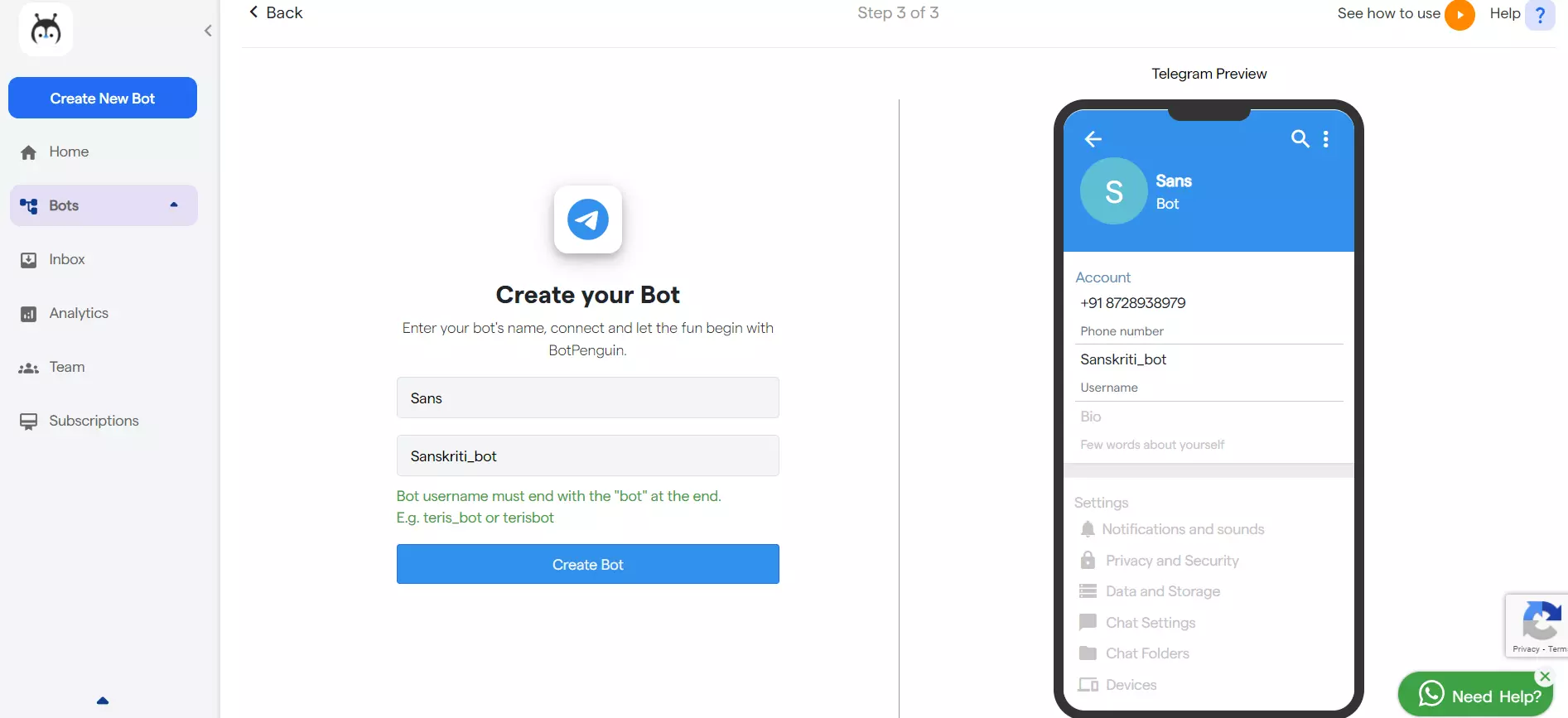 The reasons to use bots for Telegram are the following:
1. It's free
Telegram is a free and open-source platform which means Telegram allows its API and code to be used by anyone. Thanks to this, creating a chatbot is also free.
There are free telegram bot creators that can help you in building and deploying your bot in Telegram. Telegram bots can help you and your company to obtain potential customers by using its features for free.
2. It is secure
We all hear data breach news of almost every social media application from time to time.
Telegram bot sometimes takes data from its user to provide the best relevant response possible, and when personal data is involved, many people get cold feet.
However, Telegram is a really secure application by the added advantage of data encryption, security, and privacy.
In this case of the telegram bot, these two are the user and the telegram bot itself.
3. Better engagement
If you are a business or brand, having a Telegram bot can be an excellent asset for engagement if your customer base actively uses the Telegram.
The telegram bots can provide very engaging conversations between the user and bots in Telegram. Telegram bots can engage with animated emojis, stickers, and gifs.
Apart from marketing, some businesses need to provide customer support around the clock, so businesses can create a chatbot for Telegram or build a customer support team to respond to customer queries almost instantly. This can help businesses to maintain better engagement with customers.
4. Availability
The telegram messenger covers all major platforms such as Android, iOS, Windows phones with desktop apps for Mac, Linux, and Windows.
Furthermore, it also has a web version, which will allow you to target your prospects on an extensive scale.
Telegram bot is not a real human user, so it doesn't have limitations like can't work 24 x 7, errors, delay in messages, etc.
So your business is active all the time. Due to these advantages of telegram bots, it can help you achieve a better conversion rate.
5. Custom Keyboards
Telegram bot can allow you to customize the user's keyboard.
Telegram bots enable its creator to customize user interaction with the bot in a telegram by replacing the traditional keyboard with options related to the functionality of that Telegram bot.
This feature of the Telegram bot is convenient for people who want to make an FAQ type of bot in Telegram. A person can easily make this kind of Specific command-based telegram bot through a telegram bot creator.
6. Money transactions
Telegram is one of the early adopters of linking your bank account with chat messengers.
This feature of telegram bots will allow users to make financial transactions with other users or businesses on the platform. This feature also allows fundraising to be a flexible process because, with the help of a Telegram bot, a person can assist in the transaction.
Currently, this functionality is available in Russia and brazil. However, we believe it will soon be available in other countries as well. So a telegram bot may let the client transfer money or pay for the services without leaving the platform.
Due to this feature Telegram bot can help businesses not just engage with their customer but complete the whole transaction on the same platform.
How can businesses leverage Telegram Bots?
Telegram bot is a third-party program that works on specific commands. So it can help businesses who have a repetitive engaging process or specific repetitive tasks to execute.
For example, a telegram bot can help collect leads, provide customer support, send newsletters to existing customers, show portfolios, run marketing campaigns, or automate some of the interactions.
E-commerce
Over 500 million MAU on Telegram getting active over Telegram can help you build an instant e-store where customers can quickly get the deals and products or services and purchase them in the first place.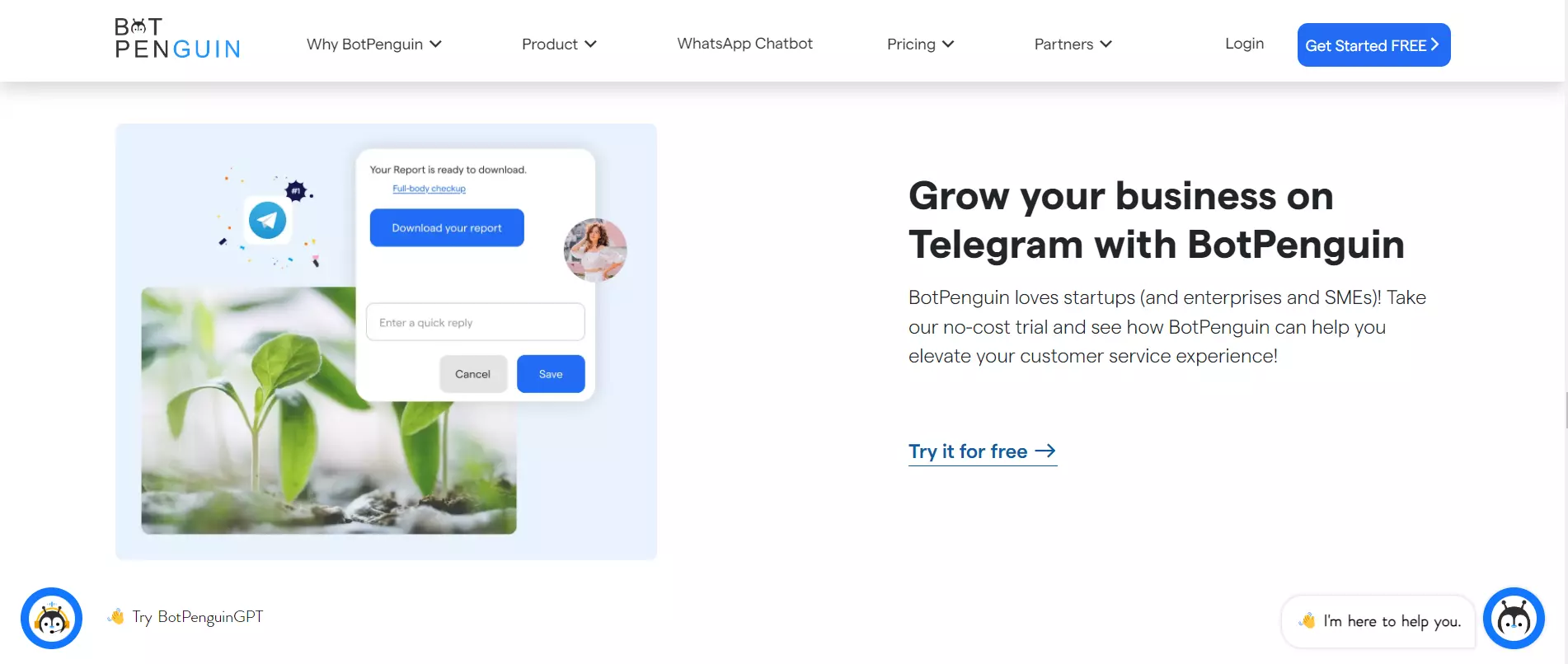 You can let customers have an impressive purchasing journey from placing an order to delivery by sending regular updates via texts. For instance, amazon's search & price bot is perfect to consider, which helps customers look for the best price and product according to their fit.
Travel and Hospitality
What is a better place to have a bot for travel and hospitality than a messaging application where people make plans for traveling?
You can use your Telegram bot as a travel agent to act on behalf of your business when you are not available to interact with the queries. It will help customers get the right package and information regarding different places.
You can also help get the proper vacation as per their budget and other preferences.
A telegram bot can offer answers to their queries and share information like bookings, cancellation policies, and much more. Several studies have also shown that by decreasing steps for conversion, the conversion rate can increase significantly.
Healthcare
Using a bot in Telegram, you can give quick assistance and medical aid to the patients at their home's comfort.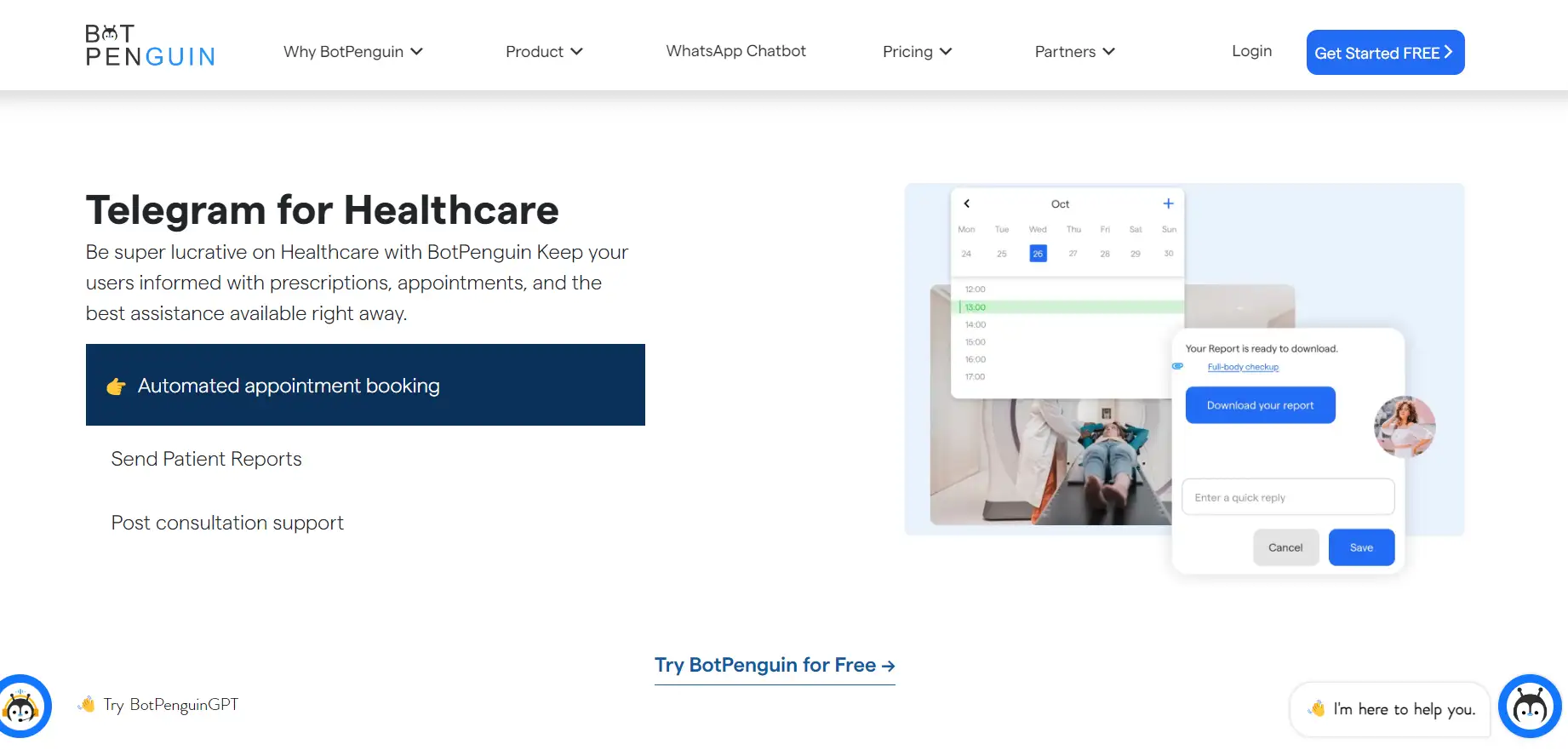 For instance, you can act like a virtual doctor with which taking appointments and follow-ups will be fast and timely.
Hence, it will help them organize pathways, get in touch with respective doctors, and much more.
Not just providing medical aid, by deploying telegram bots, you can educate people about myths and wrong practices about medicine, etc., which can make a huge change.
Top 5 popular Telegram bots
Telegram bots are opening up new opportunities for businesses to acquire, engage and retain their customers.
After reading this article, you might be excited to try a telegram chatbot yourself, so to make your quest easy, here are some of the most popular telegram chatbots:
1. Skeddy Bot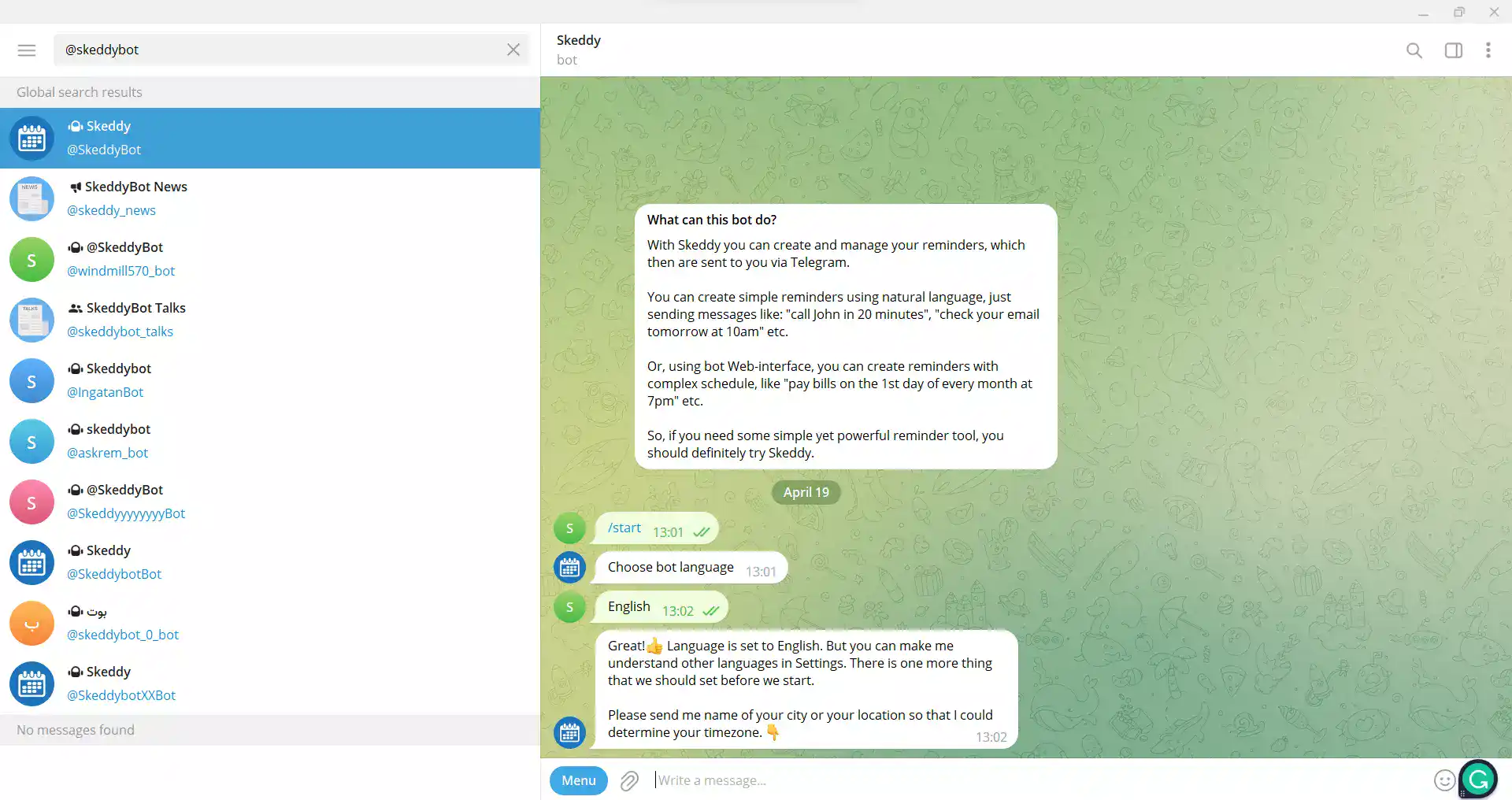 Skeddy bot uses NLP (Natural language processing), which gives it capabilities to take instructions through voice.
The primary purpose of this bot is to send reminders. This bot in Telegram can help businesses and brands because it can be a good option for daily scheduling.
2. Airtrack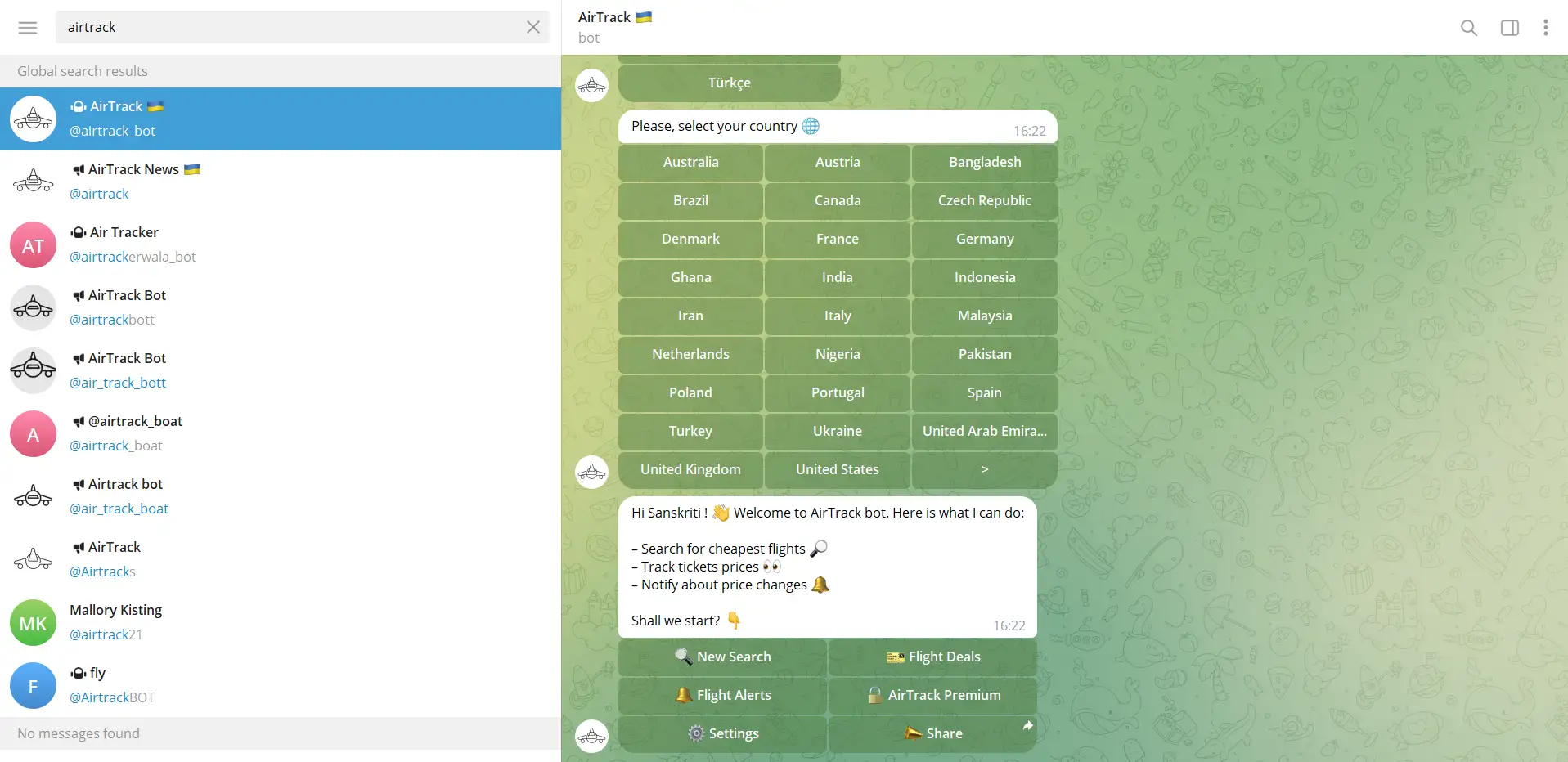 It is always hard to find cheap air tickets but not anymore.
AirTrack can keep you informed on the prices of the air route you want to keep track of—a great option for people who like to travel and want to save some cash at the same time.
3. Storebot- a bot for discovery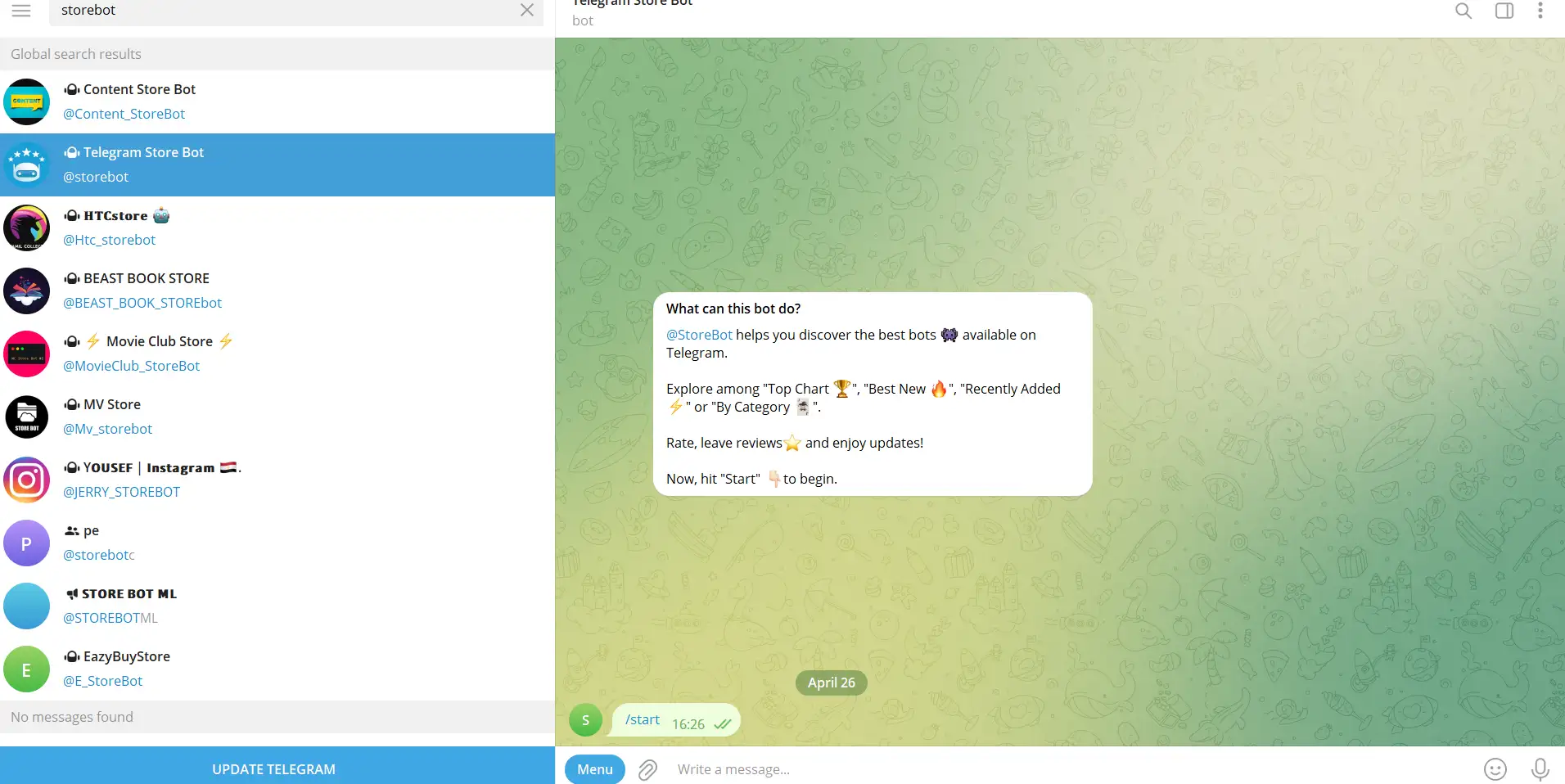 This telegram bot works to help you find more bots. A lot can be done by checking out top charts, searching bots, browsing them by categories, and much more.
4. IMDB Bot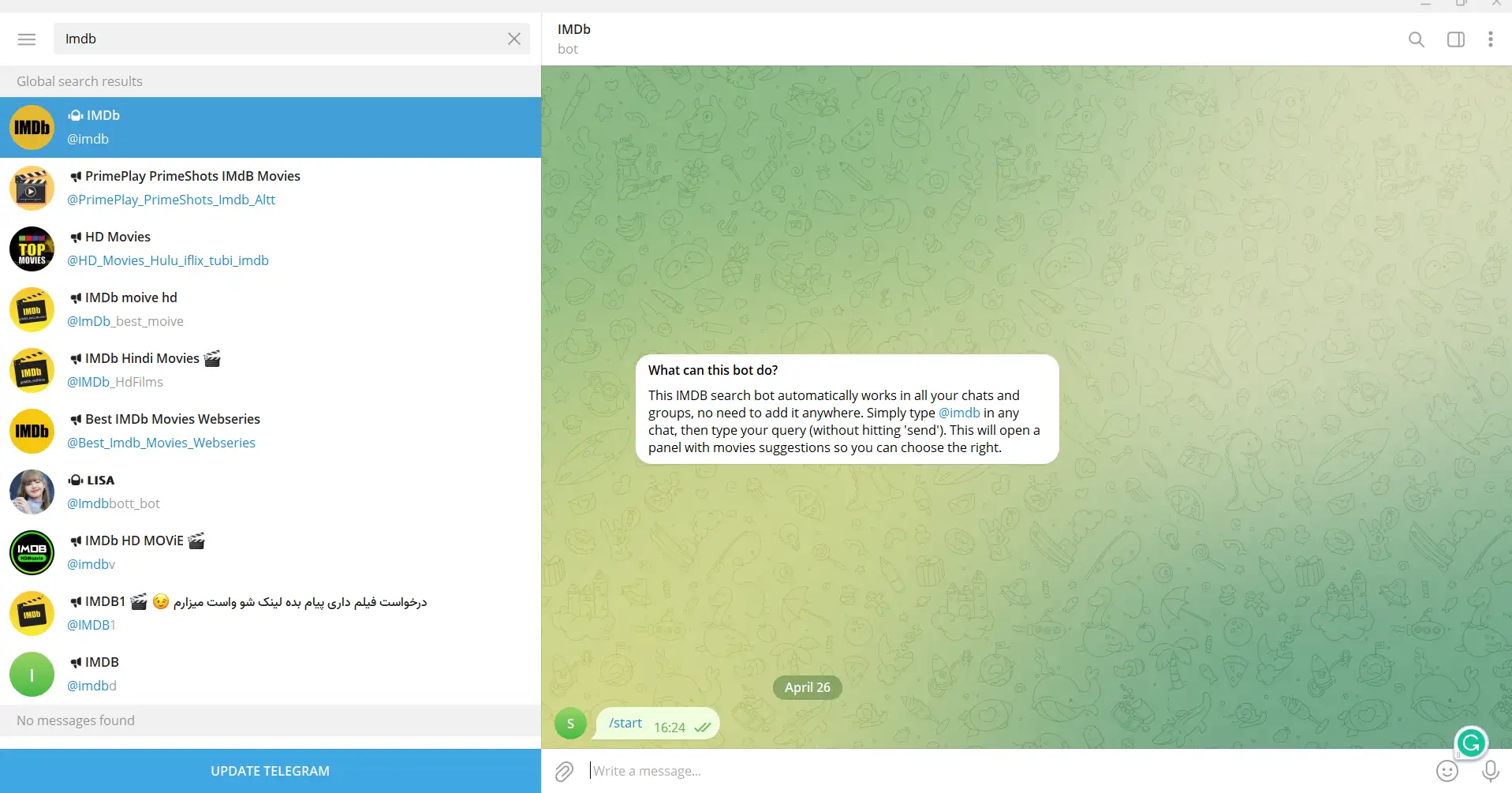 The IMDb bot will check the movie databases over the internet and will provide movie details such as plot lines, actors/actresses, directors, trailers, ratings, and more.
If you are a person who is curious about movies and series, this is an excellent telegram bot for you.
5. IFTTT Bot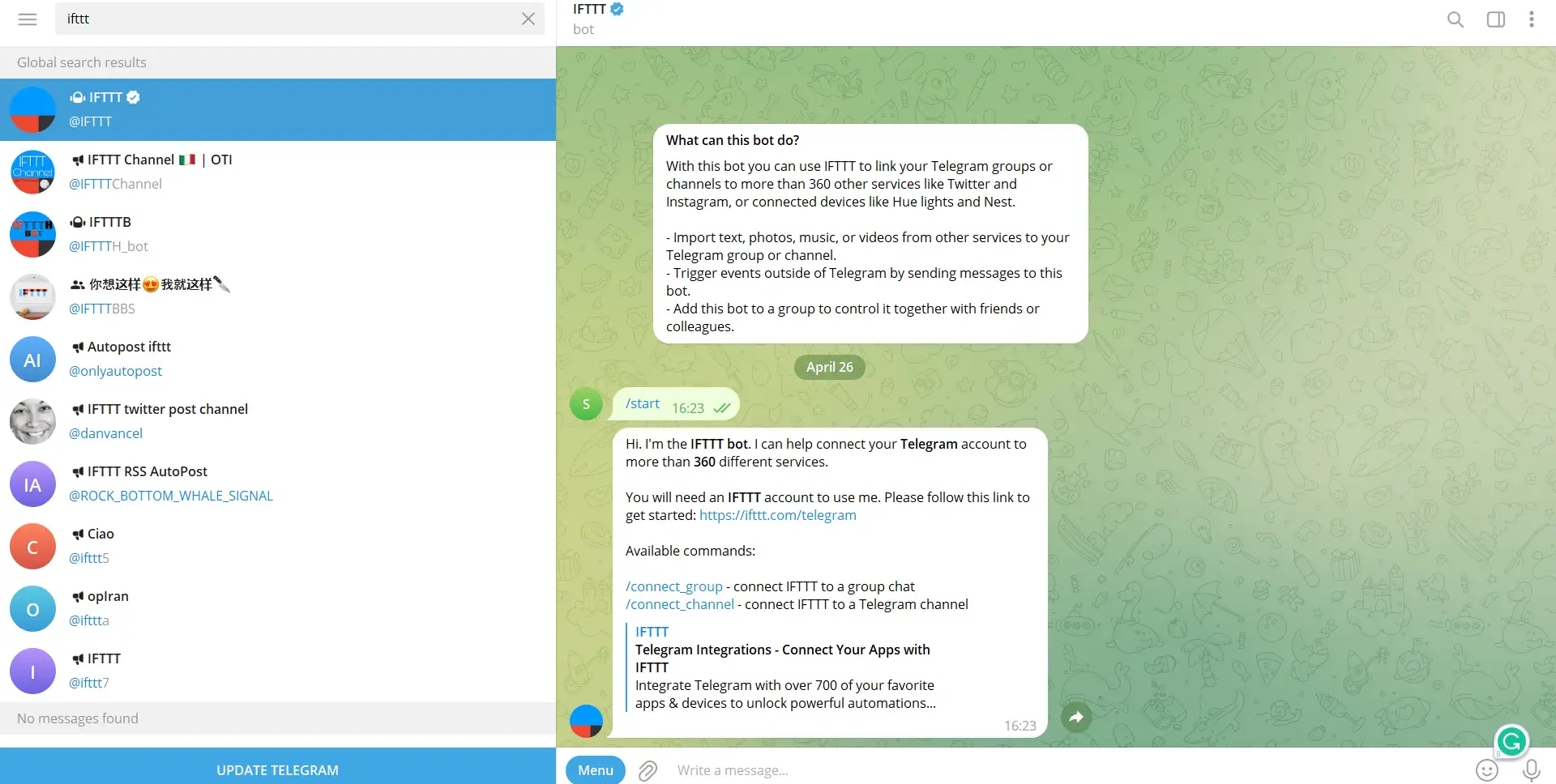 IFTTT stands for if this, then that. This telegram bot is an API extension for the application IFTTT, which is used to automate tasks like sending text, files, or any media at a specific time.
This telegram bot is an excellent option for people who like multitasking or automating a few things.
Conclusion
Telegram isn't only the way to reach, target, and keep in touch with prospects, but also a powerful tool to automate customer support services and optimize multiple processes to minimize the manual work.
We provided you with 7 reasons to use the Telegram bot and give you the names of a few bots in Telegram that you should check out.
Build your own Telegram Bot know! Try BotPenguin:

You must visit BotPenguin and get a chatbot instantly for your business.
Frequently Asked Questions
What is a Telegram Bot?
A Telegram Bot is a software application that operates automatically on the Telegram platform. It is a computer program that interacts with Telegram users and provides them with useful information or services.
What are some examples of Telegram Bots?
Some examples of Telegram Bots include news bots, weather bots, language learning bots, finance bots, and gaming bots. Some popular Telegram Bots are @gif, @vid, @music, @wiki, @translate, and @vote.
How do I create a Telegram Bot?
Creating a Telegram Bot is relatively straightforward. First, create a Telegram account, then create a new bot using the BotFather bot. Customize your bot's name, profile picture, and other settings. Then, add your bot to any Telegram group or channel.
How can a Telegram Bot save time?
A Telegram Bot can save time by automating tasks that would otherwise require manual intervention. It can send automatic reminders, notifications, or updates to users.
How can a Telegram Bot improve productivity?
A Telegram Bot can improve productivity by streamlining communication and collaboration among team members. It can automate workflows, assign tasks, and provide real-time updates.
How can a Telegram Bot provide 24/7 customer support?
A Telegram Bot can provide 24/7 customer support by responding to user inquiries instantly. It can also provide personalized assistance, answer common questions, and escalate issues to human support agents when necessary.