Telegram is a worthy contender for the messaging apps today. It Provides promising features like group video conferencing, intelligent stickers, screen sharing, and bots.
Telegram bots are the most popular feature in the app. There is a bot for everything one might need today. You can get everything from a bot, from free movies to paid apps.
These bots are a treasure trove for every user. That's why you might need some help finding the most useful ones. Telegram is the like the Google Play Store. All you need is to pick the bot according to your requirements.
There are currently many bots available to assist individuals in obtaining information on various topics. This article will look at the finest Telegram chatbots available in 2022.
Remember these bots One might help you out of a JAM someday.
What is Telegram?
Telegram is an internet chat program that functions similarly to popular messaging applications such as WhatsApp and Facebook Messenger.
You may use Telegram to send messages to your contacts when connected to Wi-Fi or mobile internet. Telegram is a cloud-based messaging service with a focus on security and speed. As a result, the messenger has grown in popularity as a viable alternative to traditional texting services. Since its inception in 2013, the service has grown to over 500 million monthly active users.
What is a Telegram Bot?
Compared to competitor services such as WhatsApp and Co, Telegram stands out, mainly due to its unique bots and channel features.
If you wish to collect data or automate processes, freely available application programming interfaces (APIs) make life easier.
As a result, using a Telegram bot to transmit information from practically any imaginable area whenever you need it is an excellent idea.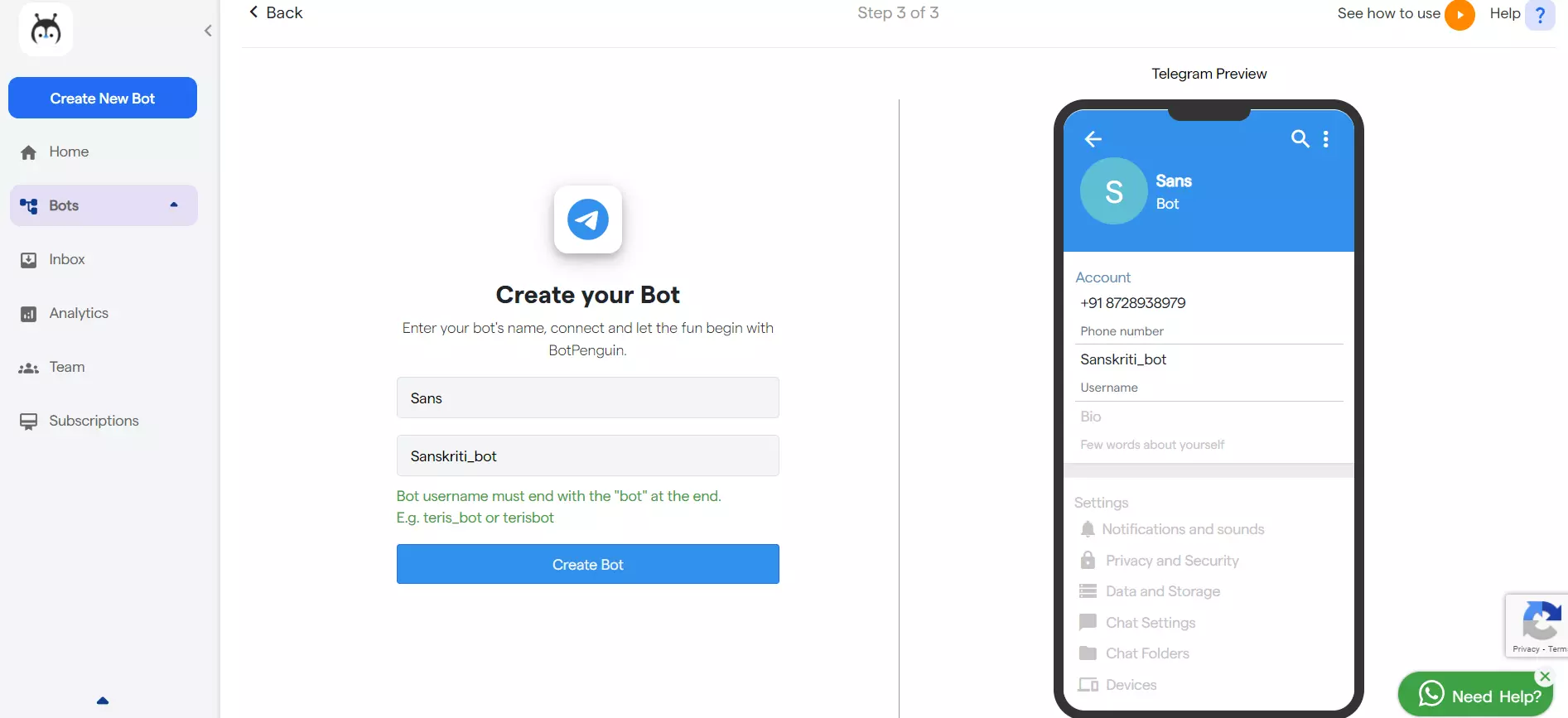 Five useful bots you can create on Telegram!
VoteBot
This bot assists in creating polls and their distribution to groups or channels. You have the option of adding two or more response selections. The poll might be open to the public or kept private. Users benefit from the bot since it allows them to express themselves and interact with a group even if they are not ready to communicate.
Benefits for business: it lets members of your group or channel participate. For example, several It firms conduct polls on new product enhancements, such as: What should we do next? How do you feel about the new release? Creating polls is an excellent way to demonstrate that you care about and listen to your customers.
Skeddy
It is for you if you have a habit of forgetting stuff. Skeddy is a reminder bot that sends you text messages to remind you of things. It's a simple bot that allows you to send text messages to make reminders.
Isn't automation wonderful? We adore the fact that this program can perform incredible things independently. You only need to send basic SMS messages like "Call Varun in 20 minutes." It will send you a Telegram message to remind you that you have a reminder set.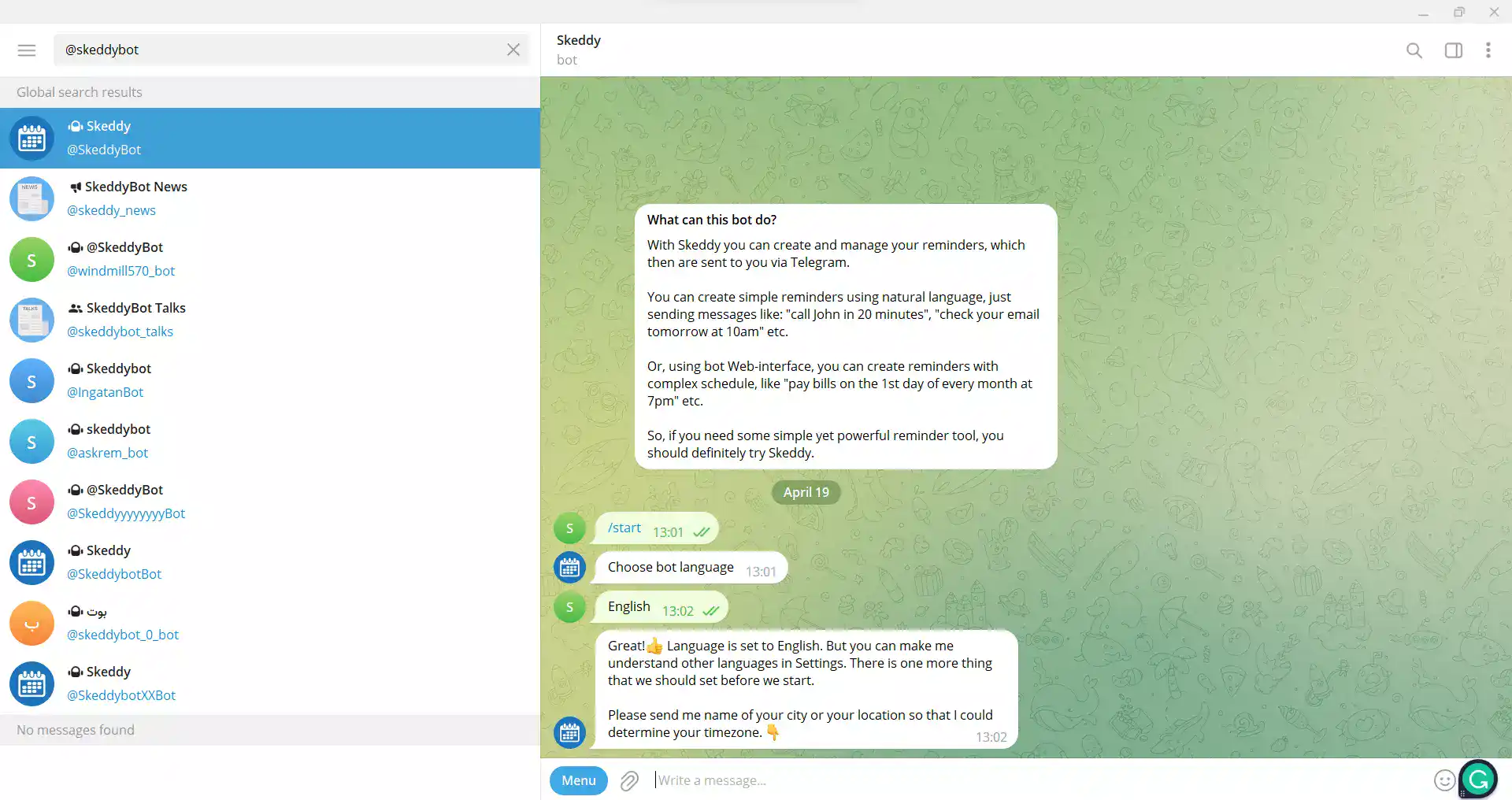 When you first start the bot, it will prompt you to set the Time Zone so that you know the current time. You may also send messages as reminders and timers, and It will notify you.
GameBot
If you're on a mobile device, you may locate the bot by searching @gamebot in Telegram or clicking the link below. It is a basic Telegram bot for playing chat games with your buddies. Simply launch the bot described above and select "Play With Friends." It will prompt you to choose the contact you wish to play with.
Simply tap on any contacts, and It'll give you a prompt to select a game. There are three games to choose from now:
Math Battle is a game where you answer yes or no questions based on math quizzes. To advance to the next level, you must dodge cannonballs.
The Botfather Telegram Bot - @botfather
The BotFather is the official Bot of the Telegram Bot API. It can help you create new bots, manage existing ones, and do bot-related tasks.
The BotFather is a convenient wrapper around bot API allows you to create your Telegram bot using Python easily.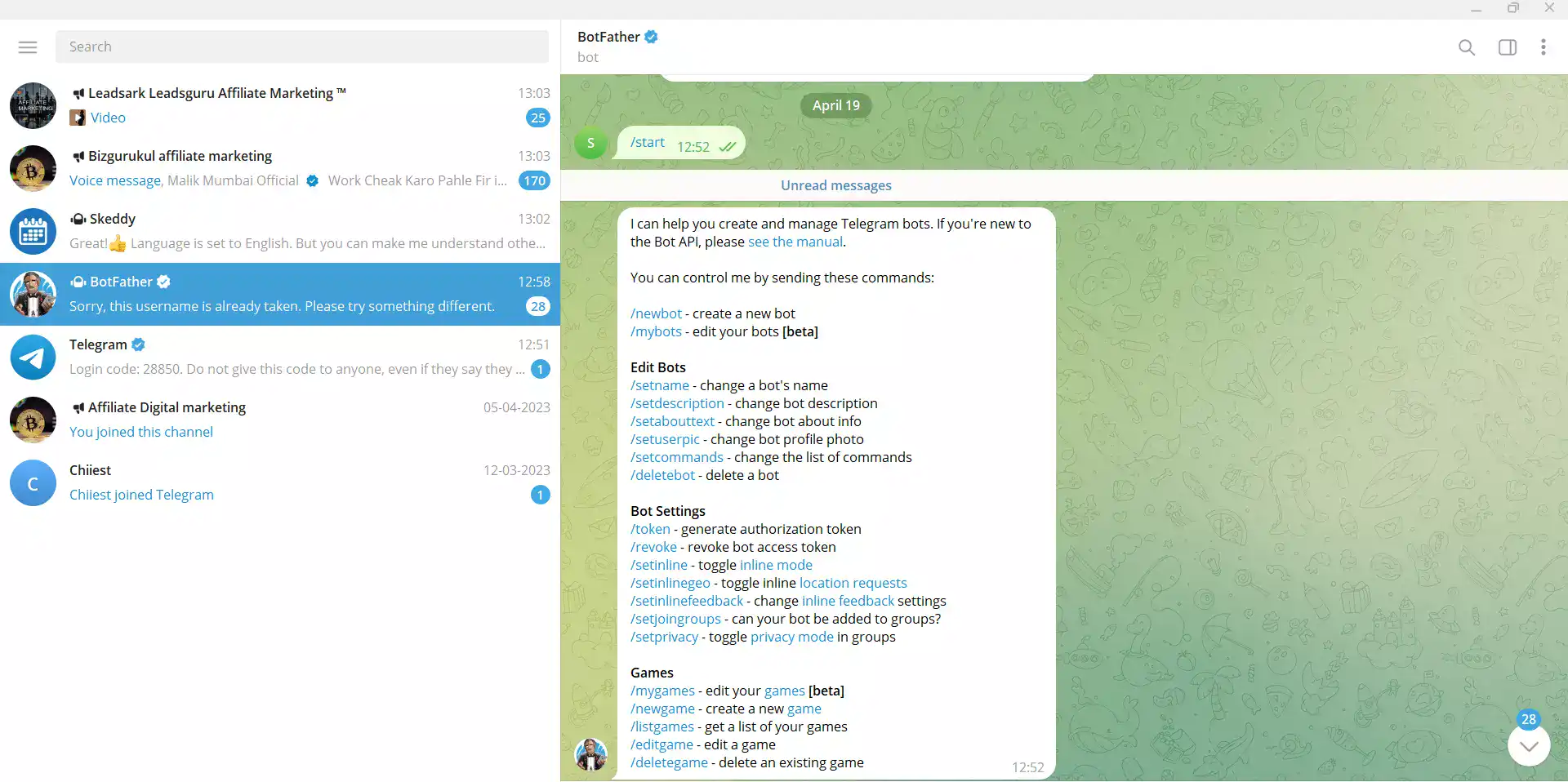 The library has a simple interface that lets you define all aspects of your bot in a single file: from its name and description to how it looks and behaves. You can also add multiple commands with their triggers and control their behavior with simple JSON-based configuration files.
Jobs Bot
This bot keeps track of Telegram job openings and assists the Telegram team in finding fresh talent. Depending on the specific position the user is interested in, the bot will ask a series of questions. Users benefit rather than writing a traditional job application email. Candidates may use this bot to rapidly provide essential information and know that their application has been delivered and will be reviewed shortly.
Benefits for businesses: a conversational bot simplifies and informalizes the application process. The HR professional gets all the data needed to screen prospects and pick whom to invite to an interview.
Bonus Bots
OpenMember Bot
OpenMember allows you to accept membership payments quickly and easily for your Telegram channels and groups.
OpenMember's bot and web dashboard tools allow you to charge access at any time (daily, weekly, monthly, annual, or one-time). It's easy to get started. Just visit OpenMember and create an account. Then, follow the onboarding steps.
These are just a few of the fantastic OpenMember features.
You can set up customized pricing and charge your subscribers at any frequency, in any currency.
Automatic invitations are sent when someone subscribes and removed when they stop paying.
A web dashboard that allows you to track revenue, subscriber growth, churn and manage your subscribers
You can set up unlimited numbers of paid channels and groups with unlimited subscribers
OpenMember charges no monthly fees and only a 5% transaction charge to support the platform.
The File Converter Telegram Bot - @newfileconverterbot
You can do conversions from within the Telegram client by typing @newfileconverter in a group chat with the bot or via private message.
Once you've uploaded your file(s) onto the platform, you will receive a link you can share with anyone. From there, the person who receives your link can download the converted file(s).
Do you want to find out more about any movie?
Movies Tracker provides all information on any movie. The bot will search IMDB for all information about the movie, including cast, plot, and reviews.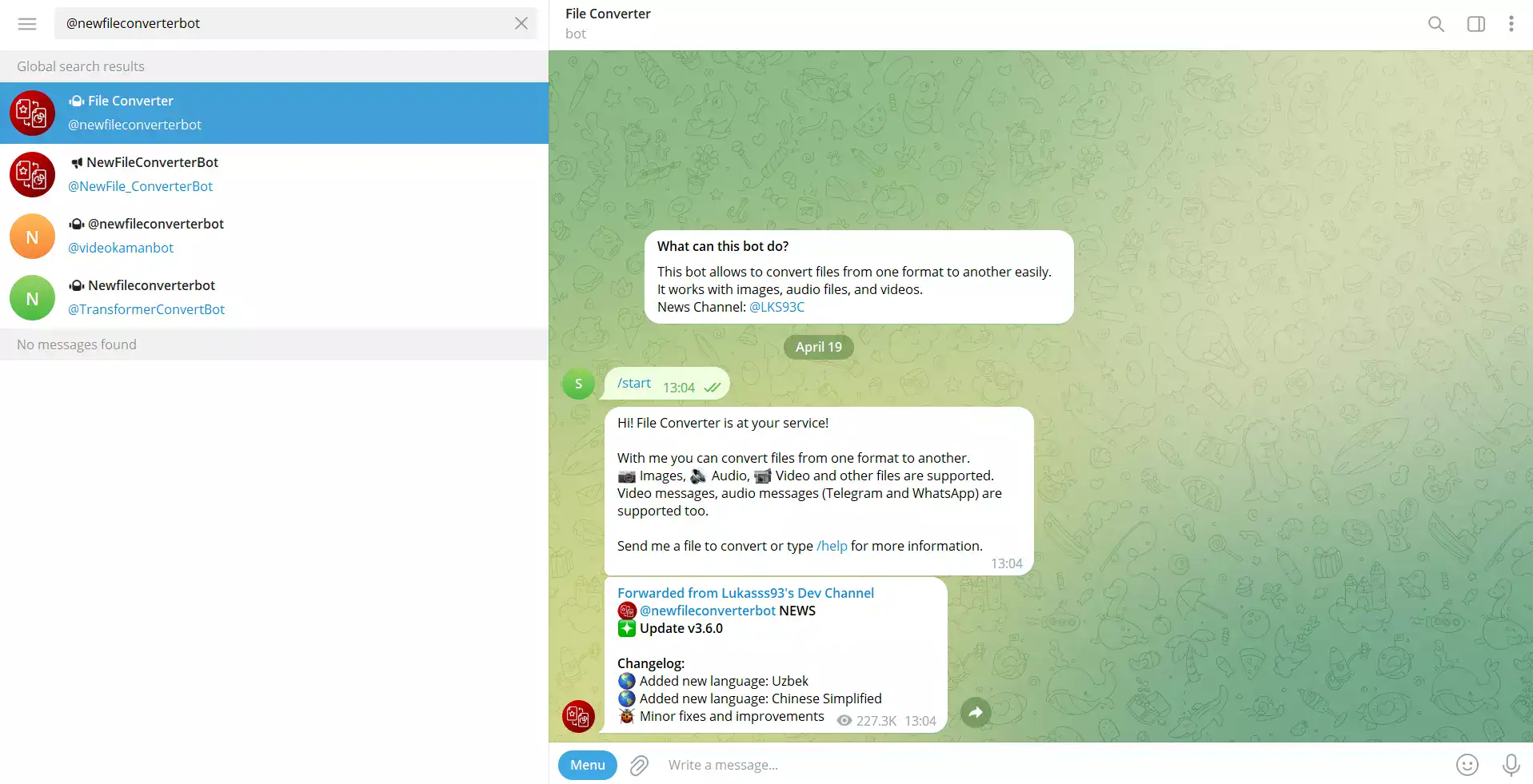 NewsBot
It's obvious that you already know it. These telegram bots are the best and most up-to-date. Don't worry. It won't send you any additional information. It will then curate the best news for you based on your preferences.
To get the most recent news from the Internet, tap the /start button. Tap on the Read More option to access the official news source.
AppFollow Bot
It was easier to find better apps for mobile devices in the past. There were only a handful of applications available. You will now find hundreds of apps related to every category if you open any Play Store.
AppFollow, an app discovery bot, can show you the most downloaded apps in any category. There are many other options than just the top apps.
Top Applications in a Specific Category
Search Results for a Keyword
Suggestions to any search term
Trending Searches
Application Details
These details will assist you in finding the best mobile application for your device. The bot supports both iOS and Android.
Also Read:
Conclusion
Telegram is a growing platform known for its security, message delivery speed, and a slew of other features that make communication more fun.
With Telegram Bots, Everyone will find something to their liking. These five bots will help you with various tasks and save you time. From Jobs, Travel to leisure activities, Telegram has got you covered.
Curious about how chatbots can make life easy, Go check out BotPenguin!