What is a Voice Bot?
A Voice Bot, also known as a voice assistant or voice-based conversational AI, is a software application that uses speech recognition, natural language processing, and artificial intelligence to understand and respond to spoken commands or queries from users.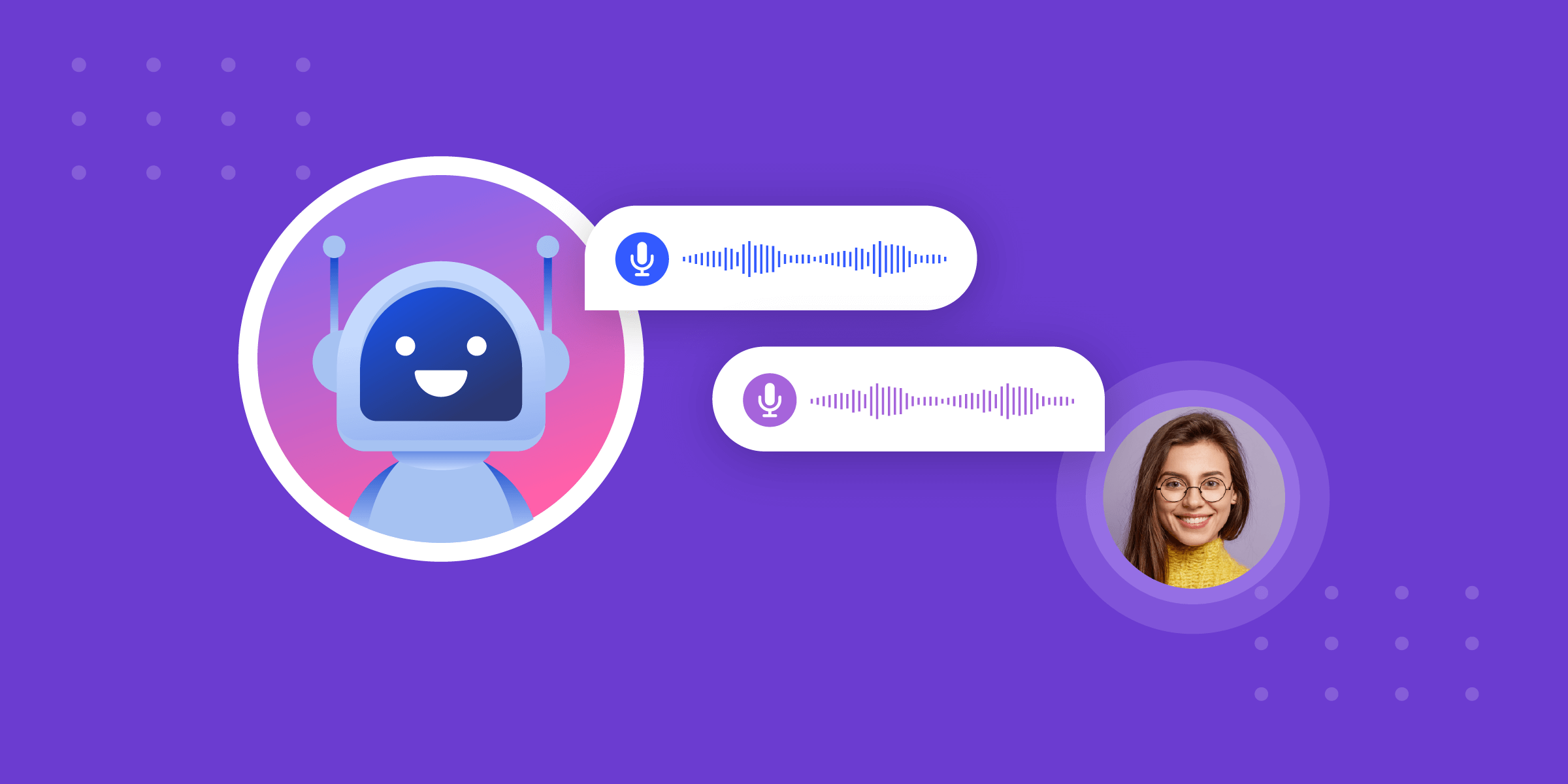 In simple terms, it's like having a friendly, chatty buddy who's always ready to lend an ear and help you out with anything, anytime.
Voice Bot vs. Chatbots: What's the Difference?
While both voice bots and chatbots are designed to engage in conversations with users, the primary difference lies in the mode of interaction.
Chatbots communicate through text-based messages, while voice bots interact using spoken language.
So, if you're the typing kind of person, chatbots are your go-to pals. But if you prefer a good old-fashioned chat, voice bots are here to save the day.
What are The Benefits of Voice Bots?
Here are the reasons why Voice Bots are Important-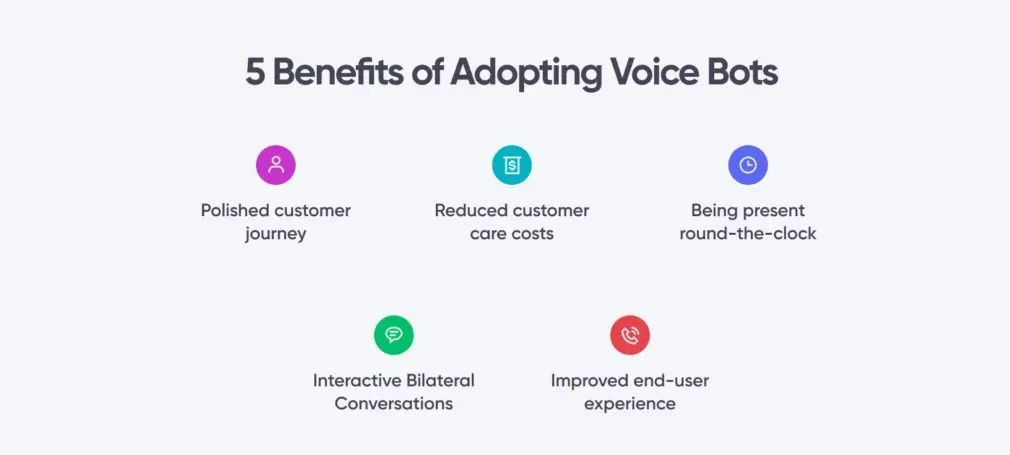 Enhancing Customer Experience
Voice bots have the power to make customer interactions more engaging, personalized, and efficient.
They can handle a wide range of tasks, from answering frequently asked questions to guiding users through complex processes, all while keeping the conversation light and breezy.
And the best part? They're available 24/7, ensuring that your customers always have someone to talk to.
Reducing Operational Costs
By automating routine tasks and handling customer inquiries, voice bots can significantly reduce the need for human intervention, leading to cost savings for businesses.
Plus, they're always in a good mood and never ask for a raise!
Increasing Accessibility for Users
Voice bots make technology more accessible to people with visual impairments or those who struggle with typing.
By enabling users to interact using spoken language, voice bots ensure that everyone can enjoy the benefits of the digital world.
Providing Multilingual Support
With their ability to understand and speak multiple languages, voice bots can effortlessly cater to a diverse user base, breaking down language barriers and making communication a breeze.
How do Voice Bots work?
There is a process for everything, here is how Voice Bots work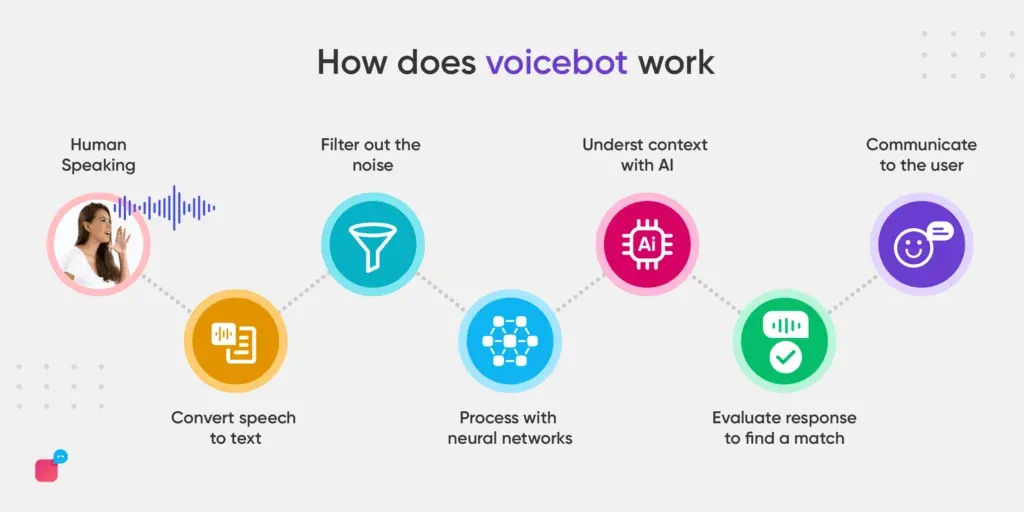 Speech Recognition Technology
The first step in a voice bot's magic trick is converting your spoken words into text. This is where speech recognition technology comes into play.
It listens to your voice, identifies the words you're saying, and transcribes them into text that the voice bot can understand.
Natural Language Processing and Understanding
Once the speech recognition has done its job, it's time for natural language processing (NLP) and natural language understanding (NLU) to take the stage.
These technologies help the voice bot make sense of the text, identify the user's intent, and extract relevant information.
Conversational AI and Dialog Management
Armed with the understanding of what the user wants, the voice bot uses conversational AI and dialog management techniques to carry on the conversation, ask follow-up questions, or provide the requested information.
It's like having a witty, knowledgeable friend who always knows just what to say.
Text-to-Speech Synthesis
Finally, the voice bot converts its response from text to speech using text-to-speech synthesis technology. This enables the bot to "speak" its response, creating a seamless and engaging conversation with the user.
When to Use Voice Bots?
Voice bots can be a valuable addition to your customer service team, handling routine inquiries, troubleshooting issues, and providing information on products and services.
They're like the superheroes of customer support, always ready to swoop in and save the day.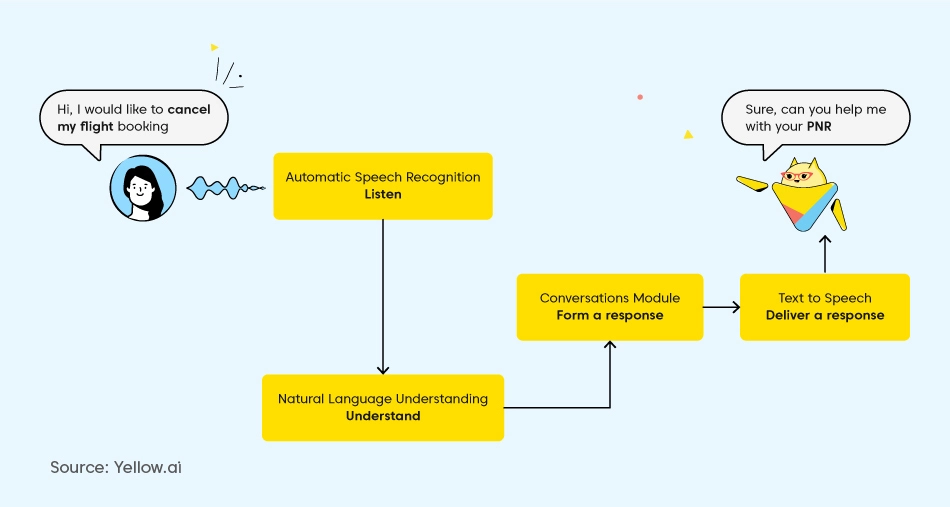 Sales and Lead Generation
Voice bots can help businesses automate sales and lead generation processes, guiding potential customers through the sales funnel and even closing deals.
They're like charming salespeople who never take a day off.
Voice-Activated Virtual Assistants
From setting reminders and checking the weather to controlling smart home devices and playing your favorite tunes, voice-activated virtual assistants, like Amazon's Alexa or Google Assistant, make everyday tasks a piece of cake.
Information Retrieval and Navigation
Voice bots can be used in applications like GPS navigation systems, providing users with turn-by-turn directions, traffic updates, and more, all while keeping their hands on the wheel and eyes on the road.
Who Uses Voice Bots?
Different Industrial Sectors which can make best use of Voice Bots are-

Customer Support Teams
Voice Bots enable customer support teams to handle inquiries more efficiently, automating routine tasks, reducing wait times, and providing 24/7 assistance to customers.
Virtual Assistant Users
Individuals using virtual assistants, like Amazon Alexa or Google Assistant, benefit from Voice Bots for hands-free device control, information retrieval, and task management.
Smart Home Enthusiasts
Smart home device owners use Voice Bots to control appliances, lighting, and security systems, creating a seamless, voice-activated living environment.
Businesses and Enterprises
Companies across various industries utilize Voice Bots to streamline processes, enhance customer interactions, and improve internal communication, increasing productivity and cost-effectiveness.
Developers and Innovators
Developers and technology innovators create and implement Voice Bots to explore new applications, improve existing solutions, and drive advancements in convers
Where are Voice Bots Implemented?
Voice bots can be integrated into various Devices, Sectors, or Businesses
Voice Bots in Mobile and Web Applications
Voice bots can be integrated into mobile and web applications, providing users with a more interactive and engaging experience. They're like the cherry on top of your digital sundae.
Voice Bots in IoT and Smart Home Devices
Voice bots are increasingly being used in IoT devices, such as smart speakers, thermostats, and lighting systems, allowing users to control their smart home with just their voice. It's like living in the future, today.
Voice Bots in Enterprise Solutions
Enterprise software solutions, like customer relationship management (CRM) systems and business intelligence tools, are incorporating voice bot capabilities to improve their functionality and user experience.
They're like the secret sauce that makes everything better.
Designing and Developing Voice Bots
Here is the procedure to follow for Designing and Developing Voice Bots
Defining the Purpose and Scope of the Voice Bot
Before diving into voice bot development, it's essential to define the bot's purpose, target audience, and desired functionality. It's like creating a blueprint for your voice bot masterpiece.
Creating Conversational Flows and Scripts
Designing engaging and effective conversational flows and scripts is crucial to a voice bot's success.
This involves mapping out the possible user inputs and crafting appropriate responses, ensuring that the conversation flows smoothly and naturally.
Selecting the Right Technologies and Platforms
Choosing the right technologies and platforms for your voice bot is critical to its performance and user experience.
This may include selecting a speech recognition engine, NLP/NLU tools, and a text-to-speech synthesis system, among others.
Testing and Iterating for Continuous Improvement
Regular testing and iteration are vital to ensure that your voice bot continues to learn, adapt, and improve over time. It's like giving your voice bot the gift of growth and self-improvement.
Challenges in Voice Bot Development
There are various challenges one can face while the development of Voice Bot-
Handling Ambiguity and Mispronunciations
Understanding spoken language can be tricky, especially when dealing with ambiguous phrases or mispronunciations.
Voice bots need to be designed to handle these challenges gracefully and maintain the flow of conversation.
Ensuring Privacy and Security
Privacy and security are crucial concerns when developing voice bots, as they often handle sensitive user data.
Implementing robust security measures and ensuring compliance with data protection regulations is essential.
Overcoming Language and Accent Variations
Accommodating different languages, dialects, and accents can be a challenge for voice bots.
Developing systems that can understand and adapt to these variations is vital for creating an inclusive and accessible user experience.
Adapting to Evolving User Expectations
As voice bot technology continues to advance, so do user expectations.
Staying up-to-date with the latest trends and innovations in the field is essential for creating voice bots that meet and exceed these expectations.

Frequently Asked Questions (FAQs)
What is a voice bot?
A voice bot is a technology that uses natural language processing and voice recognition to interact with users, providing information, assistance, and performing tasks through voice commands.
How do voice bots work?
Voice bots work by analyzing and interpreting spoken language, using AI algorithms to understand user intents, provide relevant responses, and execute actions based on voice commands.
What are the benefits of using voice bots?
Using voice bots offers benefits such as hands-free convenience, faster and more efficient interactions, personalized responses, improved accessibility, and the ability to multitask while engaging with the bot.
Can voice bots be integrated with other applications or devices?
Voice bots can be integrated with various applications and devices such as smartphones, smart speakers, home automation systems, and customer service platforms to provide seamless voice-powered experiences.
Are voice bots capable of understanding different languages and accents?
Voice bots equipped with advanced natural language processing capabilities can understand different languages and accents, allowing for global deployment and a personalized experience for diverse users.
Can voice bots handle complex tasks or transactions?
Yes, voice bots can handle complex tasks or transactions by leveraging AI and integrations with backend systems, enabling them to provide detailed information, process payments, make reservations, and more.
How secure are voice bot interactions?
Voice bot interactions can be secure by implementing measures such as voice biometrics for authentication, encryption of data during transmission, and compliance with privacy regulations to protect user information.