What is RFM Analysis?
RFM analysis is a technique that segments customers based on their purchase history, frequency of purchases, and overall spending in a specific time frame.
The acronym RFM stands for Recency, Frequency, and Monetary value. Each factor plays a crucial role in understanding customer behavior and can be measured in different time units depending on the product.
RFM Segmentation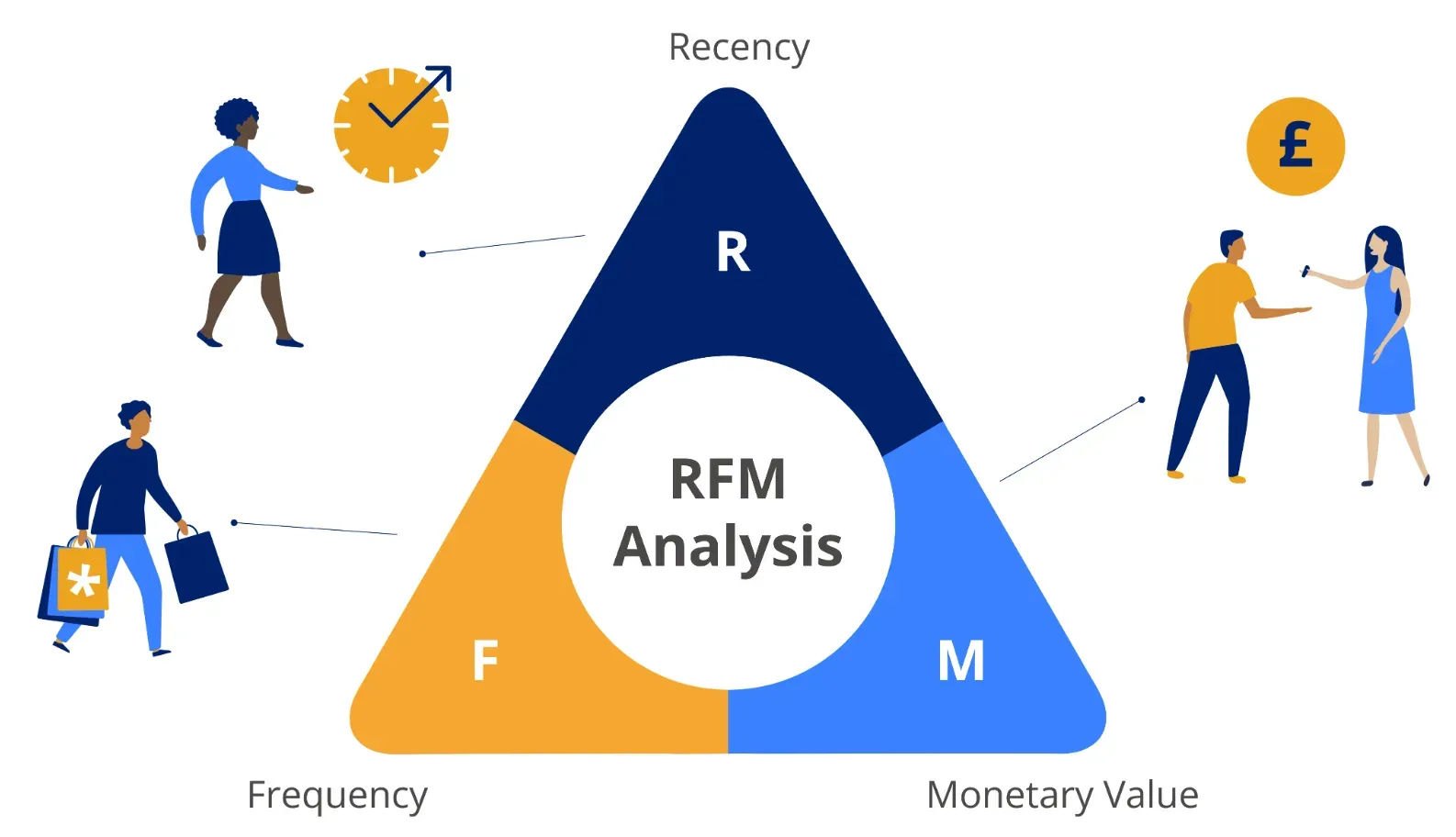 RFM segmentation allows marketers to narrow down their marketing efforts to the right set of audiences based on their behavior.
By analyzing the recency, frequency, and monetary value of customer transactions, brands can generate higher response rates, increased loyalty, and customer lifetime value. It helps brands save time, money, and effort by channelizing their marketing and advertisement plans effectively.
RFM Segmentation Categories
Champions/Best Customers
These customers are regular buyers who spend a significant amount and make recent purchases. Brands should provide them with exclusive offers and rewards to maintain their loyalty and encourage further purchases.
Potential Loyalists
These customers have recently interacted with the brand and have moderate purchase frequency. Brand loyalty programs and upselling strategies can help convert them into loyal customers with a high customer lifetime value.
New Customers
This segment consists of customers with high overall RFM scores but low purchase frequency. Engaging with them through onboarding support and special offers can increase their frequency of purchases and strengthen their relationship with the brand.
At-Risk Customers
These are customers who have been loyal and spent considerably in the past but haven't made recent transactions. Personalized offers based on their buying history can re-engage them and prevent them from switching to competitors.
Benefits of RFM Analysis

RFM analysis offers several benefits to businesses:
Personalization
RFM segmentation enables hyper-personalization of marketing communication and promotions for different customer segments. This uniqueness and personal touch enhance the overall customer experience.
Improve Conversion Rates
By understanding the behavior of different customer segments, brands can create targeted strategies and offers. This, in turn, boosts conversion rates and increases sales and frequency of purchases.
Retention
RFM analysis helps brands focus on the right set of customers at the right time, increasing customer retention and lifetime value. By customizing campaigns and offers, brands can strengthen their relationship with customers.
How does RFM Analysis Work?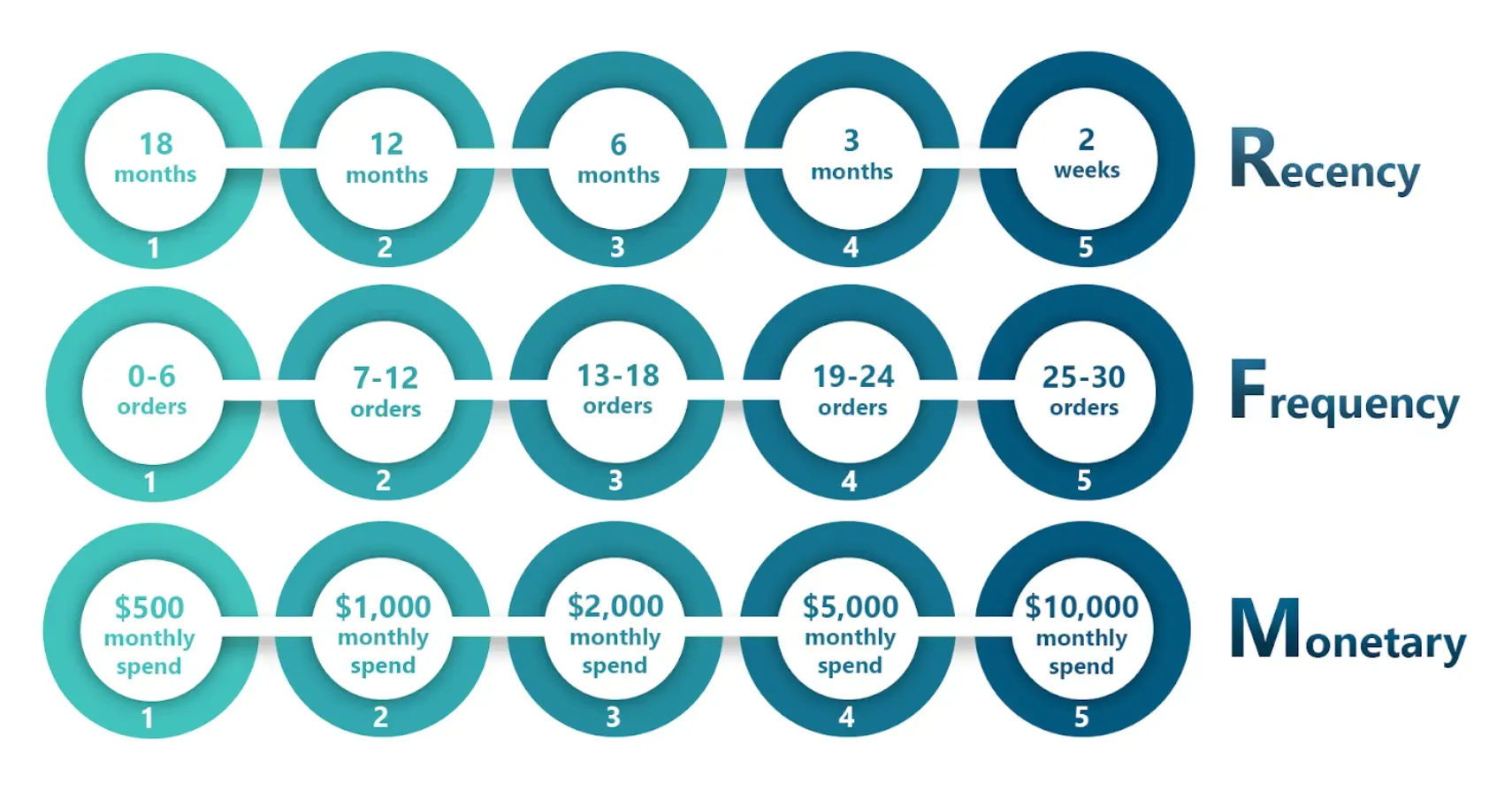 RFM analysis scores customers based on the three main dimensions: recency, frequency, and monetary value.
Each dimension is assigned a score from 1 to 5, with 5 being the highest. These scores are then grouped together to form an RFM cell.
By sorting customers from highest to lowest total score, brands can identify their most valuable customers and tailor their marketing efforts accordingly.
Data Collection: Collect relevant

customer transaction data

and determine the timeframe for analysis.

Recency Analysis: Measure how recently customers have made purchases. Assign a higher score to more recent purchases.
Frequency Analysis: Measure the number of purchases made by each customer within the specified timeframe. Assign a higher score to more frequent purchases.
Monetary Value Analysis: Calculate the total amount of money spent by each customer. Assign a higher score to higher spending.
RFM Cell Formation: Combine the scores for recency, frequency, and monetary value to form a unique RFM cell for each customer.
Sorting Customers: Sort the customers from highest to lowest total RFM scores to identify the most valuable customers.
Segmentation: Analyze the RFM cells to identify different segments of customers based on their behavior.
Targeted Marketing: Tailor marketing strategies and campaigns based on the characteristics of each

customer segmen

t.

Personalization: Use RFM analysis to

personalize marketing communication

and promotions for better

customer engagement

and conversion rates.
Limitations of RFM Analysis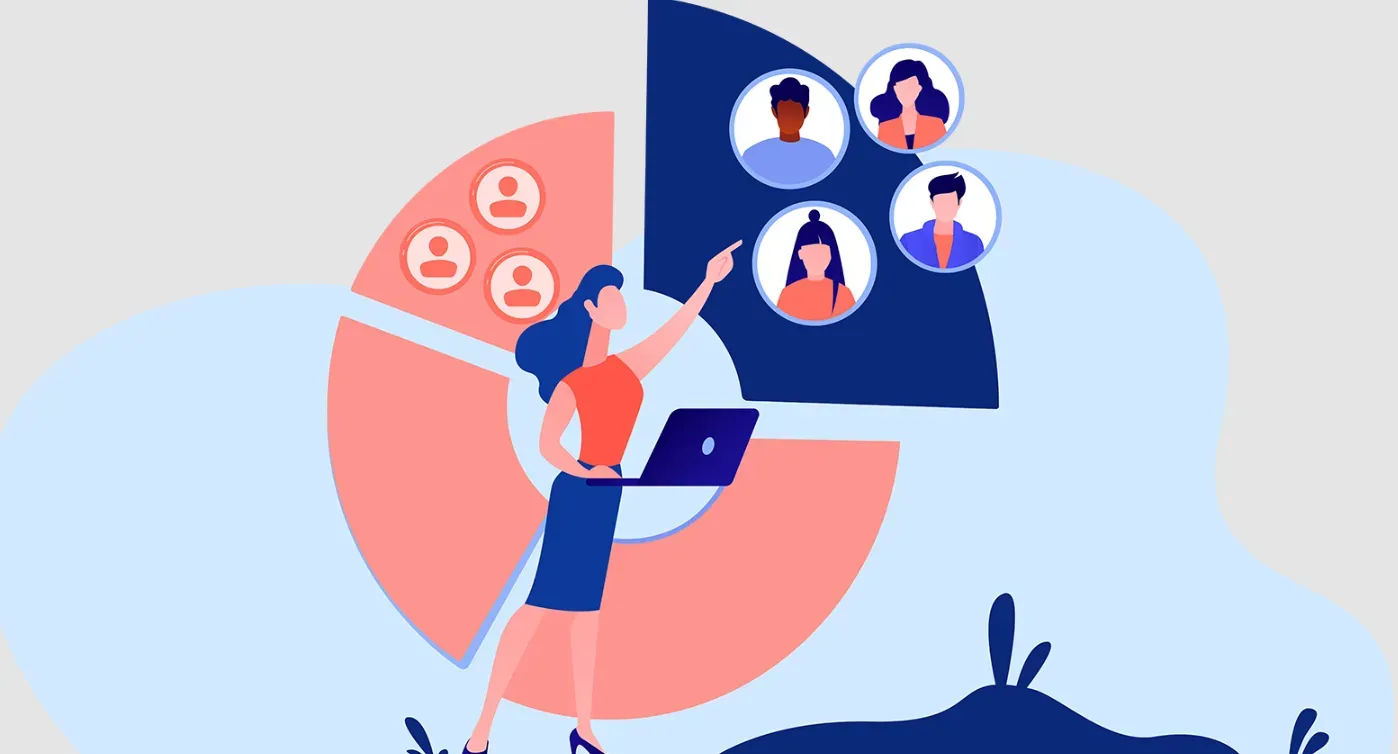 While RFM segmentation is an effective tool, it does have some limitations:
Human Error: If performed manually, RFM analysis is prone to human error. Automation and proper data management can help mitigate this issue.
Lack of Demographic Data: RFM analysis does not incorporate customer demographics such as age, sex, or ethnicity. Supplementary data sources may be required to gain a comprehensive understanding of customer behavior.
Limited Behavioral Qualities: RFM analysis relies on a few behavioral qualities, limiting the power of advanced predictive analytics. Combining RFM analysis with other techniques can provide more accurate insights.
Bombarding High-Ranking Customers: There is a risk of bombarding high-ranking customers with messages, leading to reduced response rates. Personalization and careful targeting can address this concern.
Overlooking Low-Ranking Customers: RFM analysis may overlook customers with low scores who still have potential value. A holistic approach that considers additional factors can help capture the full customer potential.
RFM analysis is a valuable technique for businesses to understand and segment their customer base effectively. By leveraging RFM segmentation, brands can create personalized campaigns and improve customer engagement, ultimately driving higher customer loyalty and revenue.
Frequently Asked Questions (FAQs)
Is RFM analysis suitable for small businesses?
Yes, RFM analysis is valuable for small businesses because it helps optimize marketing efforts and improve customer retention. It is easy to implement and provides actionable insights into customer behavior.
What are the limitations of RFM analysis?
RFM analysis only considers three dimensions of customer behavior, recency, frequency, and monetary value, and does not account for demographic or psychographic data. Moreover, RFM analysis results may vary depending on the chosen timeframe for analysis.
Can RFM analysis be used for new businesses?
Yes, RFM analysis can be used for new businesses by analyzing customer data and assessing their behavior. This helps businesses understand customer needs, tailor their marketing strategies and optimize their budget efficiently.
How frequently should RFM analysis be done?
RFM analysis should be done frequently for optimal results. The frequency depends on the industry and the rate of customer transactions. It's recommended to perform RFM analysis quarterly or bi-annually for better insights.
How can businesses use RFM analysis to improve customer retention?
RFM analysis helps businesses understand customer behavior and make data-driven decisions. By studying customer segments, businesses can tailor their marketing efforts to reach at-risk customers, show special attention to top-performing ones, and thus improve customer retention.