What is Neuro-Linguistic Programming?
Think of Neuro-Linguistic Programming (NLP) like this: it's a technique that acts as a bridge between your brain's behavior (the neuro part) and the power of language (that's the linguistic part).
It's like coding for the mind, encouraging it to respond in ways that align with your life goals, open up communication, amplify personal growth, and support psychotherapy.
So, Why is Neuro-Linguistic Programming worth our Attention?
Here's where NLP stands out—it's like your personal tool for self-discovery, boosting communication, and problem-solving.
It's all about understanding how we process information and experiences, and using this knowledge to fine-tune our mental and behavioral patterns.
When do we Apply Neuro-Linguistic Programming?
There's no precise timeline for using NLP. Its versatile nature makes it a go-to approach in the realms of therapy, self-help, and even corporate environments, aimed at enhancing productivity, performance, and personal growth.
Whether it's for today or ten years from now, NLP could be your aide for self-improvement.
But Where is Neuro-Linguistic Programming Practiced?
Although NLP finds its roots in psychology and psychotherapy, it's not confined there. It has gradually unfurled its wings across various fields, covering business, education, and beyond.
Whether it's across the street or across the globe, NLP practices are being adopted in personal and professional environments to foster better communication and personal development.
Who Stands to Benefit from Neuro-Linguistic Programming?
Well, NLP has something to offer for practically everyone. If you're keen on stepping up interpersonal skills, improving personal or workplace relationships, or navigating mental and emotional challenges, you'll find a friend in NLP.
From counselors and psychotherapists to educators and business leaders, there's a wide spectrum of professionals who are already harnessing the power of NLP.
How to use Neuro-Linguistic Programming?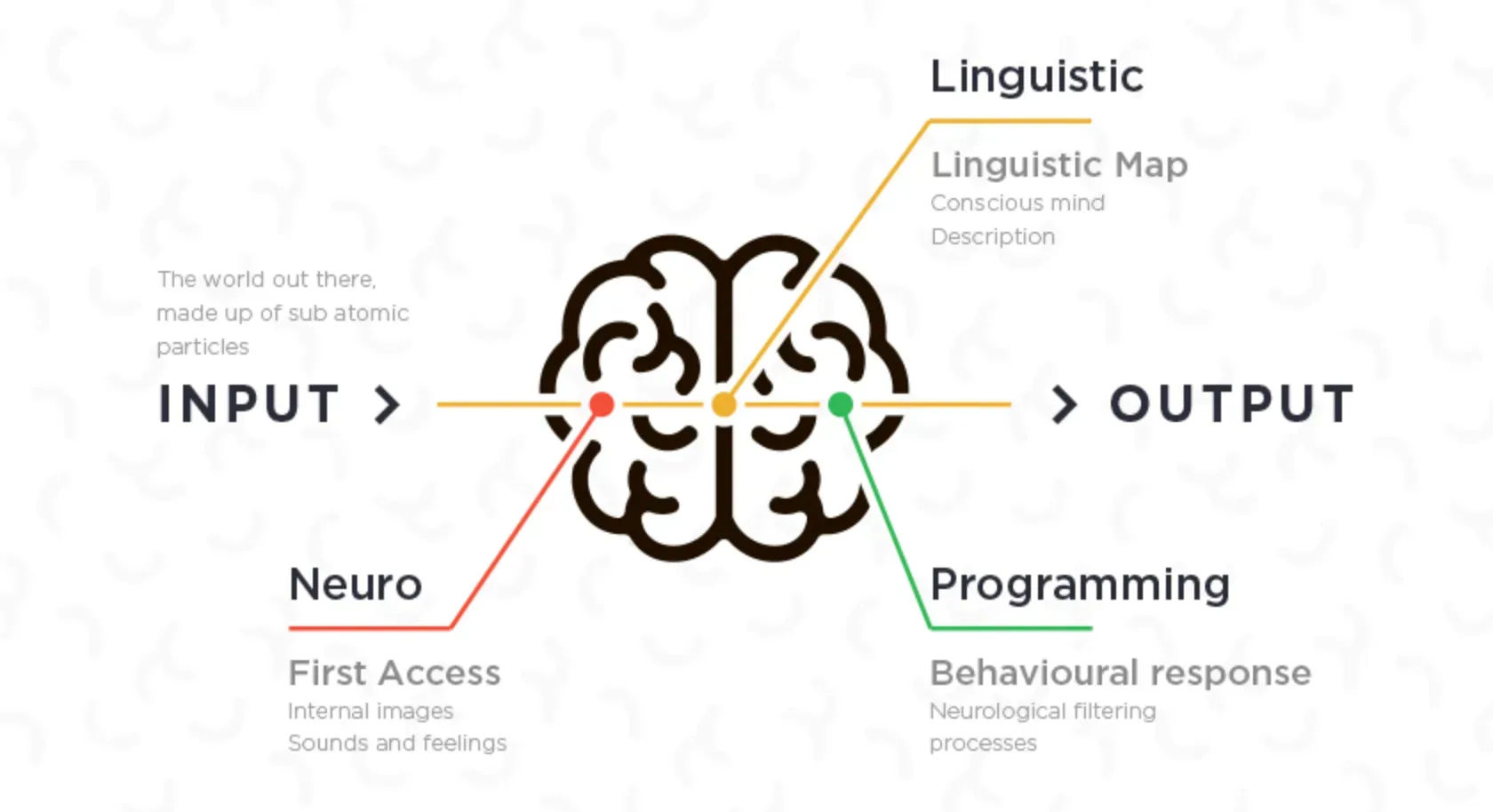 In this section, we'll explore several practical ways to incorporate Neuro-Linguistic Programming (NLP) techniques into daily life for better communication, perception, and personal development.
Building Rapport with Others
Developing strong, positive relationships is a key aspect of NLP. By mirroring and matching verbal and non-verbal cues, such as tone, pace, body language, and gestures, you can form a connection with others.
Also, using empathetic listening and acknowledging emotions fosters rapport and communication.
Anchoring Desired Responses
NLP uses anchoring to associate an emotional or physiological response with a specific trigger. Anchoring can be employed to create positive habits, overcome fears, or control emotional states.
Establish the anchor by focusing on a positive experience, and then physically touching a specific point (e.g., wrist or knuckles) to create a sensory anchor. With repetition, the anchor will be associated with desired states and responses.
Reframing Perspectives
One of NLP's techniques is reframing, which entails changing a situation's context to view things from a different perspective.
Reframing encourages flexibility and positive thinking, helping to overcome limiting beliefs and negative thought patterns.
Ask yourself questions like, "What can I learn from this?" or "How can this situation benefit me in the long run?" to change your outlook and develop resilience.
Utilizing the Power of Visualization
Visualization is a powerful tool in NLP to instill confidence, motivation, and discipline. Mental rehearsal of tasks and goals can improve performance and effectiveness in various activities, such as public speaking, sports, exams, or even job interviews.
Create an immersive mental simulation of desired outcomes by engaging all senses and imagining the feelings and emotions associated with success.
Setting Well-Formed Goals
In NLP, goal-setting involves constructing well-formed outcomes—clear, realistic, and attainable objectives. The SMART criteria (Specific, Measurable, Achievable, Relevant, Time-bound) can be applied to establish well-defined goals.
NLP also recommends embodying the mindset, identity, and beliefs of someone who has already achieved the desired result, which can help break down barriers and overcome obstacles more effectively.
How Does Neuro Linguistic Programming (NLP) Work?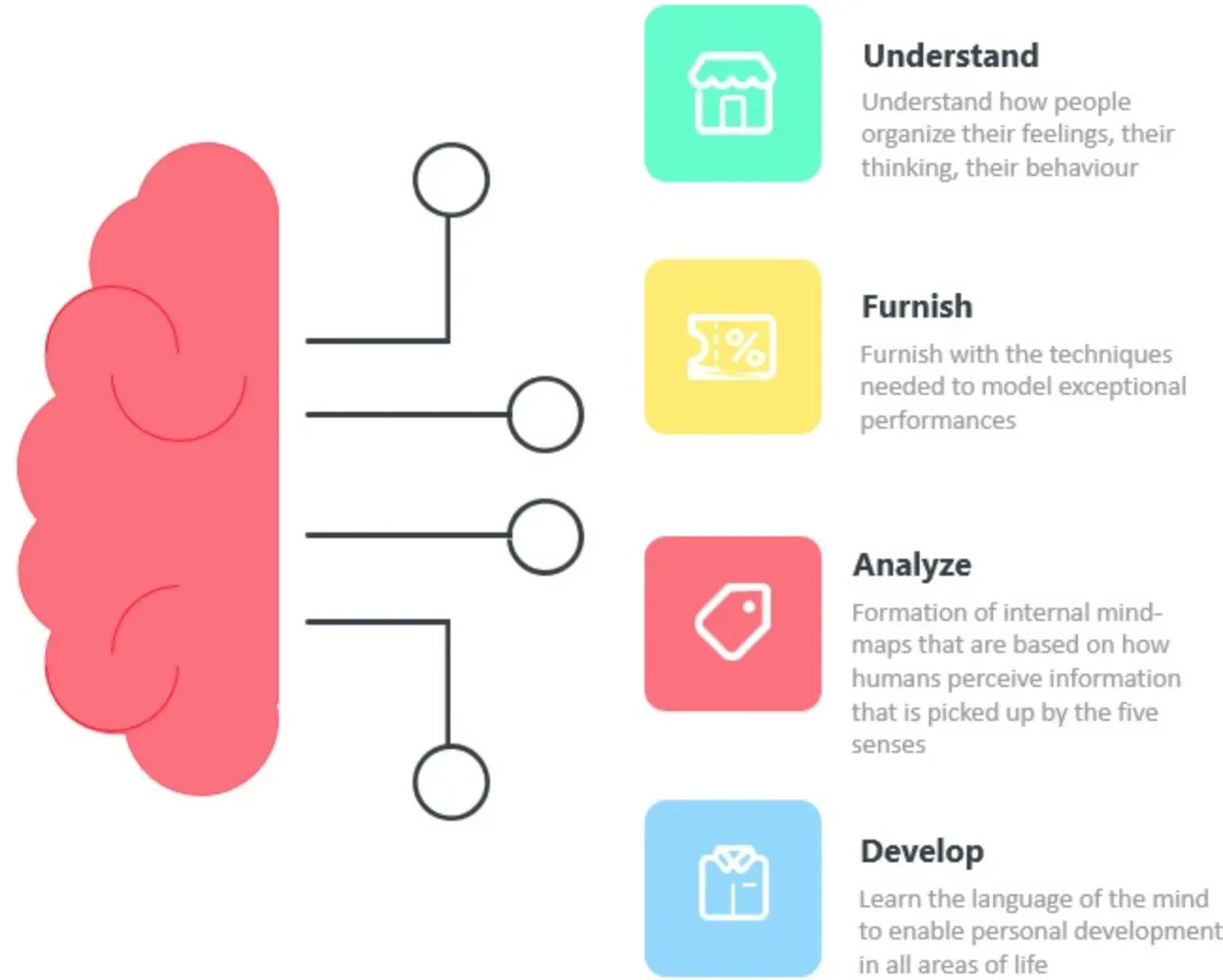 In this section, we'll delve into the inner workings of Neuro-Linguistic Programming (NLP), explaining the foundational principles and processes that guide this influential technique.
Fundamental Presuppositions
NLP operates on the premise that our thoughts, emotions, and behaviors are shaped by our internal representations of external events.
By modifying these representations, NLP practitioners can facilitate meaningful change.
Structure of Experience
Essential to NLP is the recognition that every human experience has an underlying structure.
This structure consists of sensory representations, including visuals, sounds, feelings, tastes, and smells, as well as internal dialogue or self-talk.
Modeling Excellence
NLP practitioners identify individuals who have mastered certain skills or overcome challenges and use them as role models.
By dissecting and analyzing their mental strategies, NLP practitioners can replicate and teach those strategies to others, facilitating personal growth and development.
Techniques and Patterns in NLP
There is an extensive range of NLP techniques and patterns, ranging from rapport building and sensory acuity to anchoring or reframing.
These tools enable practitioners to access, analyze, and modify the structure of an individual's experiences, hence shaping their thoughts, emotions, and behaviors.
Empowering Individuals through NLP
NLP empowers individuals to take control of their mental processes, beliefs, and behaviors.
By learning to recognize and reprogram unhelpful thought patterns, people can boost their self-awareness and implement positive changes that enhance their personal and professional lives.
Different Neuro-Linguistic Programming Techniques
In this section, we'll navigate through the multifaceted landscape of Neuro-Linguistic Programming (NLP) techniques, exploring their utility in fostering personal growth and enhancing communication.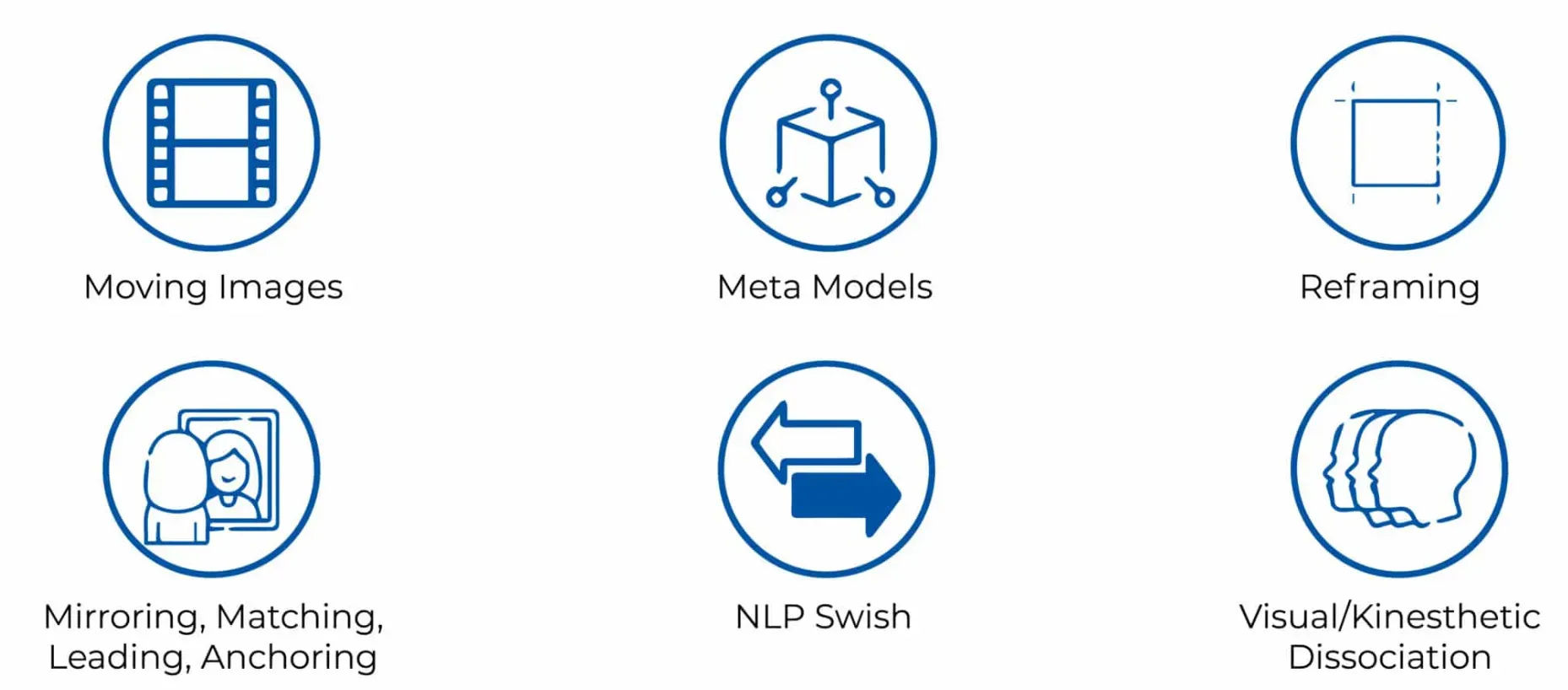 Anchoring
Anchoring is a popular NLP technique that equates certain physical sensations with a specific emotional state.
It allows you to summon desired emotions, such as tranquility or vitality, by triggering pre-set anchors—with something as simple as a touch or gesture.
Reframing
Reframing helps you change perspective about situations, people, or self-image.
By altering the mental frame around experiences or beliefs, it encourages positive thinking and promotes flexibility in reactions, helping diminish the impact of negative experiences or beliefs.
Visualization or Future Pacing
Future pacing encourages the mental rehearsal of desired outcomes, urging you to 'live' the expected future.
By visualizing success in a goal-centric task or situation, you reinforce self-confidence and preparedness, often resulting in enhanced performance and output.
Rapport Building
Rapport building fosters deep, empathetic connections with others.
Incorporating verbal and non-verbal mirroring—such as matching speech, body language, or gestures—you create an environment of trust and understanding, beneficial for improved personal and professional relationships.
Swish Pattern
The Swish Pattern helps to ameliorate negative habits or behaviors by replacing them with more positive, desired alternatives.
Visualizing the undesired habit and 'swishing' it with a beneficial habit, you create a new neural pathway, with the goal to make the positive behavior the automatic response over time.
Frequently Asked Questions (FAQs)
How can NLP help me improve my communication skills?
NLP can help you understand the different communication styles and behavioral patterns that can influence your success. With NLP techniques, you can improve your ability to communicate effectively with others.
What are the benefits of using NLP?
NLP can help you improve your performance, achieve your goals, and enhance your personal and professional development. It can also help you better understand yourself and others and communicate more effectively.
Are NLP techniques difficult to learn and apply?
No, NLP techniques are easy to learn and apply. With proper training, anyone can master NLP techniques and use them effectively to improve their communication skills and achieve their goals.
Can NLP be used in business and corporate settings?
Yes, NLP can be applied in various fields, including business and corporate settings. It can help improve communication, leadership, and management skills, boost sales performance, and enhance customer relationships.
Is NLP scientifically based?
NLP is based on scientific principles of psychology, linguistics, and neuroscience. It combines these principles to develop effective communication and personal development strategies. However, some argue more research is needed to support NLP's effectiveness.