What are Feedback Loops?
Ever wonder how brands consistently update and improve their products or services in line with customer needs?
Well, it all boils down to a thing called a feedback loop. Picture it as a continuous conversation between the businesses and their customers or employees.
It's a constant exchange of views that helps steer the product or service toward becoming better and better. This relentless cycle of feedback, action, and then more feedback has one aim - to nurture a culture where everyone in the room is motivated to share their thoughts honestly and openly.
The Why Behind Feedback Loops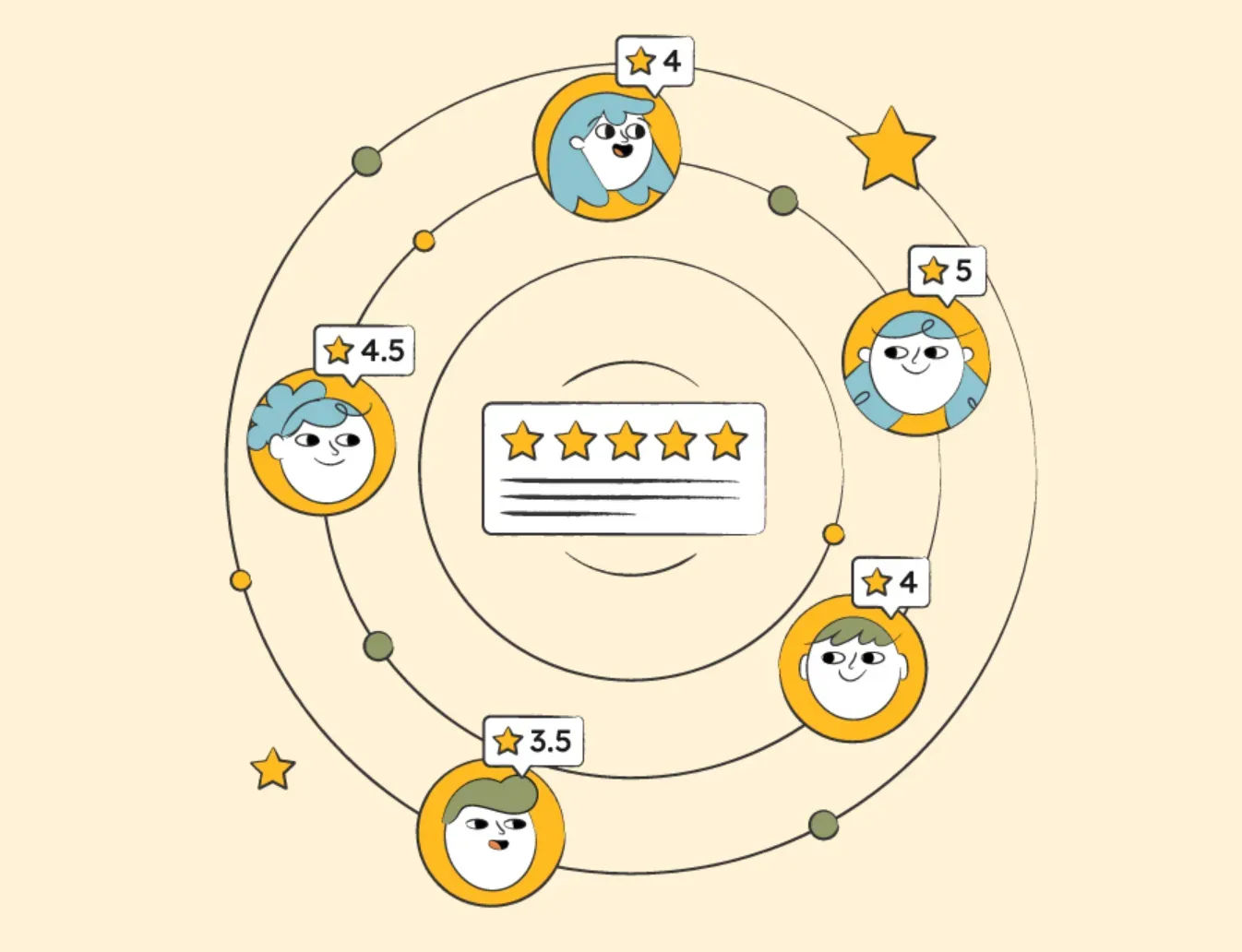 Feedback loops enable businesses to peep into their customer's minds, understand their requirements, and foresee their expectations. This deeper intel helps in identifying elements of their product or service that need a dash of improvement or even discovering new ventures to explore.
Boost Customer Interactions
Customers love it when their opinions are heard and adjustments are made in response to their feedback. This process aids in pinpointing the pain points of customers and resolving issues, leading to enhanced customer experiences.
Crank Up Customer Retention and Loyalty
A persistent pursuit of feedback and taking necessary actions based on it confirms that customers feel valued. This can translate into higher customer retention rates and intensify their loyalty to the brand.
Elevate Your Offerings
Feedback loops can provide critical insights into your product or service from the people who use them frequently. Businesses can then identify areas for improvement and use this information to spruce up existing offerings or even guide the development of new ones.
Keep Employees Happy and Engaged
Employee feedback can paint a clear picture of aspects within an organization that need attention to ensure job satisfaction. It gifts employees an avenue to voice their opinions, making them feel respected and leading to enhanced engagement and motivation.
The Mechanics of Feedback Loops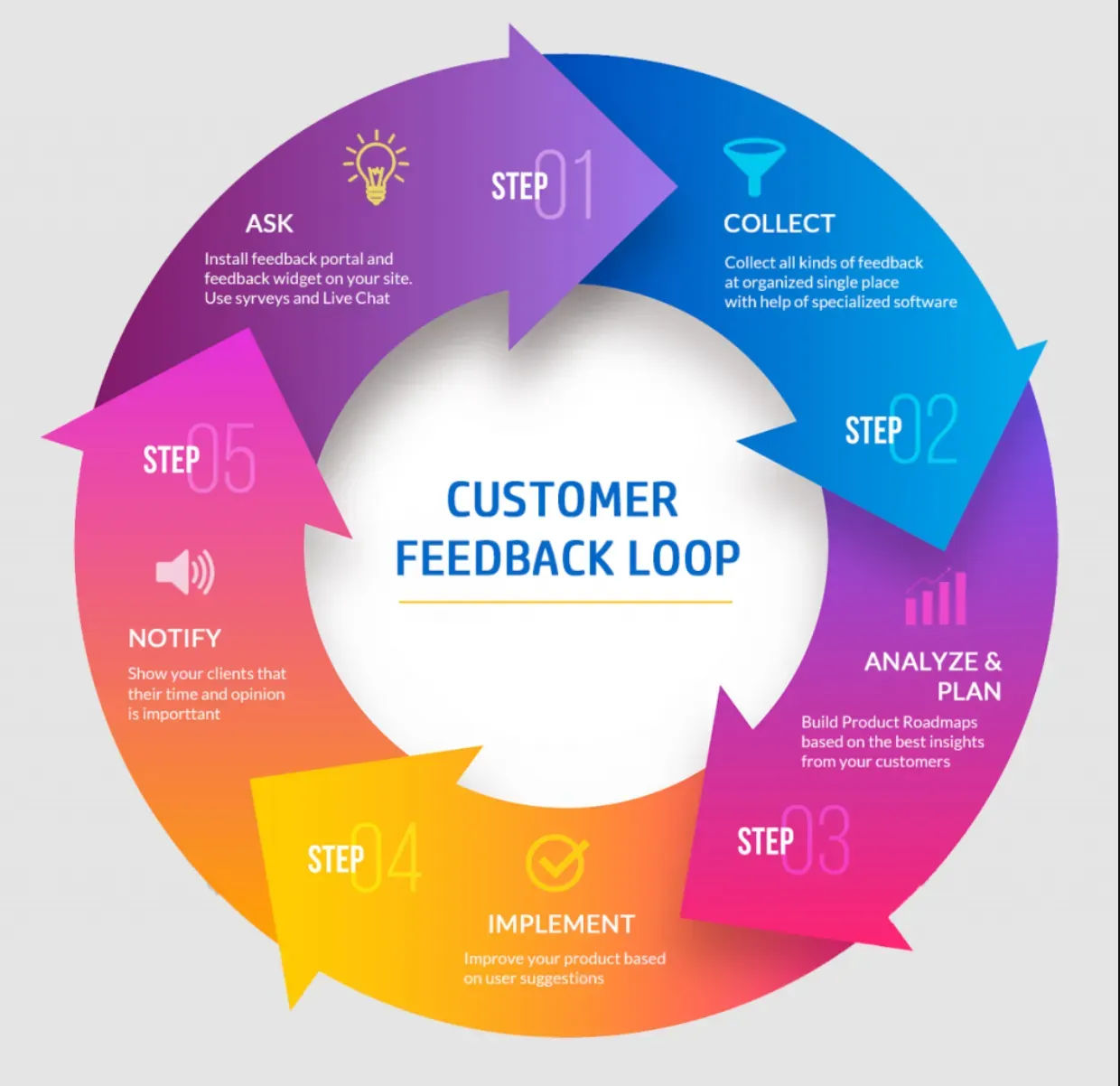 Let's break down how a feedback loop functions in four simple steps:
Creation of Input
Feedback is obtained from customers or employees through various channels such as surveys, emails, chatbots, social media platforms, or even direct conversations.
Capture and Store Input
The feedback is then secured and tucked away in a central database or Customer Relationship Management (CRM) system.
Analysis of Input
The collected feedback goes through a rigorous evaluation process which involves tools like Natural Language Processing (NLP) and sentiment analysis to understand patterns and derive significant insights.
Well-Informed Decisions
The insights captured from the analysis are employed to make decisions that evoke changes and improvements.
Categories of Feedback Loops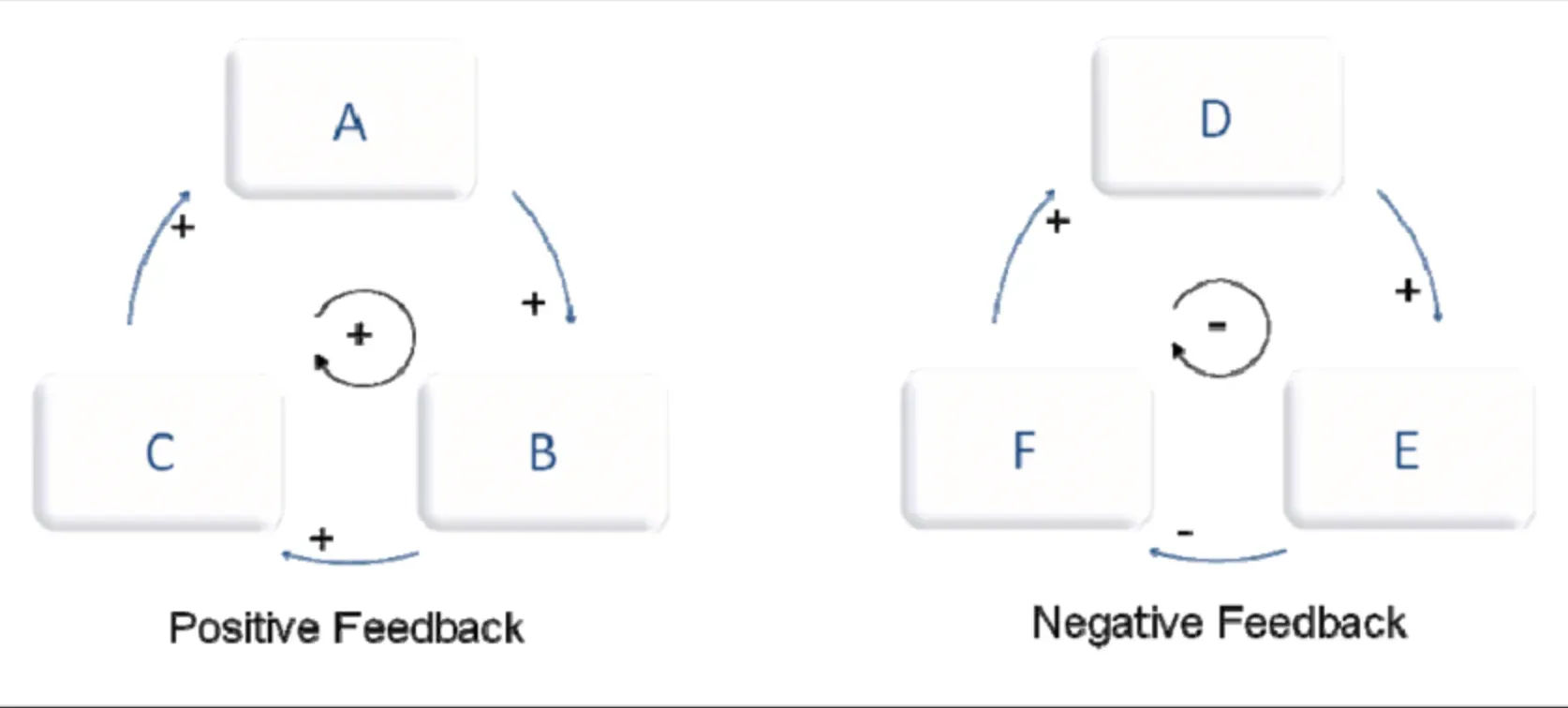 Feedback loops are primarily bifurcated into two categories – positive and negative.
Positive Feedback Loops
In a business landscape, when a company uses criticisms or issues raised by employees to enhance their work environment or internal processes, it's referred to as a positive feedback loop.
Feedback is captured via formal channels like interviews or surveys, or it could even be informal, allowing employees to share their experiences anonymously.
This information leads to tangible improvements within the organization, completing the positive feedback loop and boosting employee satisfaction and process efficiency and ultimately accounting for higher profits.
Negative Feedback Loops
Negative feedback loops, on the other hand, are customer-focused. They employ feedback from customer surveys, social media platforms, chatbots, and other channels to introduce improvements in their products or services.
Negative feedback loops concentrate on molding their products or services to meet the needs of their audiences, enhancing customer experiences, and escalating customer retention.
The main difference between the two is that while positive feedback loops rely on employee feedback to refine internal workplace conditions, negative feedback loops leverage customer feedback to upgrade their products or services.
Steps to Set Up a Feedback Loop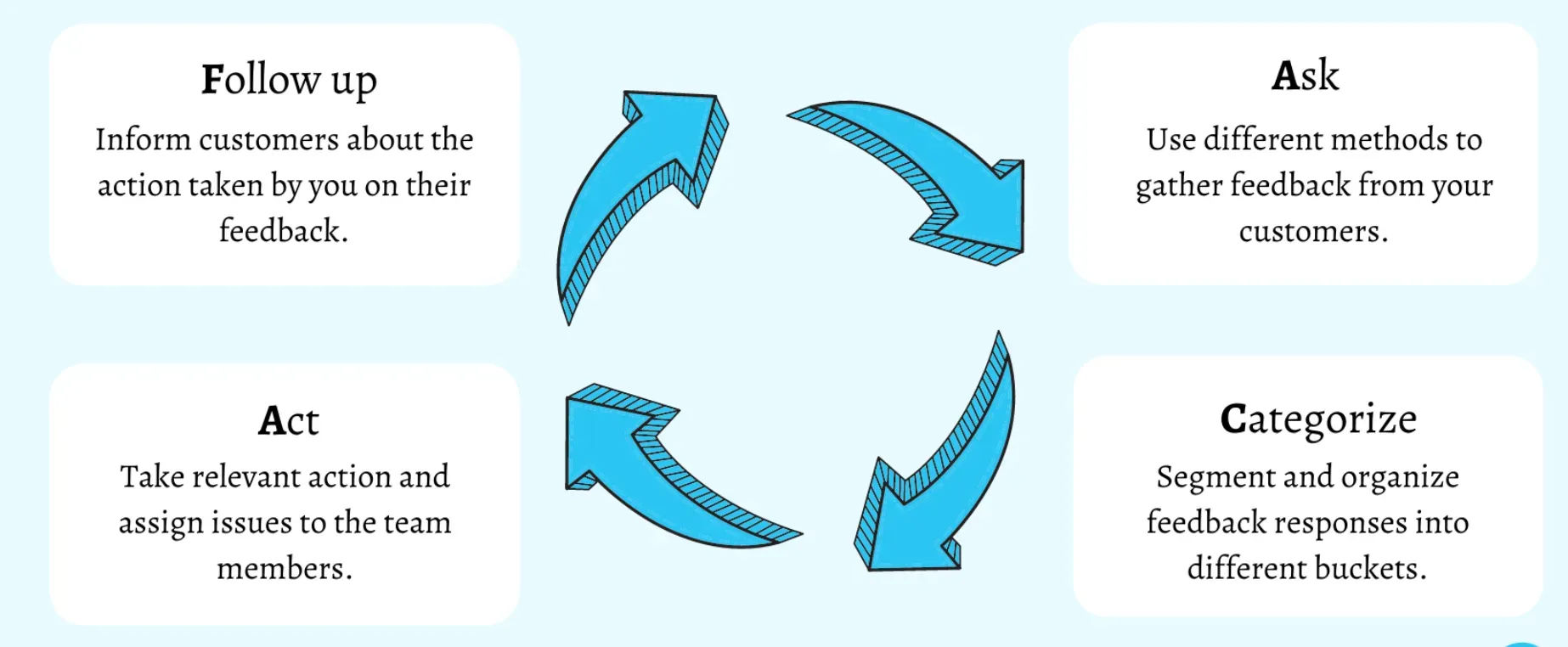 Designing a feedback loop involves three crucial steps. Let's dive right in!
Gathering Feedback
You can collect feedback by sending out regular satisfaction surveys to employees and customers or Net Promoter Score (NPS) surveys.
Online tools like SurveyMonkey or Typeform are great options for crafting and distributing these surveys. Websites like Glassdoor are great for finding honest opinions about your company.
When it comes to customer feedback, social media platforms can provide tons of helpful insights.
Analyzing Feedback
After gathering the feedback, you've got a mix of structured and unstructured data that needs evaluation.
Tools like Natural Language Processing (NLP) and sentiment analysis are fantastic for this job. These tools bring out valuable insights from raw feedback, providing a sense of direction.
Acting on Feedback
After you've dissected the feedback and gained useful insights, it's time to take action. Making necessary adjustments and improvements closes the loop.
A key part of this phase is to communicate with your informants that changes have been made based on their feedback. It makes them feel heard.
Tools to Assist Feedback Loops
There are several tools to assist in implementing a feedback loop, like survey tools such as SurveyMonkey and Typeform.
Social listening tools like Hootsuite and Sprout Social can help scan for brand references across social media.
Natural Language Processing and sentiment analysis tools like Receptiviti and IBM Watson are great for analyzing feedback.
Best Practices for Streamlining Feedback Loops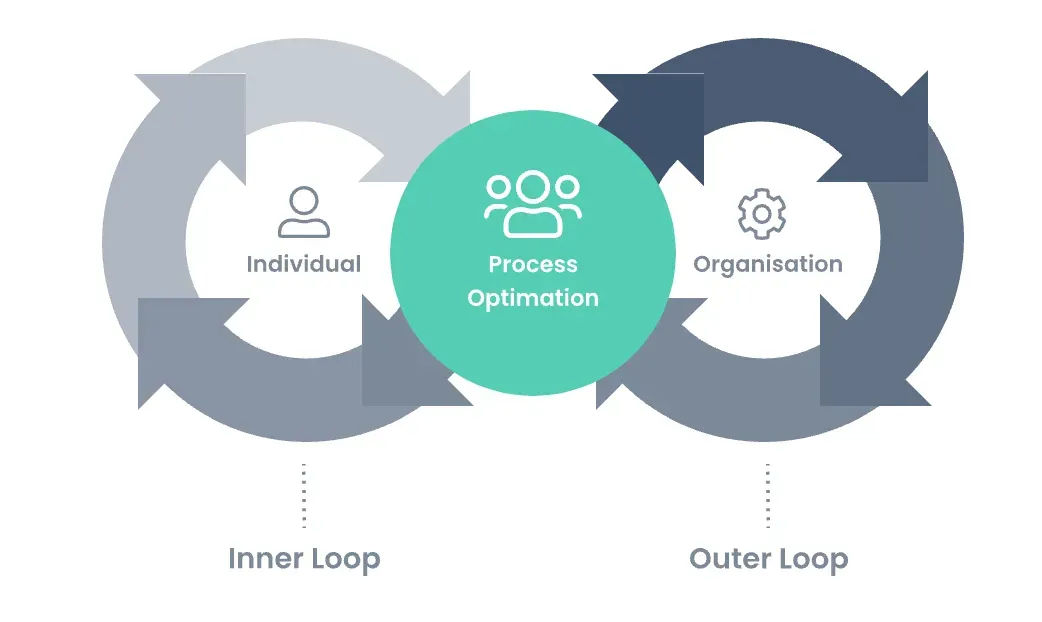 Here are a few tricks to optimize a feedback loop:
Make it simple and straightforward to provide feedback
Thoroughly decide on the issues you want feedback on
Feedback should be acknowledged promptly
Analyze feedback without delays
Take swift actions based on feedback received
Always confirm with employees or customers regarding the actions taken
Implementing feedback loops can face a few roadblocks such as lack of support across the company, too much data to process, issues analyzing unstructured data, and resistance to change.
However, leadership support, structured feedback systems, and suitable data analysis tools can help counter these challenges.
In a nutshell, feedback loops can be a game-changer for any business striving to refine its offerings. Interested in setting up a feedback loop?
Get started today, or consult with a feedback loop specialist to guide you through the way!
Frequently Asked Questions
How can I obtain customer feedback?
Surveys, customer satisfaction forms, online platforms, direct communication channels like emails or chatbots, and social media listening provide a wealth of customer feedback.
How frequently should we collect feedback?
Feedback should be collected regularly. The frequency, however, depends on your business and customer interaction levels. Schedules like post-interaction or periodic surveys ensure a steady stream of insights.
How to motivate employees to share feedback?
Fostering a supportive and safe environment where employees feel comfortable sharing their thoughts is a great way to motivate them to provide feedback. Anonymous feedback options and showing that their input is valued can contribute to a healthy feedback culture.
How can we analyze feedback effectively?
Effective feedback analysis can be achieved using tools for sentiment analysis and Natural Language Processing. Breaking the feedback into themes and identifying patterns can help derive valuable information.
How to communicate the changes made based on feedback?
When communicating changes, be transparent and genuine. Clearly explain the modifications, how feedback influenced it, and the positive impact these changes are expected to bring for customers or employees.