What is a Digital Ecosystem?
A digital ecosystem refers to an interconnected network of various digital components, including individuals, businesses, devices, applications, data resources, and processes, that operate cohesively to generate value and enable seamless communication. In essence, the digital ecosystem is the amalgamation of diverse entities interacting and engaging within a virtual environment.

This comprehensive system facilitates innovation, fosters technological advancements, and expands the scope of services that enhance the overall quality of life and work. As the digital landscape continues to evolve and reshape human experiences, the digital ecosystem plays a crucial role in promoting synergy and growth across industries.
Why is a Digital Ecosystem important?
A digital ecosystem promotes seamless integration between various software, tools, and platforms, enhancing interoperability and enabling more effective collaboration.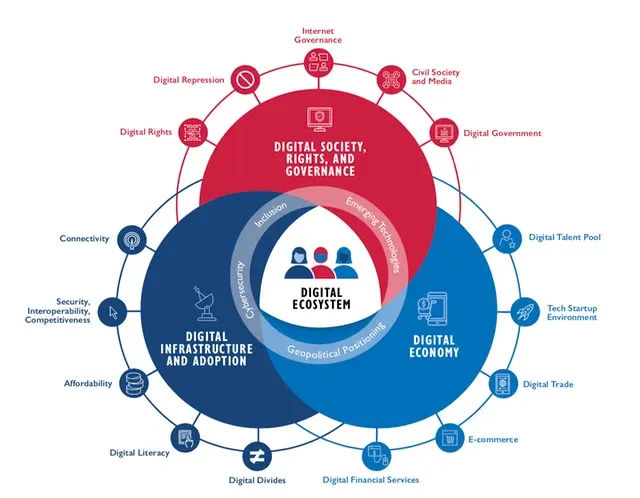 Fostering Seamless Integration
By establishing a unified, interconnected environment, organizations can streamline their processes, eliminate redundancies, and increase overall productivity.
Driving Business Innovation
When a digital ecosystem flourishes, it encourages innovation as different players, such as vendors, customers, and partners, share ideas, technologies, and resources.
This exchange of knowledge and collaboration can lead to the development of transformative products, services, and solutions, propelling businesses to the forefront of their respective industries.
Enhancing Customer Experience
A well-structured digital ecosystem provides a comprehensive, personalized customer experience.
By unifying various channels and touchpoints, businesses can analyze customer interactions and preferences, tailor their offerings, and deliver a consistent, satisfying experience across all platforms.
Scaling Operations and Growth
Embracing a digital ecosystem positions a business for scalability, enabling it to adapt and grow as the market evolves.
By harnessing the power of digital tools, companies can simplify workflow management, automate repetitive tasks, and allocate resources more efficiently, making it easier to plan for expansion and manage demands.
Boosting Competitive Advantage
Investing in a digital ecosystem allows organizations to stay ahead of the technological curve and keep pace with emerging trends and industry shifts.
By being proactive in updating digital infrastructure, businesses can maintain a competitive advantage by harnessing new technologies, streamlining processes, and embracing innovation.

Key Elements of a Digital Ecosystem
Let's explore the key elements that play a major role in shaping Digital Ecosystems.
Connectivity and Integration
This is the true backbone of digital ecosystems where people, devices, and systems seamlessly interact with each other to provide a smooth experience.
Data Management and Analytics
A crucial component, data management and analytics ensure that valuable insights are extracted and the information flow within the ecosystem is optimized.
User Experience and Interface Design
This essential element focuses on delightful and easy-to-navigate interfaces for users, ensuring enjoyment and productivity in the digital space.
Security and Privacy
Safeguarding users and businesses alike, security and privacy are vital for cultivating trust and protecting valuable data within the digital ecosystem.
Scalability and Flexibility
To accommodate growth and adapt to ever-changing environments, scalability and flexibility ensure a digital ecosystem can evolve and prosper over time.
Types of Digital Ecosystems
Business ecosystems involve different businesses coming together to deliver a product or service.
Business Ecosystems
This often includes suppliers, distributers, consumers, and even competitors. Such ecosystems promote collaboration and create synergies, leading to shared success.
Innovation Ecosystems
Innovation ecosystems are designed to stimulate, nurture and sustain innovation. They often comprise startups, investors, research institutions, and government agencies.
The aim is to create an environment that fosters creativity, entrepreneurial thinking, and technological advancement.
Learning Ecosystems
Learning ecosystems encompass all individuals, systems, and resources involved in the learning process.
These include students, teachers, edtech tools, online resources, and learning institutions. Such ecosystems can adapt and evolve to meet learners' needs over time, ensuring relevant and effective education.
Health Ecosystems
Health ecosystems consist of patients, healthcare professionals, hospitals, insurance providers, and medical researchers all working together to improve healthcare outcomes.
The ecosystem approach fosters better collaboration, data sharing, and patient-centered healthcare delivery.
Financial Ecosystems
Financial ecosystems involve all entities that provide financial services, including banks, insurance companies, asset managers, fintech startups, and regulators.
In such an ecosystem, collaboration and interoperability of systems are key to delivering a seamless and efficient financial experience for customers.
Challenges in Building and Managing a Digital Ecosystem
Building and managing a digital ecosystem isn't a walk in the park. There are several hurdles that can substantially increase the complexity of this task.
Navigating Diverse Technologies
Probably the most striking challenge is orchestrating diverse technologies into a cohesive ecosystem.
It's like conducting an orchestra where every instrument is vital for the harmony, and any dissonance can ripple across the entire system, causing havoc.
Safeguarding Data
In a digital ecosystem, a plethora of data, valuable and sensitive, flows incessantly.
While this data is an invaluable resource, ensuring its integrity and security is a responsibility as hefty as the data itself.
Without stringent data safety measures, entire systems risk being compromised.
Crafting User Experiences
In today's digitized world, offering a seamless user experience isn't a luxury anymore; it's a necessity.
Even the most built-out ecosystems can fall flat without an engaging, intuitive, and user-friendly interface.
Collaboration and Communication
In the universe of digital ecosystems, each component relies on the others for the ecosystem to function optimally.
Therefore, fostering a spirit of collaboration and seamless communication is essential to tackle common goals and ward off potential crises.
Scalability and Flexibility
Finally, a digital ecosystem should be as fluid as the environment it operates in. As businesses grow, the ecosystem should seamlessly scale with it.
Important too is its responsiveness to sudden, unforeseen changes. This flexibility allows businesses to innovate and adapt, laying the groundwork for long-term success.
How to Build a Successful Digital Ecosystem?
Building a successful digital ecosystem revolves around a well-thought-out strategy, robust engagement with partners, and a consistent focus on customer experience.
Define Clear Goals and Objectives
Kick-off your journey of creating a digital ecosystem by setting clear, measurable goals and objectives.
This step will provide direction for your digital transformation initiatives, prioritizing actions that directly align with your business's larger vision.
Embrace Interoperability
Prioritize interoperability when selecting your tools and technologies.
Seamless integration between different systems can result in streamlined operations, enhanced collaboration, and improved overall productivity.
Cultivate Strong Partnerships
Forge strategic partnerships with other crucial players in the ecosystem. Collaboration with technology providers, vendors, and even other businesses can result in a more robust, expansive, and innovative ecosystem.
Prioritize Customer Experience
Ensure an exceptional, user-friendly customer experience by focusing on personalization and seamless navigation.
Understand your customers' preferences, and tailor your digital touchpoints to their needs to increase satisfaction and drive retention.
Continual Learning and Adaptation
Keep an eye on emerging trends and adapt your digital ecosystem as necessary.
Staying abreast of the latest innovations and technological advancements can help ensure your ecosystem remains relevant, efficient, and competitive.
Examples of Successful Digital Ecosystems
Examples of Successful Digital Ecosystems
Apple Ecosystem
Apple's ecosystem encompasses hardware devices like iPhones, iPads, and Macs, along with software services like iCloud, iTunes, and the App Store, providing a seamless user experience across devices.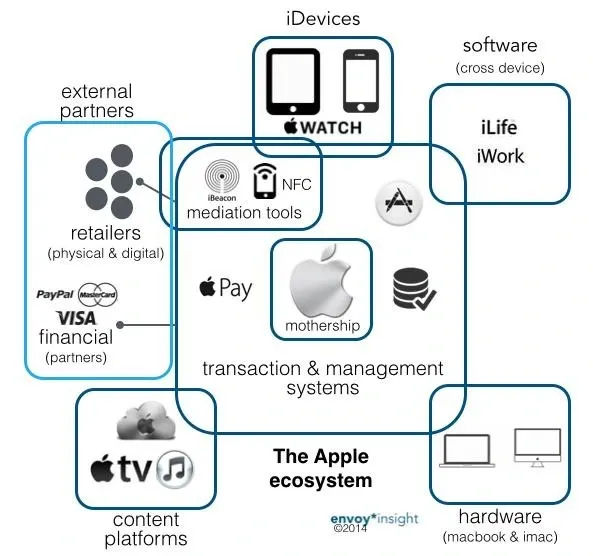 Google Ecosystem
Google's ecosystem includes products like Google Search, Google Maps, Gmail, and Android, offering interconnected services and personalized experiences to users.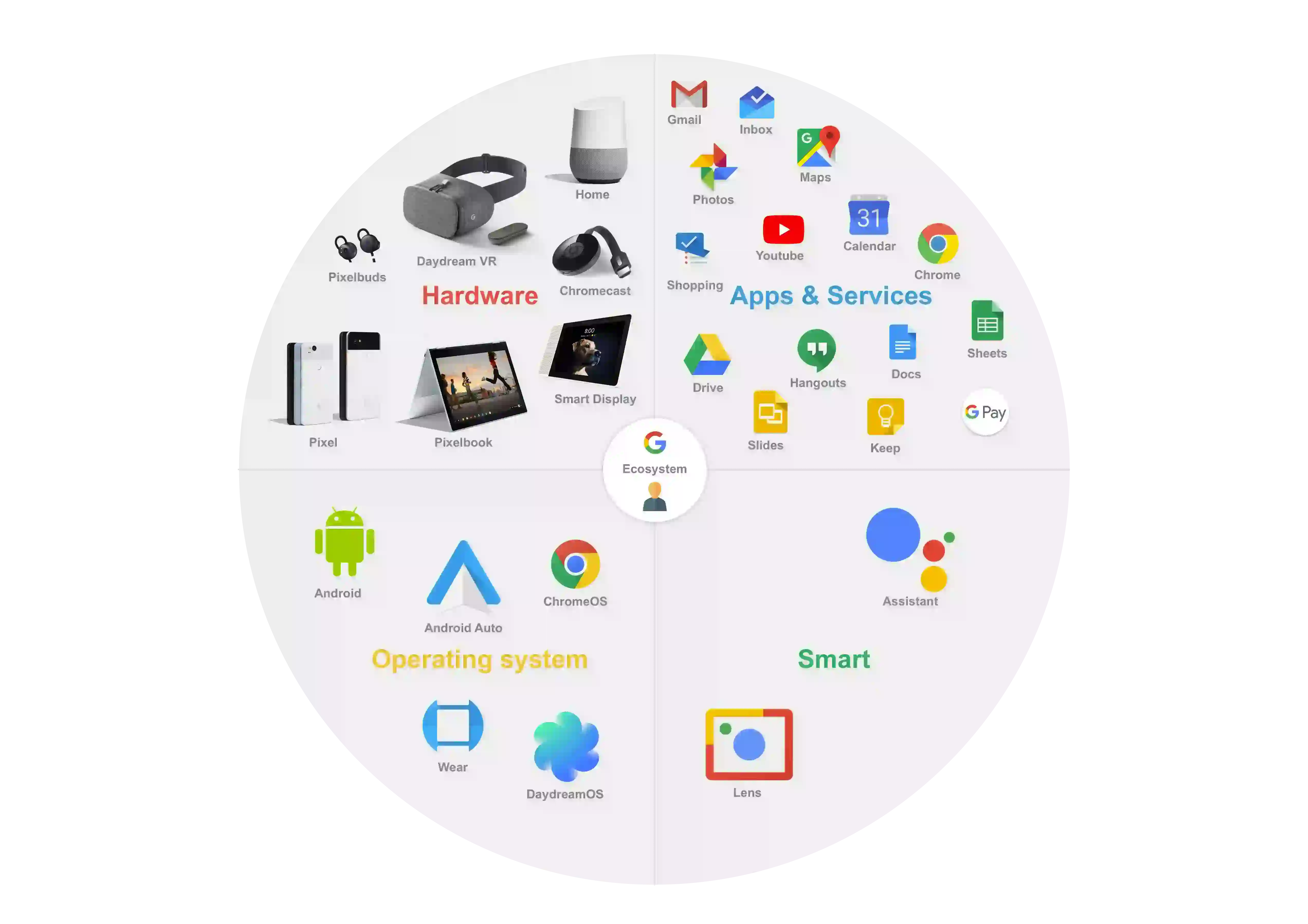 Amazon Ecosystem
Amazon's ecosystem consists of its e-commerce platform, Amazon Web Services (AWS), Kindle devices, and services like Prime, creating a comprehensive ecosystem for online shopping and entertainment.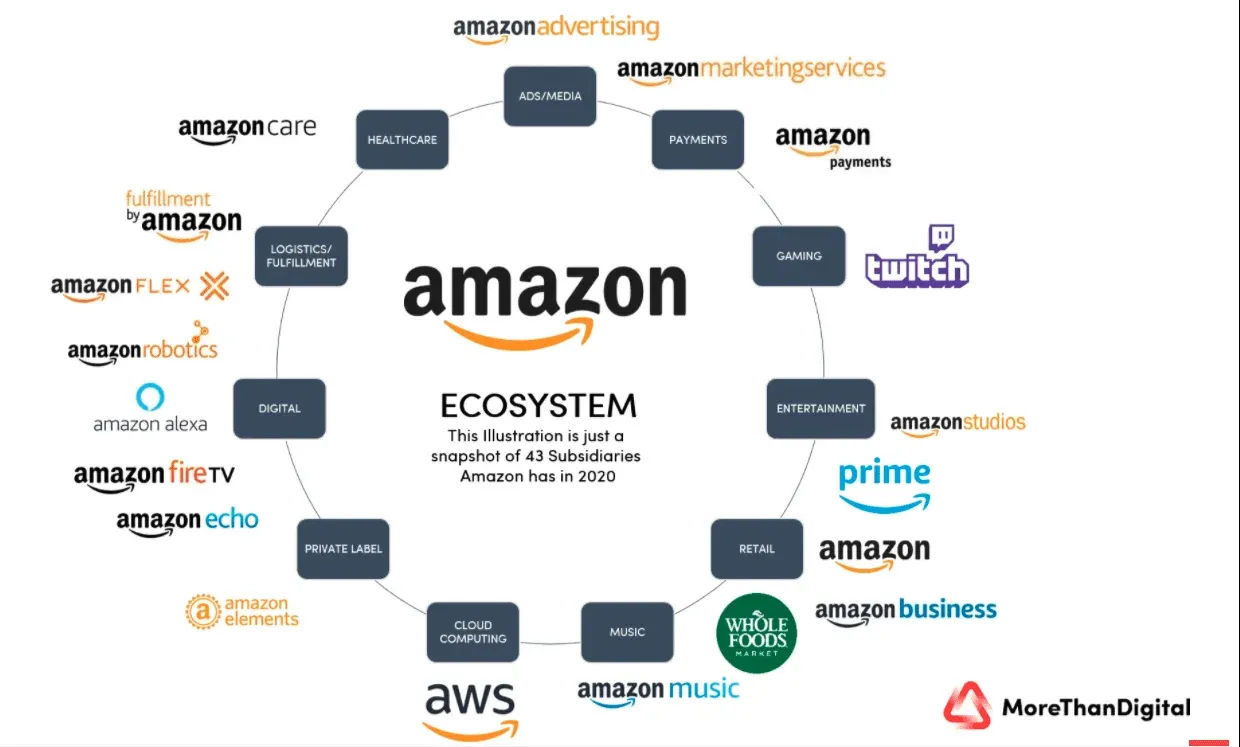 Facebook Ecosystem
Facebook's ecosystem includes platforms like Facebook, Instagram, WhatsApp, and Oculus, connecting billions of users worldwide and enabling diverse interactions and content sharing.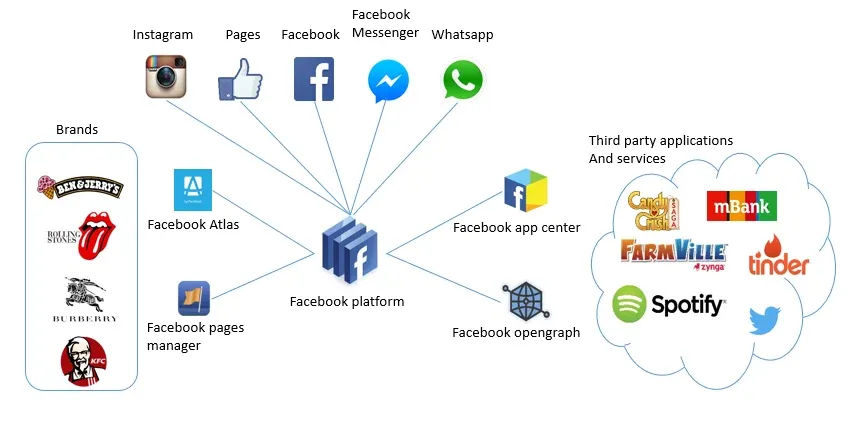 Alibaba Ecosystem
Alibaba's ecosystem encompasses e-commerce platforms, financial services, cloud computing, logistics, and more, creating a comprehensive digital ecosystem for businesses and consumers.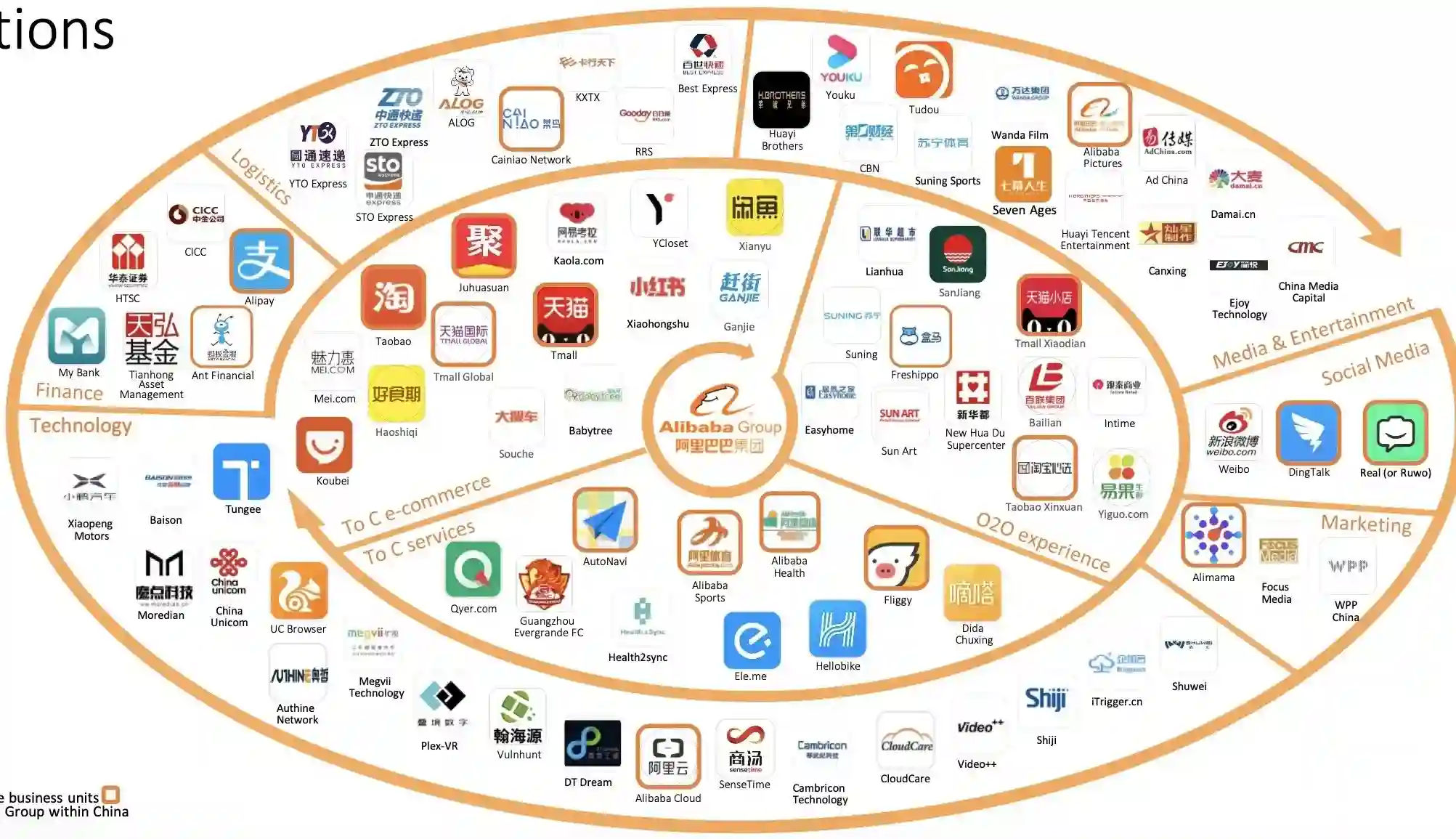 Future Trends in Digital Ecosystems
Different Future Trends in Digital Ecosystems are-
Artificial Intelligence and Machine Learning
AI and ML technologies will play a significant role in enabling intelligent automation, personalization, and predictive capabilities within digital ecosystems.
Blockchain Technology
Blockchain technology has the potential to enhance trust, transparency, and security within digital ecosystems, enabling secure transactions and data sharing.
Personalization and Customization
Digital ecosystems will focus on delivering highly personalized experiences and tailored recommendations to users based on their preferences, behavior, and context.
Increased Integration and Interoperability
Efforts will be made to improve interoperability and enable seamless integration between different digital ecosystems, fostering greater collaboration and value creation.

Frequently Asked Questions (FAQs)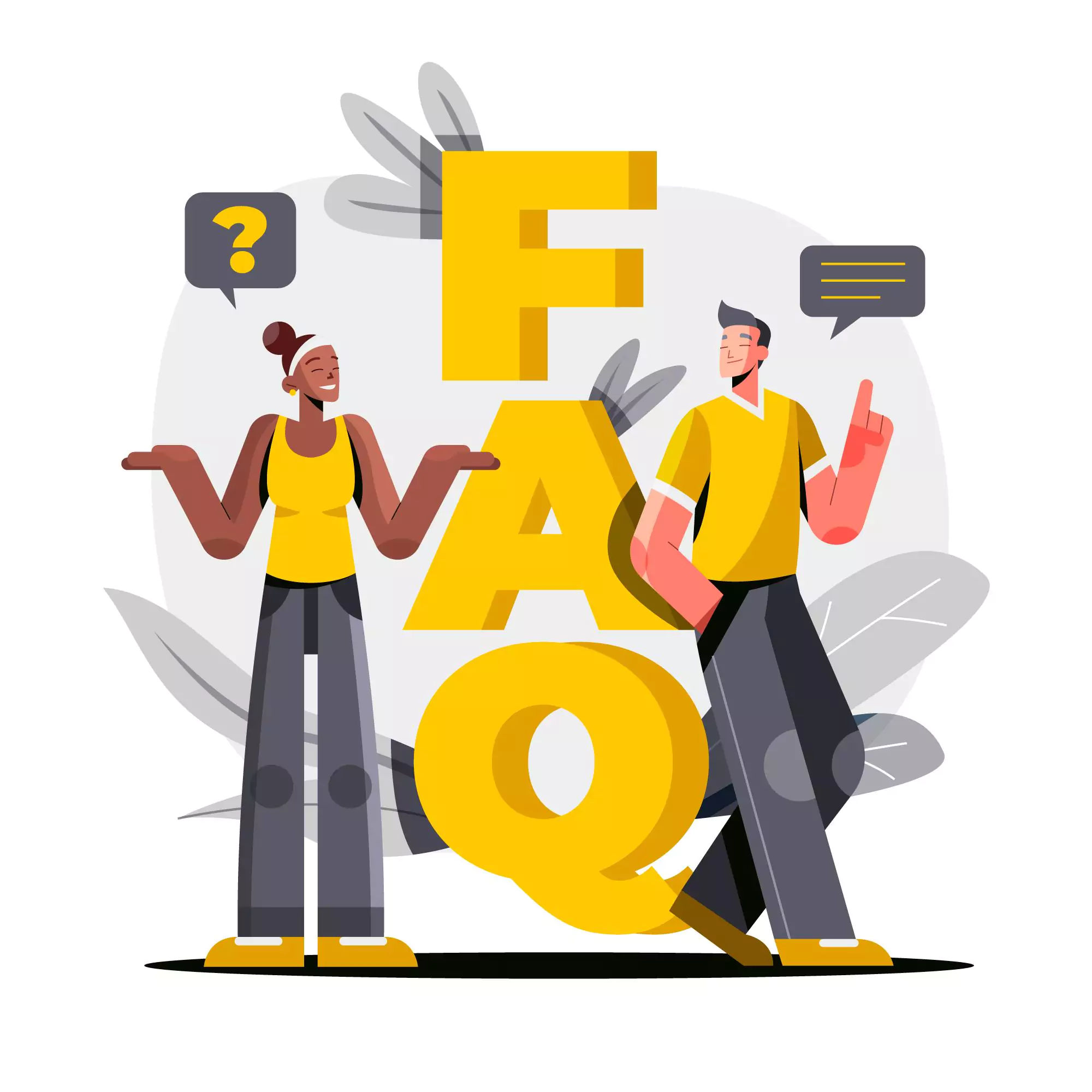 What is a Digital Ecosystem?
A digital ecosystem refers to a network of entities, platforms, and services that collaborate and interact digitally.
Why is a Digital Ecosystem vital?
A digital ecosystem is essential as it enables seamless collaboration, innovation, and value creation among different entities.
What are the critical components of a Digital Ecosystem?
Hardware, software, networks, platforms, data, users, applications, and services are the key components of a digital ecosystem.
What are the benefits of a Digital Ecosystem?
Collaboration, scalability, enhanced user experience, access to global markets, and cost efficiency are the significant benefits of a digital ecosystem.
How to build a successful Digital Ecosystem?
Establish clear goals and objectives, prioritize user experience, foster collaboration and partnerships, define roles and responsibilities, and continuously monitor and update the ecosystem