What is a Chatbot Persona?
A chatbot persona is like the soul of your chatbot, a carefully crafted character that embodies the tone, voice, and personality of your virtual assistant. It's the secret sauce that turns a robotic interaction into a delightful and engaging conversation with a best friend. Think of it as an actor playing a role – the chatbot persona sets the stage for how your chatbot interacts with users and represents your brand.
Importance of a Chatbot Persona
A chatbot persona is not just a nice-to-have; it's a crucial component that can make or break your chatbot's success. A well-defined persona:
Humanizes your chatbot, making it more relatable and engaging for users.

Ensures consistent interactions, making your chatbot feel like a cohesive entity.

Reinforces your brand identity and values through every conversation.
Now that we've dipped our toes into the chatbot persona pool, let's dive deeper into the reasons why you should use one.
Why use a Chatbot Persona?
Chatbot personas are like a secret weapon for creating exceptional chatbot experiences. They help in enhancing user experience, establishing brand identity, and building trust and engagement with users.
1. Enhancing User Experience
A chatbot persona can work wonders for your chatbot's user experience. Here's how:
Natural Conversations: A well-crafted persona makes chatbot conversations feel more natural and less robotic, creating a delightful user experience.
Emotional Connection: By giving your chatbot a relatable personality, users are more likely to form an emotional connection with your virtual assistant, making them more likely to come back for more interactions.
Entertaining and Engaging: A witty and playful chatbot persona can add a touch of humor and entertainment to mundane tasks, keeping users engaged and hooked.
2. Establishing Brand Identity
Your chatbot is an extension of your brand, and a well-defined persona can help reinforce your brand identity. Here's how:
Consistent Tone and Voice: By aligning your chatbot persona with your brand's tone and voice, you create a consistent experience that users will associate with your brand.
Brand Values: A chatbot persona can help convey your brand's values and mission through its interactions, making users feel more connected to your brand.
Brand Differentiation: A unique chatbot persona can set your brand apart from competitors, making users more likely to choose your chatbot over others.
3. Building User Trust and Engagement
Trust and engagement are the backbone of any successful chatbot, and a well-defined persona can help you build both. Here's how:
Transparency: By clearly communicating the chatbot's purpose and limitations through its persona, users can better understand what to expect, building trust in the process.
Empathy and Understanding: A chatbot persona that shows empathy and understanding can create a sense of connection, making users more likely to engage with your chatbot.
Personalization: A chatbot persona that adapts its interactions based on user preferences and context can create a personalized experience, fostering deeper engagement and loyalty.
When to Develop a Chatbot Persona
1. Chatbot Planning and Strategy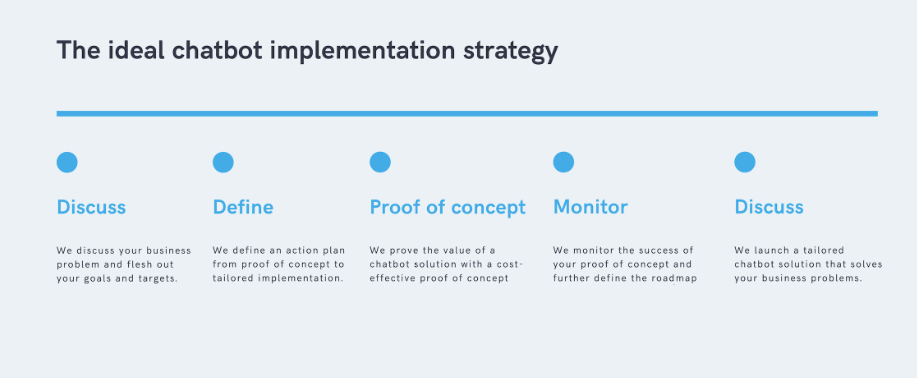 The best time to whip up a chatbot persona is during the planning and strategy stage of your chatbot development. After all, you wouldn't bake a cake without a recipe, right? The same applies to chatbots.
By developing a persona at the beginning, you lay a strong foundation for a cohesive and delightful user experience. So, gather your team, brainstorm ideas, and start planning your chatbot persona before diving into the nitty-gritty of chatbot development.
2. Updating an Existing Chatbot
If you're looking to give your existing chatbot a makeover, now's the perfect time to introduce or update its persona. Analyze user feedback, identify areas for improvement, and work on enhancing your chatbot's personality to make it even more lovable.
Remember, it's never too late to give your chatbot a fresh, new persona that will make users swoon!
How to Create a Chatbot Persona
Now that you know when to create a chatbot persona let's dive into the exciting process of bringing it to life!
1. Identifying User Demographics
First things first, let's get to know your audience! Understanding your users is crucial in creating a chatbot persona that resonates with them. Ask yourself these questions:
Who are my users? (age, gender, location, etc.)

What are their needs, preferences, and pain points?

How do they communicate? (language, tone, etc.)
With this information in hand, you can craft a persona that appeals to your target audience and addresses their needs in a relatable manner.
2. Aligning with Brand Values
Your chatbot persona should be an extension of your brand, so it's essential to align it with your brand values. Start by asking:
What are my brand's core values and mission?

How can I integrate these values into my chatbot persona?

How should my chatbot persona represent my brand in conversations?
By creating a persona that embodies your brand values, you'll ensure a consistent user experience that strengthens your brand identity.
3. Developing Chatbot's Tone and Voice
Every chatbot persona needs a distinct tone and voice that sets it apart from the crowd. Here's how to create one:
Determine the desired tone (e.g., friendly, professional, witty) based on your brand values and user demographics.

Develop a unique voice by incorporating specific language, phrasing, and vocabulary that align with your brand and audience.

Create guidelines for your chatbot's tone and voice to ensure consistency across all interactions.
With the right tone and voice, your chatbot persona will come to life and engage users in delightful conversations.
4. Creating a Visual Representation
A picture is worth a thousand words, and that's why creating a visual representation of your chatbot persona can work wonders. Follow these steps to design a captivating visual representation:
Choose a character or mascot that embodies your chatbot persona.

Design the character with features and colors that align with your brand identity.

Integrate the visual representation into your chatbot interface to create a cohesive user experience.
Where to Implement a Chatbot Persona
Welcome to another enchanting glossary page on chatbot personas! In this delightful exploration, we'll dive into the various use cases where chatbot personas can work their charm and the key components that make them irresistible.
1. Customer Support
Chatbot personas are like superheroes in the world of customer support. With their relatable personalities, they can swoop in and save the day by:
Efficiently answering frequently asked questions, freeing up your support team to focus on more complex issues.

Guiding users through troubleshooting steps with a friendly and empathetic tone.

Providing personalized support that leaves customers feeling understood and valued.
2. Sales and Marketing
A chatbot persona can be a powerful ally in your sales and marketing efforts. Here's how they can help you win over customers:
Engaging potential customers through personalized product recommendations and promotions.

Guiding users through the sales funnel with a conversational and user-friendly approach.

Collecting and analyzing user data to refine marketing strategies and improve targeting.
3. Internal Communications
Don't underestimate the power of a chatbot persona in internal communications! They can streamline processes and boost employee engagement by:
Assisting employees with HR-related queries or IT support in a friendly and approachable manner.

Facilitating collaboration and communication among team members.

Providing company updates and reminders, all while showcasing your organization's culture and values.
Key Components of a Chatbot Persona
Now that we've covered the where, let's delve into the what—the essential ingredients that make up a captivating chatbot persona.
1. Name and Visual Identity
A great chatbot persona starts with a memorable name and visual identity. Here's how to create one:
Choose a name that reflects your brand and chatbot's purpose, while also being easy to remember.

Design a visual representation (e.g., avatar or mascot) that aligns with your brand identity and chatbot's personality.

Ensure consistency across all chatbot interactions and marketing materials to create a coherent user experience.
2. Language and Tone
The secret to a chatbot persona's charm lies in its language and tone. To create an engaging tone, follow these tips:
Determine the appropriate tone (e.g., friendly, professional, witty) based on your brand values and target audience.

Use language, phrasing, and vocabulary that resonate with your users and showcase your chatbot's unique voice.

Maintain consistency in language and tone across all interactions to create a cohesive user experience.
3. Background Story and Purpose
Every chatbot persona needs a captivating backstory and a clear purpose. To create one, consider the following:
Develop a backstory that makes your chatbot persona relatable and memorable.

Clearly define your chatbot's purpose and communicate this to users in a way that aligns with its persona.

Ensure that the backstory and purpose align with your brand values and user needs.
4. Behavior and Interaction Patterns
Last but not least, let's talk about behavior and interaction patterns—these are the secret ingredients that bring your chatbot persona to life. To create engaging patterns, follow these steps:
Identify common user scenarios and design interaction flows that reflect your chatbot persona's characteristics.

Use context and user data to personalize interactions and make them more engaging.

Continuously analyze user feedback and interactions to refine your chatbot persona's behavior and patterns over time.
Chatbot Persona Best Practices
Welcome, chatbot aficionados, to another captivating glossary page on chatbot personas! In this delightful escapade, we'll uncover the best practices for creating an unforgettable chatbot persona and explore some shining examples of successful ones.
1. Keeping Consistency Across Platforms
A consistent chatbot persona is like a perfectly choreographed dance—all the moves flow seamlessly together. To maintain consistency across platforms:
Develop comprehensive guidelines for your chatbot persona's tone, voice, language, and visual identity.

Ensure your chatbot persona remains true to your brand values and messaging across all platforms and channels.

Train your team to adhere to the persona guidelines, so every interaction feels like a harmonious extension of your brand.
2. Adapting to User Feedback
Evolution is the key to a successful chatbot persona. Here's how to adapt based on user feedback:
Regularly analyze user interactions and feedback to identify areas for improvement.

Make data-driven adjustments to your chatbot persona and monitor the impact on user engagement and satisfaction.

Encourage users to provide feedback on their chatbot experience to continually refine your persona.
3. Regularly Updating the Persona
A chatbot persona should never go stale. Keep it fresh by:
Updating your persona based on evolving user needs, preferences, and trends.

Incorporating new features and capabilities into your chatbot persona as technology advances.

Conducting periodic reviews of your persona's performance and making necessary adjustments for continued success.
Examples of Successful Chatbot Personas
Now that we've covered the best practices, let's dive into some shining examples of chatbot personas that have wooed users worldwide.
1. Chatbot Personas in Major Brands
Apple's Siri: Siri, the iconic voice assistant, charms users with its witty, friendly, and helpful persona. Siri's success lies in its ability to understand natural language, provide relevant information, and even crack a joke now and then.
Domino's Dom: Pizza lovers adore Dom, Domino's chatbot persona that assists with pizza ordering. Dom's casual, fun-loving tone and ability to understand customer preferences make it a hit among hungry users.
Sephora's Beauty Assistant: This chatbot persona offers personalized beauty advice and product recommendations, all with a friendly and knowledgeable tone. It's like having a beauty best friend at your fingertips!
2. Lessons from Successful Chatbot Personas
These successful chatbot personas can teach us a thing or two about creating an enchanting user experience:
Know Your Audience: Understand your users' needs, preferences, and communication styles to create a chatbot persona that resonates with them.
Humanize Your Chatbot: Give your chatbot persona a relatable, engaging personality that users can connect with emotionally.
Focus on User Experience: Prioritize providing a seamless, enjoyable user experience by ensuring your chatbot persona is helpful, easy to use, and adaptable.
TL;DR
Chatbot personas are crucial for natural conversations, trust-building, and brand identity. Identify demographics, develop a tone and voice, and create a visual representation. Implement in all communications, maintain consistency, adapt to feedback, and update regularly for continued success. Successful examples include Siri, Dom, and Sephora's Beauty Assistant.
FAQs
1. What is a Chatbot Persona?
A Chatbot Persona is a virtual character that represents your chatbot, helping create natural conversations, emotional connections, and enhancing user experience.
2. Why is a Chatbot Persona important?
A Chatbot Persona establishes brand identity, builds trust, increases user engagement, and reinforces your brand values, leading to a better overall user experience.
3. How do I create a Chatbot Persona?
Create a Chatbot Persona by identifying user demographics, aligning with brand values, and developing a distinct tone, voice, visual representation, and interaction patterns.
4. What are some examples of successful Chatbot Personas?
Successful Chatbot Personas include Apple's Siri, Domino's Dom, and Sephora's Beauty Assistant, which all provide a unique and engaging user experience.
5. How do I maintain and update a Chatbot Persona?
Maintain consistency across platforms, adapt to user feedback, and regularly update the persona to reflect evolving user needs and trends for continued success.