With over 1.6 billion people interacting with chatbots annually, it has changed the ways of customer service. But with chatbots in business, it brings an array of questions.
Do you want to improve customer service but don't have the time or resources to build a chatbot yourself? Are you worried about the security and privacy of your customer data?
If you answered yes to any of these questions, then you need a chatbot implementation partner.
Chatbot implementation partners can help you create a chatbot that is effective, efficient, and cost-effective. The global market for chatbot implementation partners is expected to reach $24.1 billion by 2027.
The Asia-Pacific region is expected to be the fastest-growing market for chatbot implementation partners. In fact, the effect of chatbots has touched all sectors of business.
So, it's the right time to plunge into the role of chatbot implementation partner.
In this blog, we'll uncover the importance of chatbot implementation partners! Let's dive in to decode chatbot magic!
Who Needs a Chatbot Implementation Partner?
Many businesses realize the importance of chatbot implementation partners. These include: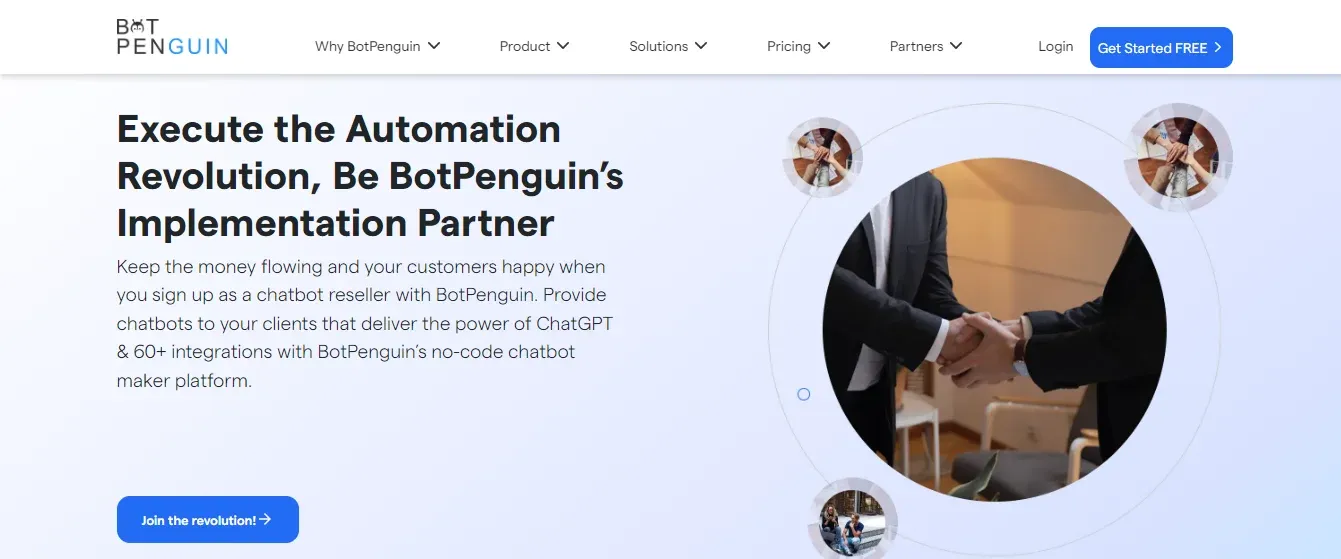 Small and Medium-sized Businesses (SMBs)
Chatbot implementation partners can be your secret weapon. They help SMBs by providing cost-effective chatbot solutions. By doing this, SMBs provide good customer service to their customers.!
Large Enterprises - Boosting Efficiency and Scaling Up
Handling thousands of customer queries daily can be a daunting task.
Chatbot implementation partners can create customized AI-powered chatbots that can scale up effortlessly. It can handle queries faster than you can say, "innovation."
Apart from Implementation Partner, BotPenguin offers other partner program as well, these are-

What to Look for in a Chatbot Implementation Partner?
There are several factors to consider when looking for a chatbot implementation partner. Here are some of the most important ones: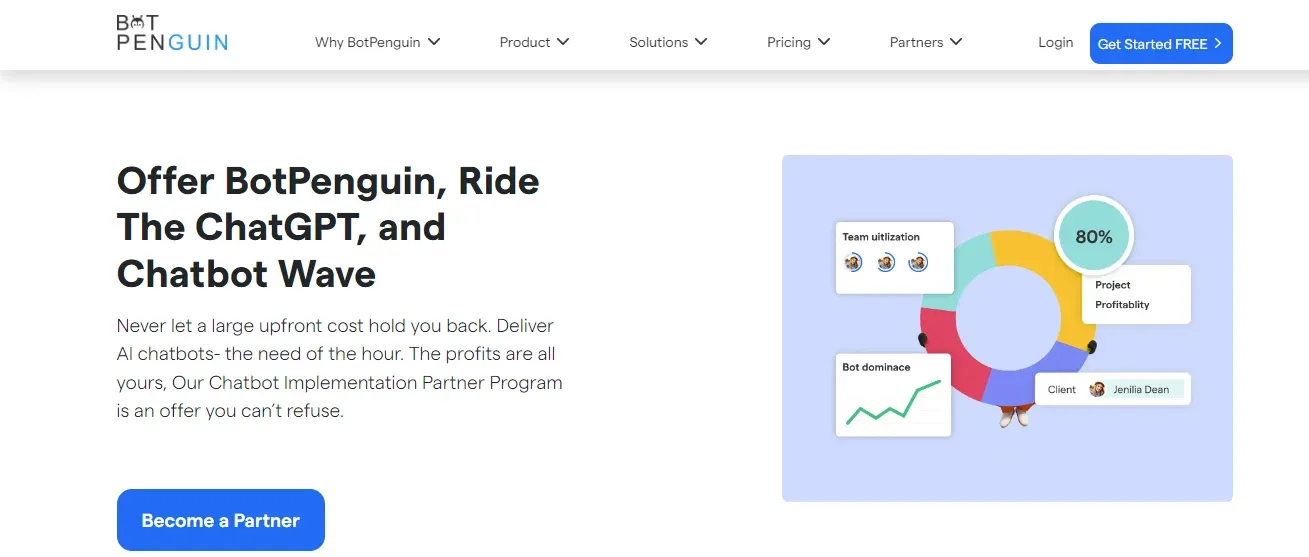 Expertise in Chatbot Technology
Look for proven expertise in natural language processing (NLP), machine learning, and conversational AI.
A Stellar Track Record
Ask for a portfolio of their previous chatbot projects and success stories. A partner with a track record of delivering top-notch chatbot solutions is worth their weight in digital gold.
Flexibility and Adaptability
Remember, you need a partner who can roll with the punches and adapt to your unique business needs. Look for someone who can create a bespoke chatbot tailored to your industry and customer base.
Why Collaborate with a Chatbot Implementation Partner?
Here are some of the most common reasons why you might want to collaborate with a chatbot implementation partner:
Supercharging Your Business Efficiency
With a chatbot implementation partner by your side, you'll see response times that'll leave your customers in awe! Faster resolutions mean happier customers and a more efficient business.
Unlocking Round-the-Clock Customer Support
Chatbots don't know the meaning of "off-duty." With your chatbot, your customers can get assistance 24/7, whether it's a sunny afternoon or a midnight.
Elevating the Customer Experience
Let's face it; customer experience can make or break your brand. But worry not! A well-designed chatbot, crafted by your implementation partner, can elevate your customer interactions.
How to Choose the Right Chatbot Implementation Partner?
Choosing the right chatbot implementation partner is an important decision. The right partner like BotPenguin can help you to create a chatbot that is successful for your business.
Here are some tips for choosing the right chatbot implementation partner: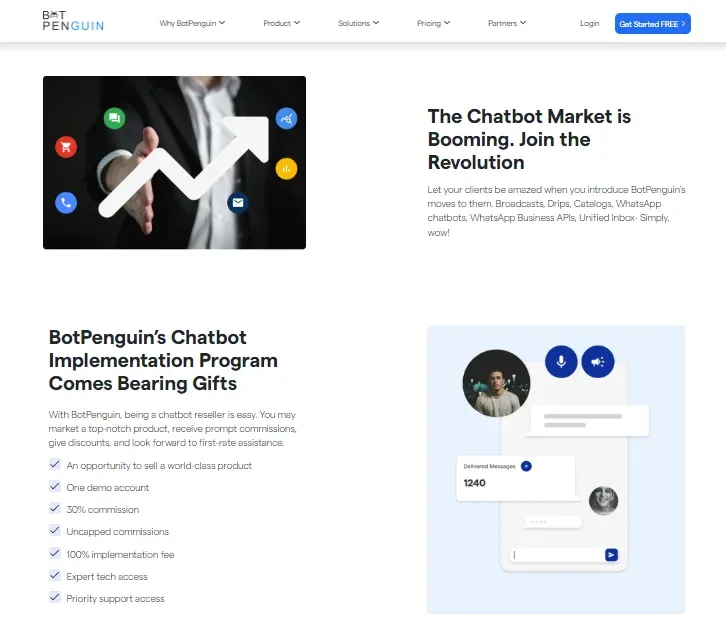 Assessing Your Business Needs
Take a good look at your business requirements, goals, and objectives. Are you aiming to improve lead generation, enhance customer support, or boost sales? Once you have a clear picture, finding a partner who aligns with your mission becomes a breeze!
A Match Made in Tech Heaven - Finding the Perfect Fit
When choosing your partner, ensure they are well-versed in the chatbot technology that matches your needs. From rule-based chatbots to AI-driven smart conversationalists, it's essential to pick the perfect match!
Client Testimonials and Reviews
Check out client testimonials and online reviews to get the scoop on their performance. A partner with happy clients is a partner worth considering! Don't be shy to ask for references and hear their stories of success.
Partnering Process: From Consultation to Deployment
In this section, you will find the full procedure to follow for deploying a chat or implementation partner: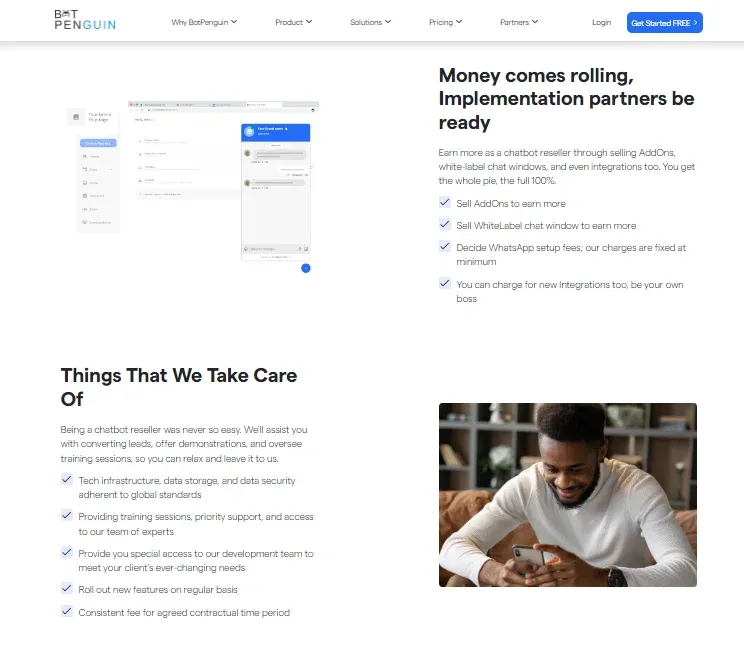 Initial Consultation
Your chatbot implementation partner will listen to your business needs, understand your challenges, and craft a strategy to conquer them. This is the time to ask questions, share ideas, and lay the foundation for a fantastic collaboration.
Designing the Chatbot Blueprint
Your partner will work closely with you to design the chatbot's functionality, conversation flow, and user experience. It's like sculpting a masterpiece that perfectly aligns with your brand and customer base.
Development and Integration
The implementation partner will build, test, and refine the chatbot until it's ready to face the world. They'll also integrate it with your existing systems. It will ensure a seamless and hassle-free user experience.
The Role of Chatbot Implementation Partner in Customization
The role of Chatbot implementation partners is extremely crucial in customization. They can help you to:
Tailoring Chatbot Functionality
Every business is unique, and so should your chatbot! Your implementation partner will customize the chatbot's features to meet your specific needs.

Whether it's creating personalized greetings or offering tailored recommendations, your chatbot will be as unique as your brand.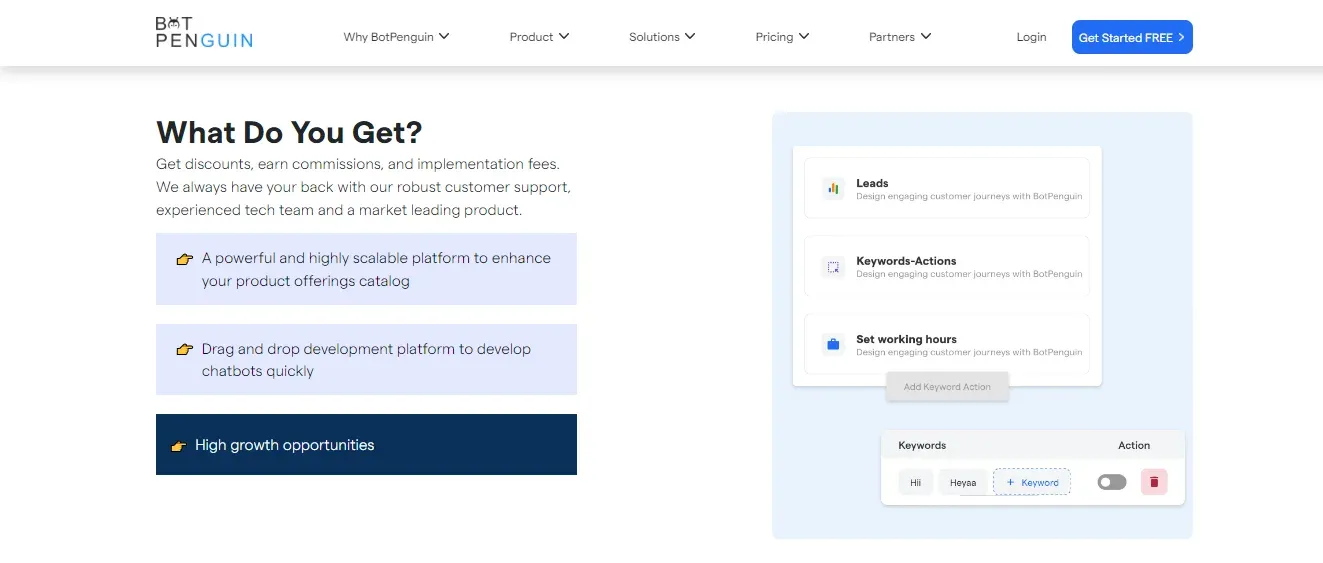 Enhancing User Experience
Your chatbot will be designed with user-centricity in mind. It needs to provide a smooth and enjoyable conversation flow. No robotic responses here!

Your customers will be treated to an engaging and interactive experience that'll keep them coming back for more.
Multi-Platform Integration and Data Security
One of the roles of a chatbot implementation partner is to ensure that your chatbot can smoothly interact across multiple platforms, from websites to social media.
They'll also implement robust security measures to safeguard your customers' data like the valiant guardians they are!
Conclusion
Now you must have realized the importance of chatbot implementation partners. Overall, working with a chatbot implementation partner can be a valuable asset for businesses that are considering implementing a chatbot.
Partners can provide the expertise, support, and maintenance that businesses need to create and deploy successful chatbots.
BotPenguin is a chatbot implementation partner that helps businesses create and deploy chatbots that are engaging, informative, and helpful. They have a team of experienced chatbot developers and designers who can help you create a chatbot that meets your specific needs.
With BotPenguin by your side, your business is set to soar to new heights!